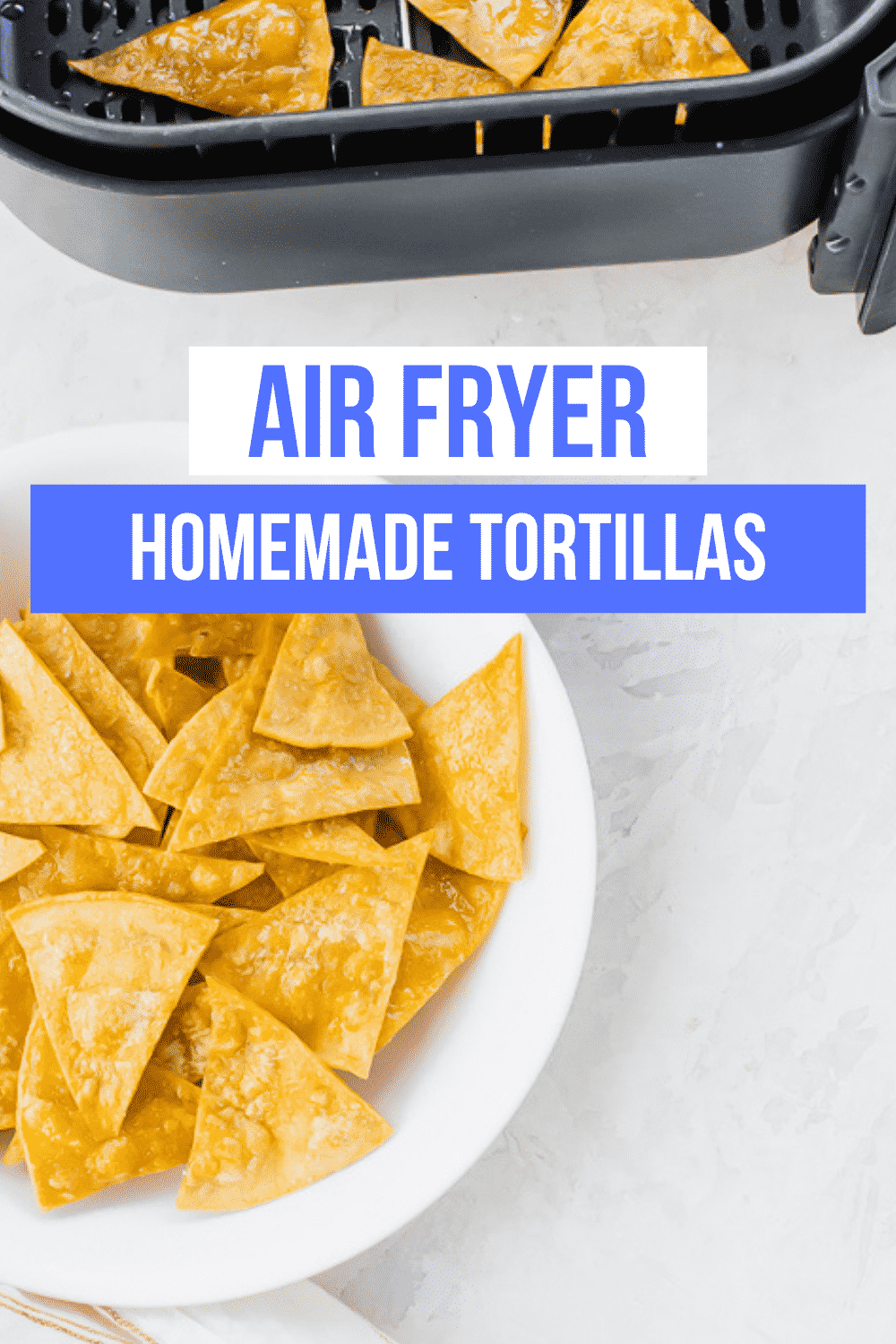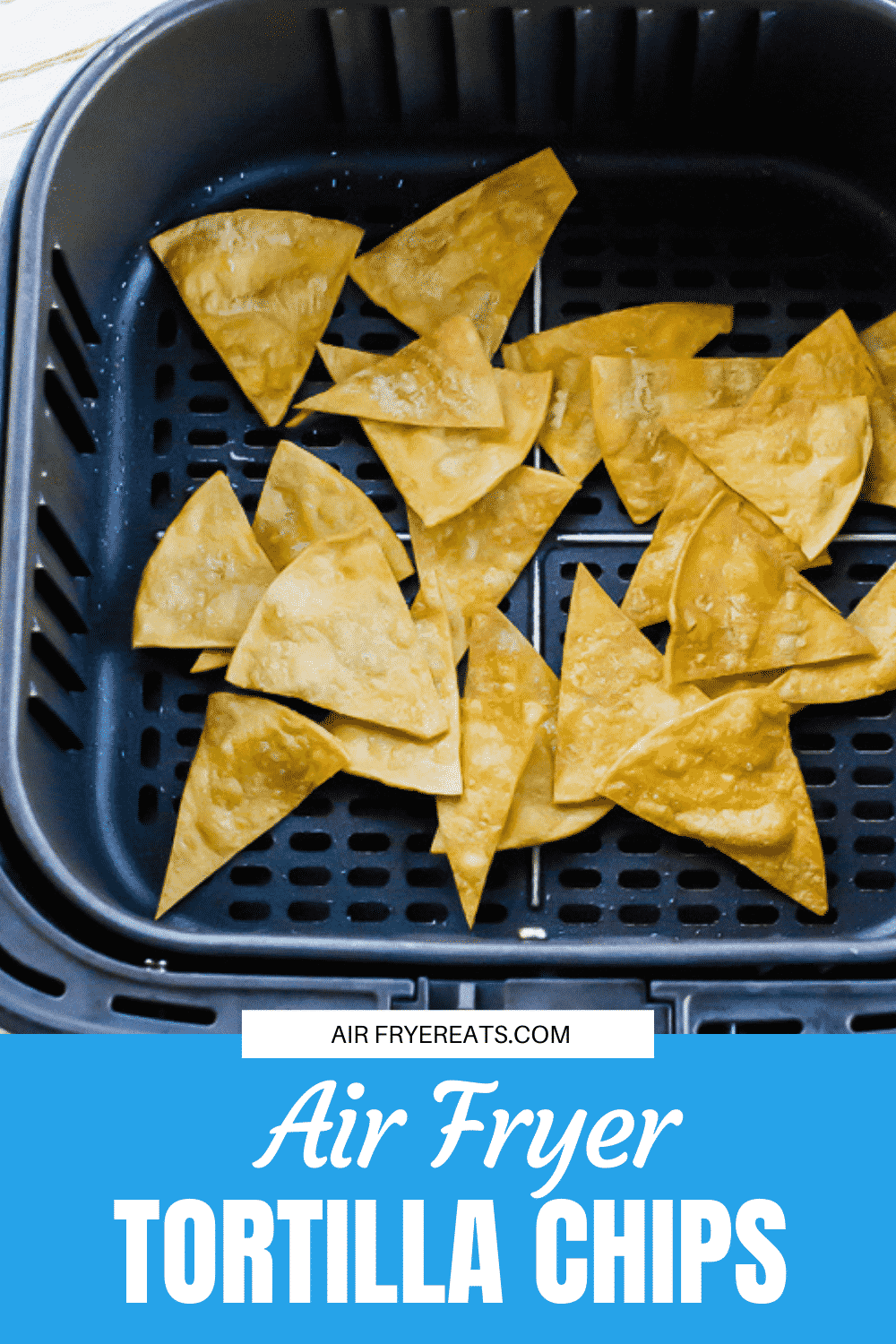 You need this simple recipe for tortilla chips in the air fryer. You won't believe how easy it is to make fresh corn tortilla chips at home without deep frying!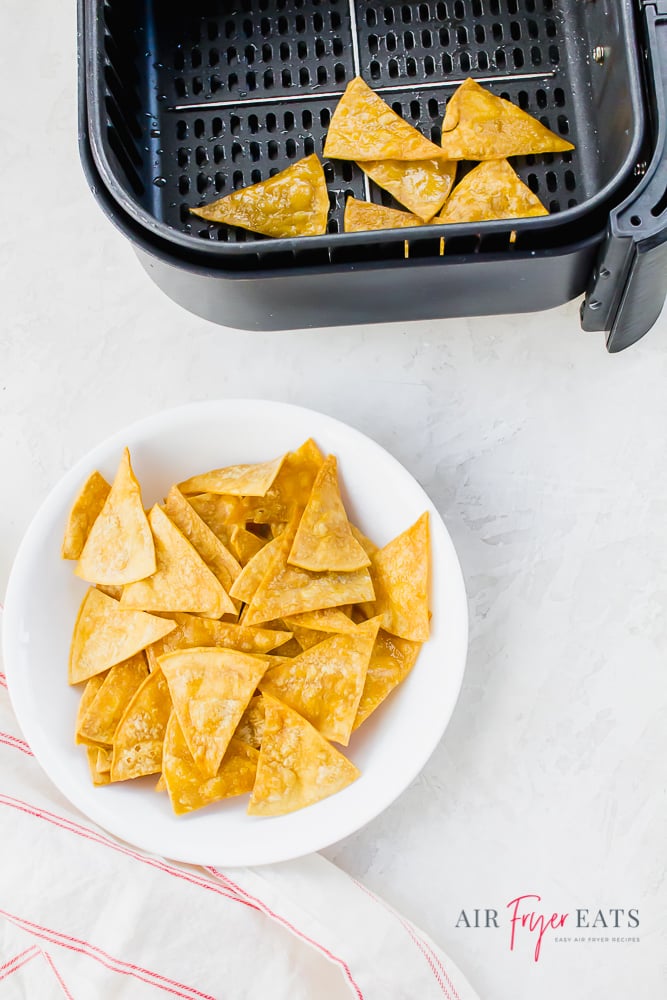 AIR FRYER TORTILLA CHIPS RECIPE
I absolutely love tortilla chips. They are great for dipping into dips and spreads. I love them with salsa, and I love them just for a salty snack on their own!
You might want to also make this warm olive and artichoke dip to go with your chips.
Making air fryer tortilla chips is really easy. You'll save money by making your own and you can control the amount of salt and fat in your chips too.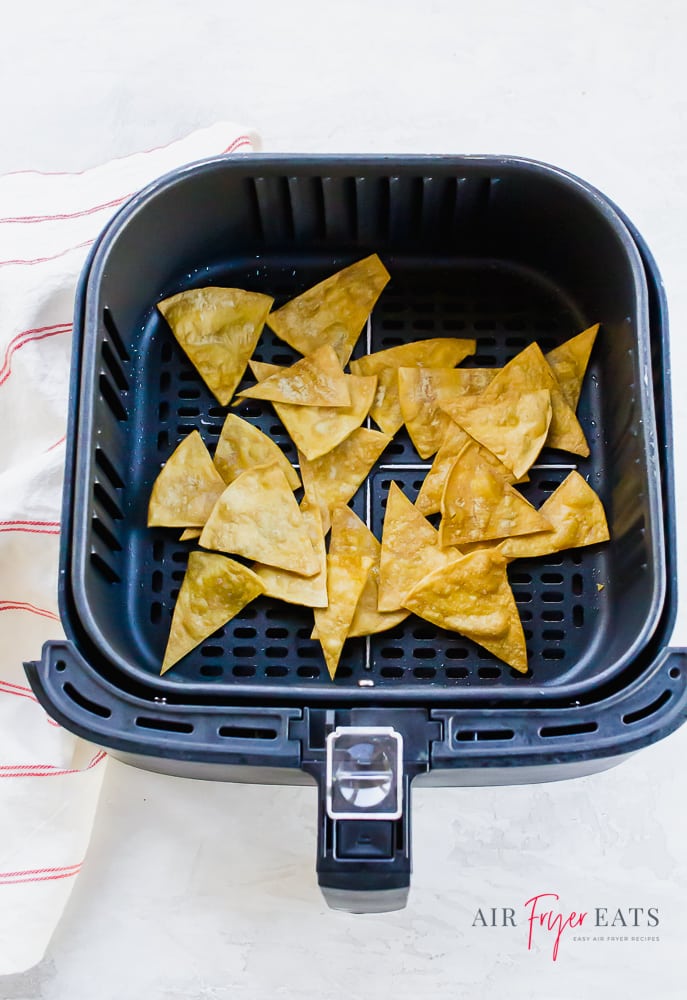 INGREDIENTS IN AIR FRYER TORTILLA CHIPS
Corn Tortillas - choose your favorites here. Any corn tortilla will work, but smaller ones make better chip sizes.
Salt - what is a chip without salt? Reduce the salt in the recipe if you're on a low salt diet or just don't want as much.
Spray Oil - I recommend buying an oil mister and using your favorite oil that way, but an aerosol spray oil will work in a pinch.
Just three ingredients!
If you have any questions, please leave a comment below and I will get back to you.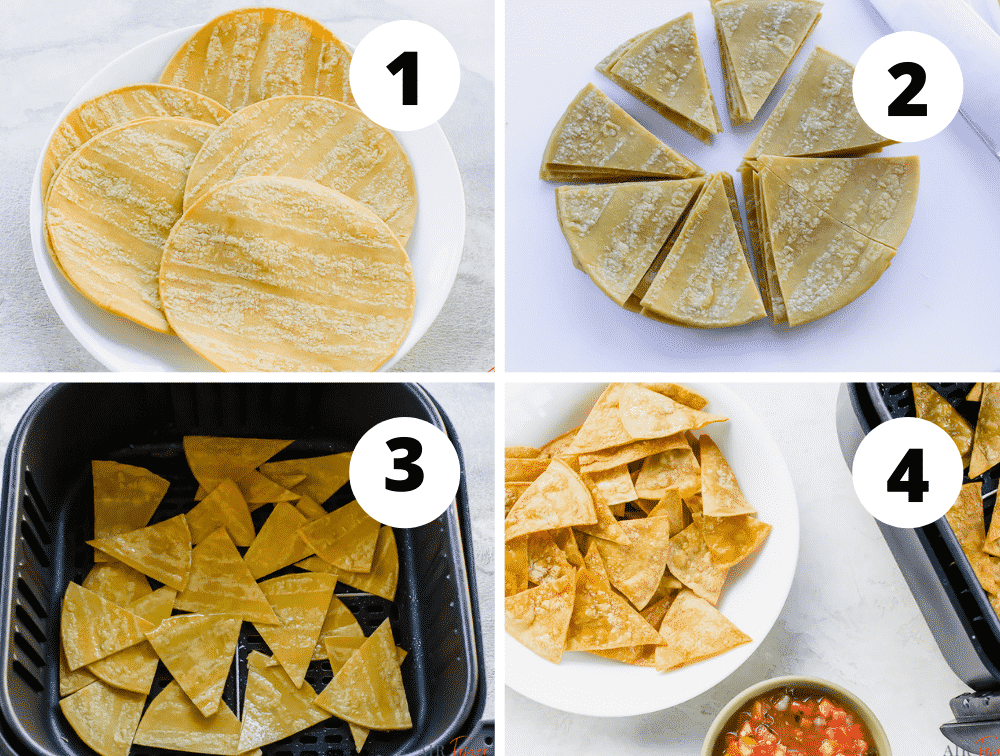 HOW TO MAKE TORTILLA CHIPS IN THE AIR FRYER
Remove desired amount of corn tortillas from the package.
Stack the tortillas on top of each other. Cut in half, then in half again and again until you have triangles.
Spray oil on your tortilla triangles, then salt. Put the tortillas into the air fryer basket or tray. You can stack them. Air fry as directed.
Enjoy with some salsa.
These numbered steps match the numbered photos above and are for illustration purposes. For the complete list of ingredients and instructions, please see the recipe below.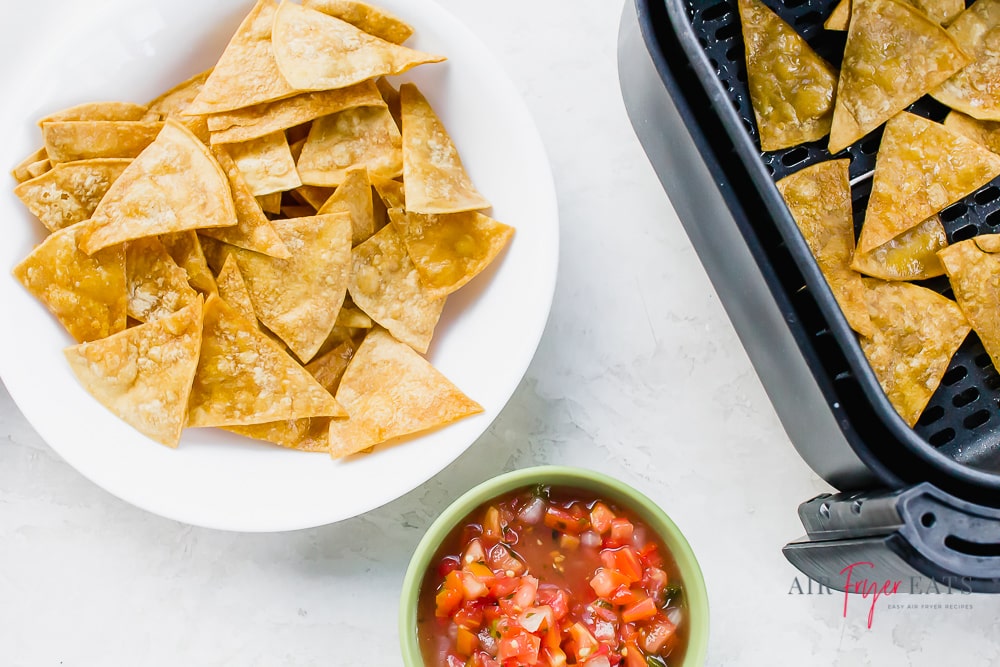 WHAT TO SERVE WITH AIR FRYER TORTILLA CHIPS
These chips are great on their own as a snack, but go best with something else, like a salsa or dip. Choose your favorite prepared salsa and get to dipping! Tortilla chips also go really well with hummus.
I often serve tortilla chips with Mexican dishes. You could try our Air Fryer Taco Pie with these chips. I also thinks chips and salsa would be perfect with Air Fryer Mushroom Tacos.
ARE CORN TORTILLAS GLUTEN FREE?
If you follow a gluten free diet for any reason you will want to make sure that the tortillas you buy are in fact gluten free.
If your tortillas are made with only corn, you should be good. Watch out for tortillas that are a mix of corn and flour. Those are not gluten free.
HOMEMADE TORTILLA CHIP FLAVOR VARIATIONS
This recipe uses simple salt to season air fryer tortilla chips, but you can get creative with the flavors.
Seasonings sold for popcorn are great to use with chips. I've seen nacho cheese, parmesan garlic, and even sweet flavors.
Adding cinnamon and sugar would make these chips sweet and perfect for a fruit salsa.
A spritz of lime juice before cooking would elevate the flavor of these chips quite a bit.
Smoked paprika would add a smoky spice.
I'd love to hear about what other ideas you have to flavor your tortilla chips!
AIR FRYER TORTILLA CHIPS TROUBLESHOOTING
Are your tortilla triangles flying around too much? I didn't have an issue with this, but some machines might have fans that blow harder. Try placing a trivet on top of the chips to keep them from moving all the way up to the fan.
Cooking time may vary. Different brands of tortillas and different brands of air fryers may cause the chips to cook faster or slower. Check your chips a few minutes early just in case. Add time in two minute increments until the chips are perfect.
Are your chips sticking together? I didn't have trouble with this myself, but if your tortillas are sticking to each other, try adding a bit more spray oil to the bottom layer. You may also need to do multiple batches so that there are less chips in the basket.
MORE AIR FRYER SNACK RECIPES
We have lots of delicious snacks here that you can make in the air fryer.
Have you tried Air Fryer Chicken Wings yet? See our recipe for the crispiest wings.
Another snack that will really impress your friends is Air Fryer Jalapeno Poppers. They are so easy and delicious!
For a really simple and quick snack, you should try Air Fryer Pizza Rolls.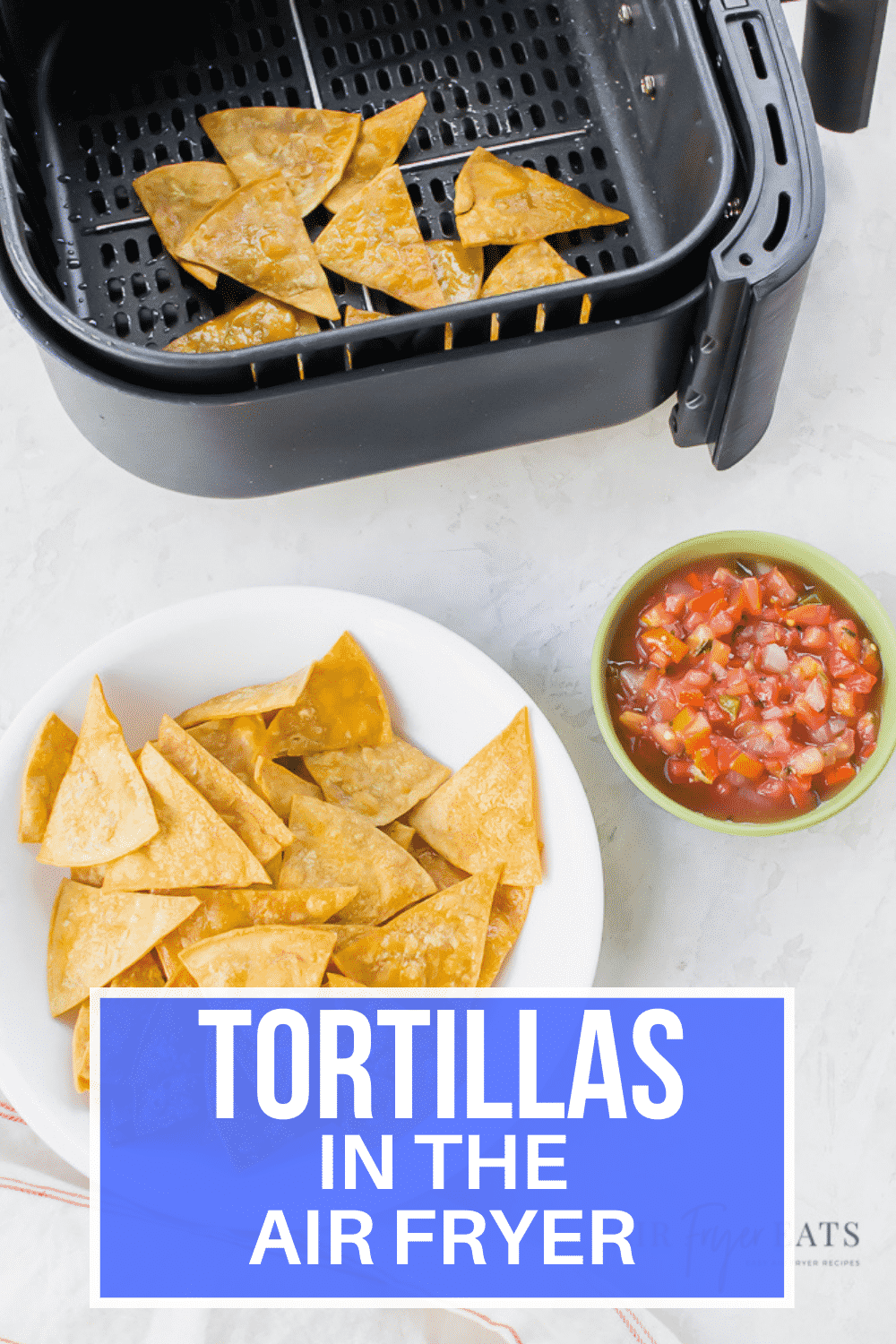 Have you made this recipe? Please leave a comment AND rating below! It helps other readers!
Be sure to tag @AirFryerEats on instagram, if you share a picture on the gram!
Let's get social, you can follow me on Youtube, Instagram, Facebook, Pinterest or join one of our Air Fryer Facebook Groups: Air Fryer Recipes, Air Fryer Recipes for Seniors and Gluten Free Air Fryer Recipes.
Don't forget to subscribe to our EMAIL newsletter.
Air Fryer Tortilla Chips
You need this simple recipe for tortilla chips in the air fryer. You won't believe how easy it is to make fresh corn tortilla chips at home without deep frying!
Instructions
Remove tortillas from package. Stack them on top of each other.

Cut tortillas in half, in half again, and in half again to create triangles.

Spray tortilla triangles with oil, then sprinkle with salt.

Place tortilla triangles into air fryer basket or tray. They can be stacked.

Air fry at 250F/176C for 6-7 minutes. Shake mid way through cook time.

Enjoy with salsa or your favorite dip.
Go AD FREE!
Video
Notes
If you are gluten free, be sure to verify that the corn tortillas are indeed gluten free. Sometimes you will get a flour and corn mixture.

You can stack the tortilla triangles on each other, they shouldn't stick.

We did not have any trouble with the tortillas flying around but you could always put a trivet on top of them to ensure they are secured.

The cooking time may vary depending on the brand of your air fryer and the brand and thickness of the tortillas.

Pro Tip: This recipe can be made in the air fryer unit with a basket or the air fryer oven. If you are using the air fryer oven, use the middle rack and select the "Air Fry" function.
Nutrition
Calories:
85
kcal
|
Carbohydrates:
17
g
|
Protein:
2
g
|
Fat:
1
g
|
Saturated Fat:
1
g
|
Sodium:
18
mg
|
Potassium:
73
mg
|
Fiber:
2
g
|
Sugar:
1
g
|
Calcium:
32
mg
|
Iron:
1
mg
Tried of the ads?
Go AD Free - Become part of our Membership community!
Air Fryers can vary greatly. Please take the time to learn your specific air fryer. You may need to adjust times and temperatures based upon your air fryer.
All though this website attempts to provide accurate nutritional information, the information should only be considered an estimate. Varying factors such as different product types, different brands, etc. can change nutritional information. It is your responsibility as a consumer to read all labels to make sure the ingredients fit your dietary needs as well as calculate your own nutritional information as a double check.