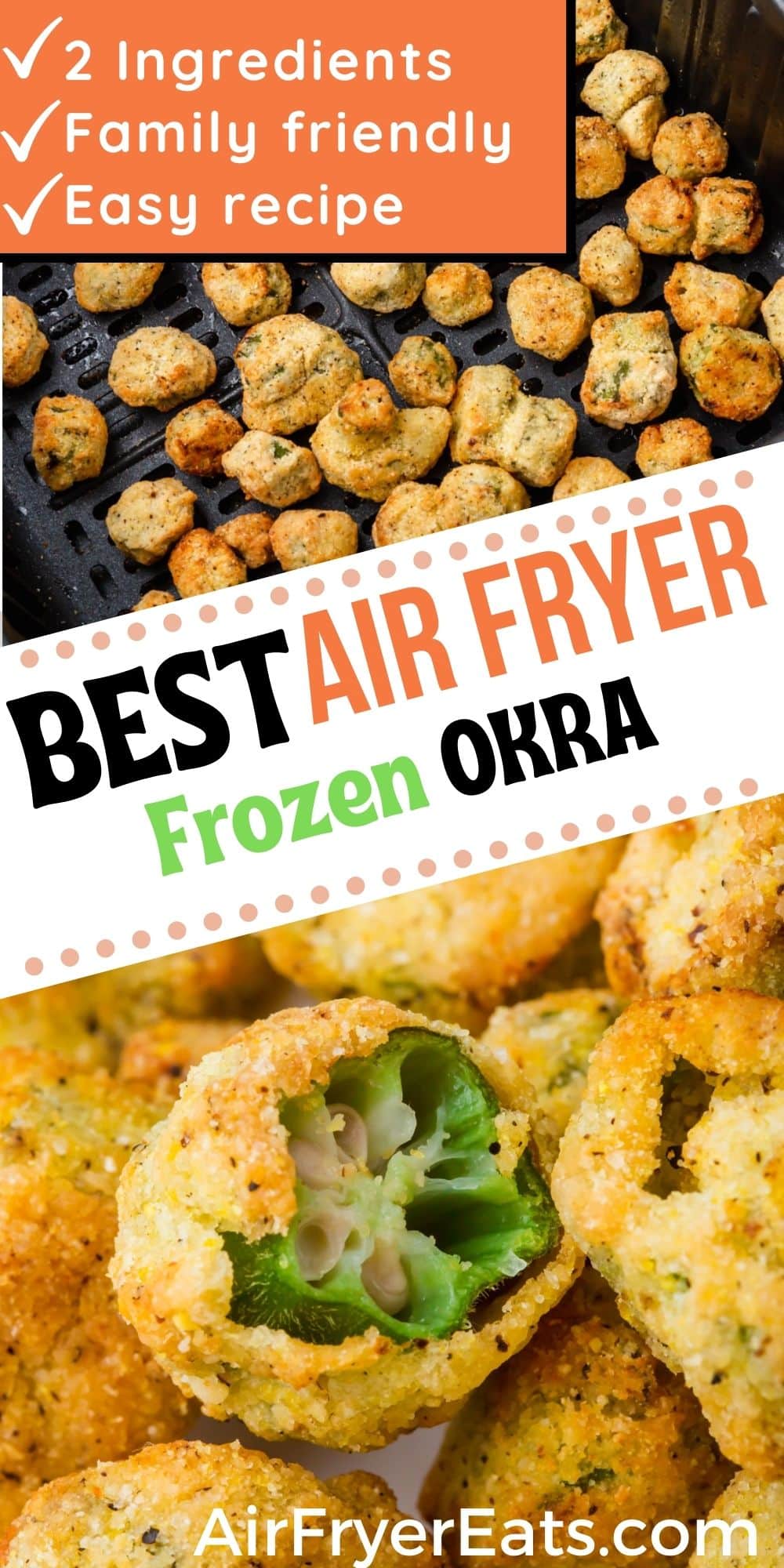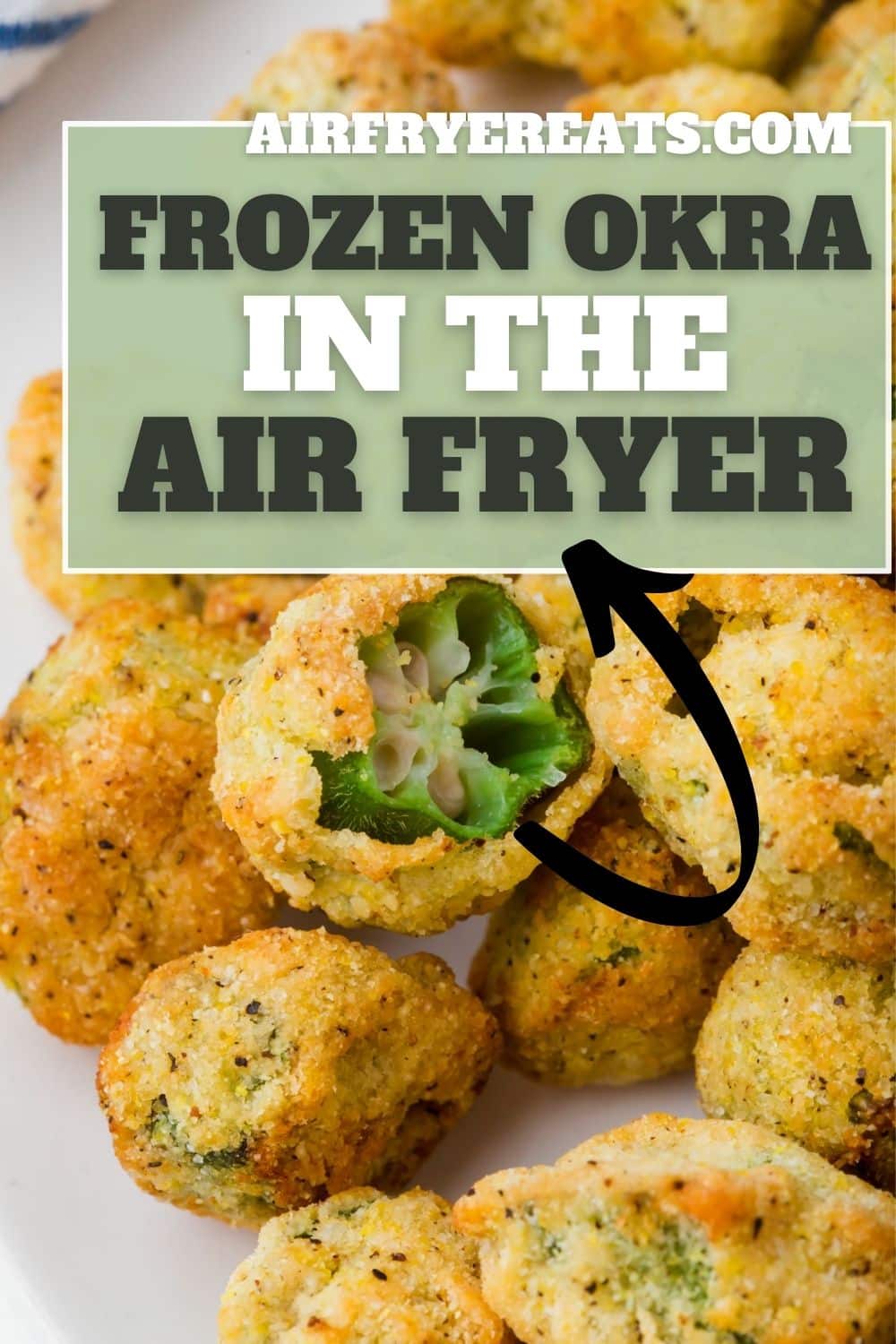 Air Fryer Frozen Okra is fast, easy, crispy, and perfect for dipping! Making frozen okra in the air fryer is the best way to do it.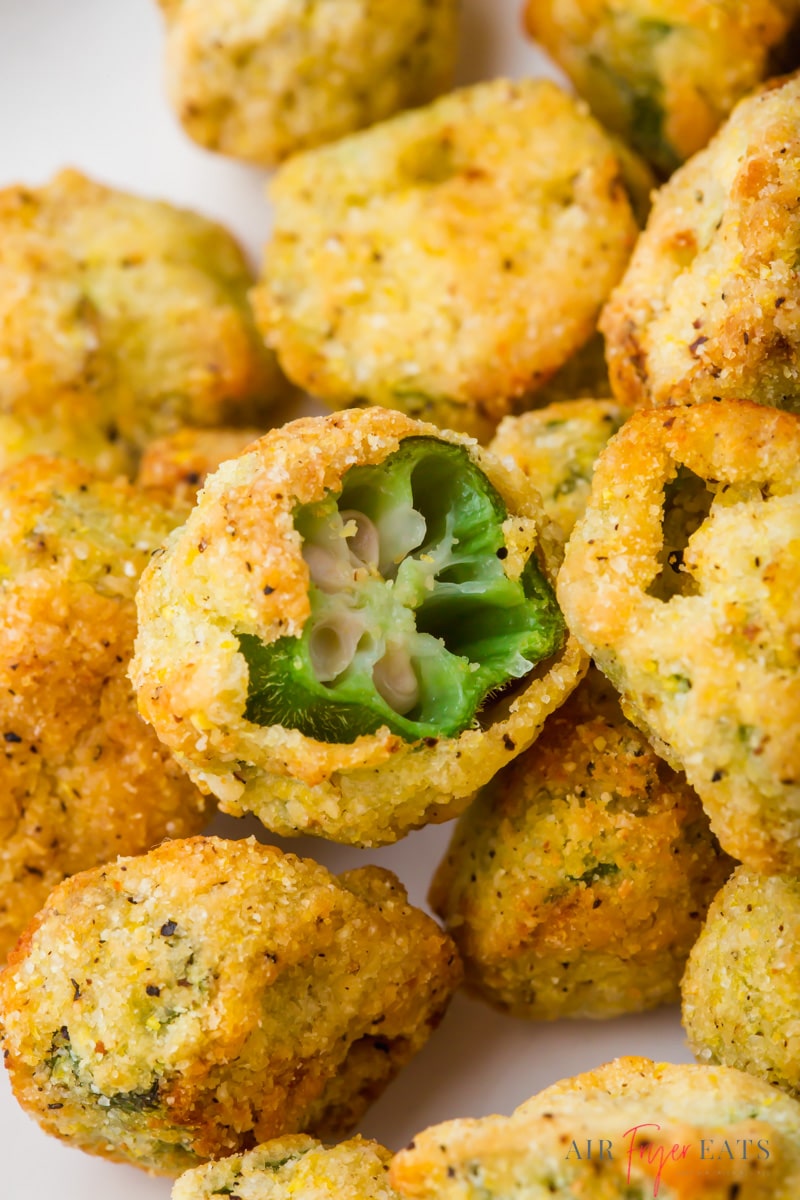 HOW TO MAKE FROZEN OKRA IN AIR FRYER
Frozen foods were made to be cooked in the air fryer, and frozen breaded okra is no exception!
In just a few minutes, you can enjoy crispy breaded okra that you've made in the air fryer. It's a low mess, quick way to enjoy this classic southern side dish.
Speaking of southern side dishes, have you tried making Air Fryer Hushpuppies or Air Fryer Cornbread yet? You must!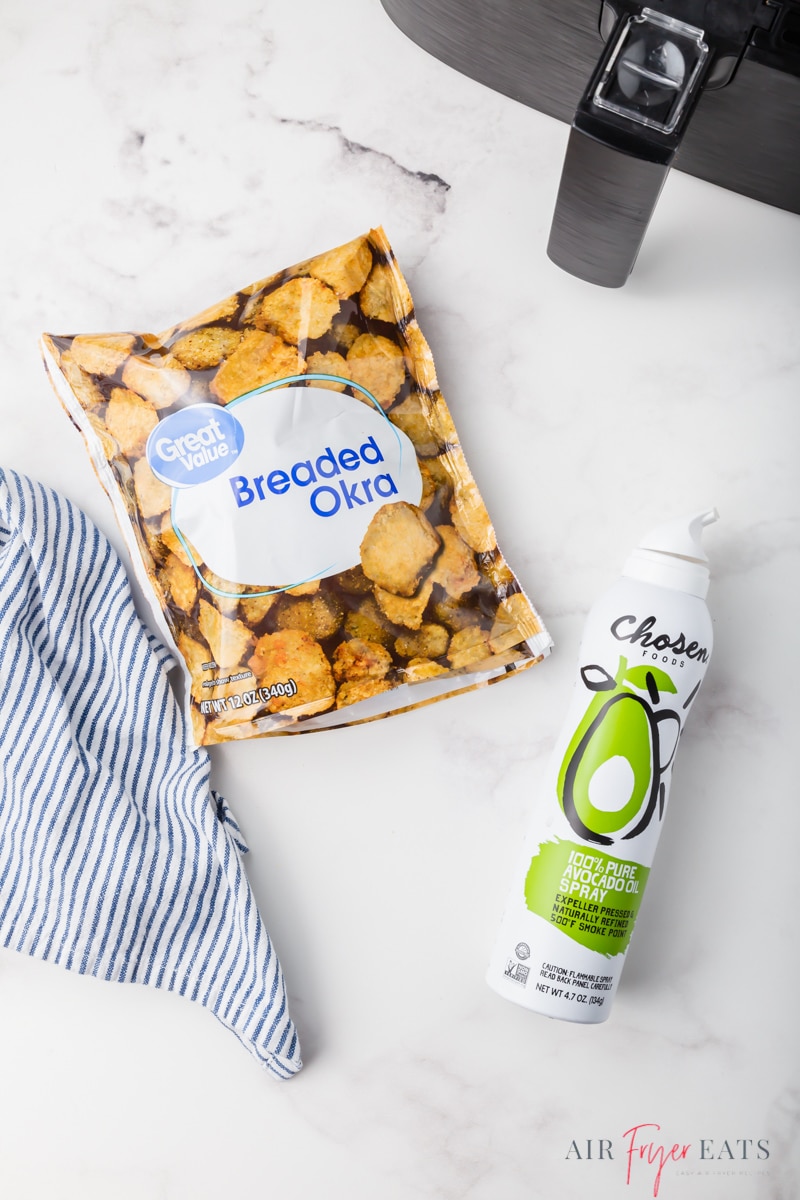 INGREDIENTS FOR FROZEN OKRA IN AIR FRYER
Frozen Breaded Okra - The best shortcut for making air-fried okra is to buy the okra already breaded! This okra came from Walmart, but you can find it in most large grocery stores.
Oil - In order to get super crispy okra from the air fryer, you should spray it with oil. Use your favorite cooking spray or cooking oil that you have in a spray bottle.
If you have any questions about making air fryer frozen okra, please leave a comment below and I will get back to you ASAP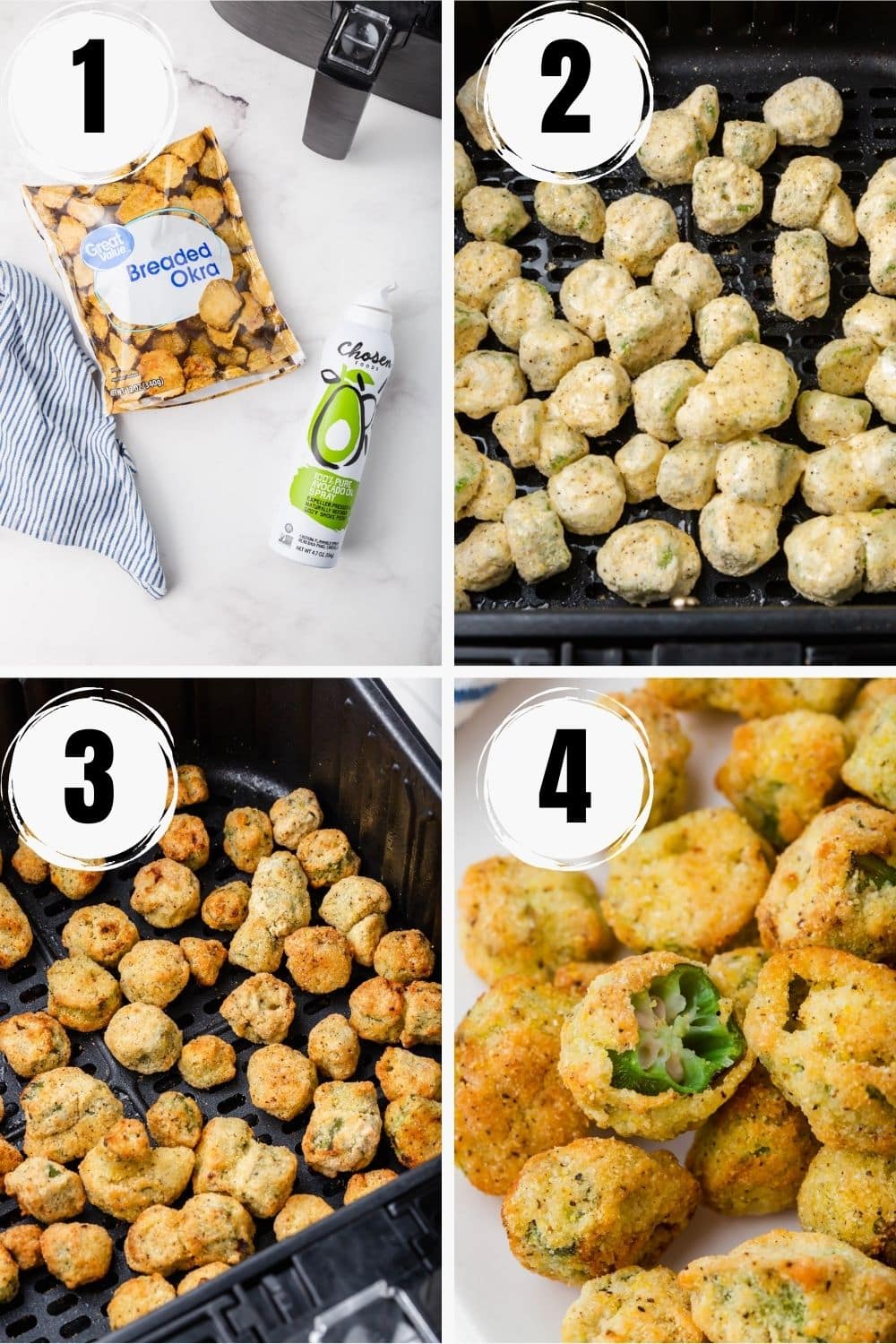 HOW TO MAKE AIR FRYER FROZEN OKRA
Here are the directions for air frying okra. Follow them to get crispy and delicious breaded okra from the air fryer.
Preheat the Air Fryer to 400°F/200°C and remove the frozen breaded okra from its outer packaging.
Place the okra in the air fryer basket in a single layer, and spray liberally with cooking spray or oil.
Air Fry as directed in the recipe card below. Halfway through, flip the okra over, or give the basket a good shake. Spray again with oil as needed.
Enjoy your air fryer frozen okra while it's hot and crispy!
These numbered steps match the numbered photos above and are for illustration purposes. For the complete list of ingredients and instructions, please see the recipe below.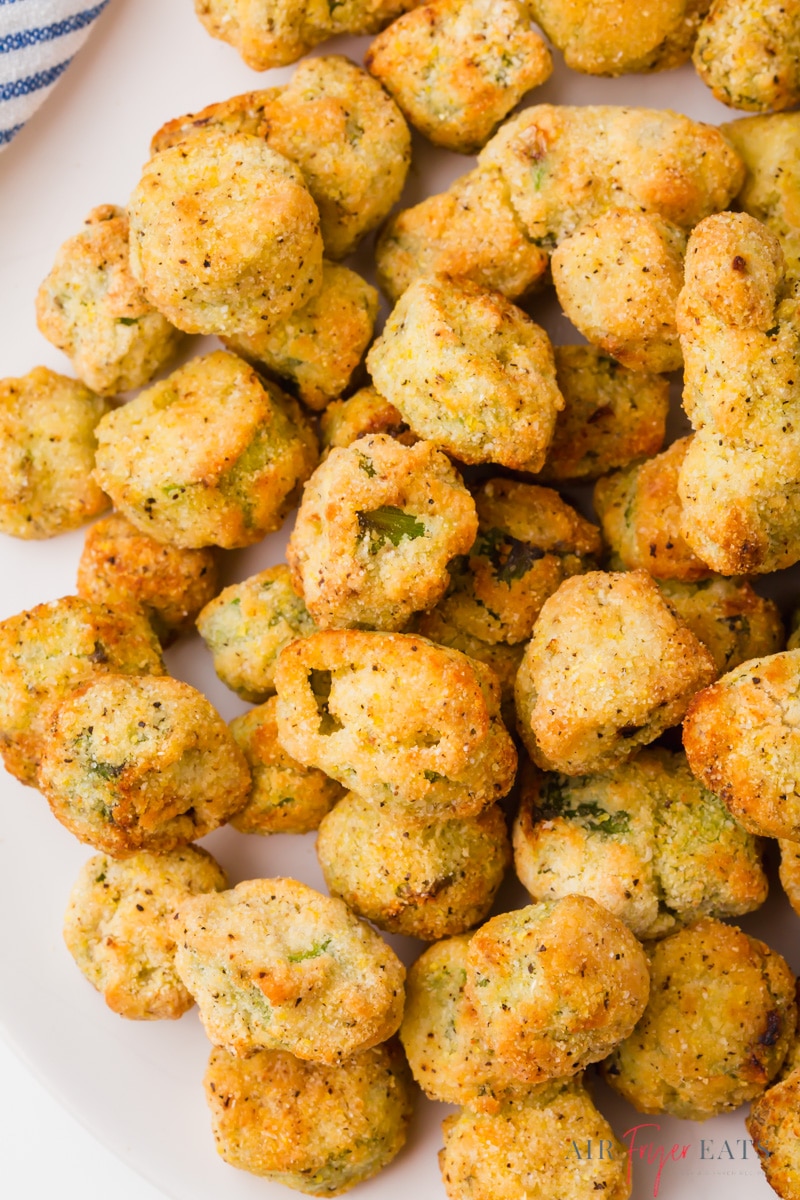 WHAT TO SERVE WITH AIR FRYER FROZEN OKRA
While you can enjoy fried okra with any of your favorite main dishes, it goes best with simply prepared meats, and is especially delicious with BBQ and Fried Chicken!
Serve air fryer okra along with BBQ food like Air Fryer BBQ Chicken Wings, or Ribs that you've air fried in the Ninja Foodi.
The air fryer makes delicious fried chicken. Air Fryer Chicken Tenders and Air Fryer Chicken Drumsticks are two different ways to achieve super crispy fried chicken.
You can always serve a simple salad with fried okra, like this Greek Cucumber Salad or Mediterranean Chickpea Salad, to make your meal a bit more healthy.
Looking for more ways to enjoy okra? I like this one pot Jambalaya recipe.
WHAT IS OKRA BREADED WITH?
Most traditional recipes for fried okra start with a breading of beaten eggs and a seasoned cornmeal mixture. Cornmeal is the ingredient that makes fried okra so crispy and crunchy.
Frozen breaded okra comes already breaded with cornmeal and seasonings so that it's ready to cook.
SHOULD I THAW FROZEN OKRA BEFORE AIR FRYING?
No! You should not allow the frozen breaded okra to thaw before cooking it. breaded frozen foods are designed to be cooked from frozen. Thawing them out causes mushy things, not crispy ones.
CAN I COOK FROZEN WHOLE OKRA IN AIR FRYER?
If you find large pieces of frozen breaded okra rather than small nuggets, you can use this air fryer method to cook them. You may need to add a few additional minutes of cooking time to get the center of the whole okra heated through.
AIR FRYER TIME AND TEMPERATURE FOR FROZEN OKRA
We've tested this recipe a few different ways, and found that frozen okra cooks best in the air fryer at a high temperature of 400°F/200°C.
At this temperature, it takes between 12 and 14 minutes for the okra to get nice and crispy.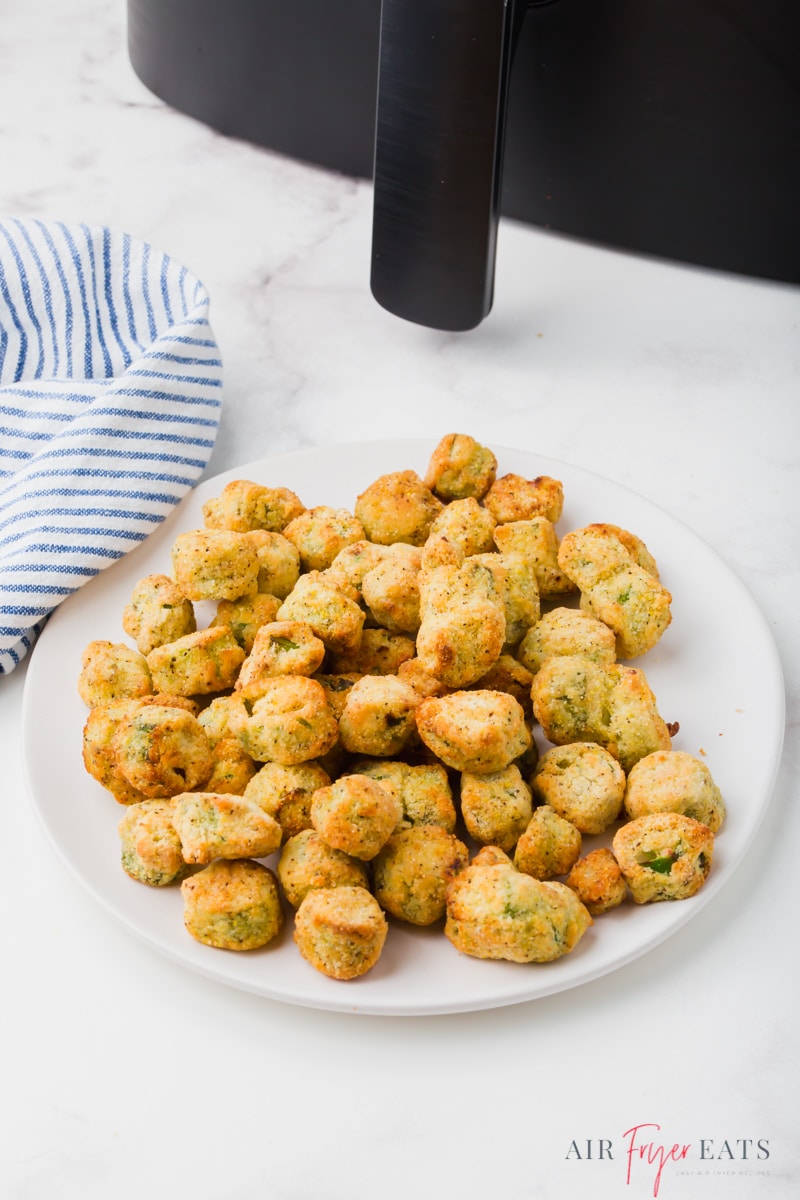 TIPS FOR MAKING THE BEST FRIED OKRA IN AIR FRYER
Spray with Oil. It's not entirely necessary to add oil to frozen okra in the air fryer, but I tested it without oil, and the okra pieces didn't get nearly as crispy. I like to use avocado oil spray but you can use any type of cooking spray or cooking oil in a spray bottle.
Don't Thaw the Okra. As with most frozen foods, frozen breaded okra is meant to cook directly from frozen. Don't let it thaw before cooking it in the air fryer.
Serve with Dip. Traditionally, fried okra would be served with a Remoulade or spicy Aioli.
IS AIR FRYER FROZEN OKRA HEALTHY?
While breaded vegetables aren't generally the most healthy way to eat vegetables, there are a variety of health benefits to be had from eating Okra.
Okra is high in both soluble and insoluble fiber. This means that it's filling, and can be good for your digestive health!
CAN I AIR FRY HOMEMADE BREADED OKRA?
You can use the air fryer to cook homemade breaded okra. Simply follow your favorite recipe to bread fresh okra slices, then cook using the directions below. The instructions are exactly the same for cooking frozen breaded okra and fresh breaded okra.
It's especially important to add lots of cooking spray if you're cooking okra that you've breaded yourself, so be sure not to skip it.
MORE AIR FRYER FROZEN APPETIZER RECIPES
We love making frozen snacks and appetizers in the air fryer and have a ton of great recipes and instructions so that you can make your favorites.
You'll love that it's so much faster than using the oven!
Bagel Bites in the Air Fryer is one of our most popular posts! This is because these little pizza bites come out perfectly crisp on the outside and soft in the middle when cooked this way.
Frozen Taquitos in Air Fryer come out super crispy! We love dipping these in sour cream and salsa.
If you like frozen pierogies, you will really like making Air Fryer Frozen Pierogies. The texture is amazing, and so much better than when you microwave them.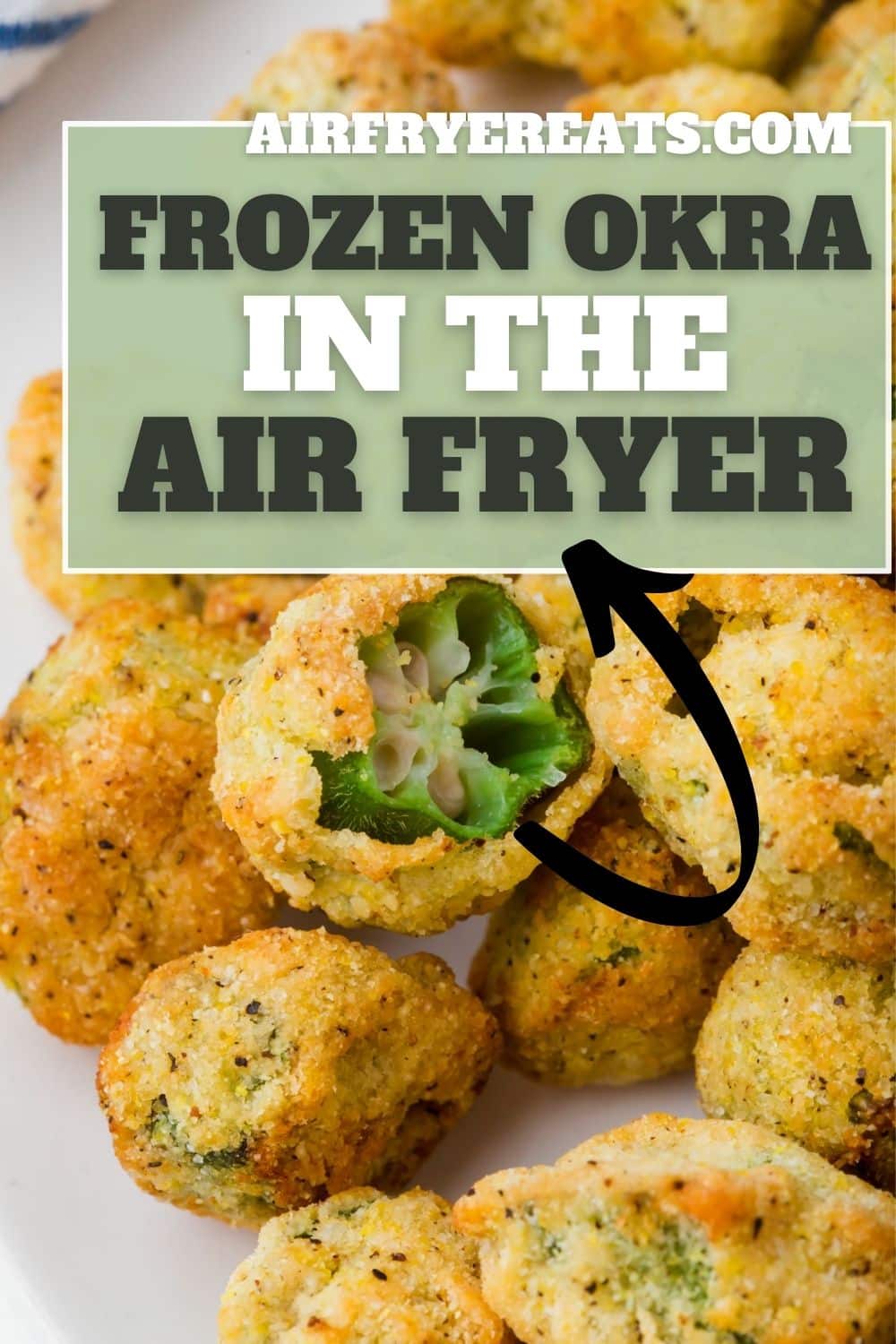 Have you made this recipe? Please leave a comment AND rating below! It helps other readers!
Be sure to tag @AirFryerEats on instagram, if you share a picture on the gram! Let's get social, you can follow me on Youtube, Instagram, Facebook, Pinterest or join one of our Air Fryer Facebook Groups: Air Fryer Recipes, Air Fryer Recipes for Seniors and Gluten Free Air Fryer Recipes.
Don't forget to subscribe to our EMAIL newsletter.
Air Fryer Frozen Okra
Air Fryer Frozen Okra is fast, easy, crispy, and perfect for dipping! Making frozen okra in the air fryer is the best way to do it.
Ingredients
1

package

frozen breaded okra

cooking oil spray
Instructions
Preheat your air fryer to 400°F/200°C for 5 minutes. Remove the breaded okra from its packaging.

Place the frozen breaded okra in the air fryer basket in a single layer. Spray the top of the okra liberally with cooking spray or oil.

Air fry at 400°F/200°C for 12-14 minutes, flipping halfway through. Spray with additional cooking oil when you flip the okra.

Remove from the air fryer and serve immediately.
Go AD FREE!
Notes
For accurate nutritional values, please see the label on your okra packaging.

You don't necessarily have to spray the okra with cooking oil, but it does help the okra get really golden and crispy in the air fryer so I highly recommend it.

Do not thaw the okra before air frying. Cook directly from frozen.

Pro Tip: This recipe can be made in the air fryer unit with a basket or the air fryer oven. If you are using the air fryer oven, use the middle rack and select the "Air Fry" function.
Pro Tip: Check your food as it cooks. Each air fryer runs a bit differently. Sometimes airfrying is a trial and error process. Check your food as it cooks to learn your air fryer better! When cooking a new recipe or food items be sure to check your food often to help avoid over/undercooking.
Have oven recipes that you'd like to convert to an air fryer recipe? Use our Air Fryer Calculator to help you estimate cooking times and temps! Calculator here: https://airfryereats.com/air-fryer-conversion-air-fryer-calculator/
Nutrition
Calories:
0.1
kcal
|
Carbohydrates:
0.02
g
|
Protein:
0.01
g
|
Sodium:
0.02
mg
|
Potassium:
1
mg
|
Fiber:
0.01
g
|
Sugar:
0.003
g
|
Vitamin A:
2
IU
|
Vitamin C:
0.1
mg
|
Calcium:
0.2
mg
|
Iron:
0.003
mg
Tired of the ads?
Go AD Free - Become part of our Membership community!
Air Fryers can vary greatly. Please take the time to learn your specific air fryer. You may need to adjust times and temperatures based upon your air fryer.
All though this website attempts to provide accurate nutritional information, the information should only be considered an estimate. Varying factors such as different product types, different brands, etc. can change nutritional information. It is your responsibility as a consumer to read all labels to make sure the ingredients fit your dietary needs as well as calculate your own nutritional information as a double check.