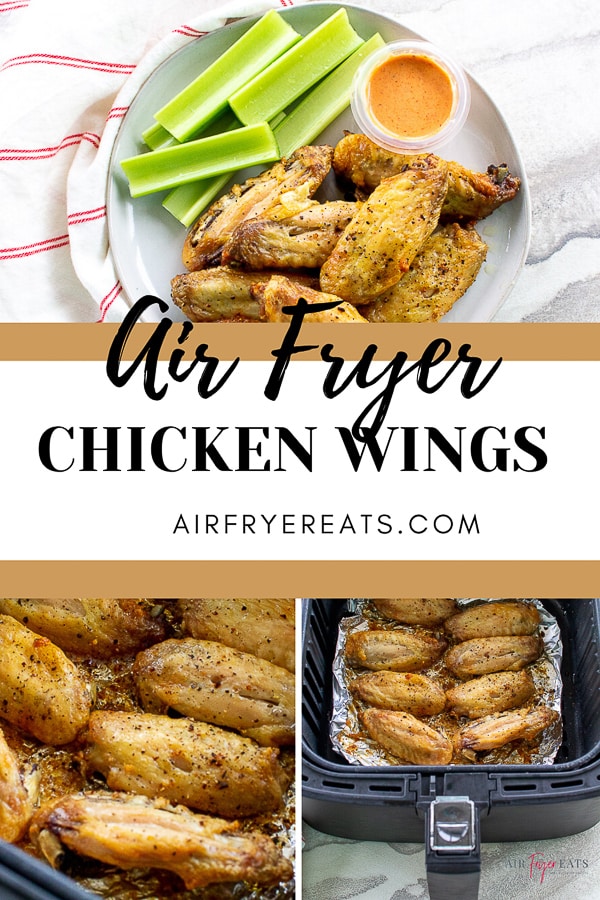 There's no need to go out for wings when you can make them right in your home using your air fryer! These Air Fryer Chicken Wings are crispy, flavorful, and cooked perfectly in only 20 minutes!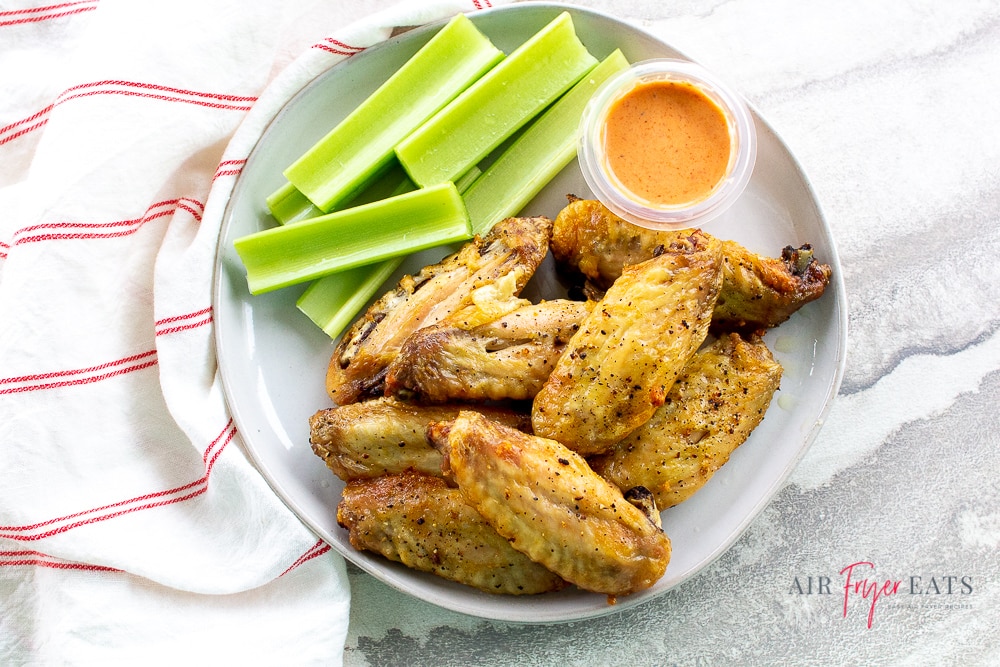 Air Fryer Chicken Wings Recipe
Air Fryer Chicken Wings taste so much better than takeout!
With only a few ingredients and 20 minutes, you'll have a plate of crispy, piping hot wings ready to devour.
You can keep them "naked", add your favorite seasonings to spice them up, or turn them into BBQ wings!
Any way you spin it, you'll love this chicken wings recipe!
How to Make Wings in an Air Fryer
Step 1: Rinse and pat your chicken wings dry, then separate them into drums and flats.
Step 2: Place the wings into a bowl, then drizzle a little oil over the pieces.
Step 3: Sprinkle some garlic salt over the chicken and toss to coat..
Step 4: Line your air fryer basket with foil or parchment, then arrange the chicken in the basket in a single layer.
Step 5: Air fry the chicken wings for 8-10 minutes at 400 degrees F, then flip the chicken pieces with a set of tongs and air fry for another 8-10 minutes.
Step 6: Serve with your favorite dressing or dipping sauces and enjoy!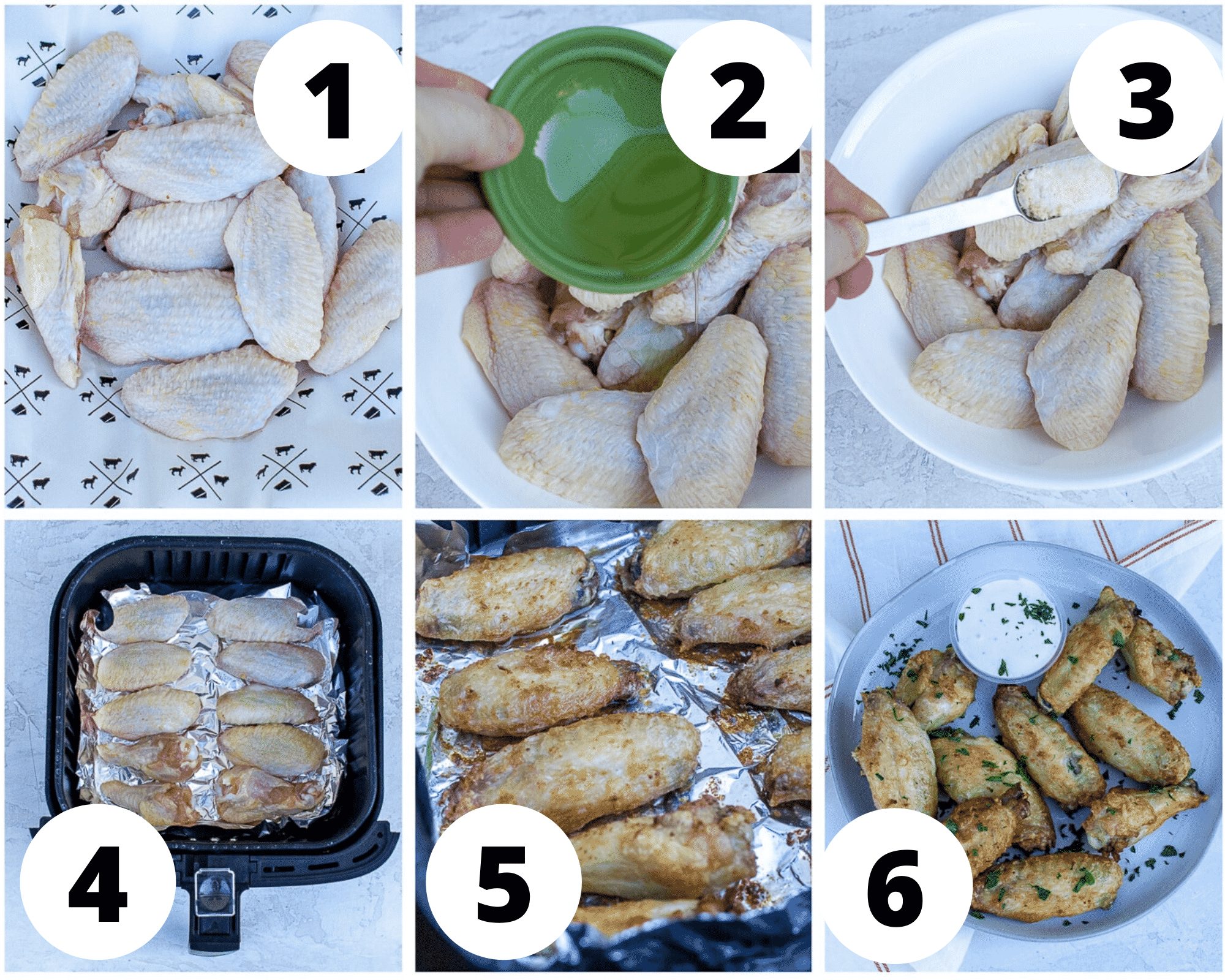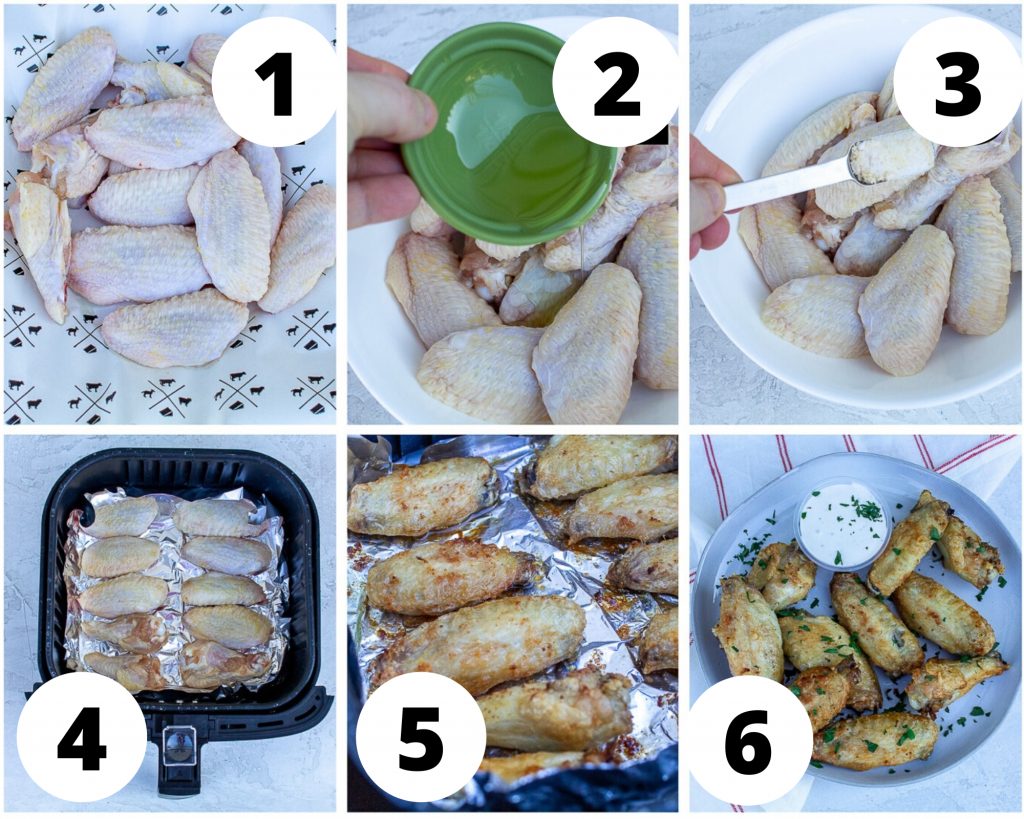 How to Separate Whole Chicken Wings
Your local grocer or butcher may sell chicken wings already separated.
But if not, it doesn't take much effort to do it yourself.
Here's what you'll need to do:
First, identify the two bone joints in the wings.
Next, use a pair of kitchen shears to snip through both joints.
Discard the tips of the wings (they're mostly cartilage and skin), and cook with the little drums and flat pieces.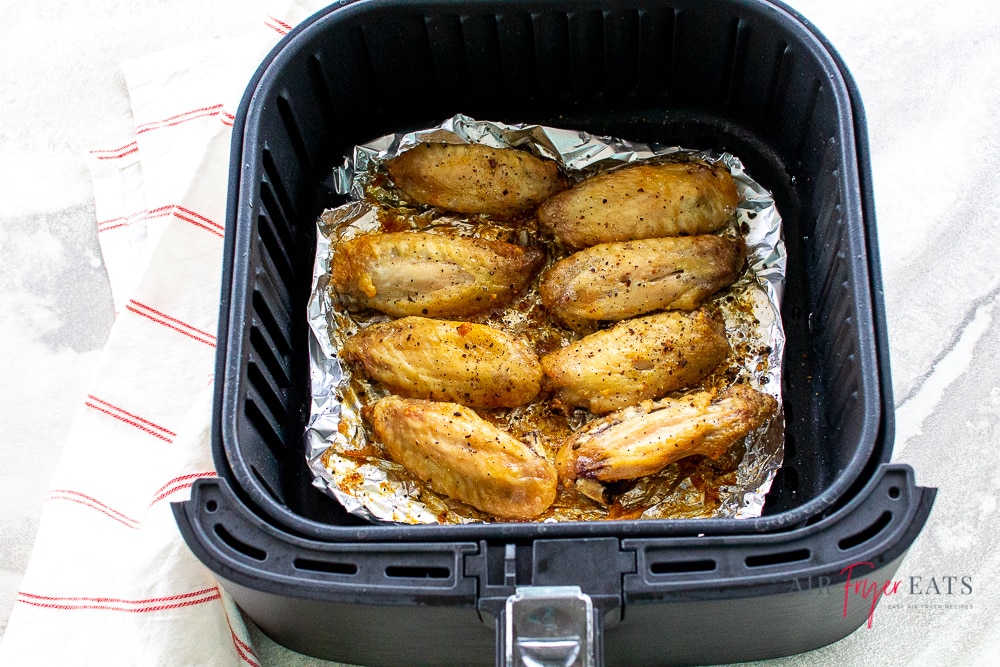 Tips for Making Chicken Wings
Make sure your chicken wings are dry before coating with oil. I recommend rinsing them with water and patting them dry with paper towels.
Place them on a plate lined with paper towels to drain any excess water while you gather the rest of your ingredients.
Doing this will ensure that the chicken wing skin will fry to a golden brown crisp.
Don't skimp on the oil. While you won't want to use an excess amount of oil (no smoking air fryers allowed!), you won't get that crispy golden skin texture without it.
Use a simple oil with a high smoke point like vegetable oil or peanut oil.
Serve sauce on the side. Since chicken wings are dark meat, the meat will likely stay nice and juicy inside.
But it's always a good idea to have a creamy element to serve with a crispy, hearty meat like chicken wings!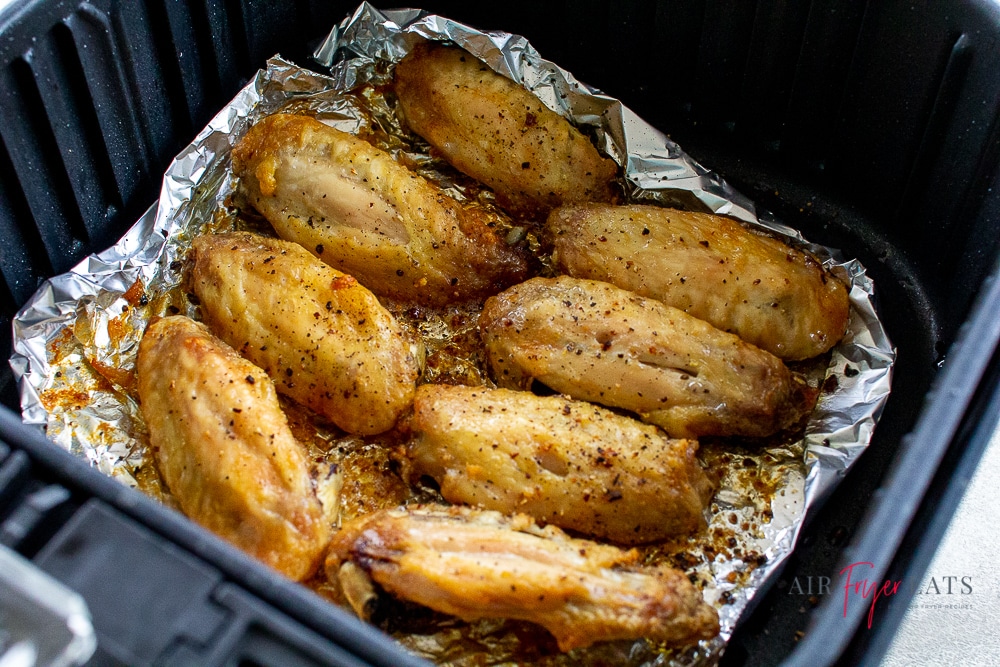 How to Serve Chicken Wings
Place the wing pieces on a platter, sprinkle with chopped fresh parsley, and serve with ranch dressing or your favorite dipping sauce.
Toss the wings with buffalo sauce before plating. Serve with a good quality bleu cheese dressing.
Add fresh celery and carrot sticks to counteract the heat from the buffalo sauce.
Make your air fryer chicken wings into a healthy and filling meal by serving with baked beans and creamy coleslaw.
Create a knockout air fryer appetizer spread that'll impress the guests at your next party or tailgate!
Pair with air fryer meatballs, air fryer pickles, and air fryer mozzarella sticks.
Can I reheat chicken wings in my air fryer?
Absolutely! It doesn't take much effort to reheat chicken wings.
I recommend skipping the microwave to avoid a soggy and rubbery reheated texture. The great news is that you can do it right in your air fryer instead!
Simply turn your air fryer to 360 degrees F, and air fry the wings for 4-5 minutes.
That's just enough time to get them reheated and crispy without over cooking them.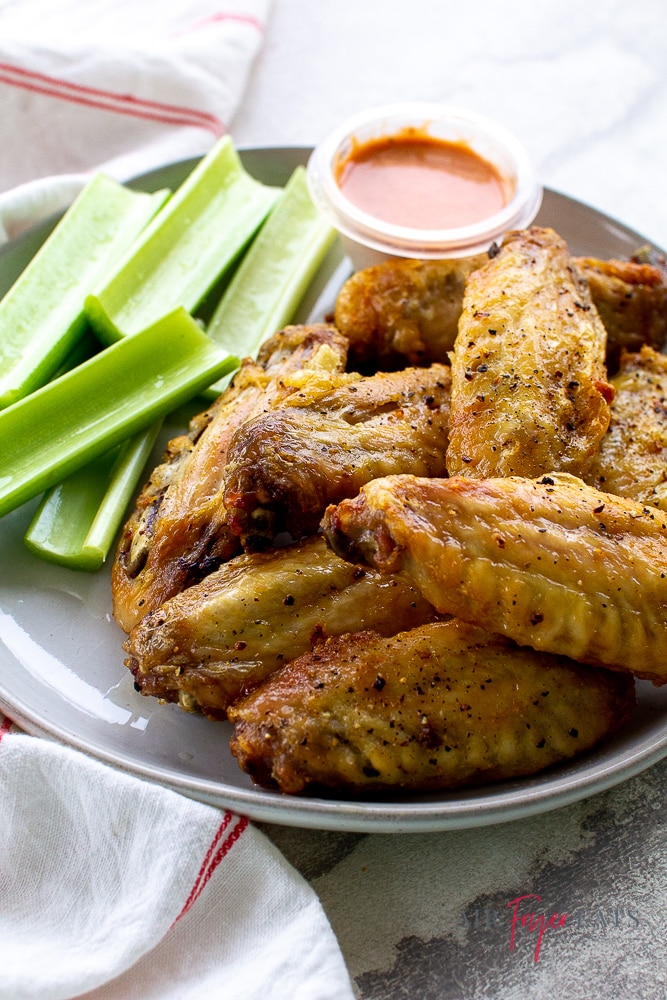 Try these other tasty air fryer appetizers!
We have so many air fryer recipes to choose from!
If you are having trouble figuring out which one to try next, we suggest: Air Fryer BBQ Chicken Wings, Air Fryer Meatballs and Air Fryer Mozzarella Sticks. You might want to make a coupe batches of wings. If your air fryer is busy you can try these soy sauce chicken wings!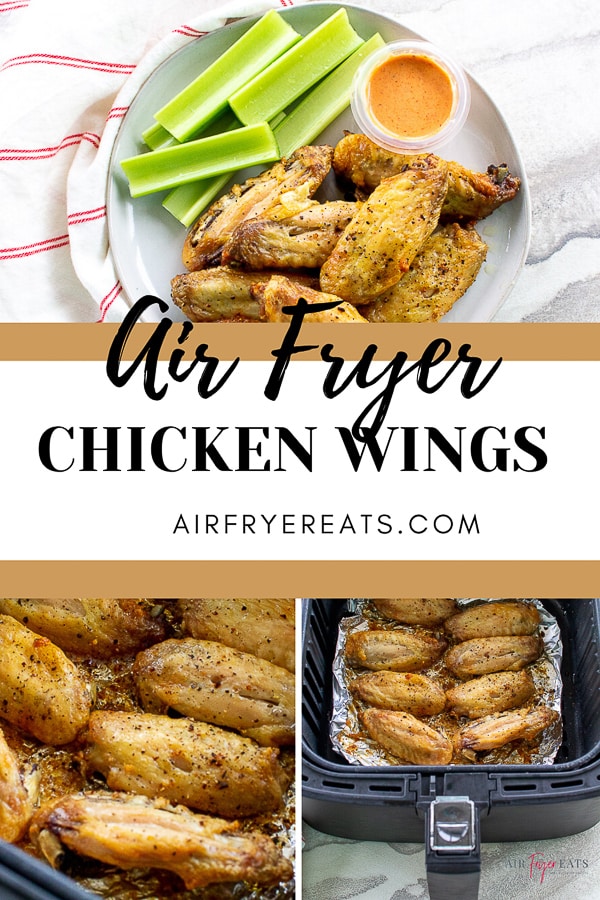 Have you made this recipe? Please leave a comment AND rating below! It helps other readers!
Be sure to tag @AirFryerEats on instagram, if you share a picture on the gram! Let's get social, you can follow me on Youtube, Instagram, Facebook, Pinterest or join one of our Air Fryer Facebook Groups: Air Fryer Recipes, Air Fryer Recipes for Seniors and Gluten Free Air Fryer Recipes.
Don't forget to subscribe to our EMAIL newsletter.
Air Fryer Chicken Wings
There's no need to go out for wings when you can make them right in your home using your air fryer! These Air Fryer Chicken Wings are crispy, flavorful, and cooked perfectly in only 20 minutes!
Ingredients
1

lb

chicken wings

split into drums and flats

1

tbsp

oil

1

tsp

garlic salt
Instructions
Gently rinse the chicken pieces and pat them dry with a paper towel.

Place the chicken pieces into a large bowl.

Pour the oil over the chicken.

Sprinkle the garlic salt over the chicken and toss to coat.

Place parchment or foil in the bottom of your air fryer basket for easy cleanup.

Arrange the chicken pieces in the lined fryer basket.

Air fry the chicken at 400 degrees for 8-10 minutes.

Flip the chicken pieces and cook for another 8-10 minutes.

In the last 2-3 minutes, open your air fryer basket and spray the chicken generously with oil to help crisp the chicken. (optional)
Go AD FREE!
Video
Notes
I have found the sweet spot of cooking to be around 16 minutes.

Thicker wings will take longer to cook, so you may need to adjust your air fry cook time by a couple of minutes.

Keep in mind that there are many different models of air fryers on the market, so cooking times and temperatures might vary slightly.
Pro Tip: This recipe can be made in the air fryer unit with a basket or the air fryer oven. If you are using the air fryer oven, use the middle rack and select the "Air Fry" function.
Nutrition
Calories:
167
kcal
|
Protein:
11
g
|
Fat:
13
g
|
Saturated Fat:
3
g
|
Cholesterol:
47
mg
|
Sodium:
626
mg
|
Potassium:
96
mg
|
Vitamin A:
90
IU
|
Vitamin C:
1
mg
|
Calcium:
7
mg
|
Iron:
1
mg
Tried of the ads?
Go AD Free - Become part of our Membership community!
Air Fryers can vary greatly. Please take the time to learn your specific air fryer. You may need to adjust times and temperatures based upon your air fryer.
All though this website attempts to provide accurate nutritional information, the information should only be considered an estimate. Varying factors such as different product types, different brands, etc. can change nutritional information. It is your responsibility as a consumer to read all labels to make sure the ingredients fit your dietary needs as well as calculate your own nutritional information as a double check.
PRO TIP: When cooking meat it is extremely important that you measure the internal temperature to make sure your meat has been cooked to completion.
I highly recommend that you get a meat thermometer to keep handy when cooking in your air fryer!