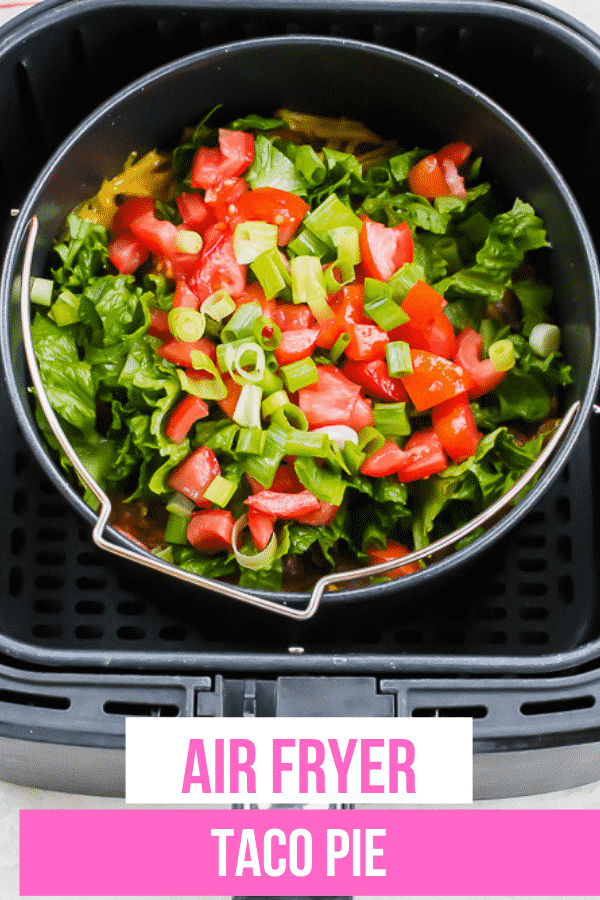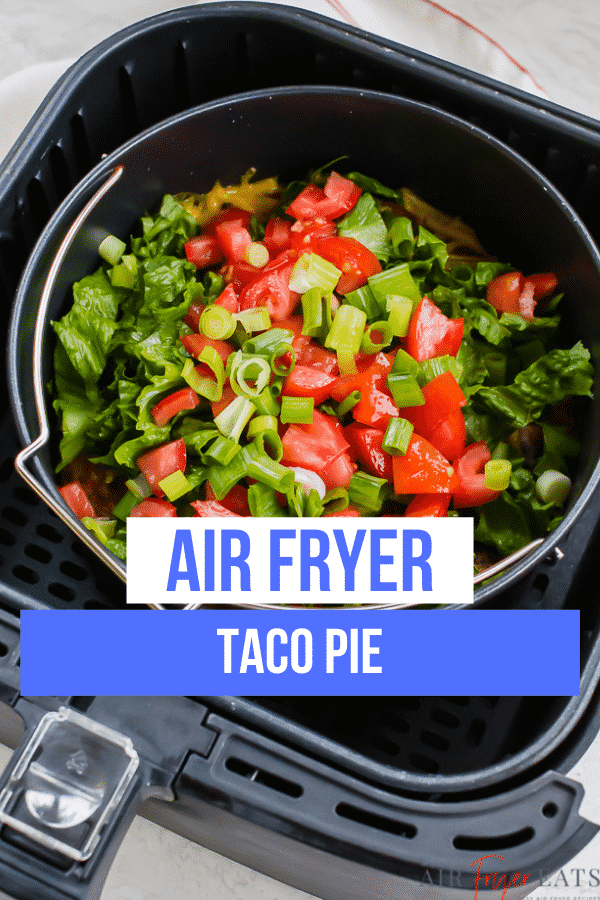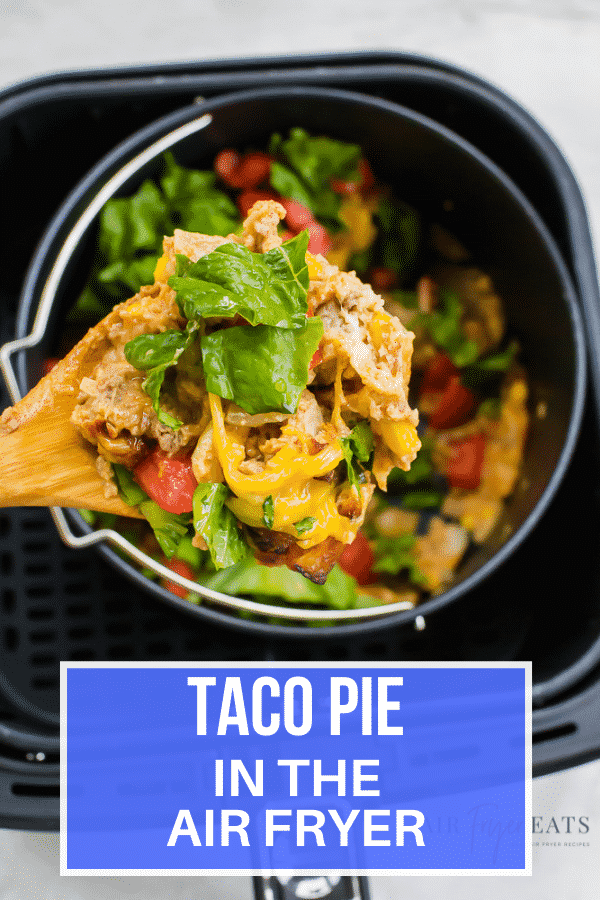 Air Fryer Taco Pie is an entire meal you can make in your air fryer that the whole family will enjoy.
Taco Pie in the Air Fryer is delicious and a classic comfort food dish cooked in a pan in your air fryer.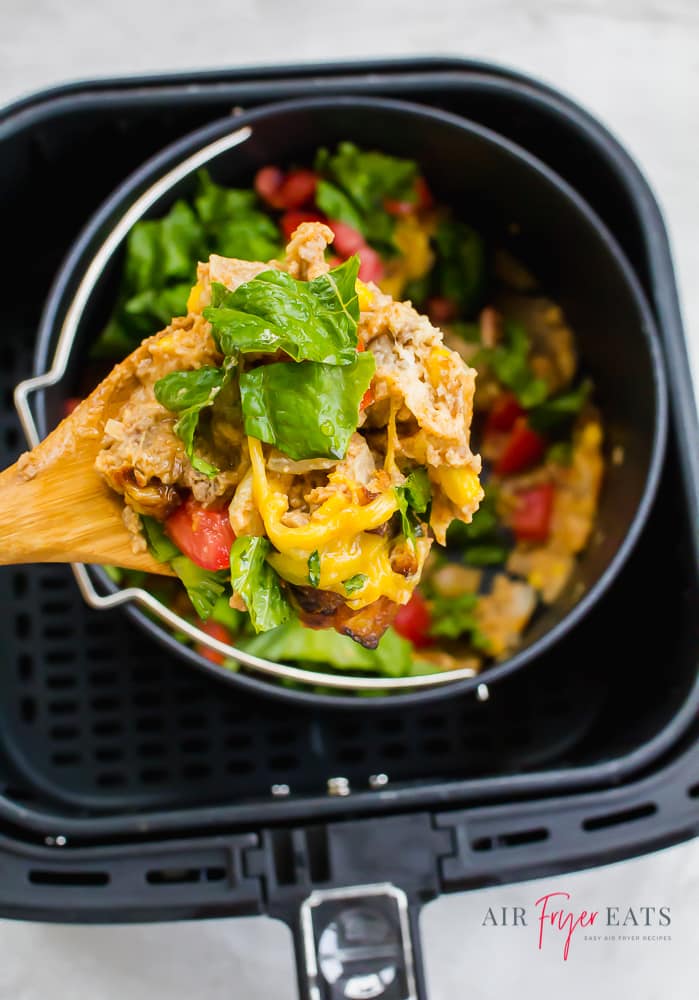 Air Fryer Taco Pie is everything you love in a taco, all in one simple to make pie that you bake in the air fryer. Ground meat, cheese, and taco seasonings come together with Bisquick in this recipe that is sure to have your family asking for seconds.
If you like this air fryer recipe, you might also like our Air Fryer Taquitos or our Air Fryer Enchiladas for your Mexican food fix!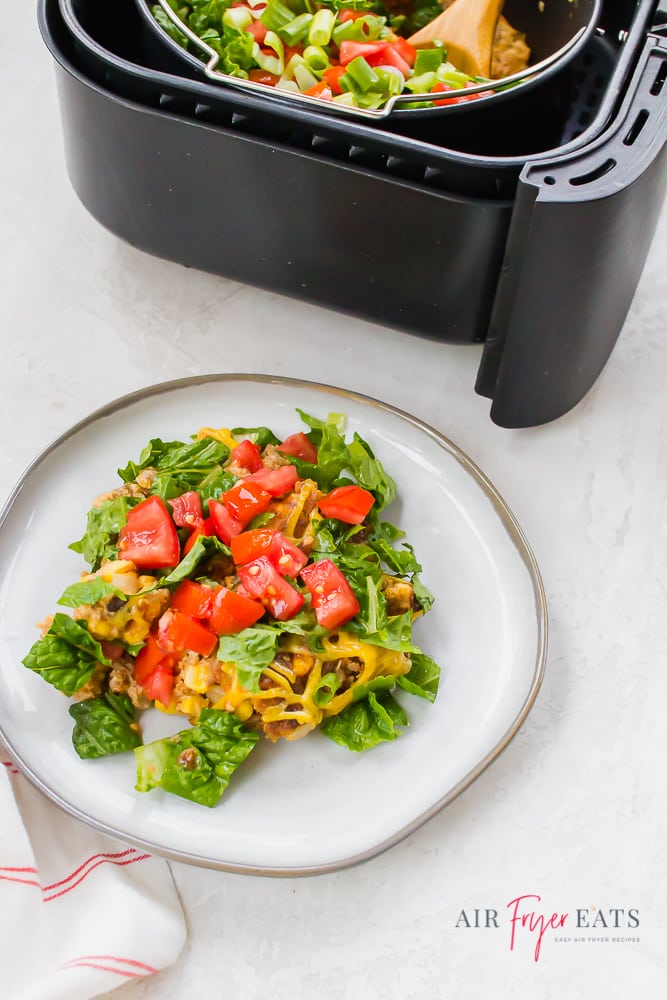 Ingredients in Air Fryer Taco Pie
Oil - for sauteing your onion
Choose your protein - Any ground meat or meat alternative will work here - ground beef, ground turkey, beyond meat veggie alternative, etc.
Diced Onion - onion adds flavor and texture to the meat.
Corn Kernels - I love the addition of corn to the meat mixture.
Taco seasoning - use your favorite blend, or make your own!
Bisquick mix - what would a taco pie be without some biscuit-y crust?
Milk (of your choice) - for the biscuit topping.
Eggs - Eggs are also needed to mix with the Bisquick
Shredded Cheddar Cheese - You will definitely want to melt some cheese on top of this.
Chopped Lettuce - this adds color and crunch.
Diced Fresh Tomatoes - your finishing touch! Add the lettuce and tomatoes after your taco pie is done cooking
If you have any questions, please leave a comment below and I will get back to you.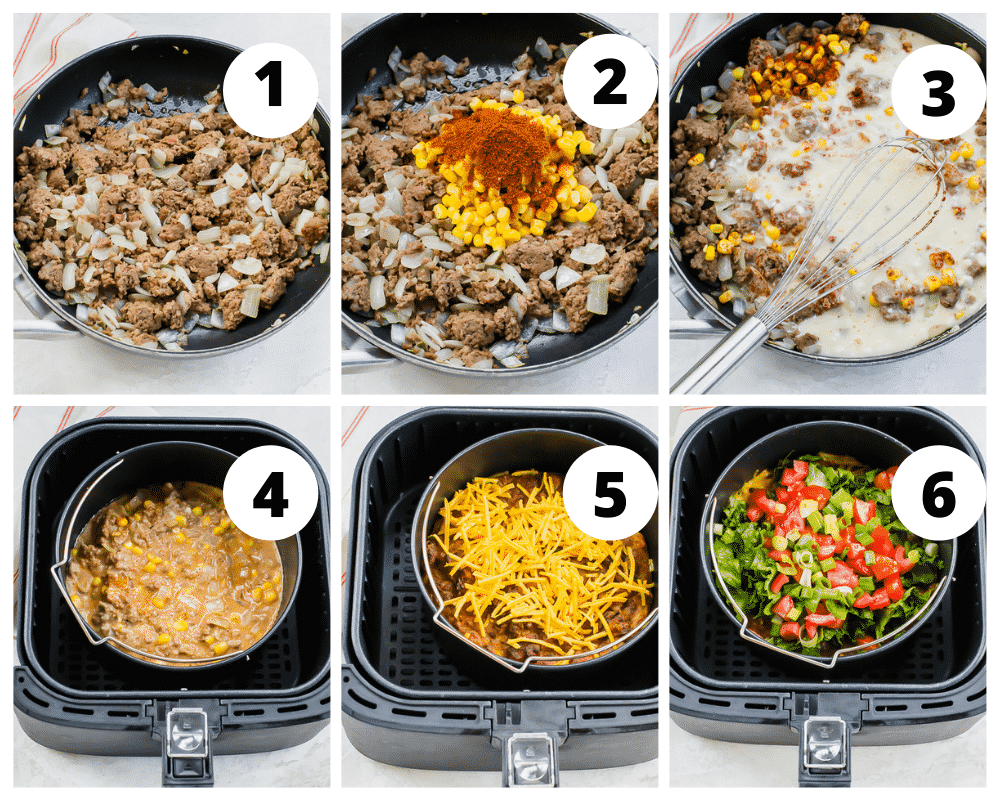 How To Make Air Fryer Taco Pie
In a skillet over medium heat warm the oil and saute the onion for a few minutes, then add in the protein and saute until cooked.
Then add in spices and corn. Stir to combine.
In a small bowl, whisk together the Bisquick, milk and eggs. Add to skillet mixture.
Put entire skillet mixture into an oiled air fryer pot. Air Fry as directed, Stirring part way through.
Add cheese, air fry as directed.
Top with diced tomatoes and lettuce. Enjoy!
These numbered steps match the numbered photos above and are for illustration purposes. For the complete list of ingredients and instructions, please see the recipe below.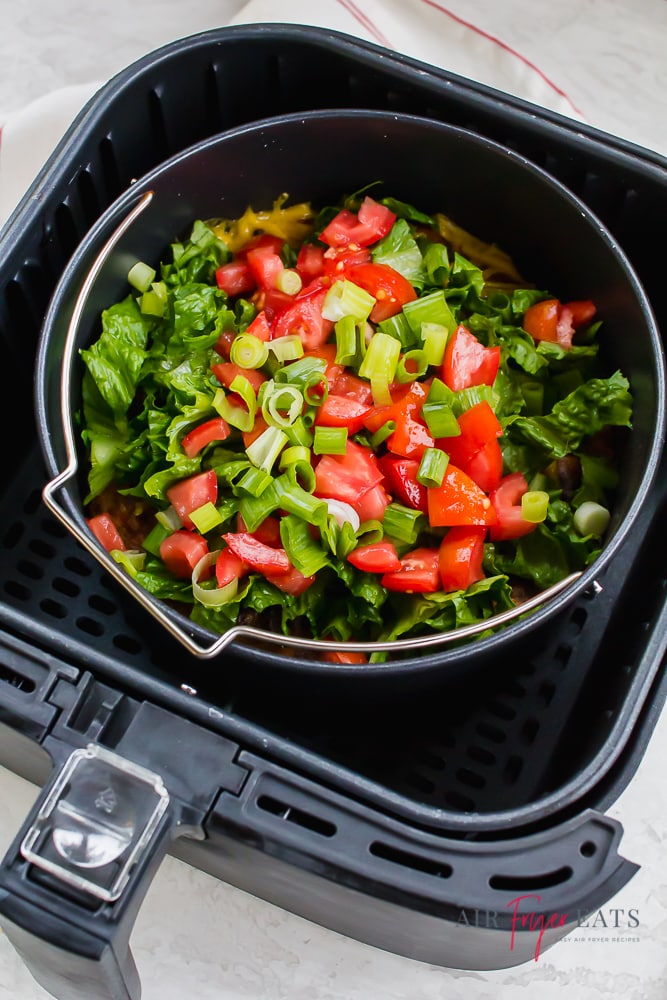 What to Serve with Air Fryer Taco Pie
I love to serve this taco pie with a simple mixed salad with lots of veggies. Some crunchy romaine lettuce with tomato, cucumber and a simple vinaigrette would be perfect.
Your favorite steamed or air fried vegetable would be delicious with this. Try Air Fryer Carrots or Air Fryer Green Beans.
You could try serving with black beans and rice too. Whatever your family would normally have with tacos would work well with this air fryer meal.
More Yummy Toppings for Taco Pie
Try adding these things to your Bisquick taco pie for some variation:
Sliced black olives
Diced avocado
Salsa
Sour Cream
Cilantro
Anything you would put in a taco is fair game here.
How to Store Leftover Air Fryer Taco Pie
Store leftovers in a sealed container in the fridge for up to 3 days. If you know you're going to eat it later, don't add the fresh toppings on until ready to serve. they will get soggy in the fridge.
Why Use Bisquick Instead of Tortillas in Taco Pie?
Some people do use tortillas to make a similar recipe, but I find that using the Bisquick mix gives this dish a really nice texture and helps it to cook evenly in the air fryer.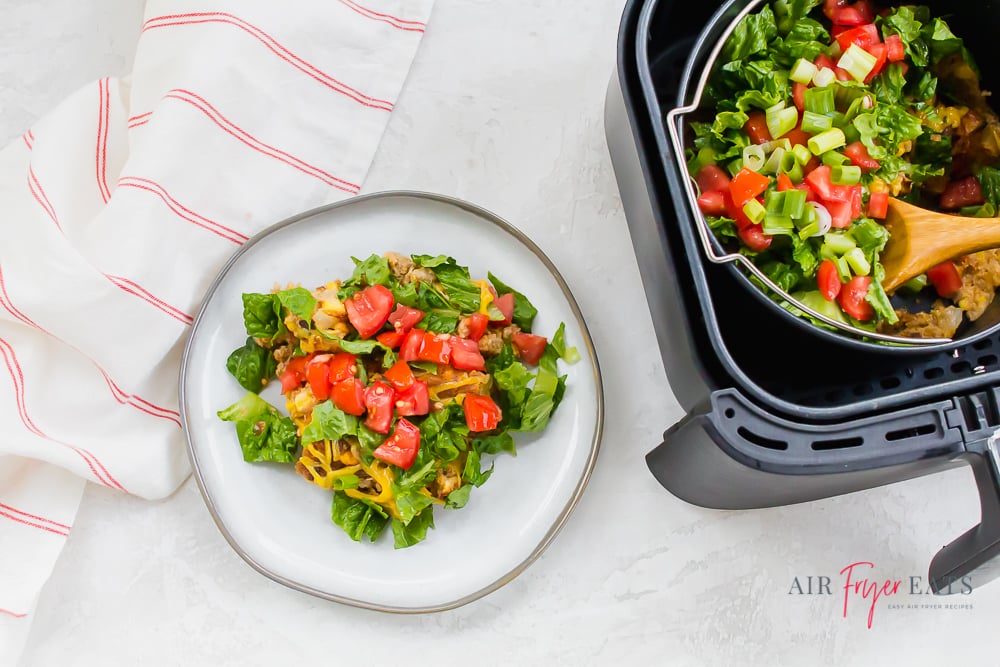 More Yummy Air Fryer Recipes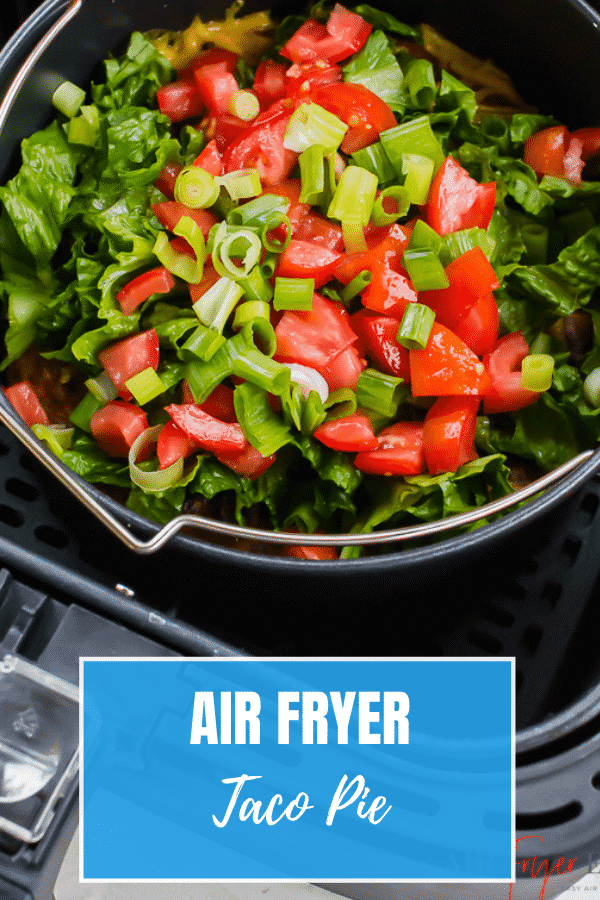 Have you made this recipe? Please leave a comment AND rating below! It helps other readers!
Be sure to tag @AirFryerEats on instagram, if you share a picture on the gram!
Let's get social, you can follow me on Youtube, Instagram, Facebook, Pinterest or join one of our Air Fryer Facebook Groups: Air Fryer Recipes, Air Fryer Recipes for Seniors and Gluten Free Air Fryer Recipes.
Don't forget to subscribe to our EMAIL newsletter.