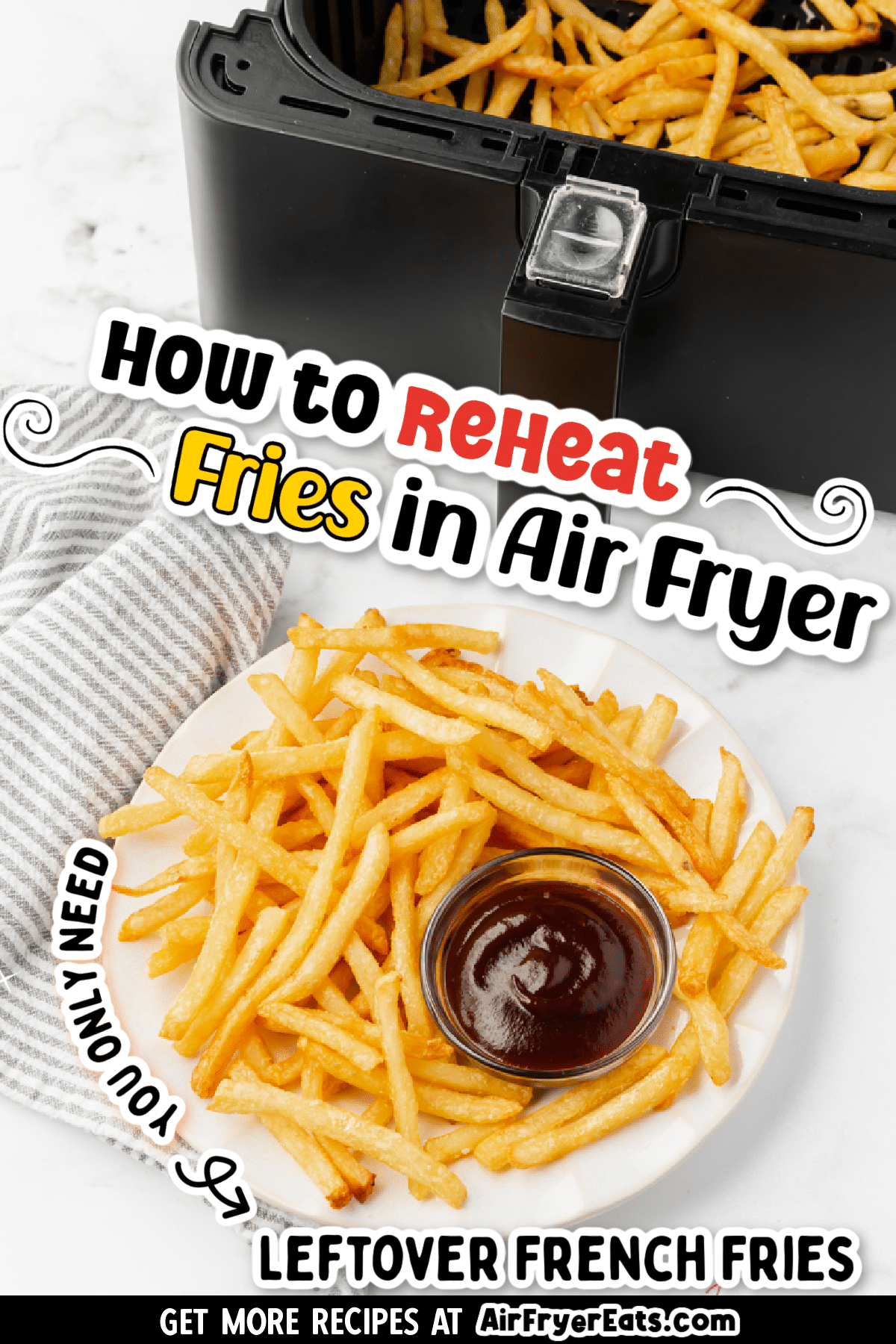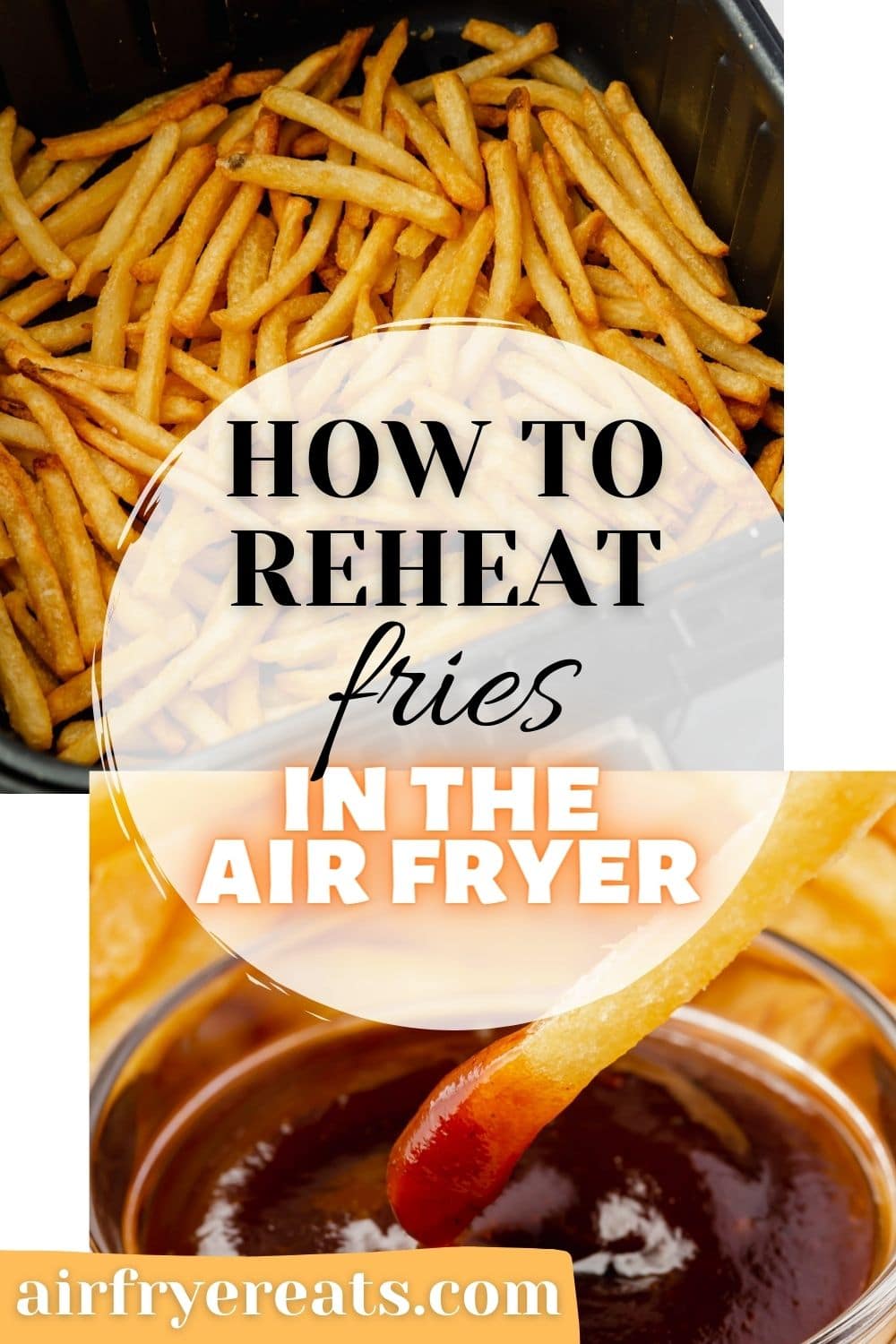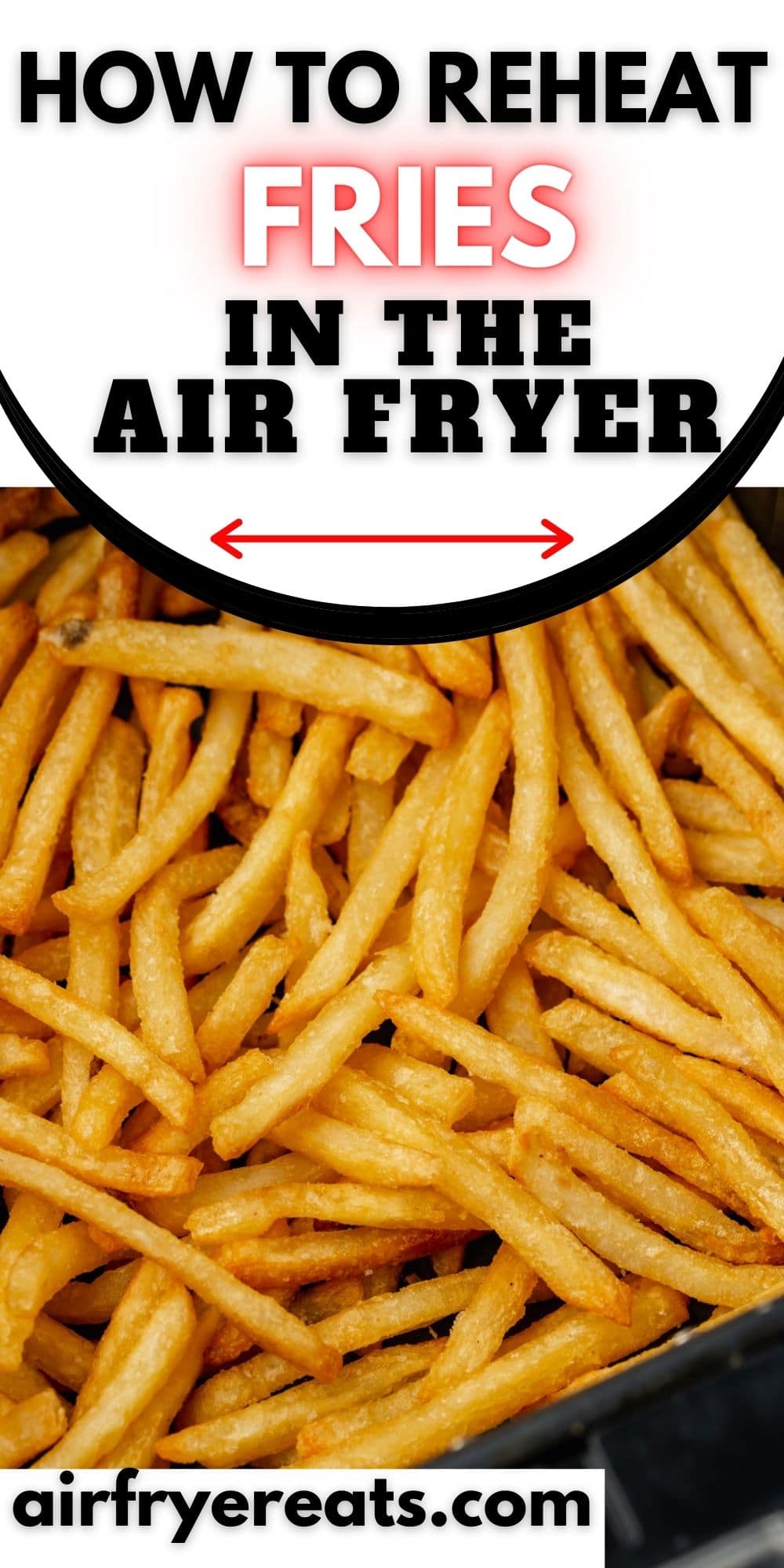 Revive your leftover fries in the air fryer! Learn how to reheat fries in the air fryer, and you'll never have to suffer through cold or microwaved french fries again!
Get all of our best tips and tricks for reheating fries in the air fryer right here.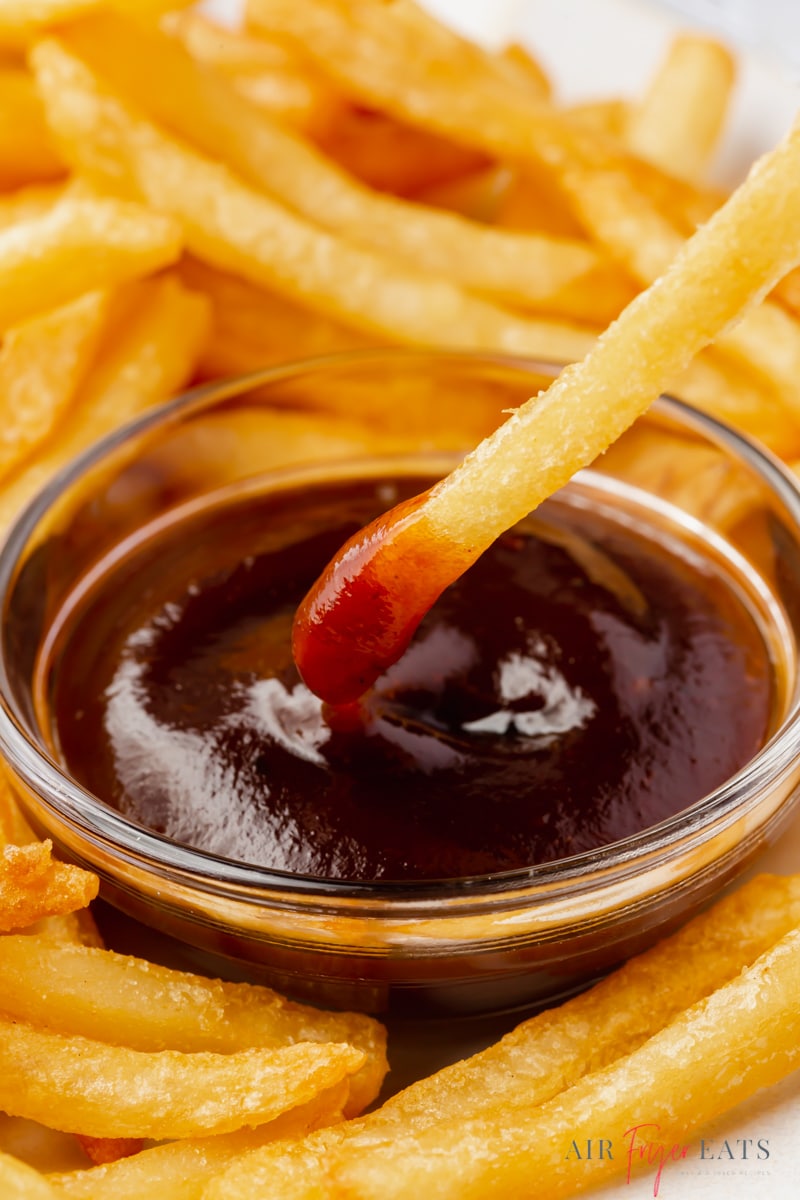 DIRECTIONS FOR HOW TO REHEAT FRIES IN AIR FRYER
It might seem simple, but so many people have asked us,
Can I reheat french fries in the air fryer?
Do you have directions for reheating fries in the air fryer?
Can I use the air fryer to reheat leftover french fries?
The truth is that the air fryer reheats leftover french fries better than any other method available!
You can go through the drive-through, order a big batch of your favorite fries, and reheat them later. They'll taste just as good as when they were fresh!
Heat up those leftover fries and turn them into french fry nachos!
WHY SHOULD I REHEAT FRIES IN THE AIR FRYER?
There are lots of good reasons to use your air fryer to reheat fries and other foods, but the true fact is that crispy leftover french fries are not only possible with the help of your air fryer, they are easy, and completely delicious.
It takes just 4 minutes to reheat fries in the air fryer. A bit longer than the microwave, but the results are well worth the small time investment.
Reheating french fries in the microwave will never give you the result you're looking for, which I assume is french fries that taste like they just came out of the fryer!
The air fryer can revive leftover french fries to their original glory! Leftover fries reheated in the air fryer are hot, crispy, and the closest you can get to fresh.
Once you know how to reheat fries in the air fryer, you won't need to waste fries anymore. I don't know about you, but I can't always finish all of my fries in one sitting. Save your leftover french fries instead of throwing them out, and enjoy them later like they were just made.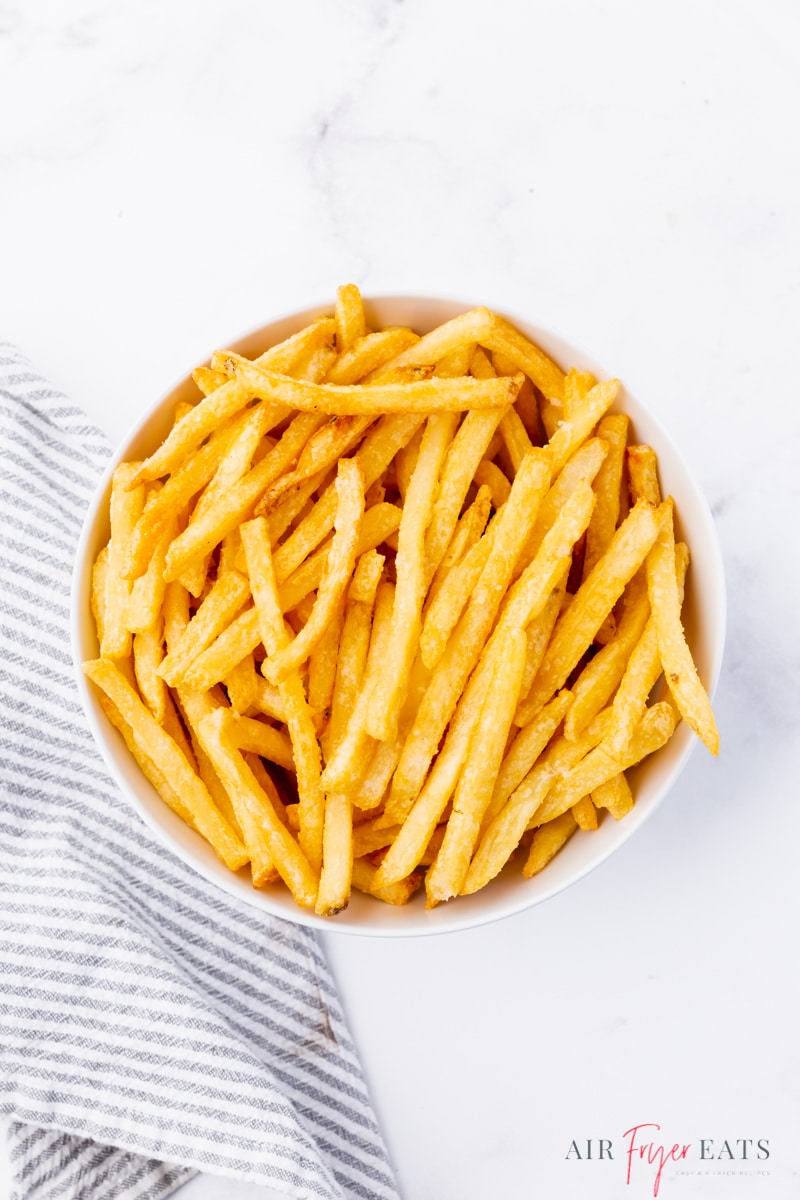 TIPS FOR REHEATING FRIES IN AIR FRYER
This method works with any type of leftover french fries. Try it with Mcdonald's fries, Chick-Fil-A waffle fries, Arby's curly fries, leftovers from restaurants, or the frozen fries you made last night for dinner. In the image above, you can see that I'm reheating a pile of fast food fries that my kids didn't eat but wanted to save for later.
Reheating fries in the air fryer gives you the perfect opportunity to add extra seasonings to them.
You don't need to add any extra oil. There is oil in or on the fries already and the air fryer will use that to crisp them back up again.
Follow these simple instructions for reheating fries in the air fryer, and be sure not to overcook them. Your fries will be best when they are just heated through and the crispiness is reactivated. If overcooked, they could dry out.
The only other rule is to be sure not to overcrowd the basket. You don't need to keep them in a single layer, but you do want plenty of room in the air fryer for air to circulate.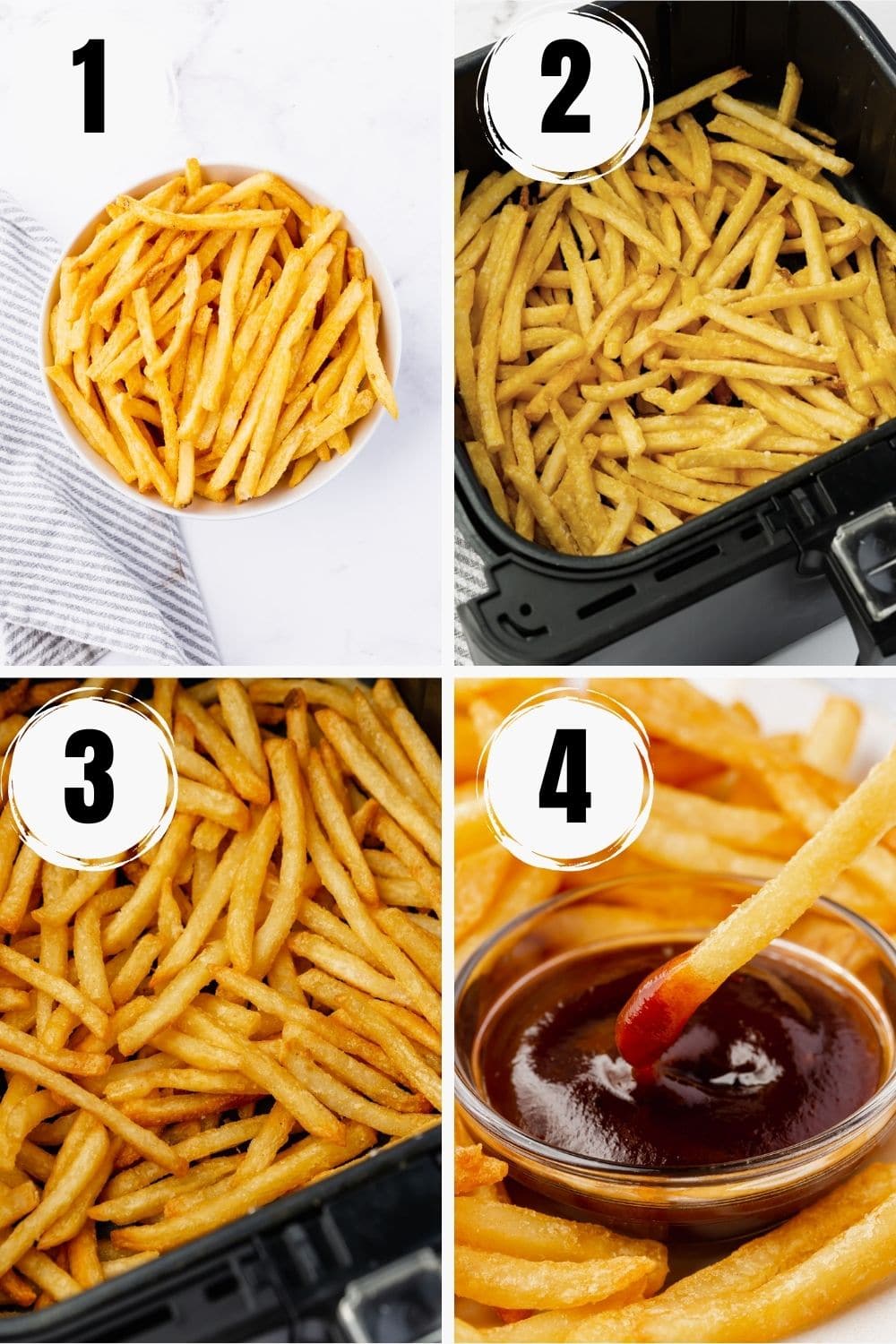 HOW TO REHEAT FRIES IN AIR FRYER
Start with cold, leftover french fries. Again, any kind of previously cooked fries can be reheated in the air fryer! In the images I'm using showstring fries from a fast food restaurant.
Add the fries to the air fryer. While you don't need to keep the fries in a single layer, you should avoid layering them more than 2 deep. This will let them crisp up quickly and evenly.
Air Fry! It takes 3-4 minutes at 400°F/200°C to reheat french fries. Thicker fries may take an extra minute or two. Shake the basket once after about 2 minutes to be sure that everything is reheated evenly.
Serve reheated fries immediately. They are best if enjoyed right away, with ketchup, barbecue, or your favorite dipping sauce.
These numbered steps match the numbered photos above and are for illustration purposes. For the full instructions for reheating fries in the air fryer, see the recipe below.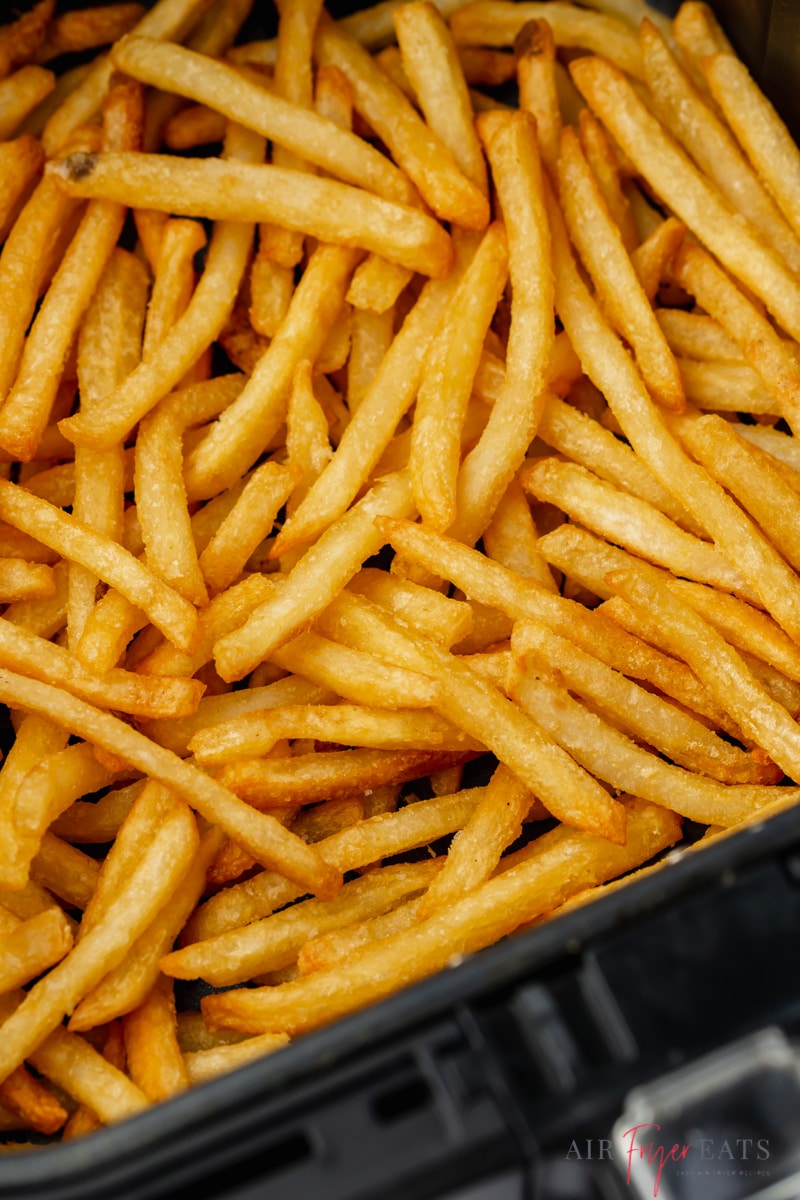 MORE AIR FRYER TIPS FOR REHEATING FRENCH FRIES
The actual time it takes to reheat your fries in the air fryer will depend on the amount that you're cooking and the size of the fries. Add extra time for thick steak fries or waffle fries. If you only have a handful of fries to reheat, reduce the time.
As always, keep a close eye on your food while it's reheating in the air fryer to avoid overcooking it.
Add any seasonings before or after cooking. Seasoned salt is my go-to french fry seasoning.
Oil isn't necessary, but you can add some if you want extra, extra crispy french fries. I suggest spraying on a very small amount if you want to try this.
HOW LONG DOES IT TAKE TO REHEAT FRIES IN AIR FRYER?
I've found that most french fries will reheat well in the air fryer at a high temperature within 3-4 minutes.
Some types of thicker french fries, including steak fries, waffle fries, potato wedges, and curly fries, might need an extra minute or two to reheat fully.
Very thin fries may be done in 2-3 minutes, depending on how fast your air fryer heats up.
WHAT ELSE CAN I REHEAT IN THE AIR FRYER?
You can reheat lots of things in the air fryer! Using a 400°F/200°C air fryer and a short amount of time is the best way to reheat smaller food pieces, such as french fries, sweet potato fries, tater tots, chicken nuggets, shrimp, onion rings, and more!
Larger leftovers, like slices of pizza, chicken tenders, and burgers do best when reheated at a lower temperature (325°F/165°C).
HOW LONG DO LEFTOVER FRENCH FRIES KEEP?
It's best to enjoy your leftover fries within 4 days. Keep them in an airtight container rather than the takeout box they came in to keep them fresher longer.
WHAT IS THE BEST WAY TO REHEAT LEFTOVER FRIES?
It's definitely in the air fryer! No other appliance can reheat french fries as well as the air fryer can.
WHAT TO DO WITH LEFTOVER FRENCH FRIES
So you have some leftover fries in the fridge and you want to make them into something special?
Try adding some cheese! Cheese makes everything better, truly. Use your air fryer to make loaded cheese fries.
Once the fries are crisped up, add a handful of shredded cheddar or Monterray Jack cheese. Air fry for another minute to melt the cheese.
Want more toppings? Add some cooked pieces of bacon on top of the melted cheese, and serve with sour cream to make the most delicious loaded fries from your leftovers.
CAN I REHEAT LEFTOVER SWEET POTATO FRIES?
Yes! Sweet potato fries reheat just as wonderfully in the air fryer as regular french fries do. Keep a close eye on them, as sweet potatoes can burn easily if overcooked due to their sugar content.
CAN I FREEZE LEFTOVER FRIES?
You can freeze leftover fries, but I don't recommend it. The texture of potatoes changes quite a bit when they are frozen after they are cooked, and they will not reheat as well.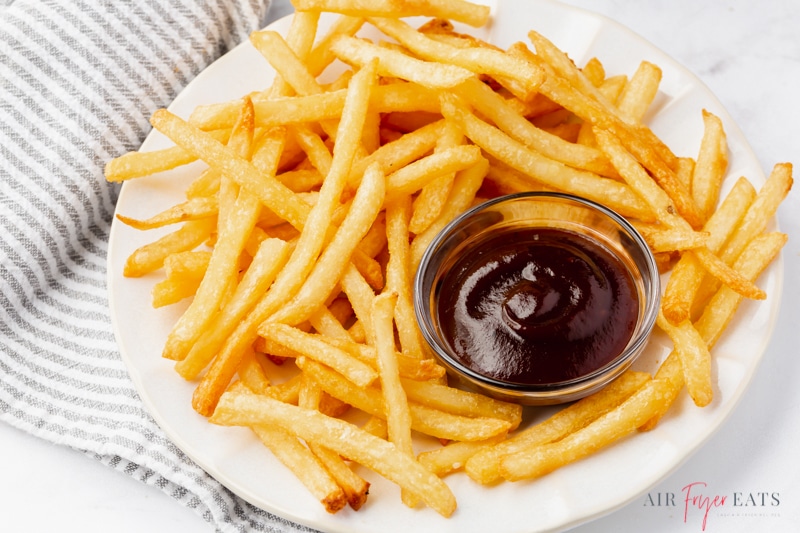 MORE EASY AIR FRYER RECIPES
You are in the right place if you're looking for air fryer recipes that are simple and fast! If you can't choose one to start with, I suggest trying one of these easy favorites:
Hamburgers are easy to make in the air fryer, and our instructions for how to make frozen burgers in the air fryer will have you serving them for dinner in a flash!
Do you have kids that love pizza? Teach them how to make bagel bites in the air fryer, or how to make Air Fryer Frozen Pizza.
Chicken Wings in the air fryer are so much simpler and less messy than any other method.
Since you're a french fry fan, I know you'll enjoy these instructions for making Frozen Sweet Poato Fries in the air fryer, and Air Fryer Potato Wedges.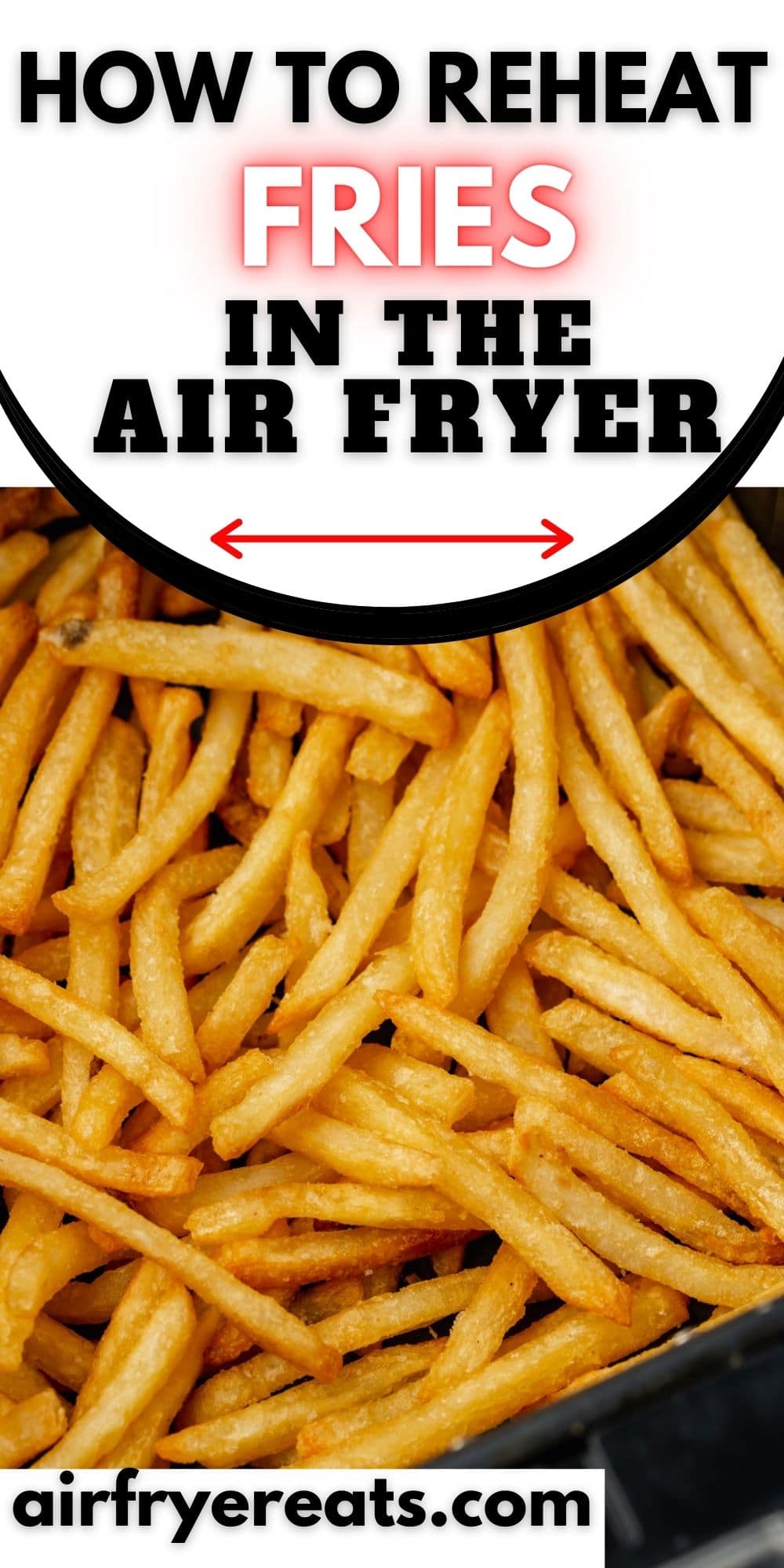 Have you made this recipe? Please leave a comment AND rating below! It helps other readers!
Be sure to tag @AirFryerEats on instagram, if you share a picture on the gram! Let's get social, you can follow me on Youtube, Instagram, Facebook, Pinterest or join one of our Air Fryer Facebook Groups: Air Fryer Recipes, Air Fryer Recipes for Seniors and Gluten Free Air Fryer Recipes.
Don't forget to subscribe to our EMAIL newsletter.
How to Reheat Fries in Air Fryer
Learn how to reheat fries in the air fryer, and you'll never have to suffer through cold or microwaved french fries again!
Ingredients
1.5

cups

leftover french fries
Instructions
Gather your leftover french fries.

Place the leftover french fries in the air fryer basket.

Air fry the french fries at 400°F/200°C for 3-4 minutes, until heated through. Shake the basket half way through to ensure even cooking.

Serve immediately with your favorite dipping sauce.
Go AD FREE!
Notes
You can cook any amount of leftover fries, as long as you don't overcrowd the air fryer basket.
The nutrition facts for this recipe will depend on the amount and type of fries you are reheating. The facts listed here won't be accurate.
You may need more cook time for thicker, larger fries, or if you're reheating a large amount. Reduce the time for very thin fries, or very few of them.
Pro Tip: This recipe can be made in the air fryer unit with a basket or the air fryer oven. If you are using the air fryer oven, use the middle rack and select the "Air Fry" function.
Pro Tip: Check your food as it cooks. Each air fryer runs a bit differently. Sometimes air frying is a trial and error process. Check your food as it cooks to learn your air fryer better! When cooking a new recipe or food items be sure to check your food often to help avoid over/under cooking.
Have oven recipes that you'd like to convert to an air fryer recipe? Use our Air Fryer Calculator to help you estimate cooking times and temps! Calculator here: https://airfryereats.com/air-fryer-conversion-air-fryer-calculator/
Nutrition
Calories:
923
kcal
|
Carbohydrates:
107
g
|
Protein:
10
g
|
Fat:
53
g
|
Saturated Fat:
16
g
|
Polyunsaturated Fat:
4
g
|
Monounsaturated Fat:
31
g
|
Sodium:
1739
mg
|
Potassium:
1526
mg
|
Fiber:
16
g
|
Vitamin C:
22
mg
|
Calcium:
32
mg
|
Iron:
5
mg
Tired of the ads?
Go AD Free - Become part of our Membership community!
Air Fryers can vary greatly. Please take the time to learn your specific air fryer. You may need to adjust times and temperatures based upon your air fryer.
All though this website attempts to provide accurate nutritional information, the information should only be considered an estimate. Varying factors such as different product types, different brands, etc. can change nutritional information. It is your responsibility as a consumer to read all labels to make sure the ingredients fit your dietary needs as well as calculate your own nutritional information as a double check.