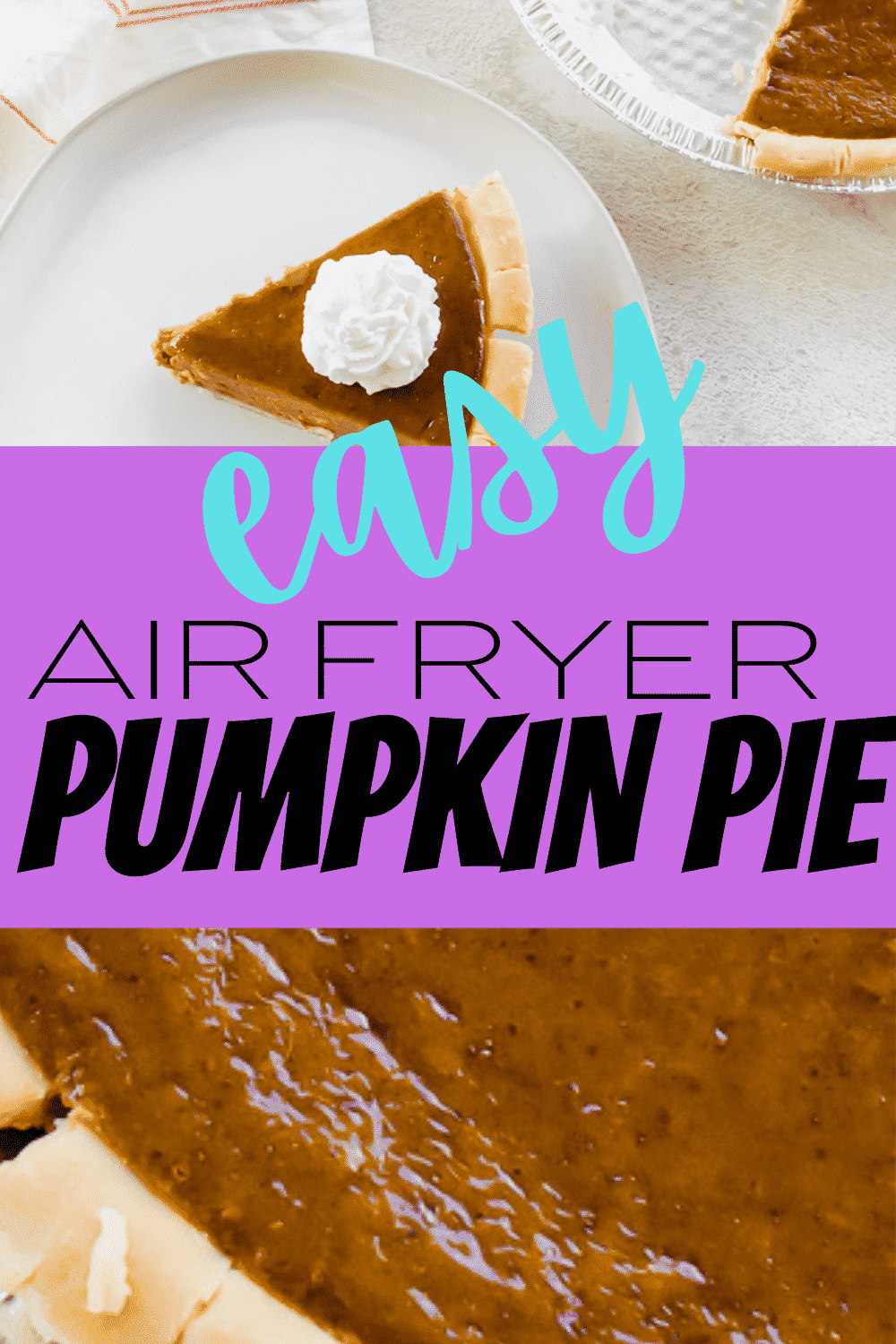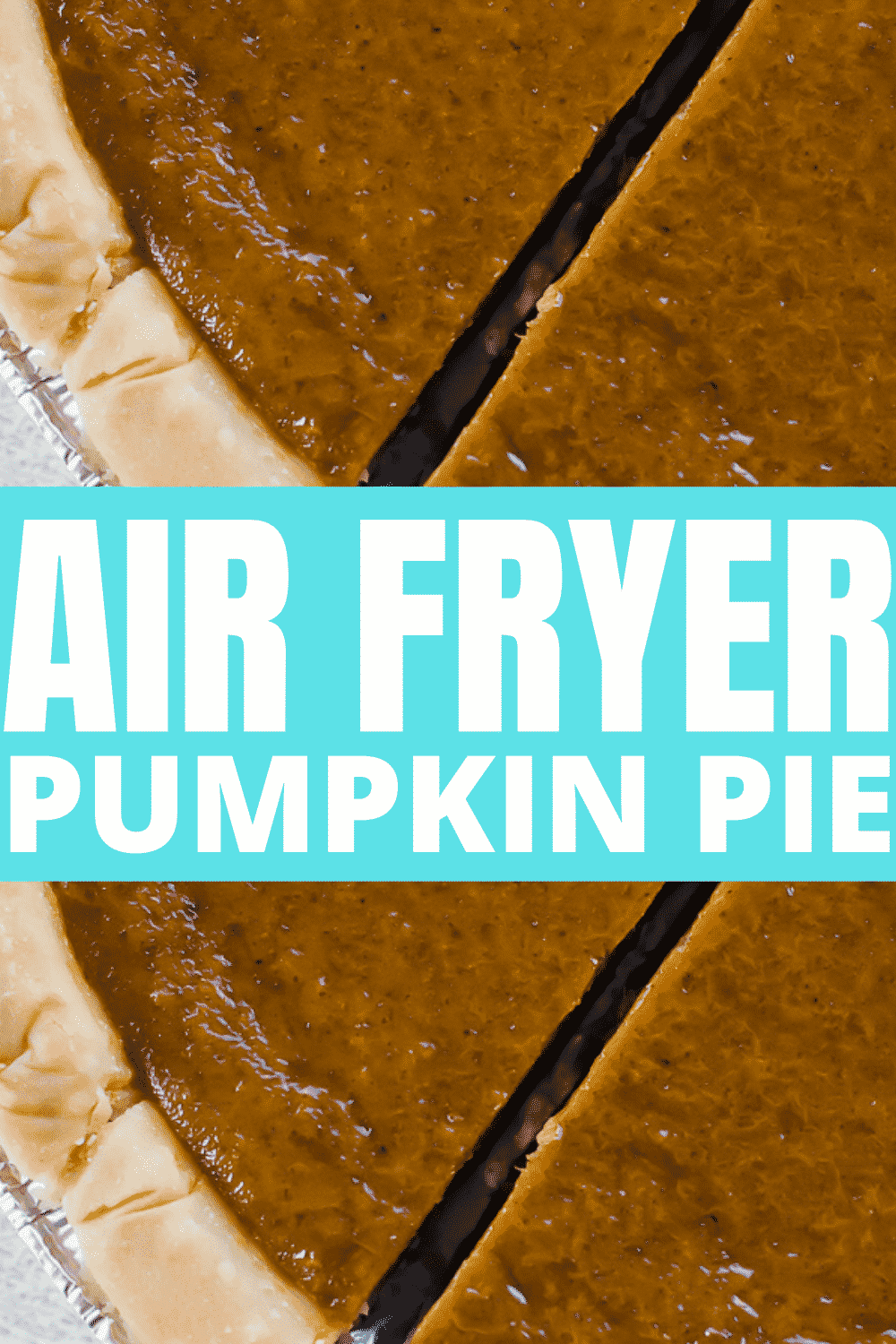 Spicy, sweet, and luscious air fryer pumpkin pie will be the easiest dessert you make this year. Skip the oven and bake a pumpkin pie in the air fryer instead.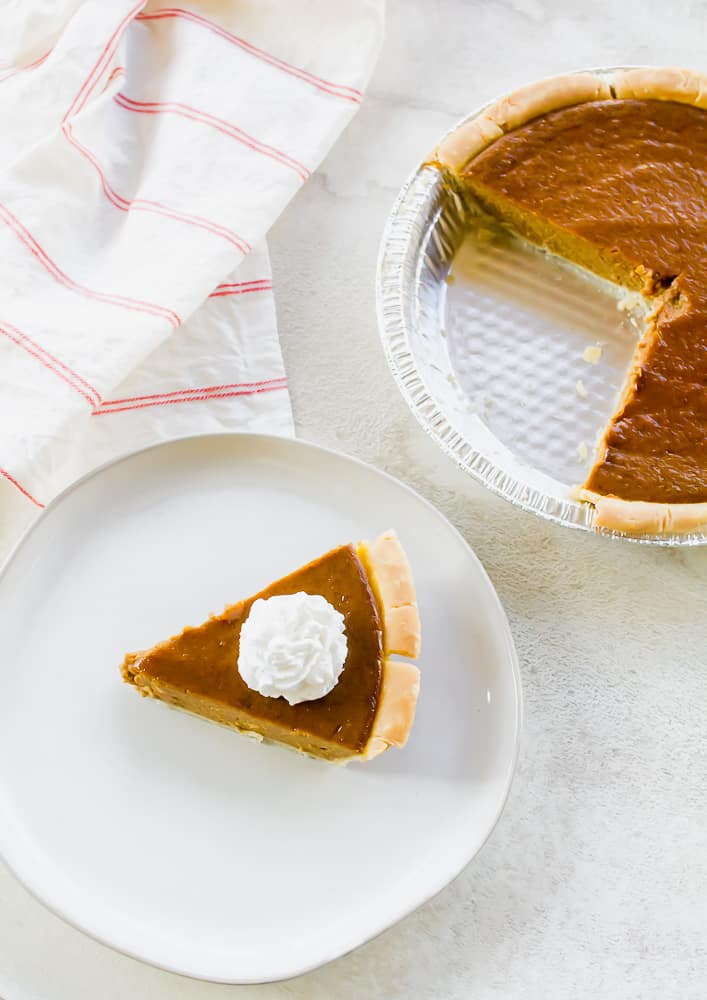 AIR FRYER PUMPKIN PIE RECIPE
I've told you before that the air fryer can do just about anything, right? Here I'm proving it by showing you how easy it is to bake a delicious pumpkin pie in the air fryer.
The recipe for this air fryer pumpkin pie is so super simple. We're leaving out refined sugar and dairy too, so this is a great recipe for anyone avoiding those foods.
Using the air fryer to bake a pie has many benefits. First, there is no need to heat up your oven and therefore your whole kitchen if you want to bake a pie. Using the air fryer saves energy and keeps the area cool.
Second, if you're making a big meal, maybe Thanksgiving dinner or another family dinner, you'll want to be using your oven for other items. The air fryer works like a second oven in this instance.
Finally, baking a pumpkin pie in the air fryer is so much faster than baking it in a traditional oven. The cook time is about the same, but there's no need to wait for the oven to pre-heat.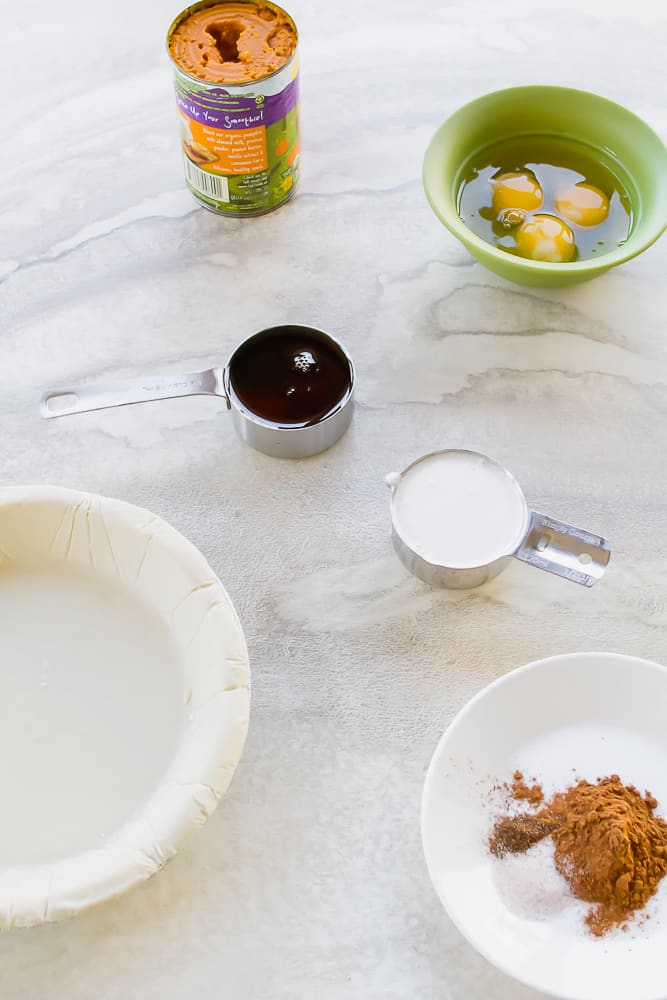 INGREDIENTS IN AIR FRYER PUMPKIN PIE
Pumpkin Puree - One 15 oz. can is perfect for this recipe. I find that pumpkin puree goes on sale in the fall at my grocery store, and I stock up on a few cans so I usually have at least one on hand.
Full Fat Coconut Milk - Using coconut milk in pumpkin pie is not necessarily traditional, but you have to try it. Full fat coconut milk from a can makes this pie so super creamy and delicious.
Eggs - Mixing eggs with the pumpkin and milk creates a custard that allows the pie to set up firmly.
Allspice - A long time ago, I used to think that allspice was a mixture of spices, but it's actually it's own thing! Allspice is a dried berry that looks like a peppercorn, and tastes like a mix of cinnamon, cloves, nutmeg, and pepper.
Pumpkin Pie Spice - This one is actually a spice blend! Pumpkin Spice blend generally includes cinnamon, ginger, nutmeg, and cloves.
Salt - Salt balances the sweetness of the pie.
Maple Syrup - We're using maple syrup as our sweetener, and love it's delicious maple-y taste when added to the pie.
Premade Pie Shell - You can purchase a pre-made pie shell from the store, or pre-bake your own pie crust recipe to use for this pumpkin pie.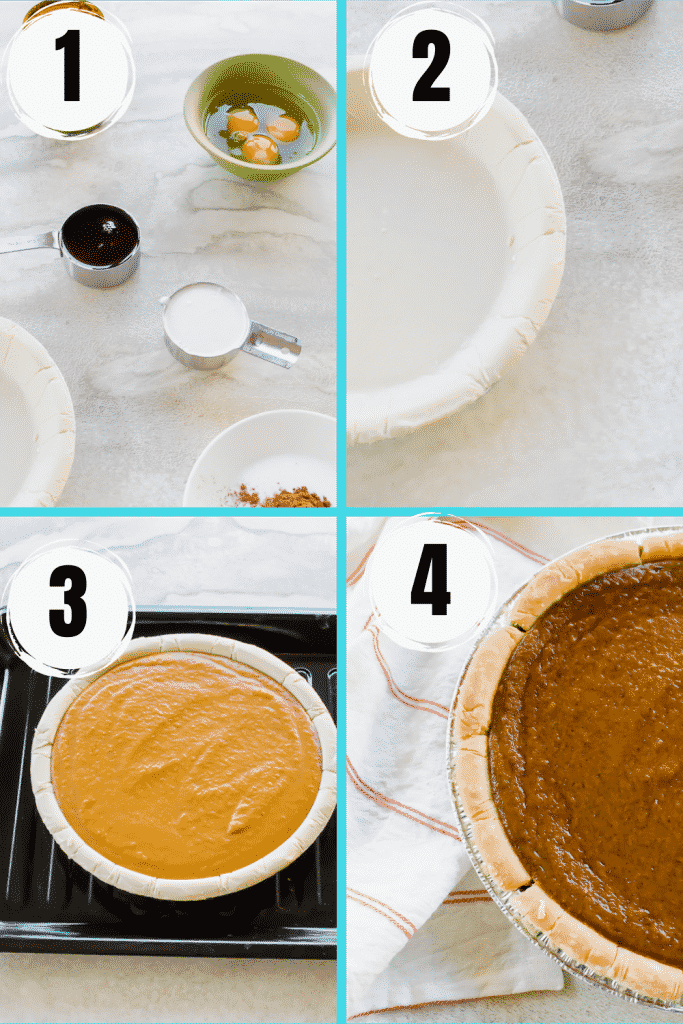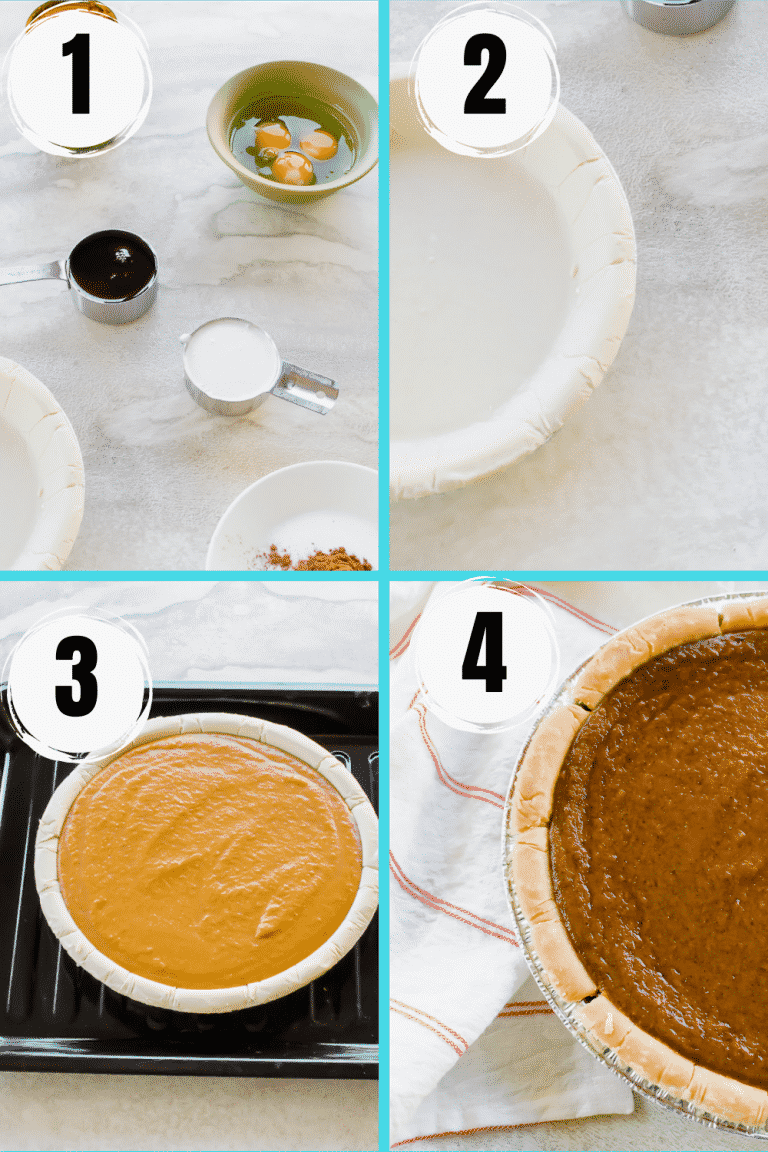 HOW TO MAKE PUMPKIN PIE IN AN AIR FRYER
Whisk together all ingredients except crust until smooth.
Pour the pumpkin pie mixture into the pre-made pie shell.
Air Fry as directed in the recipe. We are cooking at a high temperature for half the time and then reducing the heat and finishing the cooking.
Allow the pie to cool fully. Enjoy chilled.
These numbered steps match the numbered photos above and are for illustration purposes. For the complete list of ingredients and instructions, please see the recipe below.
This recipe was made in a Cosori Air Fryer Oven. It was cooked on the middle rack of the AF Oven using the "air fry" setting.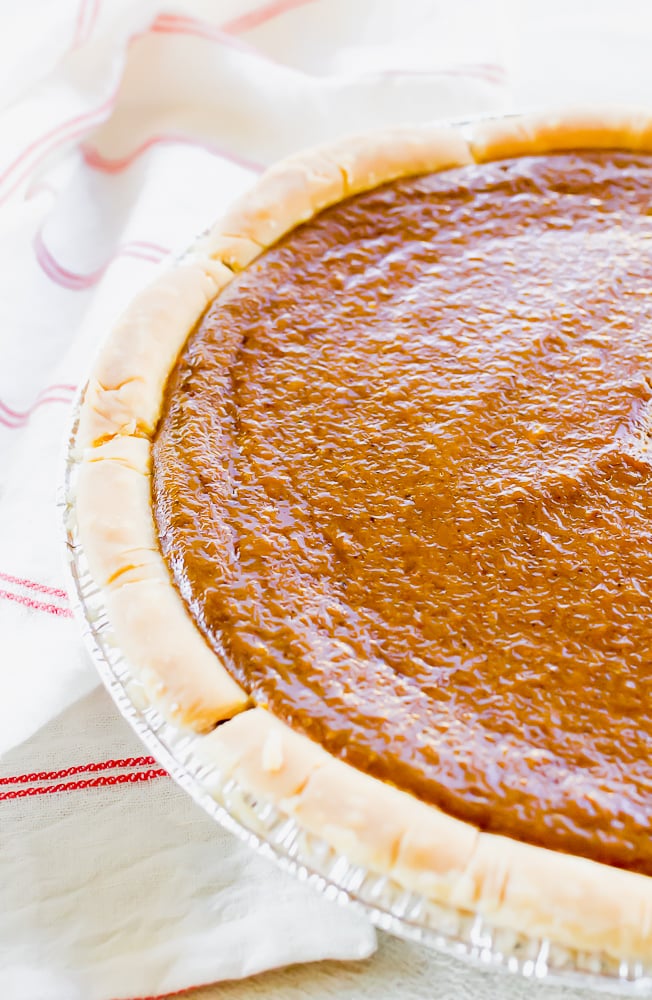 WHAT TO SERVE WITH AIR FRYER PUMPKIN PIE
This pie goes perfectly with a traditional Thanksgiving dinner. You can make many of you Thanksgiving dishes in the air fryer too!
Air Fryer Turkey is a recipe for making a turkey breast in the air fryer. Perfect if you have a small group for dinner.
Try Air Fryer Green Bean Casserole to have a side dish ready in way less time.
I love how crispy Air Fryer Stuffing is, I almost always make it this way now.
AIR FRYER PUMPKIN PIE BAKING TIPS
This pie was baked using an oven style air fryer. This type is great for things like pie, because there is more room to fit the pie pan in.
If you want to make pumpkin pie in a basket style air fryer, just make sure that your pie tin will fit inside the basket before you start. Using a smaller pie tin is a great adjustment, just use a bit less of your filling, and reduce the cook time down about 10 minutes.
Pre-made pie shells are a game changer for me, and add a ton of convenience to this recipe. Pie crusts can be tricky to make from scratch!
If you want to make your own pie crust, you may need to par-bake it before adding the filling. Follow the instructions for your pie crust recipe to know if that's needed or not.
HOW DO I KNOW WHEN PUMPKIN PIE IS DONE?
It can be tricky to know when pumpkin pie is ready to come out of the air fryer. This is a custard pie, so it starts off as a liquid and then as it bakes it becomes solid. Getting it out of the air fryer oven at the right time is key to make sure you don't have a runny or dried out pie.
Pie experts would suggest that you check the pie at the end of the bake time to see how the middle of it looks. Gently shake the pie back and forth. Does the center of the pie wiggle? If it wiggles just a tiny bit, the pie is ready to come out. The center will finish cooking fully as it cools on the counter. If it sort of sloshes around when you shake it, it needs more time.
You can also stick a sharp knife in the center of the pie to see if the middle is set.
CAN YOU AIR FRY A PIE?
Yes you can! We're sharing a pumpkin pie recipe for the air fryer today, but this method will work with other types of pies as well. Check out our Air Fryer Cooking Times Calculator to turn your favorite traditional pie recipes into air fryer recipes.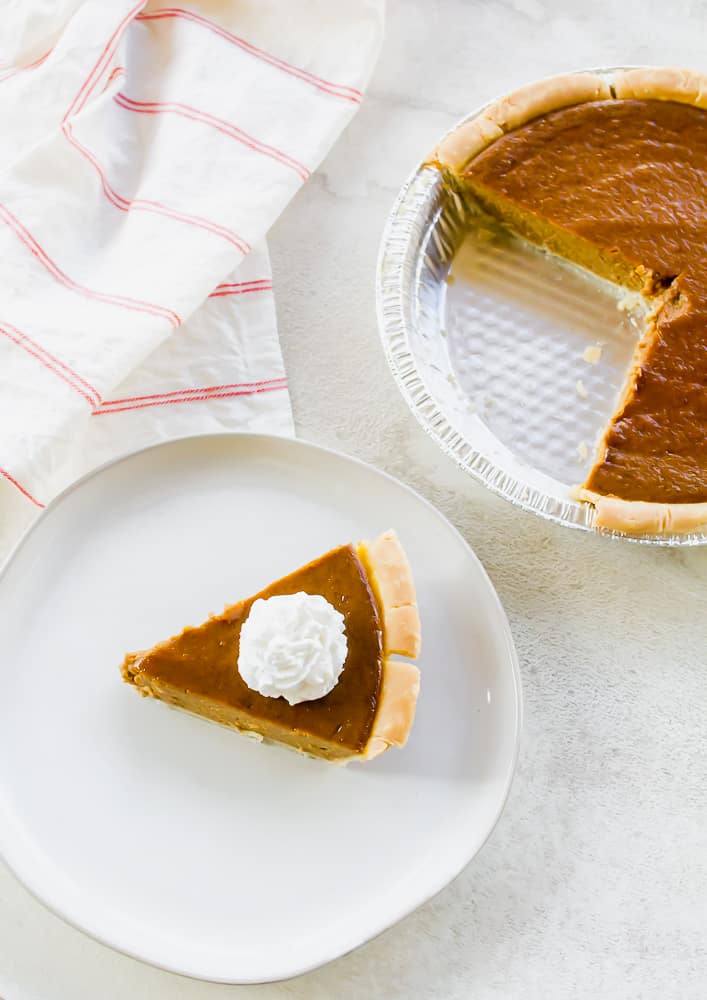 MORE DELICIOUS AIR FRYER DESSERTS
Air Fryer Gingerbread bites are delicious at holiday time but also just as delicious any time of the year!
Make some Air Fryer Donuts next time you want a sweet treat for breakfast.
Air Fryer Pumpkin Chocolate Chip Muffins are so yummy and make an excellent breakfast or snack.
MORE PUMPKIN RECIPES
These recipes aren't made for the Air Fryer, but they are super yummy! Head over to our sister site to try Vegan Pumpkin Muffins or Gluten Free Pumpkin Pancakes.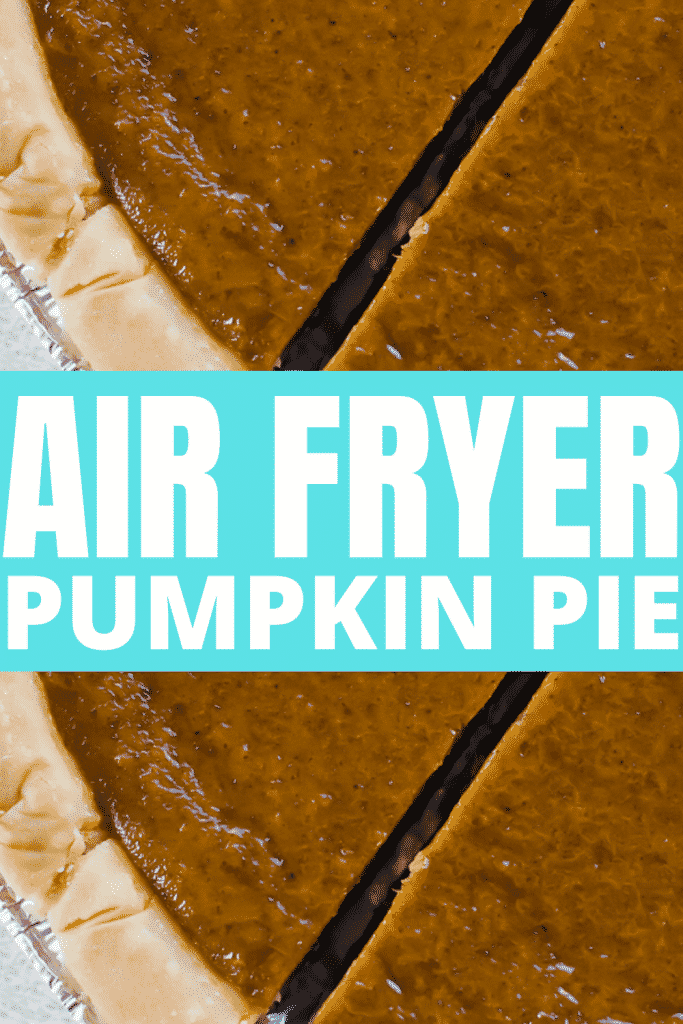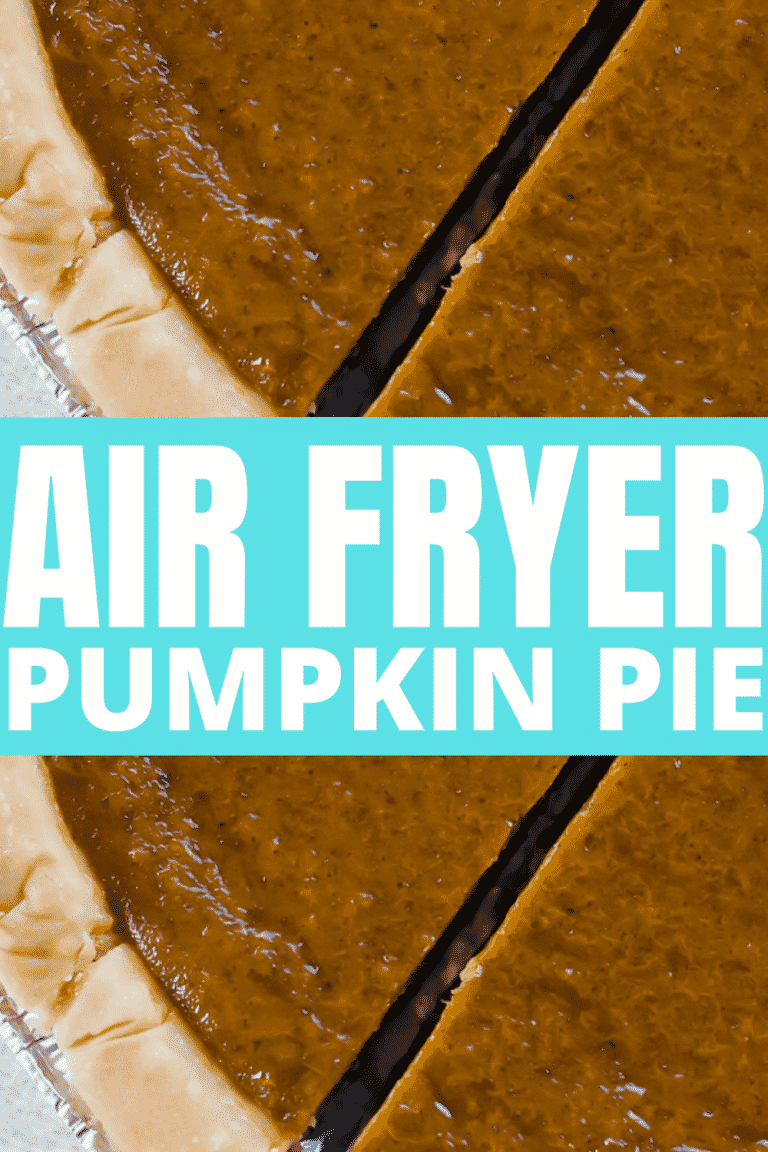 Pro Tips
Use Any Air Fryer: This recipe can be made in an air fryer unit with a basket or an air fryer oven. If you're using an air fryer oven, place your food on the middle rack and select the "air fry" function.
Check your food as it cooks! Since each air fryer runs differently, sometimes air frying is a trial and error process. When cooking a new recipe, be sure to check on your food often. This will help you avoid over or undercooking, and help you learn your air fryer's specific ways!


Have you made this recipe? Please leave a comment AND rating below! It helps other readers!
Be sure to tag @AirFryerEats on instagram, if you share a picture on the gram! Let's get social, you can follow me on Youtube, Instagram, Facebook, Pinterest or join one of our Air Fryer Facebook Groups: Air Fryer Recipes, Air Fryer Recipes for Seniors and Gluten Free Air Fryer Recipes.
Don't forget to subscribe to our EMAIL newsletter.
Air Fryer Pumpkin PIe
Spicy, sweet, and luscious air fryer pumpkin pie will be the easiest dessert you make this year. Skip the oven and bake a pumpkin pie in the air fryer instead.
Ingredients
15

oz

pumpkin puree

½

c

full fat coconut milk

(the thick part at the top of the can)

3

eggs

⅛

t

all spice

1

T

pumpkin pie spice

¼

t

salt

½

c

maple syrup

1

pre-made pie shell
Instructions
Whisk together all ingredients until smooth. (except pie crust).

Pour the pumpkin pie mixture into the pre-made shell.

Air Fry the pumpkin pie at 325F/163C for 25 minutes. Then lower the temperature to to 300F/149C for 20 minutes or until the pie is set in the middle.

Let cool on the counter for 20 minutes, then cool in the refrigerator for at least 2 hours.
Go AD FREE!
Notes
**This was made in a Cosori Air Fryer Oven.
Nutrition
Calories:
126
kcal
|
Carbohydrates:
19
g
|
Protein:
3
g
|
Fat:
5
g
|
Saturated Fat:
3
g
|
Trans Fat:
1
g
|
Cholesterol:
61
mg
|
Sodium:
103
mg
|
Potassium:
214
mg
|
Fiber:
2
g
|
Sugar:
14
g
|
Vitamin A:
8364
IU
|
Vitamin C:
3
mg
|
Calcium:
53
mg
|
Iron:
2
mg
Tired of the ads?
Go AD Free - Become part of our Membership community!
Air Fryers can vary greatly. Please take the time to learn your specific air fryer. You may need to adjust times and temperatures based upon your air fryer.
All though this website attempts to provide accurate nutritional information, the information should only be considered an estimate. Varying factors such as different product types, different brands, etc. can change nutritional information. It is your responsibility as a consumer to read all labels to make sure the ingredients fit your dietary needs as well as calculate your own nutritional information as a double check.