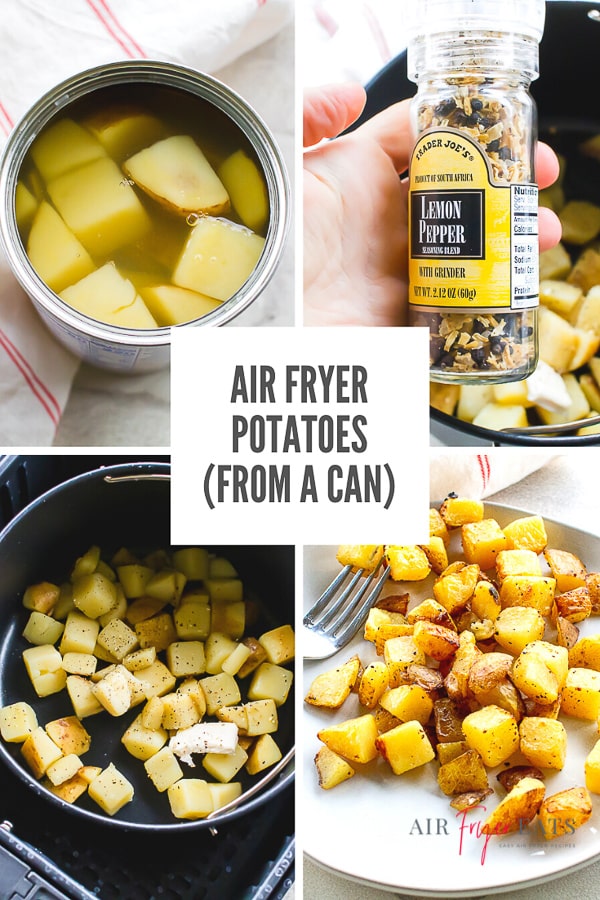 Did you know you can make delicious crispy Air Fryer Potatoes from a can? That's right, shelf stable canned potatoes are easy to make in your air fryer.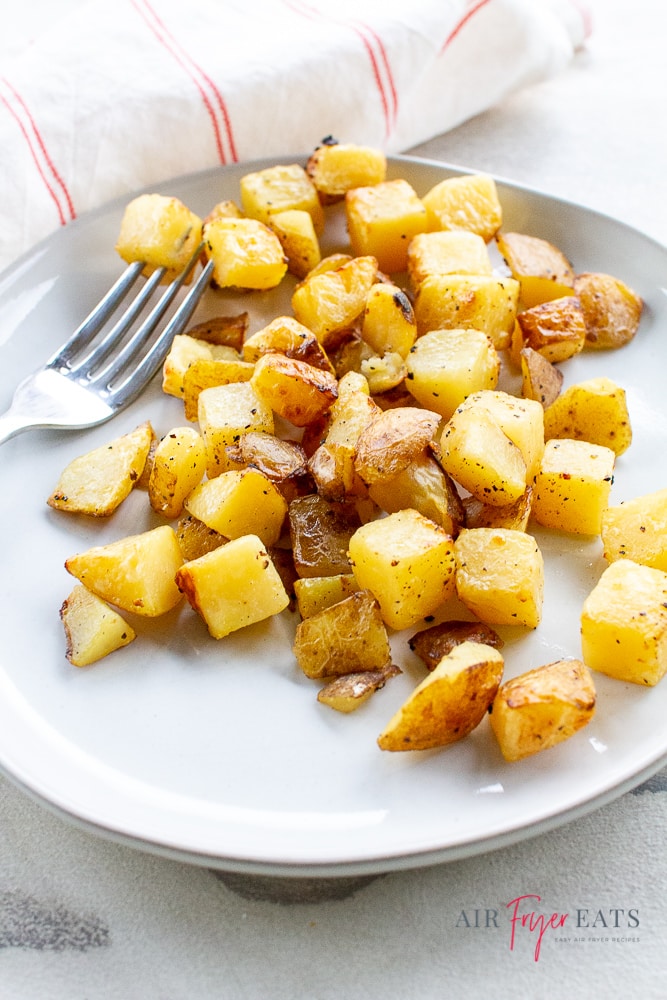 Air Fryer Potatoes are a great air fryer side dish recipe.
Air fried potatoes are done in less time than conventional methods, and they taste better, too!
You might remember our recent post about air fryer baked potatoes.
Those are delicious too!
We love that this recipe uses potatoes from a can.
This particular recipe lends itself to be a great one in times where fresh potatoes aren't as easily accessible.
Canned potatoes are a staple that we keep in our "emergency preparedness kit."
In less than 20 minutes, start to finish, you will have a plate full of crispy, delicious golden brown air fried potatoes!
If you are a potato fan, after you make this recipe, you are going to need to check out our air fryer roasted potatoes and our air fryer sweet potato!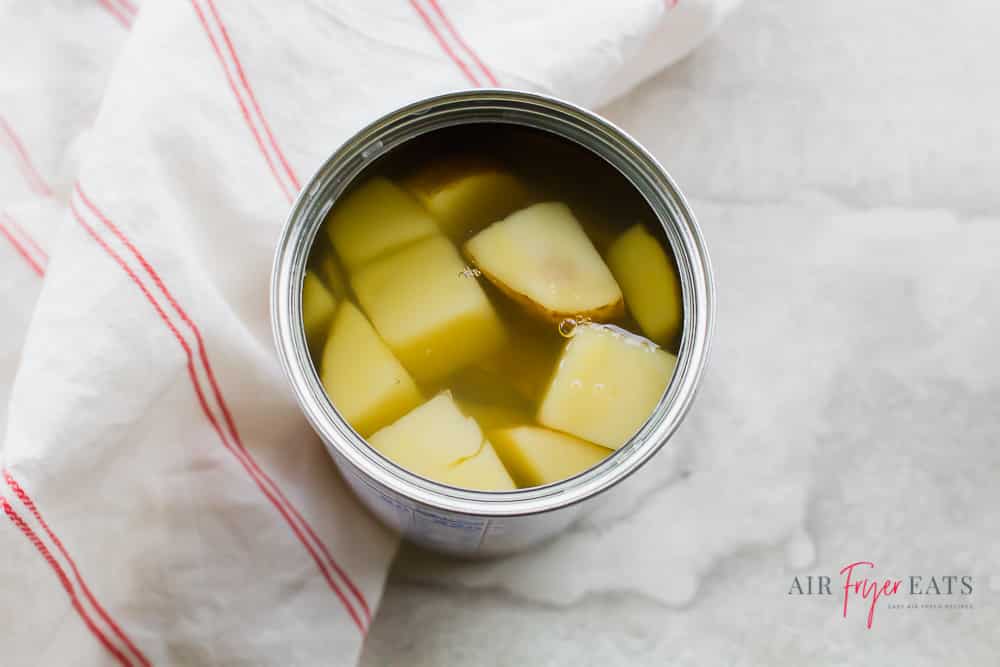 How to make air fryer potatoes
Step 1: Open the can of potatoes. Drain the liquid from the can. Optional: you can rinse the potatoes in cold water.
Step 2: Add the potatoes to a baking pan or other oven safe bakeware.
Step 3: Season the potatoes with lemon pepper seasoning. If you do not have lemon pepper, you can optionally use salt and pepper.
Step 4: Add 1/2 tablespoon of butter to the potatoes.
Step 5: Cook at 400 degrees F (204 C) for 10-15 minutes. Check at 10 minutes, if you need them crisper, keep cooking another 5 minutes.
Step 6: Then remove, serve with your favorite toppings, and enjoy!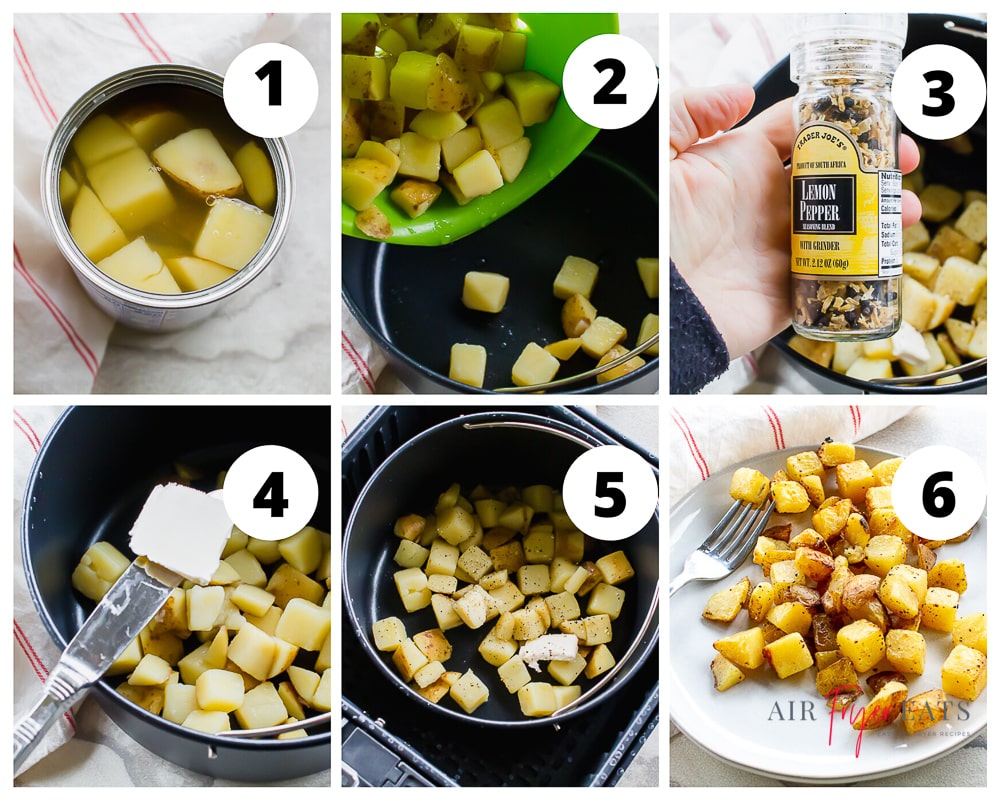 Tips for cooking air fryer Potatoes
Keep in mind that while the method is mostly universal, each air fryer model works a little differently.
Here are some tips to ensure that your air fried potatoes are delightful and delectable every time:
Depending on the size of your potatoes, you may need to adjust the cooking time. Sometimes canned potatoes come in halves or quarters.
You can cook as little as one or as many as 2-4 cans of potatoes in your airfryer at a time.
As long as your potatoes are fairly uniform in size, there's no need to adjust the cook time or temperature.
Only do so if the potatoes are much different or much larger in size.
Always drain the liquid from the can before adding to the bakeware/airfryer basket.
The extra liquid from the can is not needed for the cooking. Your spuds will come out delicious without that extra moisture.
Stirring your potatoes once about halfway through cooking will help them to bake evenly.
Most air fryers have a function that allows you to pull the basket out at your leisure to flip or stir the foods.
I would suggest you do this 1-2 times during the cooking.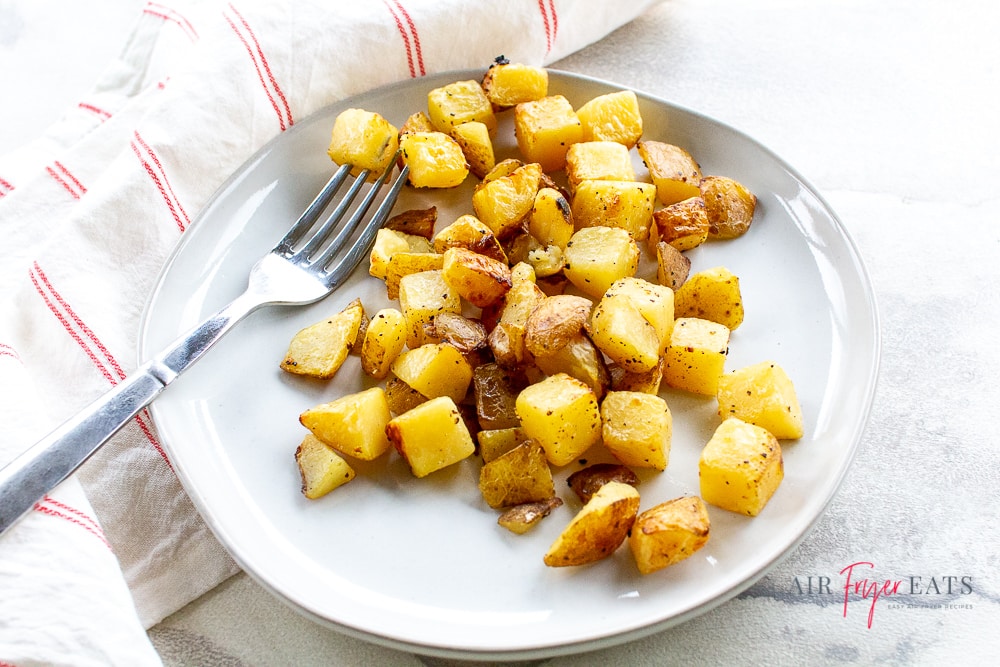 How to serve air fryer potatoes
There are so many delicious ways to eat potatoes.
A pat of butter, fresh herbs, and a sprinkle of fresh cracked black pepper is a simple, but scrumptious way to enjoy your potato.
But if you're looking to jazz up your potatoes, try some of these toppings ideas:
Load them with crumbled strips of crispy Air Fryer Bacon, plus your favorite shredded cheese and a dollop of sour cream. Yum!
Season with taco seasoning, black beans, and diced tomatoes or your favorite salsa for a Mexican-style masterpiece!
Smother your air fryer potatoes with cheese sauce and top them with Air Fryer Broccoli.
It's a combination that is simply out-of-this-world!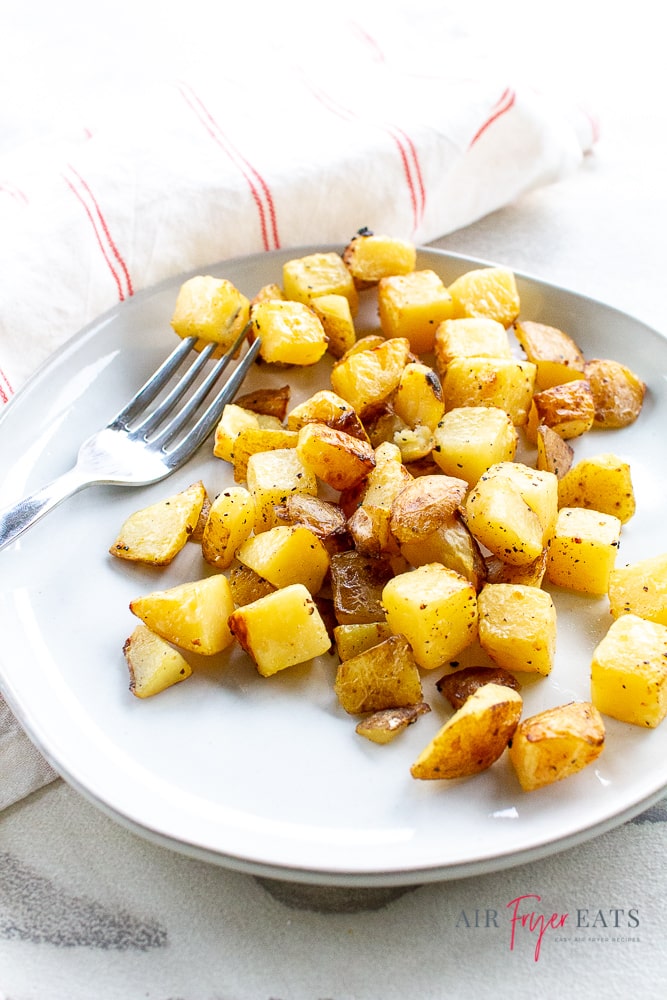 WANT MORE INCREDIBLE AIR FRYER POTATO RECIPES? GIVE THESE A TRY!
We have so many air fryer recipes to choose from!
If you are having trouble figuring out which one to try next, we suggest: Air Fryer French Fries, Air Fryer Potato Pancakes and How to cook air fryer potatoes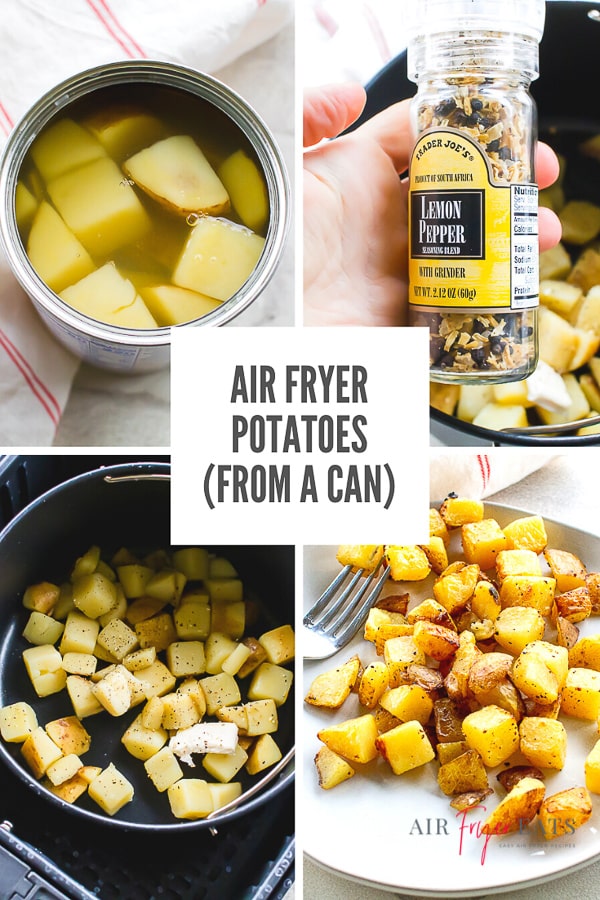 Pro Tip: This recipe can be made in the air fryer unit with a basket or the air fryer oven.
If you are using the air fryer oven, use the middle rack and select the "Air Fry" function.
Have you made this recipe? Please leave a comment AND rating below! It helps other readers!
Be sure to tag @AirFryerEats on instagram, if you share a picture on the gram!
Let's get social, you can follow me on Youtube, Instagram, Facebook, Pinterest or join one of our Air Fryer Facebook Groups: Air Fryer Recipes, Air Fryer Recipes for Seniors and Gluten Free Air Fryer Recipes.
Don't forget to subscribe to our EMAIL newsletter.