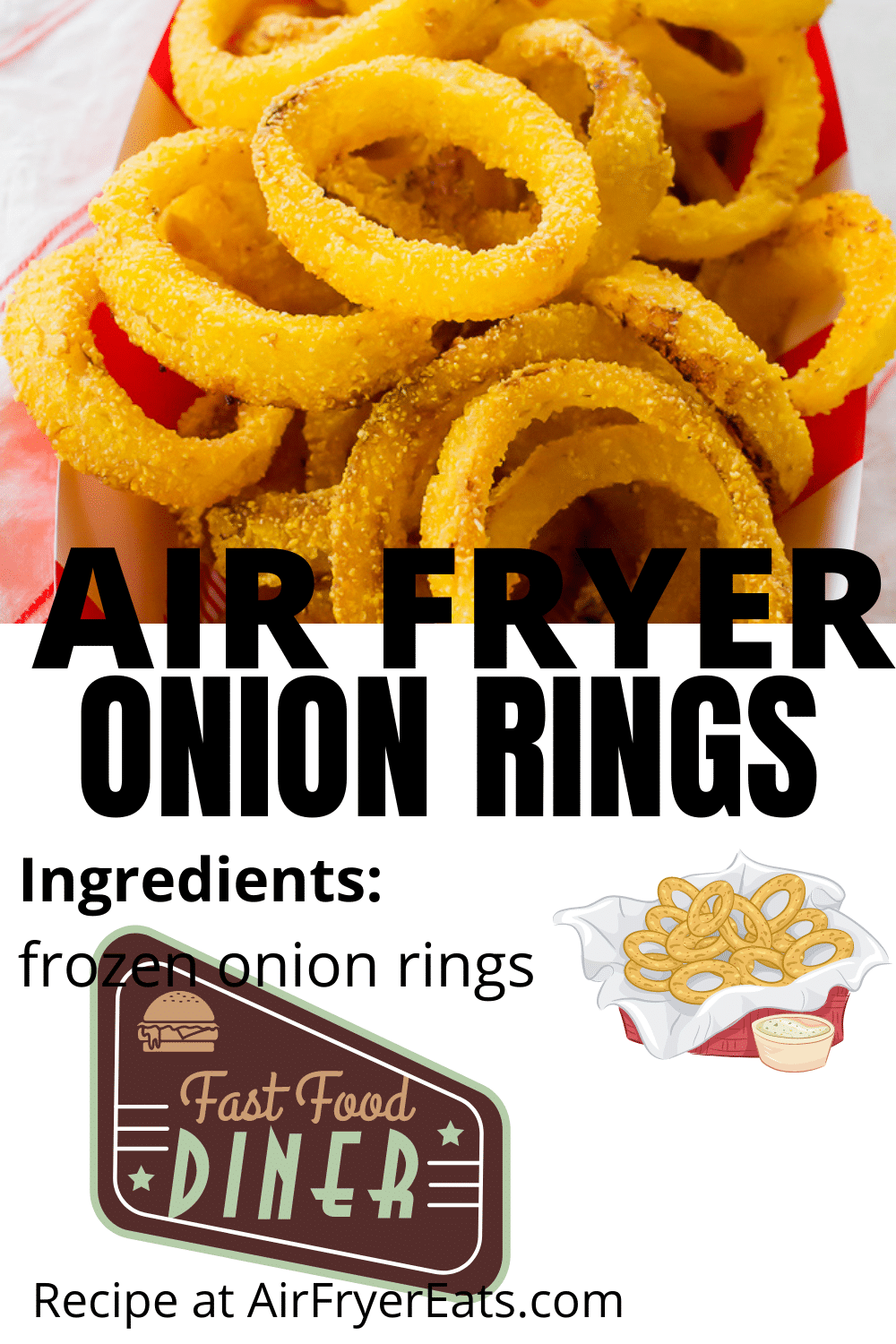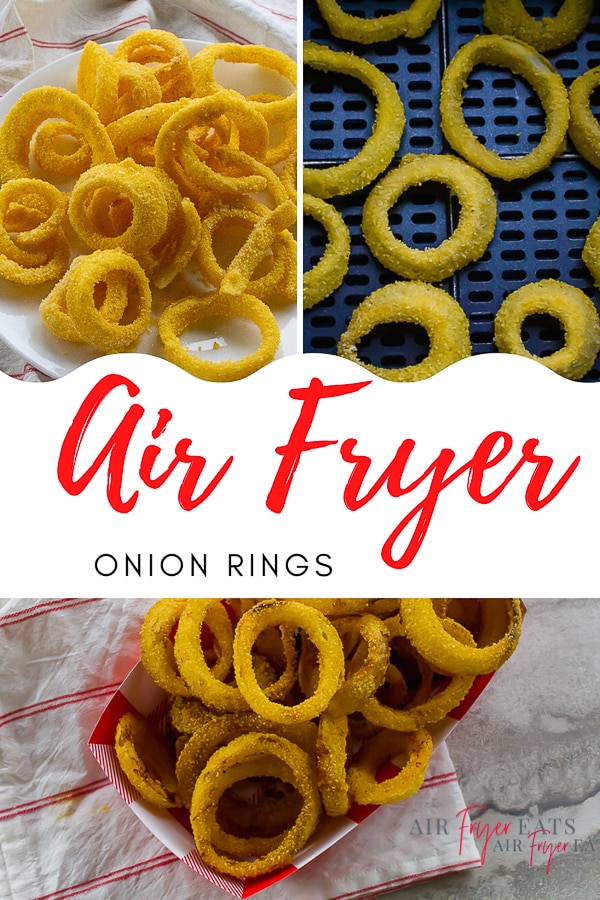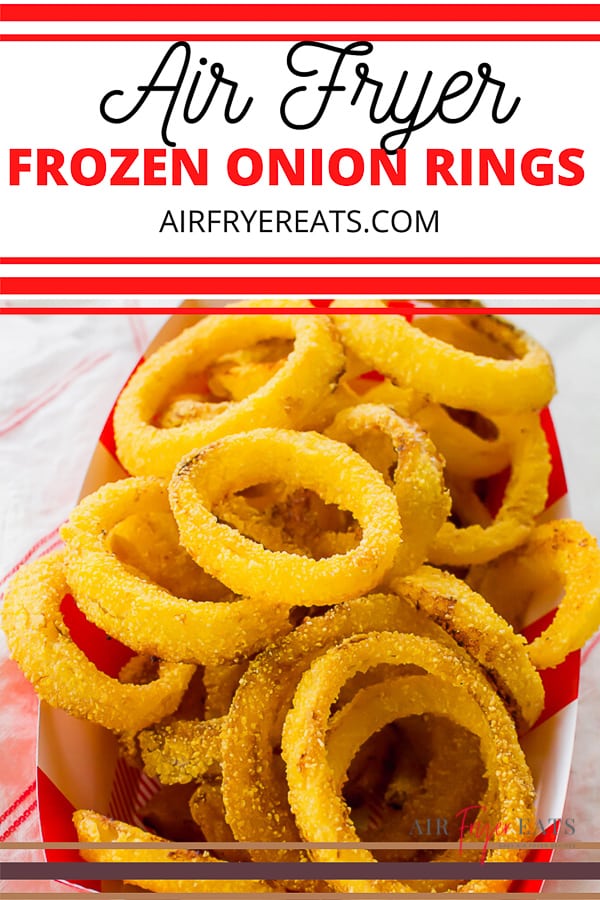 Skip the drive-thru with these quick and crispy Frozen Air Fryer Onion Rings! Get a great crunch without the oil and added fat.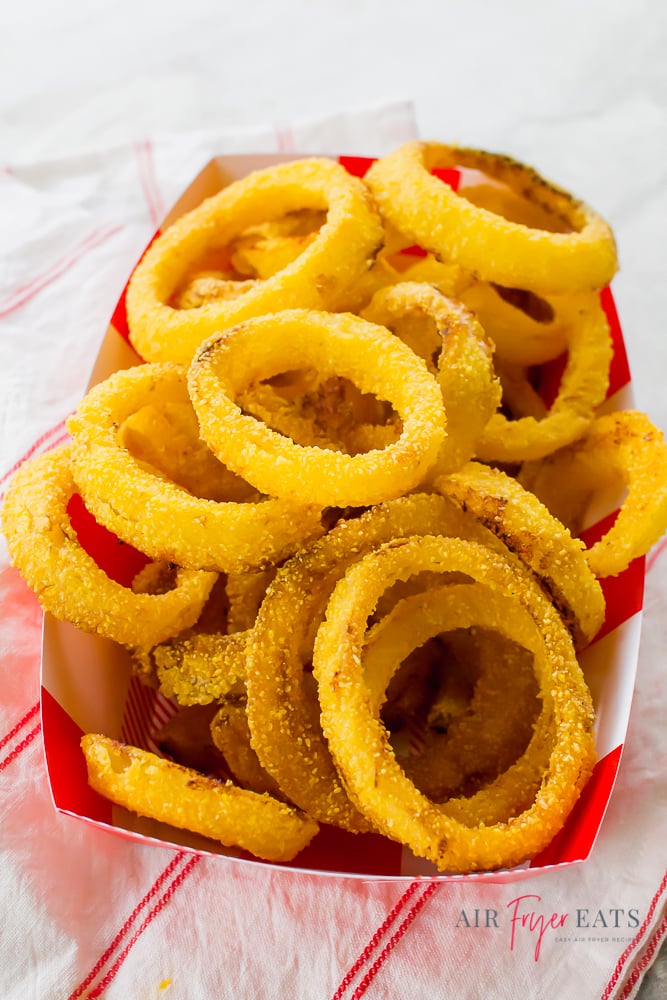 FROZEN ONION RINGS IN AIR FRYER
Onion rings are my favorite fried side dish, and these Frozen Air Fryer Onion Rings are so super crispy!
The air fryer makes these onion rings perfectly crunchy on the outside with tender cooked onions on the inside.
I sometimes whip these up after school for a quick snack before dinner because it's easy to make one onion ring or 100!
If you're looking for more air fryer snacks and party food, try these simple Air Fryer Mozzarella Sticks!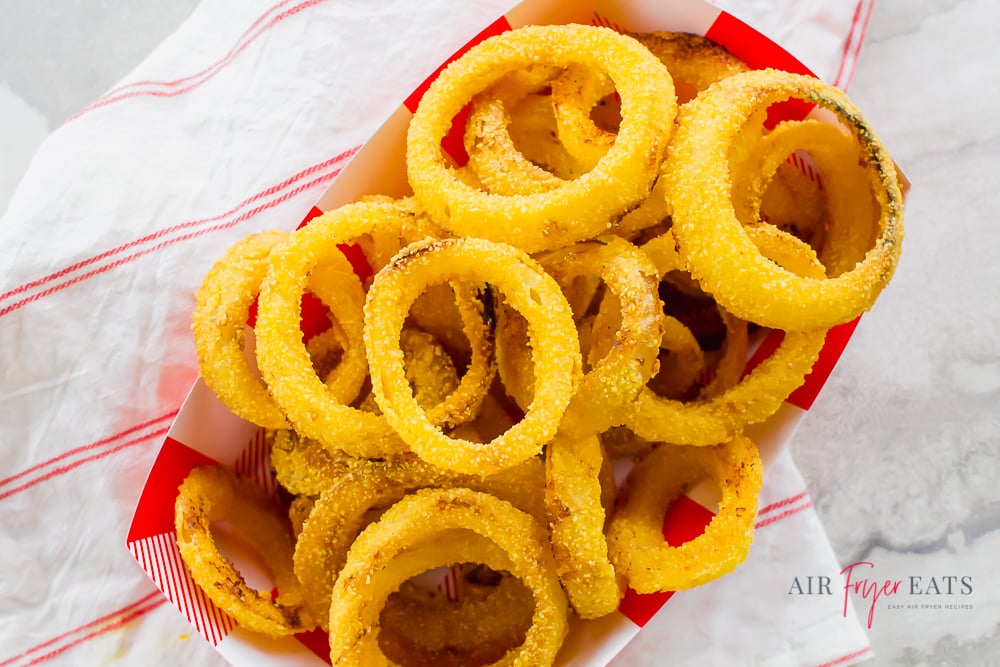 HOW TO MAKE FROZEN AIR FRYER ONION RINGS
All you need for this onion ring recipe is frozen onion rings and an air fryer!
First, remove your onion rings from the freezer. You don't want to thaw them, so take them out right before you're ready to cook them!
Next, portion out your frozen onion rings. An average serving size is about 6 onion rings per person.
Then, place the onion rings in your air fryer basket — or on an air fryer tray — in a single layer. Cook onion rings at 400 degrees F (or 204 degrees C) for about 6 minutes, flipping them halfway through cooking time.
Serve with your favorite dipping sauce and enjoy!
What to Serve with Frozen Onion Rings In Air Fryer
Burgers and hot dogs are both great alongside these Air Fryer Onion Rings.
If you wanna make a complete Air Fryer Meal, try the onion rings with these Air Fryer Chili Cheese Dogs!
The air fryer will be preheated from the hot dogs, and the onion rings will cook while you assemble the dogs!
Air Fryer Brat sandwiches garnished with onions and bell peppers are also amazing alongside crispy onion rings!
Onion rings also go perfectly with seafood like these Air Fryer Fish Sticks or Air Fryer Shrimp that are just as juicy as sautéed!
Hosting a party? These Air Fryer Chicken Wings are great on a tailgating table with onion rings and cheese dip.
Tips for Making Onion Rings
These Frozen Air Fryer Onion Rings are super simple the first time or the 50th time, but these tips will help you make the best, most crispy onion rings ever!
When it comes to brands, anything from generic to top shelf works. You can even make your own and freeze them for later!
I prefer not to stack the rings so they cook evenly. Keep a bit of space between each ring, too, to get an even crunch on all sides.
Onion rings are done when they're golden brown.
Be watchful the last few minutes because cook times will vary depending on thickness of the rings.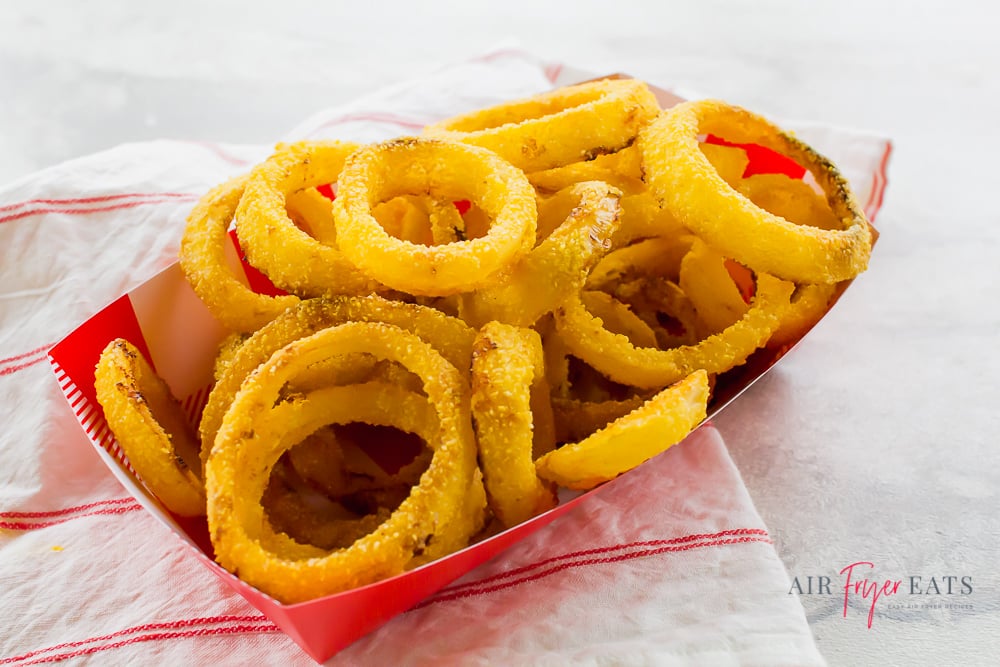 More Party Food Recipes
Snackers unite and rejoice because we have lots of party food recipes for you!
Check out our Air Fryer BBQ Chicken Wings, Oven-Baked Nachos, How to Make Frozen Hamburgers in the Air Fryer, Easy Ranch Dip, Air Fryer Zucchini Fries and Taco Cheese Ball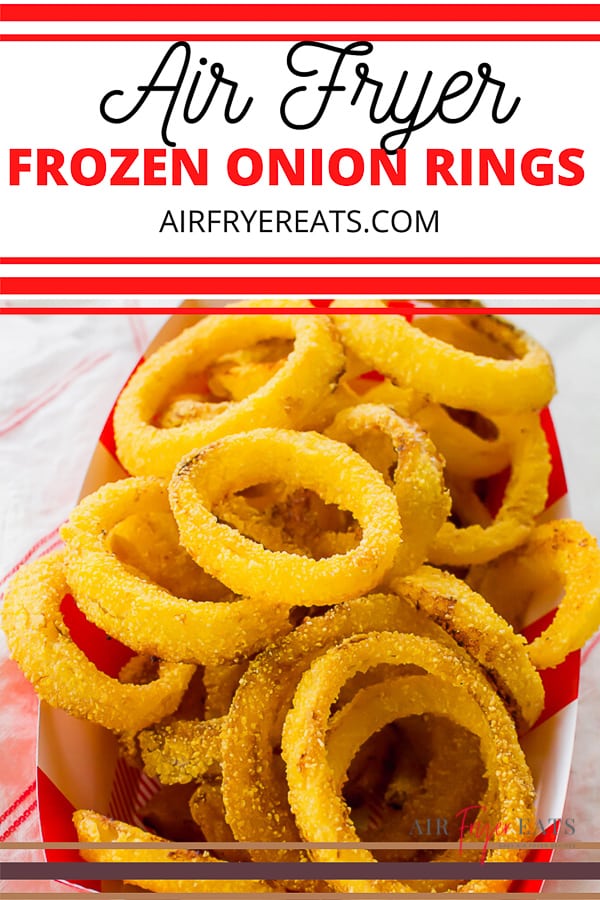 Pro Tips
Use Any Air Fryer: This recipe can be made in an air fryer unit with a basket or an air fryer oven. If you're using an air fryer oven, place your food on the middle rack and select the "air fry" function.
Check your food as it cooks! Since each air fryer runs differently, sometimes air frying is a trial and error-process. When cooking a new recipe, be sure to check on your food often. This will help you avoid over or undercooking, and help you learn your air fryer's specific ways!
Frozen Air Fryer Onion Rings
Forget fast food! This frozen side dish is super crunchy and ready in 10 minutes.
Instructions
Place onion rings into air fryer basket in single layer.

Cook at 400 degrees F (204 degrees C) for 6 minutes. Flip each ring over and cook additional 4 to 5 minutes. Keep an eye on onion rings in last few minutes of cooking.
Go AD FREE!
Notes
Pro Tip:
This recipe can be made in the air fryer unit with a basket or the air fryer oven. If you are using the air fryer oven, use the middle rack and select the "Air Fry" function.
Nutrition
Calories:
1
kcal
|
Carbohydrates:
1
g
|
Protein:
1
g
|
Sodium:
1
mg
|
Potassium:
1
mg
|
Fiber:
1
g
|
Sugar:
1
g
|
Vitamin A:
1
IU
|
Vitamin C:
1
mg
|
Calcium:
1
mg
Tired of the ads?
Go AD Free - Become part of our Membership community!
Air Fryers can vary greatly. Please take the time to learn your specific air fryer. You may need to adjust times and temperatures based upon your air fryer.
All though this website attempts to provide accurate nutritional information, the information should only be considered an estimate. Varying factors such as different product types, different brands, etc. can change nutritional information. It is your responsibility as a consumer to read all labels to make sure the ingredients fit your dietary needs as well as calculate your own nutritional information as a double check.