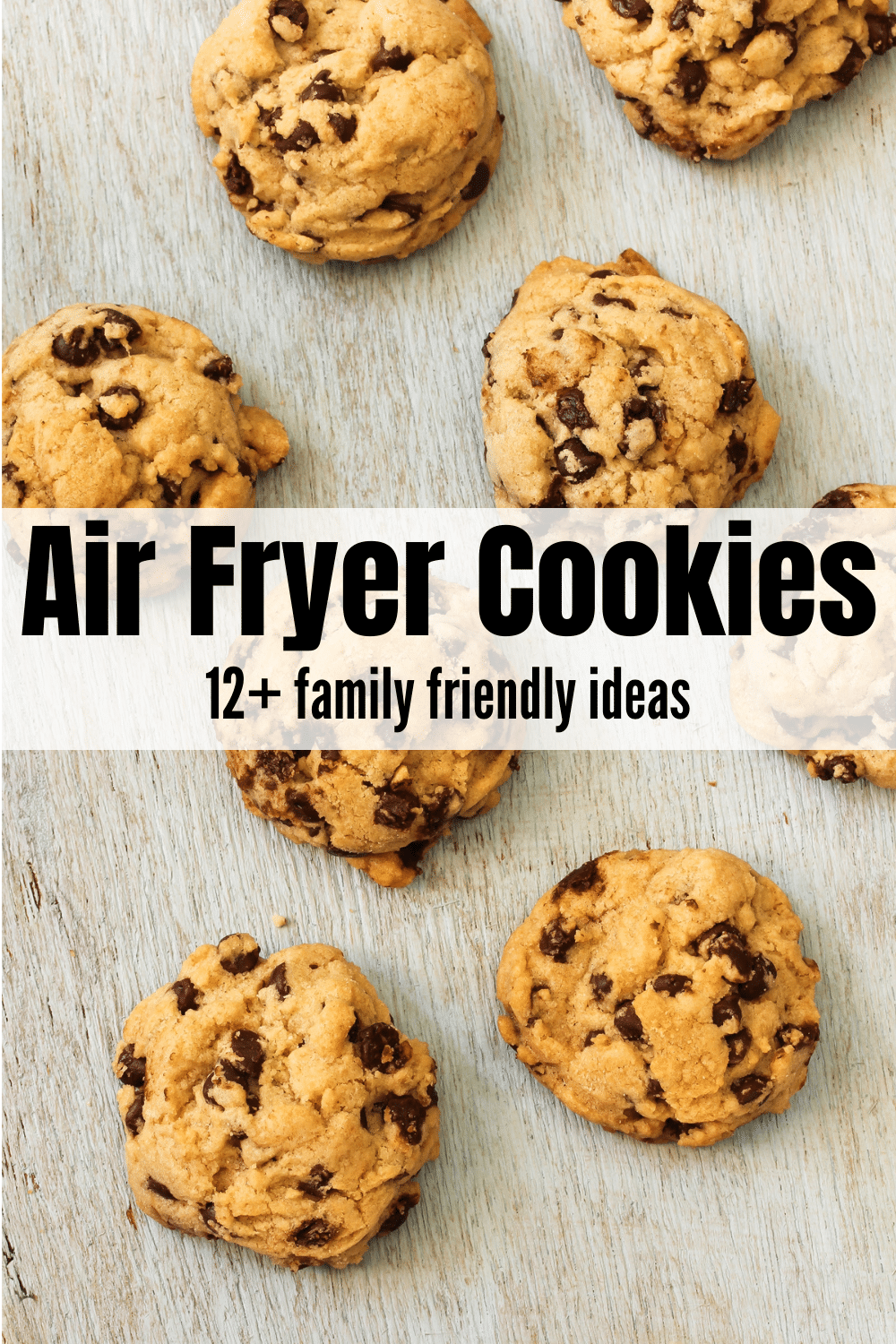 Air Fryer Cookies are crunchy on the outside, chewy on the inside, and ready so fast! This list of air fryer cookie recipes covers every cookie craving from chocolate chip to monster cookies.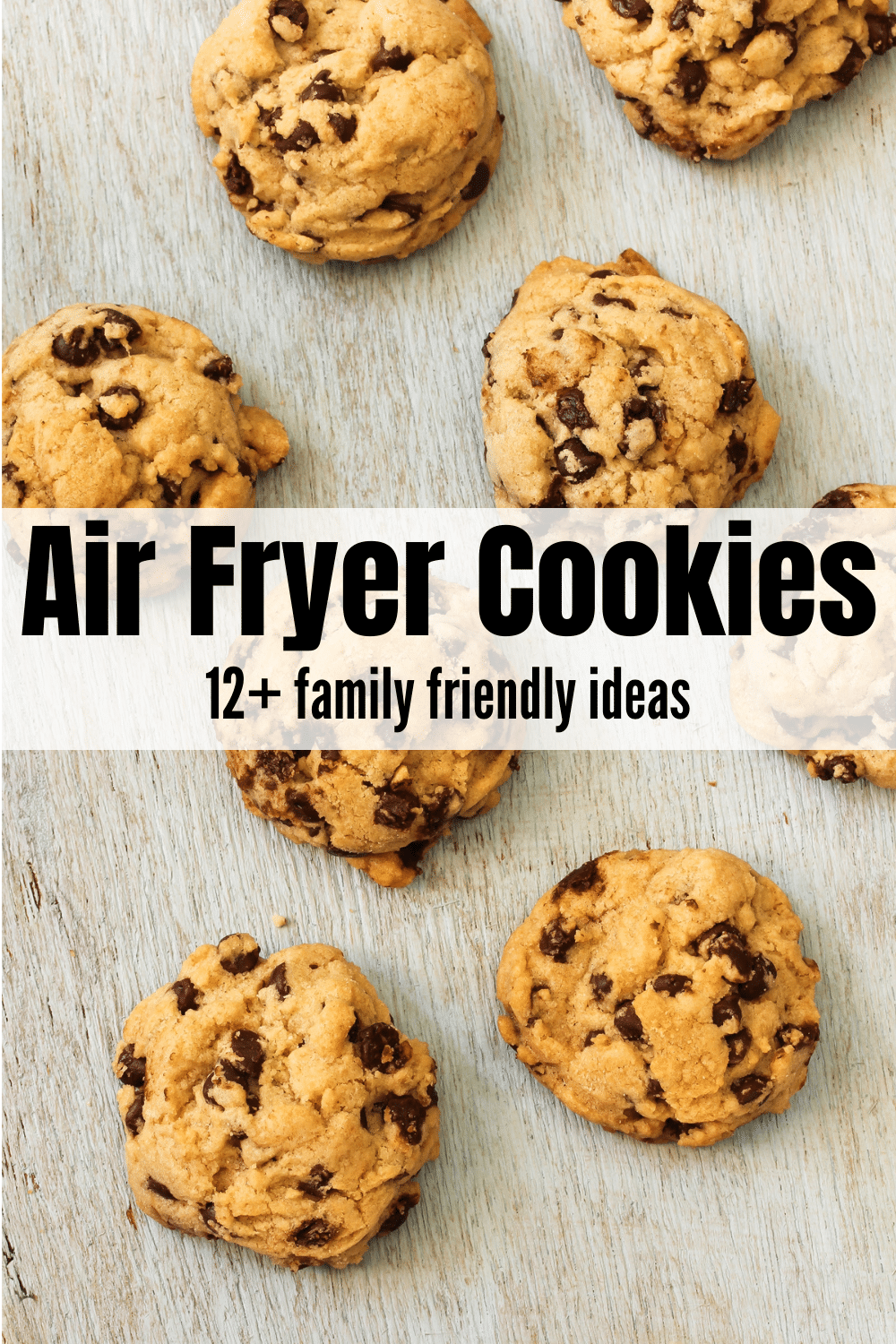 AIR FRYER COOKIES RECIPES
Did you know you can make desserts in the air fryer? Seriously! These air fryer cookie recipes are some of the easiest homemade cookies — all made with no baking sheet or oven in sight.
I love homemade cookies, but I do not love waiting for them. With the air fryer, cookie recipes can be done in half the time. Honestly, I love the texture more in the air fryer. The hot blowing air gets the outsides perfectly crunchy while leaving the insides soft and pillowy.
If you love cookies, you are going to love these air fryer recipes. From classic chocolate chip to everything in the kitchen sink, everything you need to make a platter of air fryer cookies is right here!
Learn how to make the best cookies in the air fryer with this handy list of every air fryer cookie recipe you will ever need!
INGREDIENTS FOR AIR FRYER COOKIES
Cookie dough: There is no special air fryer cookie dough you need to make cookies in the air fryer! Just about any cookie dough will work with minimal adjustments to the recipe.
Parchment paper: While not a food ingredient, parchment paper is key for any air fryer cookies. This keeps anything from sticking to the air fryer basket. Most are nonstick, but you can never be too careful!
Mix-ins: A lot of air fryer cookie recipes call for one mix-in, but it is usually possible to change it up or add extras! Chocolate chip cookie recipes usually call for milk chocolate chips, but you can always swap for dark chocolate, milk chocolate, peanut butter, or even butterscotch.
If you have any questions about how to make cookies in the air fryer, please leave a comment below and I will get back to you ASAP!
FAVORITE AIR FRYER COOKIES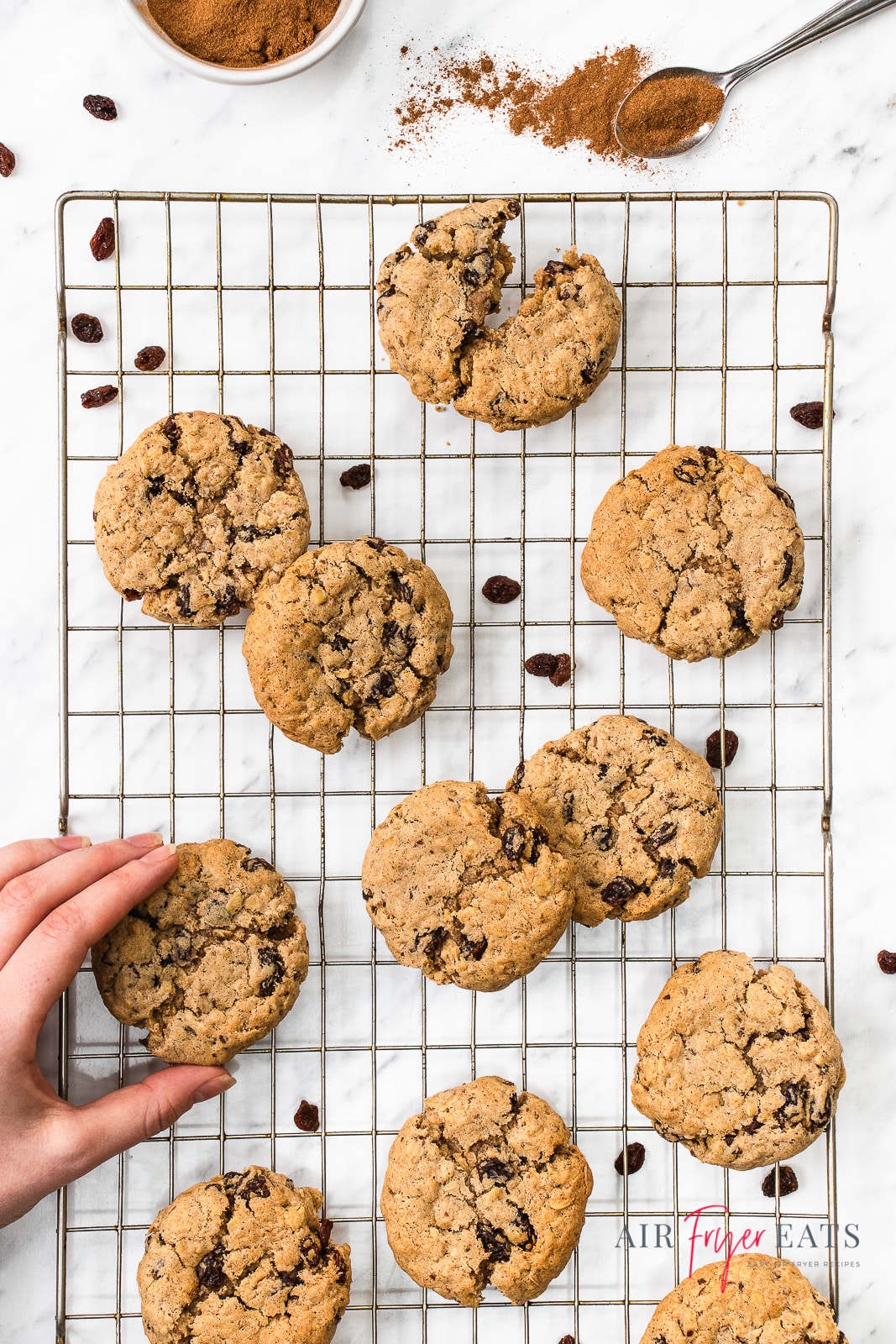 These delicious oatmeal cookies in the air fryer are sweet, chewy, and packed with raisins. Switch it up with chocolate chips or even M&Ms. They are also vegan and gluten free, so perfect to serve to any crowd!
For those nights when you cannot decide, Air Fryer Monster Cookies are the best option. These fluffy, buttery air fryer cookies are stuffed with chocolate chips and M&M's. Best of both worlds!
I love the blank canvas of an air fryer sugar cookie. When I want that buttery sweetness, it is always on point and so easy! Get fancy with frosting or leave it plain.
Sometimes I just want homemade cookies but I do not want to dirty a bunch of measuring cups. These Air Fryer Cake Mix Cookies are super versatile because you can use any box cake mix! Red velvet cookies with white chocolate chips, Devil's food cookie with toffee bits, or anything you can think of!
I love this Air Fryer M&M Cookie recipe because you can change the colors for any occasion! I started with red and green M&Ms for Christmas, but I have done orange and black for Halloween, red and pink for Valentine's Day, and of course pastel colors for Easter.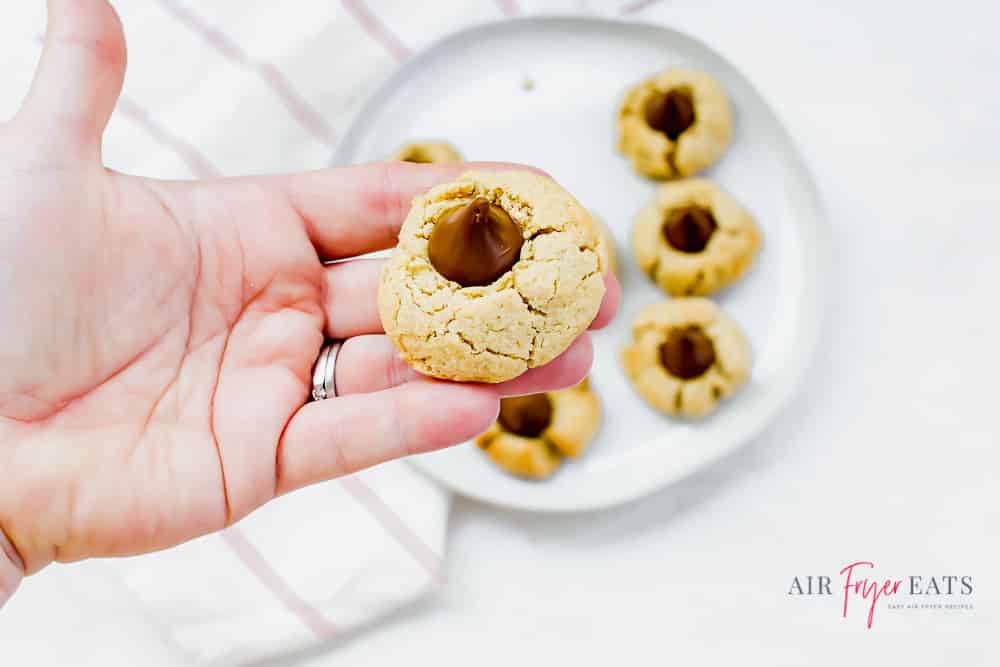 There is no better combination than chocolate and peanut butter. Air Fryer Peanut Butter Blossoms are the best Christmas cookie packed with peanut butter and topped with a Hershey's Kiss. Make these cookies in the air fryer in just 7 minutes flat! This is truly my favorite cookie recipe.
I love an ooey gooey chocolate chip cookie fresh from the oven, but it is hard to nail that perfect consistency. These Air Fryer Deep Dish Chocolate Chip Cookie Bowls have a crispy, crunchy top with a molten cookie center. A ceramic ramekin is great for this!
Need a cookie big enough to share? These Air Fryer Cookie Skillets are the perfect dessert for date night with the half cookie, half cake consistency. Top it with a scoop of vanilla ice cream and a drizzle of chocolate syrup to make it even more decadent.
When you have a classic cookie craving, only one thing will suffice: Air Fryer Chocolate Chip Cookies. They are crunchy on the outside, chewy on the inside, and packed with melted chocolate chips. Is there any better cookie recipe?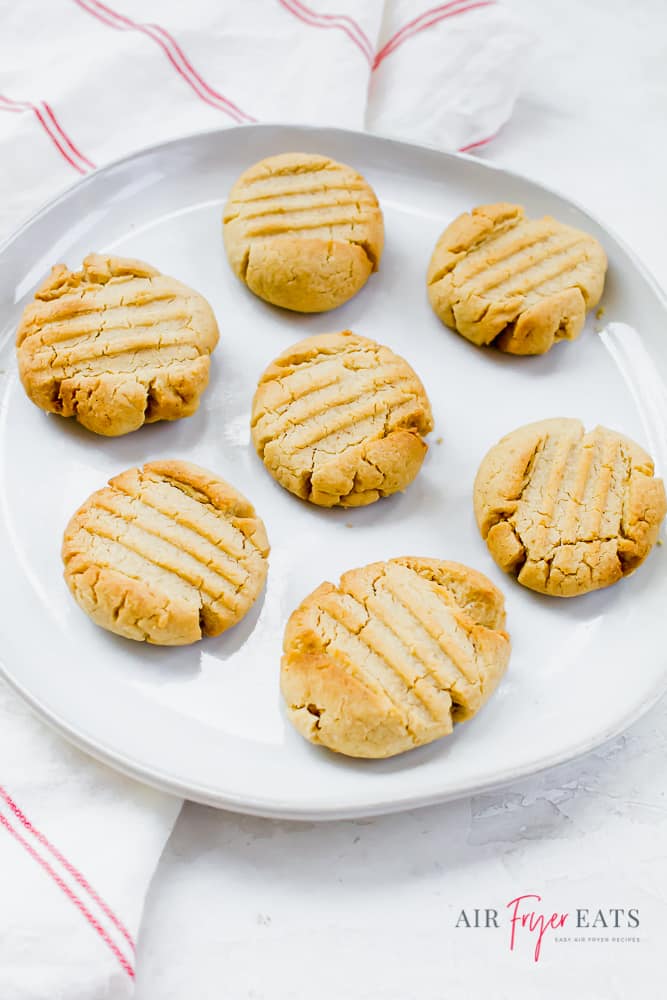 Salty and sweet lovers, rejoice! These peanut butter cookies in the air fryer are done in just 7 minutes with just a handful of ingredients. Do not forget the fork for those classic crossed lines on top. You can even freeze the dough for cookies on demand for one or a family!
Christmas is coming, and there is no more iconic cookie than a plate of gingerbread people. These gingerbread cookies in the air fryer are so easy to make! They are super flavorful with a homemade spice blend and perfectly crisp for decorating.
Buttery cookies are great, but sometimes, I want a rich chocolate cookie packed with cocoa. These air fryer chocolate cookies are perfect plain or with chocolate chips. I use gluten-free flour to make them great for any party.
Who said cookies have to be hard to make? If you love fair food, you have to try Air Fried Oreos! They have the same amazing flavor and melty insides with none of the fryer oil. You only need 3 ingredients and 5 minutes to make this vegan dessert. Hint: It is Oreos, crescent rolls, and powdered sugar.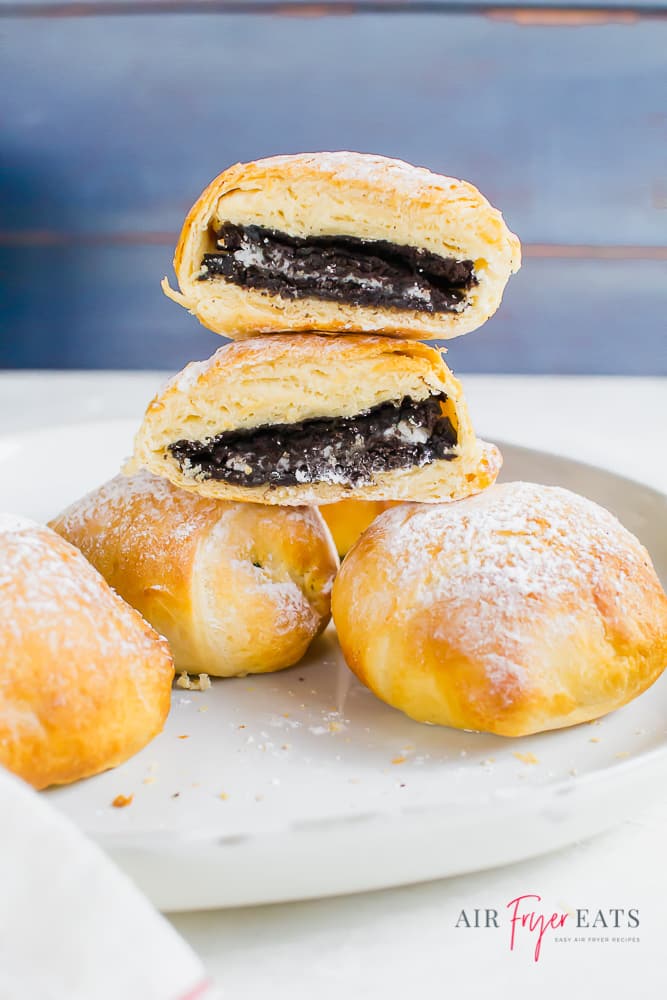 MORE AIR FRYER DESSERT RECIPES
There are so many air fryer desserts! Once you've made all the air fryer cookies, try these delicious treats.
Is it breakfast for dessert or dessert for breakfast? Either way, air fryer donut holes are rolled in a sweet cinnamon sugar. It's always a hit at my brunch table or for a midnight snack craving.
If you like Krispy Kreme donuts, this copycat chocolate glazed donut recipe is as good as the original! Make them in the air fryer to avoid all that fry oil and cleanup.
Hopefully you have tried air fryer cookies by now, but have you tried air fryer cupcakes? You can take the same box cupcake mix and make cupcakes in the air fryer! Any flavor, any amount. I use silicone muffin liners because they are reusable and sturdier than paper. No spills here!
Gingerbread cookies are great, but gingerbread bites are better. These fluffy crescent rolls in the air fryer are stuffed with cream cheese and all those Christmas seasonings. No need to decorate, just pop them in your mouth.
HOW TO MAKE THE BEST AIR FRYER COOKIES
Whether it is your first time making cookies in the air fryer or you have made tons of air fryer desserts, here are some tips and tricks to nail every cookie recipe.
Always use parchment paper. There is nothing worse than a freshly baked cookie that is stuck to the baking sheet. While most air fryer baskets are nonstick, a simple square of parchment paper ensures your cookies are perfectly cooked and slide off with ease. No more ruined air fryer cookies here!
Keep the dough balls even. As with all cookie recipes, evenly sized dough balls will result in the best air fryer cookies. That way, no cookies are overdone or underdone.
Be careful with sugary toppings. When you are working with air fryer cookies, those with glazes, icing, and jammy tops can be tricky. Be careful using sugary toppings as they can burn before the cookies are done baking. When you can, decorate when the cookies are out of the air fryer.
Work in batches. Depending on the size of your air fryer basket, you will only be able to fit so many cookies at a time. If you need to make more than will fit, do not cram them in! Make a few at a time and rotate the cookies through the air fryer.
Use a pan. If you have a small baking sheet that fits in the bottom of the air fryer, feel free to use it! Some air fryer baskets are textured, and the cookies will bake around the ridges. If you want perfectly flat cookies in the air fryer, use a small air fryer pan.
Freeze your batter. Got more cookie dough than you need? Freeze it! You can easily turn frozen cookie dough into air fryer cookies with no need to thaw. Simply roll the dough balls, then freeze until solid on a baking sheet with parchment paper. Just add a couple minutes to the baking time if frozen.
WHAT TO SERVE WITH AIR FRYER COOKIES
I've been known to munch on air fryer cookies for breakfast with my morning cold brew coffee. Skip the coffee shop line with this simple homemade cold brew!
This Iced Chai Tea Latte is a cold drink packed with sweet, warm spices! It's the perfect way to enjoy a chai latte on a warm day with a crumbly air fryer cookie.
Need a little frosting with your cookies? Try this vegan cream cheese frosting! It's totally tangy and creamy with all plant-based ingredients.
Sometimes I just want the cookie dough and none of the baked cookies. Try this chickpea cookie dough recipe for perfectly edible cookie dough with all natural ingredients.
CAN YOU BAKE COOKIES IN AN AIR FRYER?
Of course you can make cookies in the air fryer! This list of air fryer cookie recipes should tell you everything you need to know about baking cookies in the air fryer.
Much like the oven, be sure to give all the cookies room to spread. It is best to work in batches. Luckily, air fryer cookies can be made for one or a party.
WHAT HAPPENS WHEN YOU AIR FRY A COOKIE?
An air fryer is simply a countertop convection oven. When you put raw cookie dough in an air fryer, it bakes just like your oven but in about half the time!
The hot air circulates faster around the cookies, giving the outside that perfectly browned crunch. But, since the cookies are cooked much faster, it gives the inside less time to harden. The result is a perfectly cooked cookie every time!
Want to transform your store-bought bakery cookies? Pop a few in the air fryer for a couple minutes and watch them transform into warm, soft cookies. Delicious!
CAN YOU USE ALUMINUM FOIL IN AN AIR FRYER FOR COOKIES?
When working with an air fryer, the rule is simple: If it can go in the oven, it can go in the air fryer.
However, while aluminum foil is perfectly fine in the air fryer, I do not recommend using it with air fryer cookie recipes. Parchment paper does the same nonstick trick while letting the air circulate faster.
For the best air fryer cookies, always use parchment paper.
Air Fryer Cookies - Featuring Air Fryer Oatmeal Cookies
Air Fryer Cookies are crunchy on the outside, chewy on the inside, and ready so fast! This list of air fryer cookie recipes covers every cookie craving from chocolate chip to monster cookies.
Ingredients
½

cup

Vegan Butter

softened

½

cup

Light Brown Sugar

⅓

cup

Caster/Granulated Sugar

1

Flax Egg

or one egg

1

tsp

Vanilla Extract

¾

tsp

Ground Cinnamon

1

cup

Gluten Free All-Purpose Flour

½

tsp

Xanthan Gum

Only use if AP flour doesn't have any

1 ⅔

cup

Rolled Oats

½

tsp

Baking Soda

¼

tsp

Salt

1

cup

Raisins
Instructions
Prep the flax egg by whisking together 1 tbsp ground flaxseed + 3 tbsp water and leaving in the fridge for at least 15 minutes (or up to overnight). If using an egg skip this step.

In a large mixing bowl, beat the softened vegan butter with the brown sugar and caster sugar until smooth and fluffy.

Add the flax egg and vanilla extract and mix to combine.

In a separate bowl, whisk together flour, cinnamon, salt and baking soda.

Add the rolled oats to the flour mixture and stir to combine.

Add dry mixture to the wet mixture. Fold everything together until combined. The mixture will be thick and sticky.

Add the raisins and mix to combine.

Roll the mixture into balls (each should way approx. 30g, about a 1-inch ball) and place on your lined baking sheet. Make sure there is enough space between them to allow for the cookies to spread as they cook. You may need to bake them in 2 batches. Flatten the top of each cookie ball slightly by pushing it gently with your hands.

Air Fry at 320F/160C for 12 minutes.

Transfer to the wire rack to cool. The cookies will be very soft in the middle when first removed from the oven but will firm up as they cool.
Go AD FREE!
Notes
If your gluten-free all purpose flour already has xanthan gum as an ingredient, DO NOT add more in. Adding more in will make your cookies gummy.
Pro Tip: This recipe can be made in the air fryer unit with a basket or the air fryer oven. If you are using the air fryer oven, use the middle rack and select the "Air Fry" function.
Nutrition
Calories:
115
kcal
|
Carbohydrates:
20
g
|
Protein:
1
g
|
Fat:
4
g
|
Saturated Fat:
1
g
|
Trans Fat:
1
g
|
Sodium:
83
mg
|
Potassium:
82
mg
|
Fiber:
2
g
|
Sugar:
7
g
|
Vitamin A:
180
IU
|
Vitamin C:
1
mg
|
Calcium:
14
mg
|
Iron:
1
mg
Tired of the ads?
Go AD Free - Become part of our Membership community!
Air Fryers can vary greatly. Please take the time to learn your specific air fryer. You may need to adjust times and temperatures based upon your air fryer.
All though this website attempts to provide accurate nutritional information, the information should only be considered an estimate. Varying factors such as different product types, different brands, etc. can change nutritional information. It is your responsibility as a consumer to read all labels to make sure the ingredients fit your dietary needs as well as calculate your own nutritional information as a double check.