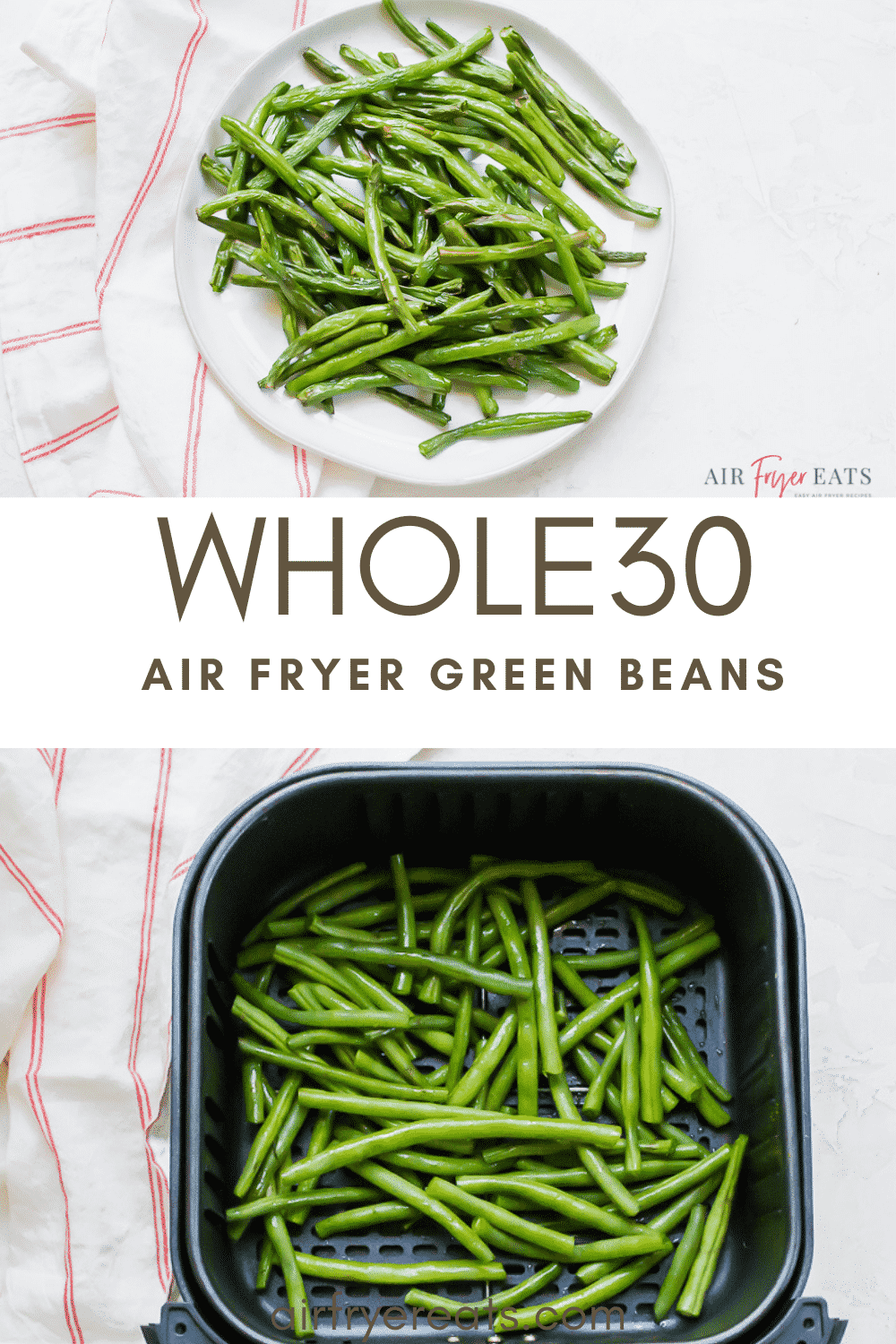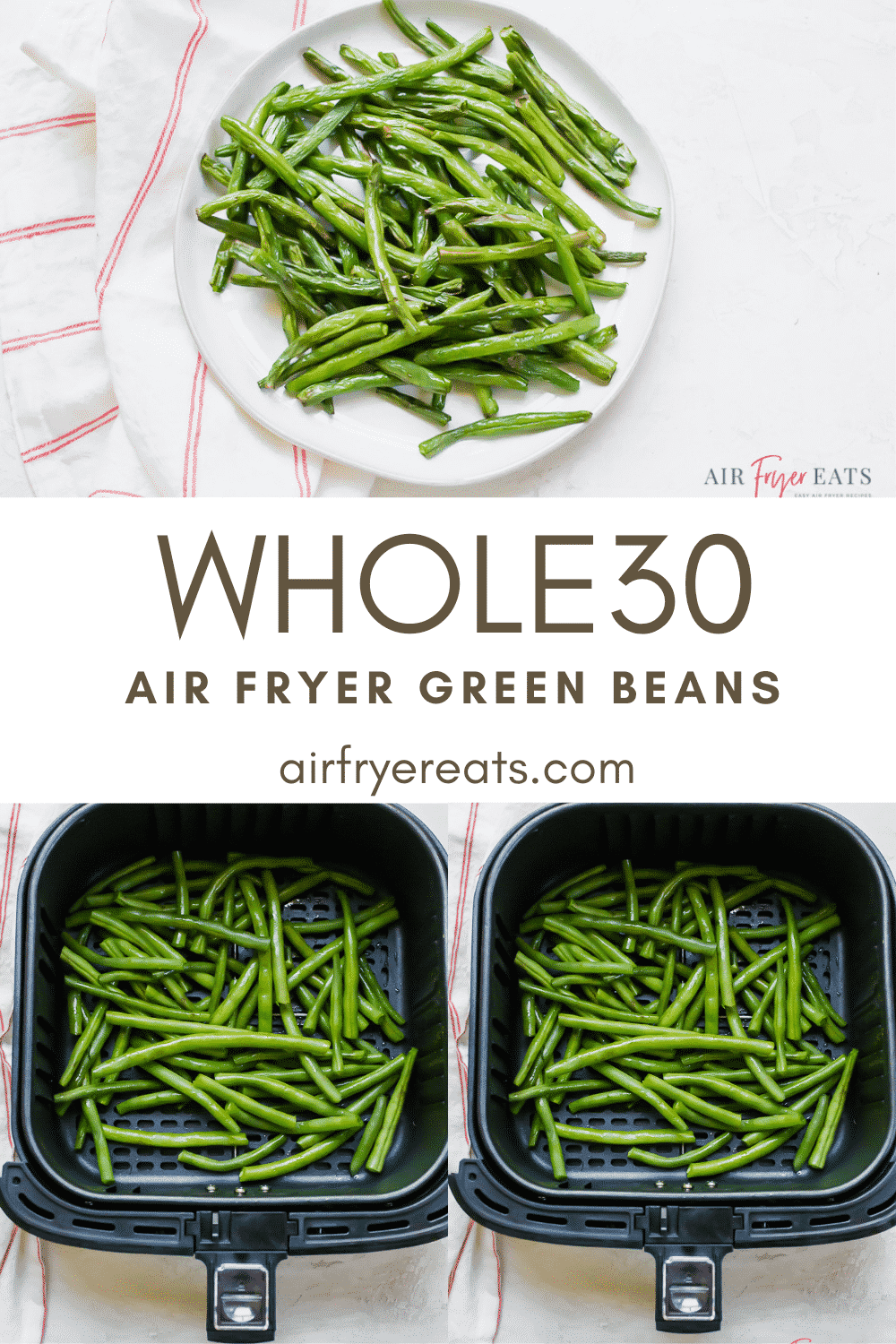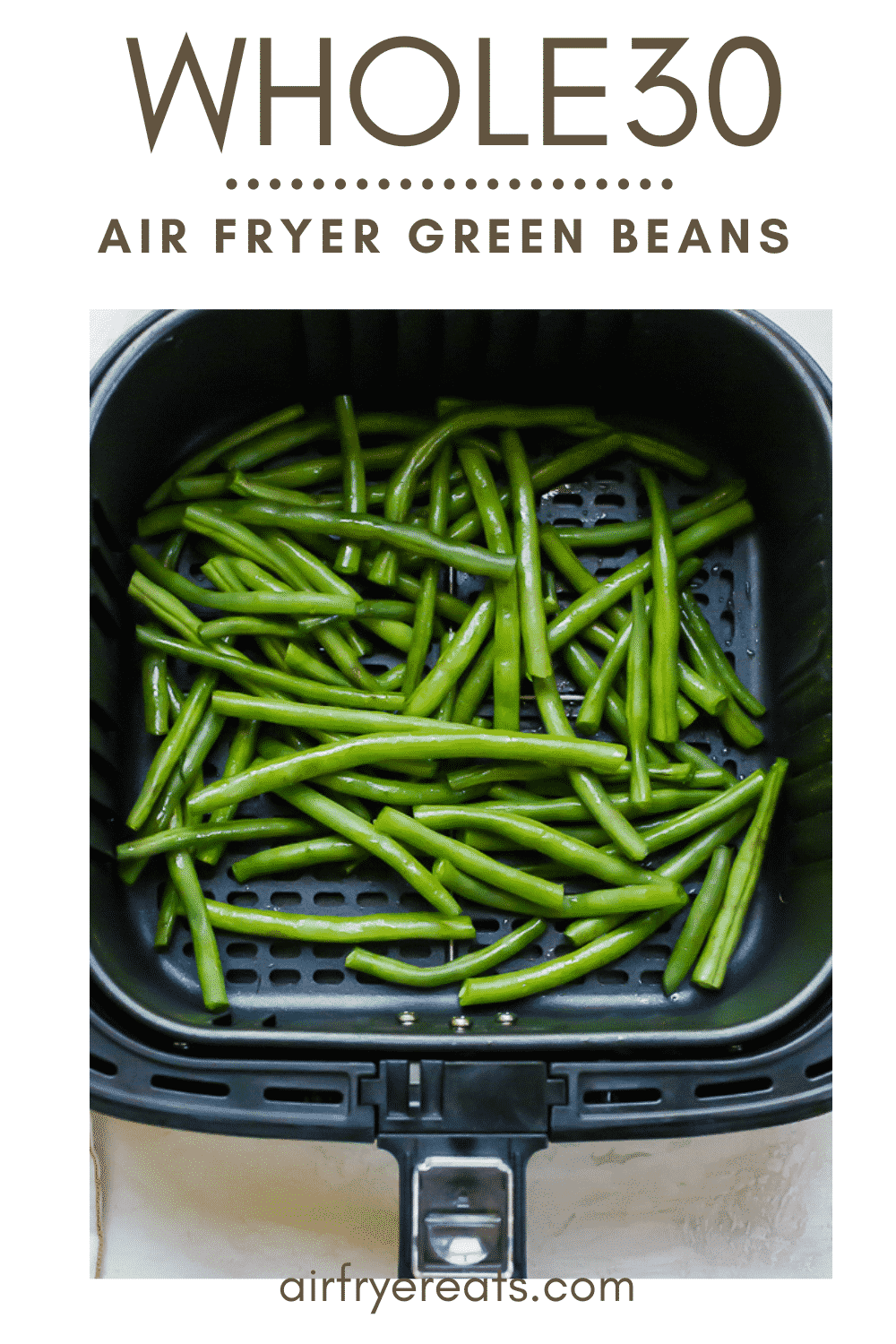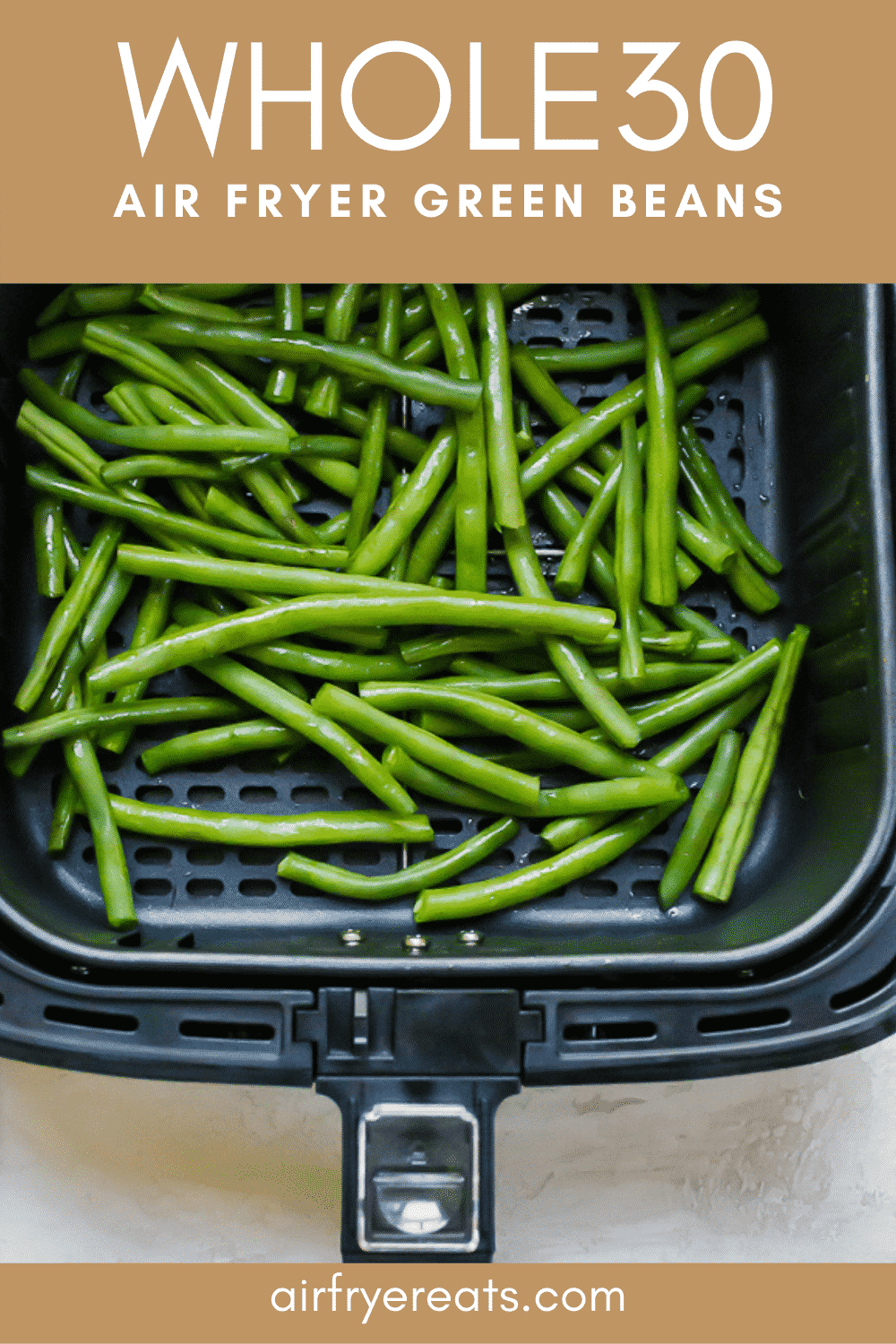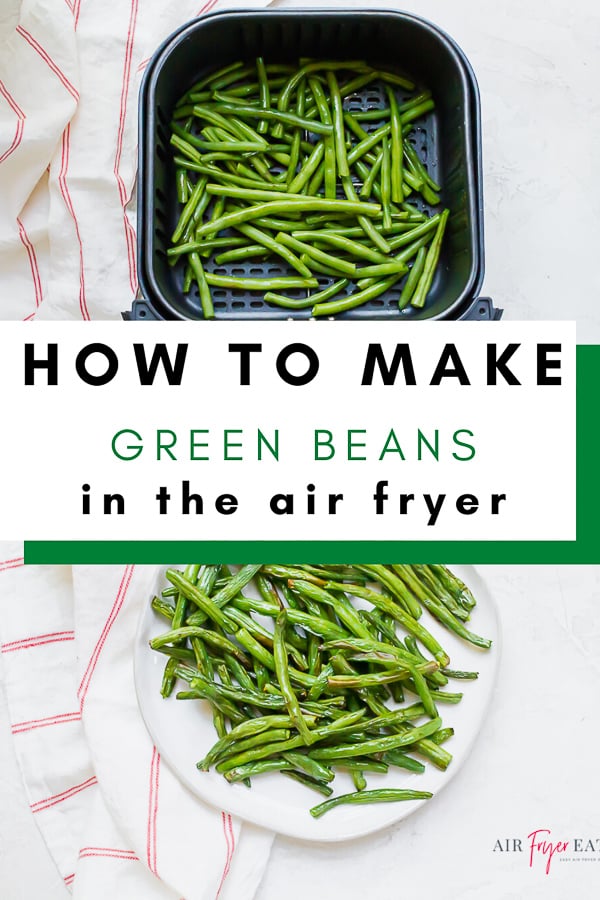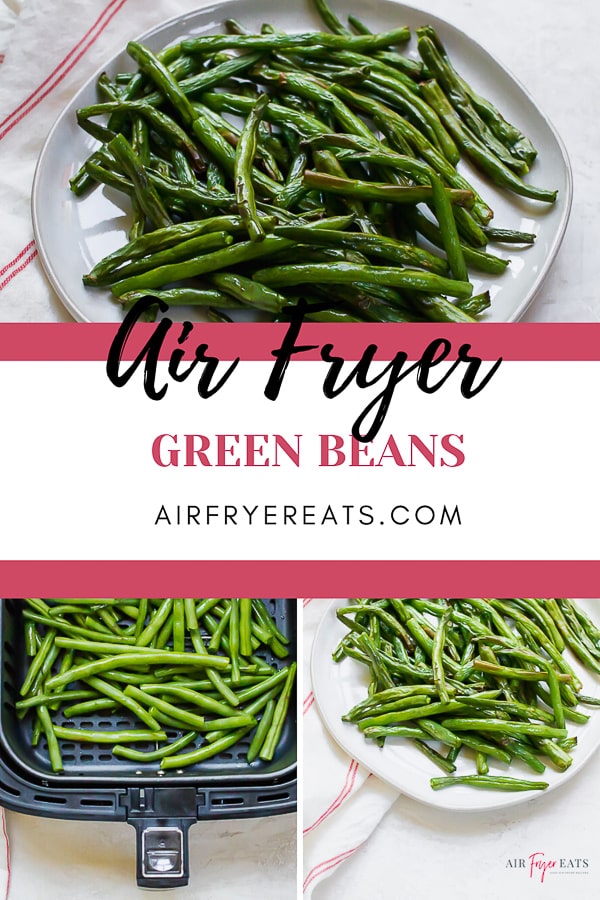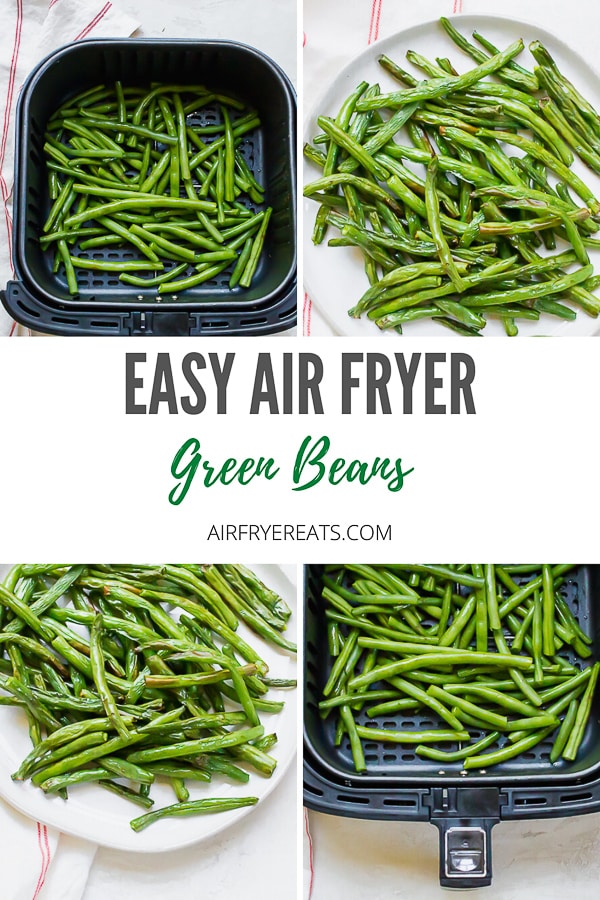 These super simple Air Fryer Green Beans are just two ingredients and four steps! Make dinner in less than half an hour with this healthy vegan side dish.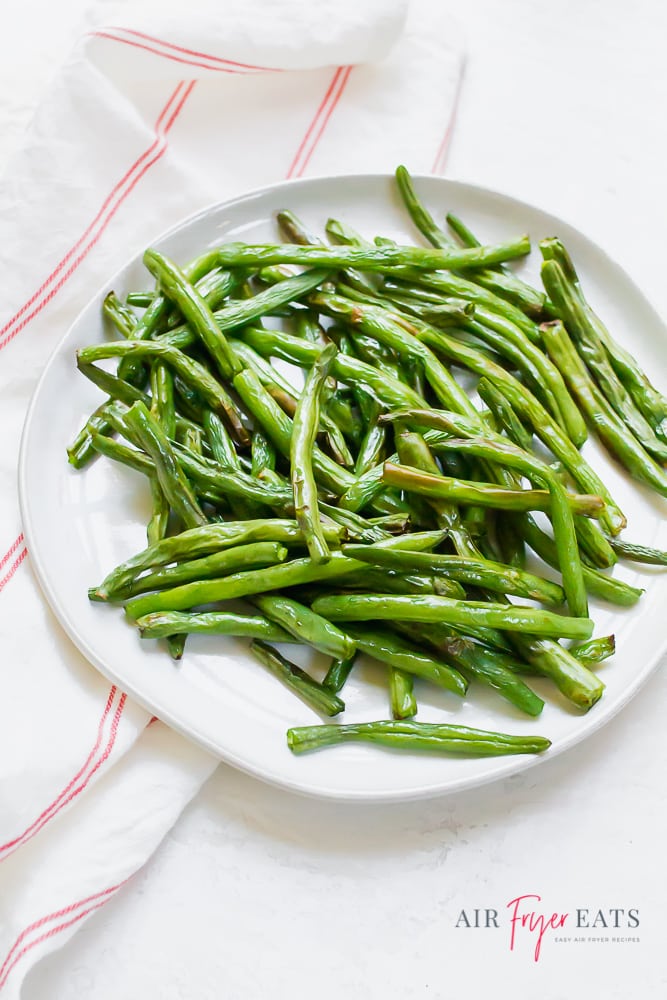 I LOVE a simple but delicious and healthy side dish, and these Air Fryer Green Beans are the perfect quick and easy weeknight side that the whole family can make!
I like to keep this recipe simple with no additional seasonings, but you can certainly add salt, pepper, garlic powder, onion powder, lemon, and so many other combinations to this dish to make it a little different every dinner!
Looking for a recipe with canned green beans? I've got one!
The steps are similar for these Air Fryer Canned Green Beans with just ONE ingredient.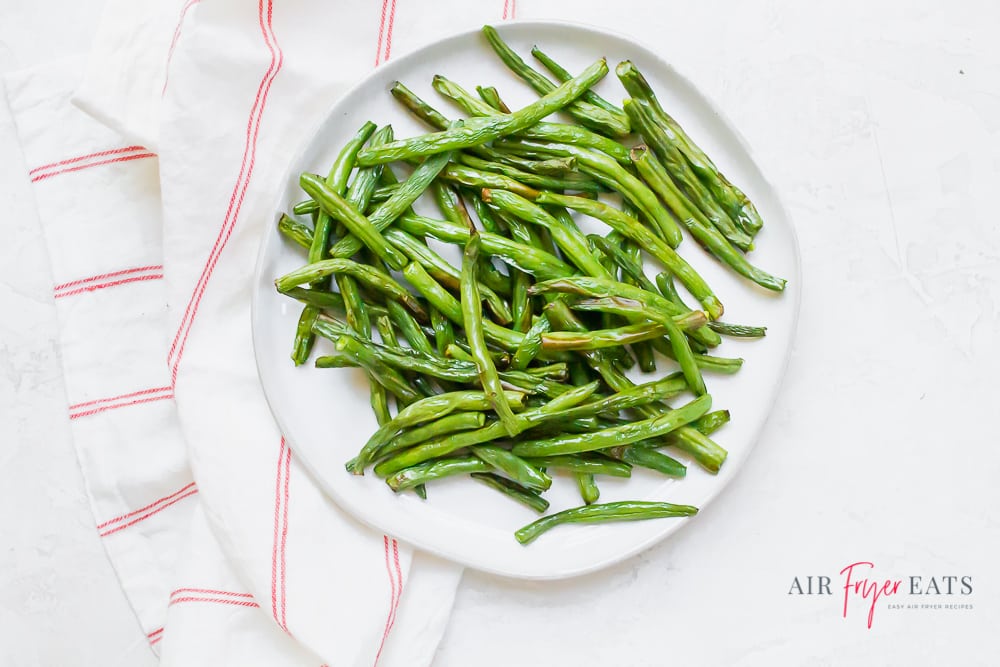 HOW TO MAKE AIR FRYER GREEN BEANS
This green bean recipe couldn't be easier or faster!
Two ingredients and four steps and you're ready for dinner.
First, wash your green beans thoroughly to remove any dirt or debris. Also, trim the ends if they need it.
Next, measure your oil and toss the beans in it. Make sure they're evenly coated for a good cook on the outside!
Then, add the green beans to your air fryer basket or on a tray in your air fryer toaster oven! Cook them for about 10 minutes at 390 degrees F or 198 degrees C. I prefer mine to still have that natural crunch, but if you like yours cooked more, add another 2-3 minutes.
Serve immediately and enjoy!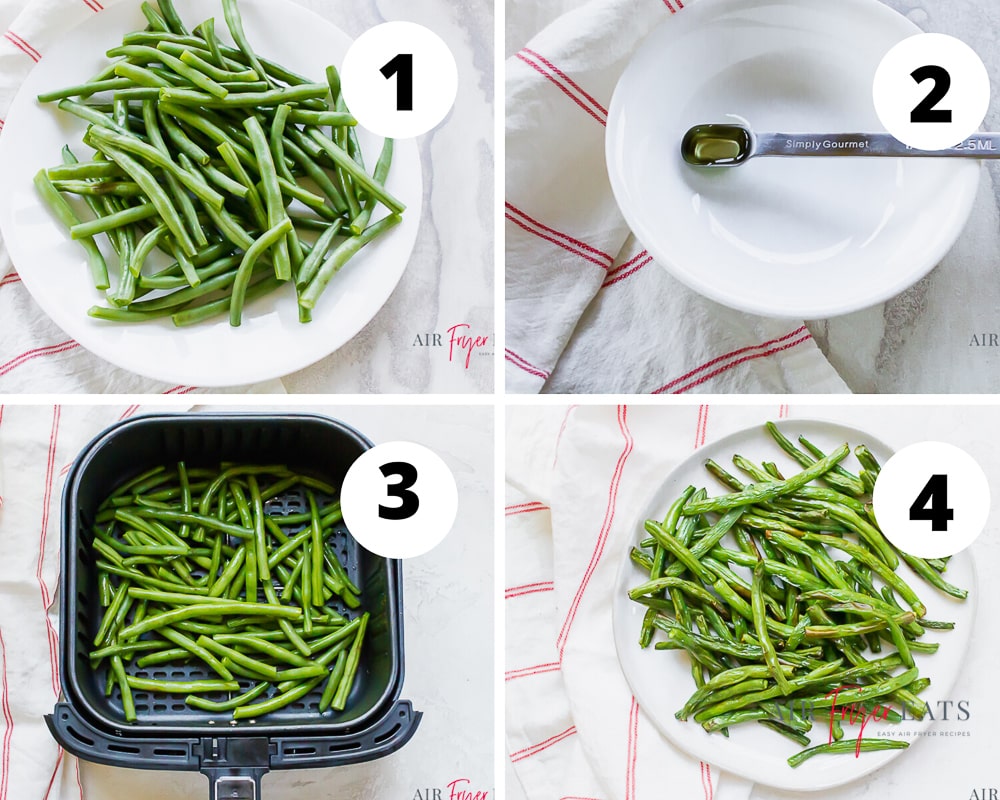 Can I Use Frozen Green Beans?
I always prefer fresh green beans because they have that great *snap* to them, but if you can't get fresh, frozen is your next bet!
If using frozen and you have time to thaw them, do so!
I like rinsing mine in cold water in a colander until they're almost thawed. Let them dry on a paper towel before adding your oil, and you're set!
No time to thaw? No problem! Keep your same cooking temperature but increase the cooking time to about double.
Check on your beans every 5-6 minutes, and make sure there's not a ton of water in your basket from the thawing beans.
What to Serve with Air Fryer Green Beans
Much like Instant Pots and slow cookers, air fryer recipes are great because it gives you a lot of time to do other things around the kitchen!
However, it's hard to make a whole dinner in the air fryer without multiples or things getting cold. But, fear not! I have other ideas for you.
I love this Vegan Shepherd's Pie because it also requires some work at the beginning but then gives you plenty of time to do your green beans from start to finish before it's out of the oven! Packed with veggies and topped with a delicious vegan mashed potato crust, it's perfect for carnivores and herbivores alike.
This gluten-free Wild Rice Mushroom Casserole works as a heart side dish or a great Meatless Monday dish alongside your green beans.
It's filled with rice, onion, mushrooms, tomatoes, olives, and CHEESE so it's got everything you need!
Whole 30 Air Fryer Green Beans
We often get a lot of questions, if our recipes are Whole 30 compliant. Some of our recipes are Whole 30 Air Fryer Recipes and some do not fit that category.
This Whole 30 Air Fryer Green Beans is compliant with the typical recommendations. The whole 30 way of eating emphasizes whole foods and the elimination of sugar, alcohol, grains, legumes, soy, and dairy.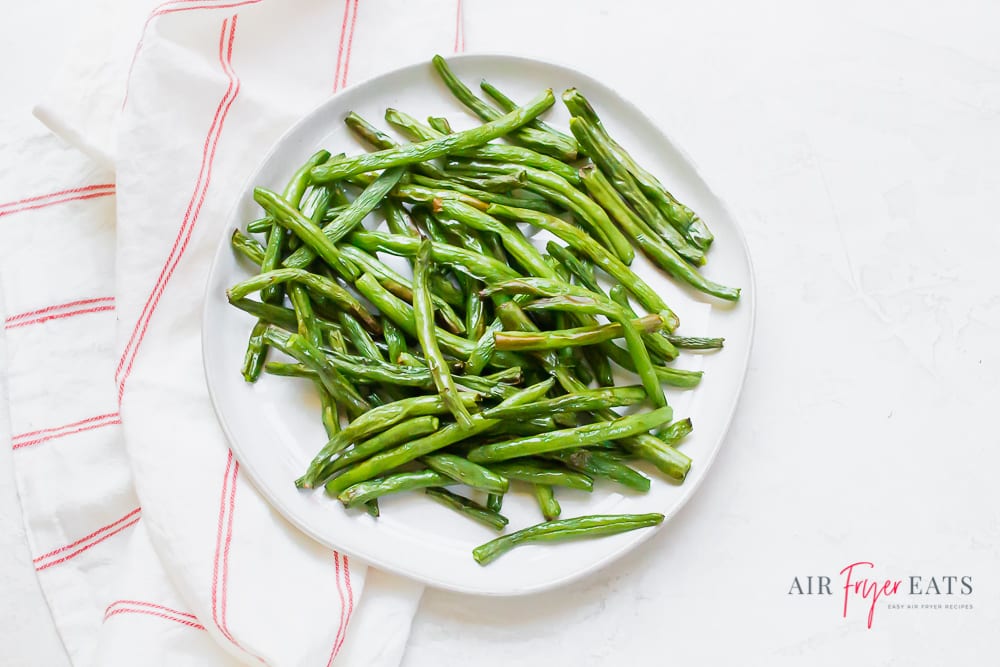 MORE YUMMY AIR FRYER VEGGIE RECIPES
We have so many veggie air fryer recipes for you to try!
Take a look at our Air Fryer Acorn Squash, Green Bean Casserole in the Air Fryer, Air Fryer Butternut Squash, Zucchini and Squash in the Air Fryer and Air Fryer Asparagus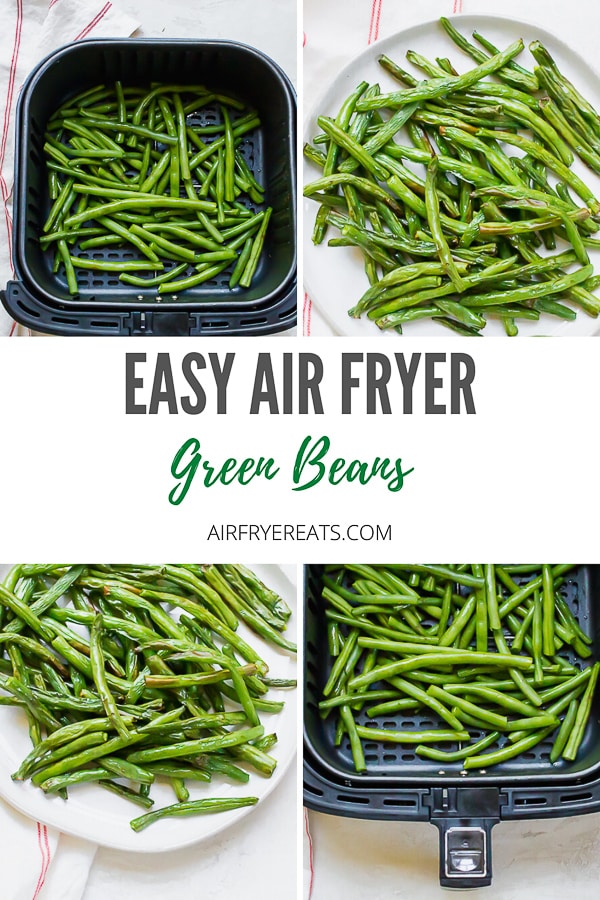 Pro Tip: This recipe can be made in the air fryer unit with a basket or the air fryer oven.
If you are using the air fryer oven, use the middle rack and select the "Air Fry" function.
Have you made this recipe? Please leave a comment AND rating below! It helps other readers!
Be sure to tag @AirFryerEats on instagram, if you share a picture on the gram!
Let's get social, you can follow me on Youtube, Instagram, Facebook, Pinterest or join one of our Air Fryer Facebook Groups: Air Fryer Recipes, Air Fryer Recipes for Seniors and Gluten Free Air Fryer Recipes.
Don't forget to subscribe to our EMAIL newsletter.
If you have made this Whole 30 Air Fryer Green Beans Recipe, drop a comment below and tell us what you served it with!