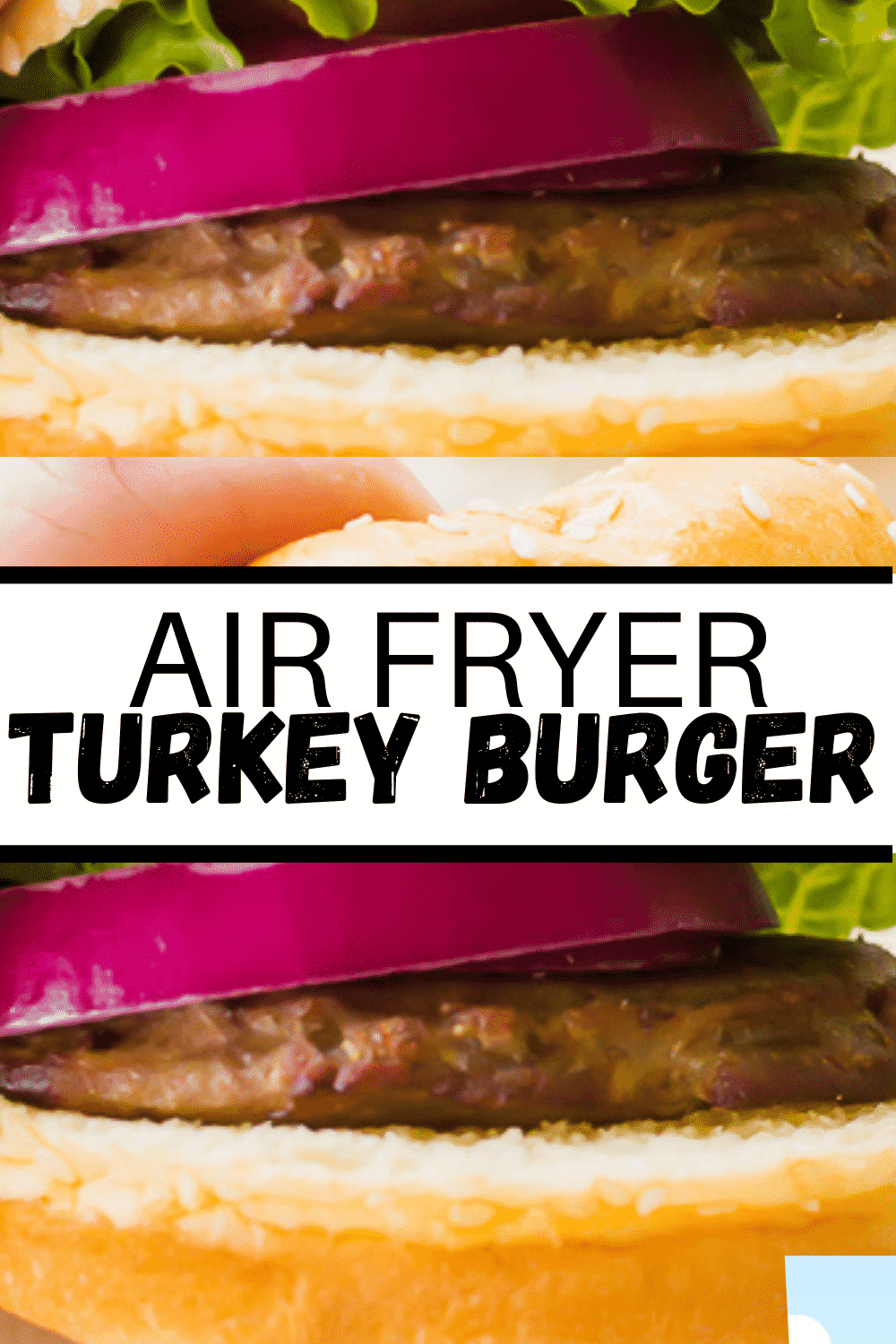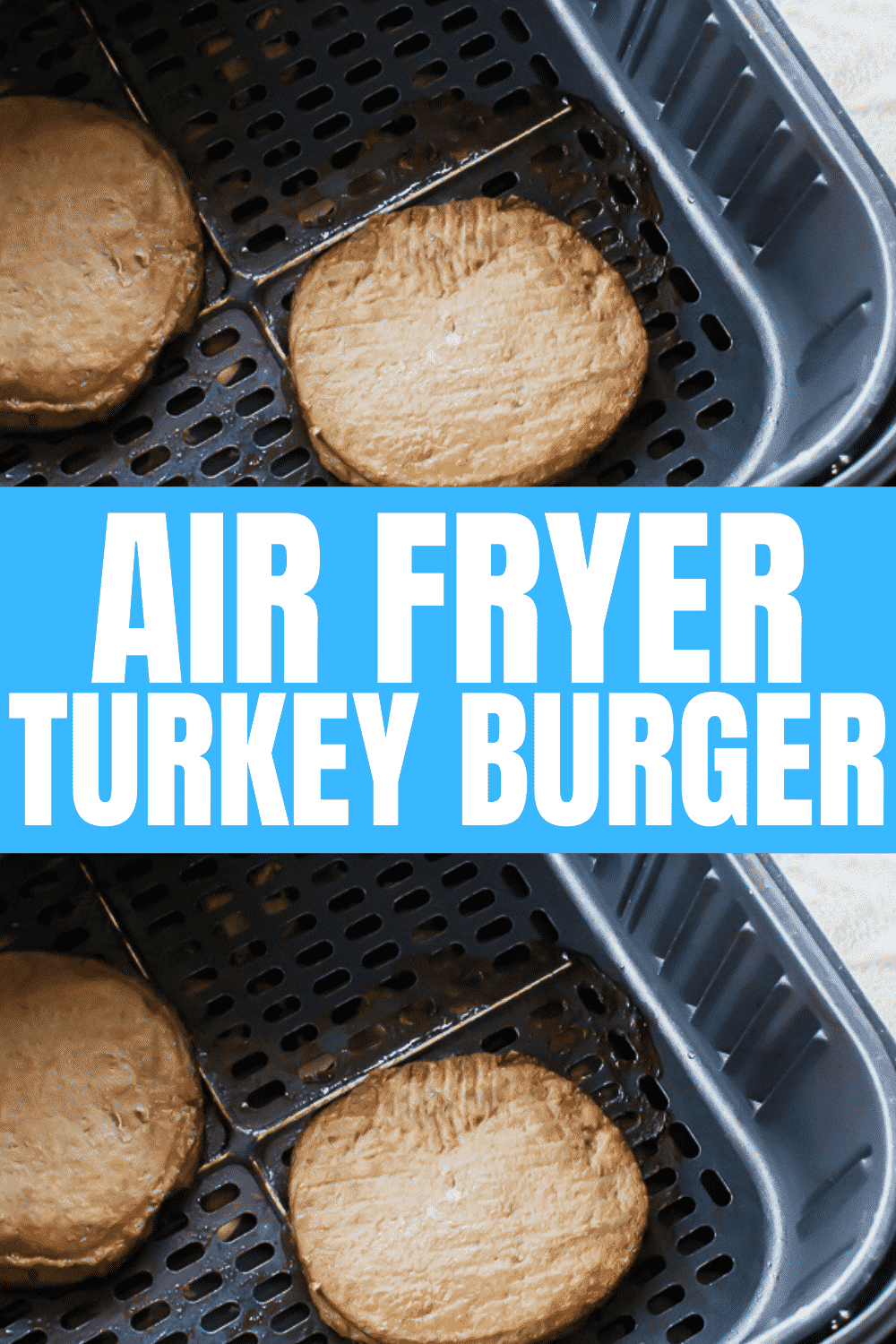 Air Fryer Turkey Burgers are a fast and healthy last-minute dinner! No need to even thaw your frozen turkey burger patties.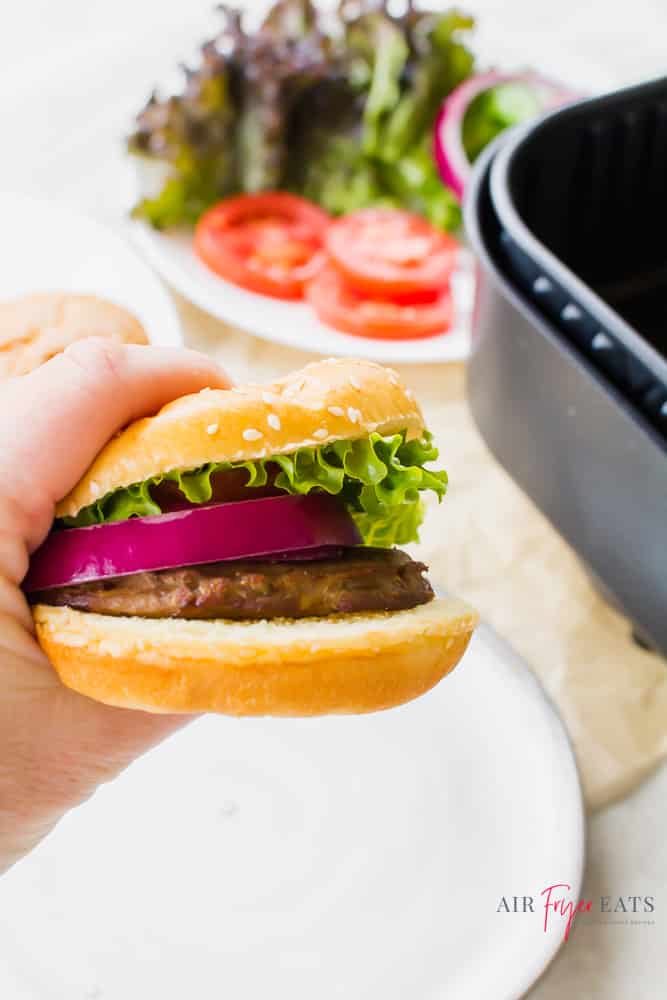 AIR FRYER TURKEY BURGER RECIPE
Frozen foods in the air fryer are just better. Something about the way it cooks makes everything crunchier and juicier. Frozen turkey burgers in the air fryer are the best!
I always keep frozen burger patties on hand when I need a meal idea but just can't cook. This is great for a single serving lunch or a weeknight dinner where you don't cave to the takeout cravings!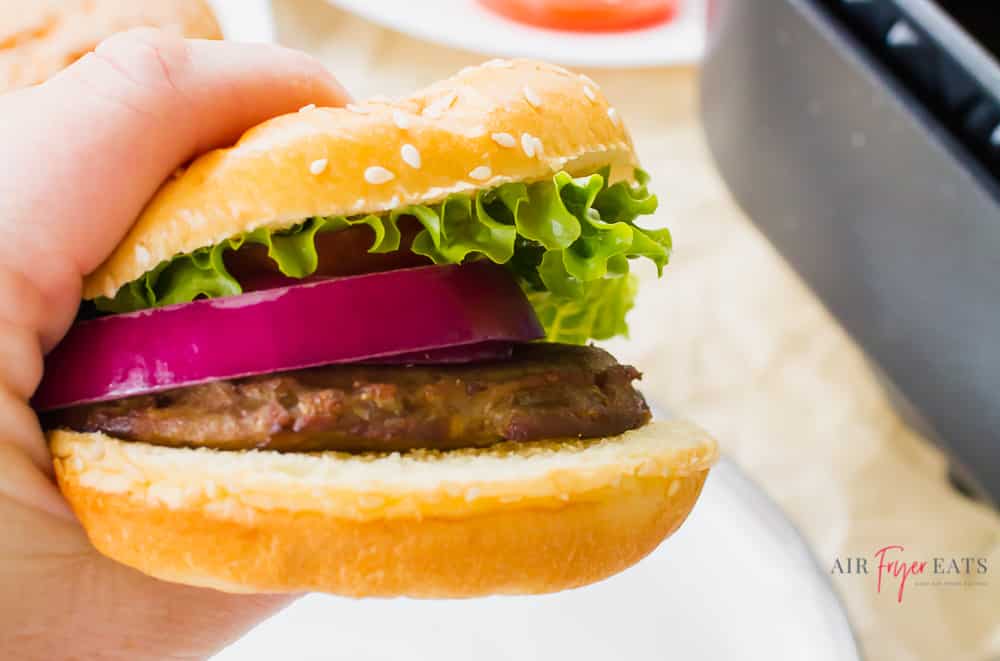 INGREDIENTS IN AIR FRYER TURKEY BURGERS
Frozen turkey burgers: You can use any brand of turkey burger you love! There's no need to thaw the patties before cooking, either.
If you have any questions, please leave a comment below and I will get back to you.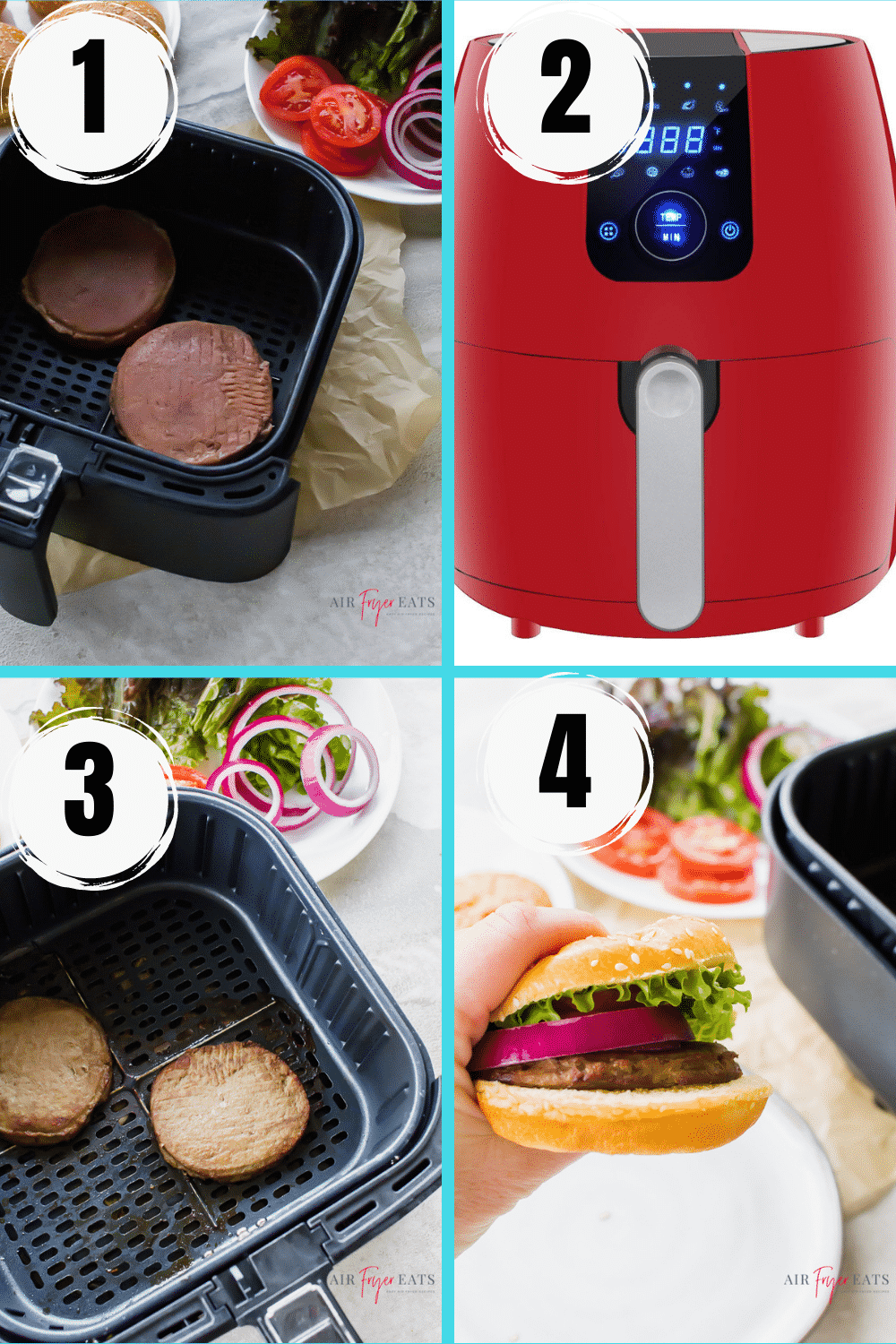 HOW TO MAKE AIR FRYER TURKEY BURGERS
First, put the frozen turkey burger in the air fryer basket or on your air fryer tray. Don't worry about thawing in advance!
Then, air fry the burgers at 375 degrees F (or 191 degrees C!) for about 15 minutes. Cook time will depend on burger size and air fryer brand, but my turkey burgers are about ½-inch thick.
Flip the burgers halfway through to get them evenly cooked on both sides.
Finally, put your favorite toppings on the burger bun and add your patty. Enjoy!
These numbered steps match the numbered photos above and are for illustration purposes. For the complete list of ingredients and instructions, please see the recipe below.
WHAT TO SERVE WITH AIR FRYER TURKEY BURGERS
There's no combination like burgers and fries. It just makes sense. Make the crispiest frozen fries in the air fryer!
If you love steak fries, those are easily doable. Tater tots, too! Be sure to shake the basket a few times while the fries cook.
Just because there's no grill doesn't mean you can't have the cookout sides! Smoked corn on the cob is my favorite because it's fresh, crunchy, and smokey.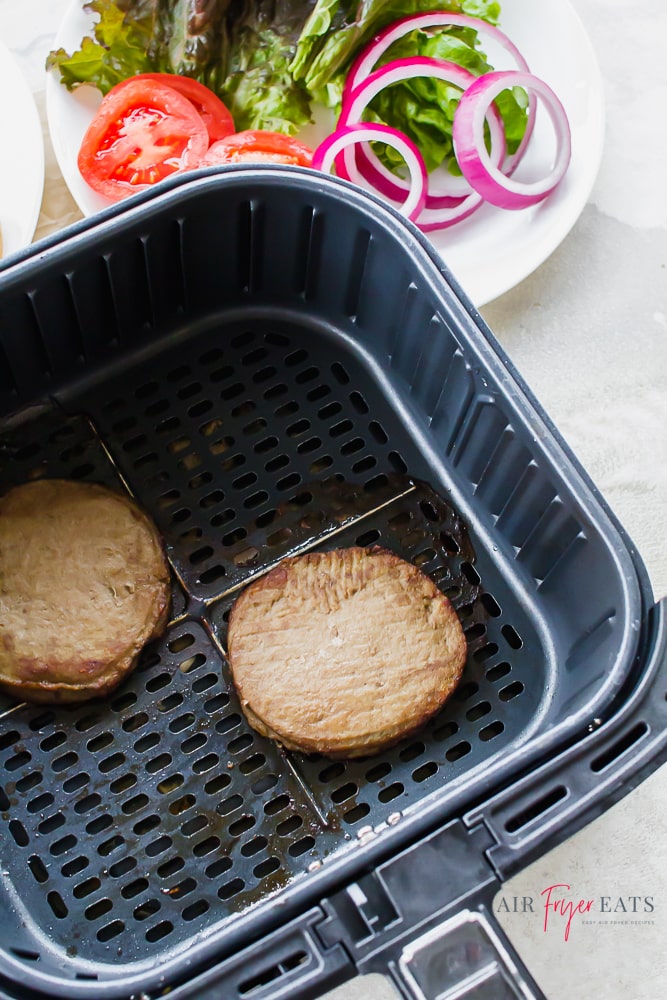 HOW LONG DO I COOK A FROZEN TURKEY BURGER IN AN AIR FRYER?
Almost any recipe can be converted to an air fryer recipe!
I tried a few temperatures before settling on 375 degrees F. It's hot enough to give the burger a caramelized outside but not so hot it burns before it's done.
The size of your burger will determine how long it needs to cook, as thicker burgers take longer. Use a meat thermometer to be sure it's at least 165 degrees F before serving — just like chicken!
In my experience, set a timer for about 12 minutes and check on your turkey burgers.
For easy cleanup, line your air fryer basket with parchment paper liners!
IS A TURKEY BURGER HEALTHIER THAN A HAMBURGER?
Beef and turkey both have plenty of nutrients to offer. But is a turkey burger healthier than a hamburger?
Ground beef is packed with iron, zinc, and Vitamin B12. Turkey, however, has higher amounts of other B vitamins that promote a higher metabolism.
Turkey is lower in both saturated fat and calories than beef, but otherwise, it has a lot of similar nutritional information for protein and sodium.
Personally, I prefer white meats, and ground turkey is so close to ground beef, I choose turkey burgers every time!
MORE YUMMY AIR FRYER RECIPES
Make some Meatless Monday burgers with these air fryer portobello mushrooms. They're super fast and great on a bun or perfectly plain.
Chicken tenders are a staple in my house, and they're so easy to make at home! Make them super crispy in just 30 minutes with an air fryer.
Mexican night is so easy and everyone can usually agree on quesadillas in the air fryer. These super gooey tortillas are filled with chicken, steak, veggies, or nothing but cheese!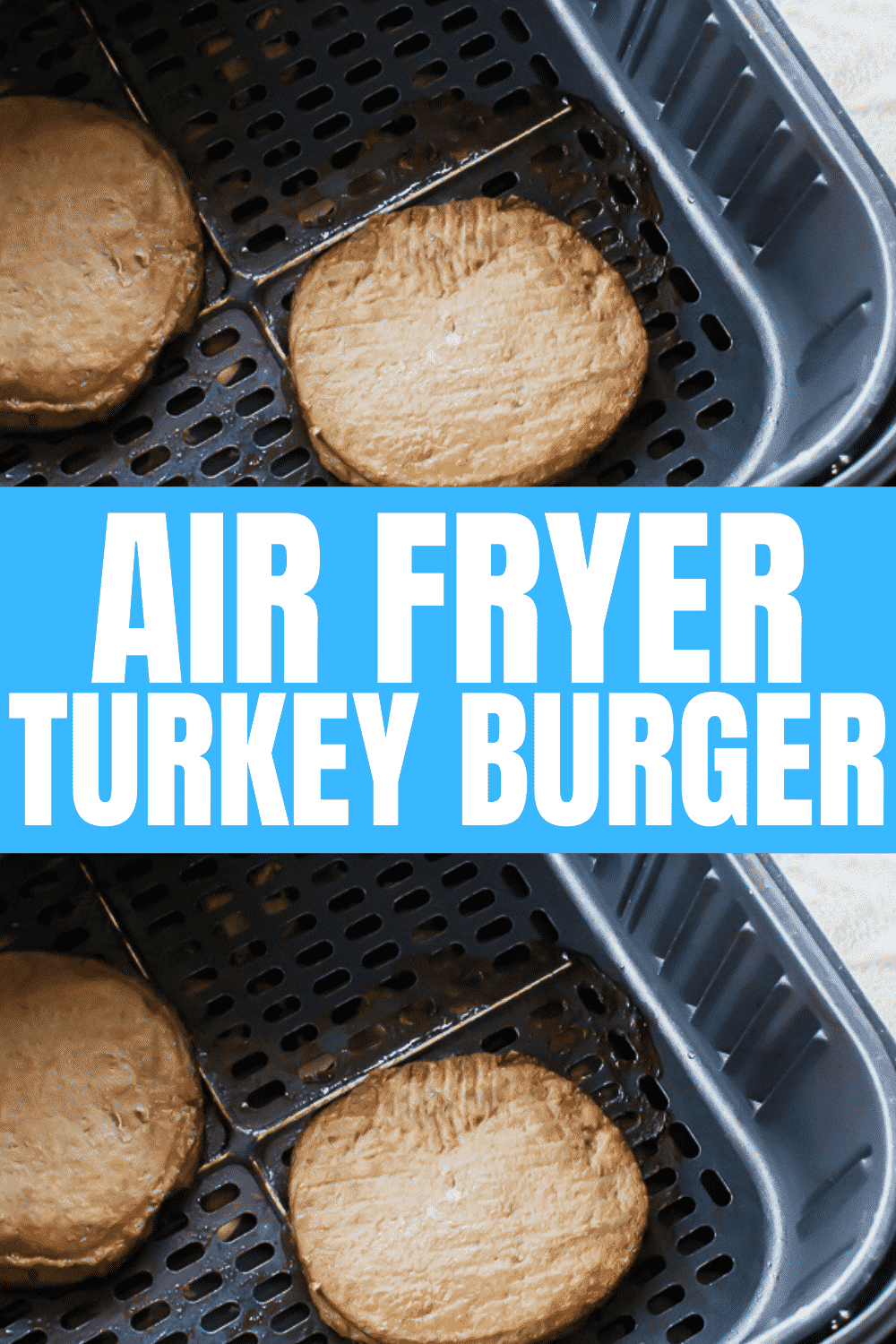 Air Fryer Turkey Burgers
Frozen turkey burgers are so fast and juicy in the air fryer! Make your favorite brand in record time for a lower calorie burger patty.
Ingredients
4

frozen turkey burgers

still frozen
Instructions
Remove turkey burgers from the freezer and place into air fryer basket or on air fryer tray.

Air fry at 375 degrees F (191 degrees C) for 12 to 15 minutes. Cook time will vary depending on turkey burger brand, size, and air fryer model.

Flip the turkey burgers about halfway through. The burgers are done when the internal temperature reaches 165 degrees F.
Go AD FREE!
Notes
Pro Tip: This recipe can be made in the air fryer unit with a basket or the air fryer oven. If you are using the air fryer oven, use the middle rack and select the "Air Fry" function.
Nutrition
Calories:
243
kcal
|
Protein:
28
g
|
Fat:
12
g
|
Saturated Fat:
3
g
|
Cholesterol:
108
mg
|
Sodium:
135
mg
|
Vitamin A:
134
IU
|
Calcium:
27
mg
|
Iron:
1
mg
Tired of the ads?
Go AD Free - Become part of our Membership community!
Air Fryers can vary greatly. Please take the time to learn your specific air fryer. You may need to adjust times and temperatures based upon your air fryer.
All though this website attempts to provide accurate nutritional information, the information should only be considered an estimate. Varying factors such as different product types, different brands, etc. can change nutritional information. It is your responsibility as a consumer to read all labels to make sure the ingredients fit your dietary needs as well as calculate your own nutritional information as a double check.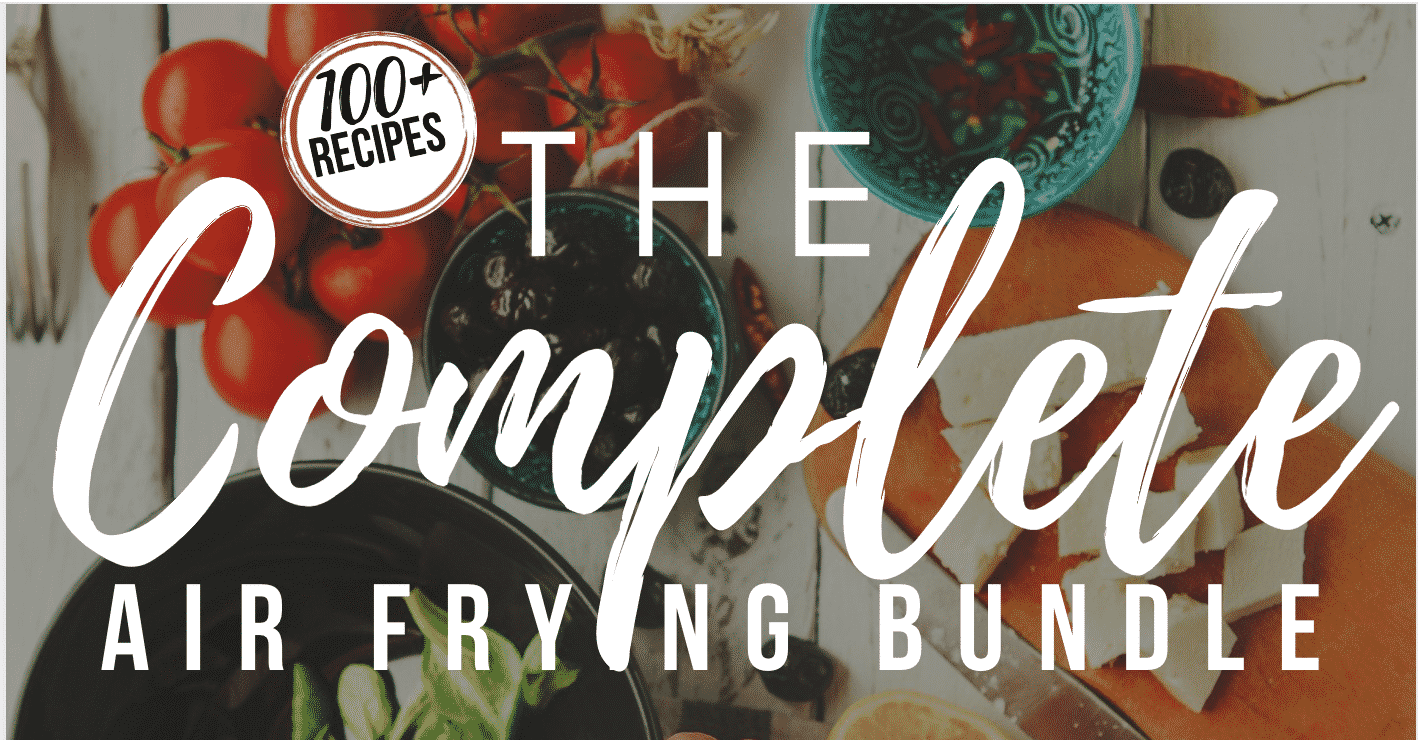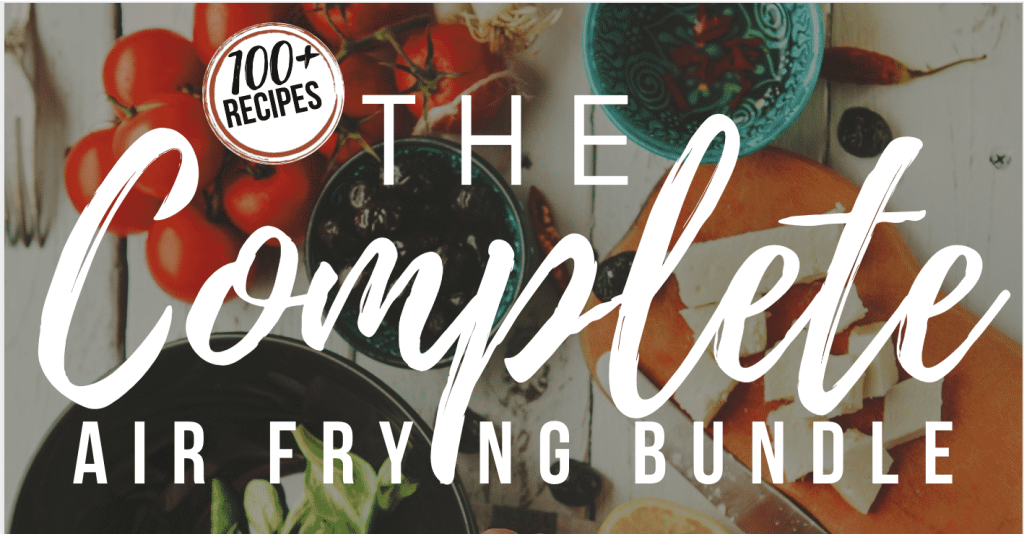 Still wanting more? We understand! If you want to immerse yourself in everything air fryer, here are a few more posts to check out! Simple Air Fryer Dinners, Turkey Burgers, Air Fryer Chicken Drumsticks, Air Fryer Tilapia, Air Fryer Sausage Patties, Air Fryer Desserts, Air Fryer Indian Recipes, Air Fryer Croutons, Air Fryer Recipes for Christmas Morning, Air Fryer Stocking Stuffers, Air Fryer Pumpkin Seeds, Air Fryer Vegetable Recipes, Air Fryer Recipes for Easter, Keto Air Fryer Recipes.