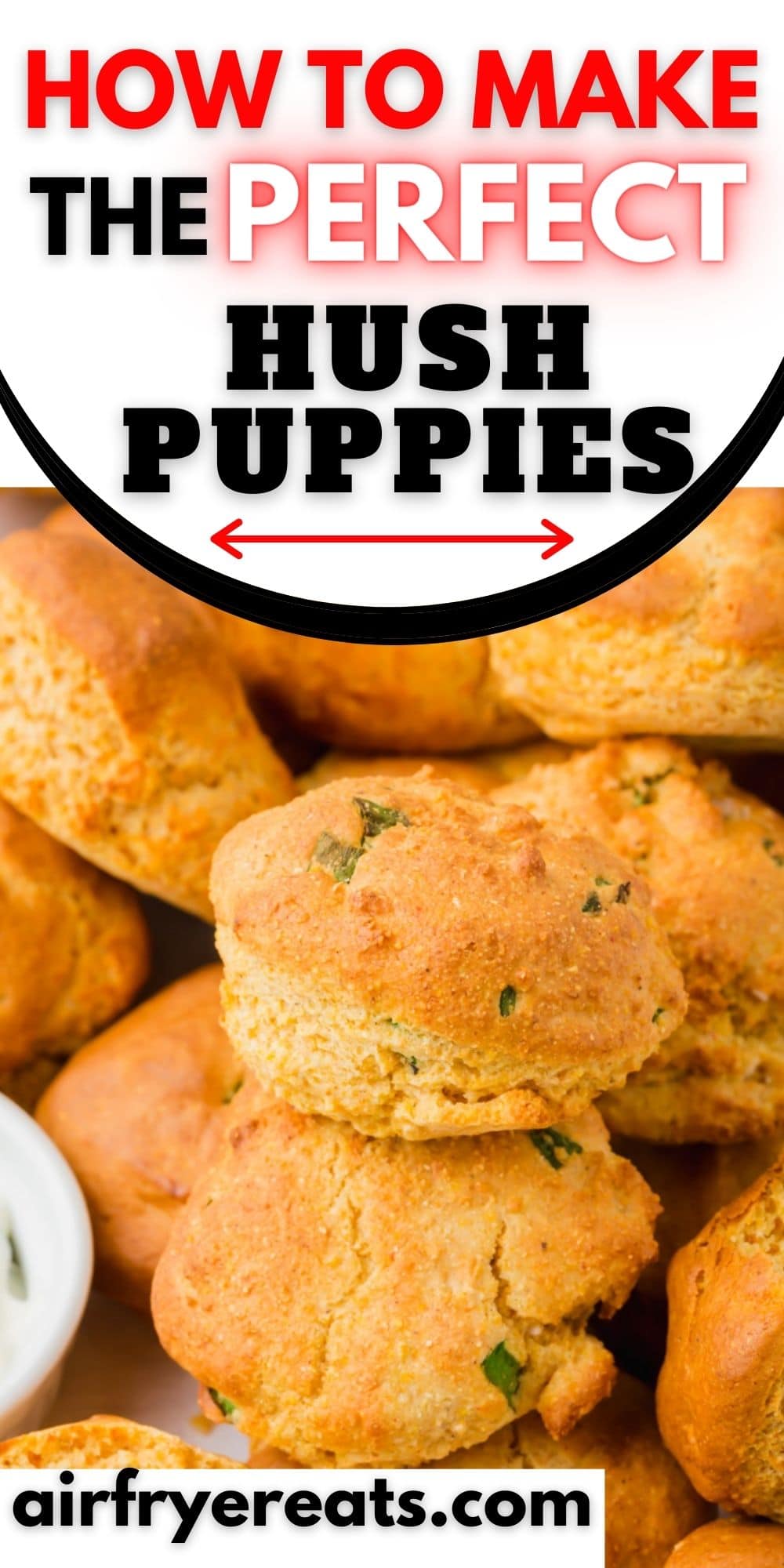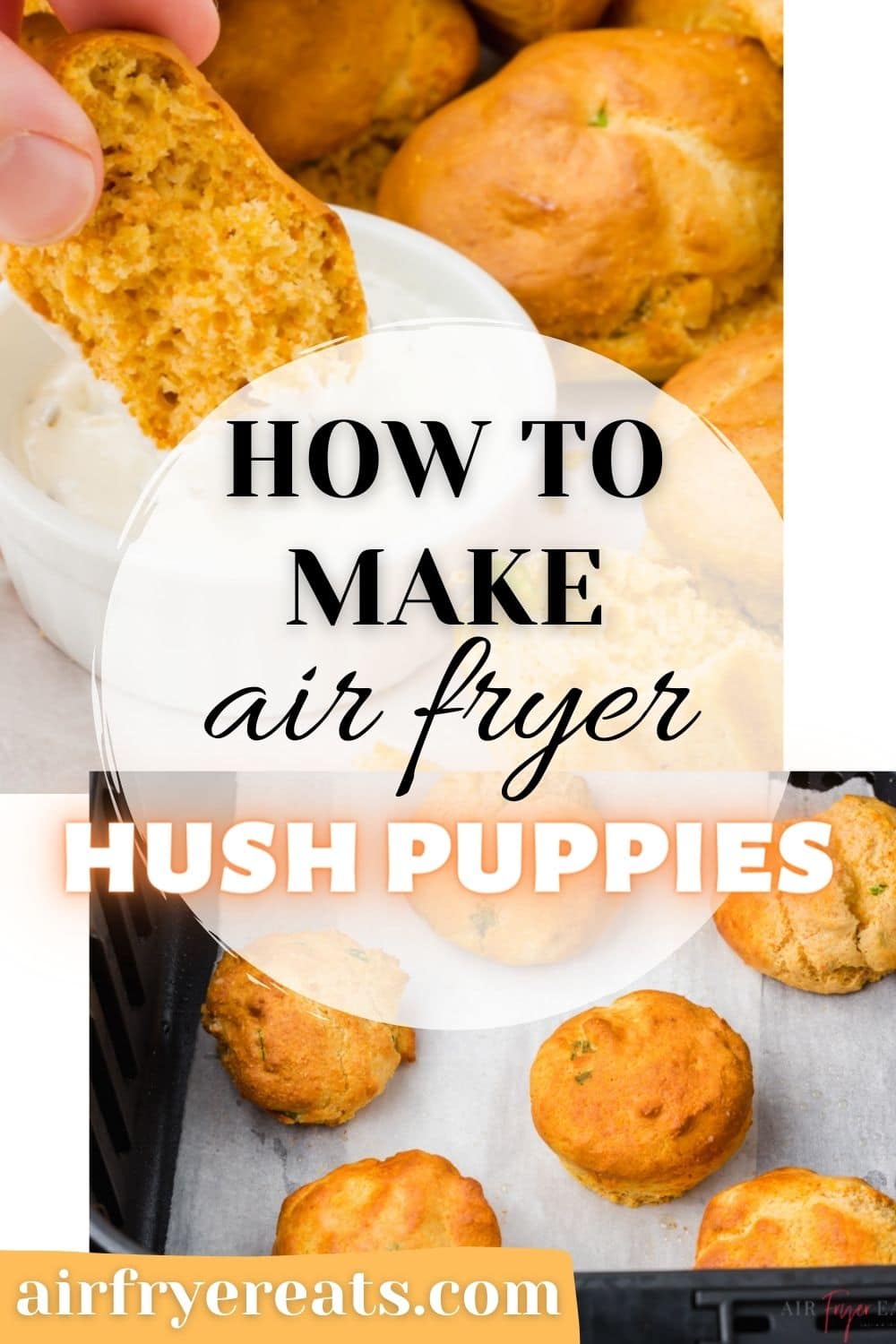 Homemade Air Fryer Hush Puppies are soft, pillowy air fried corn fritters with the perfect savory seasonings. These are a gluten-free, low-fat, and delicious side dish.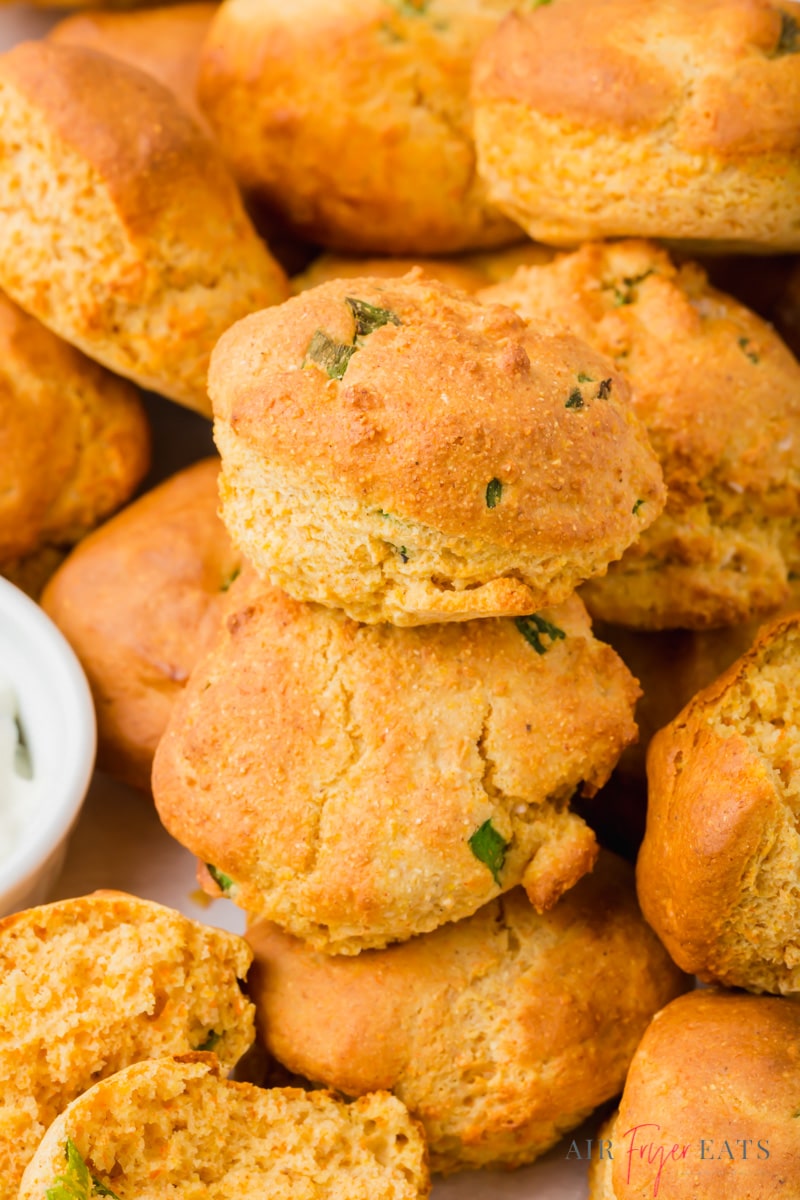 AIR FRYER HUSH PUPPIES RECIPE
A Southern specialty that often accompanies fried fish like my Air Fryer Catfish, Air Fryer Hush Puppies are so delicious! These fluffy corn fritters are perfectly crunchy on the outside and steamy and fluffy
Typically deep fried, these little corn bread bites are made a bit healthier by using the air fryer rather than frying in oil.
Enjoy homemade air fryer hush puppies as a snack, or serve these fluffy corn fritters as a side dish with your favorite air fryer main dishes. Everyone loves these in my house, and they're typically gone as soon as the plate hits the table!
You might even already have all of these gluten-free hush puppy ingredients in your pantry, so let's get cooking. Don't forget the tartar sauce or your favorite hushpuppy dipping sauce!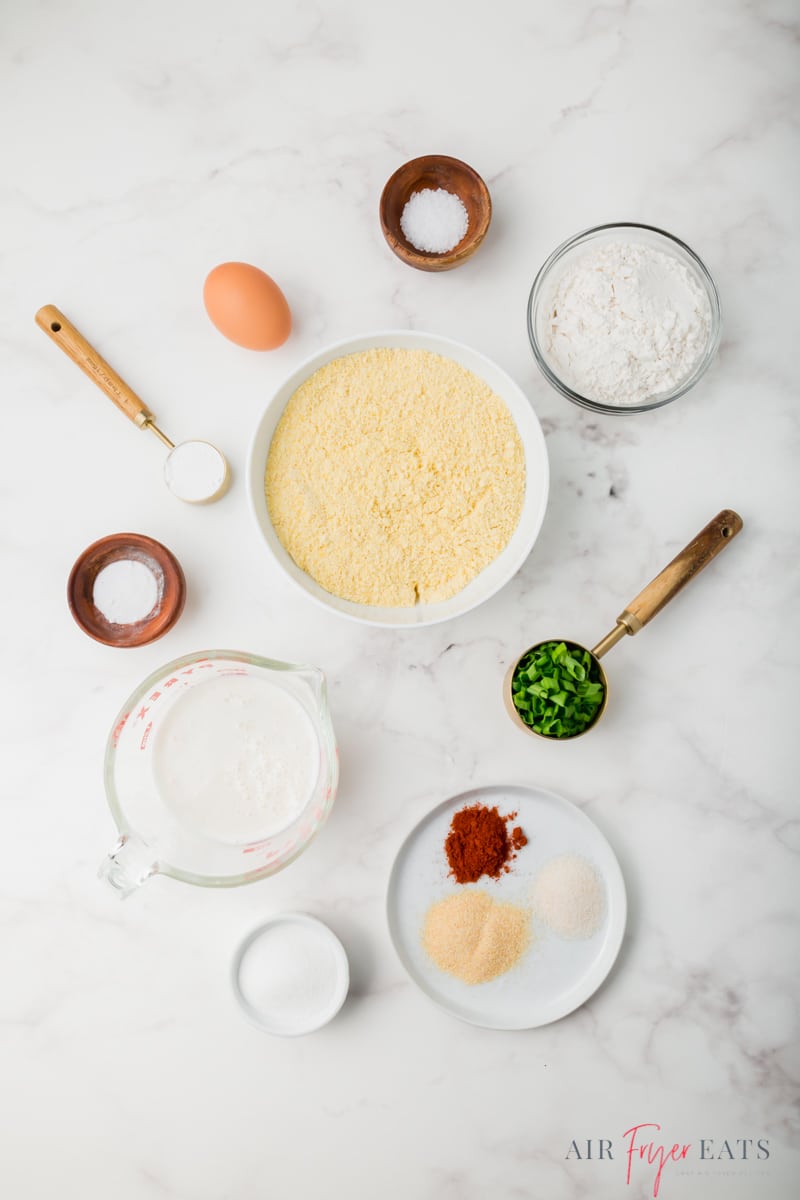 INGREDIENTS IN AIR FRYER HUSH PUPPIES
Yellow cornmeal: Choose a gluten-free cornmeal if you're making these gluten free with me. Otherwise, your favorite brand will work.
All purpose flour: I am gluten free, so I prefer Bob's Red Mill 1-to-1 Gluten Free baking flour. If you aren't in need of a gluten-free hush puppy recipe, you can use regular all-purpose flour.
Granulated sugar: A small amount of sugar adds a necessary sweetness that balances the savory flavors and complements the corn flavor. This recipe isn't sweet, but the sugar helps make it delicious!
Baking powder: This adds leavening to our air fried hush puppies and gives them a fluffy texture.
Baking soda: This also adds leavening. Soda and baking powder work together in this recipe to make the perfect corn bread bites.
Salt: These bites are a little bit salty and a little bit sweet. This makes them totally addicting.
Garlic powder: To pump up the savory flavors of our hush puppies, garlic powder is a good starting place.
Onion powder: Continuing the work that the garlic powder does, onion powder adds a sweet and savory flavor note.
Paprika: We get a lot of color from paprika as well as a mild pepper flavor.
Green onions: Sliced green onions are beautiful inside of the hush puppies.
Egg: Just one large egg is enough to hold everything together. Without the egg, you won't have a binder to hold the hush puppies together in the air fryer.
Buttermilk: This thick, tangy dairy product adds flavor and moisture to the batter. Make your own at home for the best flavor!
Tartar sauce: I can't have hush puppies without a classic tartar sauce to dip them in. My kids also like dipping them in ranch or ketchup.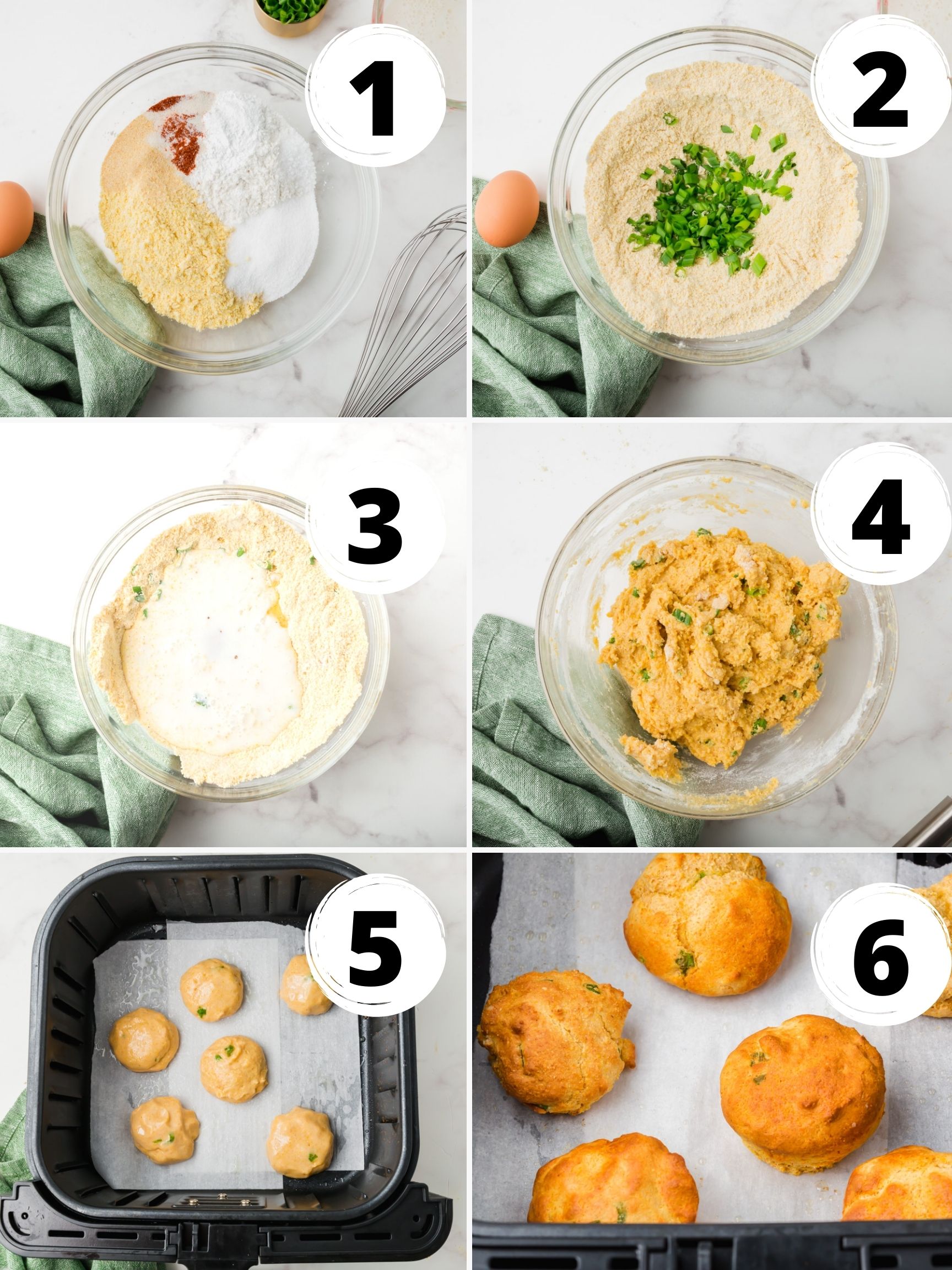 HOW TO MAKE AIR FRYER HUSH PUPPIES
First, combine the cornmeal, flour, granulated sugar, baking powder, baking soda, salt, garlic powder, and onion powder in a large mixing bowl. Whisk together to evenly combine the dry ingredients.
Then, mix in the green onions to coat with the flour mixture.
Whisk in the egg and buttermilk until combined.
Let the batter sit for about 5 minutes to thicken. Then, whisk again.
With wet hands, shape the dough into small balls about the size of ping pong balls. You should get about 18 balls. Place 6-8 balls into an air fryer basket that has been lined with parchment paper and sprayed with cooking spray. Spray the tops of the balls with cooking spray as well.
Cook in the air fryer as directed in the recipe below. Do multiple batches to cook all of the hush puppies. How many you can fit at a time will depend on the size of your air fryer basket.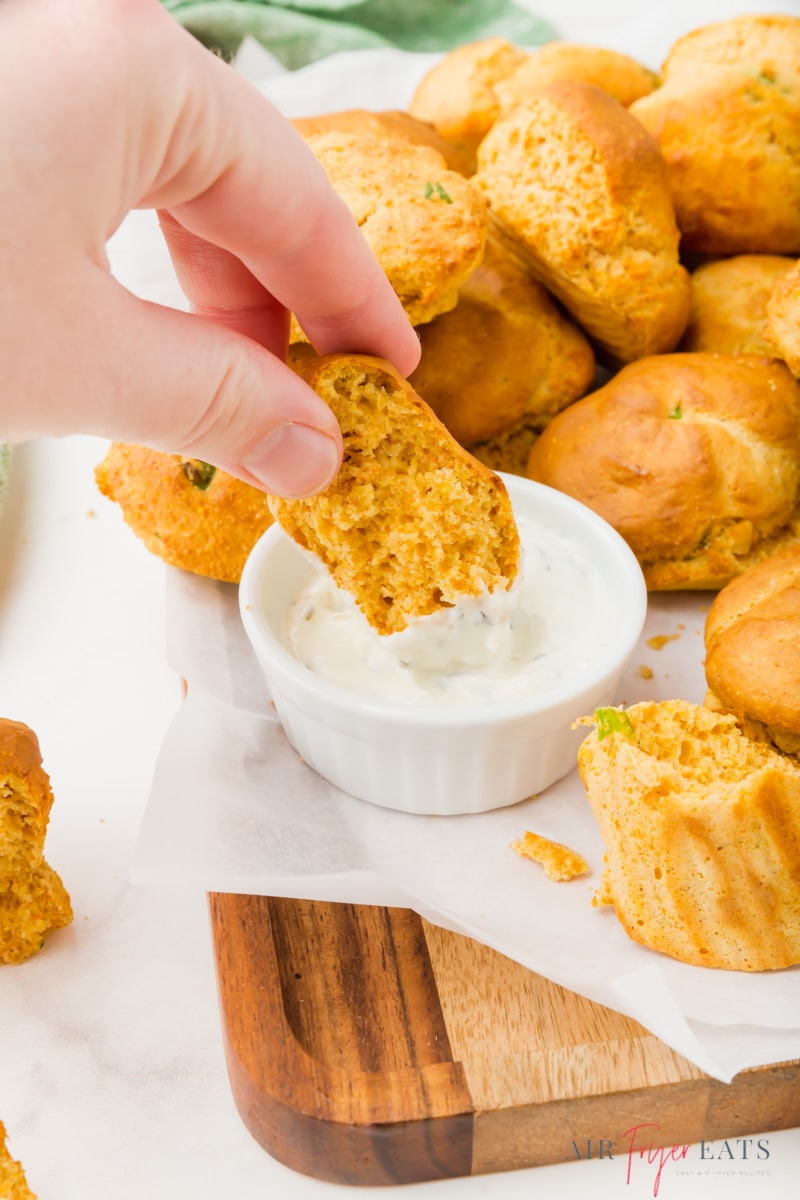 WHAT TO SERVE WITH AIR FRYER HUSH PUPPIES
Hush puppies are a perfect match with any type of fish recipe. Try these alongside a fish dish like Air Fryer Catfish, Air Fryer Salmon Patties , or Air Fryer Tilapia.
Air Fryer Chicken Legs would also pair really well with these!
Forget the cornbread and biscuits. Dip your hush puppies into some Tofu Chili for an awesome vegetarian meal.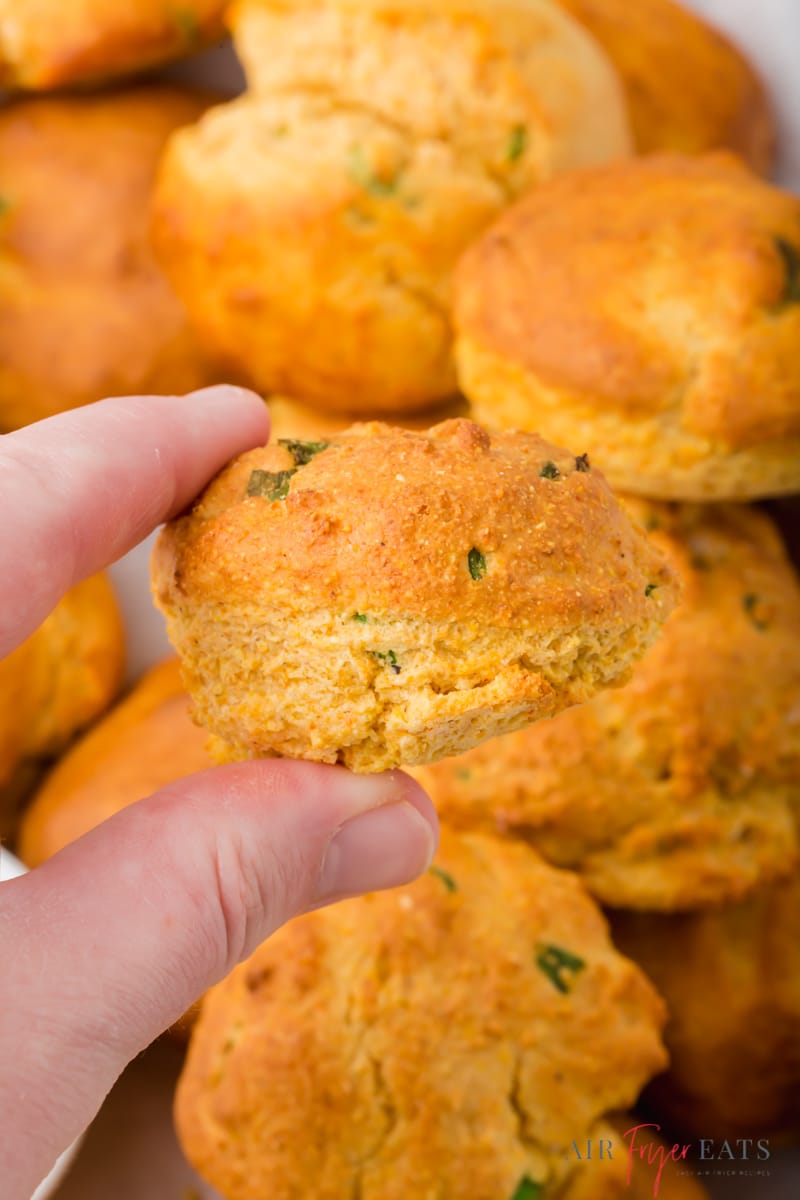 TIPS FOR MAKING HUSH PUPPIES IN THE AIR FRYER
If you've never made these easy air fryer hush puppies, here's some tips and tricks to get the fluffiest insides and crunchy outsides every time without frying oil.
Give them space. You want to make sure that each dough ball has some room to expand and that none of them are touching each other. I needed to do three batches to cook all of them.
Wait for the dough to thicken. That step in the recipe is very important. You need to give the batter time for the liquid to absorb the flour and cornmeal. If after waiting your dough isn't thick enough to roll into balls, add a bit more flour until it is.
Watch your food. Keep in mind that when you're making the 2nd and 3rd batches of hush puppies, the air fryer will already be hot, so the cook time for those batches will likely be shorter than the first one. Check on your food as it's cooking to avoid overcooking.
Line with parchment. The hush puppy batter will drip through the holes at the bottom of the basket and make a mess. Lining with regular parchment paper or these awesome parchment sheets that are meant for the air fryer will save you some cleaning time.
WHY ARE THEY CALLED HUSH PUPPIES?
From what I can tell by looking online, they are called hushpuppies because little bits of fried cornbread were given to dogs to hush them up. Simple, right?!
CAN I MAKE HUSHPUPPIES WITHOUT BUTTERMILK?
Recipes are always versatile, but much of that classic flavor comes from the buttermilk. If you're fresh out, I recommend making your own! Just mix a cup of regular milk together with 1 tablespoon of lemon juice for the same effect.
ADD-INS FOR AIR FRYER HUSHPUPPIES
This basic air fryer hush puppy recipe can be tweaked and changed for every meal. Have fun with this! Here are some other items you can add into your mix:
Canned or frozen corn
Cooked bacon or sausage
Minced garlic
Cayenne pepper
Shredded cheese
Diced jalapeño
Paprika
Diced onions
Red pepper flakes
EXPERT TIPS FOR AIR FRYER HUSH PUPPIES
For the best air fried hush puppies at home, follow these tips:
If you use a self-rising gluten-free cornmeal mix, skip the baking powder and salt in this recipe for the lightest batter.
Unlike some batters, lumps are ok here! Don't overmix the batter or you'll end up with hard, rubbery hushpuppies.
If the batter sticks to your hands, add a little cooking spray when rolling the hush puppies.
If you're working in batches, be sure to pop the cooked hush puppies in a warm oven until they're all ready.
Hush puppies are best served fresh, and luckily they're easy enough to make whenever you want one! However, you can store any leftovers in the fridge overnight.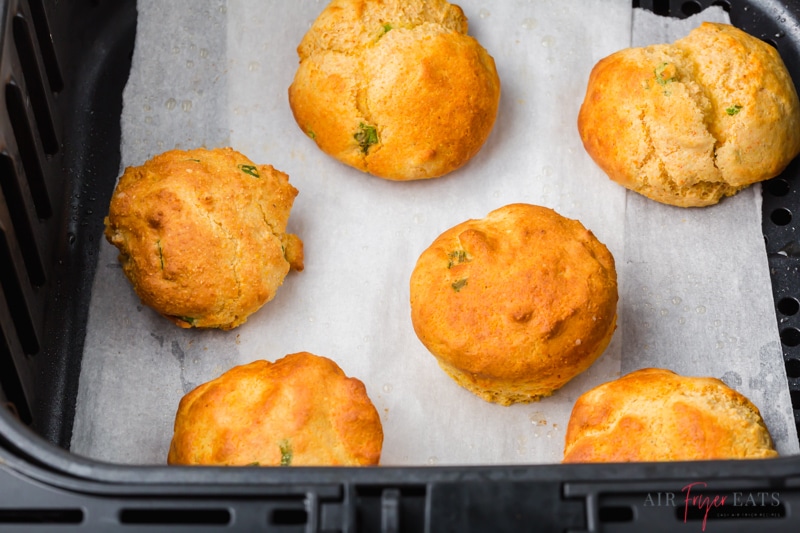 MORE DELICIOUS AIR FRYER RECIPES TO TRY
If you love bit sized foods like these hush puppies, you should try Air Fryer Steak Bites or my Air Fryer Turkey Meatballs.
Want a veggie side to go with your meal? Air Fryer Green Beans are a perfect side dish that goes with any type of food. If you aren't wanting to use your air fryer for a second time you can make green beans without the air fryer.
Want to try your hand at a homemade cornbread recipe? Make Air Fryer Cornbread!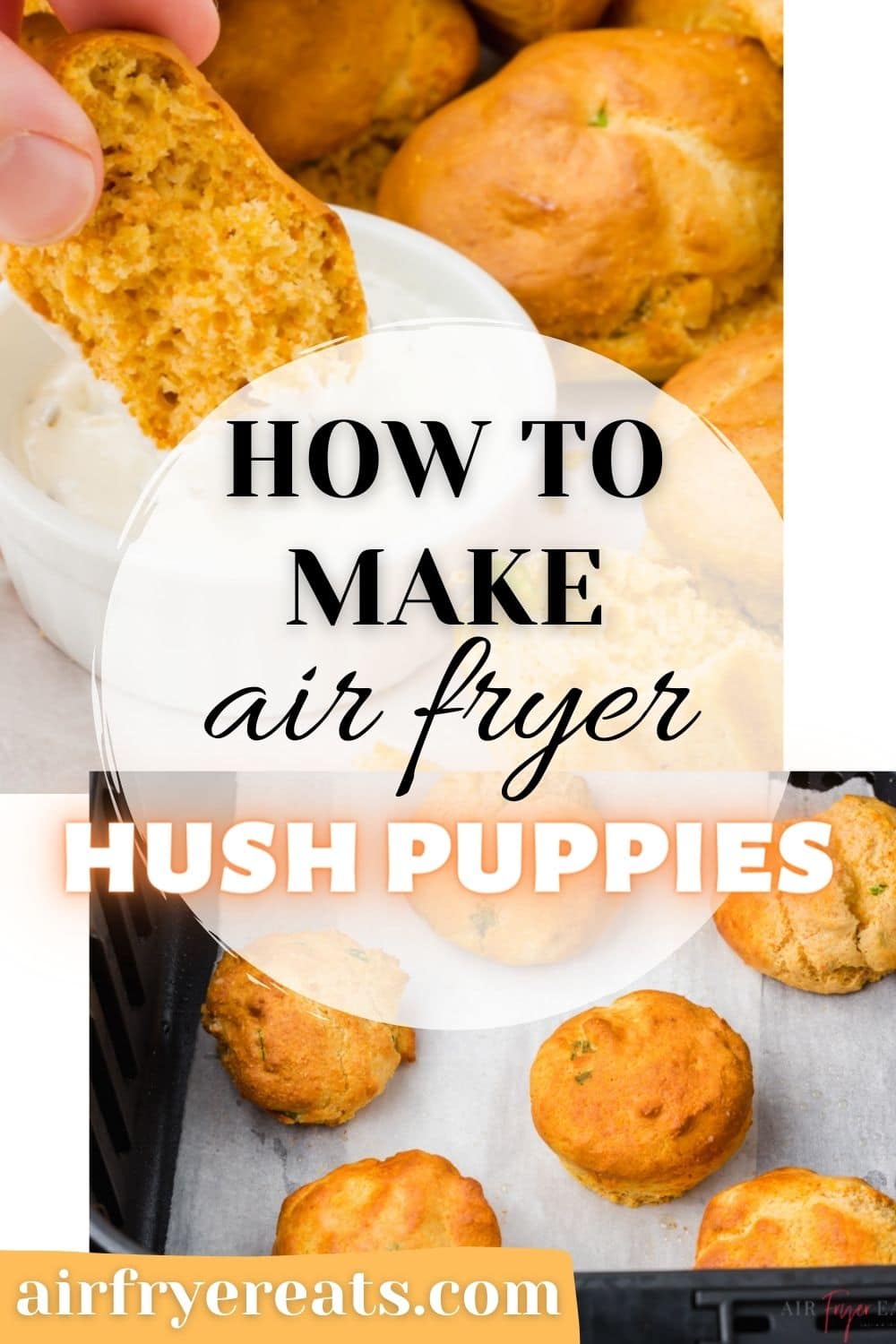 Have you made this recipe? Please leave a comment AND rating below! It helps other readers!
Be sure to tag @AirFryerEats on instagram, if you share a picture on the gram! Let's get social, you can follow me on Youtube, Instagram, Facebook, Pinterest or join one of our Air Fryer Facebook Groups: Air Fryer Recipes, Air Fryer Recipes for Seniors and Gluten Free Air Fryer Recipes.
Don't forget to subscribe to our EMAIL newsletter.
Air Fryer Hush Puppies
Make these gluten-free hush puppies in the air fryer for every meal! They're kid-friendly and healthier without frying oil.
Ingredients
1 ½

cups

yellow cornmeal

gluten free

¾

cup

gluten free flour blend

2

tbsp

granulated sugar

2

tsp

baking powder

½

tsp

baking soda

1

tsp

salt

1

tsp

garlic powder

½

tsp

onion powder

½

tsp

paprika

¼

cup

green onions

chopped

1

egg

large

¾

cup

buttermilk
Instructions
Combine cornmeal, flour, granulated sugar, baking powder, baking soda, salt, garlic powder, and onion powder in a large bowl. Whisk together.

Whisk in the egg and buttermilk until combined.

Let the batter sit for about 5 minutes to thicken. Whisk again.

With wet hands, form dough into small balls, about the size of ping pong balls. You should get about 18 of them.

Place a sheet of parchment paper into the air fryer basket. Spray with nonstick cooking spray.

Working in batches, place the dough balls into the air fryer, leaving at least an inch between each one. Spray the tops with additional nonstick cooking spray or oil.

Cook in the air fryer at 370F for 6 minutes, or until golden brown and crispy. Repeat with remaining dough.

Serve immediately with your favorite dipping sauce.
Go AD FREE!
Notes
Allow room around each hushpuppy in the air fryer. I can typically fit 6-8 in mine at a time. Cook in multiple batches. Watch the 2nd and 3rd batches carefully as they may cook more quickly than the first.
Pro Tip: This recipe can be made in the air fryer unit with a basket or the air fryer oven. If you are using the air fryer oven, use the middle rack and select the "Air Fry" function.
Pro Tip: Check your food as it cooks. Each air fryer runs a bit differently. Sometimes airfying is a trial and error process. Check your food as it cooks to learn your air fryer better! When cooking a new recipe or food items be sure to check your food often to help avoid over/under cooking.
Have oven recipes that you'd like to convert to an air fryer recipe? Use our Air Fryer Calculator to help you estimate cooking times and temps! Calculator here:
https://airfryereats.com/air-fryer-conversion-air-fryer-calculator/
Nutrition
Calories:
252
kcal
|
Carbohydrates:
47
g
|
Protein:
8
g
|
Fat:
5
g
|
Saturated Fat:
1
g
|
Polyunsaturated Fat:
1
g
|
Monounsaturated Fat:
1
g
|
Trans Fat:
1
g
|
Cholesterol:
31
mg
|
Sodium:
665
mg
|
Potassium:
202
mg
|
Fiber:
6
g
|
Sugar:
7
g
|
Vitamin A:
213
IU
|
Vitamin C:
1
mg
|
Calcium:
134
mg
|
Iron:
2
mg
Tired of the ads?
Go AD Free - Become part of our Membership community!
Air Fryers can vary greatly. Please take the time to learn your specific air fryer. You may need to adjust times and temperatures based upon your air fryer.
All though this website attempts to provide accurate nutritional information, the information should only be considered an estimate. Varying factors such as different product types, different brands, etc. can change nutritional information. It is your responsibility as a consumer to read all labels to make sure the ingredients fit your dietary needs as well as calculate your own nutritional information as a double check.