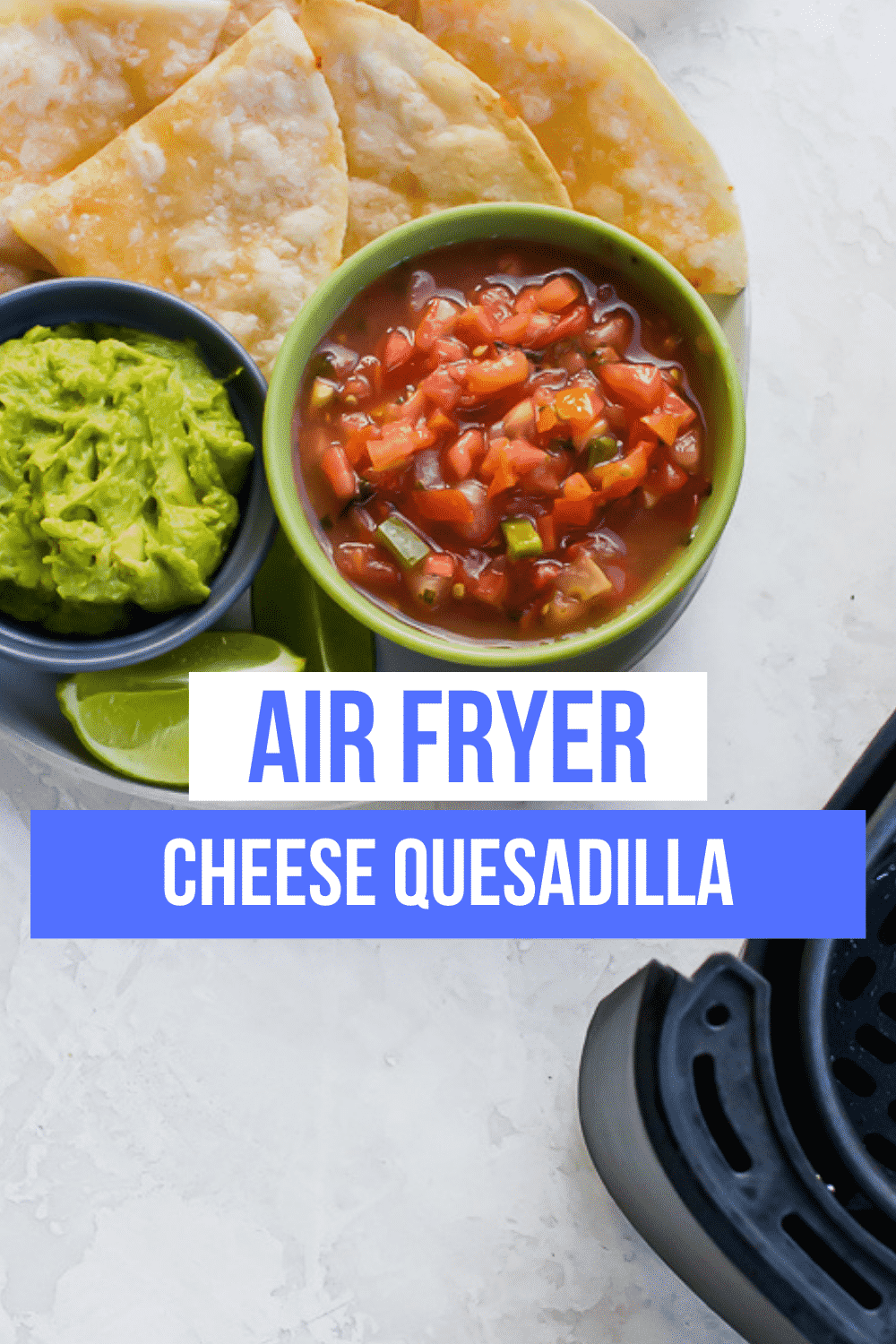 You'll love how easy it is to make an Air Fryer Quesadilla just like your favorite Mexican restaurant. Crispy on the outside and cheesy on the inside, you can't go wrong!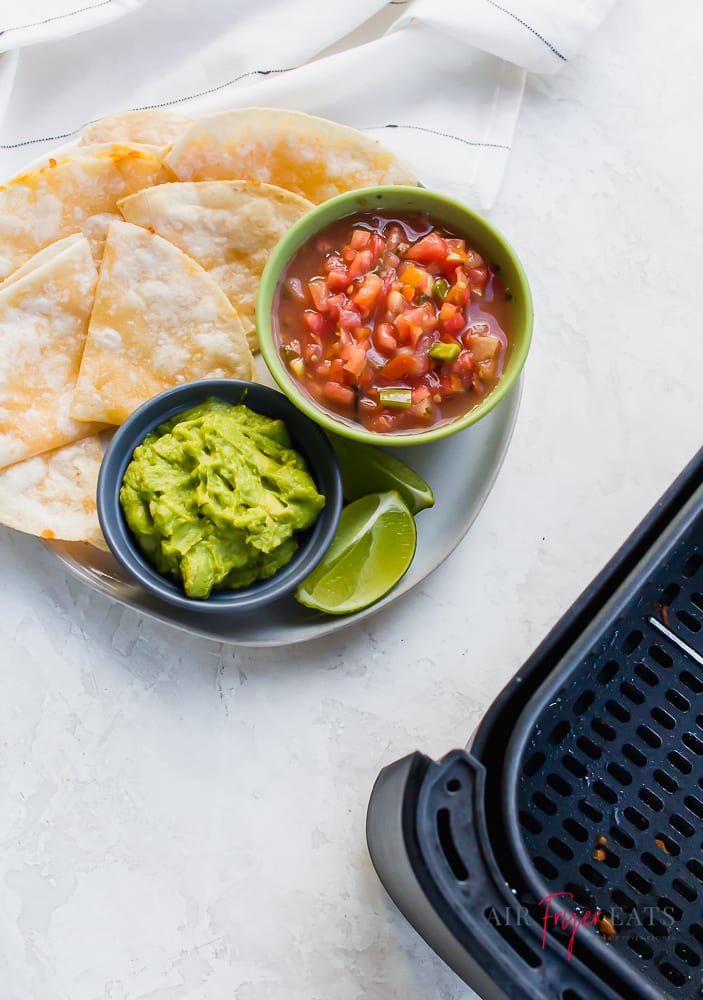 AIR FRYER QUESADILLA RECIPE
A quesadilla is a fairly simple thing to make, but making it in the air fryer takes it to a whole new level.
You'll have a crispy tortilla outside, and warm, melty cheese inside. Much like the quesadilla's American counterpart, the Air Fryer Grilled Cheese.
Top or fill with your favorite things and an air fryer quesadilla can be a snack or an entire meal for the family.
You need only two ingredients to make Air Fryer Quesadillas, plus some oil if you like.
If you're anything like me, you probably already have some tortillas and cheese in the fridge, so let's go!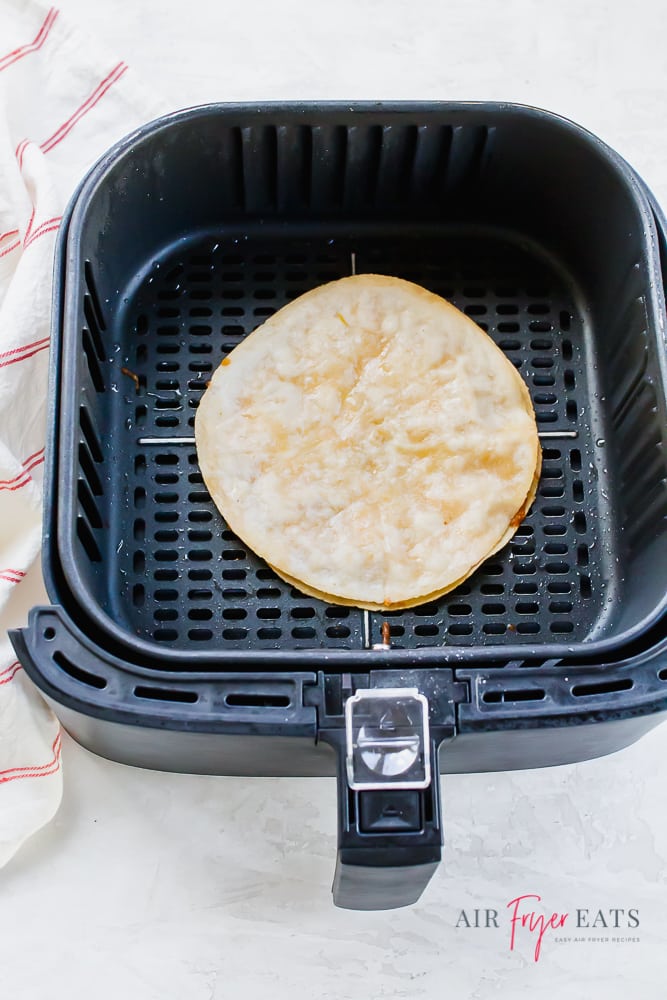 INGREDIENTS IN AIR FRYER QUESADILLAS
Flour or Corn Tortillas - Choose whatever type of tortilla you prefer here. If you are gluten free, look for a corn tortilla without any added wheat flour.
Cheese - Cheddar cheese, colby jack cheese, a mexican blend shredded cheese. Again, choose what you like, as long as it melts, it will work.
Oil - we use oil to spray the quesadillas before cooking. You can leave this out if you don't want the added oil, but we like the added crisp that it gives.
If you have any questions, please leave a comment below and I will get back to you.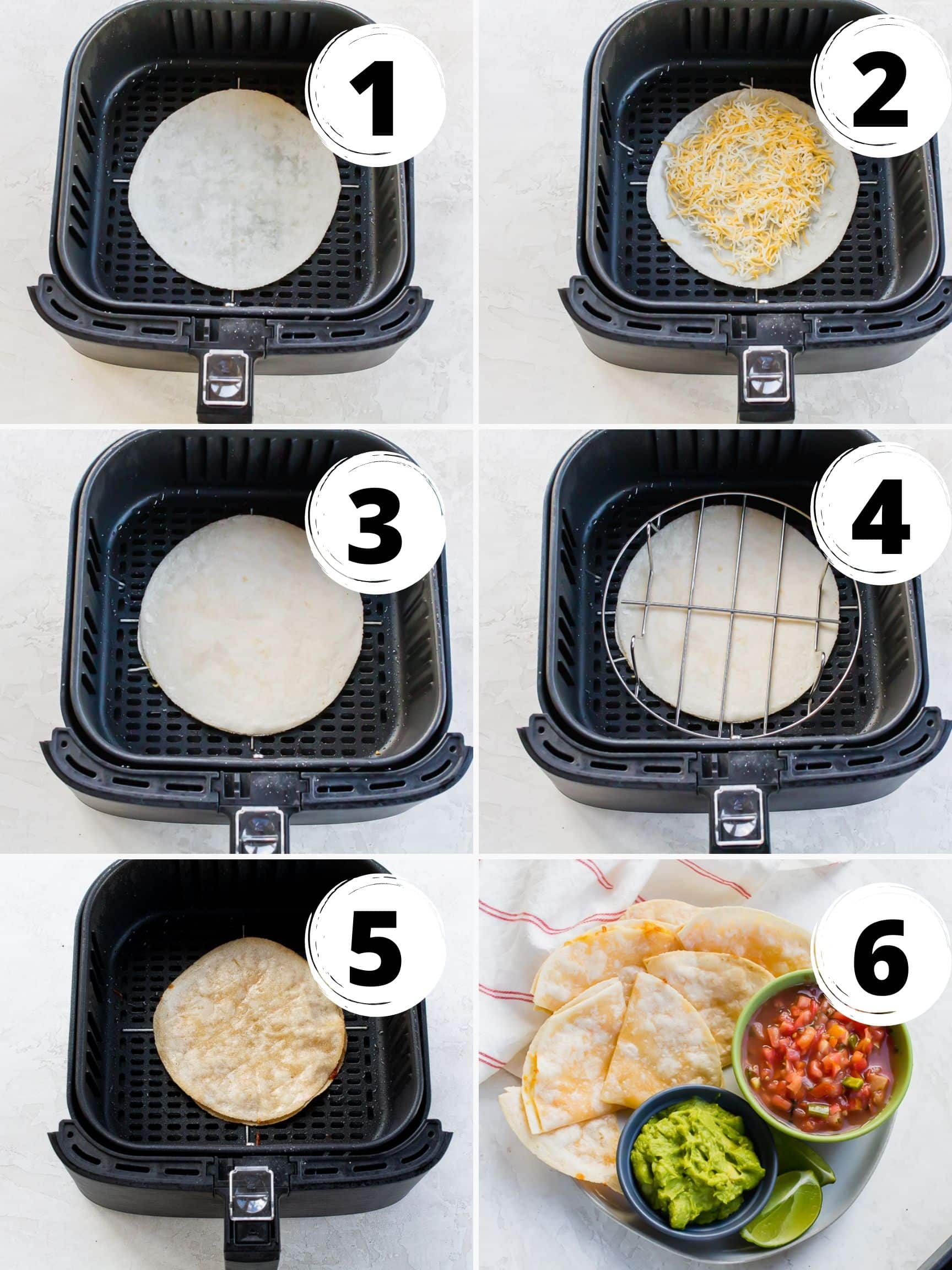 HOW TO MAKE AIR FRYER QUESADILLAS
Place 1 tortilla face down in the air fryer.
Then place cheese on the tortilla and spread it evenly.
Place another tortilla on top of the cheese/tortilla combo.
Optionally, you can spray a bit of oil on the tortilla to help it crisp up. You can place a trivet on top of the quesadilla so it doesn't blow around in the air fryer, or you can hold it together with toothpicks.
Air fry as directed. Flip mid way through cooking.
Cut Air Fryer Quesadilla into triangles and enjoy!
These numbered steps match the numbered photos above and are for illustration purposes. For the complete list of ingredients and instructions, please see the recipe below.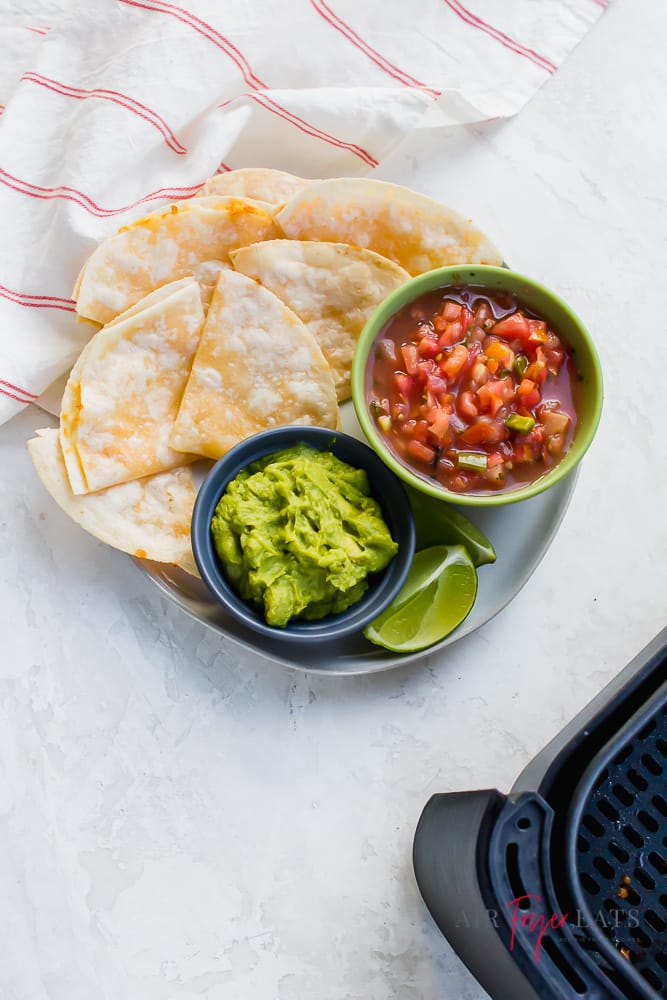 WHAT TO EAT WITH QUESADILLAS
If you act quickly, you can pull apart the quesadilla and add things into it before cutting. I like to use a pre-made salsa, or a quick pico de gallo with lots of onion and cilantro.
Alternately, you can serve salsa, guacamole, and sour cream with the tortillas and either spread them with the sauces or dip the quesadilla triangles into them.
You can really eat these however you want. They are finger food - I won't judge if you use your hands!
VARIATIONS ON CHEESE QUESADILLAS
The best part about this recipe is that it's a blank slate - you can add so many things to it to make new and different air fryer quesadilla creations. Try some of these ideas:
Add diced, cooked chicken or cooked, seasoned ground beef on top of the cheese before adding the second tortilla.
Add black beans or refried beans with the cheese.
Mix your salsa in with the cheese and cook it together for a salsa con queso style quesadilla.
Change up the style, and add a little pizza sauce and pepperoni to mozzarella cheese.
Maybe even some Ham and Swiss cheese?
I could go on and on! You are limited only by your imagination here.
TIPS FOR COOKING QUESADILLAS IN THE AIR FRYER
Depending on your air fryer, there is a chance that the fan in the unit will try to blow the top off of your quesadilla. No worries, I have you covered.
Use a small trivet to hold your tortillas down in the air fryer. If you don't have that, just use a couple of toothpicks.
This tip works well for any sandwich type item you cook in the air fryer.
MORE SIMPLE AIR FRYER RECIPES TO TRY
Air Fryer Brats with peppers and onions are a simple weeknight dinner you can make.
Really short on time? Air Fryer Fish Sticks will be ready in 8 minutes.
Air Fryer Turkey Breasts only has a few ingredients and is a show stopping dinner entre.
Want to try a vegetarian taco in the air fryer? Air Fryer Cauliflower Tacos are delicious!
Want to cook up some more tortillas? Try Air Fryer Tortilla Chips.
Have you made this recipe? Please leave a comment AND rating below! It helps other readers!
Be sure to tag @AirFryerEats on instagram, if you share a picture on the gram!
Let's get social, you can follow me on Youtube, Instagram, Facebook, Pinterest or join one of our Air Fryer Facebook Groups: Air Fryer Recipes, Air Fryer Recipes for Seniors and Gluten Free Air Fryer Recipes.
Don't forget to subscribe to our EMAIL newsletter.