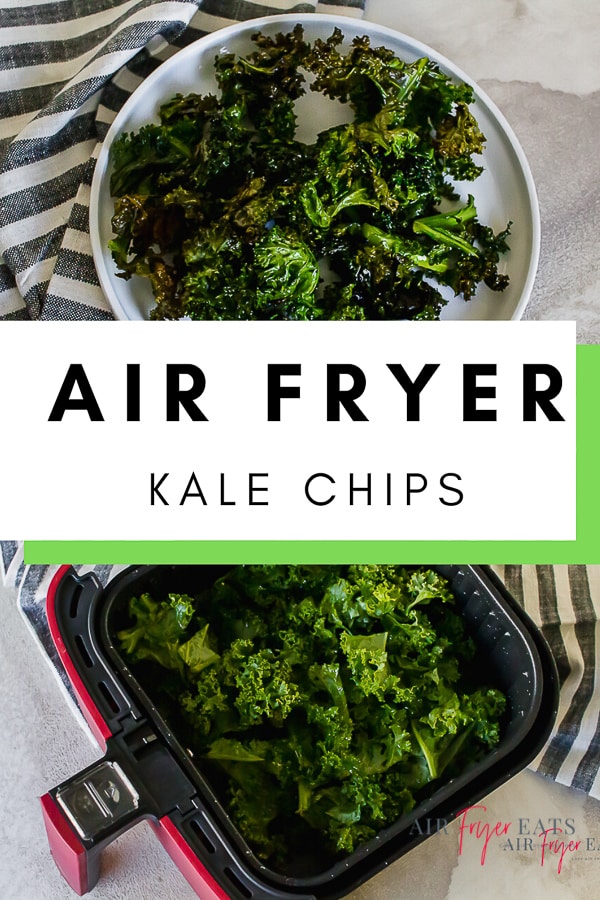 These Air Fryer Kale Chips are done so fast your family won't know you've cooked! Just four staple ingredients and 10 minutes between you and crispy, healthy "fried" veggies!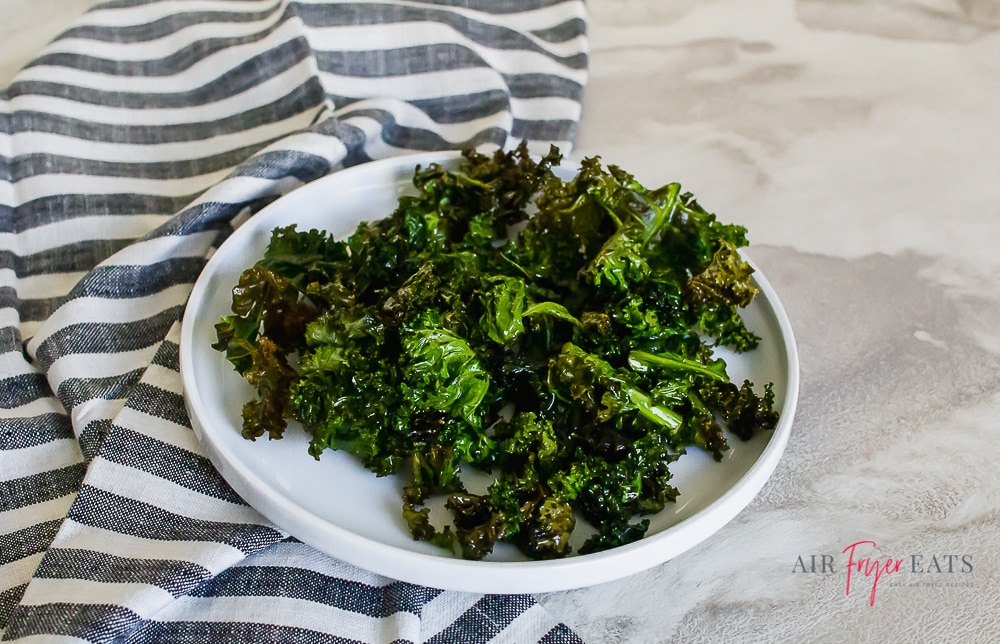 Potato chips, tortilla chips, pretzels — you name it, I love a crunchy, dipable, handheld snack.
These Air Fryer Kale Chips bring that same crunch and dipability without the grease and added fat of fried foods.
My family loves these as a side dish or an appetizer with a ranch dipping sauce, but my favorite part is how versatile these kale chips can be!
These are a great substitute for chips if you're doing a keto or low-carb diet, and they bring an amazing extra crunch to a salad without the extra calories of croutons.
Looking for new dipping sauce ideas? Try our BBQ Ranch Sauce that doesn't require store-bought ranch or this tangy Thai Salad Dressing that also makes a great dipping sauce!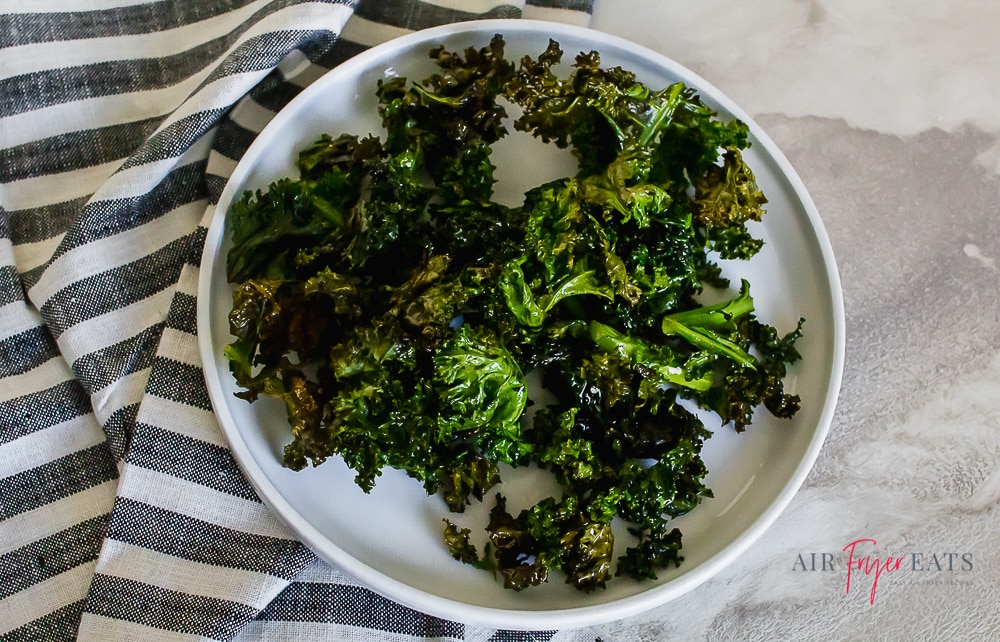 HOW TO MAKE AIR FRYER KALE CHIPS
If you're not using pre-bagged kale, be sure to remove all the stems from the leaves and to tear any large leaves into more handheld sizes.
There's no chopping involved here, so just tear, season, and cook!
Wash and dry the kale thoroughly. Make sure to dry the kale well to get the chips crispy rather than steamed.
Add your oil to the kale and massage the leaves to help evenly coat the future chips.
Season with sea salt and black pepper.
Mix well to combine kale, seasonings, and oil.
Put kale into air fryer basket and cook about 5 minutes at 375 degrees F (or 190 degrees C!) until the edges are slightly brown and the leaves are crispy. Be sure to watch your kale chips during the last 2 minutes of cooking to prevent burning. They cook quick!
Serve and enjoy!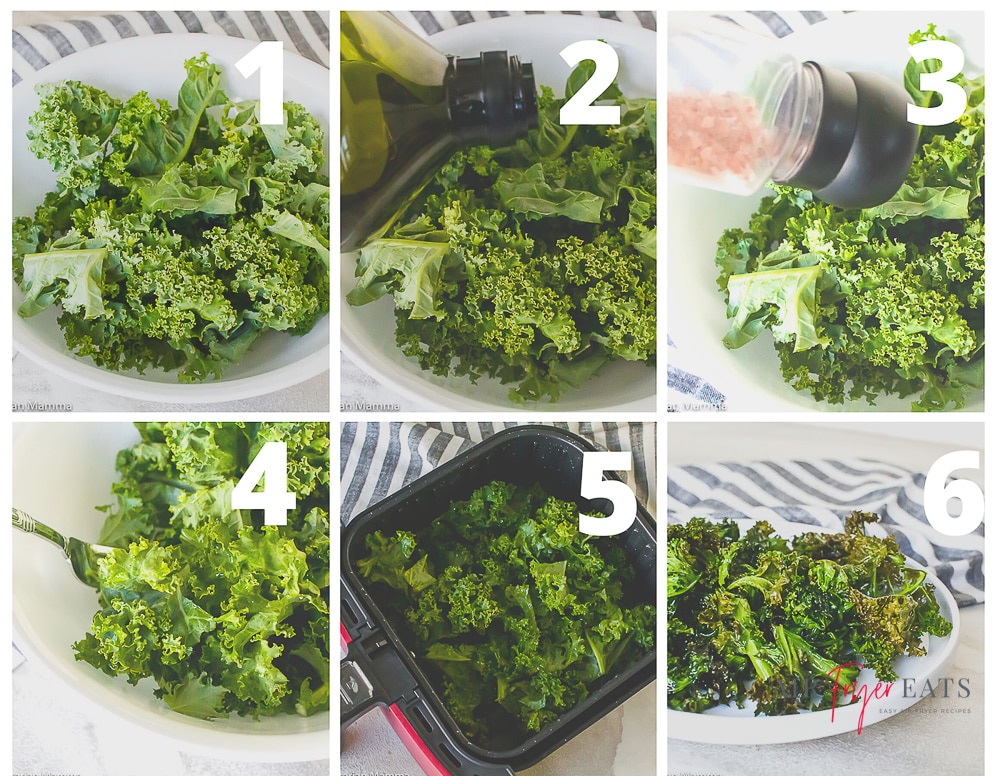 ARE Air Fryer KALE CHIPS HEALTHY?
According to the Mayo Clinic, kale chips are a low energy density food, which means you can eat a lot of them without adding many calories to your diet.
I love to use these as an afternoon snack to save myself from the other temptations like cookies or potato chips.
Kale is a known source of Vitamins B and K and are packed with antioxidants, making them an amazing healthy snack you won't realize isn't a treat!
Since this recipe is almost all kale, the health value beyond that depends on your type and amount of seasonings, but this recipe as presented is only 31 calories per serving.
HOW TO STORE Air Fryer KALE CHIPS
When stored properly, Air Fryer Kale Chips can last up to a week — if you don't eat them all in one sitting. Which you can!
Be sure to let the kale chips cool completely before placing them in an air tight container.
If still warm, the steam will make the chips limp over time. While a vacuum-seal container is great for this, do not use a vacuum-seal bag because it will crush the chips.
However, if you have a clean paper bag, some experts swear by this technique as the paper will help absorb any extra moisture.
Unless you've put a perishable ingredient on the kale chips, such as dairy, these can be stored on your counter!
The humidity in the refrigerator will make the kale chips soggier over time.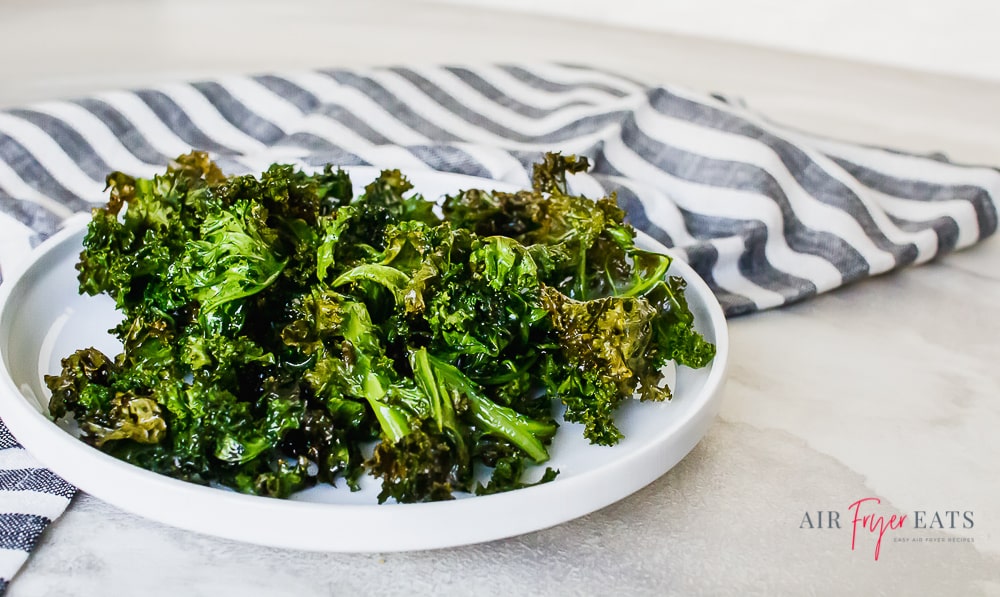 MORE YUMMY AIR FRYER RECIPES
We have so many delicious air fryer recipes at your finger tips!
If you are looking to try a new air fryer recipe this week, we suggest that you check out Air Fryer Mushrooms, Jalapeño Poppers in an Air Fryer, Fried Green Tomatoes, Shishito Peppers in the Air Fryer and Air Fryer Turkey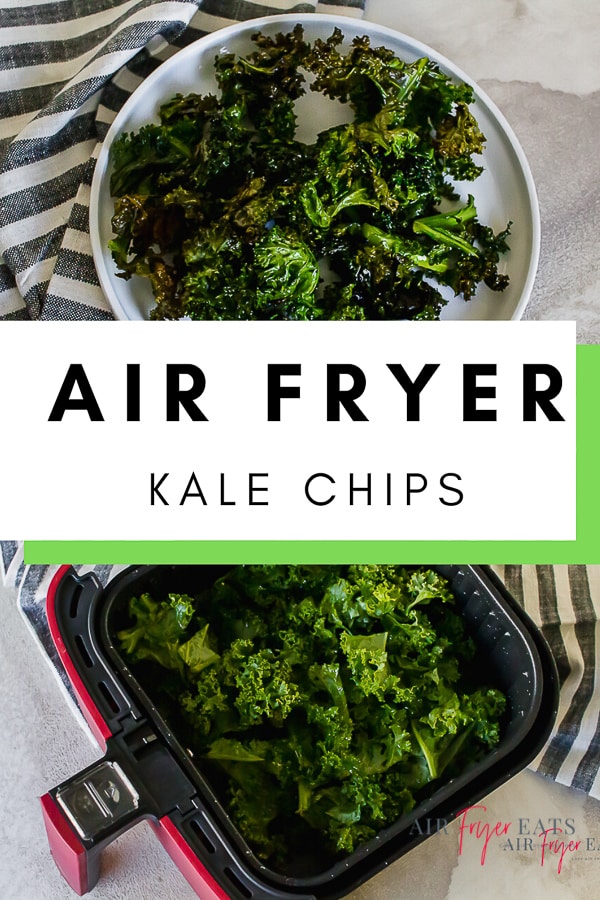 Looking for purchase an air fryer? Wondering which air fryer is right for you?
Here are my TOP picks of air fryers on the market today!


Have you made this recipe? Please leave a comment AND rating below! It helps other readers!
Be sure to tag @AirFryerEats on instagram, if you share a picture on the gram!
Let's get social, you can follow me on Youtube, Instagram, Facebook, Pinterest or join one of our Air Fryer Facebook Groups: Air Fryer Recipes, Air Fryer Recipes for Seniors and Gluten Free Air Fryer Recipes.
Don't forget to subscribe to our EMAIL newsletter.
Air Fryer Kale Chips
These Air Fryer Kale Chips are done so fast your family won't know you've cooked! Just four staple ingredients and 10 minutes between you and crispy, healthy "fried" veggies!
Instructions
Wash and dry kale thoroughly. Be sure to remove stems and tear large leaves into smaller pieces.

Add oil to the kale and massage to coat evenly.

Season kale with salt and pepper. Mix well.

Place kale into air fryer basket and cook at 375 degrees F (190 degrees C) for about 4 to 5 minutes, or until crispy with slightly browning edges. Check basket about halfway through cooking.
Go AD FREE!
Video
Notes
Pro Tip:
This recipe can be made in the air fryer unit with a basket or the air fryer oven. If you are using the air fryer oven, use the middle rack and select the "Air Fry" function.
Nutrition
Calories:
31
kcal
|
Fat:
4
g
|
Saturated Fat:
1
g
Tired of the ads?
Go AD Free - Become part of our Membership community!
Air Fryers can vary greatly. Please take the time to learn your specific air fryer. You may need to adjust times and temperatures based upon your air fryer.
All though this website attempts to provide accurate nutritional information, the information should only be considered an estimate. Varying factors such as different product types, different brands, etc. can change nutritional information. It is your responsibility as a consumer to read all labels to make sure the ingredients fit your dietary needs as well as calculate your own nutritional information as a double check.