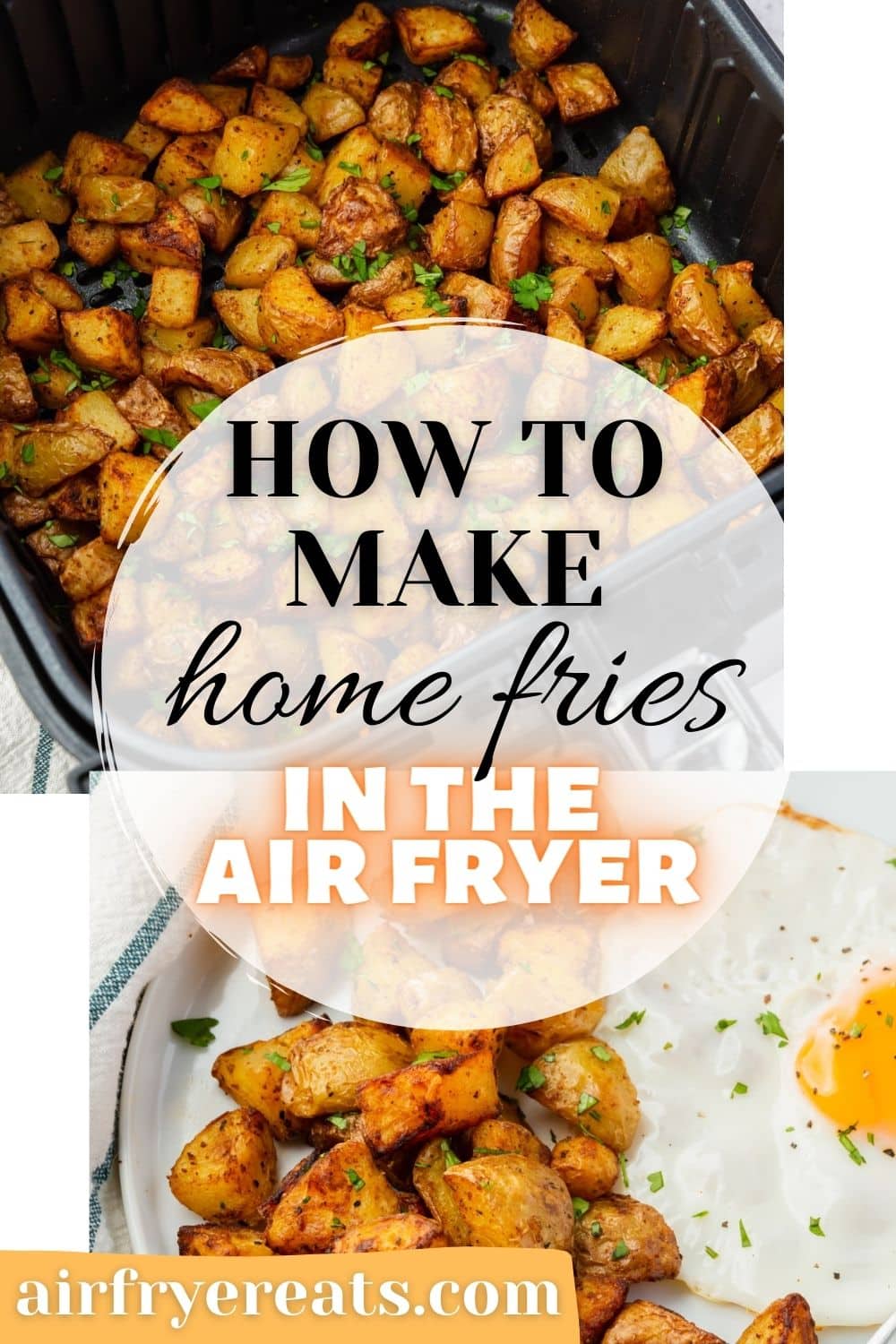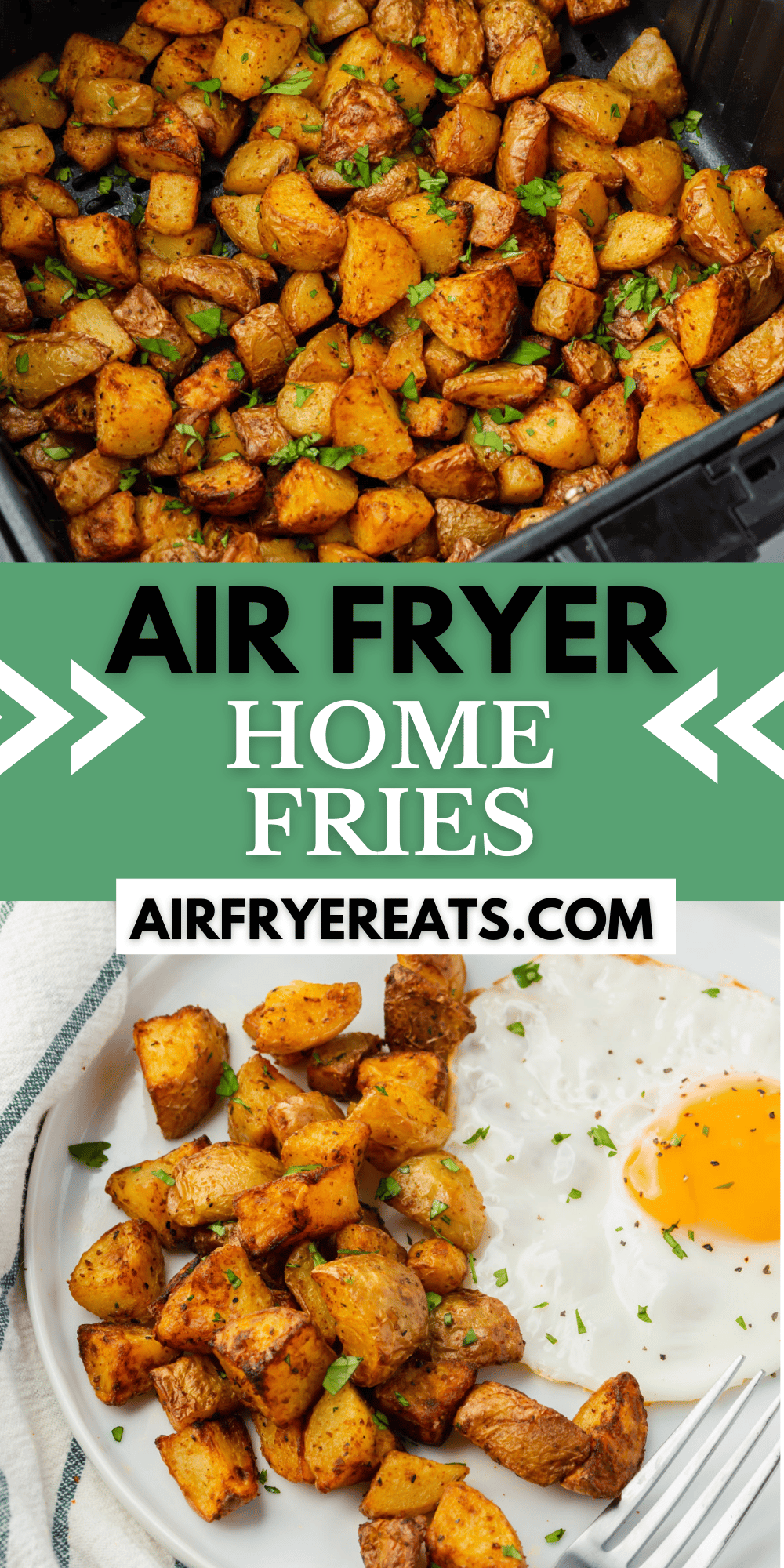 Air Fryer Home Fries are a simple side dish that's perfect for breakfast, brunch, or dinner! In under 30 minutes, you can be enjoying perfectly crispy, seasoned home fries from the air fryer.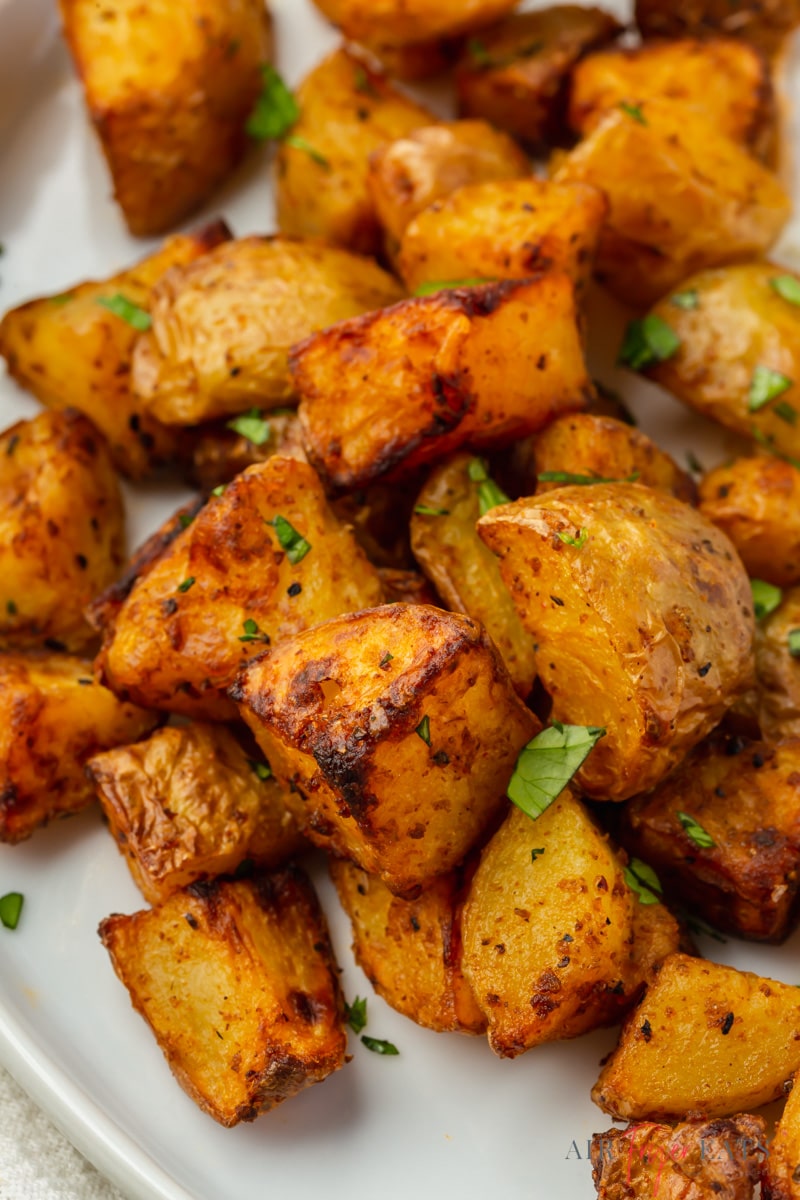 AIR FRYER HOME FRIES RECIPES
Home Fries are one of my favorite things to order when I go out for breakfast. Every breakfast place and diner has breakfast potatoes on the menu, and the best ones are crispy, perfectly seasoned, and served with a side of ketchup and hot sauce!
Luckily, it's super simple to make Air Fryer Homefries! No need to leave the house for these tasty, crispy, air-fried potatoes.
You can make delicious home fries in the air fryer easily, and I'm about to show you exactly how!
Need more easy air fryer Breakfast recipes? Make sure you check out how we make Air Fryer Hard Boiled Eggs, and the best method for making Air Fryer Bacon next.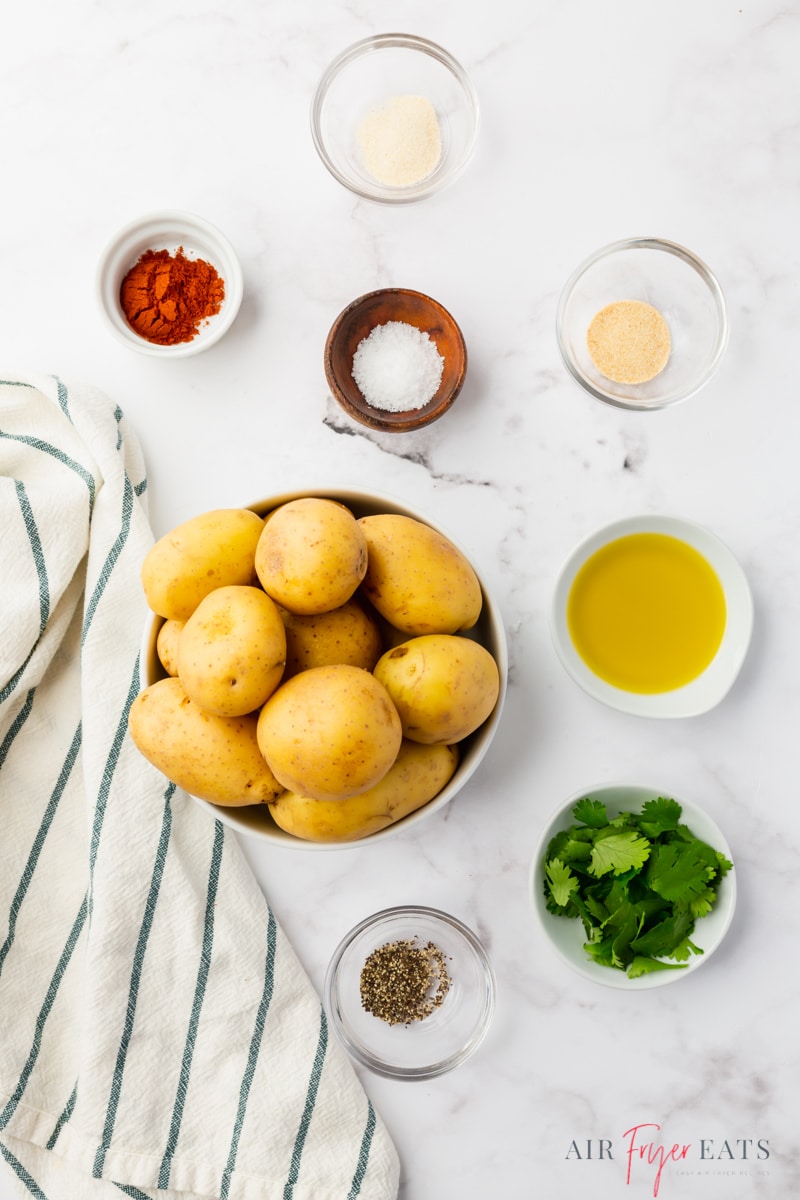 INGREDIENTS FOR AIR FRYER HOME FRIES
Potatoes - I highly recommend that you use Yukon Gold potatoes to make air fryer home fries. They are the perfect texture, and cook up crispy on the outside and soft in the center. Plus, they have very thin skin, so there's no need to peel them.
Olive Oil - Olive oil coats the potatoes and allows the seasonings to stick. This is also what gives us the browned crispy exterior to each piece of potato.
Salt and Pepper - These simple seasonings are a must with potatoes, which are pretty plain tasting otherwise. You can use just salt and pepper, or add the following spices.
Paprika - I love the warmth of paprika, as well as the reddish color that it adds.
Onion Powder - All of the flavor of onions, with none of the tears!
Garlic Powder - I put garlic powder on just about everything. On home fries, it's delicious.
Fresh Parsley - Use chopped parsley to garnish your air fryer homefries after they're cooked.
If you have any questions, please leave a comment below and I will get back to you ASAP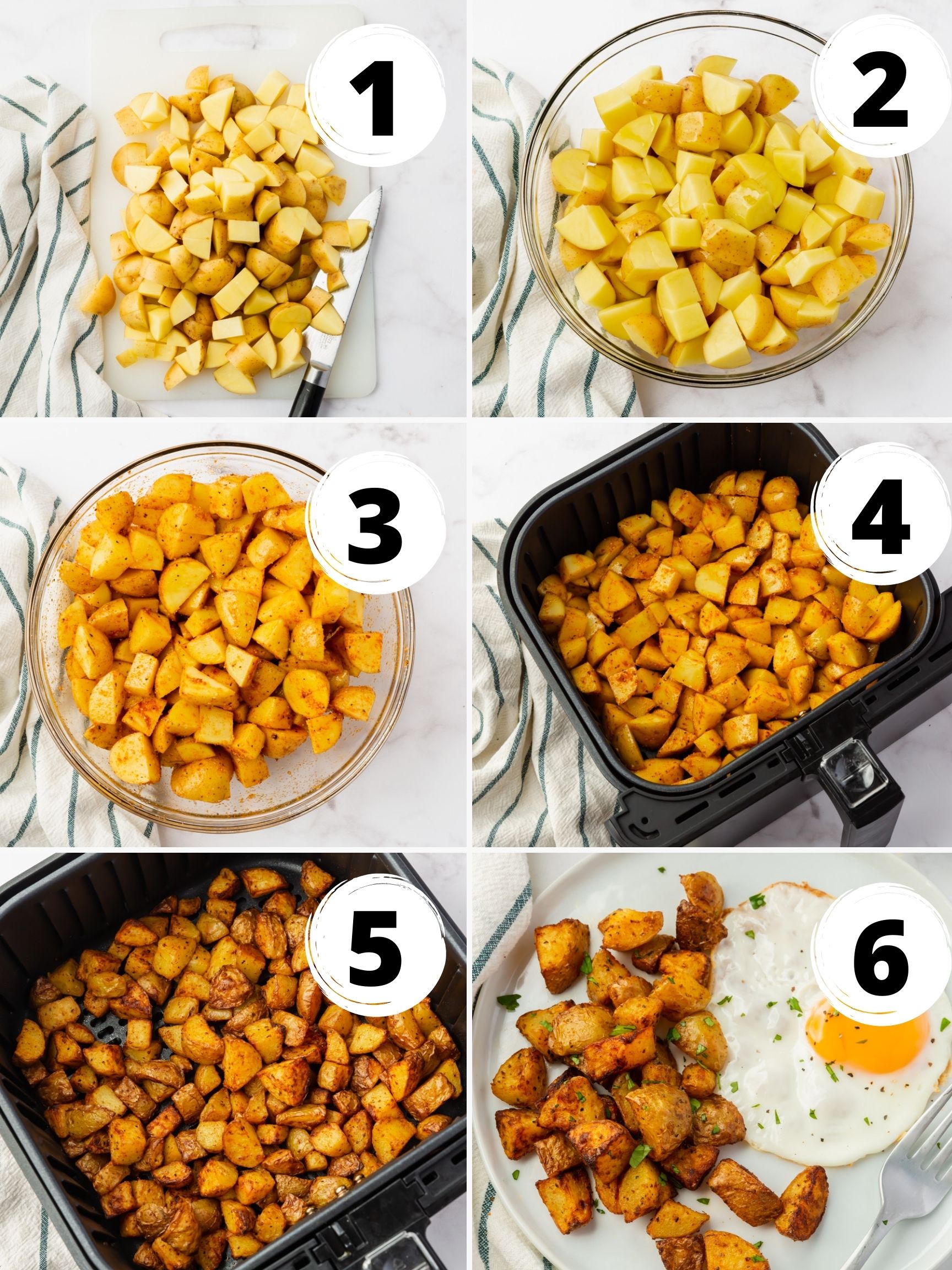 HOW TO MAKE HOME FRIES IN AIR FRYER
Slice the potatoes into 1-inch cubes. Try to keep them all about the same size so that they cook evenly.
Add the diced potatoes to a mixing bowl. Drizzle olive oil over the potatoes.
Combine the spices in a small bowl, then sprinkle them over the potatoes. Stir to coat the potatoes with the oil and seasonings.
Add the seasoned home fries to the air fryer basket. They don't need to be in a single layer, but they shouldn't be stacked too high. Smaller air fryers may not be able to hold 2 pounds of potatoes in one batch.
Air Fry as directed in the recipe below for 20-22 minutes, shaking the potatoes in the basket every 2 or 5 minutes. The air fryer home fries are ready when they are tender and golden brown.
Top the home fries with fresh chopped parsley before serving.
These numbered steps match the numbered photos above and are for illustration purposes. For the complete list of ingredients and instructions, please see the recipe below.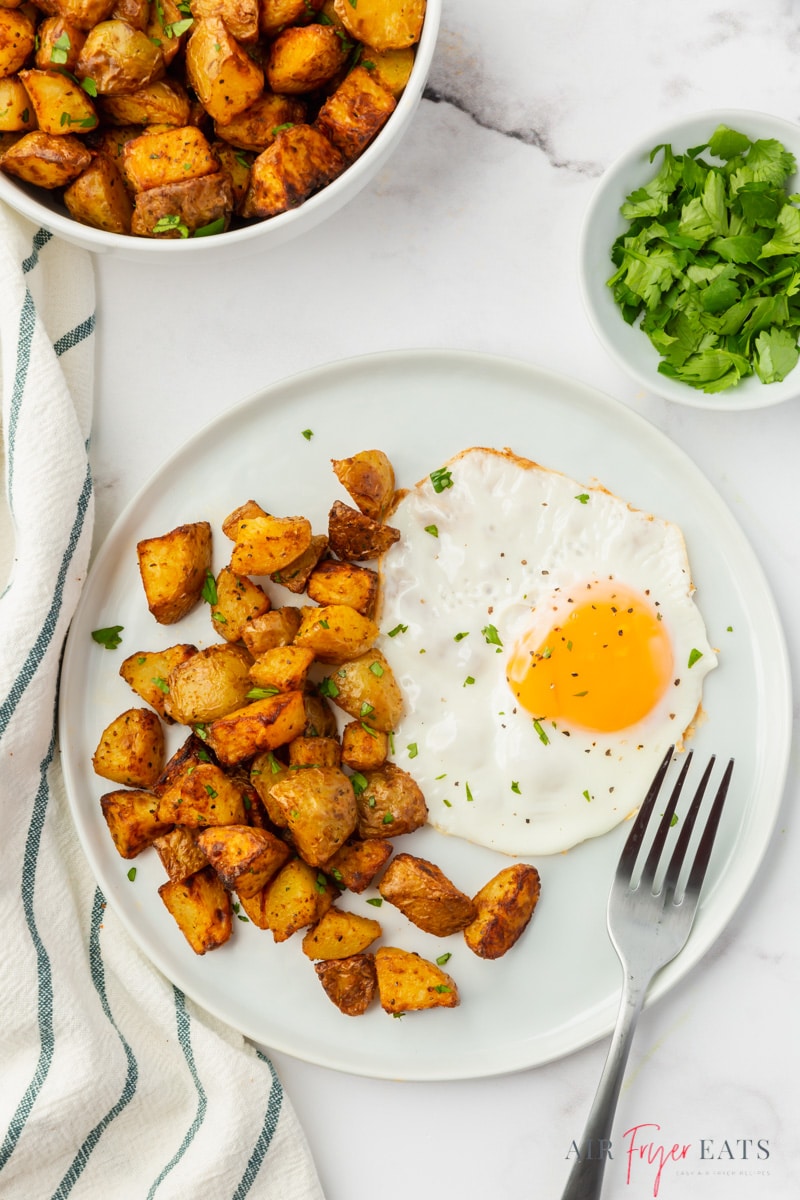 WHAT TO SERVE WITH AIR FRYER HOME FRIES
Air Fryer Home Fries are a delicious part of the perfect home-cooked breakfast!
Serve home fries with eggs, cooked the way you like them, and air fryer toast, air fryer turkey bacon, or air fryer breakfast sausage.
Need more breakfast ideas? Or maybe you're planning to make Air Fryer Home Fries for brunch this weekend?
Air Fryer French Toast is a sweet and easy way to turn regular bread into a breakfast masterpiece.
Or have fun with your brunch menu, and make Air Fryer Sausage Skewers. They are tasty breakfast sausages wrapped in pastry, on a stick!
WHAT ARE THE BEST POTATOES TO COOK IN THE AIR FRYER?
All types of potatoes can be cooked in the air fryer, but for this home fries recipe, I recommend using Yukon Gold potatoes. They have the perfect texture and thin skins that get nice and crispy when air fried with oil and seasonings.
Different air fryer potato recipes call for different types of potatoes. For example, Air Fryer Potato Wedges are best when made with Russet Potatoes.
If you're looking for an easy way to make potatoes for breakfast, check out how we make Air Fryer Frozen Hash Brown Patties!
DO YOU NEED TO SOAK POTATOES BEFORE AIR FRYING?
No, there is no need to soak the potatoes before air frying them. This technique is often used when deep frying, and can be useful when air frying, but soaking is not necessary for air fryer home fries.
Soaking potatoes in cold water can help draw out some of the natural starch from the potatoes, allowing them to get crispier.
CAN I USE OTHER POTATOES TO MAKE HOME FRIES?
You can! The texture may not be exactly like you see in the images here, but any type of potatoes can be used here.
Russet potatoes or white potatoes should be peeled before dicing them up for home fries. . These potatoes may be a bit drier after they're cooked than waxy potatoes like Yukon Gold will be.
CAN I AIR FRY HOME FRIES WITHOUT OIL?
Trying to cook potatoes in the air fryer without any oil is not recommended. You will end up disappointed because air fryer potatoes without oil will not get crispy!
The air fryer allows us to create home fried potatoes that are as crispy as deep-fried ones would be, but with only a small amount of oil.
CAN I ADD PEPPERS AND ONIONS TO AIR FRYER HOME FRIES?
I haven't tested a version of home fries with vegetables added yet, but I'd love to hear about it if you decide to try it!
I'd probably cook the peppers and onions in the air fryer first, then cook the home fries. Toss the cooked veggies in with the potatoes during the last two minutes of cooking to warm them up.
WHAT IS ANOTHER NAME FOR HOME FRIES?
Outside of the U.S., home fries are often called American Fries or American Potatoes. You might call home fries breakfast potatoes or cubed hash browns too.
HOW CAN I REHEAT AIR FRYER HOME FRIES?
If you have any leftovers, store them in an airtight container in the fridge for up to 3 days.
To reheat them, add them back to the air fryer and cook for 3-5 minutes at 375°F/190°C, or until they're hot and crispy again.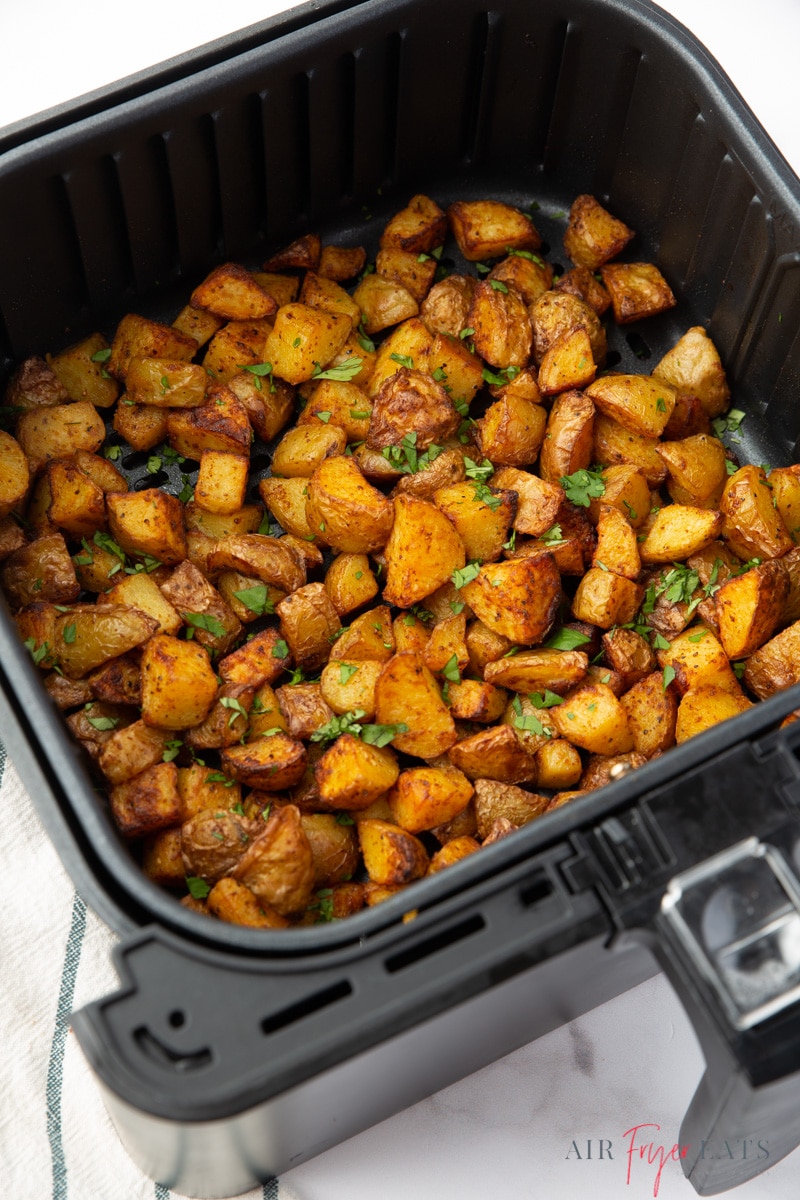 MORE EASY AIR FRYER POTATO RECIPES
If you like this recipe for making home fries in the air fryer, you will love our other potato recipes!
Start with the basics, and learn to make the best Air Fryer Frozen French Fries.
Then you can try Air Fryer Tater Tots and Air Fried Potato Wedges.
Finally, be sure you know how to make Baked Potatoes in the air fryer, and Sweet Potatoes in the Air Fryer.
All of these air fryer potato recipes make perfect side dishes!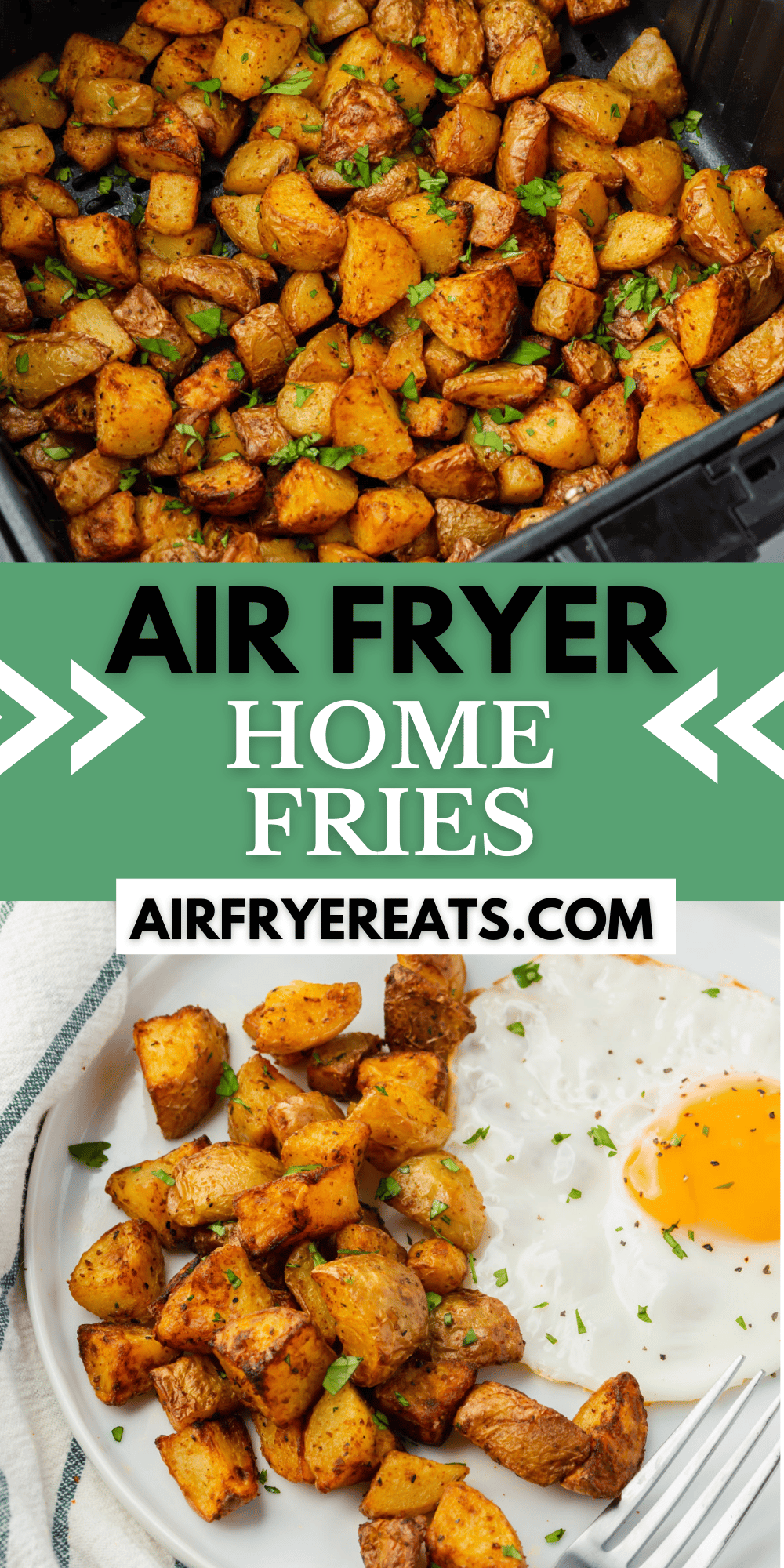 Have you made this recipe? Please leave a comment AND rating below! It helps other readers!
Be sure to tag @AirFryerEats on instagram, if you share a picture on the gram! Let's get social, you can follow me on Youtube, Instagram, Facebook, Pinterest or join one of our Air Fryer Facebook Groups: Air Fryer Recipes, Air Fryer Recipes for Seniors and Gluten Free Air Fryer Recipes.
Don't forget to subscribe to our EMAIL newsletter.
Air Fryer Home Fries
Air Fryer Home Fries are a simple side dish that's perfect for breakfast, brunch, or dinner! They are crispy and perfect in 30 minutes.
Ingredients
2

pounds

Yukon Gold potatoes

washed and dried

2

tablespoons

olive oil

1

teaspoon

kosher salt

1

teaspoon

paprika

½

teaspoon

garlic powder

½

teaspoon

onion powder

¼

teaspoon

black pepper

1

tablespoon

chopped fresh parsley
Instructions
Slice the potatoes into ½ inch cubes.

Add the diced potatoes to a bowl. Drizzle olive oil over the potatoes.

Combine the spices and then sprinkle over the potatoes. Stir to combine.

Add the diced potatoes to the air fryer basket. It's okay if they aren't in a single layer, but if you have a smaller air fryer you will want to make this in batches so that the potatoes can get crispy.

Air fry at 400°F/200°C for 20-22 minutes, shaking the basket every 4-5 minutes, until the potatoes are tender and golden.

Top with chopped parsley and serve immediately.
Go AD FREE!
Notes
I like to use Yukon gold potatoes for this recipe because the skin is very thin. This means that you don't need to peel the potatoes, and the skin gets extra crispy in the air fryer.

Make sure you cut the potatoes into ½-inch thick cubes so that the potatoes cook evenly and quickly. If you cut them bigger, they may take longer to cook.

The spice blend here is a suggestion. You can change up the spices depending on your preferences.
Pro Tip: This recipe can be made in the air fryer unit with a basket or the air fryer oven. If you are using the air fryer oven, use the middle rack and select the "Air Fry" function.
Pro Tip: Check your food as it cooks. Each air fryer runs a bit differently. Sometimes air frying is a trial and error process. Check your food as it cooks to learn your air fryer better! When cooking a new recipe or food items be sure to check your food often to help avoid over/undercooking.
Have oven recipes that you'd like to convert to an air fryer recipe? Use our Air Fryer Calculator to help you estimate cooking times and temps! Calculator here: https://airfryereats.com/air-fryer-conversion-air-fryer-calculator/
Nutrition
Calories:
240
kcal
|
Carbohydrates:
40
g
|
Protein:
5
g
|
Fat:
7
g
|
Saturated Fat:
1
g
|
Polyunsaturated Fat:
1
g
|
Monounsaturated Fat:
5
g
|
Sodium:
596
mg
|
Potassium:
975
mg
|
Fiber:
5
g
|
Sugar:
2
g
|
Vitamin A:
251
IU
|
Vitamin C:
45
mg
|
Calcium:
31
mg
|
Iron:
2
mg
Tired of the ads?
Go AD Free - Become part of our Membership community!
Air Fryers can vary greatly. Please take the time to learn your specific air fryer. You may need to adjust times and temperatures based upon your air fryer.
All though this website attempts to provide accurate nutritional information, the information should only be considered an estimate. Varying factors such as different product types, different brands, etc. can change nutritional information. It is your responsibility as a consumer to read all labels to make sure the ingredients fit your dietary needs as well as calculate your own nutritional information as a double check.