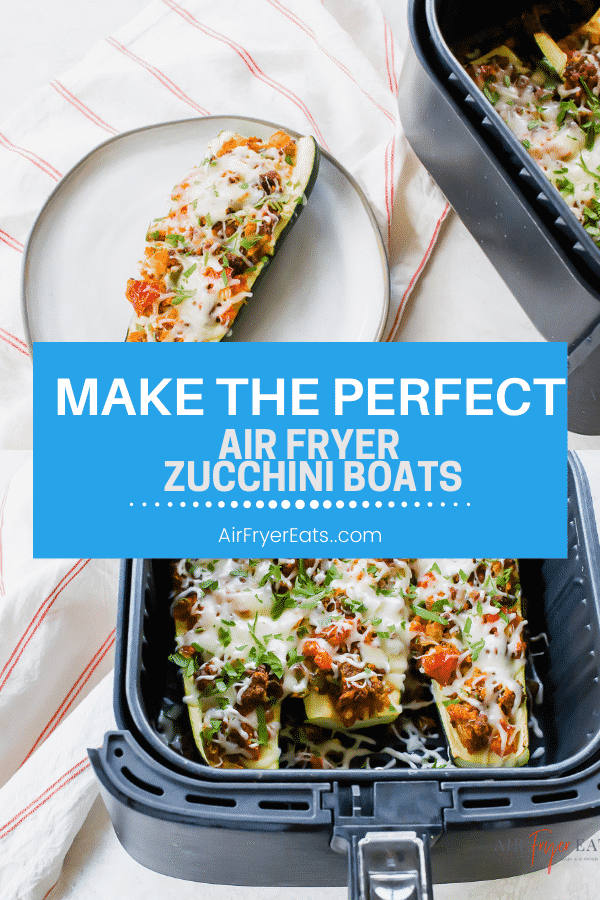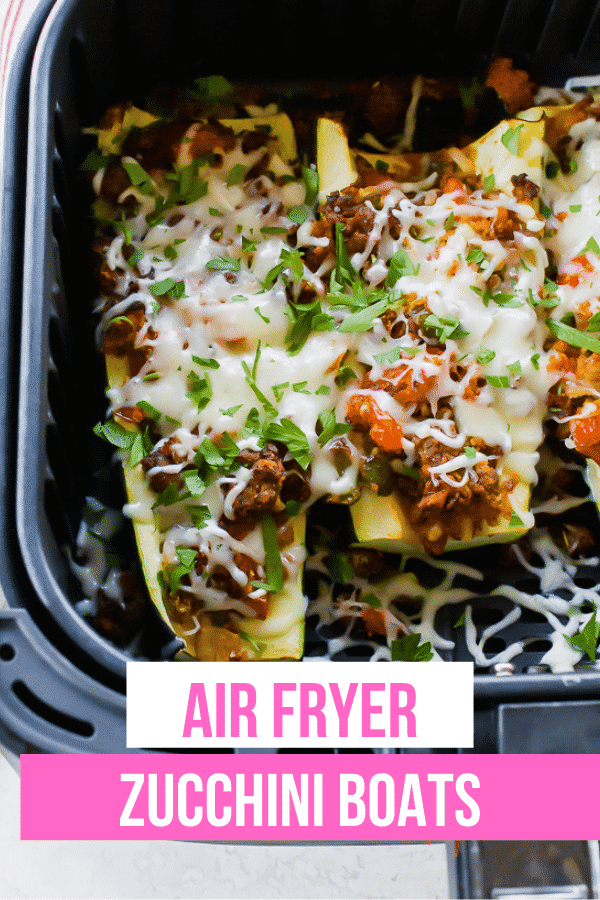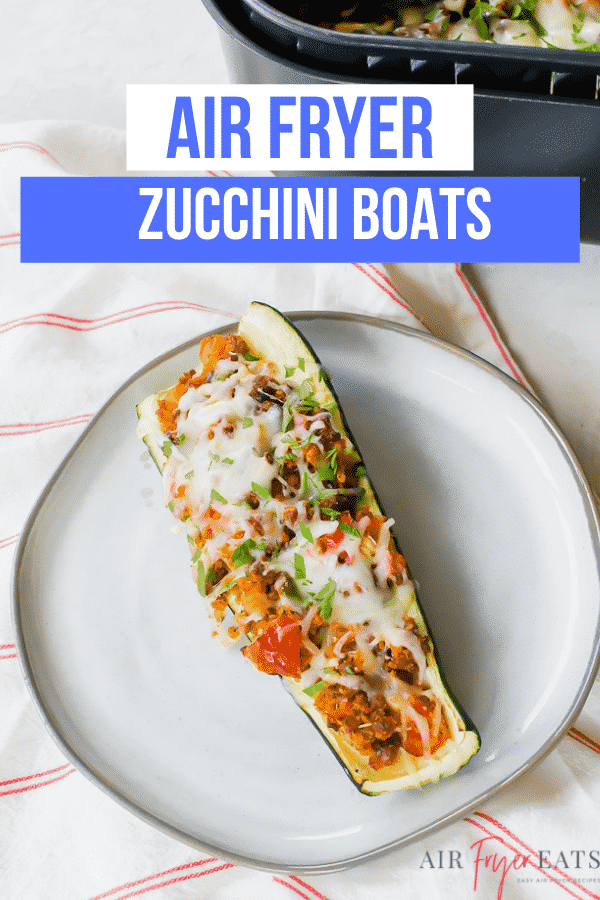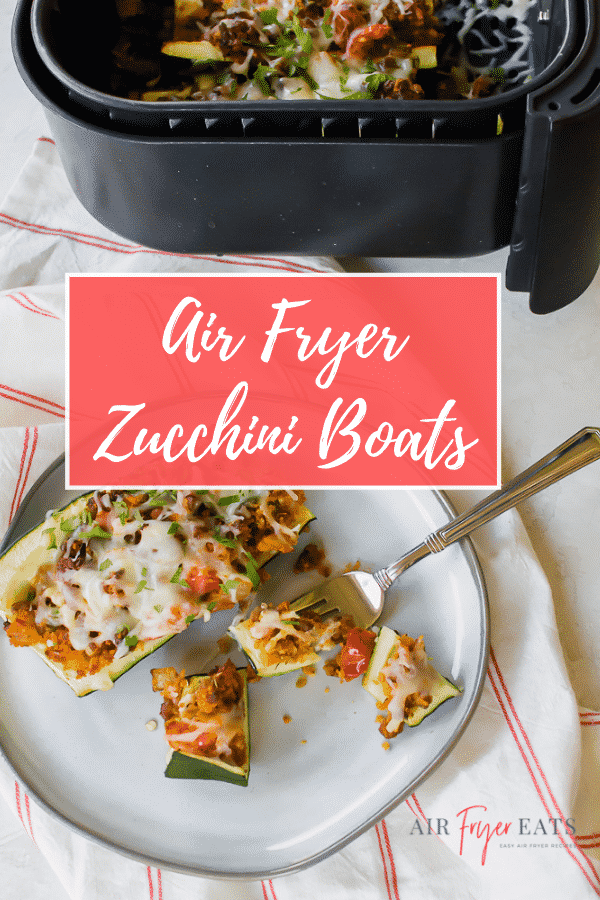 Air Fryer Zucchini Boats are a quick and easy weeknight meal with tons of fresh flavor! Great for vegetarians with keto and low-carb options, too!
Zucchini is one of my favorite veggies, and I'm always looking for new ways to use it year-round.
These Air Fryer Zucchini Boats are a great low-carb way to get a bunch of flavor stuffed in without a bun or shell!
Packed with onion, bell pepper, fresh tomatoes, a host of seasonings, and any protein you choose, it's a great weeknight dinner in a flash or awesome party recipe to mix it up every time you make it!
Wanna make it keto? Lose the breadcrumbs and swap them for pork rinds!
If you're like me and on a huge zucchini kick, you'll love these Air Fryer Zucchini Chips with a great crunch!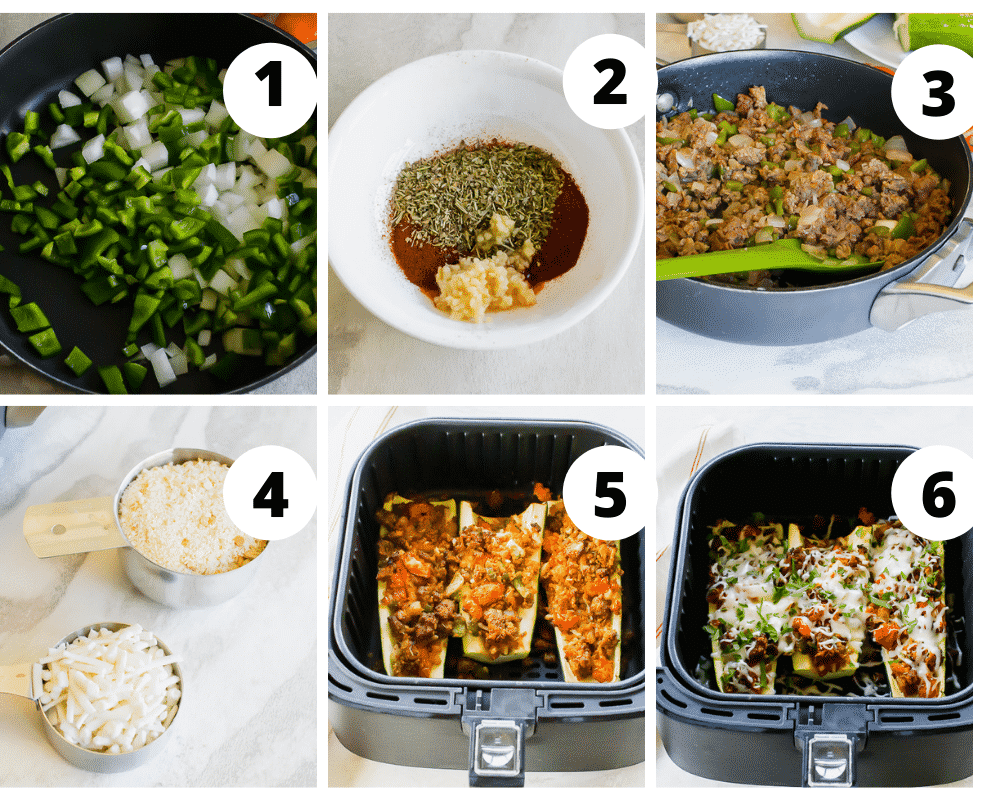 HOW TO MAKE AIR FRYER ZUCCHINI BOATS
Once your zucchini are halved and scooped out, warm your oil in a skillet and add the onions and bell peppers. Then, sauté until softened, about 5 minutes.
Next, gather up your seasonings: Paprika, minced garlic, and Italian seasoning. We'll add this later.
Then, brown whatever protein you're using — I chose ground beef for this recipe! Once browned, add your seasonings!
Now, measure out half of your mozzarella cheese and the panko breadcrumbs and mix into the skillet.
Time for the boats! Stuff an even amount into each zucchini and place into your air fryer basket or onto your air fryer tray.
After stuffed zucchini boats have cooked about 8 minutes in the air fryer, top with the rest of your mozzarella and cook another 2 minutes. Serve warm and enjoy!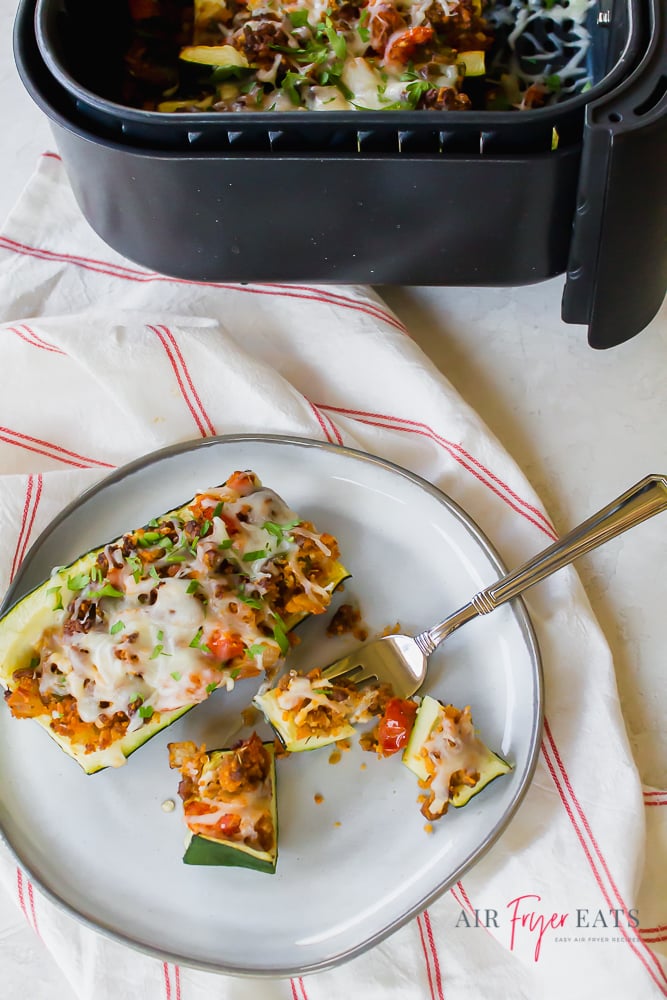 How to Make Ahead
This is a great dish for a party, and I LOVE to make most party recipes ahead of time to have less stress.
Cut and scoop your zucchinis and mix up your filling Stuff the zucchini boats and refrigerate until time to start cooking!
The cooking times in this recipe should work — just make sure the filling and zucchini boats are warmed through before adding the final bit of mozzarella.
How to Serve
These gluten-free zucchini boats are a great low-carb alternative for pizza, tacos, and whatever other flavor combinations you can create!
With this Italian spin, I like to serve it with a little marinara dipping sauce, which you could also drizzle on top after cooking.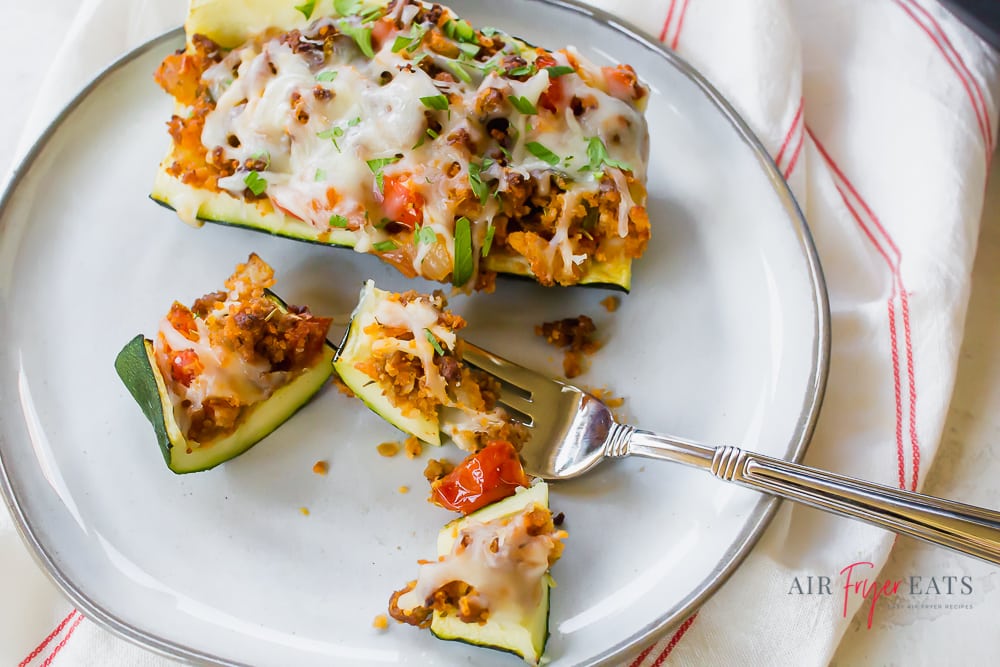 Other Amazing Vegetarian Recipes
If you love vegetarian food like we do, we have some special recipes for you to try!
Be sure to check out our Zucchini Cakes, Air Fryer Mushroom Tacos, Parmesan Zucchini Fries, Air Fryer Jalapeño Poppers, Wild Rice Stuffed Mushrooms and Instant Pot Ramen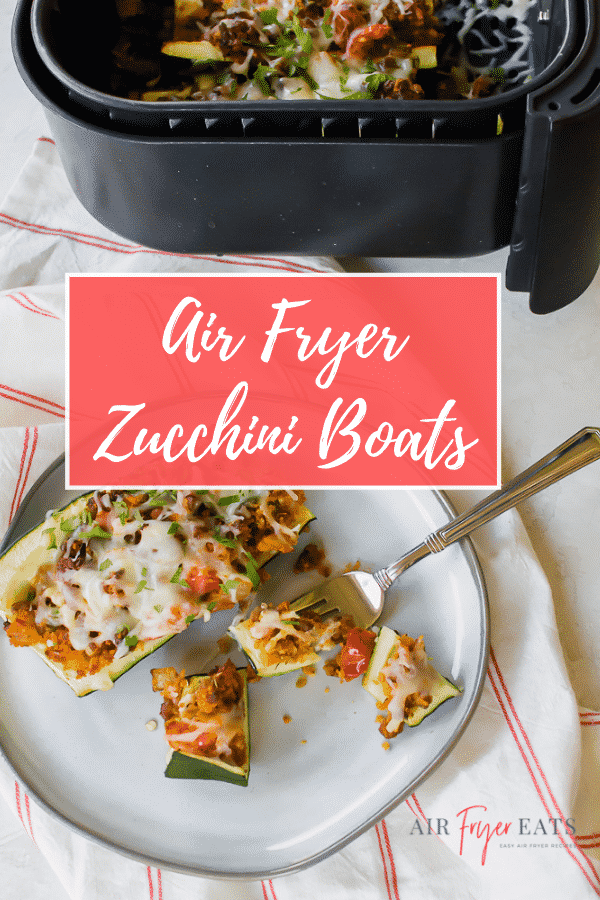 Are you gluten-free? Me too! We also have a sister site where EVERYTHING is gluten-free.
It is called VegetarianMamma.
You can find some awesome dishes there for your Meatless Mondays!
Always be sure to read ingredient labels to make sure that the product/ingredients fits your dietary restrictions!
Generally, we make simple enough recipes where you can sub the ingredients.
Common subs in our recipes include: Bread = Canyon Bakehouse Bread Crumbs = Ian's GF Bread Crumbs Flour = GF Jules All Purpose GF Flour.
Because our household is mixed between gluten and gluten-free, we have made almost everything on our site both ways. (except some of the frozen foods).
If you have any questions, please ask!
Have you made this recipe? Please leave a comment AND rating below! It helps other readers!
Be sure to tag @AirFryerEats on instagram, if you share a picture on the gram! Let's get social, you can follow me on Youtube, Instagram, Facebook, Pinterest or join one of our Air Fryer Facebook Groups: Air Fryer Recipes, Air Fryer Recipes for Seniors and Gluten Free Air Fryer Recipes.
Don't forget to subscribe to our EMAIL newsletter.