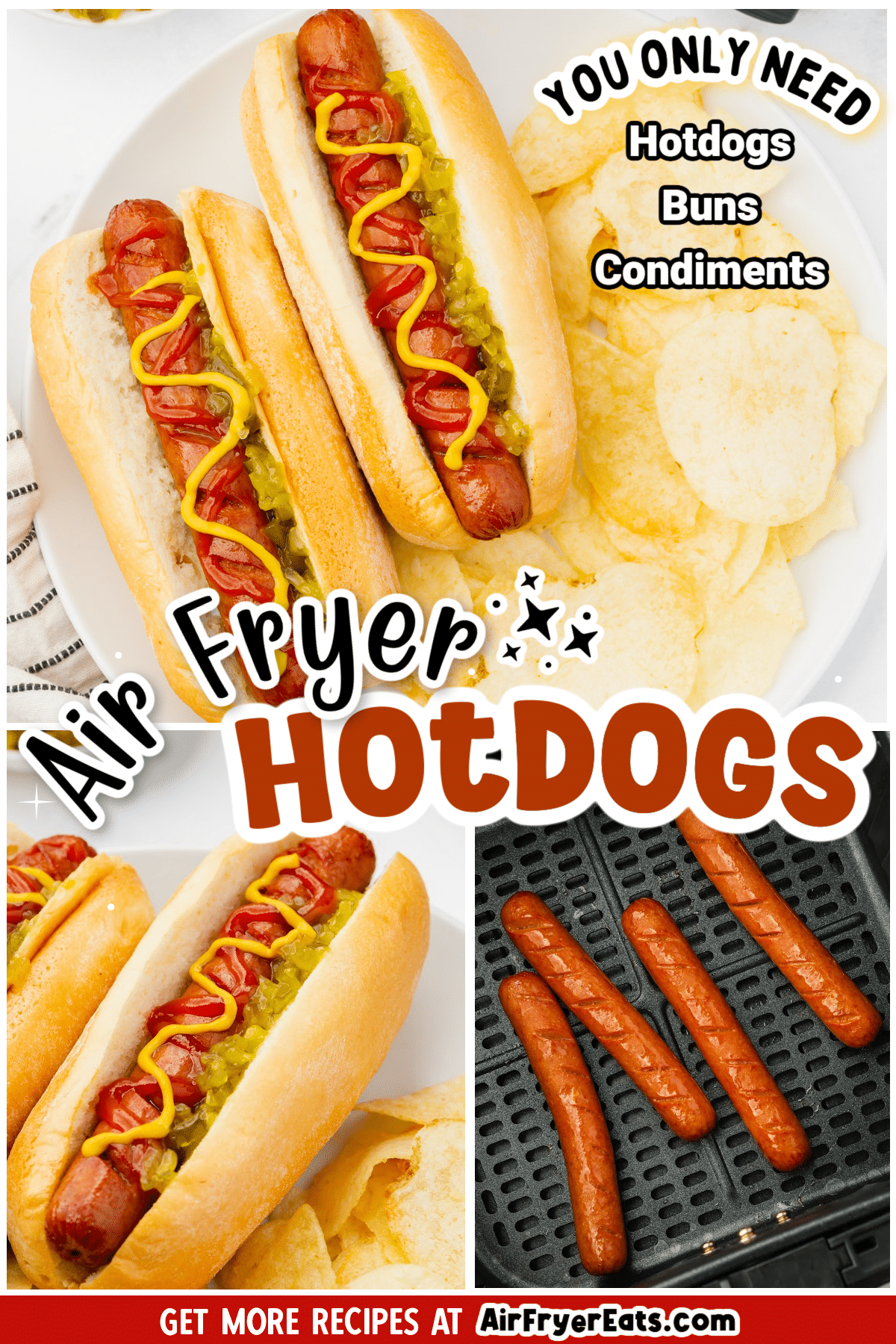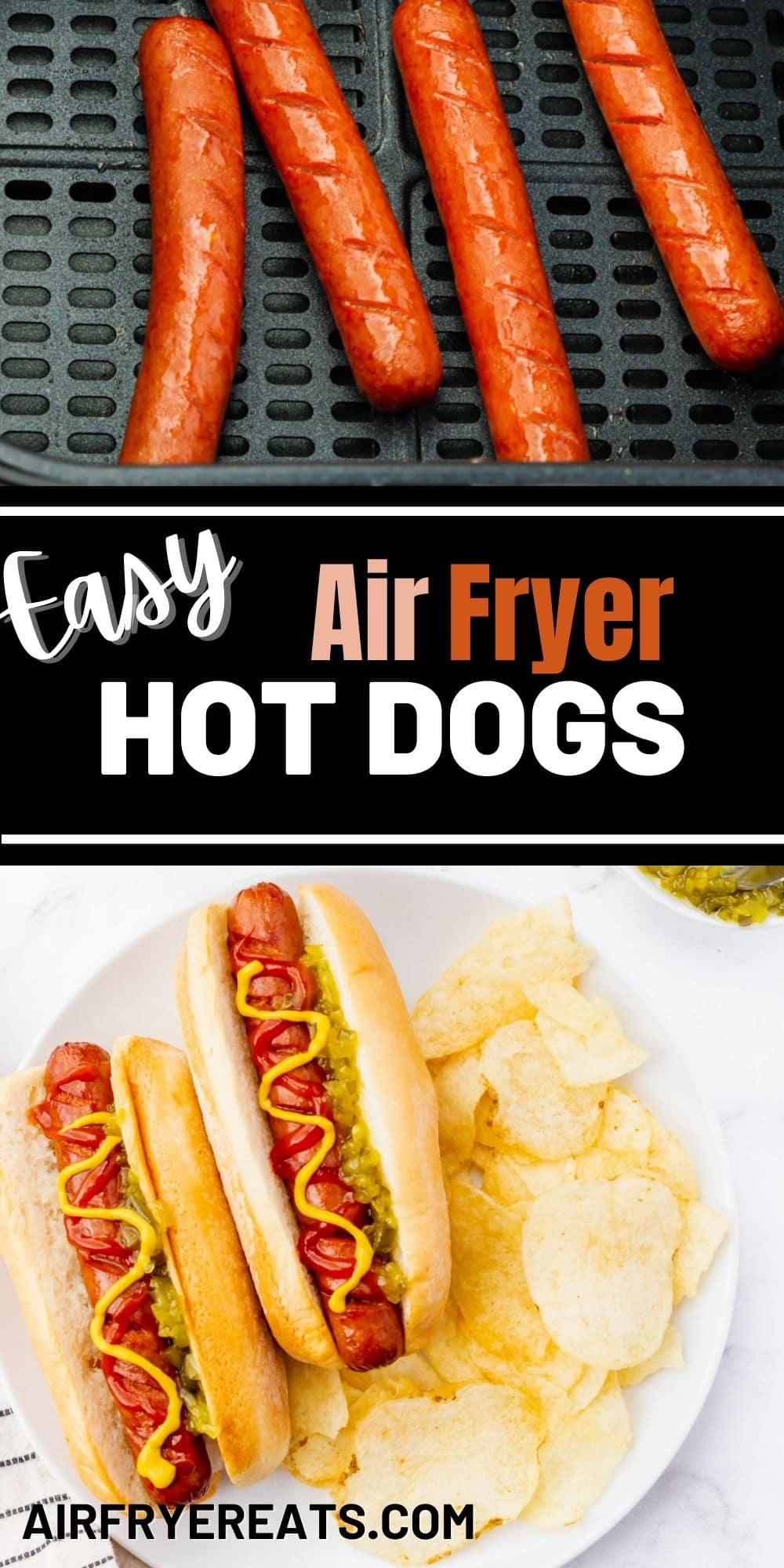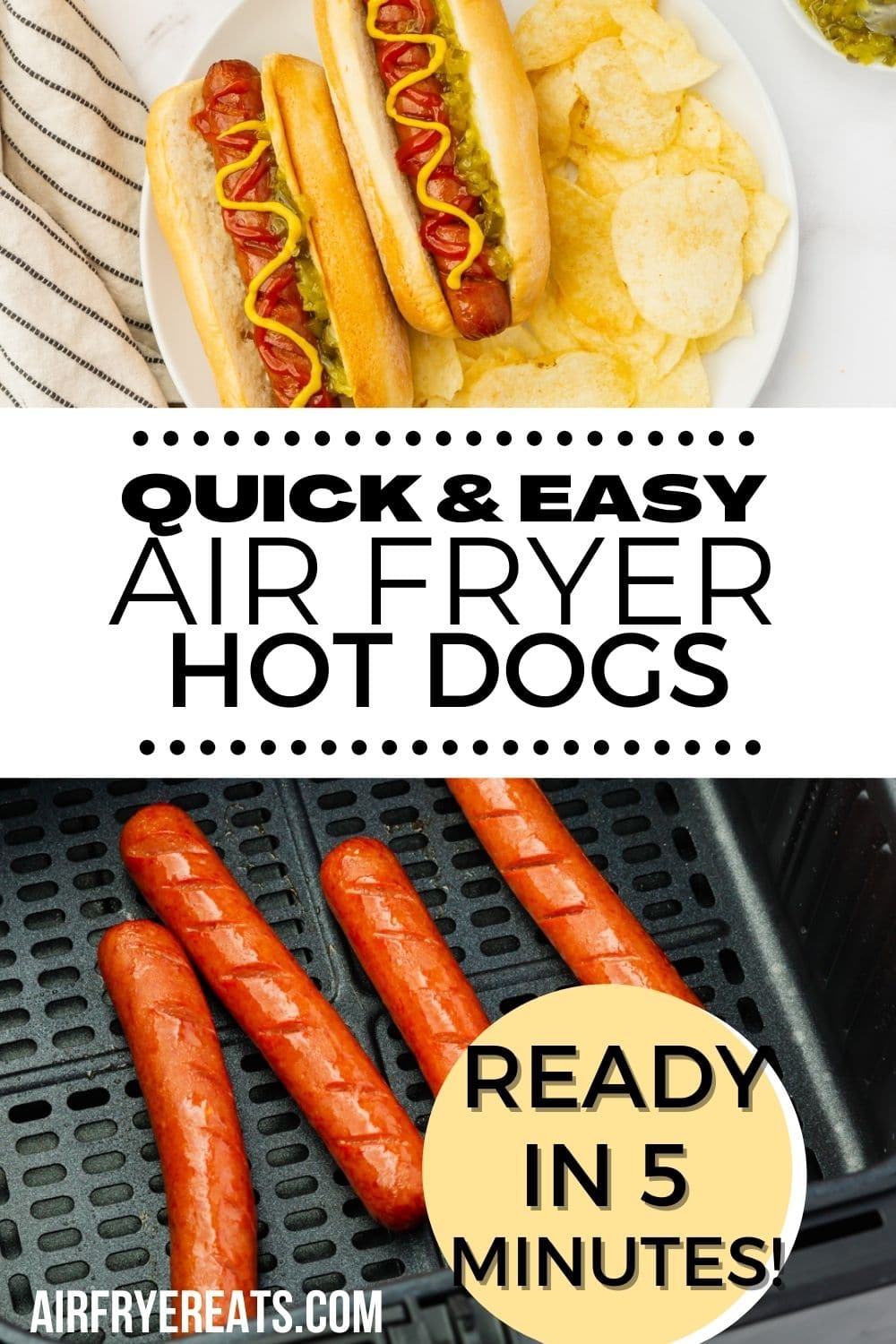 When you want to make a great-tasting hot dog in the comfort of your home, the air fryer is the way to go! Air Fryer Hot dogs get that fresh-from-the-ballpark taste in only 5 minutes!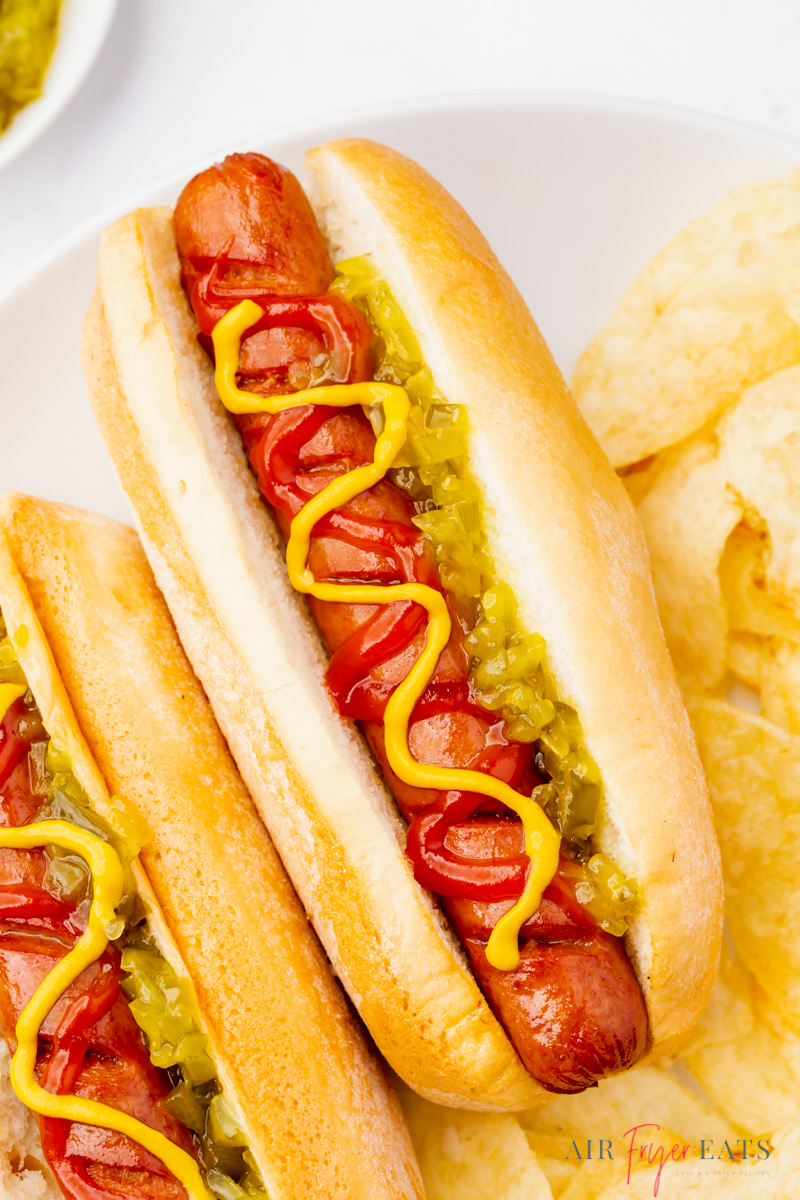 COOKING HOT DOGS IN AIR FRYER
You might be wondering, Can I cook hot dogs in the air fryer? The answer is a great big, "YES"! Air Fryer hot dogs are the best way to make hotdogs at home!
Forget pale, boiled hotdogs. Don't worry about lighting up the grill, and definitely don't turn on the oven. You can make hot dogs in the air fryer in just a few minutes, with or without toasted buns.
Everyone loves the taste of a fresh cooked hamburger or hotdog at a baseball game or cookout, and you can totally recreate that delicious summer hotdog taste and feeling with your air fryer!
Do you call them hotdogs? Weiners, frankfurters, footlongs? It doesn't matter what they are called. All it takes is your favorite franks and 5 minutes - it's as easy as that!
WHAT ARE THE BEST HOT DOGS?
Hot dogs don't have to be unhealthy!
There are many different brands and styles of hotdogs in the refrigerated meats section of just about every local grocer.
When you're cooking hot dogs for a healthy, growing family, there are a few things you can look for when purchasing hotdogs:
When shopping, look for a pack of plump all-beef hotdogs. They're the most flavorful and contain fewer preservatives.
Choose franks that are nitrate-free and contain lower levels of sodium and saturated fat.
Consider buying local or regionally made brands of hot dogs. Every area has its own favorite hot dog brand.
Buy veggie dogs! Beyond Meat offers plant-based veggie dogs and you can also buy tofurkey dogs if you prefer.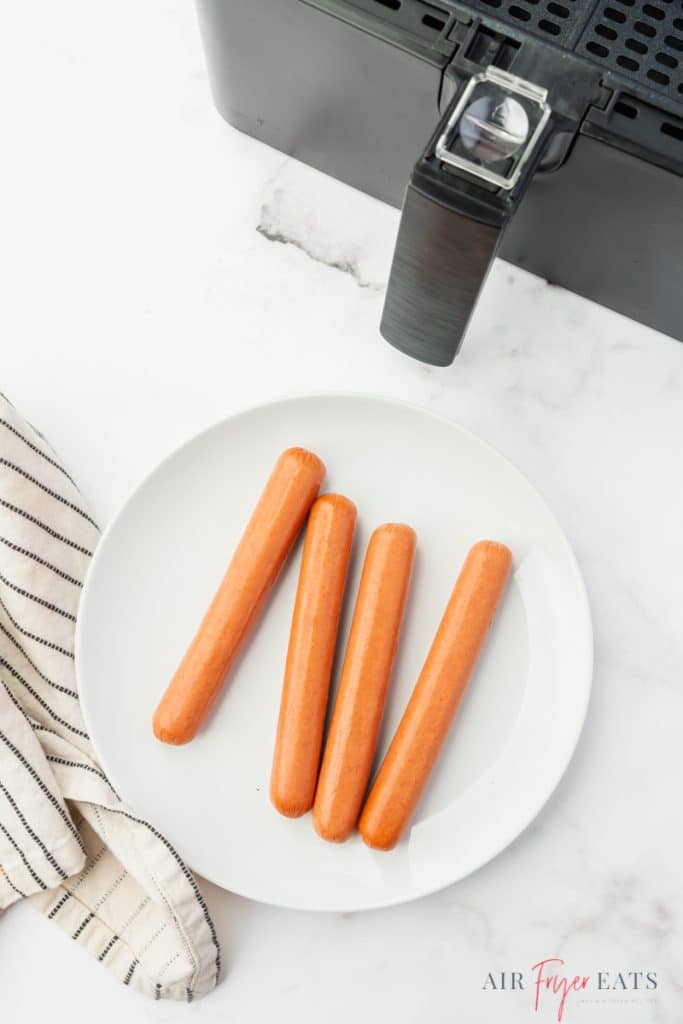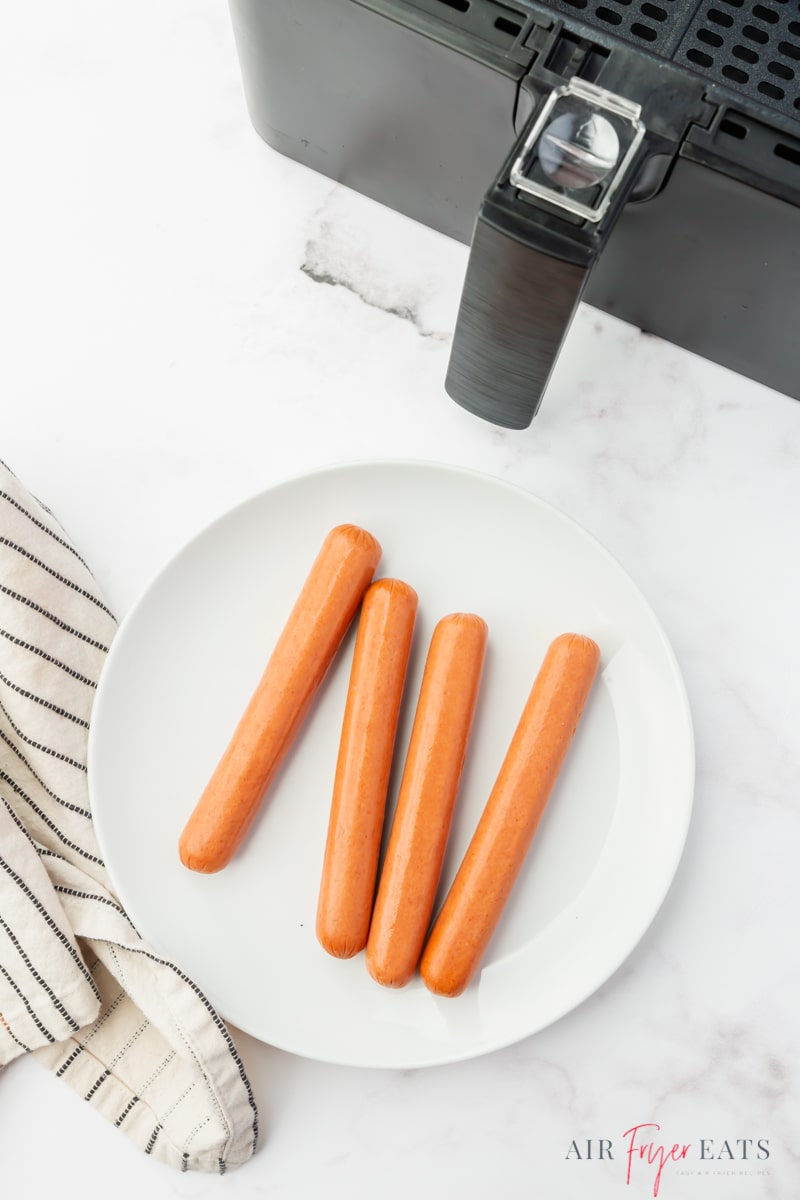 INGREDIENTS FOR HOT DOGS IN THE AIR FRYER
You only need one thing: Your favorite hot dogs! You can cook as many hot dogs as you can fit in the air fryer, so long as they don't overlap or touch each other.
The hot dogs must have room to breathe in the air fryer. The circulating hot air from the convection air fryer will be able to surround each link and give them a beautifully browned, crispy, snappy exterior.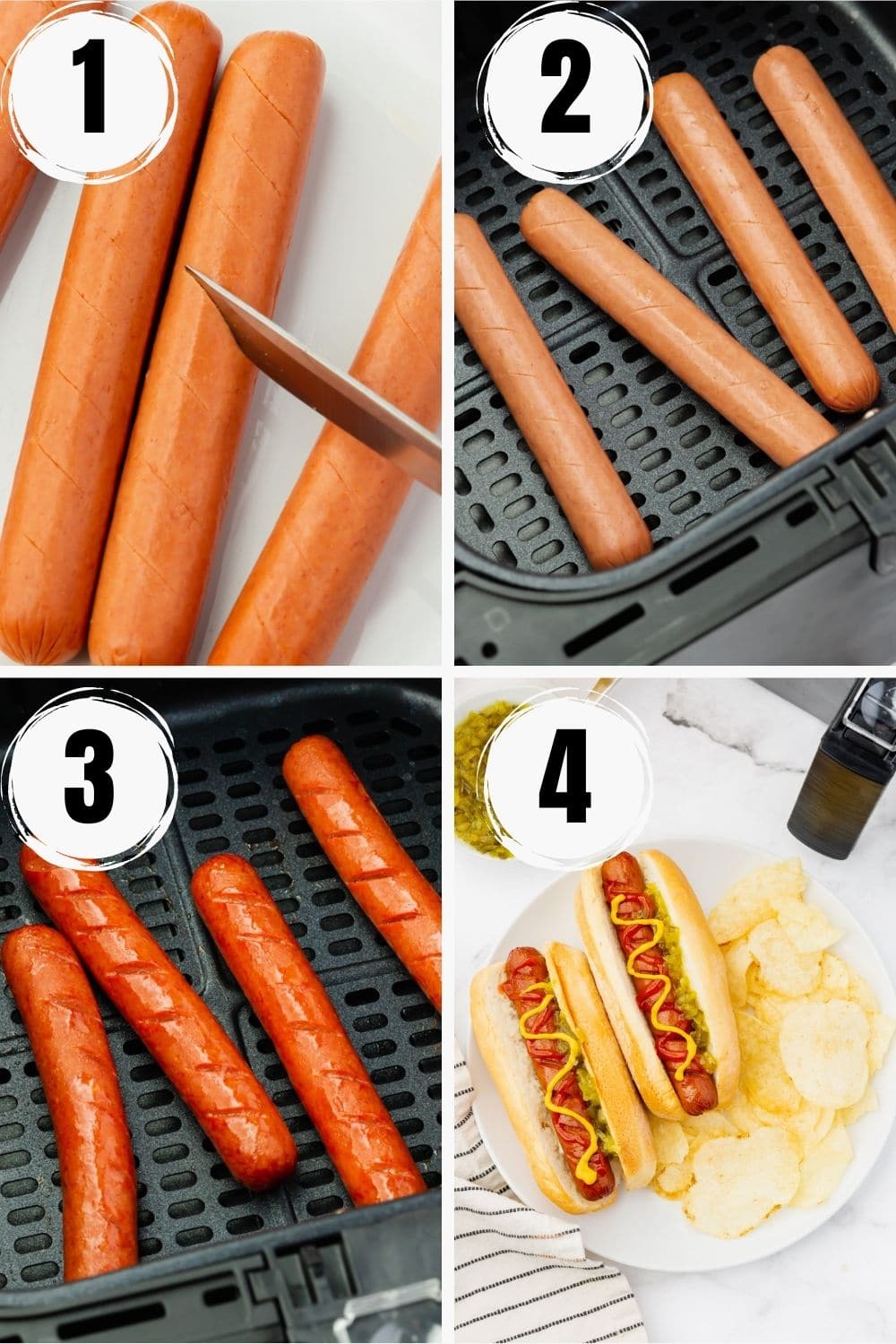 HOW TO COOK HOT DOGS IN AIR FRYER
You can have your air fryer hotdogs cooked to perfection in only 5 minutes!
Place your hot dogs on a plate, and score them on top with a knife or fork. These vents will prevent the hot dogs from bursting open while they cook by allowing trapped air to escape during cooking.
Place the hotdogs in the bottom of your air fryer basket.
Air fry your hotdogs for 4-5 minutes at 390°F/195°C.
Place the hotdogs on hotdog buns, then top with your favorite hot dog condiments.
USE THE AIR FRYER TO TOAST HOT DOG BUNS
You might enjoy a hot dog on a fresh bun, or you might prefer to make your hot dog buns warm and toasty. You can toast hot dog buns in the air fryer easily.
After the hot dogs are cooked in the air fryer, remove them to a plate and cover with foil to keep them warm.
Add split hot dog buns (either classic or New England style) to the air fryer basket, and cook at the same temperature (390°F/195°C) for 2-4 minutes, or until they are toasted to your liking.
If you are not toasting the buns right after cooking the hot dogs, be sure to let the air fryer preheat for 3-5 minutes before starting.
A tip for toasting bread in the air fryer: It has a tendency to fly around! Use a trivet to hold the hot dog rolls down, or use a metal butter knife to weigh down the rolls so they stay put.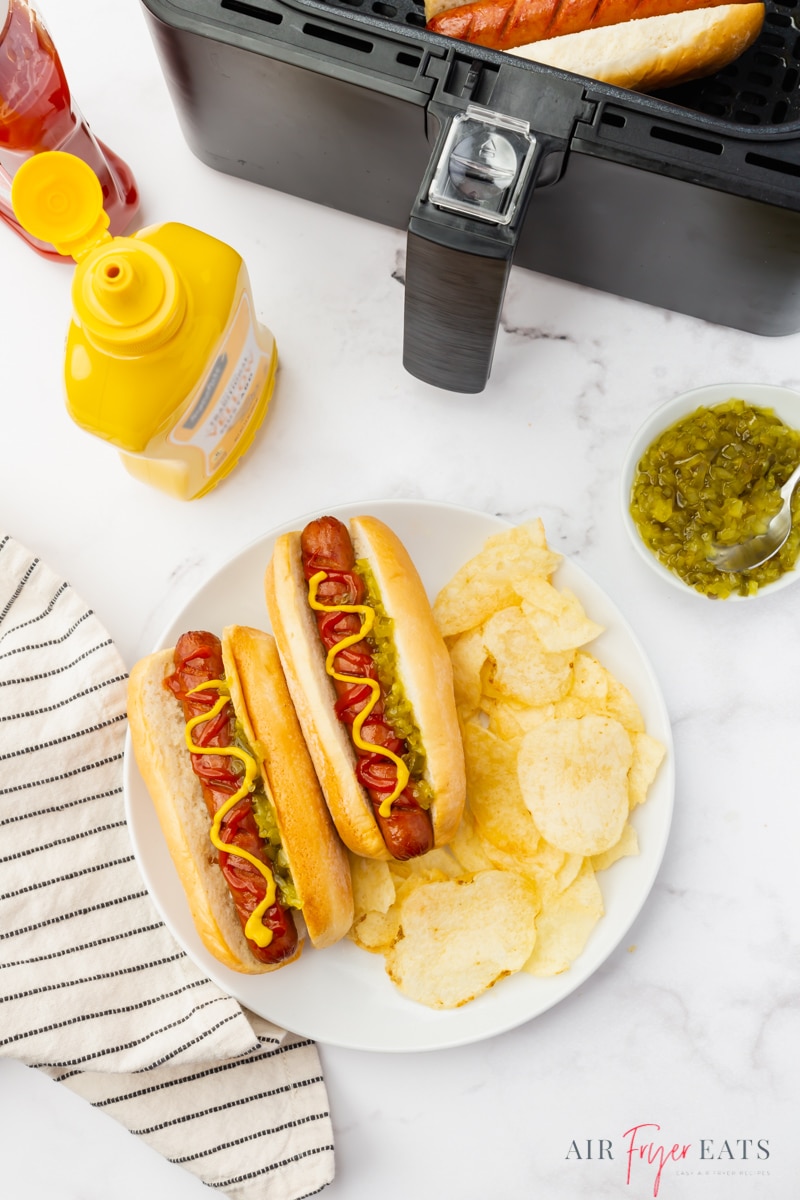 How to Serve Hotdogs in Air Fryer
Hot dogs don't have to be boring! In fact, there are many fun ways to serve a simple hot dog. There are tons of regional "right ways" to top a hot dog. You should try them all!
Consider one of these fun ways to serve your air fryer frankfurters:
Classic hot dogs: Serve with ketchup, mustard, and relish. Add a side of air fryer french fries for a classic diner combo.
Cheese Dogs: Add melty American cheese, cheddar cheese, or nacho cheese sauce.
Air Fryer Bacon: Cook some up. Add it to your hot dog. You'll thank me later!!
Make Coney dogs! Serve with your favorite coney sauce, chopped onions, and shredded cheese. Add the hot dogs back to the air fryer and cook for a couple of minutes to melt, and you'll have the ultimate air fryer chili cheese dogs!
Chicago Style hot dogs: Put your hot dogs on a poppyseed bun and top with mustard, relish, onions, tomato, pickles, peppers, and a bit of celery salt.
New England Style hot dogs: These should be topped with ketchup, mustard, relish, onions, and piccalilli (pickled veggies in mustard sauce). New England style hot dogs are also typically served in a top loading bun.
Seattle Style hot dogs: Spread your hot dog buns with softened cream cheese and add grilled peppers and/or onions.
Make Reuben dogs: Serve hot dogs topped with shredded swiss cheese, sauerkraut, and a side of thousand island dressing for dipping.
Serve them Thai style! Make banh mi inspired hot dogs by topping with shredded carrots, chopped cucumber, sliced jalapenos, cilantro, and a delicious vegan Thai salad dressing. This is an excellent treatment for veggie dogs!
Add some crunch. Serve air fryer hot dogs topped with coleslaw and serve with fresh pickle spears and potato chips on the side. Or maybe you want to check out these Healthy Hot Dog Toppers for some ideas.
HOW LONG DOES IT TAKE TO COOK HOT DOGS IN AN AIR FRYER?
Not long at all! Use this method to cook any type of hot dog in about 5 minutes.
ARE HOT DOGS IN THE AIR FRYER GOOD?
The air fryer does an amazing job of cooking hot dogs that are hot and juicy inside and perfectly browned on the outside. I prefer air fryer hot dogs over other cooking methods. They are definitely tastier than boiled hot dogs, and easier to make than grilled ones.
WHY DO I NEED TO SLICE A HOT DOG BEFORE COOKING IT?
Without the small slices cut into them, a hot dog is a well-sealed sausage. As it cooks, steam will build up inside of the hot dog, and it needs a way to escape. The slices make the perfect vents!
If you don't cut slits in the hot dog before cooking, there is a good chance that the hot dog will split wide open in an unattractive way, or even explode into pieces!
CAN I AIR FRY HOT DOGS AND BUNS AT THE SAME TIME?
I suggest cooking the hot dogs first, and then toasting the buns. This is primarily because there isn't enough room to cook it all at once.
However, if you're only making 1 or 2 hot dogs, you can add the rolls in during the last two minutes of the hot dog cooking time. What an easy lunch or snack!
CAN I AIR FRY FROZEN HOT DOGS?
I keep hot dogs in the freezer because I stock up on them when they go on sale! You can thaw the hot dogs and then air fry them, or you can air fry hot dogs directly from frozen. Add 1-3 minutes of extra cook time to this easy hot dog recipe to account for thawing.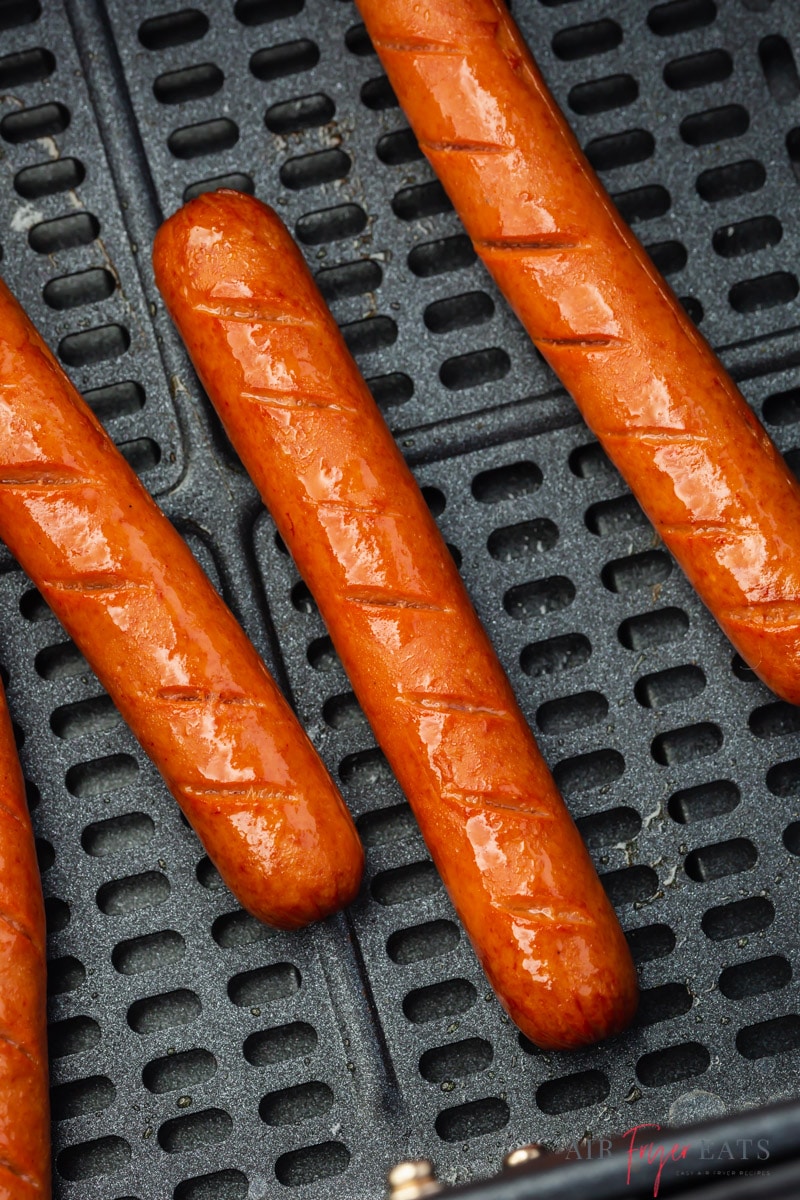 What side dishes go with Hot dogs?
Hot dogs remind me of summer, so I tend to serve them with summer salads and veggies, no matter what time of year it is!. Try pairing some of these delicious side dish recipes with your air fryer hotdogs:
Air Fryer Tater Tots, Air Fryer Corn on the Cob, Instant Pot Baked Beans or Parmesan Zucchini Fries
Maybe you'd prefer some Macaroni Salad, Amish Potato Salad, or a Greek Cucumber Salad to go with your air fryer hot dogs.
For a classic diner meal, enjoy air fryer hot dogs with air fryer onion rings or air fryer french fries!
For dessert, try making Air Fried Oreos. You can pretend that you're at the fair!
Check out these other easy air fryer recipes!
We have so many air fryer recipes to choose from! You'll find appetizers, main dishes, frozen foods, desserts, and more!
If you are having trouble figuring out which one to try next, we suggest: Air Fryer Hamburgers, Air Fryer Meatloaf and Air Fryer Chicken Breast.
My favorite kid-friendly air fryer recipes include Air Fryer Chicken Tenders, Air Fryer Frozen Pierogies, and Air Fryer Turkey Meatballs.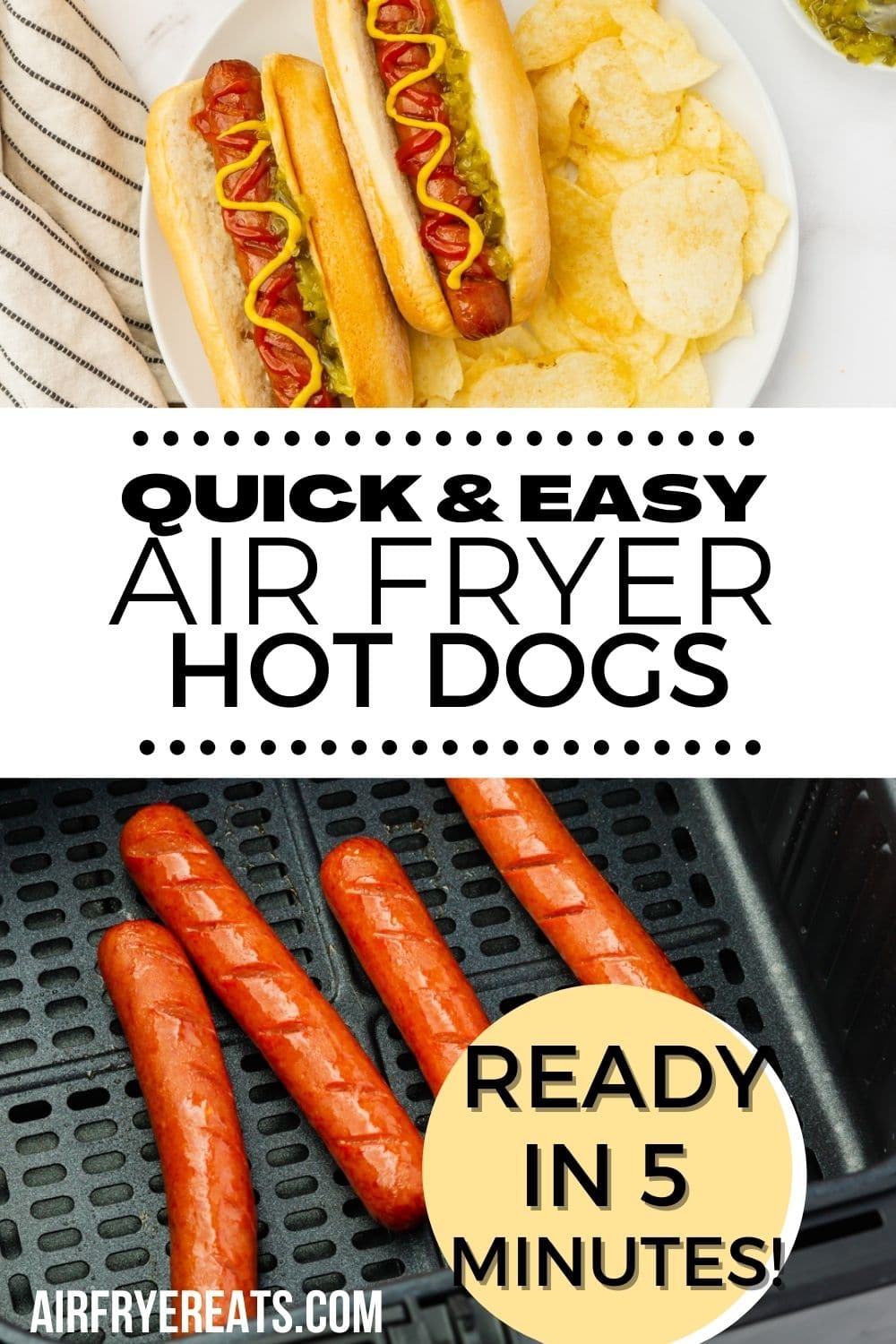 Have you made this recipe? Please leave a comment AND rating below! It helps other readers!
Be sure to tag @AirFryerEats on instagram, if you share a picture on the gram! Let's get social, you can follow me on Youtube, Instagram, Facebook, Pinterest or join one of our Air Fryer Facebook Groups: Air Fryer Recipes, Air Fryer Recipes for Seniors and Gluten Free Air Fryer Recipes.
Don't forget to subscribe to our EMAIL newsletter.
Air Fryer Hotdogs
When you want to make a great-tasting hotdog in the comfort of your home, the air fryer is the way to go! Air Fryer Hotdogs get that fresh-from-the-ballpark taste in only 5 minutes!


Ingredients
4

hot dogs

buns and condiments for serving

(optional)
Instructions
Prepare your hot dogs by scoring them on the top with a knife or fork to create vents.

Place the hot dogs into the basket of your air fryer.

Air fry the hot dogs for 4-5 minutes at 390°F/195°C.

Place the cooked hotdogs on buns, top with your favorite condiments, and enjoy!
Go AD FREE!
Notes
To toast hot dog rolls: Add the buns to the air fryer after you've cooked the hot dogs. Air Fry at 390°F/195°C for 2-4 minutes.
Pro Tip: This recipe can be made in the air fryer unit with a basket or the air fryer oven. If you are using the air fryer oven, use the middle rack and select the "Air Fry" function.
Pro Tip: Check your food as it cooks. Each air fryer runs a bit differently. Sometimes air frying is a trial and error process. Check your food as it cooks to learn your air fryer better! When cooking a new recipe or food items be sure to check your food often to help avoid over/under cooking.
Have oven recipes that you'd like to convert to an air fryer recipe? Use our Air Fryer Calculator to help you estimate cooking times and temps! Calculator here:
https://airfryereats.com/air-fryer-conversion-air-fryer-calculator/
Nutrition
Serving:
1
hotdog
|
Calories:
229
kcal
|
Carbohydrates:
30
g
|
Protein:
9
g
|
Fat:
8
g
|
Saturated Fat:
3
g
|
Cholesterol:
20
mg
|
Sodium:
520
mg
|
Potassium:
120
mg
|
Fiber:
1
g
|
Sugar:
3
g
|
Vitamin C:
1
mg
|
Calcium:
84
mg
|
Iron:
3
mg
Tired of the ads?
Go AD Free - Become part of our Membership community!
Air Fryers can vary greatly. Please take the time to learn your specific air fryer. You may need to adjust times and temperatures based upon your air fryer.
All though this website attempts to provide accurate nutritional information, the information should only be considered an estimate. Varying factors such as different product types, different brands, etc. can change nutritional information. It is your responsibility as a consumer to read all labels to make sure the ingredients fit your dietary needs as well as calculate your own nutritional information as a double check.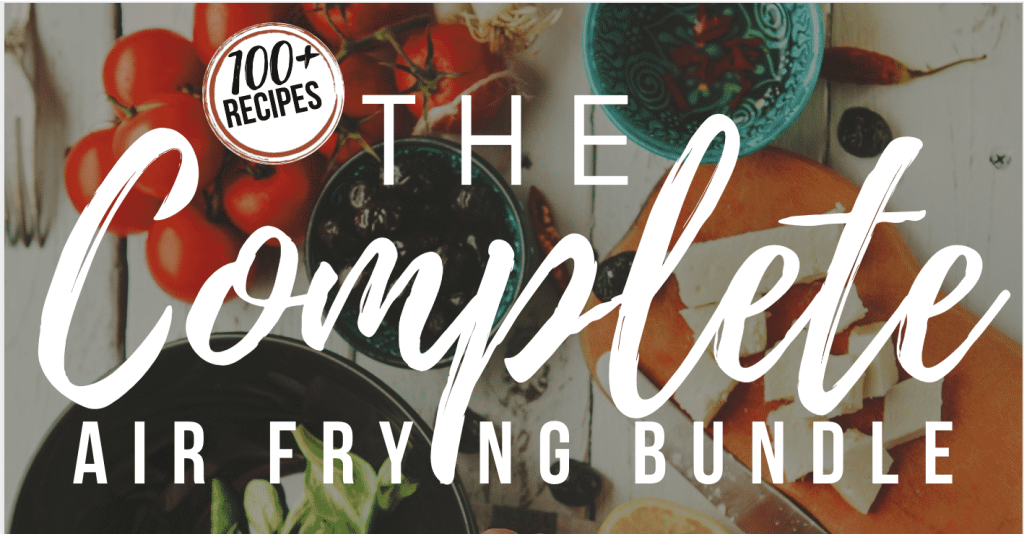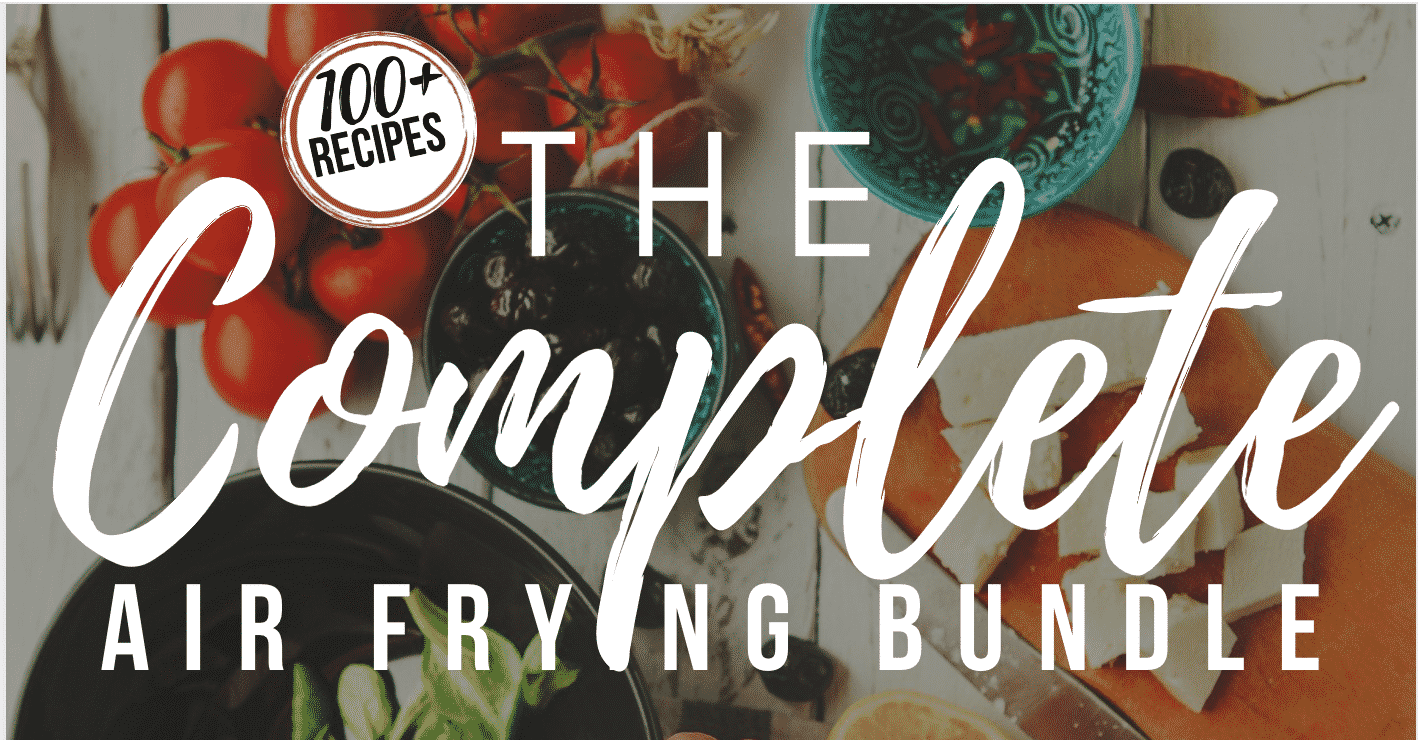 We updated the pictures! Air Fryer Hot Dogs was one of the first recipes we created here at Air Fryer Eats, so it was due for a photo shoot. Here are the old pictures if you're interested!