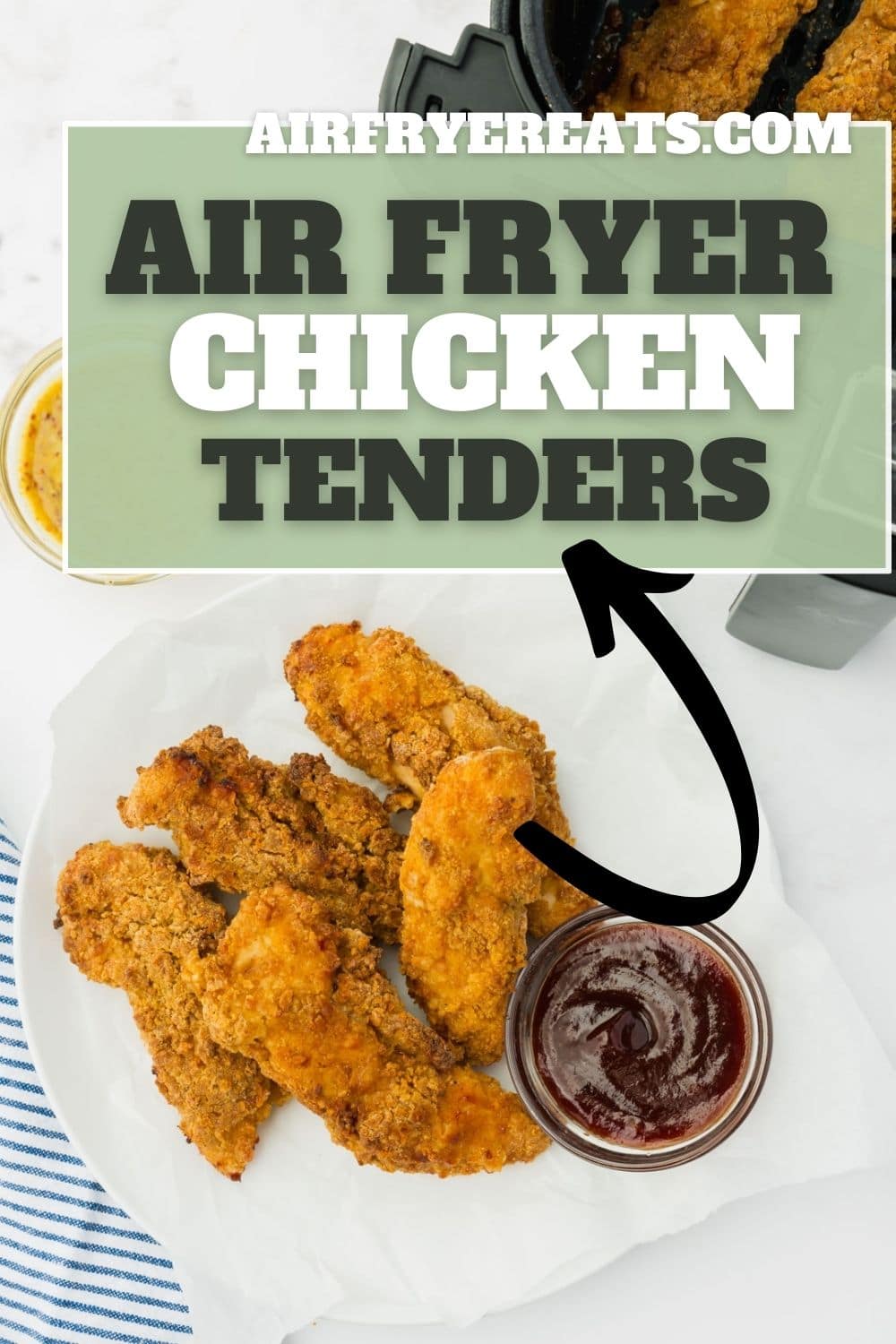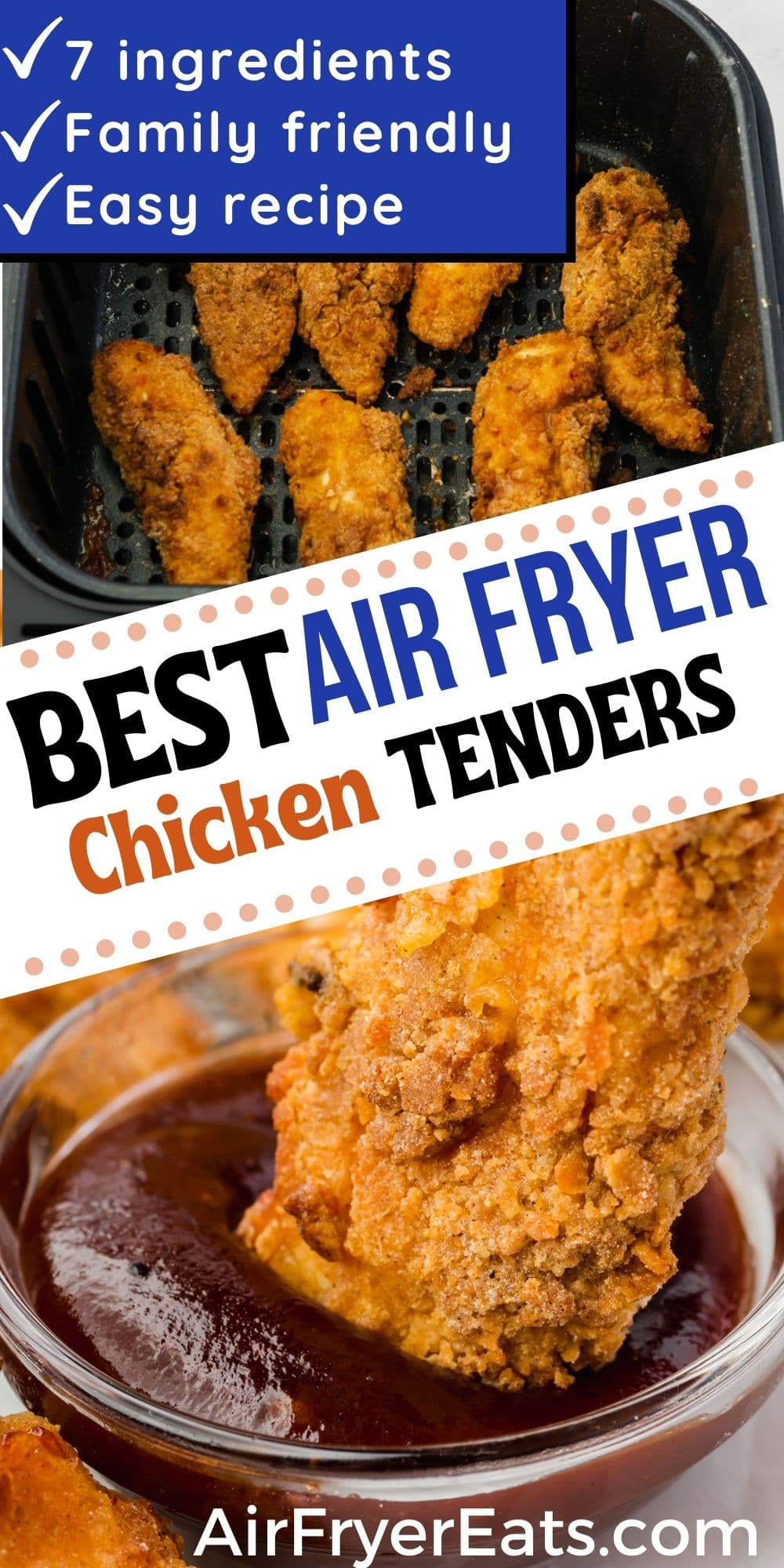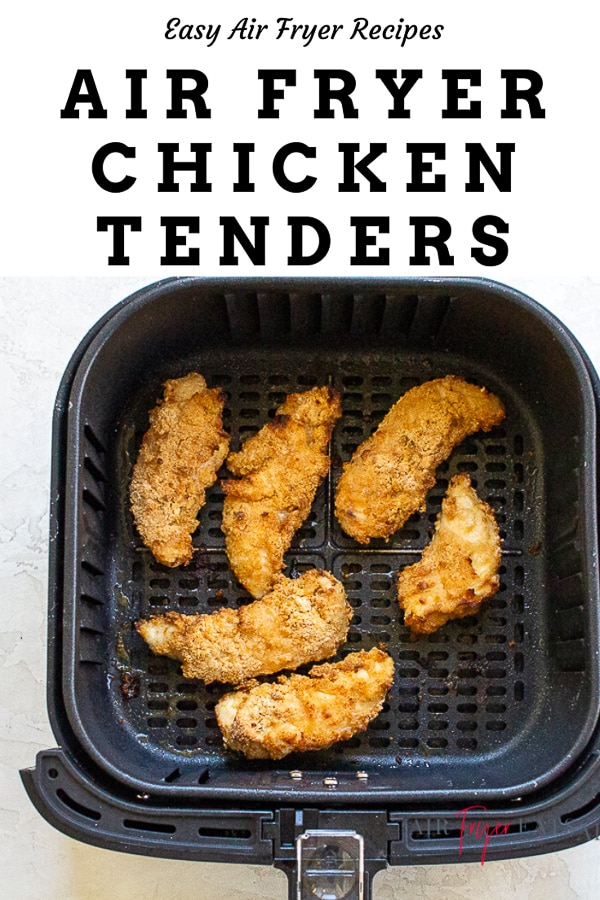 Chicken tenders aren't just a restaurant menu appetizer anymore! Make juicy and tender sweet & savory air fryer chicken tenders in only 30 minutes with this easy recipe!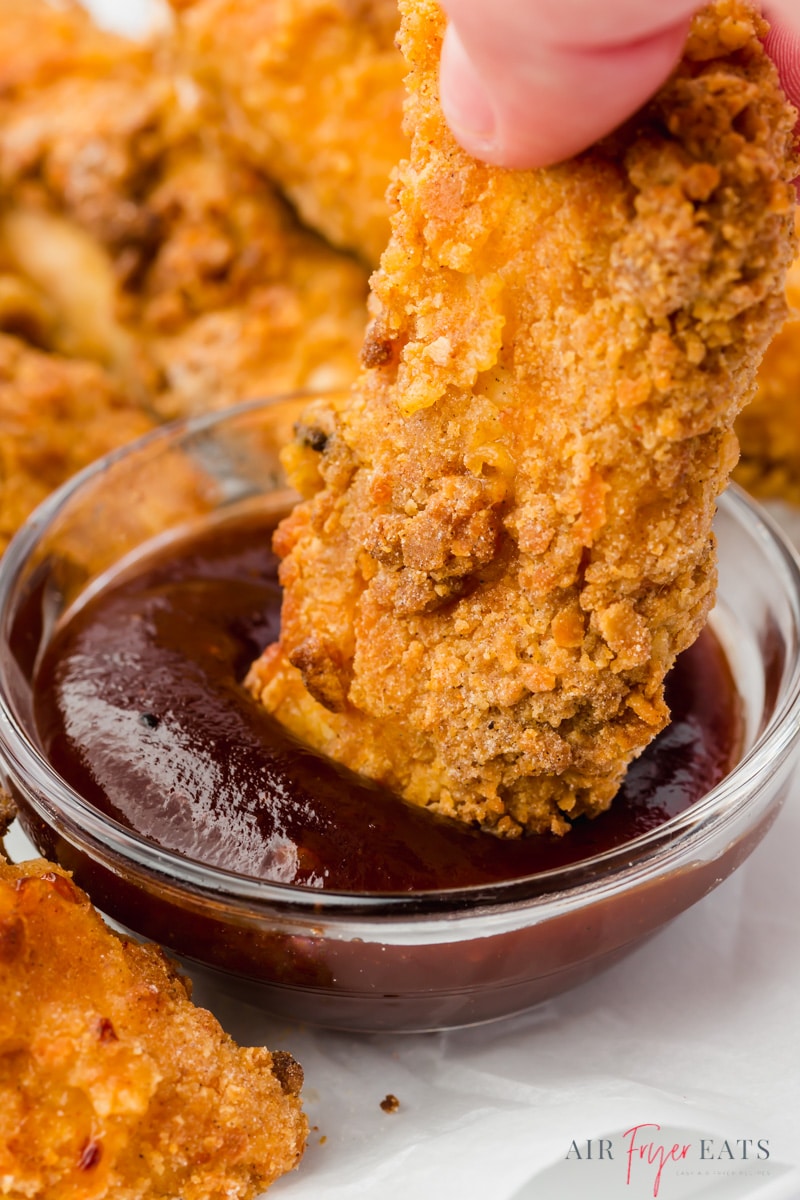 AIR FRYER CHICKEN TENDERS RECIPE
Air Fryer Chicken Tenders are savory and juicy, and so delish! I love that it takes less than 30 minutes to make them - and that time is including the super special marinade!
Cooking these chicken tenders in the air fryer makes them super crispy on the outside while keeping them nice and moist on the inside. Air Fryer Chicken Tenders are crispy and delicious just like Air Fryer Fried Chicken, but they take less time to cook.
I love to serve them with a basket of air fryer french fries and a couple of my favorite dipping sauces! BBQ Sauce and Honey Mustard are the best dips for chicken tenders, and the whole meal is 100% kid-approved.
We have a recipe for chicken tenders in the air fryer without any breading too! They are delicious either way, and both recipes are super easy to make in the air fryer.
WHAT PART OF THE CHICKEN IS THE CHICKEN TENDER?
Chicken tenders are made from the tenderloin (thus the name "tender" for short), which is found under the breast meat running along either side of the chicken's breastbone.
Tenders are white meat, but they are softer than chicken breast since they are a muscle that doesn't get as much use.
ARE CHICKEN TENDERS WHITE MEAT?
Chicken tenderloins are white meat!
They're very similar to chicken breast meat since they are a muscle that grows along the breast bone.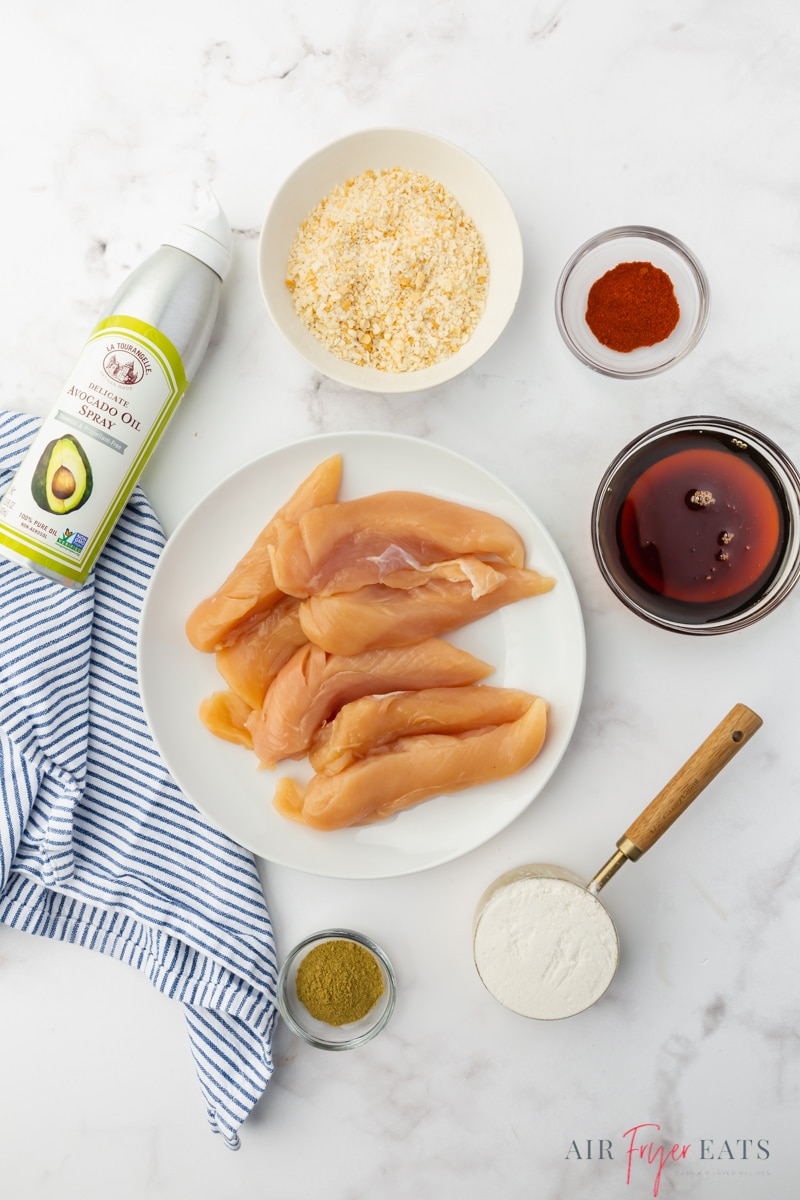 INGREDIENTS FOR AIR FRYER CHICKEN TENDERS
To serve four people, I typically use around a pound of chicken tenderloin pieces.
Luckily, your local grocer likely has them already packaged in one-pound trays.
If you prefer, you can also buy chicken tenderloin pieces by the pound in the meat department of most grocery stores.
For this homemade chicken tenders recipe, you'll also need ingredients for a marinade and a coating mixture.
Chicken Tenders - This recipe makes a pound of chicken tenders, but feel free to adjust to make more or less food. This recipe will also work with boneless chicken breasts cut into chicken strips, or you can make crispy air fryer chicken cutlets!
Maple Syrup - The secret ingredient to my air fryer chicken tenders is a quick marinade in sweet, delicious maple syrup! This magic ingredient helps the coating stick to the chicken, but also adds a layer of sweet flavor. It's like Chicken and Waffles, but without the waffles!
Coating - This breading mixture is super easy. You will need breadcrumbs and all purpose flour. I find that some of both makes the best crispy texture.
Seasonings - Season the flour and breadcrumbs with poultry seasoning and paprika to create a slightly smoky and savory coating that will crisp up perfectly in your air fryer.
If you have any questions about this Air Fryer Chicken Tenders recipe, please leave a comment below and I will get back to you ASAP!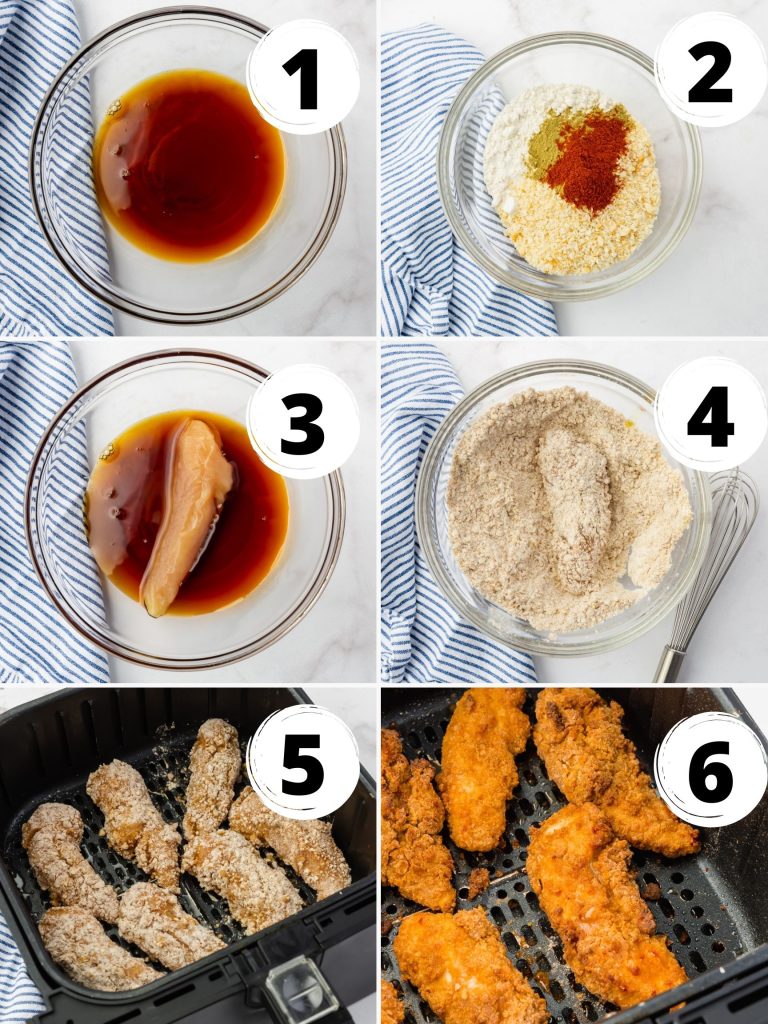 HOW TO MAKE CHICKEN TENDERS IN AIR FRYER
Air Fryer Chicken Strips are so simple to make using these instructions. I'll tell you the time and temp for chicken tenders in the air fryer and give you the tastiest recipe yet!
First, trim any excess fat or unwanted pieces from the chicken tenderloins.
Next, add the maple syrup to a bowl and dip the chicken pieces in the syrup to coat.
Then, mix together the breading ingredients in a separate bowl, and toss the maple chicken pieces in the mixture to coat evenly.
Add the breaded chicken pieces to a prepared air fryer basket, working in a single layer.
Air fry the maple chicken tenders at 400 degrees for roughly 10-12 minutes, flipping halfway through.
Serve your air fryer chicken tenders with your dipping sauce of choice, and enjoy!
These numbered steps match the numbered photos above and are for illustration purposes. For the complete list of ingredients and instructions for making air fryer chicken tenders, please see the recipe below.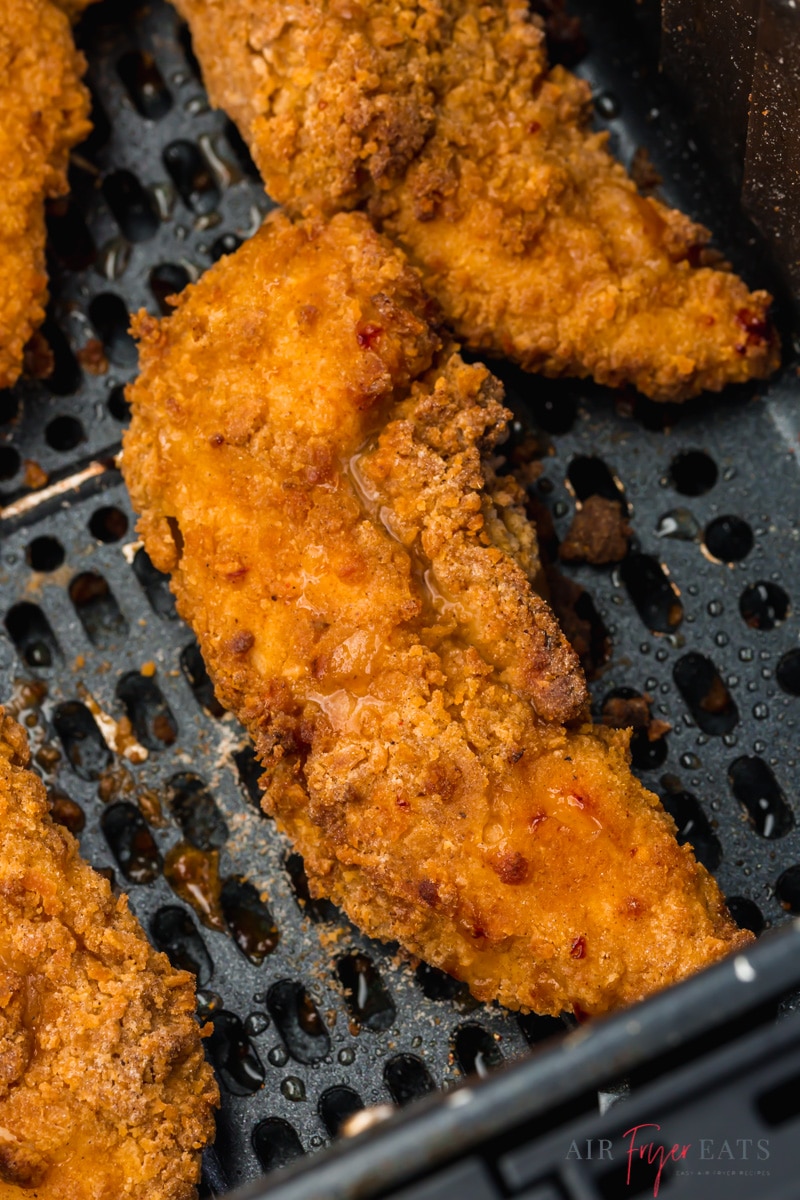 TIPS FOR MAKING HOMEMADE AIR FRYER CHICKEN TENDERS
Making chicken tenders from scratch in the air fryer doesn't need to be difficult! Here are my best air fryer chicken tips and tricks:
Be sure to coat the chicken pieces thoroughly in the maple syrup. Make sure that all sides are coated for best results. You'll end up with the most flavorful sweet and savory chicken!
Shake off any excess coating after dredging. Too much breading can stick to the air fryer basket, leaving you with a mess or even hindering the chicken from cooking evenly.
Don't have poultry seasoning? Make your own! Combine a couple of teaspoons of dried sage with 1.5 tsp dried thyme, a teaspoon each of marjoram and rosemary, a half teaspoon each of salt & pepper. Whisk together or stir with a fork to break up any clumps, then add a teaspoon to your flour dredge and store the rest in an air tight container for up to 6 months.
You can also season the breading using any of your favorite seasonings or seasoning blends!
Always serve chicken at a safe internal temperature. A meat thermometer placed into the thickest part of the chicken should read a minimum of 165 degrees F before serving.
To make this recipe sugar-free, Use a beaten egg mixed with a teaspoon of water in place of the maple syrup.
To make this recipe gluten-free, use GF flour and breadcrumbs.
HOW TO STORE AIR FRYER CHICKEN TENDERS
You can store leftovers from this recipe in an airtight storage container for up to 3 days in the fridge.
To reheat, cook in the air fryer at 350°F/175°C for 4-6 minutes or until warm.
Freeze cooked chicken tenders for up to three months. Reheat them directly from frozen in the oven or air fryer.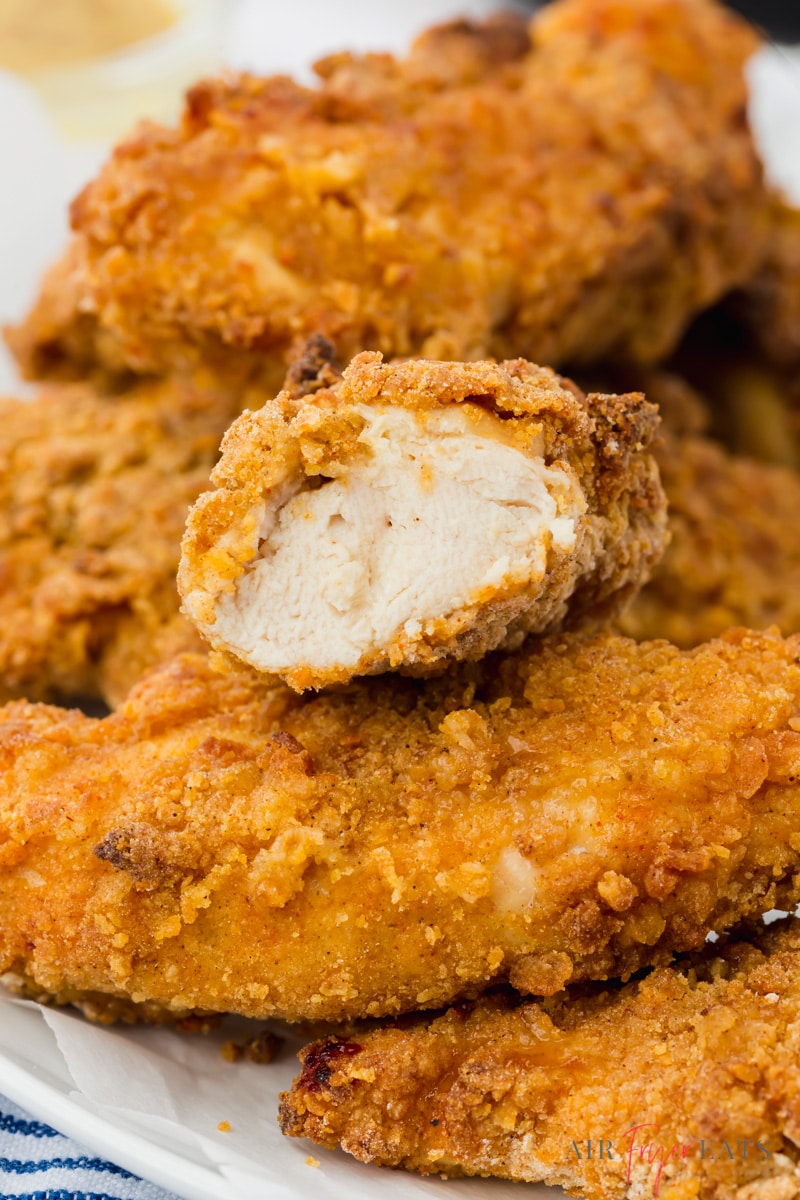 WHAT TO SERVE WITH AIR FRYER CHICKEN TENDERS
There are so many delicious ways to serve chicken tenders! Here are some of my favorite accompaniments:
Sauces:
A side of sweet & smoky BBQ sauce or even more maple syrup for dipping!
You could add a side of honey mustard sauce or pure honey for dipping - it's so good!
Creamy buffalo ranch sauce - mix 2 parts ranch to 1 part buffalo sauce for an easy, fiery condiment that's out of this world!
Ranch Dressing and Ketchup are kid-friendly condiments that are delicious on chicken tenders too!
Turn these tenders into chicken parm strips! Melt cheese on top and dip them in marinara sauce.
Sides:
I always enjoy french fries with chicken tenders. You can use the air fryer to make Frozen French Fries, Frozen Sweet Potato Fries, or homemade Potato Wedges.
If you want a veggie, you should make Zucchini Fries in the air fryer instead! Air Fryer Frozen Broccoli is an easy and healthy side dish too.
HOW LONG DO YOU COOK CHICKEN TENDERS IN THE AIR FRYER?
Depending on the size of your chicken tenders, they will cook in approximately 10-12 minutes at 400°F/20°C. Be sure to flip the chicken pieces over after 5 minutes so that they get crispy and golden on both sides.
CAN I MAKE GLUTEN FREE AIR FRYER CHICKEN TENDERS?
Yes, and it's super simple! Use gluten free all-purpose flour and gluten free bread crumbs in place of the standard versions.
DO I NEED TO ADD OIL TO AIR FRYER CHICKEN TENDERS?
This recipe can be made without any added oil! I do recommend spraying oil on the basket to keep things from sticking though. If you want really very crispy air fryer chicken tenders, feel free to give them a spritz of oil before cooking.
DO I HAVE TO TAKE THE TENDON OUT OF THE CHICKEN TENDERS?
This is a matter of preference. Each chicken tender will have a white tendon running down the center of it. This part of the chicken is mostly inedible, so many people like to take it out before cooking chicken tenders.
You can remove the tendon using a sharp knife if you want to.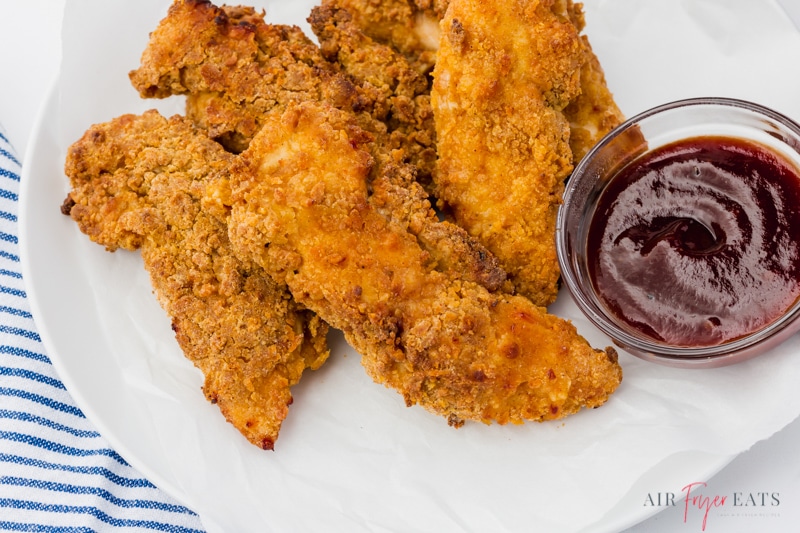 MORE RESTAURANT STYLE AIR FRYER RECIPES TO TRY
We have so many air fryer recipes to choose from!
For snacks and appetizers like you'd get at your favorite bar and grill, try Air Fryer Chicken Wings, BBQ Wings in the air fryer and all of these delicious Air Fryer Game Day Recipes.
Looking for dishes that you might get in a fancy restaurant? Your air fryer will make Scallops, Steak, or Shrimp!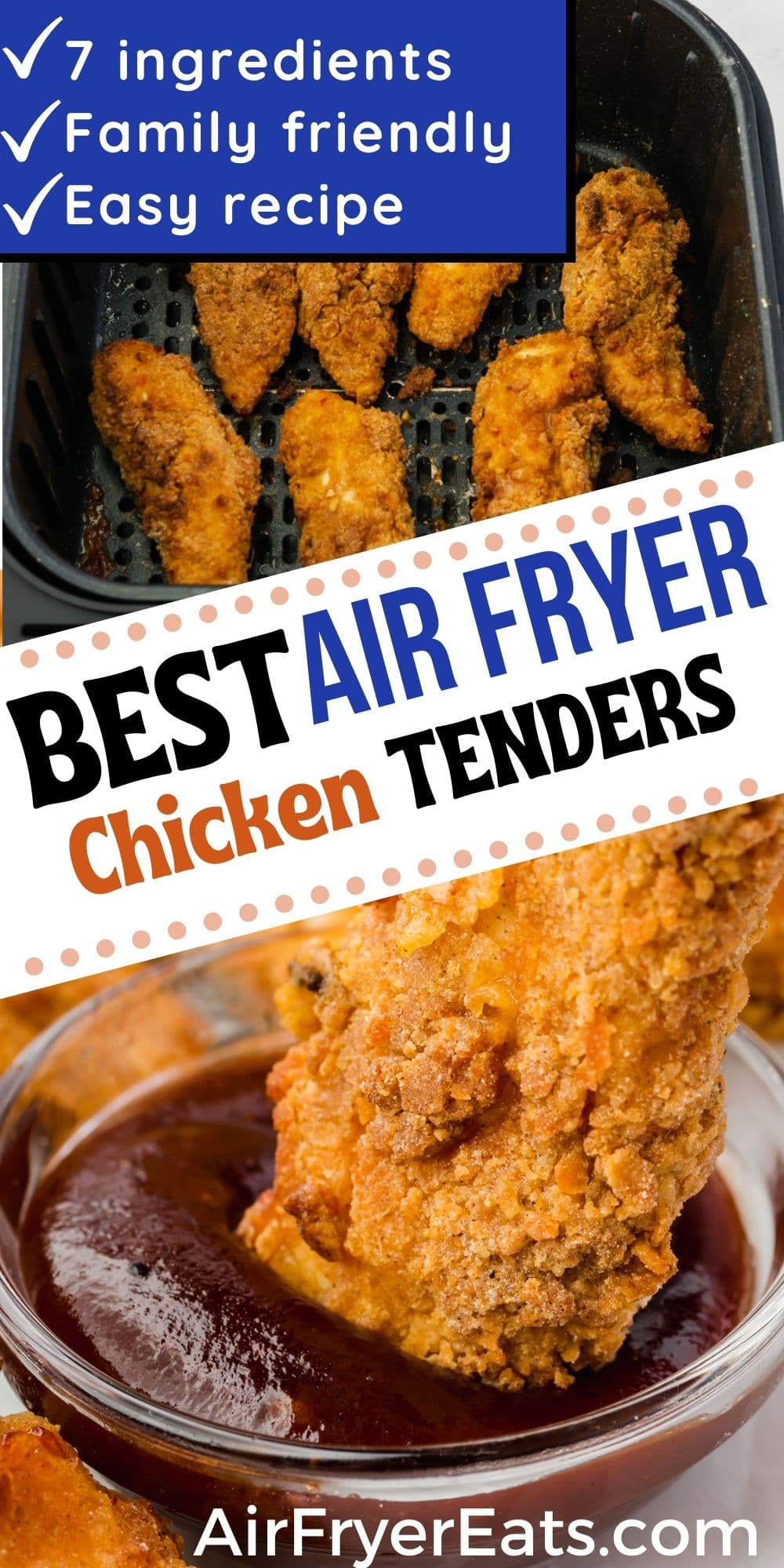 Have you made this recipe? Please leave a comment AND rating below! It helps other readers!
Be sure to tag @AirFryerEats on instagram, if you share a picture on the gram! Let's get social, you can follow me on Youtube, Instagram, Facebook, Pinterest or join one of our Air Fryer Facebook Groups: Air Fryer Recipes, Air Fryer Recipes for Seniors and Gluten Free Air Fryer Recipes.
Don't forget to subscribe to our EMAIL newsletter.
Air Fryer Chicken Tenders
Chicken tenders aren't just a restaurant menu appetizer anymore! Make juicy and tender air fryer chicken tenders in only 30 minutes with this easy recipe!
Ingredients
1

pound

chicken tenders

½

cup

maple syrup

½

cup

bread crumbs

or gluten free bread crumbs

½

cup

all purpose flour

or gluten free flour

1

teaspoon

poultry seasoning

1

teaspoon

smoked paprika

spray oil
Instructions
Prepare the chicken tenders by trimming away any excess fat or unwanted areas.

Pour the maple syrup into a medium sized bowl.

In a second medium sized bowl, mix together the breadcrumbs, flour, and spices.

Working one piece at a time, dip the chicken tender pieces in the maple syrup, making sure to coat completely on all sides, then dip the chicken pieces in the flour mixture and turn to coat evenly.

Spray the bottom of your air fryer basket with oil or lay down parchment paper and place the chicken pieces on top, making sure not to crowd the basket.

Air fry the chicken tenders at 400°F/200°C for 10-12 minutes, flipping halfway through.
Go AD FREE!
Notes
Keep in mind that cooking times vary depending on the model of your air fryer. You may need as little as 8 or as many as 12 minutes to cook the chicken pieces through.

To ensure safety, internal temperatures should read a minimum of 165°F/74°C before serving and consuming.

This recipe works with gluten-free bread crumbs and gluten-free all-purpose flour too.

Pro Tip: This recipe can be made in the air fryer unit with a basket or the air fryer oven. If you are using the air fryer oven, use the middle rack and select the "Air Fry" function.

Pro Tip: Check your food as it cooks. Each air fryer runs a bit differently. Sometimes airfying is a trial and error process. Check your food as it cooks to learn your air fryer better! When cooking a new recipe or food items be sure to check your food often to help avoid over/under cooking.
Have oven recipes that you'd like to convert to an air fryer recipe? Use our Air Fryer Calculator to help you estimate cooking times and temps! Calculator here:
https://airfryereats.com/air-fryer-conversion-air-fryer-calculator/
Nutrition
Serving:
0.25
pounds
|
Calories:
351
kcal
|
Carbohydrates:
49
g
|
Protein:
28
g
|
Fat:
4
g
|
Saturated Fat:
1
g
|
Cholesterol:
73
mg
|
Sodium:
235
mg
|
Potassium:
565
mg
|
Fiber:
1
g
|
Sugar:
25
g
|
Vitamin A:
293
IU
|
Vitamin C:
1
mg
|
Calcium:
79
mg
|
Iron:
2
mg
Tired of the ads?
Go AD Free - Become part of our Membership community!
Air Fryers can vary greatly. Please take the time to learn your specific air fryer. You may need to adjust times and temperatures based upon your air fryer.
All though this website attempts to provide accurate nutritional information, the information should only be considered an estimate. Varying factors such as different product types, different brands, etc. can change nutritional information. It is your responsibility as a consumer to read all labels to make sure the ingredients fit your dietary needs as well as calculate your own nutritional information as a double check.
Have you ever wondered if you can put foil in your air fryer? You can! But you need to do it a specific way! Be sure to check out our post about: Can you put aluminum foil in an air fryer So you can get all the details you need to be successful!
If you are looking for more recipes for your air fryer, we have got you covered! Some of our favorites and our readers favorites are: Mozzarella sticks air fryer, Frozen chicken nuggets in air fryer, Frozen chicken tenders in air fryer, Air fryer scallops and Air Fryer Burger.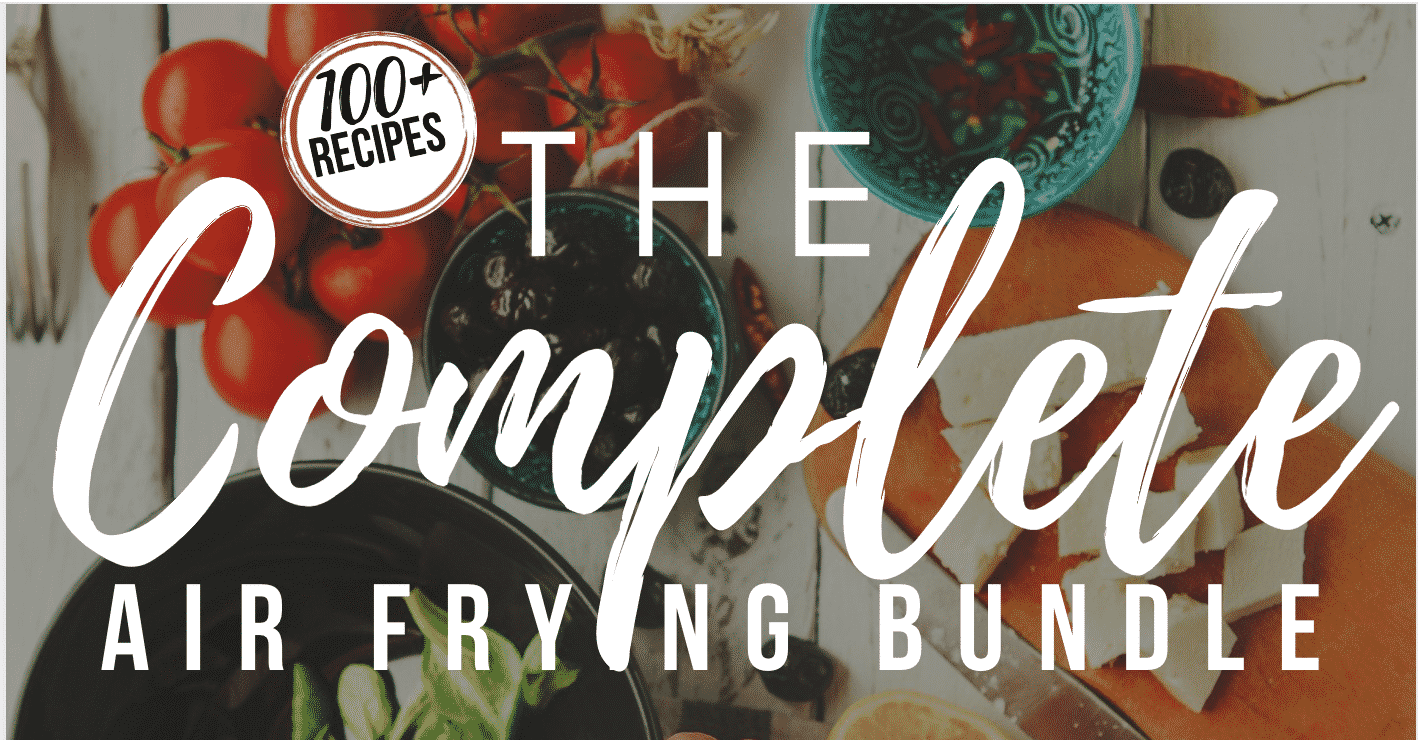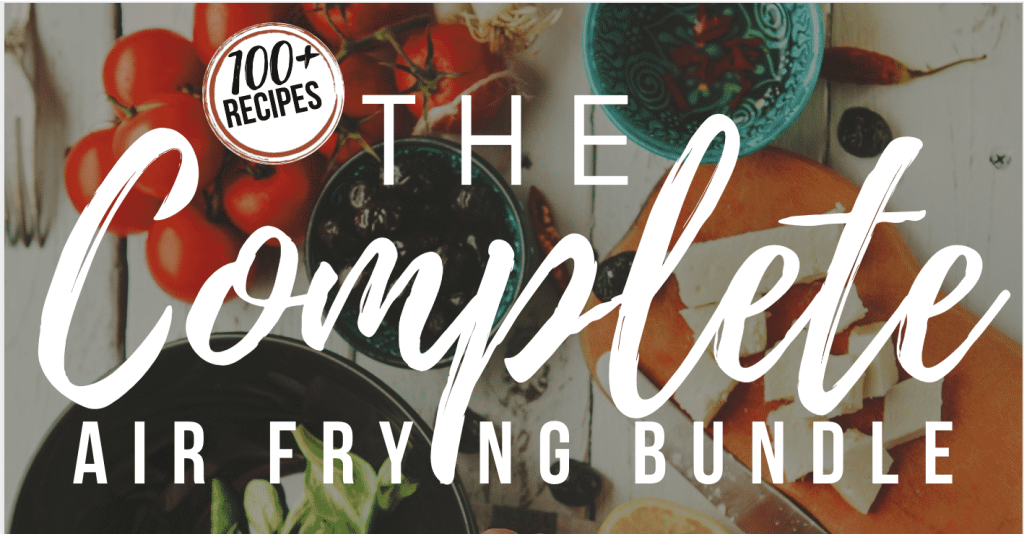 We Updated the Pictures!
This delicious Air Fryer Chicken Tenders recipe needed a photo makeover, so we added new photos to the post. You can see the older pictures here. This recipe is also updated with new tips and tricks so that you can make the best chicken tenders in the air fryer ever!