Do you love cooking seafood at home? This air fryer shrimp recipe requires only 10 minutes and 4 ingredients for the most flavorful, tender cooked shrimp!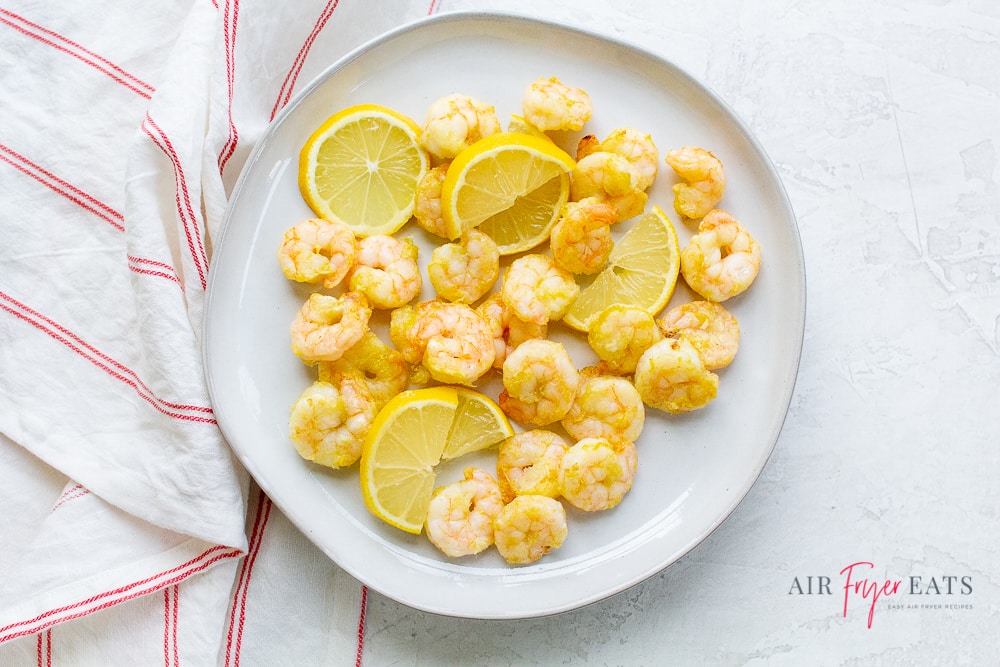 Air Fryer Shrimp is the easiest shrimp recipe! Since shrimp cooks so quickly, it can be a challenge to time it just right so that it doesn't turn out over cooked and rubbery.
Just a few ingredients and about 10 minutes is all you need to make the yummiest shrimp. Paired with slices of fresh lemon and some crispy air fryer brussel sprouts, it makes a quick and healthy lunch or dinner!
Is shrimp healthy?
When consumed moderately, shrimp is a good source of vitamins and minerals such as phoshorous, calcium, zinc, and iron among others. They're a great source of protein and even have some antioxidant benefits too.
Because they're also a rich source of Omega-3 fatty acids, they may support your heart and brain.
Keep in mind that shrimp contain high levels of cholesterol. The keyword is moderation here, so in moderate portions, it can be a great addition to your diet when you're trying to get in shape.
Can you cook raw shrimp in an air fryer?
Yes! You can absolutely cook raw shrimp in an air fryer, just like in this shrimp air fryer recipe. Keep in mind that it only takes a few minutes to cook shrimp thoroughly, so be sure to follow the recipe precisely.
How to Make Air Fried Shrimp
First, place the shrimp in a large bowl, and pour olive oil over top.
Next, sprinkle some garlic salt over the shrimp to season.
Toss the shrimp in the oil and garlic salt, making sure to coat evenly.
Then, place the shrimp into your air fryer basket in a single layer.
Air fry the shrimp for 8-10 minutes.
Serve with fresh lemon slices and enjoy! Totally easy!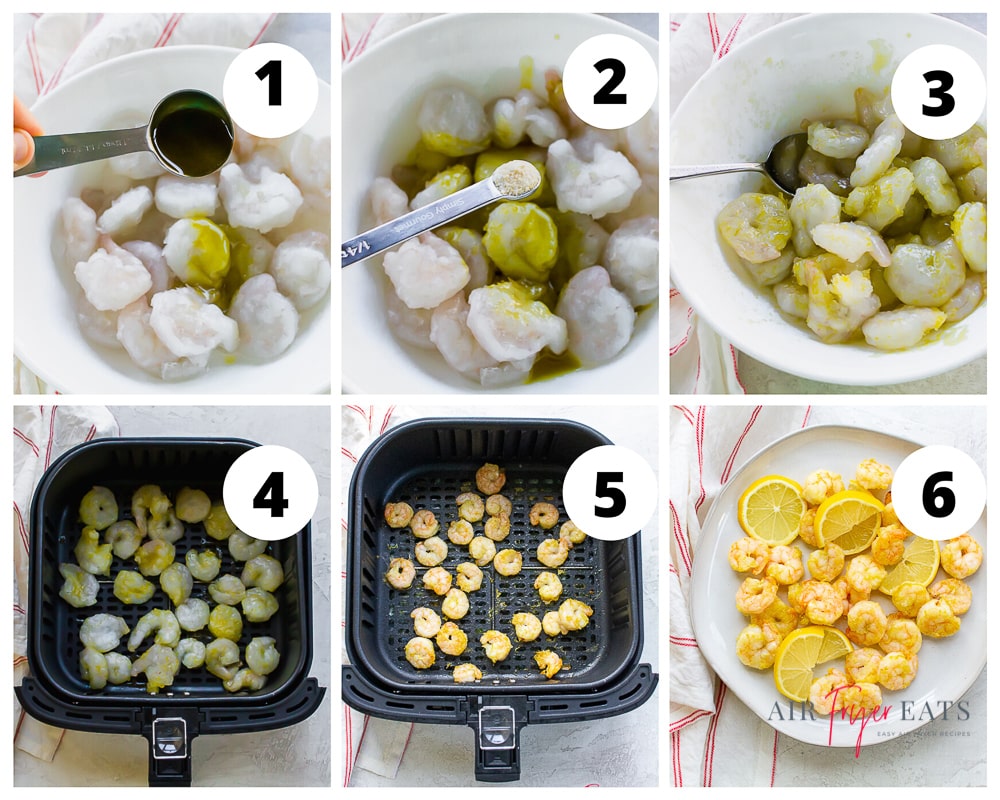 At what temperature do you cook shrimp?
Since an air fryer cooks by circulating hot air around food like a convection oven, it will take slightly longer to cook shrimp than it would take to cook it in a skillet. Therefore, it's safe to cook it on a higher temperature.
I recommend turning your air fryer to 400 degrees F and cooking for 8-10 minutes depending on the size and quantity of the shrimp you're using.
How do you know when shrimp is cooked?
Much like salmon and other types of fish, shrimp start with a somewhat translucent appearance. Depending on the type of shrimp you use, it will either start out with a grayish or white/light brown hue.
When cooked properly, your shrimp will be firm to the touch and slightly opaque, but not completely opaque. The tails will be a bright pink color and will easily snap off with a squeeze. You'll want the flesh to take on a medium-white/pink color for best results. If it turns bright white, you may have cooked it too long.
But don't worry – over cooked shrimp doesn't necessarily mean ruined shrimp, but it has a less appealing, chewy texture than medium-cooked shrimp.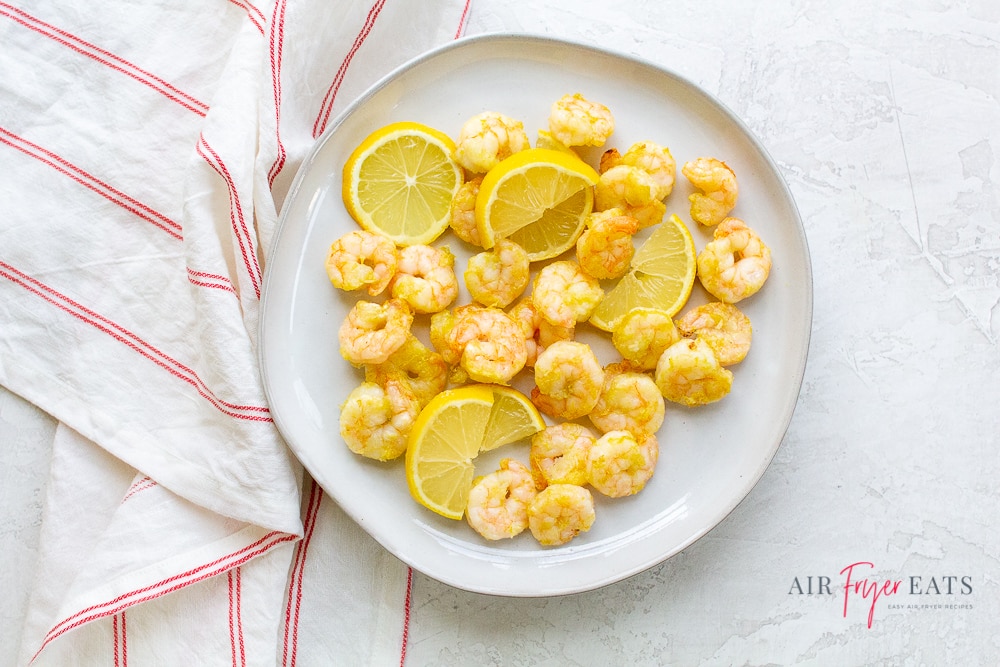 More fun Air Fryer recipes That cook in 10 minutes or less!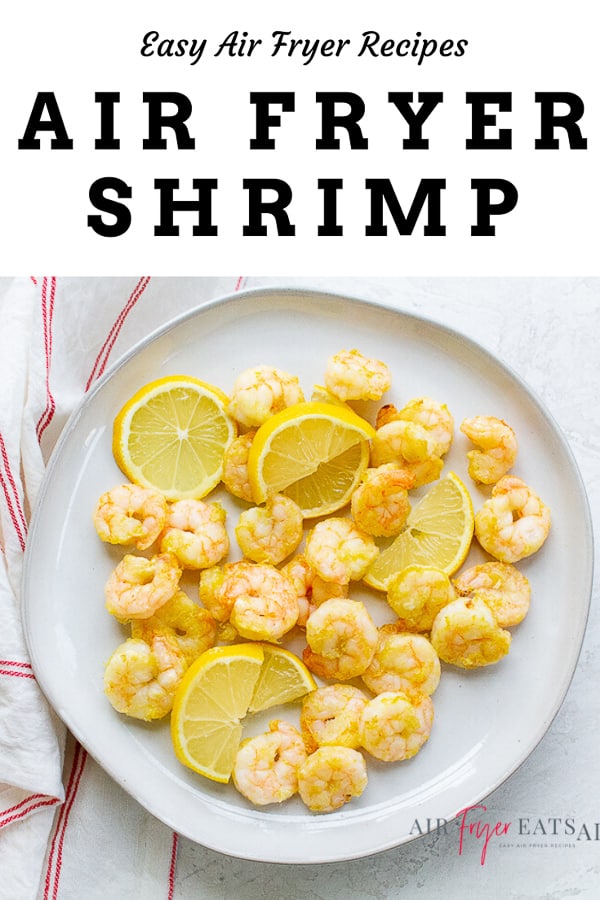 Looking for purchase an air fryer? Wondering which air fryer is right for you? Here are my TOP picks of air fryers on the market today!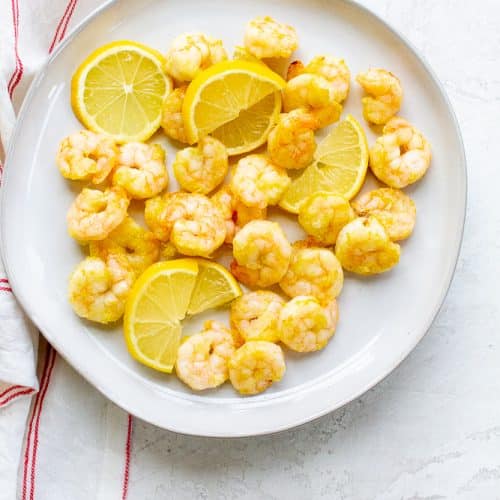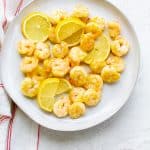 Print Recipe
Air Fryer Shrimp
Do you love cooking seafood at home? This air fryer shrimp recipe requires only 10 minutes and 4 ingredients for the most flavorful, tender cooked shrimp!
Ingredients
10

oz

medium sized shrimp

1/4

tsp

garlic salt

1

tsp

oil

lemon slices

optional
Instructions
Thaw shrimp overnight or under cold water. Place thawed shrimp in a bowl.

Pour oil over the shrimp and toss gently to coat.

Sprinkle the garlic salt over the shrimp and toss again to coat evenly.

Place the seasoned shrimp into your air fryer basket.

Cook at 400 degrees F for 8-10 minutes, flipping halfway through.

Serve with sliced lemons, or squeeze half a lemon over the cooked shrimp for flavor (optional).
Notes
This recipe can be made with any size shrimp. If you use large or jumbo sized shrimp, you may need to increase the cooking time by a minute or two at a time until cooked through.
Nutrition
Serving:
4
oz
|
Calories:
81
kcal
|
Protein:
14
g
|
Fat:
2
g
|
Saturated Fat:
1
g
|
Cholesterol:
179
mg
|
Sodium:
696
mg
|
Potassium:
57
mg
|
Vitamin C:
3
mg
|
Calcium:
103
mg
|
Iron:
2
mg
Air Fryers can vary greatly. Please take the time to learn your specific air fryer. You may need to adjust times and temperatures based upon your air fryer. 
All though this website attempts to provide accurate nutritional information, the information should only be considered an estimate. Varying factors such as different product types, different brands, etc. can change nutritional information. It is your responsibility as a consumer to read all labels to make sure the ingredients fit your dietary needs as well as calculate your own nutritional information as a double check.