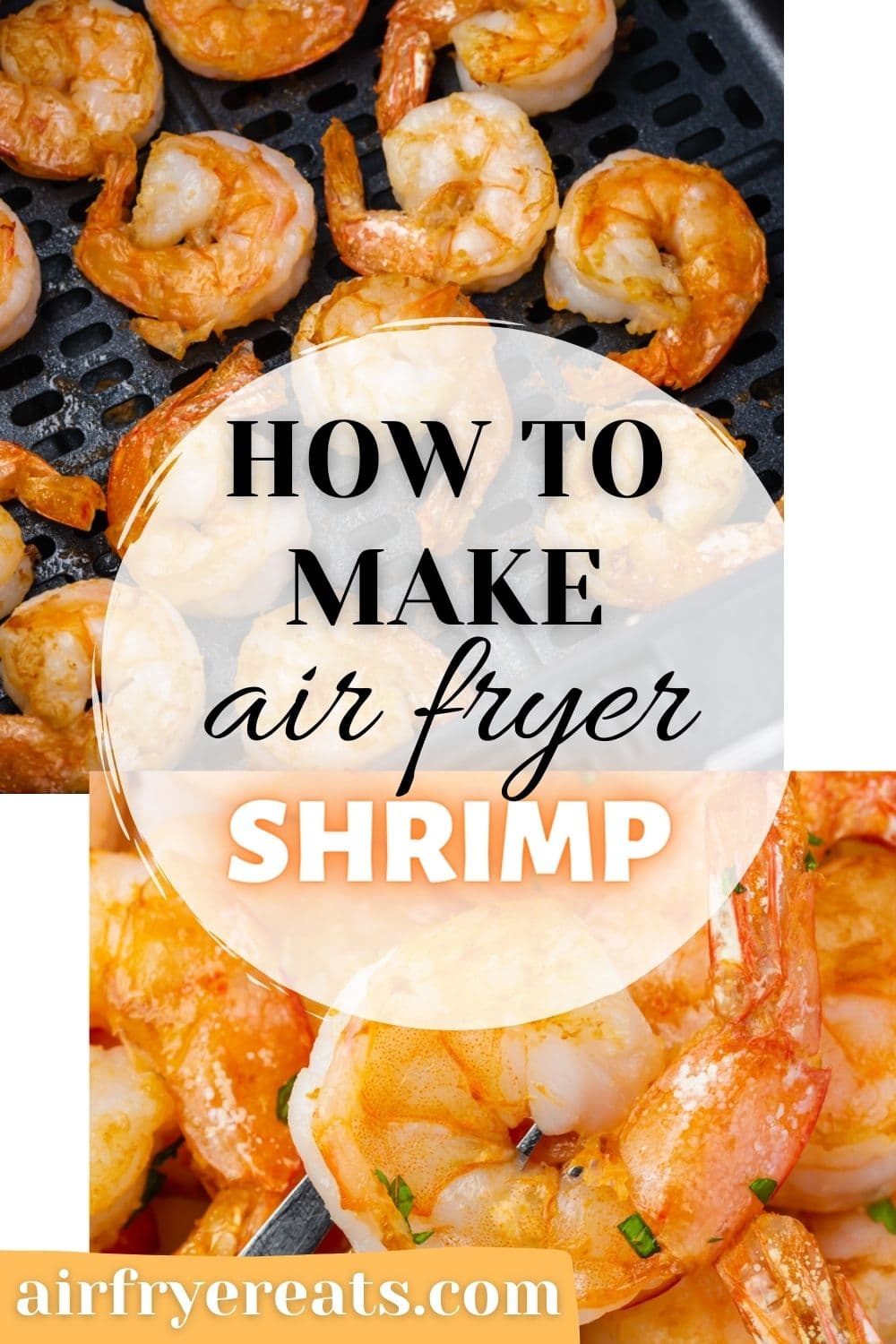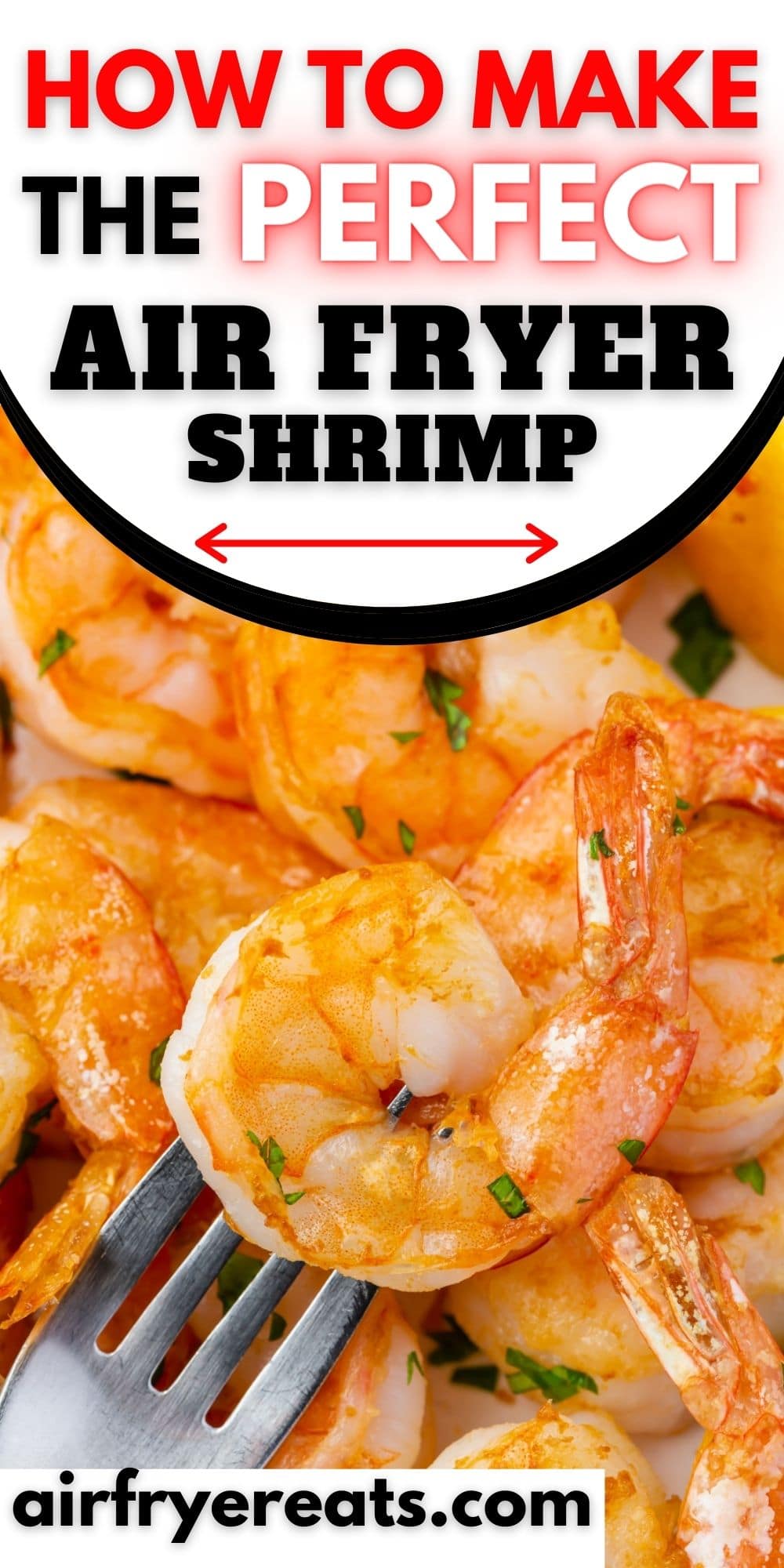 Do you love cooking seafood at home? Air Fryer Shrimp is a healthy recipe that requires only 10 minutes and 4 ingredients. You will make the most tender and juicy shrimp in the air fryer!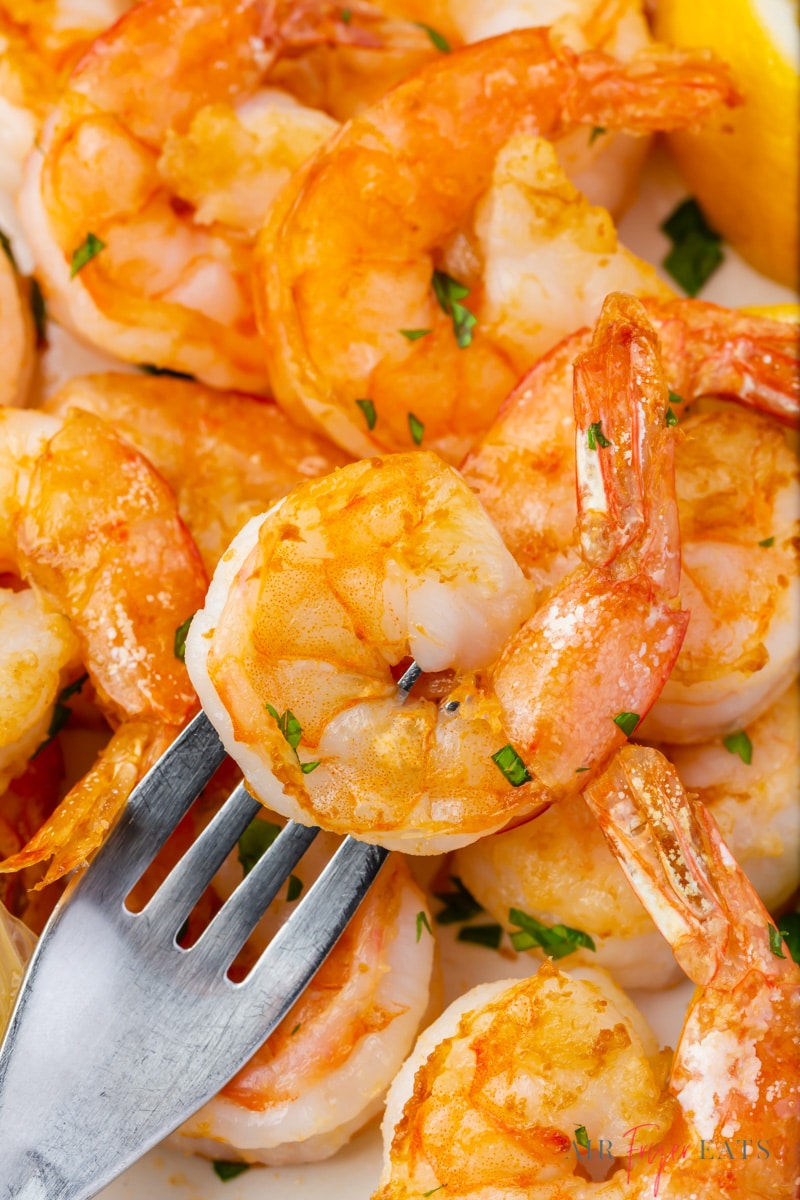 AIR FRYER SHRIMP RECIPE
This is the easiest air fryer shrimp recipe ever!
I'll even go as far as to say that cooking shrimp in the air fryer is the easiest way to cook shrimp. Period.
Since shrimp cooks so quickly, it can be a challenge to time it just right so that it doesn't turn out over cooked and rubbery. Using a skillet or grill to cook shrimp doesn't allow you to really control the temperature, but with the air fryer, you can!
This means that your fresh shrimp will cook evenly, and once you get a feel for how your specific machine cooks shrimp, it will be the same amount of time, every time. I love taking the guesswork out of cooking seafood!
Just a few really basic ingredients and about 10 minutes is all you need to make the yummiest shrimp.
Paired with slices of fresh lemon and some crispy air fryer brussel sprouts, or Air Fryer Broccoli, Air Fryer Shrimp makes a quick and healthy lunch or dinner!
IS SHRIMP HEALTHY?
When consumed moderately, shrimp is a good source of vitamins and minerals such as phoshorous, calcium, zinc, and iron among others.
It is a great source of protein and even have some antioxidant benefits too.
Because shrimp is also a rich source of Omega-3 fatty acids, eating it may support your heart and brain.
Keep in mind that shrimp contain high levels of cholesterol.
The key word is moderation here, so in moderate portions, Air Fryer Shrimp can be a great addition to your diet when you're trying to get in shape.
Air Fryer Shrimp is keto friendly, low carb, and a gluten free recipe. Wondering about shrimp for dogs? Don't leave fido out of this, he can have some too!
CAN YOU COOK RAW SHRIMP IN AN AIR FRYER?
Yes! You can absolutely cook raw shrimp in an air fryer, just like in this shrimp air fryer recipe.
Keep in mind that it only takes a few minutes to cook shrimp thoroughly, so be sure to follow the recipe precisely.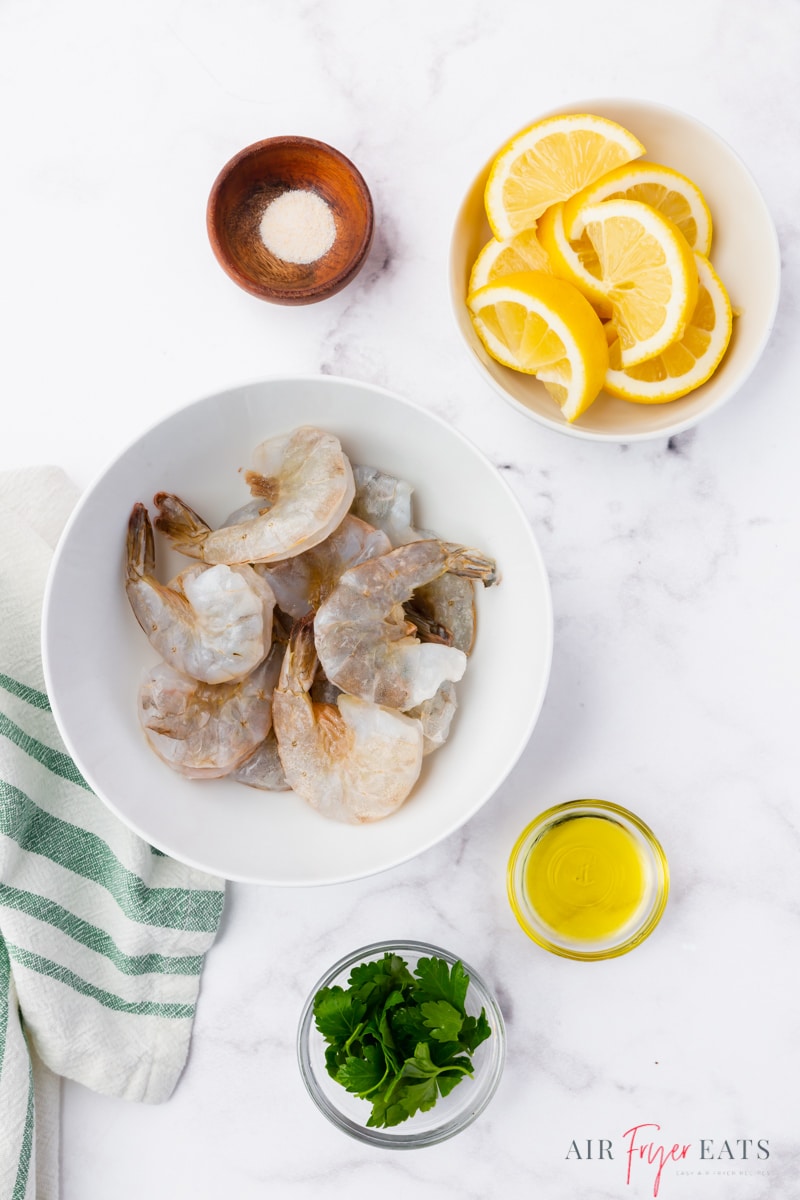 INGREDIENTS FOR AIR FRYER SHRIMP
Shrimp: Of course you need shrimp to cook shrimp in the air fryer! Where I live, fresh shrimp can be expensive, so they best way to get shrimp is to buy them frozen. To cook frozen shrimp in the air fryer, you will want to thaw them first.
Be sure to buy raw frozen shrimp rather than pre-cooked frozen shrimp.
You can use this air fryer recipe to cook any size of shrimp, but I recommend buying large or jumbo shrimp to cook in the air fryer
Seasoning: I'm using simple garlic salt to season my shrimp. I really enjoy the flavor and find that I don't need to add much else. You can of course season your air fryer shrimp with whatever you enjoy. Try Lemon Pepper or Cajun seasoning.
Oil: A small amount of oil helps the shrimp to cook with a nice golden outside, and keeps them from sticking to the air fryer basket.
Fresh Lemon and Parsley: Garnish your plate of air fryer shrimp with some fresh greenery and a squeeze of lemon juice for the perfect presentation and additional flavor.
If you have any questions about Air Fryer Shrimp, please leave a comment below and I will get back to you ASAP!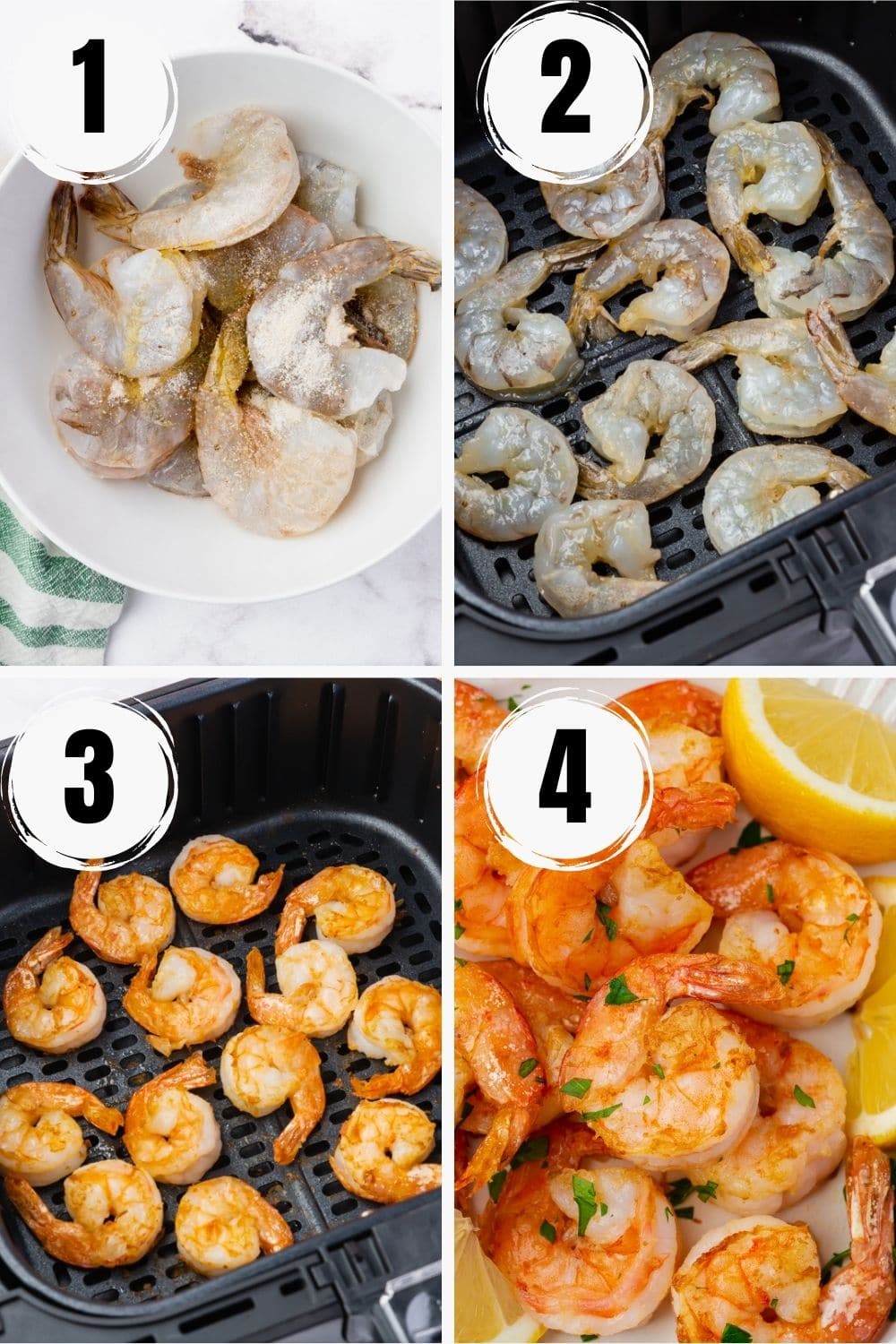 HOW TO MAKE AIR FRYER SHRIMP
If your shrimp are frozen, thaw them first by running under cold water until they are no longer solid.
First, place the shrimp in a large bowl. Drizzle with olive oil, and then sprinkle with garlic salt. Toss and stir to evenly coat the shrimp with the seasoning.
Then, place the shrimp into your air fryer basket in a single layer.
Air fry the shrimp as directed in the recipe below for 8-10 minutes. You don't need to flip them over.
Serve with fresh lemon slices and enjoy! Totally easy!
These numbered steps match the numbered photos above and are for illustration purposes. For the complete list of ingredients and instructions for Air Fryer Shrimp, please see the recipe card below.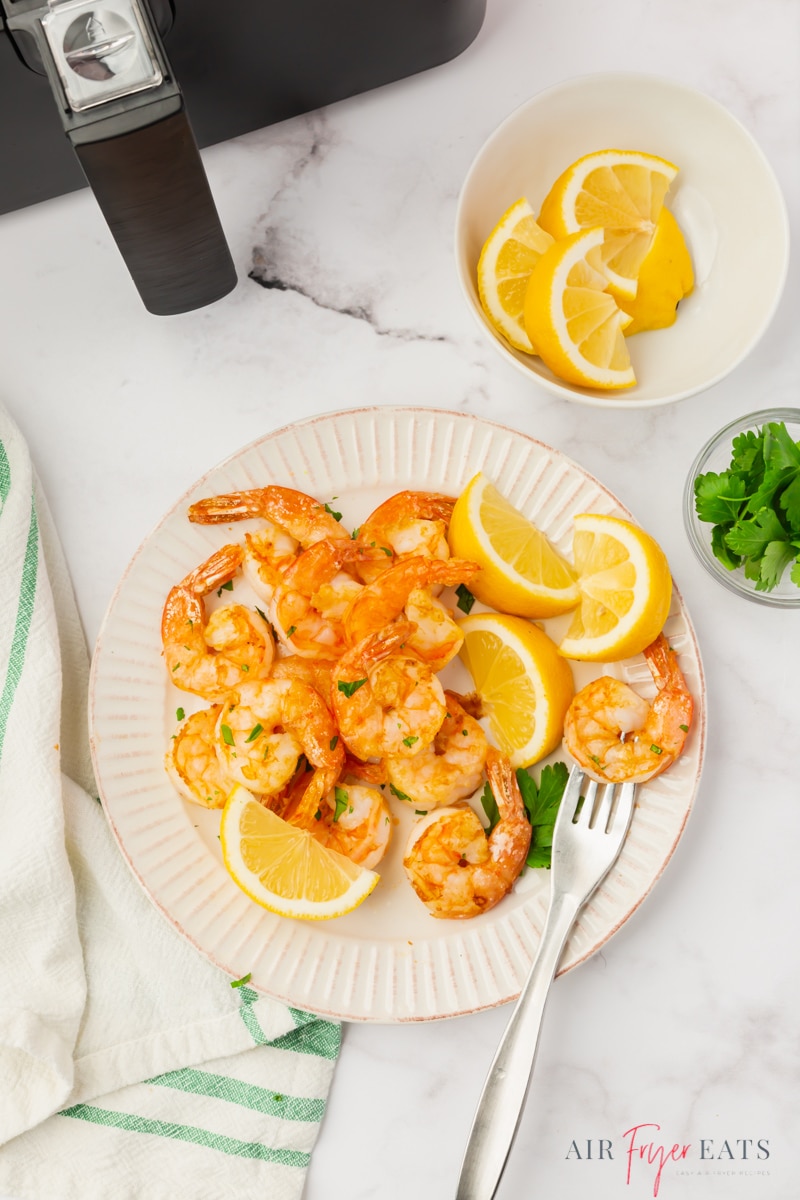 HOW TO SERVE AIR FRYER SHRIMP
Serve this shrimp with your favorite side dishes to create a delicious meal for your family. Baked Potatoes and Air Fryer Green Beans sound great!
To make an extra decadent shrimp dinner, serve air fryer shrimp with melted butter to dip it in.
You can also serve air fried shrimp with pasta, like in this Shrimp Scampi Linguini. Just make the shrimp in the air fryer instead of the oven!
Cold shrimp are great to add to meal prep lunches, or to make a simple non-fried po' boy sandwich with lettuce, tomato, and a Homemade Aioli sauce on a fresh hoagie roll.
MORE AIR FRYER SEAFOOD RECIPES TO TRY
Shrimp isn't the only delicious seafood that you can make in the air fryer!
Air Fryer Scallops are so simple to make, and are a great option for an at home date night or a celebration dinner.
Air Fryer Calamari are just like you'd order at a restaurant, and really fast and easy to cook.
Salmon cooks up perfectly in the air fryer too. I have a recipe for Air Fryer Salmon, and another specifically for making Salmon in a Ninja Foodi.
If you like salmon, you have to try my Salmon Patties recipe. They are tasty and can be made with canned fish, which makes them budget-friendly too!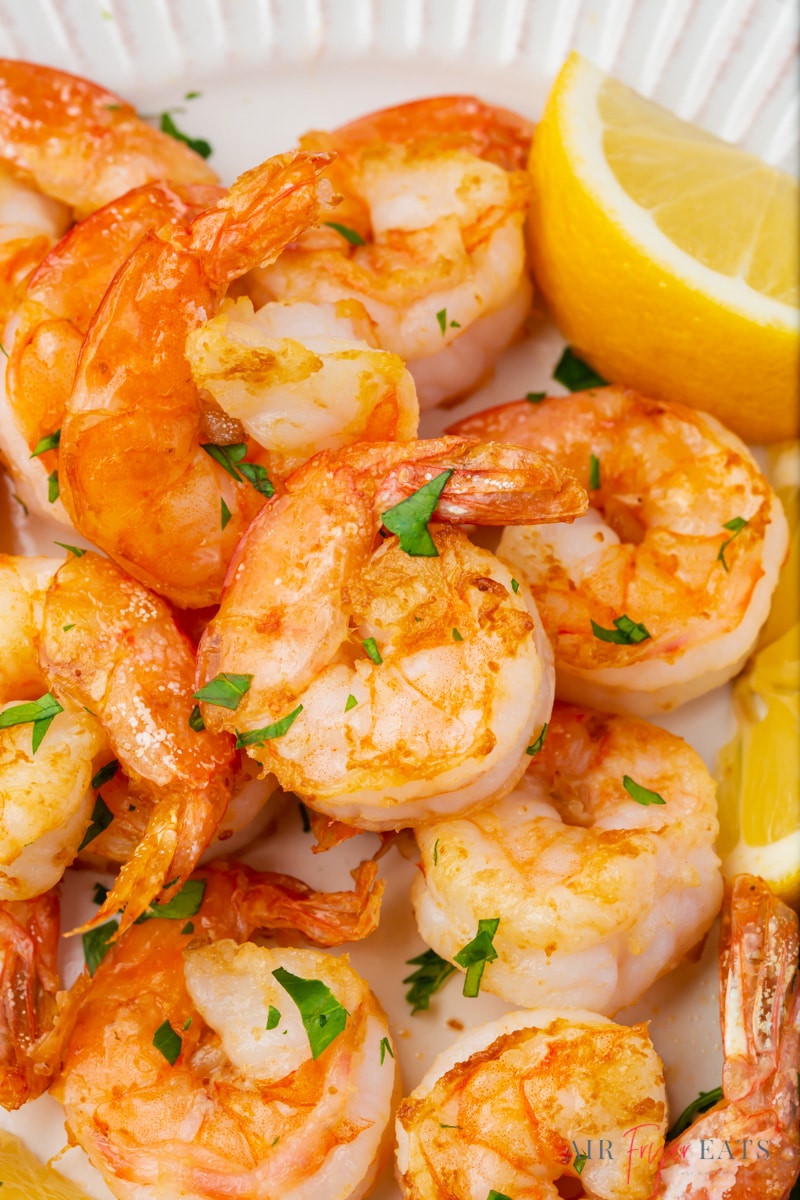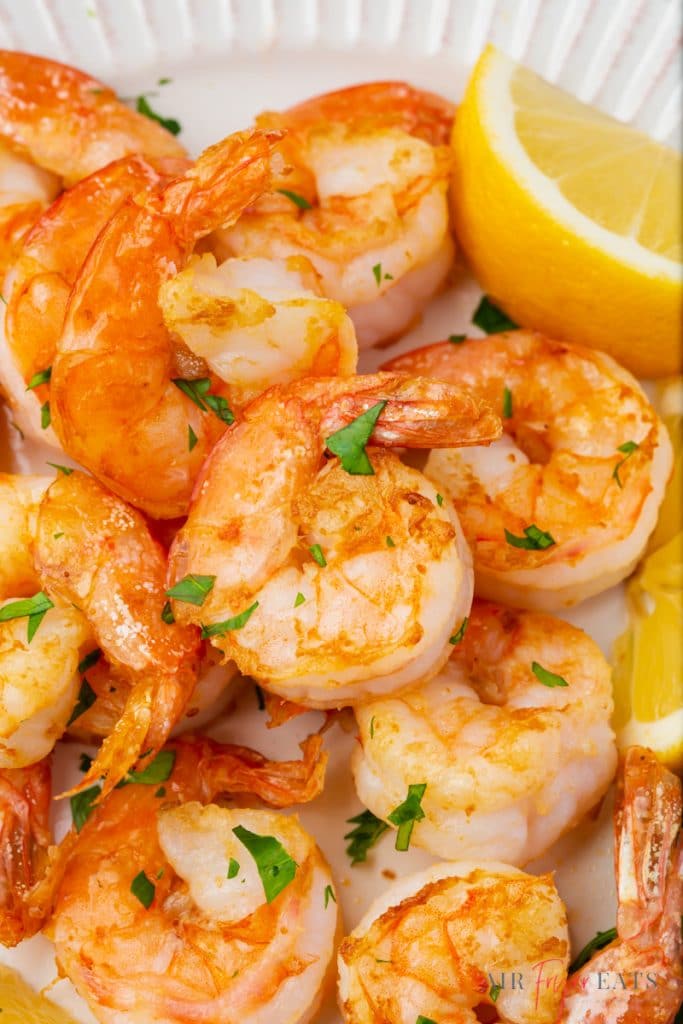 AT WHAT TEMPERATURE DO YOU COOK SHRIMP IN AN AIR FRYER?
I find that cooking shrimp at a high temperature is the best way to cook it quickly without drying it out.
I recommend turning your air fryer to 400°F (200°C) and cooking for 8-10 minutes depending on the size and quantity of the shrimp you're using.
Extra Jumbo shrimp or Colossal shrimp might need an extra minute or two in the air fryer, and small shrimp might not even take 8 minutes.
HOW DO YOU KNOW WHEN SHRIMP IS COOKED?
Much like salmon and other types of fish, shrimp start with a somewhat translucent appearance. When cooked they will change in both color, texture, and opacity.
Depending on the type of shrimp you use, when raw, shrimp will start out with a grayish or white/light brown hue.
When cooked properly, your shrimp will be firm to the touch and slightly opaque, but not completely opaque.
The tails will be a bright pink color and will easily snap off with a squeeze.
You'll want the flesh to take on a medium-white/pink color for best results. If it turns bright, solid white, you may have cooked it too long.
If you like to be more scientific, the safe internal temperature for cooked shrimp is 120°F/49°C.
But don't worry - over cooked air fryer shrimp doesn't necessarily mean ruined shrimp! Overcooked shrimp is edible, but it has a less appealing, chewy texture than properly cooked shrimp.
To avoid overcooking shrimp in the air fryer, be sure to keep a close eye on it. If it appears to be done before the time is up, pull it out!
CAN I MAKE FROZEN SHRIMP IN THE AIR FRYER?
I typically buy my raw shrimp in bags that are frozen. The great part about frozen shrimp is that they take almost no time to thaw out. I simply place the frozen shrimp in a colander, and place it under cold running water while I prep some other thing.
If you're in a hurry, you can put the shrimp in the air fryer still frozen. They might take an extra minute or so to cook through, but they will cook.
It's also hard to get seasonings to stick to frozen things, which is the main reason that I like to take a few minutes to thaw them out before air frying.
You might be looking for instructions for cooking Frozen Popcorn Shrimp in the Air Fryer. There you go!
HOW DO I MAKE AIR FRYER SHRIMP AND SCALLOPS?
You can cook raw shrimp and scallops together in the air fryer if you want to, as they take about the same amount of time at 400°F. I suggest using my Air Fryer Scallops recipe, and including shrimp with it. That recipe includes a garlic butter sauce that is delicious on shrimp too!
The only thing you need to do differently is that the scallops should be flipped over halfway through, and the shrimp will need to come out about 2 minutes before the scallops are done.
CAN YOU AIR FRY SHRIMP WITH THE SHELL ON?
You can air fry shrimp with shells! I suggest using the type that are pre-cleaned, the shells on those are cut to make removal easier. Otherwise, you'll want to split the shells and devein the shrimp before cooking.
HOW TO REHEAT SHRIMP
You can easily reheat shrimp in your air fryer. Place the shrimp in your air fryer and "air fry" at 370F for 3-4 minutes or until warm.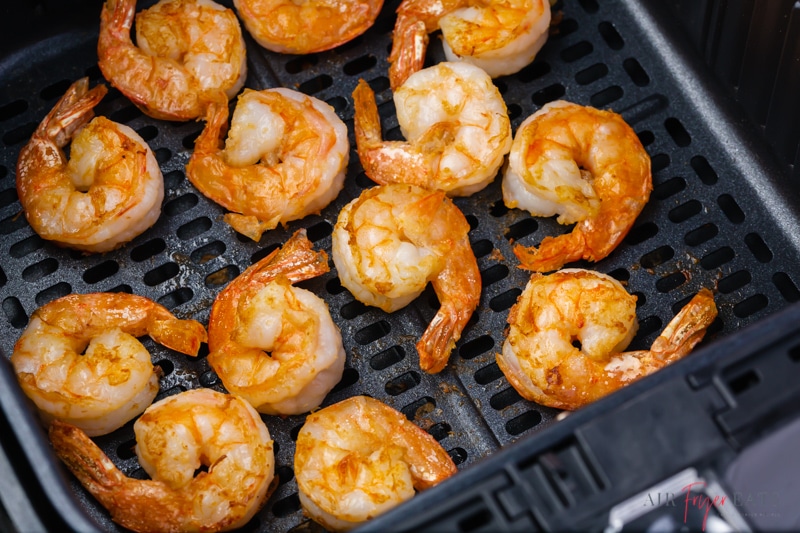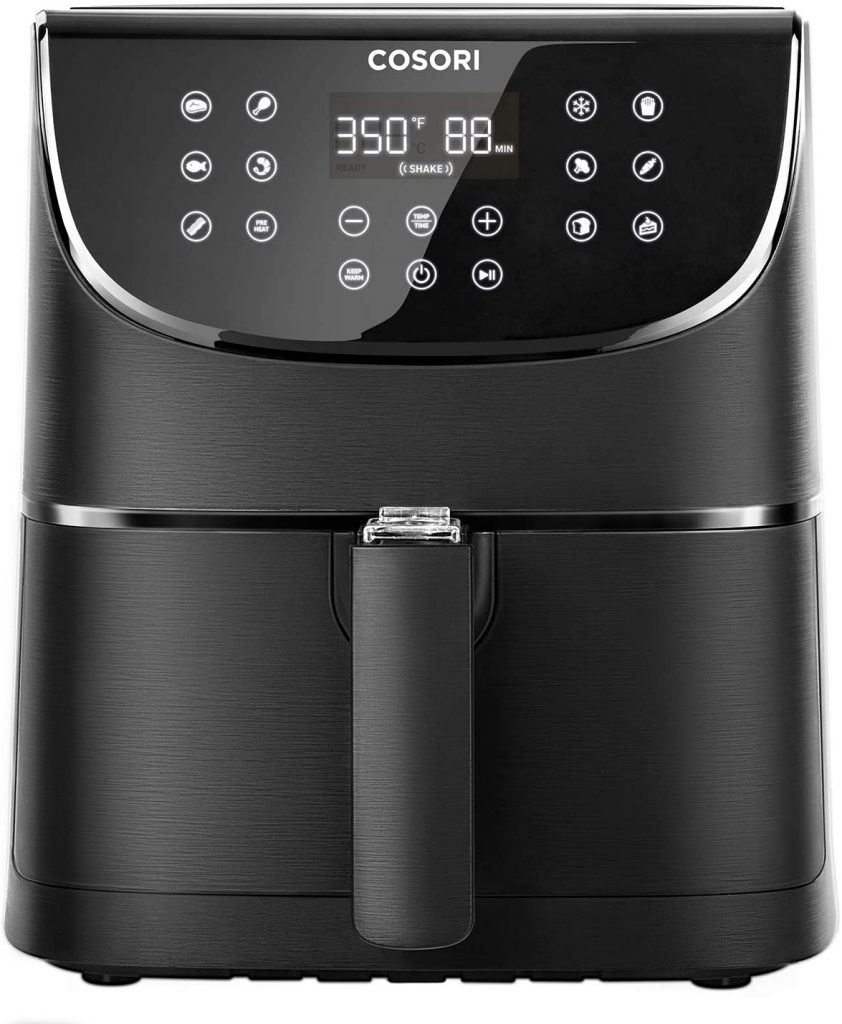 MORE FUN AIR FRYER RECIPES THAT COOK IN 10 MINUTES OR LESS
We have so many easy air fryer recipes to choose from! Like this air fryer shrimp recipe, the air fryer can make all types of meals in a short amount of time. All of these recipes cook in less than 10 minutes in the air fryer:
Frozen Foods like Air Fryer Frozen Hamburgers, Air Fryer Frozen Dumplings, and Air Fryer Corn Dogs are a good place to start.
Fresh, protein packed meats like Unbreaded Chicken Tenders, Air Fryer Steak Bites, or Air Fryer Turkey Meatballs cook up super quick too.
If you are having trouble figuring out which air fryer recipe to try next, we suggest: Air Fryer Chicken Tenders, Air Fryer Hotdogs, Air Fryer Broccoli, Air Fryer Potato Pancakes and Air Fryer Asparagus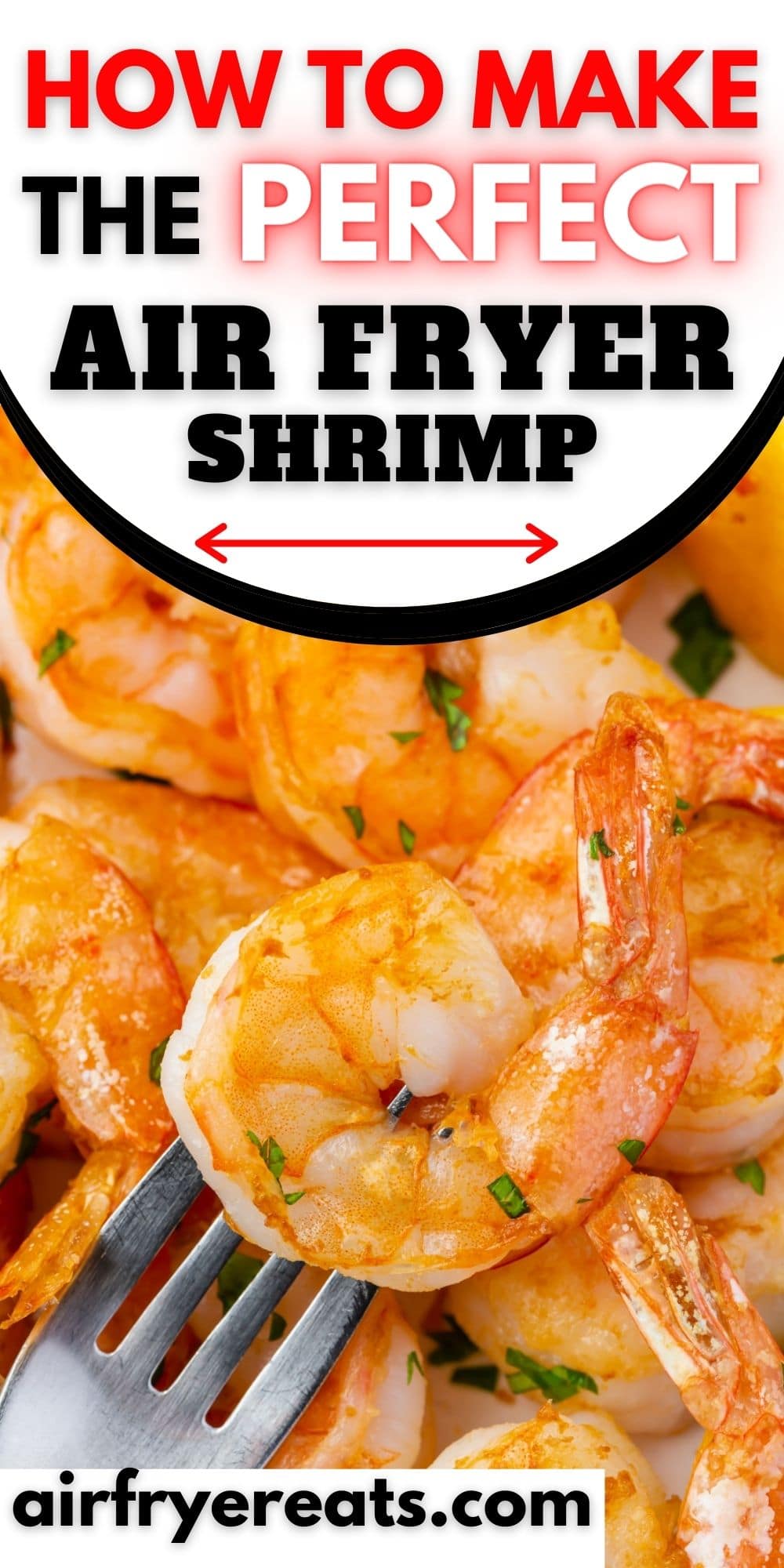 Have you made this recipe? Please leave a comment AND rating below! It helps other readers!
Be sure to tag @AirFryerEats on instagram, if you share a picture on the gram! Let's get social, you can follow me on Youtube, Instagram, Facebook, Pinterest or join one of our Air Fryer Facebook Groups: Air Fryer Recipes, Air Fryer Recipes for Seniors and Gluten Free Air Fryer Recipes.
Don't forget to subscribe to our EMAIL newsletter.
Air Fryer Shrimp
Do you love cooking seafood at home? This air fryer shrimp recipe requires only 10 minutes and 4 ingredients for the most flavorful, tender cooked shrimp!
Ingredients
10

oz

medium sized shrimp

¼

tsp

garlic salt

1

tsp

oil

lemon slices

optional
Instructions
Thaw shrimp overnight or under cold water. Place thawed shrimp in a bowl.

Pour oil over the shrimp and toss gently to coat.

Sprinkle the garlic salt over the shrimp and toss again to coat evenly.

Place the seasoned shrimp into your air fryer basket.

Cook at 400 degrees F for 8-10 minutes, flipping halfway through.

Serve with sliced lemons, or squeeze half a lemon over the cooked shrimp for flavor (optional).
Go AD FREE!
Video
Notes
This recipe can be made with any size shrimp. If you use large or jumbo-sized shrimp, you may need to increase the cooking time by a minute or two at a time until cooked through.

Pro Tip: This recipe can be made in the air fryer unit with a basket or the air fryer oven. If you are using the air fryer oven, use the middle rack and select the "Air Fry" function.
Pro Tip: Check your food as it cooks. Each air fryer runs a bit differently. Sometimes air frying is a trial and error process. Check your food as it cooks to learn your air fryer better! When cooking a new recipe or food items be sure to check your food often to help avoid over/under cooking.
Have oven recipes that you'd like to convert to an air fryer recipe? Use our Air Fryer Calculator to help you estimate cooking times and temps! Calculator here:
https://airfryereats.com/air-fryer-conversion-air-fryer-calculator/
Nutrition
Serving:
4
oz
|
Calories:
81
kcal
|
Protein:
14
g
|
Fat:
2
g
|
Saturated Fat:
1
g
|
Cholesterol:
179
mg
|
Sodium:
696
mg
|
Potassium:
57
mg
|
Vitamin C:
3
mg
|
Calcium:
103
mg
|
Iron:
2
mg
Tired of the ads?
Go AD Free - Become part of our Membership community!
Air Fryers can vary greatly. Please take the time to learn your specific air fryer. You may need to adjust times and temperatures based upon your air fryer.
All though this website attempts to provide accurate nutritional information, the information should only be considered an estimate. Varying factors such as different product types, different brands, etc. can change nutritional information. It is your responsibility as a consumer to read all labels to make sure the ingredients fit your dietary needs as well as calculate your own nutritional information as a double check.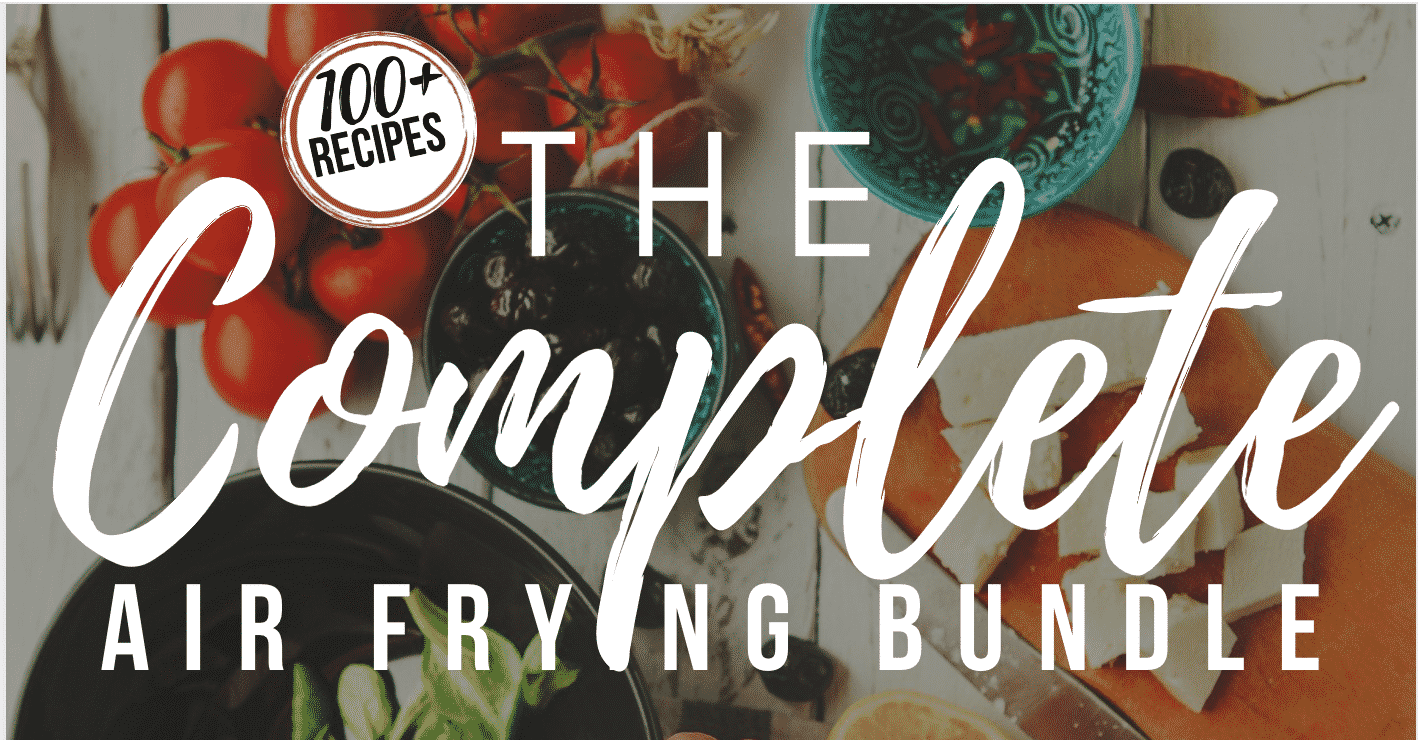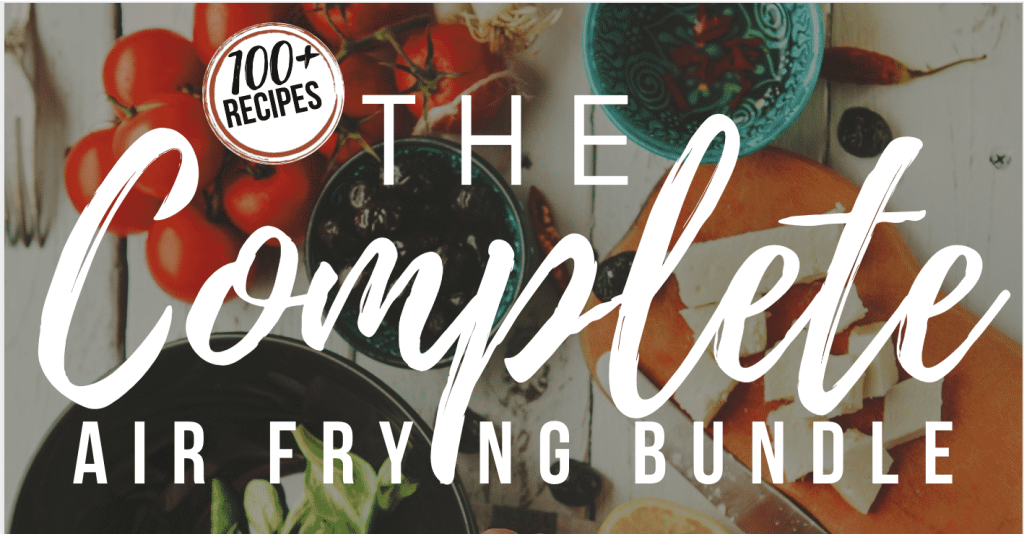 We have updated this recipe!
Recently we took some new photos to add to this post. You can see the old photos below. This is the same recipe, but we have also added new tips and tricks to be sure that this is the BEST air fryer shrimp recipe yet!