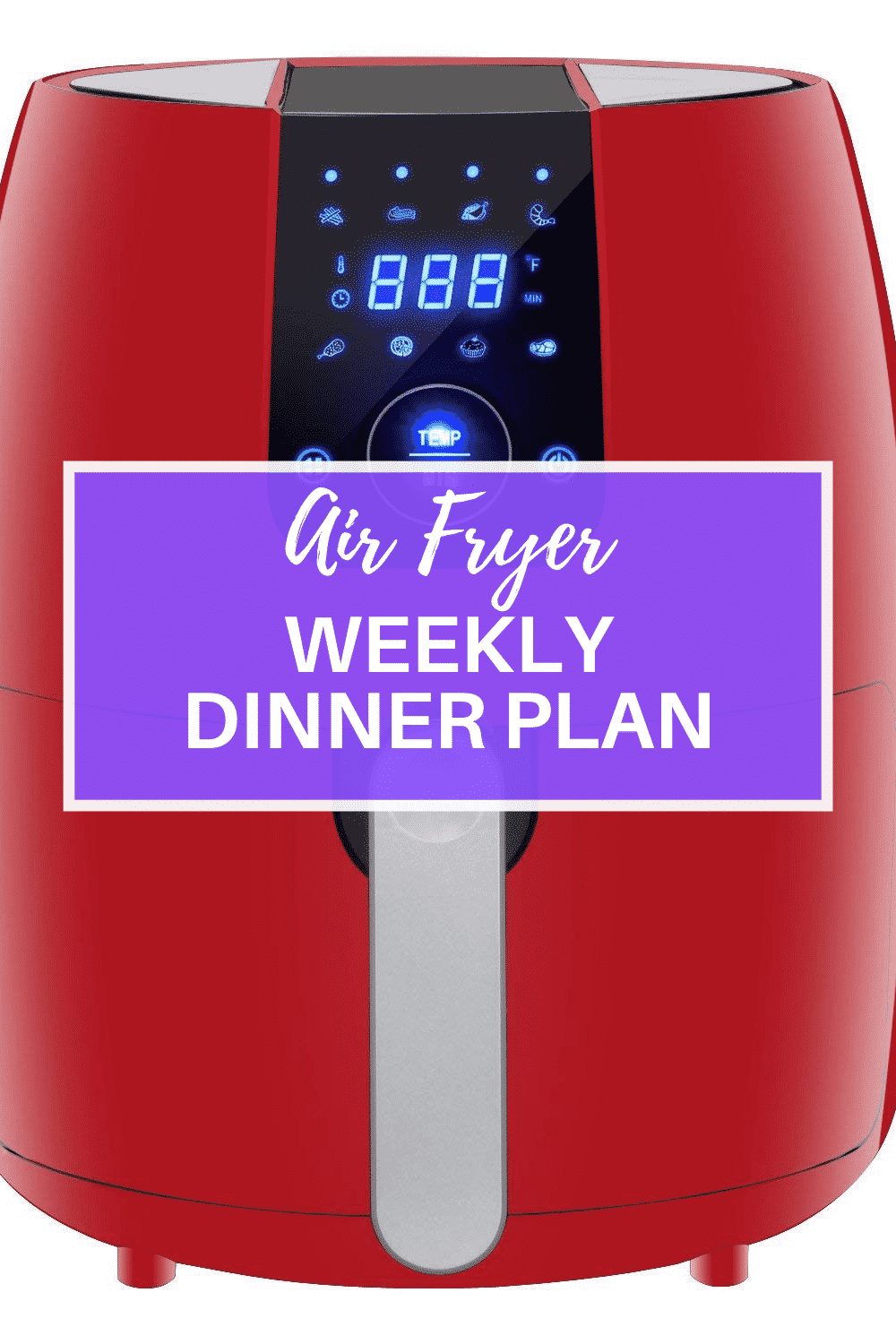 The Air Fryer Dinner Menu Plan is deal for Air Fryer lovers! Air Fryer Recipes are becoming extremely popular.
People love to use their air fryers every day of the week. We have created delicious and easy to follow air fryer dinner meal plans.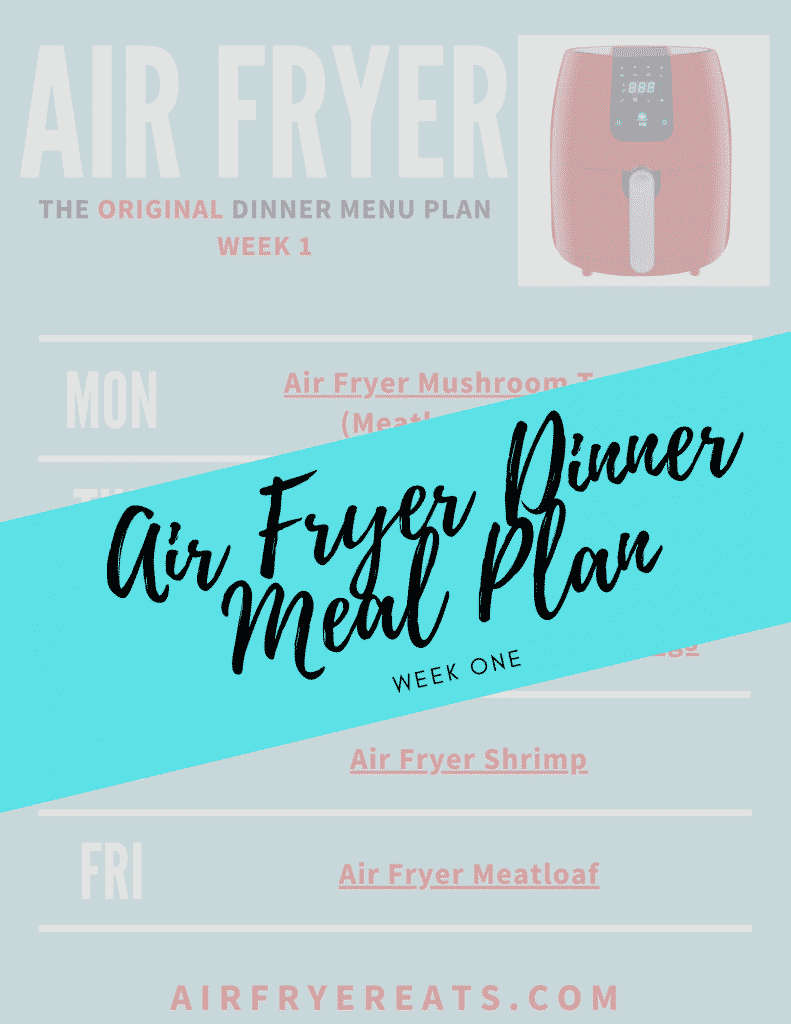 If you are looking for air fryer dinner recipes, you have come to the right place.
We have created a series of air fryer dinner menu plans that are unique and do NOT repeat themselves!
Each week of "The Original Air Fryer Dinner Menu Plan" you can expect five dinner or main dish recipe ideas.
Starting each Monday, we will feature a vegetarian dish for Meatless Mondays.
Each week, will feature different types of meals and proteins.
Dishes in the air fryer dinner menu plans will vary between using fresh ingredients, pantry ingredients and some frozen foods.
The air fryer recipes within each menu plan can be supplemented with side dishes.
The air fryer menu plan recipes are simple enough that you can easily double or triple the recipe sizes.
Air Fryer Meal Plan - Week 1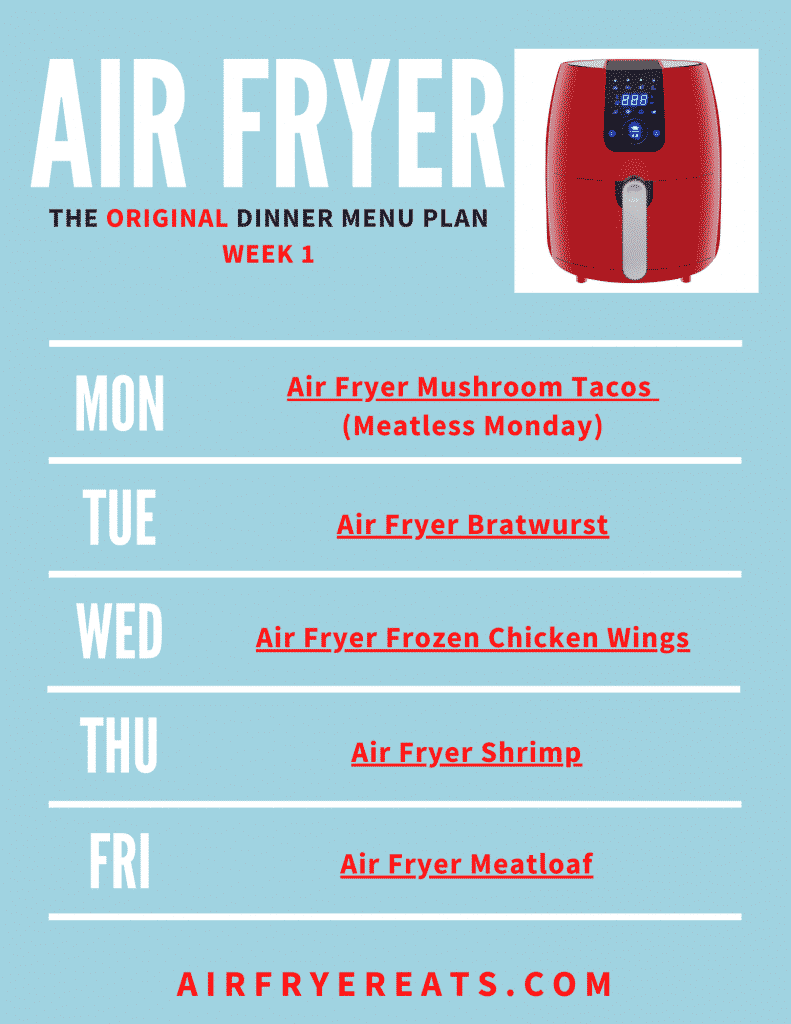 Let's take a deeper look at each air fryer recipe that you'll make on this air fryer dinner menu plan!
Air Fryer Recipes - Week one
Monday - Air Fryer Mushroom Tacos (click here for recipe) - Let's here it for Meatless Monday! We are kicking off the work week with a delicious vegetarian dish! Basically, we combine Meatless Monday and Taco Tuesday with these delicious and easy Air Fryer Mushroom Tacos! Make dinner in a flash with these juicy portobello mushrooms and your favorite toppings!
Tuesday - Air Fryer Brats (click here for recipe) - You can pretend like its warm weather all year long with these air fryer bratwurst! These Air Fryer Brats are cooked to perfection with onions and bell peppers for the perfect sandwich or main dish! Try these next time you're missing the ballpark snacks!
Wednesday - Air Fryer Frozen Chicken Wings (click here for recipe) Wednesdays always seem to be the day that life catches up with me. It is busy and crazy. I usually forget to thaw what I am cooking for dinner. Insert: Air Fryer Frozen Chicken Wings = no thawing required!
Thursday - Air Fryer Shrimp (click here for recipe) Towards the end of the week, we love to incorporate seafood. This particular air fryer shrimp recipe has lemon which really lightens up the flavor!
Friday - Air Fryer Meatloaf (click here for recipe) TGIF! Air Fryer Meatloaf is the perfect combination of flavors! Savory spices and a sweet glaze make for a meatloaf recipe that's done in less than 40 minutes!
We know that you love cooking with your air fryer and we hope that you love this air fryer dinner meal plan! It should come in handy! If you are looking for a DOWNLOADABLE, PRINTABLE and CLICKABLE PDF (and FREE) of the menu plan, you can get it below!


Thank you!
Thanks for stopping by and checking out the menu plan! We hope that you'll give it a try! Please remember to come back and let us know how it went! Drop us a comment below!