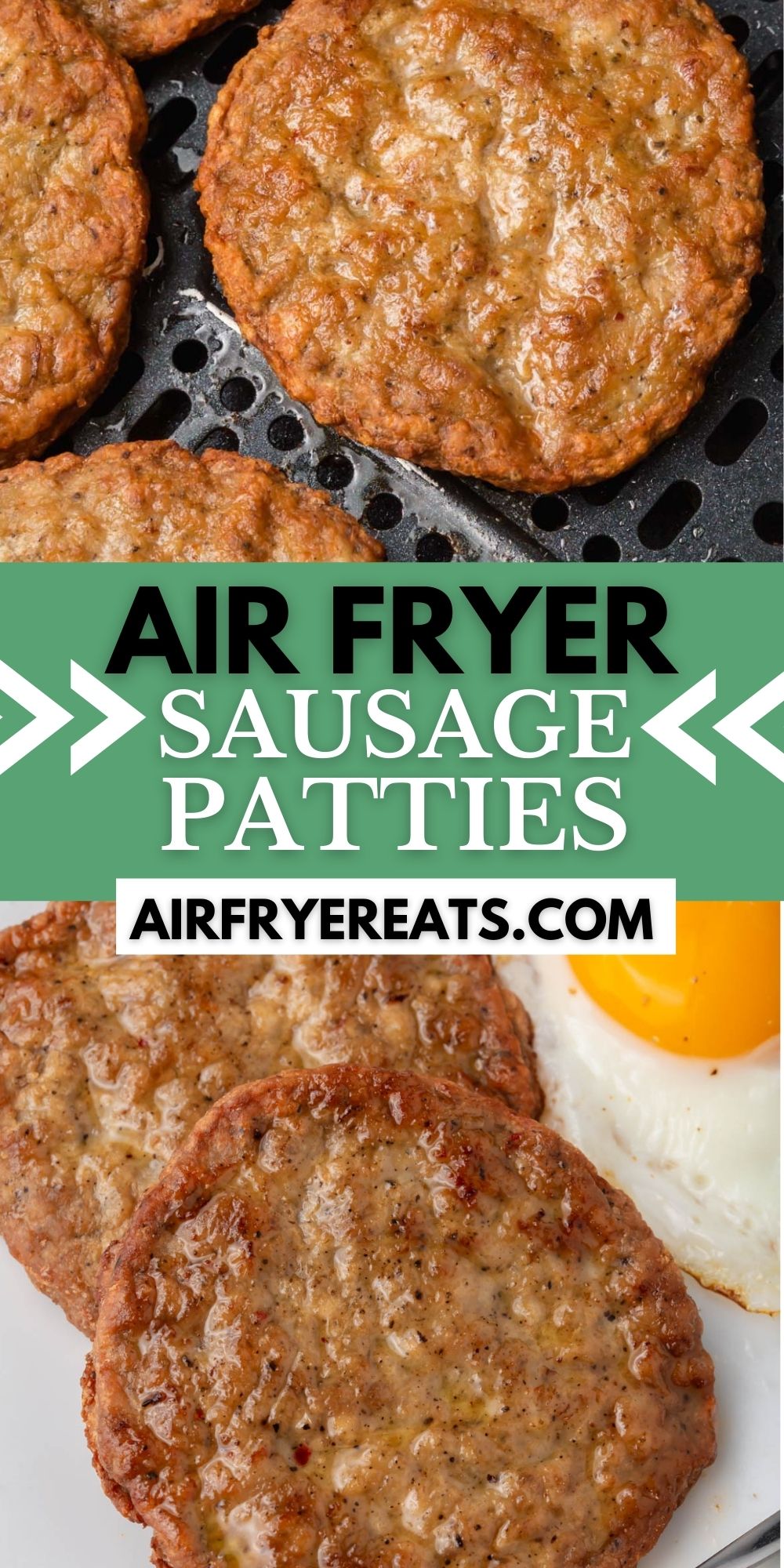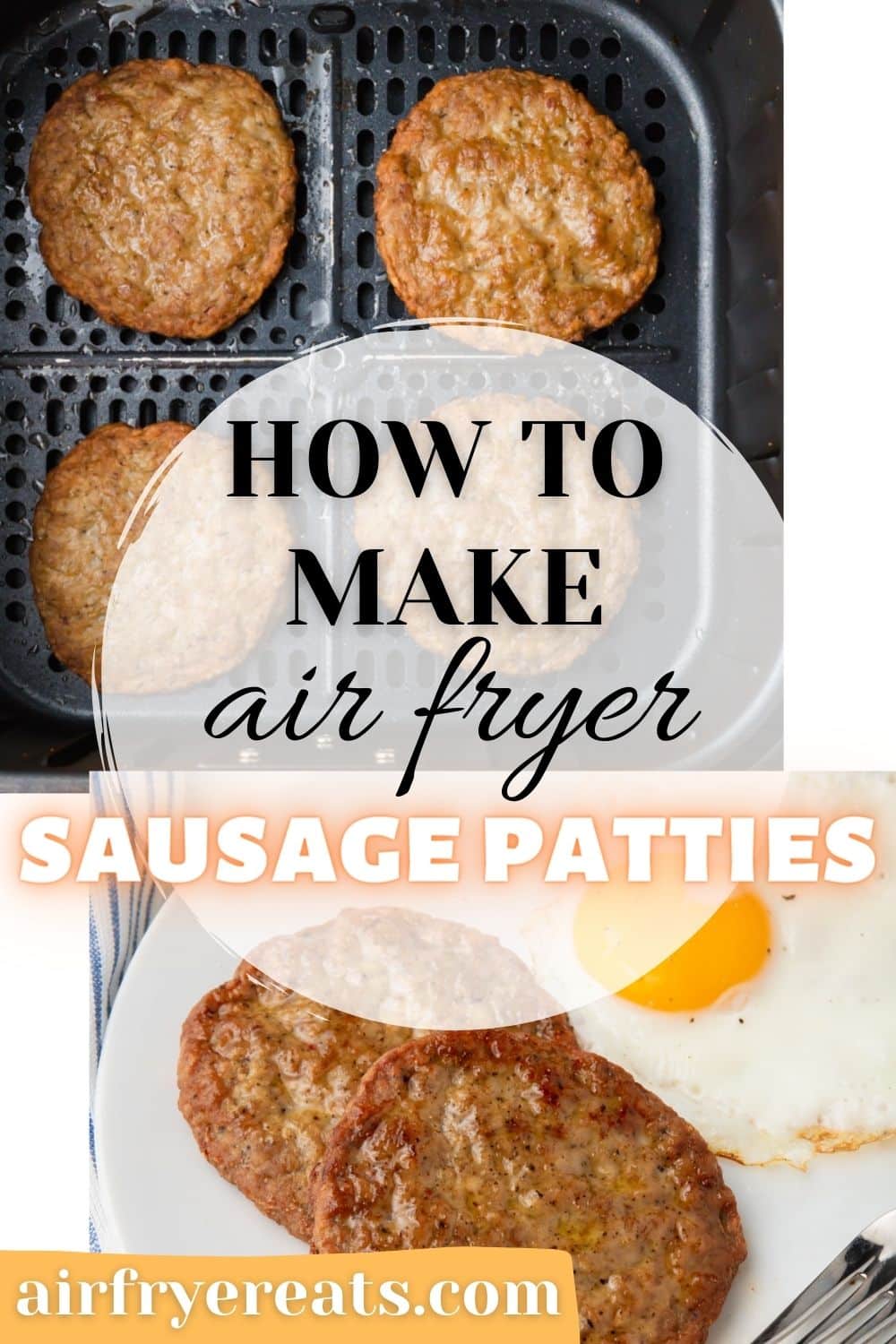 Yes, you can cook frozen sausage patties in the air fryer, and it's the best way to do it! Air fryer sausage patties are a perfect part of a hearty, delicious breakfast in a flash.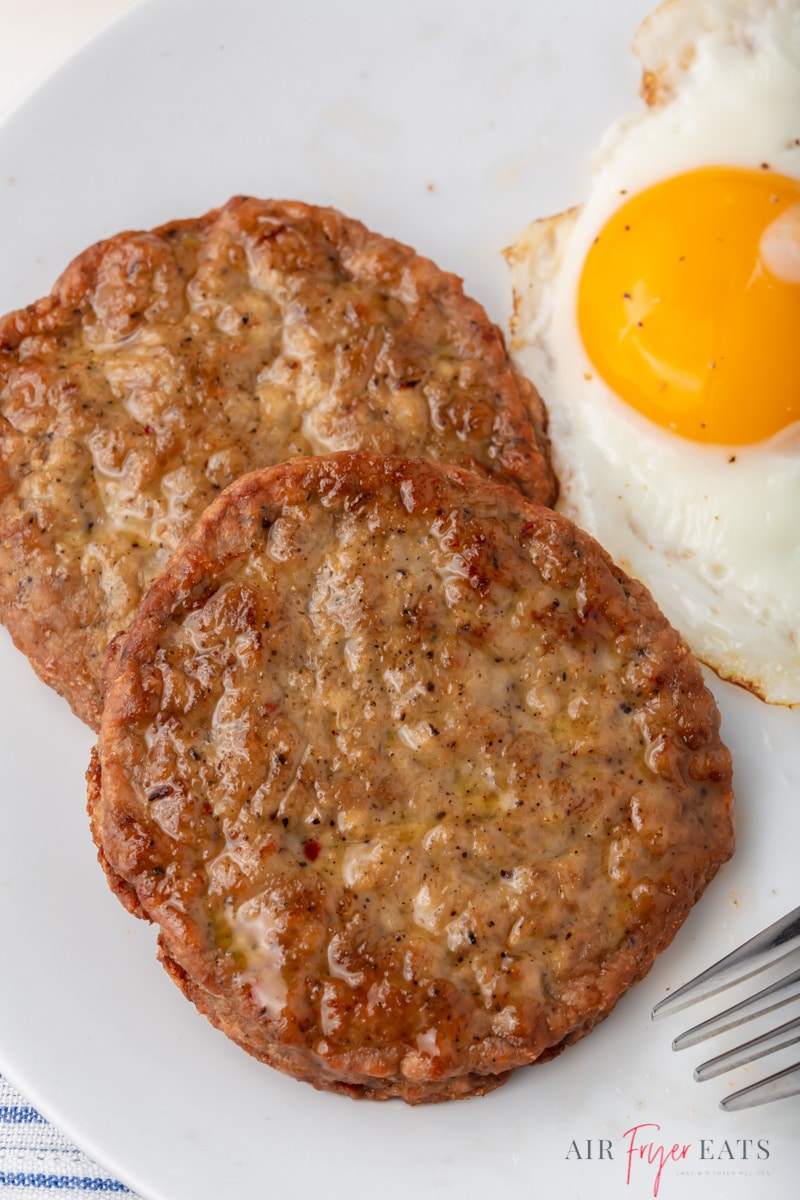 FROZEN SAUSAGE PATTIES IN AIR FRYER
Breakfast should a breeze, and the air fryer is great for making a nutritious breakfast before school or work. Making sausage patties in the air fryer will save you so much time while cooking breakfast for yourself, your family, or a crowd.
Imagine just throwing your frozen sausage patties in the air fryer and walking away, only to come back to perfectly browned breakfast sausage.
That's it! It's really that simple. Air Fryer sausage patties require no thawing! You won't even have to remember to meal prep for breakfast the night before. No preparation is needed.
Tired of grease splatters on your stovetop? That won't be an issue anymore, once you know how to cook frozen breakfast sausage this way! Leave the dishes for another day with this easy air fryer recipe.
Prefer bacon over sausage for breakfast? You can make bacon in the air fryer too!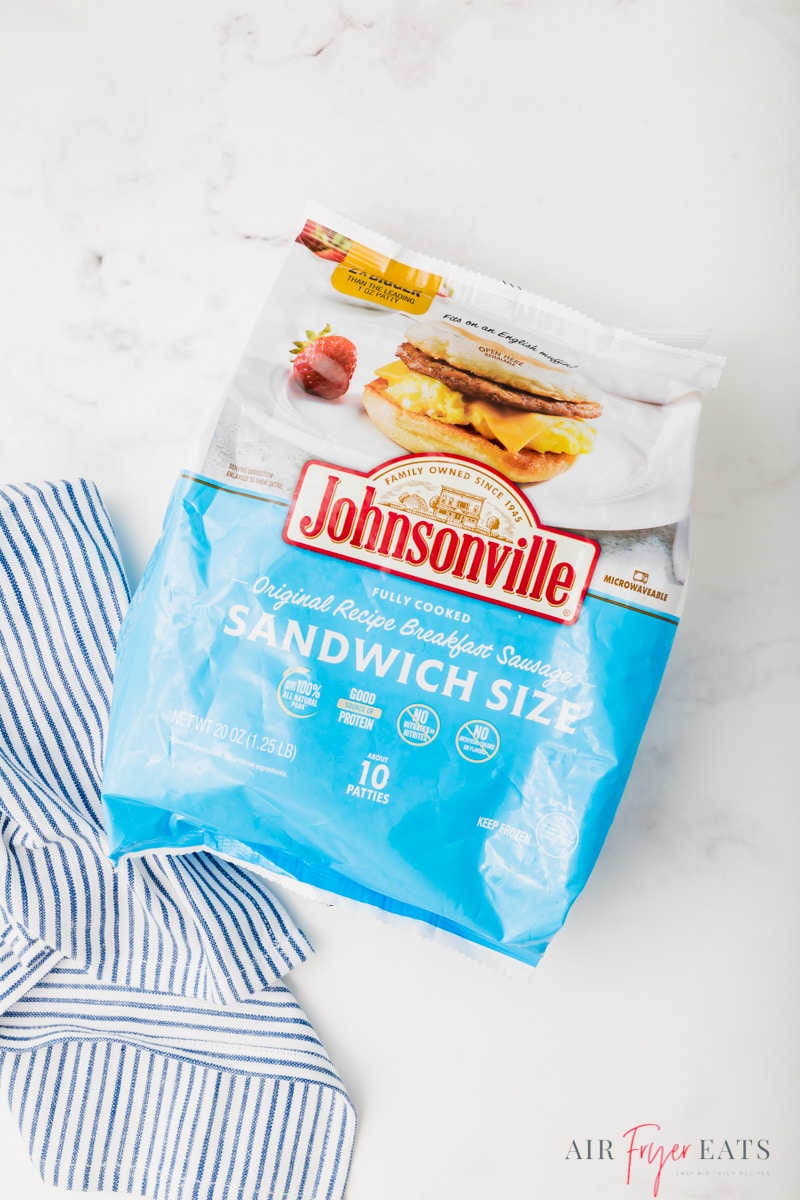 INGREDIENTS IN AIR FRYER SAUSAGE PATTIES
Frozen Sausage Patties: You don't need a single extra ingredient for this easy air fryer breakfast. Choose your favorite brand of frozen breakfast sausage, open your air fryer, and you already have everything you need!
The patties I'm cooking in the images here are large, sandwich-sized sausage patties. I like these for making breakfast sandwiches, but they're good on the side of a plate of eggs too.
You can use this method for smaller frozen sausage patties as well.
If you have any questions about air frying frozen sausage, please leave a comment below and I will get back to you.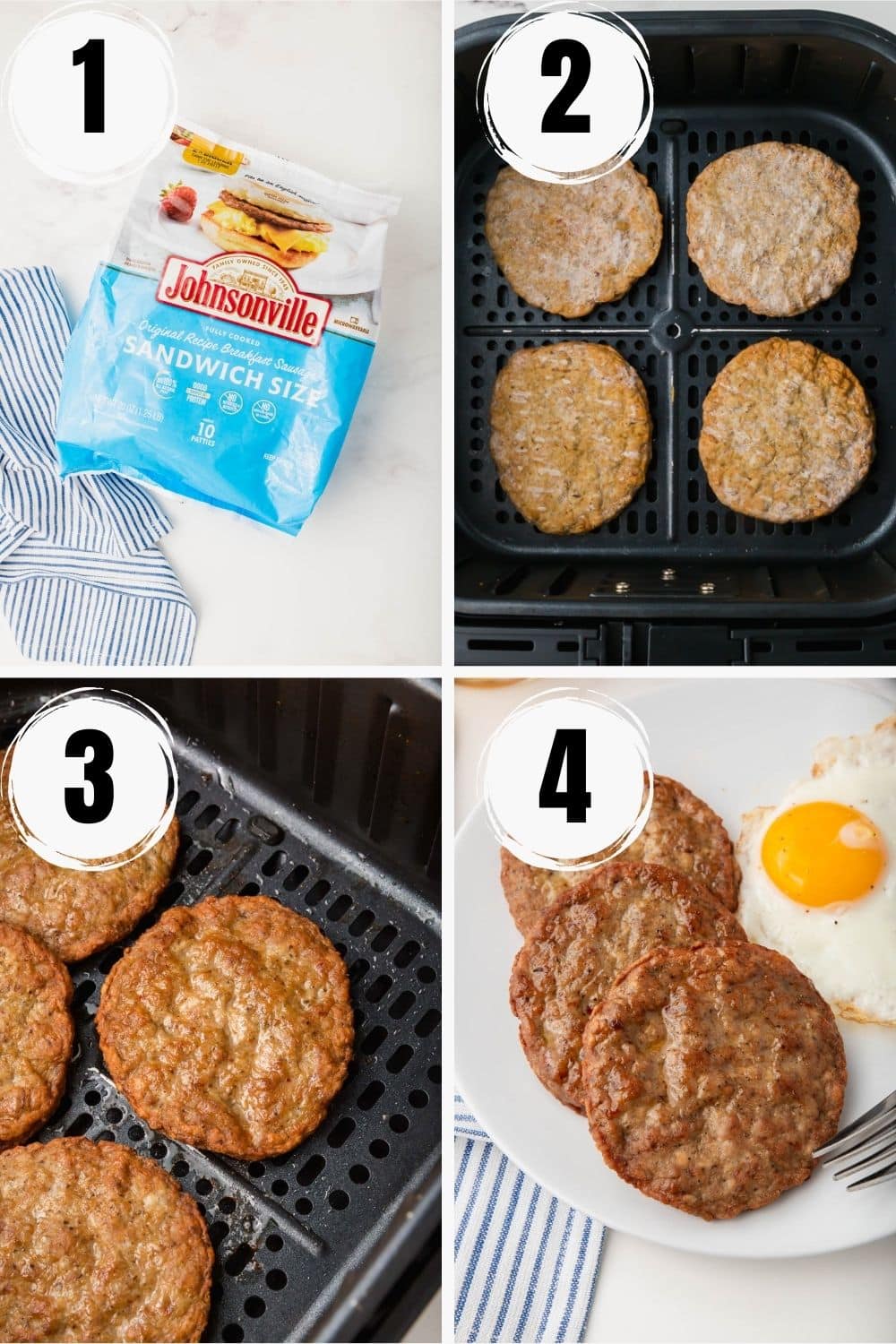 HOW TO COOK FROZEN SAUSAGE PATTIES IN AIR FRYER
First, decide which brand of frozen sausages you want to cook in the air fryer. Portion out the quantity you'd like to air fry. If you're cooking for a crowd, the typical serving is 2 breakfast sausage patties per person.
Preheat the Air Fryer. Then add the frozen sausage patties into the air fryer basket or tray.
Air fry until the sausages begin to thaw and brown. Flip the patties over halfway through cooking so that both sides are browned and crispy.
Enjoy your air fryer breakfast sausage patties with your favorite breakfast meal.
These numbered steps match the numbered photos above and are for illustration purposes. For the complete list of ingredients and instructions to make sausage patties in the air fryer, please see the recipe below.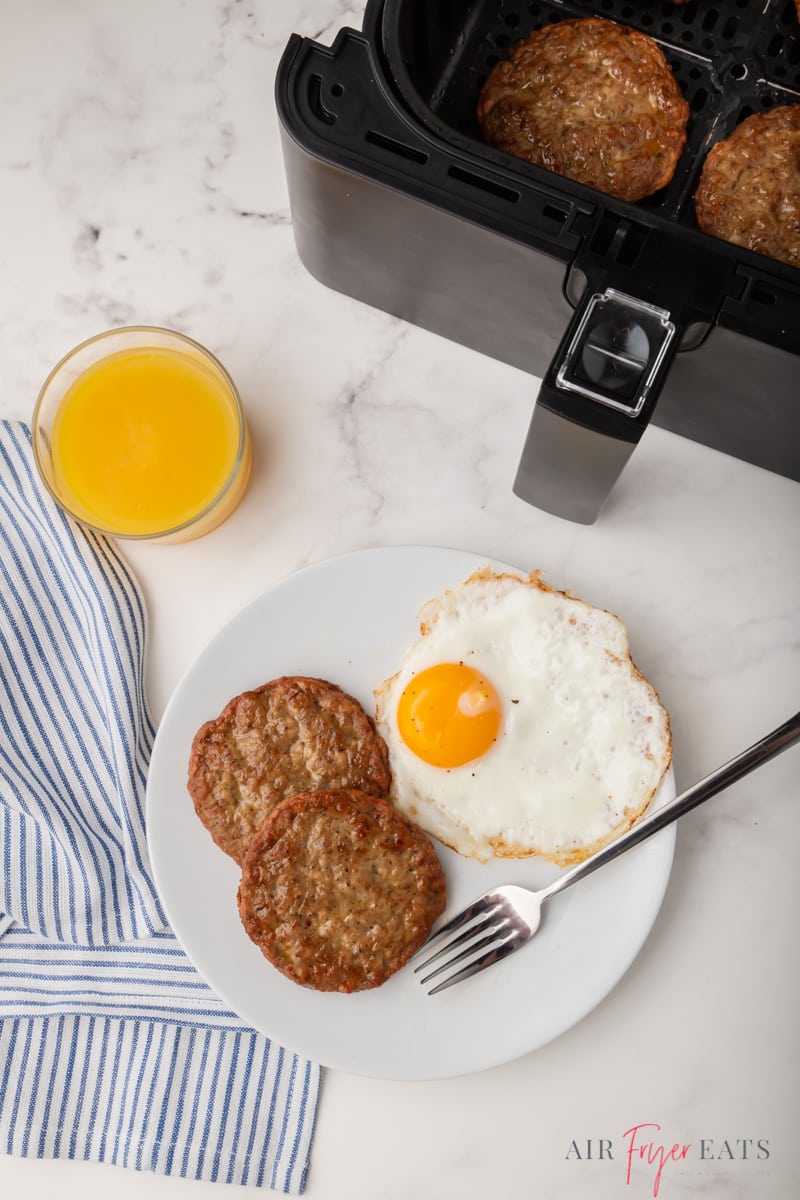 WHAT TO SERVE WITH AIR FRYER BREAKFAST SAUSAGE
It's breakfast time! Sausage patties are great with any type of breakfast, including savory items like eggs and potatoes, and sweet things like pancakes or pastries.
Build your own air fryer breakfast sandwich with air fryer biscuits.
Pro-tip: Add a slice of cheese and a little hot sauce. Pop it back in the air fryer for a minute or two so it gets perfectly melty.
We love making breakfast for dinner, or "brinner" during the week for a fun treat. Kids love this! Make a traditional breakfast meal, or use air fryer sausage patties to make a sausage and broccoli rabe flatbread!
MORE AIR FRYER BREAKFAST RECIPES
Air Fryer Breakfast Potatoes cook up crispy and ready to add to a filling, hearty breakfast plate. Hashbrowns are also easy to make in the air fryer for breakfast.
For a sweet breakfast or brunch treat, make Air Fryer Monkey Bread with lots of butter and cinnamon sugar.
If you like to have breakfast made ahead of time, Air Fryer Tater Tot and Egg Cups are perfect for busy grab and go mornings.
Air Fryer Potato Pancakes are one of my favorite weekend breakfast sides. Your family will love these.
HOW LONG TO COOK SAUSAGE PATTIES IN AIR FRYER
The recipe below gives a specific time and temperature that I use with my air fryers to make frozen sausage patties. I've tested it many times to get to that number!
It should take around 5 minutes to cook frozen sausage patties in the air fryer if you follow these instructions.
Like any air fryer recipe, this time may need to be adjusted for your specific air fryer and brand of sausage.
The first time you make these patties, stay near your machine so that you can check on them after 2 or 3 minutes and flip them over.
Start by using the minimum recommended cook time in the recipe, and add 2 minutes at a time until they are cooked to your liking.
Use a meat thermometer to make sure that the internal temperature of the sausage is at 160 degrees F (71 degrees C). At this temperature, frozen sausage is safe to eat.
If you are making fresh raw pork breakfast sausage, please ensure that they are cooked at least to 145 degrees F for food safety. Any frozen pre-cooked meat should be reheated to 160 degrees F.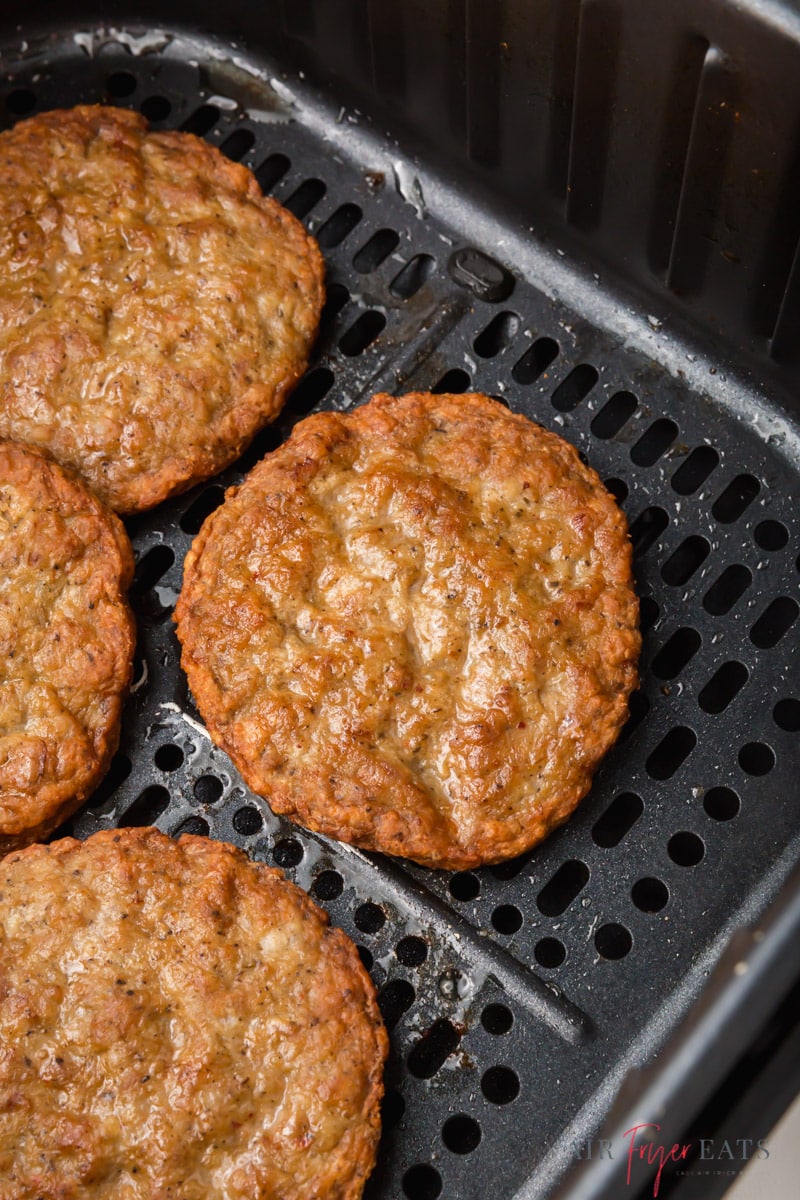 CAN I COOK FROZEN SAUSAGE PATTIES IN AIR FRYER?
Yes, you absolutely can cook frozen sausage patties in the air fryer, and in fact, I recommend that you do!
You do not need to thaw sausage patties before air frying them. Take your breakfast sausage straight from freezer to air fryer basket. This air fryer cook time is meant for frozen sausage patties.
For the best air fried breakfast sausage, be sure to preheat the air fryer for a few minutes before adding the sausage patties. I find that this is the best way to get that perfectly crispy browned breakfast sausage every time
WHAT'S THE BEST KIND OF AIR FRYER BREAKFAST SAUSAGE?
There is truly no wrong answer to this! I keep breakfast sausages in the freezer for a quick meal packed with protein, but the type of meat is up to you.
For this recipe, I tested it with frozen pork sausage patties because they're super flavorful and my family's favorite. You can also use chicken breakfast sausage, frozen turkey sausage patties, or even vegetarian breakfast sausage patties like Morningstar.
CAN I COOK FRESH BREAKFAST SAUSAGE PATTIES IN THE AIR FRYER?
If you only have fresh or thawed patties, you can easily make Johnsonville sausage in the air fryer too!
Fresh patties will likely cook faster than frozen, so check them every few minutes and flip them when the bottom is evenly browned.
SHOULD I ADD OIL TO SAUSAGE IN THE AIR FRYER?
This is an important and common question when it comes to air frying. Do I need to add oil?
For frozen sausage patties, I'd have to say that it depends on a few things.
Pork sausages generally have a lot of fat in them, and extra oil won't be needed.
Turkey or chicken sausage might need a little bit of oil to help it brown up because it won't have much of its own fat.
Making vegetarian or vegan sausage patties may require some oil on the patties to get that nice browning.
MORE FROZEN FOOD AIR FRYER RECIPES
It seems like air fryers are made for making frozen food more delicious! Try these other frozen foods in your air fryer.
Air Fryer Frozen Egg Rolls turn out so crispy and delicious when you air fry them.
Add some Frozen Hash Browns into the air fryer for a crispy breakfast treat that will remind you of that drive through restaurant.
Air Fryer Corndogs are another frozen food that cooks up amazingly well in the air fryer. You must try these!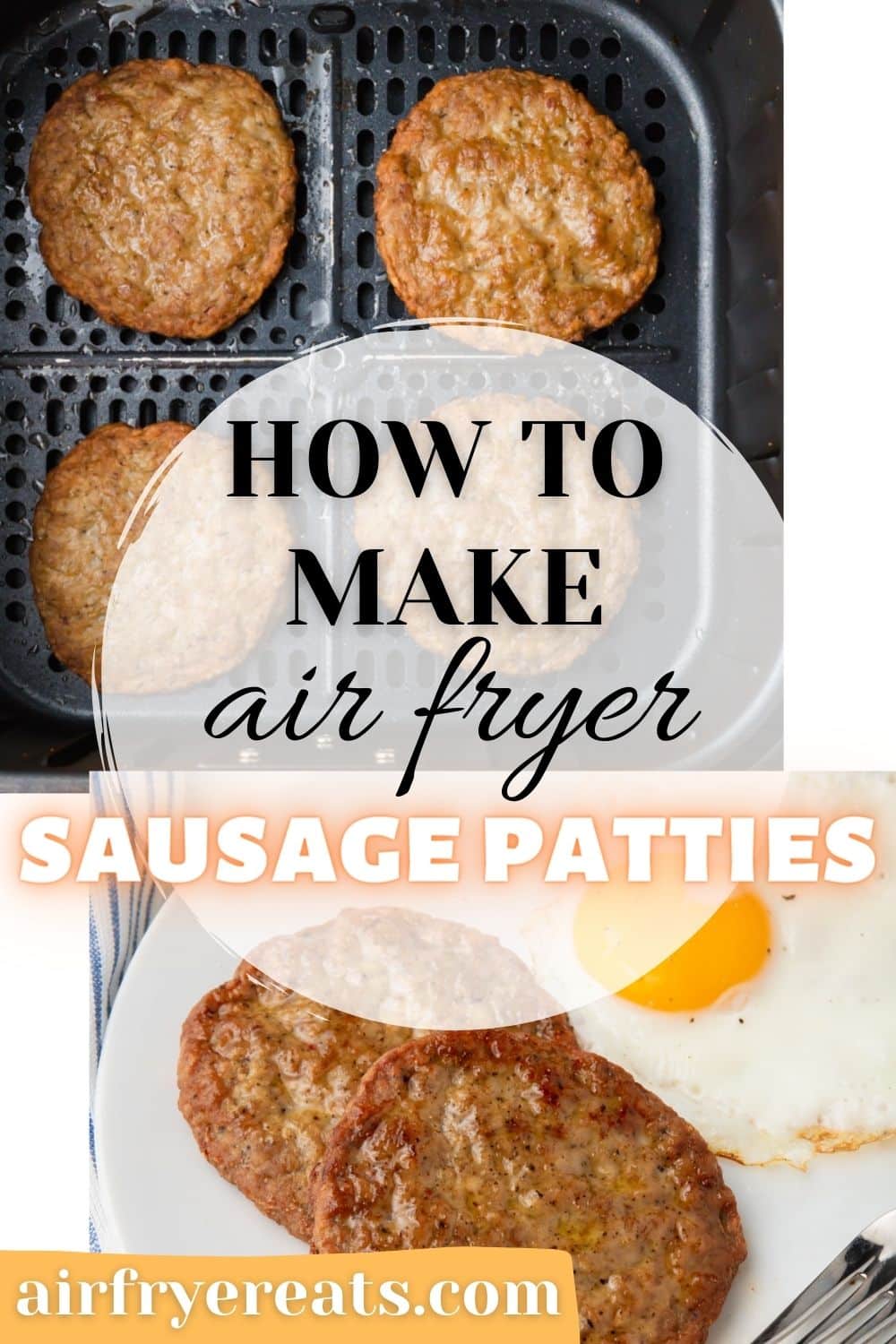 Have you made this recipe? Please leave a comment AND rating below! It helps other readers!
Be sure to tag @AirFryerEats on instagram, if you share a picture on the gram!
Let's get social, you can follow me on Youtube, Instagram, Facebook, Pinterest or join one of our Air Fryer Facebook Groups: Air Fryer Recipes, Air Fryer Recipes for Seniors and Gluten Free Air Fryer Recipes.
Don't forget to subscribe to our EMAIL newsletter.
Air Fryer Sausage Patties
Frozen sausage patties cook up quickly and easily in the air fryer. Air fryer sausage patties are a perfect part of a hearty, delicious breakfast.
Instructions
Preheat the air fryer at 400°F/200°C for 5 minutes.

Add frozen sausage patties to the air fryer basket or tray, in an even layer.

Cook for 5-6 minutes, flipping over halfway through the cook time. If needed, cook for an additional 1-2 minutes until the sausage patties are fully cooked and browned.

Serve immediately with your favorite breakfast.
Go AD FREE!
Notes
The nutitional information for this recipe will depend on the specific sausage patties you're cooking. Please refer to the packaging for details.
You can cook more than 4 patties, just be sure that they are in a single layer in the air fryer basket.
You can use this recipe to cook pork, chicken, turkey, or vegan sausage patties. It can also be used to cook any size frozen sausage patties. Adjust the time as needed.
You can cook fresh or thawed sausage patties in the air fryer. They make take less time to cook fully.
Since cooking times will VARY depending on the brand/size of the patty make sure the internal temperature comes to 160F/71°C.
Pro Tip: This recipe can be made in the air fryer unit with a basket or the air fryer oven. If you are using the air fryer oven, use the middle rack and select the "Air Fry" function.
Pro Tip 2: Check your food as it cooks. Each air fryer runs a bit differently. Sometimes air frying is a trial and error process. Check your food as it cooks to learn your air fryer better! When cooking a new recipe or food items be sure to check your food often to help avoid over/under cooking.
Have oven recipes that you'd like to convert to air fryer recipes? Use our Air Fryer Calculator to help you estimate cooking times and temps! Calculator here: https://airfryereats.com/air-fryer-conversion-air-fryer-calculator/
Nutrition
Calories:
129
kcal
|
Protein:
6
g
|
Fat:
11
g
|
Saturated Fat:
4
g
|
Polyunsaturated Fat:
2
g
|
Monounsaturated Fat:
5
g
|
Trans Fat:
0.1
g
|
Cholesterol:
31
mg
|
Sodium:
270
mg
|
Potassium:
105
mg
|
Vitamin A:
32
IU
|
Vitamin C:
0.3
mg
|
Calcium:
4
mg
|
Iron:
0.5
mg
Tired of the ads?
Go AD Free - Become part of our Membership community!
Air Fryers can vary greatly. Please take the time to learn your specific air fryer. You may need to adjust times and temperatures based upon your air fryer.
All though this website attempts to provide accurate nutritional information, the information should only be considered an estimate. Varying factors such as different product types, different brands, etc. can change nutritional information. It is your responsibility as a consumer to read all labels to make sure the ingredients fit your dietary needs as well as calculate your own nutritional information as a double check.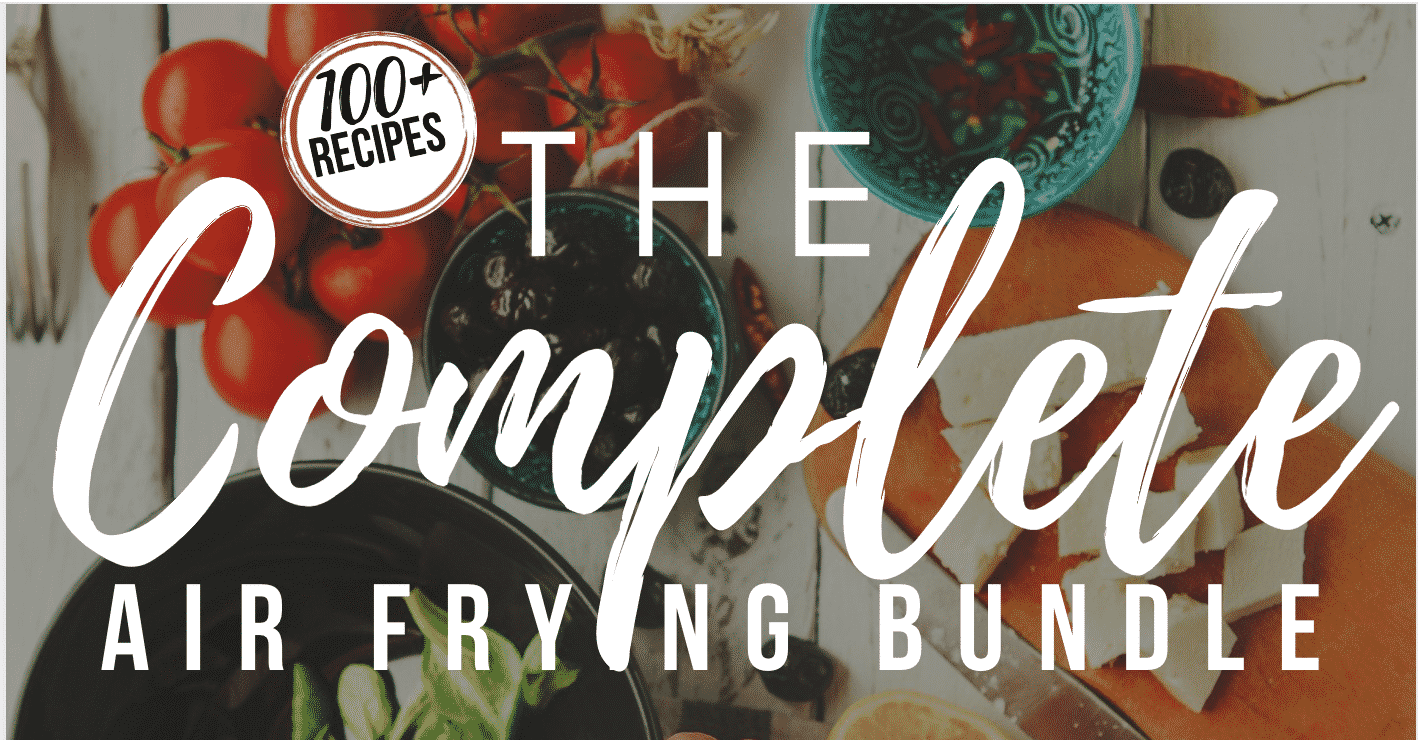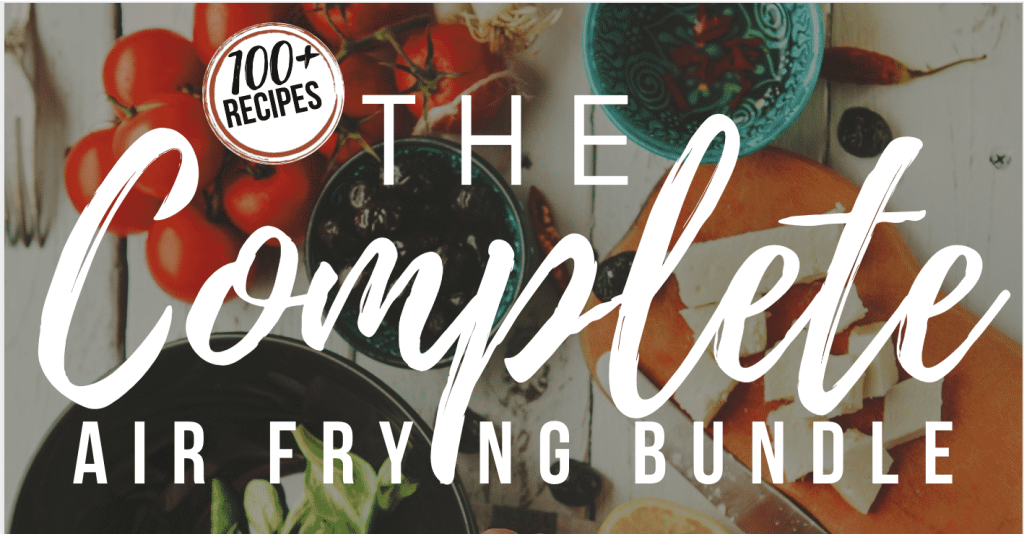 We recently re-photographed air fryer sausage patties and put the newer images above. Here are the previous photos from when we originally posted this recipe if you're curious!