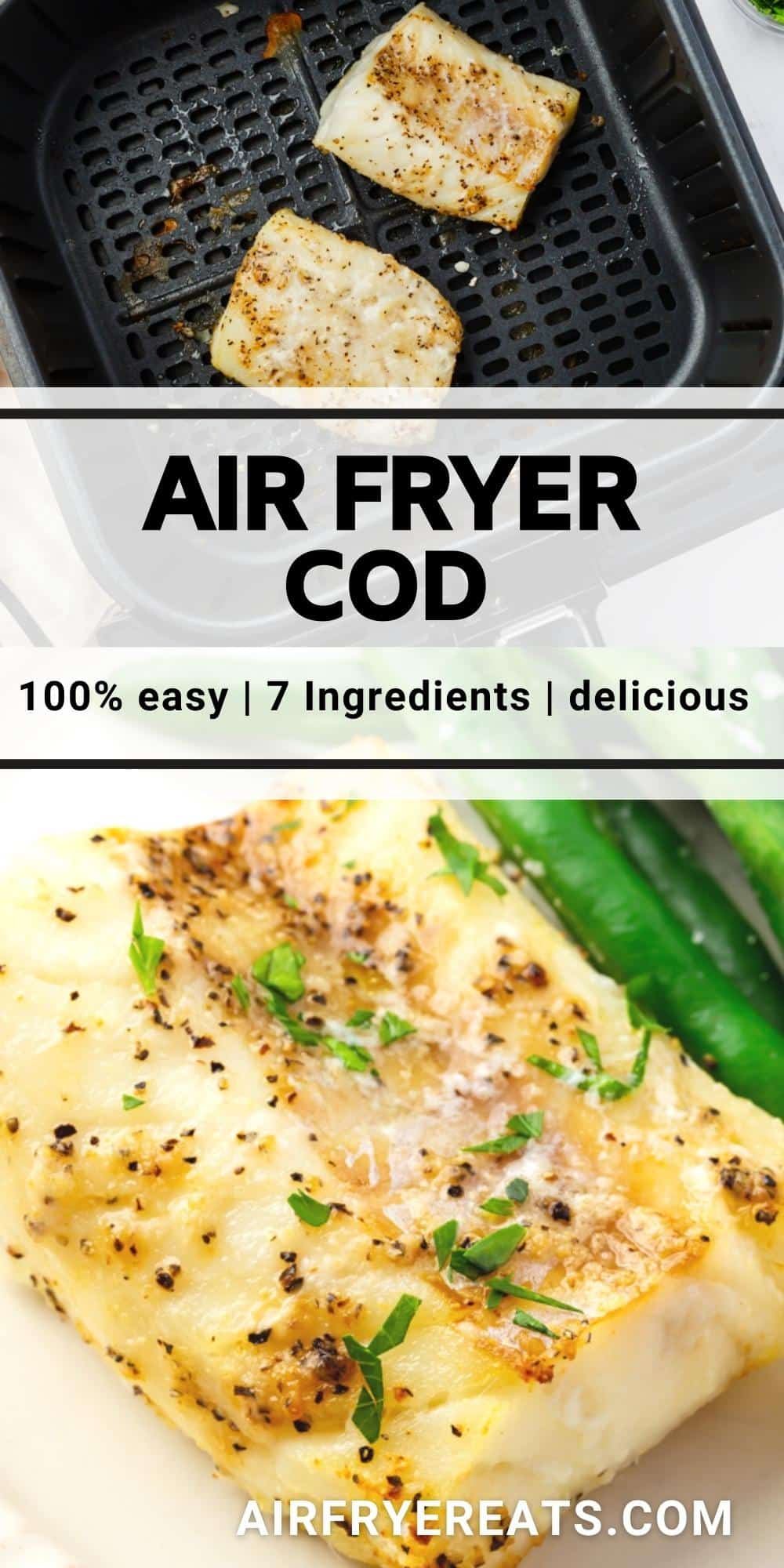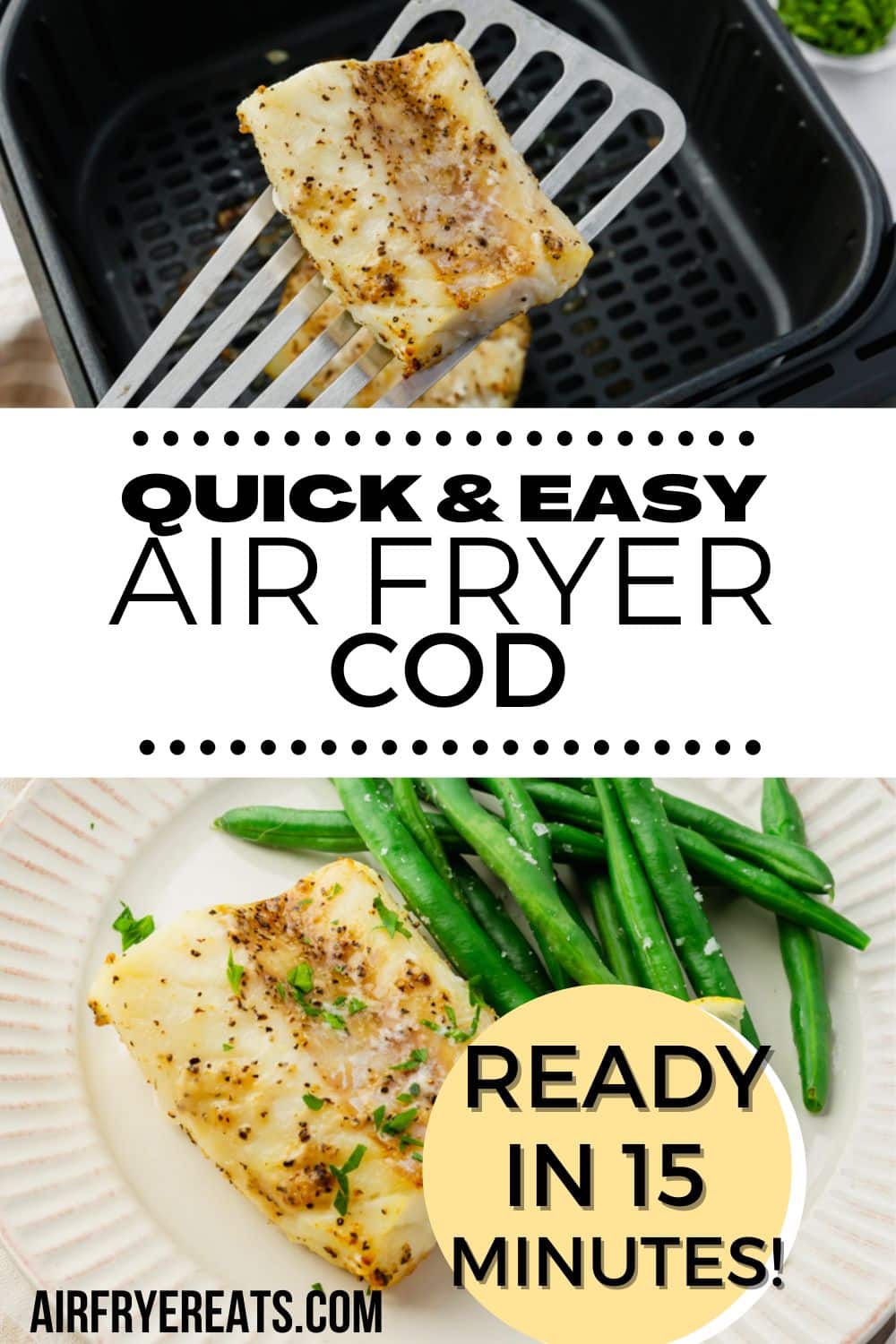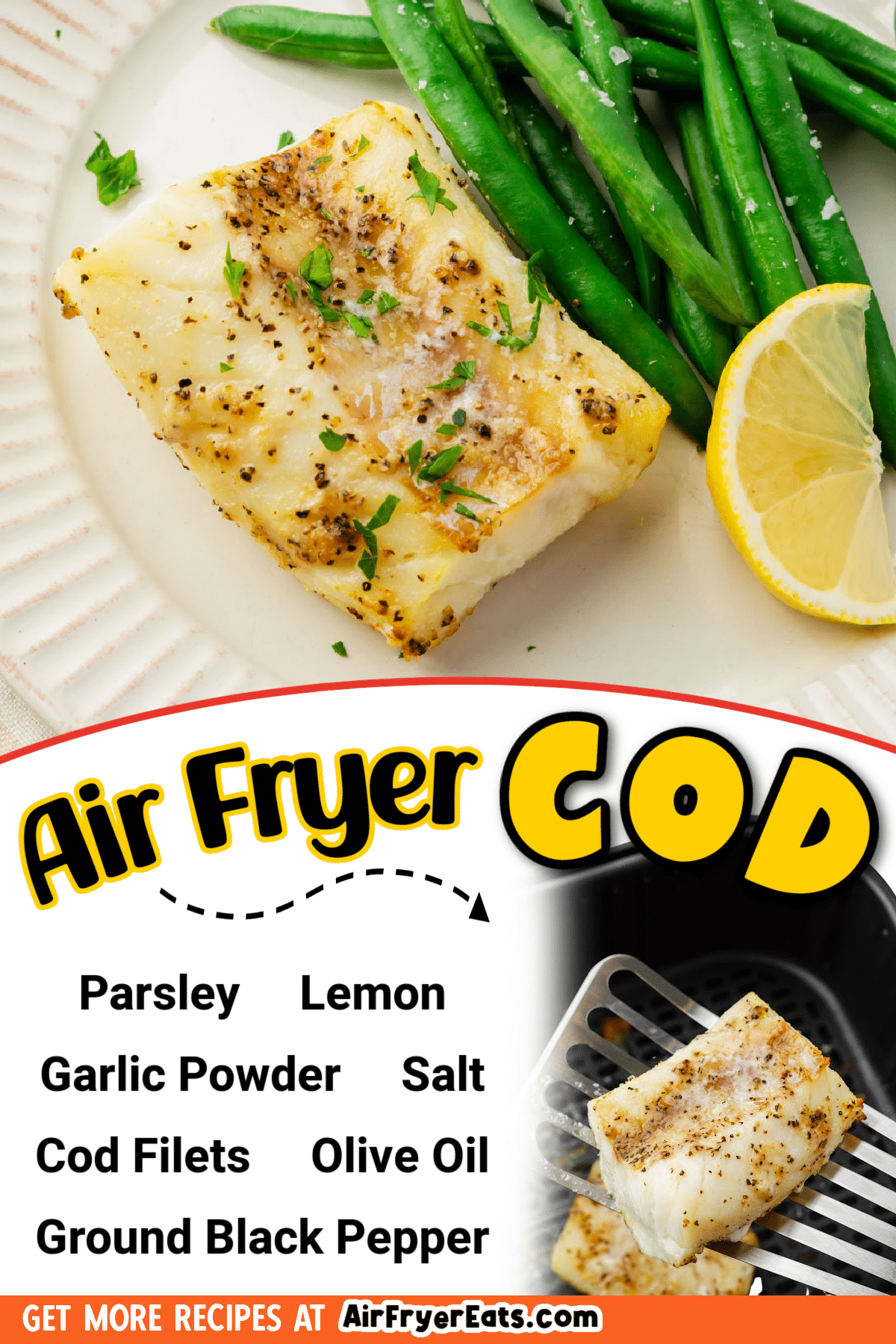 This delicious Air Fryer Cod recipe takes less than 15 minutes to make, and is perfectly seasoned without the need for any breadcrumbs!
A tasty and healthy fish dinner is so simple to make at home in the air fryer, you'll wonder why you haven't been cooking cod this way already.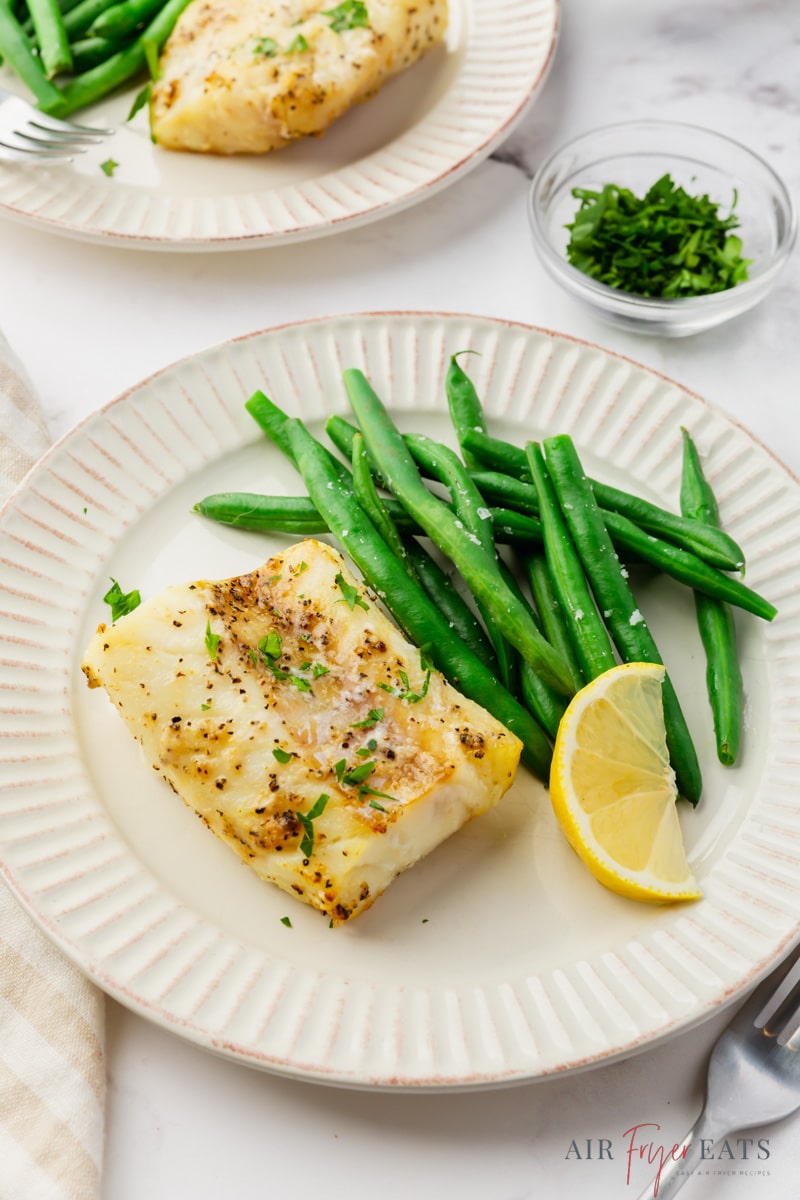 Easy Air Fryer Cod Recipe
Cod is a mild-flavored white fish that is inexpensive, and easy to cook!
Cooking cod in the air fryer makes the process of cooking fish for dinner even easier, and these simply seasoned, unbreaded, air-fried cod filets will be loved by the whole family!
If you're wondering if you can cook seafood and fish in the air fryer, I'm here to tell you that you can, and you should!
We have lots of simple and delicious air fryer fish recipes to get you started, like Air Fryer Mahi Mahi, Air Fryer Salmon, and Air Fryer Shrimp.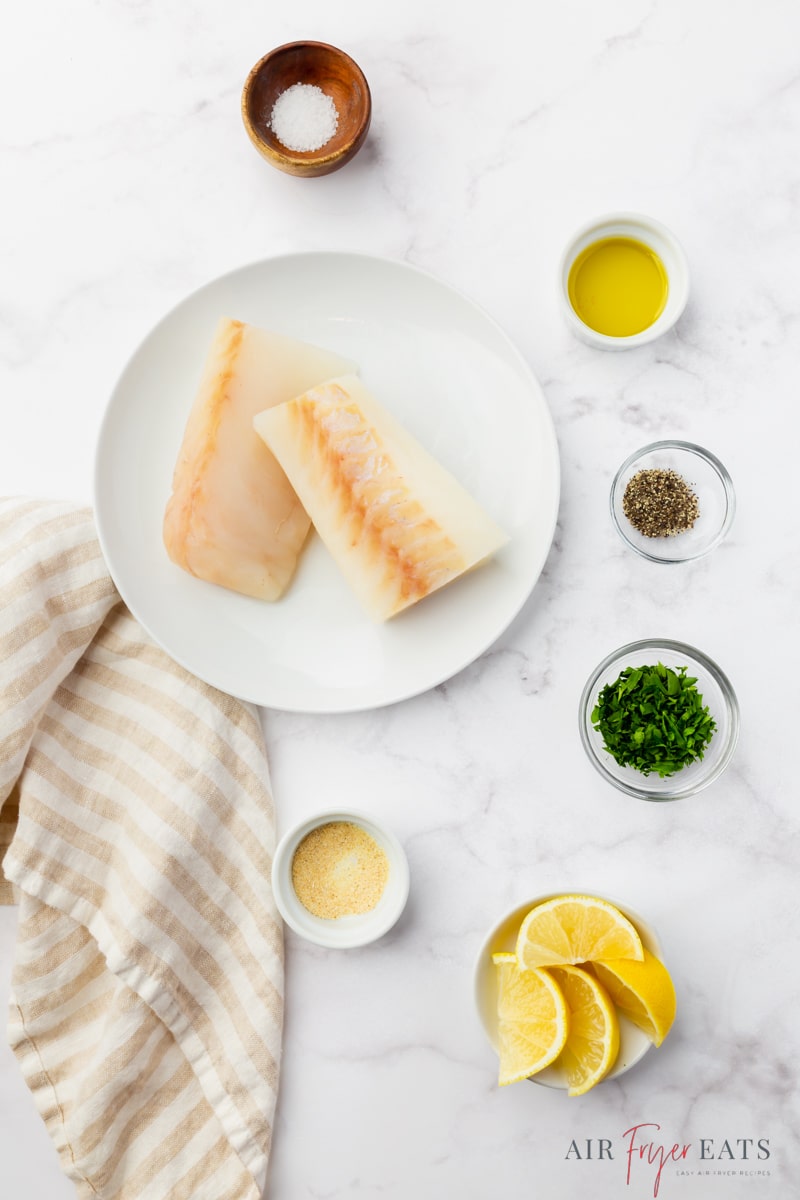 Ingredients In Air Fryer Cod
Cod Filets - For this recipe, use fresh fish filets, or frozen fillets that you've fully thawed. We're making two pieces, but you can probably fit 3-4 filets in your air fryer if you need to.
Olive Oil - Just a bit of oil is needed to help the seasonings stick to the meat and to keep the fish from sticking to the air fryer basket.
Salt, Pepper, Garlic Powder - Simple seasonings, although you can feel free to add others that you like. Lemon pepper seasoning is always great on fish!
Lemon Wedges and Parsley - The perfect garnishes for a fish dinner.
If you have any questions, please leave a comment below and I will get back to you ASAP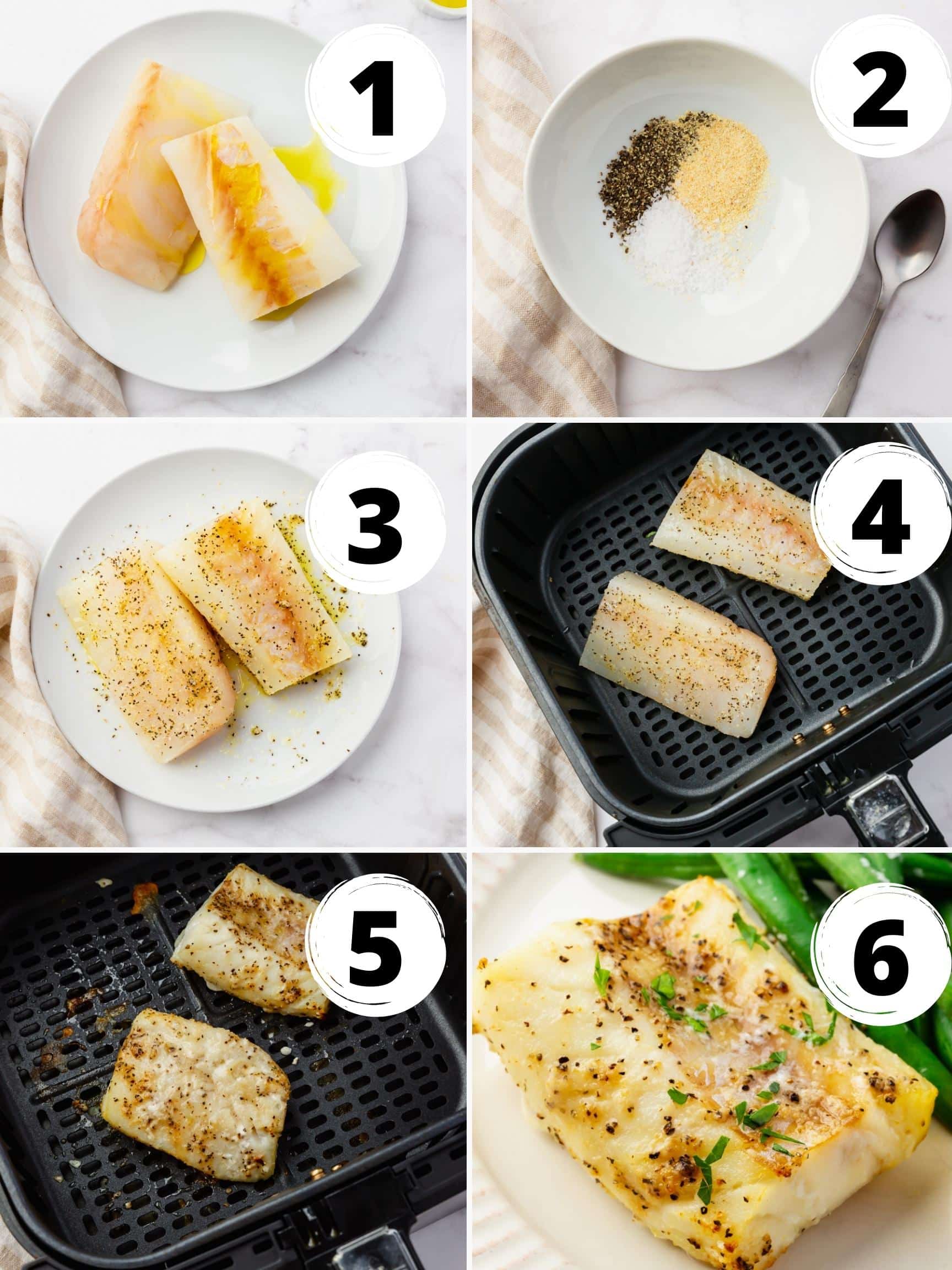 How to Make Air Fryer Cod
Coat the fish with olive oil. You only need a tablespoon. This helps the seasonings stick to the meat, and holds moisture inside the filets so that they don't dry out.
Mix the salt, pepper, and garlic powder together in a small bowl.
Season the fish well on both sides.
Add the seasoned cod fillets to the air fryer basket, making sure to leave room around each piece.
Air Fry for 8-10 minutes, or until cooked fully. There's no need to flip the fish over!
Remove the filets from the air fryer and serve immediately, garnished with fresh parsley and lemon wedges.
These numbered steps match the numbered photos above and are for illustration purposes. For the complete list of ingredients and instructions for making air fryer cod, please see the recipe below.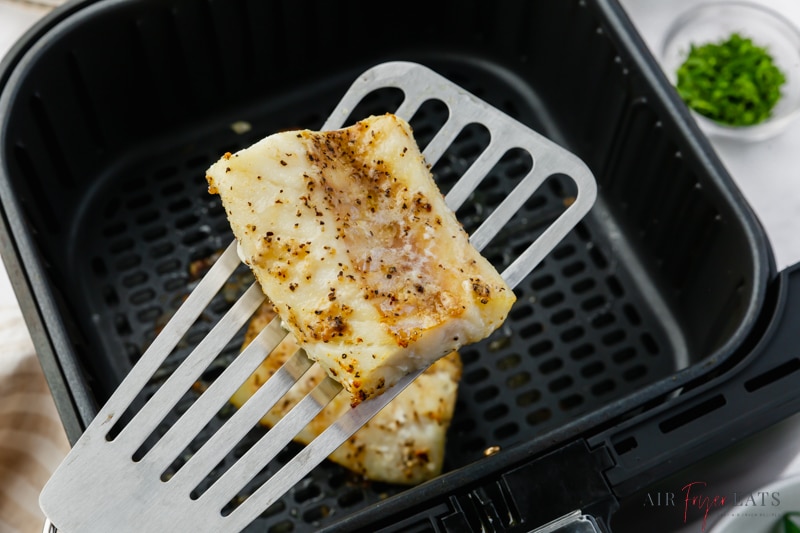 Tips for Cooking Fish in Your Air Fryer
Use a thermometer to check to see if your fish is cooked. The internal temperature of cod should be 145°F for safety reasons.
Smaller or thinner pieces of fish may take less time in the air fryer. start checking at the 6-minute mark for doneness.
Use this recipe as a jumping-off point! The instructions here will work for other types of white fish too, like sole, haddock, or halibut.
For a fancier flavor profile, try making this orange and fennel roasted cod. You could still cook it in the air fryer using these instructions!
What To Serve With Air Fryer Cod
It only takes 10 minutes to cook cod in the air fryer, so get your side dishes started first!
These healthy fish filets can be served with steamed or roasted vegetables, and a side of rice or mashed potatoes to create a complete and tasty meal for your family.
For dessert, try our Air Fryer Doughnuts, or Air Fried Oreos. Yum!
FAQs
Can I air fry frozen cod fillets?
Frozen fish fillets are a fantastic thing to have in the freezer! For the best texture, it's always best to thaw your fish before cooking it. Cod can be thawed overnight in the fridge, or place it in a ziptop bag in a bowl of cold water for an hour or so before cooking.
How long does cod take to cook in the air fryer?
depending on the thickness of your fish fillets, cod should take between 6 and 10 minutes to cook fully in the air fryer.
How do I know if cod is done?
Use a thermometer to check that the inside of the fish is at least 145°F. The fish should flake easily when gently pulled with a fork as well.
Can I double this recipe?
You can definitely double the recipe to make 4 or more cod fillets, but the number of fillets that will fit in your air fryer will vary. Mine fits 2-3 pieces comfortably. If you have more fish than that, air fry it in two batches.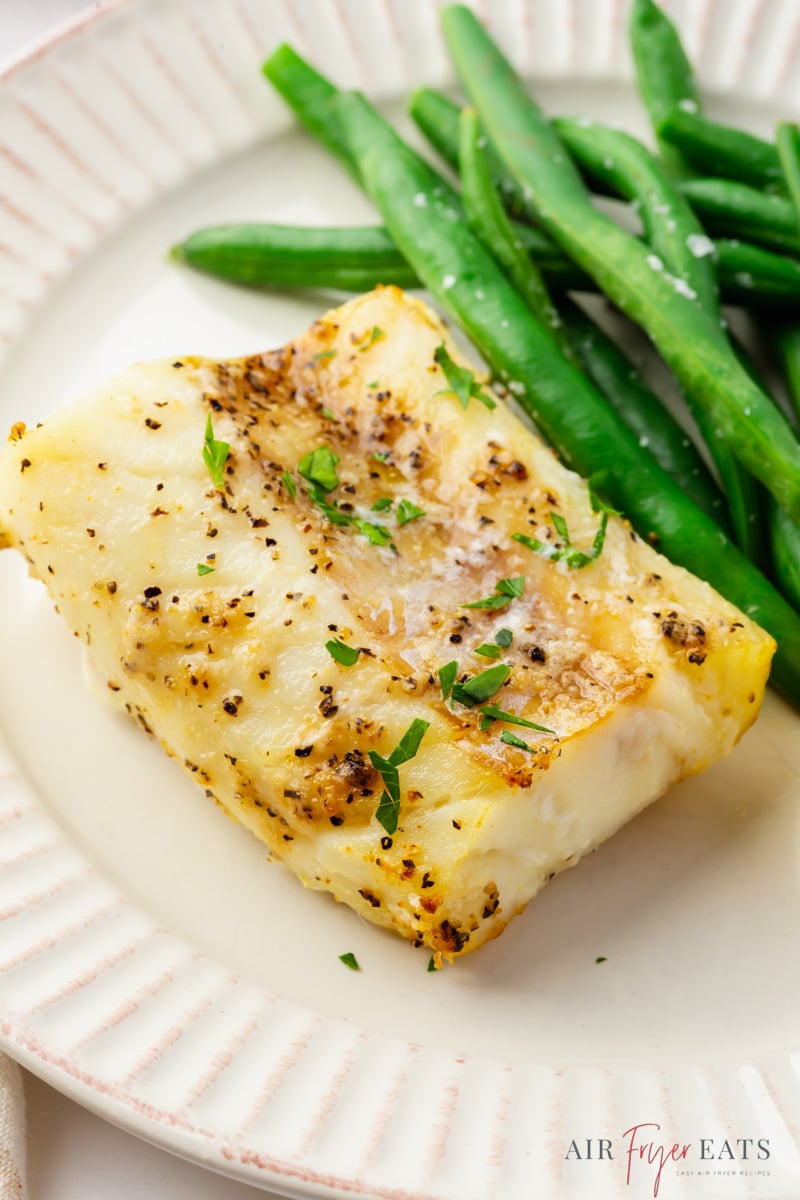 Pro Tips
Use Any Air Fryer: This recipe can be made in an air fryer unit with a basket or an air fryer oven. If you're using an air fryer oven, place your food on the middle rack and select the "air fry" function.
Check your food as it cooks! Since each air fryer runs differently, sometimes air frying is a trial and error process. When cooking a new recipe, be sure to check on your food often. This will help you avoid over or undercooking, and help you learn your air fryer's specific ways!
More Air Fryer Seafood Recipes
Do you prefer your air fryer fish with a crispy breading? You are going to want to try our breaded Air Fryer Tilapia recipe or Southern-style Air Fryer Catfish.
Air Fryer Scallops, Air Fryer Crab Cakes, and Air Fryer Calamari are just like your favorite seafood restaurant dishes but made at home for less.
The air fryer can do amazing things with frozen seafood too! Check out how we make Frozen Popcorn Shrimp in the air fryer, Air Fryer Fish Sticks, or easy Air Fryer Frozen Fish Fillets.


Have you made this recipe? Please leave a comment AND rating below! It helps other readers!
Be sure to tag @AirFryerEats on instagram, if you share a picture on the gram! Let's get social, you can follow me on Youtube, Instagram, Facebook, Pinterest or join one of our Air Fryer Facebook Groups: Air Fryer Recipes, Air Fryer Recipes for Seniors and Gluten Free Air Fryer Recipes.
Don't forget to subscribe to our EMAIL newsletter.
Air Fryer Cod
This delicious Air Fryer Cod recipe takes less than 15 minutes to make, and is perfectly seasoned without the need for any breadcrumbs!
Ingredients
2

cod filets

1

tablespoon

olive oil

½

teaspoon

garlic powder

½

teaspoon

salt

¼

teaspoon

ground black pepper

1

tablespoon

fresh parsley

for serving

1

lemon

sliced into wedges for serving
Instructions
Place the cod filets on a plate. Cover with olive oil.

Place the garlic powder, salt, and ground black pepper in a small bowl. Mix to combine.

Sprinkle both sides of the cod with the spice mixture.

Place the cod filets in the air fryer basket in a single layer. You may need to cook the cod in separate batches.

Air fry at 380°F/190°C for 8-10 minutes. The cod should reach an internal temperature of 145°F/63°C.

Serve with fresh parsley and lemon wedges.
Go AD FREE!
Notes
My cod filets were about 7-8 ounces each and 1 inch thick. If you are using thinner cod filets, they will cook much more quickly. Start checking at the 6-minute mark to see if your fish has reached 145°F.
You can easily double this recipe to serve 4 people. I find my air fryer basket can usually fit 2-3 cod filets in it.
Adjust the seasonings to suit your tastes. Lemon pepper seasoning or Italian seasoning is delicious on cod.
Nutrition
Serving:
1
filet
|
Calories:
244
kcal
|
Carbohydrates:
6
g
|
Protein:
36
g
|
Fat:
9
g
|
Saturated Fat:
1
g
|
Polyunsaturated Fat:
1
g
|
Monounsaturated Fat:
5
g
|
Cholesterol:
85
mg
|
Sodium:
691
mg
|
Potassium:
918
mg
|
Fiber:
2
g
|
Sugar:
1
g
|
Vitamin A:
261
IU
|
Vitamin C:
33
mg
|
Calcium:
51
mg
|
Iron:
1
mg
Tired of the ads?
Go AD Free - Become part of our Membership community!
Air Fryers can vary greatly. Please take the time to learn your specific air fryer. You may need to adjust times and temperatures based upon your air fryer.
All though this website attempts to provide accurate nutritional information, the information should only be considered an estimate. Varying factors such as different product types, different brands, etc. can change nutritional information. It is your responsibility as a consumer to read all labels to make sure the ingredients fit your dietary needs as well as calculate your own nutritional information as a double check.