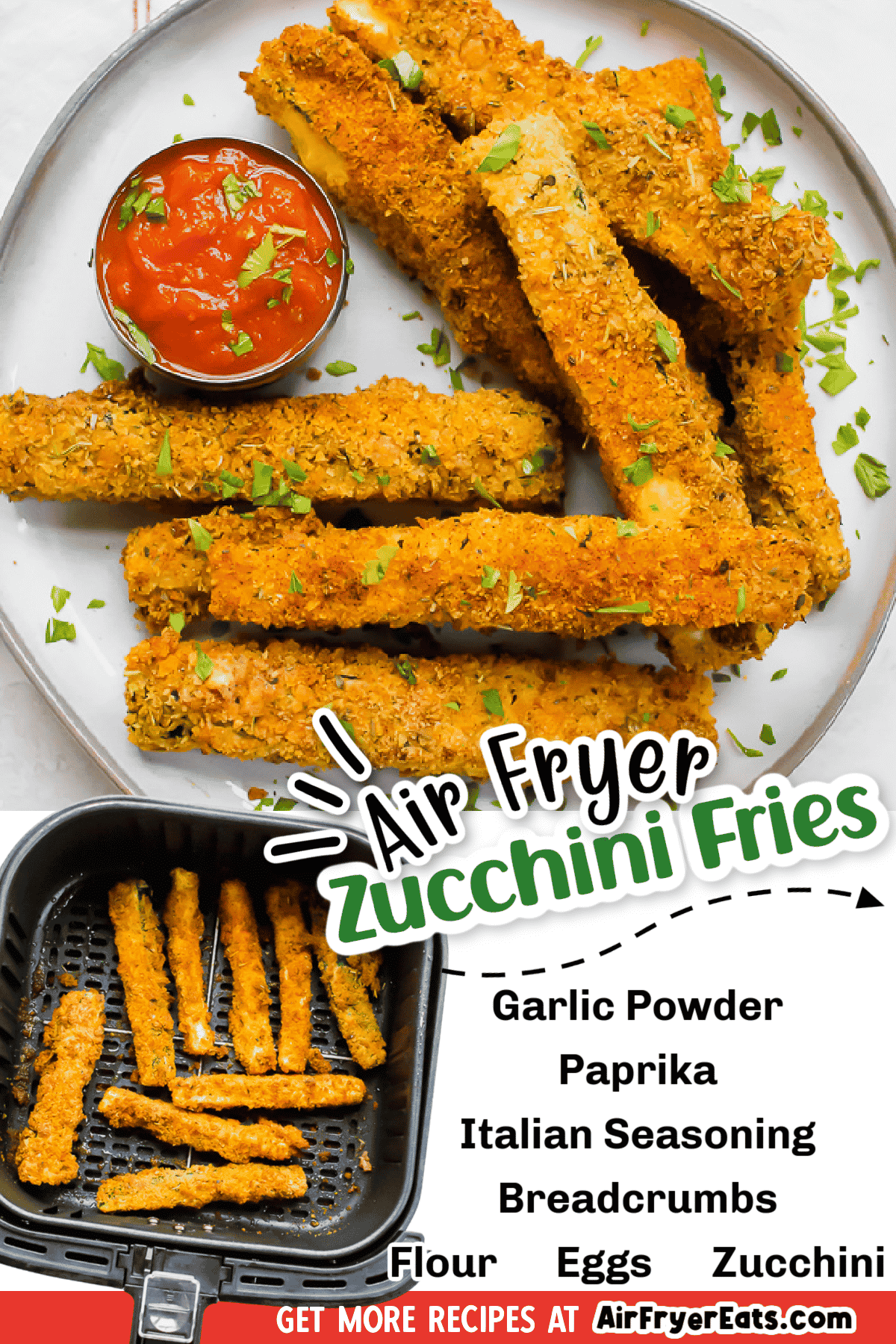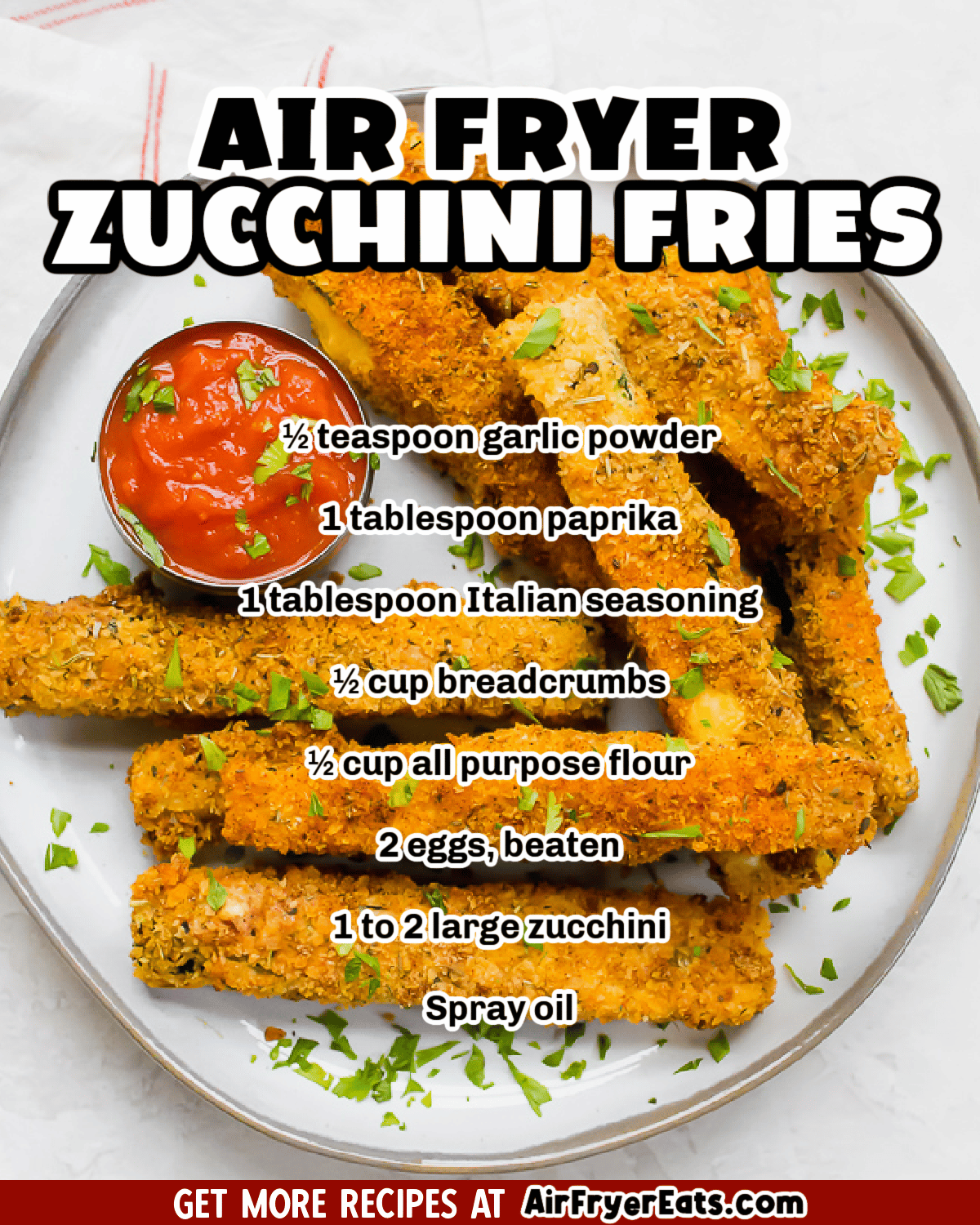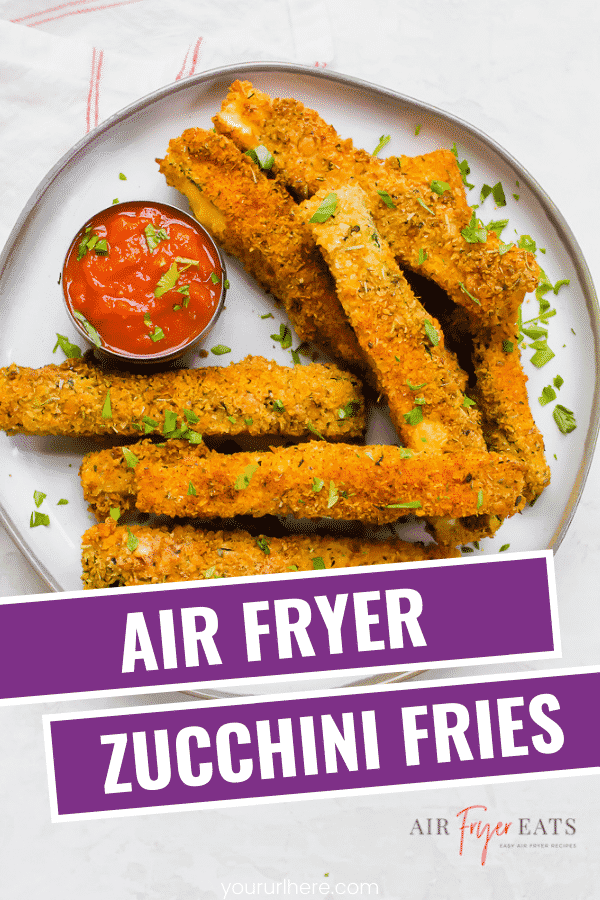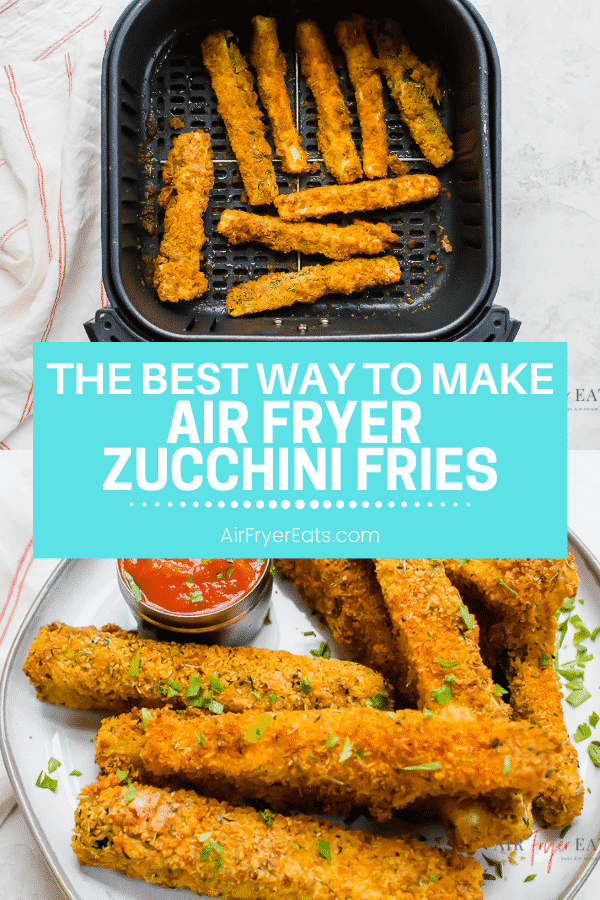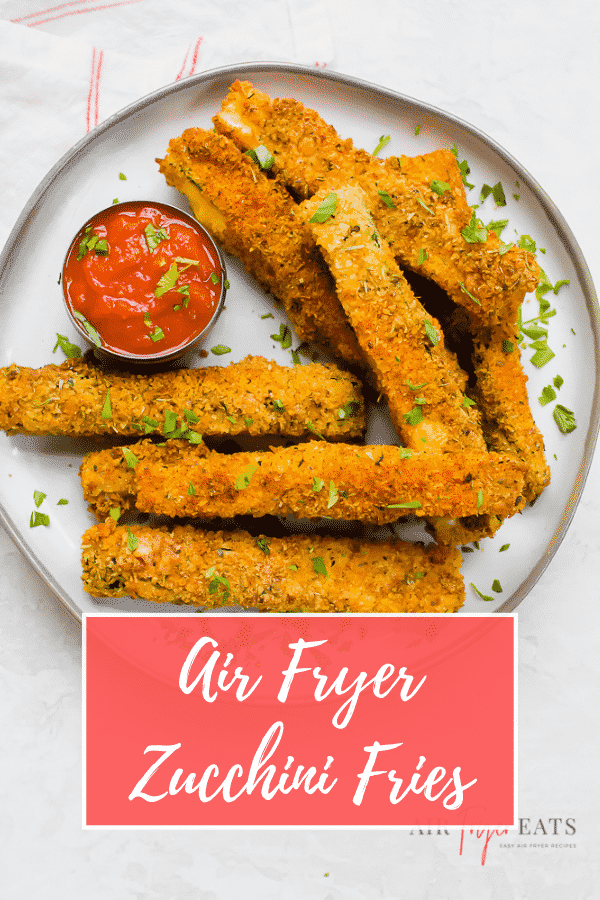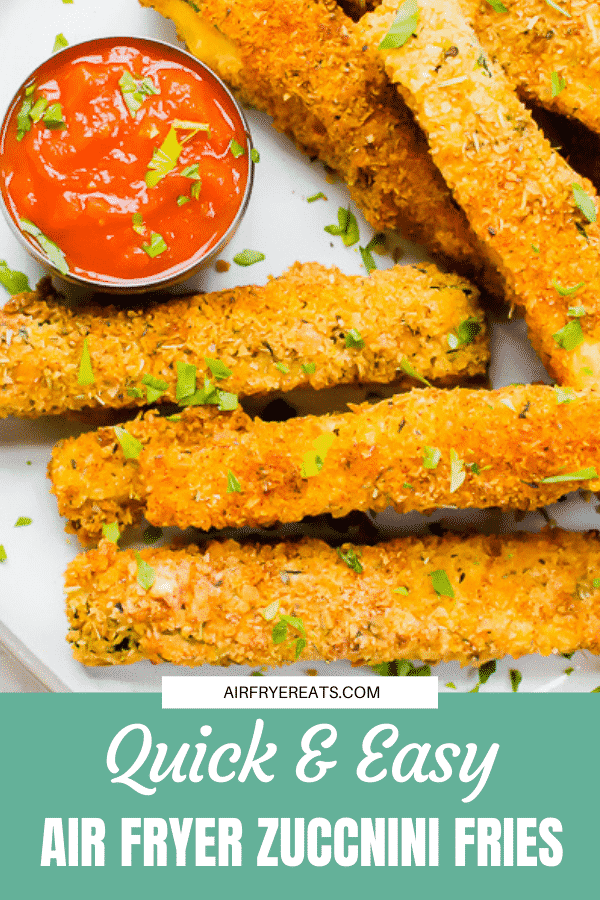 Air Fryer Zucchini Fries are a quick and easy healthy side dish! A few basic pantry ingredients turn your fresh zucchini into delicious, crunchy fries in just a few minutes.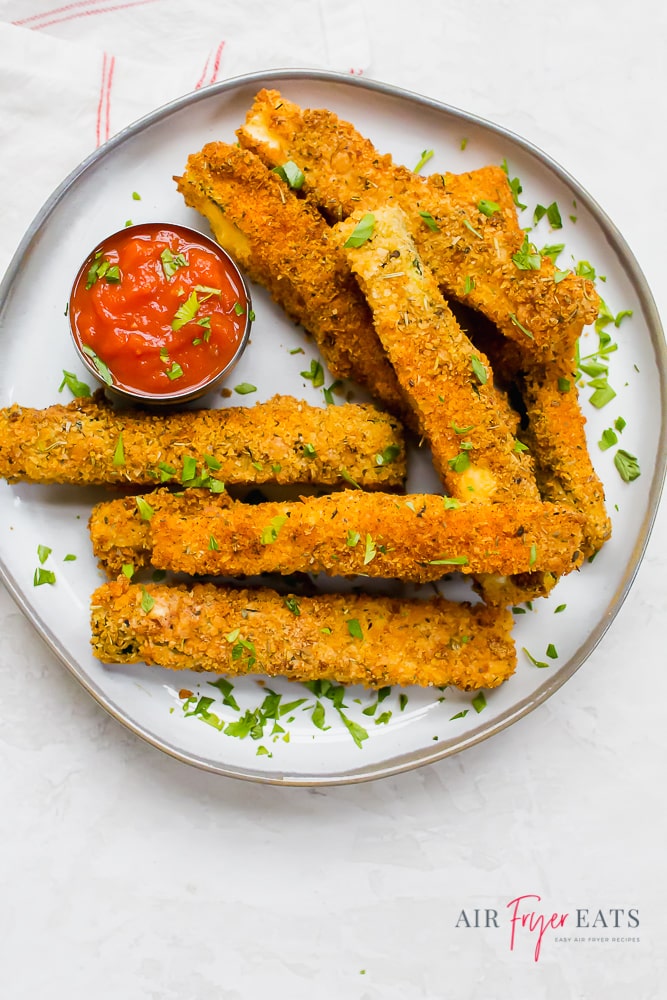 Air Fryer Zucchini Fries Recipe
My kitchen is filled with zucchini most of the year, and I'm always looking for new ways to eat it!
Zucchini is especially abundant in the summer months, when gardens all over are producing like crazy. If you're looking for a new way to enjoy zucchini in the air fryer, this is the recipe you need!
These Air Fryer Zucchini Fries are crunchy on the outside and tender on the inside in just 10 minutes!
I like zucchini fries because they have a combination of the soft inside of a french fry with the crunchy breading of a mozzarella stick.
And just like mozzarella sticks, I usually serve mine with marinara dipping sauce!
Need MORE zucchini recipes? Try my Zucchini Fritters! It's a beautiful dish and brings a lot of flavor to your plate!
You should also check out how I make Zucchini Boats in the air fryer, filled with ground meat and cheese.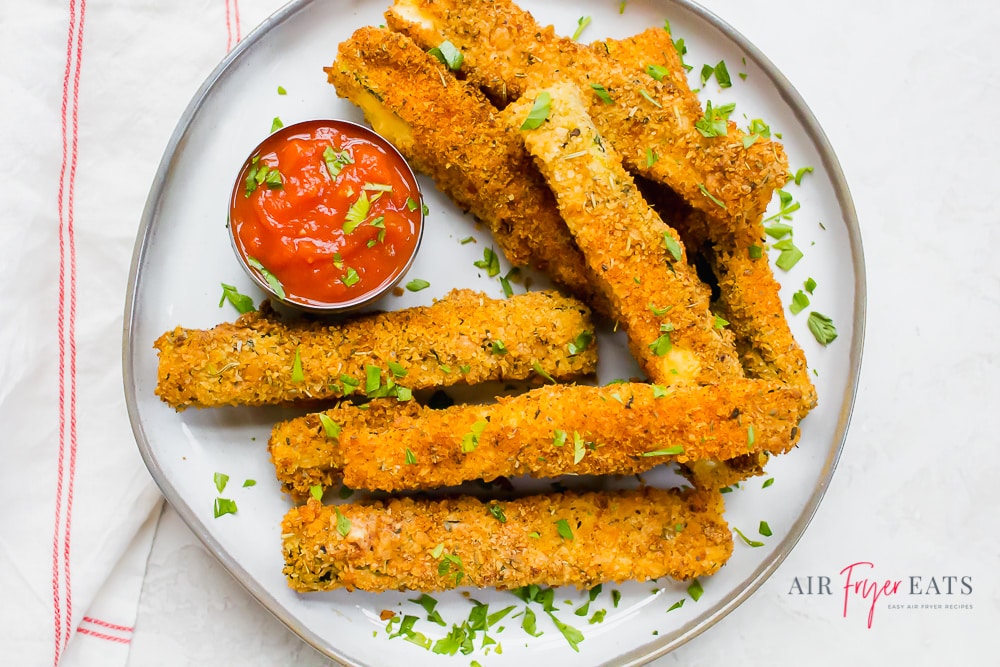 THE INGREDIENTS NEEDED FOR MAKING ZUCCHINI FRIES AIR FRYER
You don't need many ingredients to make crispy and crunchy air fryer zucchini fries. Grab these things and we can get cooking!
Garlic Powder - This common seasoning adds lots of warm, savory flavor to our zucchini breading.
Paprika - I like to add paprika to most breadcrumb mixtures. It adds a bit of warmth, and also gives the breading more color.
Italian Seasoning - This blend of herbs is delicious with zucchini!
Salt and Pepper - You don't need to add salt to your air fryer zucchini fries if you don't want to, but feel free to season these to your own taste.
Breadcrumbs - Any type of breadcrumbs can be used, including plain or panko style. Gluten-free breadcrumbs work too! You can use Italian Seasoned breadcrumbs if you want more flavor, or try unseasoned ones with the seasonings above. These are delicious any way you make them!
All Purpose Flour - This recipe will work with regular all-purpose flour or your favorite gluten free flour blend.
Eggs - You'll need two large eggs for this recipe. The eggs help the breading stick to the zucchini.
Zucchini - For this recipe I'm using either 1 large zucchini or two smaller ones. You want to cut the zucchini into sticks that are about ½ inch thick and 3 inches long.
Spray oil - To get a coating on these fries that's just like they were deep-fried, a bit of oil sprayed on the breading is all you need. Use your favorite store-bought spray oil, or an oil mister.
If you have any questions, please leave a comment below and I will get back to you ASAP!
How to Make Air Fryer Zucchini Fries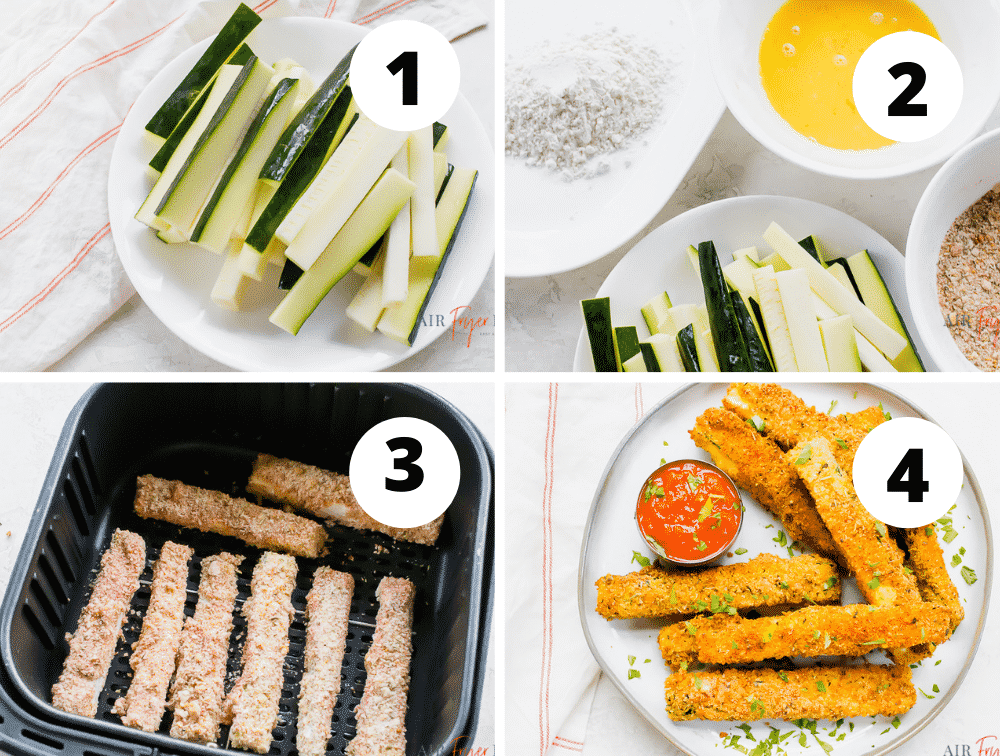 After you have cleaned your zucchini, slice them into ½-inch sticks. Chop off the ends, but no need to peel!
Time to prep for the breading! You'll need three bowls here: one for the whisked eggs, one for the flour, and one for the seasoned bread crumbs (just mix the breadcrumbs with the seasonings!). To coat the zucchini sticks, first dredge them in flour, then egg, then seasoned bread crumbs. Be gentle!
Carefully place the coated zucchini sticks in the air fryer basket and spray the basket and sticks generously with oil. Cook these for about 10 minutes at 400 degrees F (or 200 degrees C), flipping and re-spraying halfway through. Be sure to keep an eye on your fries! The times may vary.
Once cooked, serve with marinara dipping sauce and enjoy!
These numbered steps match the numbered photos above and are for illustration purposes. For the complete list of ingredients and instructions for making air fryer zucchini fries, please see the recipe below.
CRISPY ZUCCHINI FRIES TIPS AND TRICKS
Cut the zucchini into equal sized sticks so that they will all cook evenly, and at the same rate. I find that pieces that are about 3 inches long and ½ inch thick are perfect.
Coat them well. To get these fries really crispy, we're using a three step breading: Flour, then egg, then breadcrumbs. Take your time to be sure that each piece is well coated with all of these.
Work in batches if you need to. It's important to allow room for air to circulate around each piece of zucchini in the air fryer if you want them to really get crispy.
Don't skimp on the oil. Be sure to spray the fries when you start cooking them and then spray them again with oil when you flip them over. The more oil you add, the more brown and crispy the zucchini fries will get.
Eat them right away. I'll give you some storage tips, but these fries are really best if you enjoy them right out of the air fryer. Zucchini are made of mostly water, so they'll get soggy if they sit too long.
Have dipping sauce ready! These are delicious dipped in marinara sauce, ranch dressing, or garlic aioli. Kids might even want to dip these in ketchup!
HOW TO FREEZE AIR FRYER ZUCCHINI FRIES
You can definitely freeze these in advance! After dredging through the three bowls, gently place the breaded zucchini sticks on a baking sheet covered in parchment paper and freeze them separately so they don't stick together.
Once frozen, you can transport them to a freezer-safe container or zipper bag and freeze for up to six months!
When reheating frozen zucchini fries, they can either be thawed first and cooked for about 10 minutes at 400°F/200°C or you can keep them frozen and cook them a few minutes longer, likely 15-20 depending on how many and the size of your air fryer!
HOW TO STORE LEFTOVERS
In the fridge, these zucchini fries will last about 3 to 4 days. The breading will definitely not be as crunchy the next day, so try to make only as many as you need for one meal.
To combat moisture, put a paper towel in any container with your leftovers, and use a paper bag if you have one!
The extra material will help absorb some of the humidity to keep the leftover fries as crunchy as you can.
Reheat zucchini fries in the air fryer at 400°F/200°C for about 10 minutes.
VARIATIONS AND SUBSTITUTIONS
You can change up the flavors in this air fryer zucchini recipe to suit your mood and tastes!
Try using Cajun seasoning instead of Italian seasoning to give these fries a spicy kick.
Ranch seasoning is also an excellent flavor to add to zucchini.
You can mix in a few tablespoons of Parmesan or Romano Cheese to add a cheesy, savory flavor to the breading.
This recipe works with yellow squash or green summer squash.
CAN I MAKE LOW CARB ZUCCHINI FRIES IN THE AIR FRYER?
Yes you can! This recipe uses flour and breadcrumbs to make delicious air fryer zucchini fries, but you can use my recipe for Keto Zucchini Fries to make them low carb using coconut and parmesan cheese as a breading instead.
You might also enjoy my recipe for Keto Air Fryer Zucchini Boats. They are so yummy and a delicious summer meal.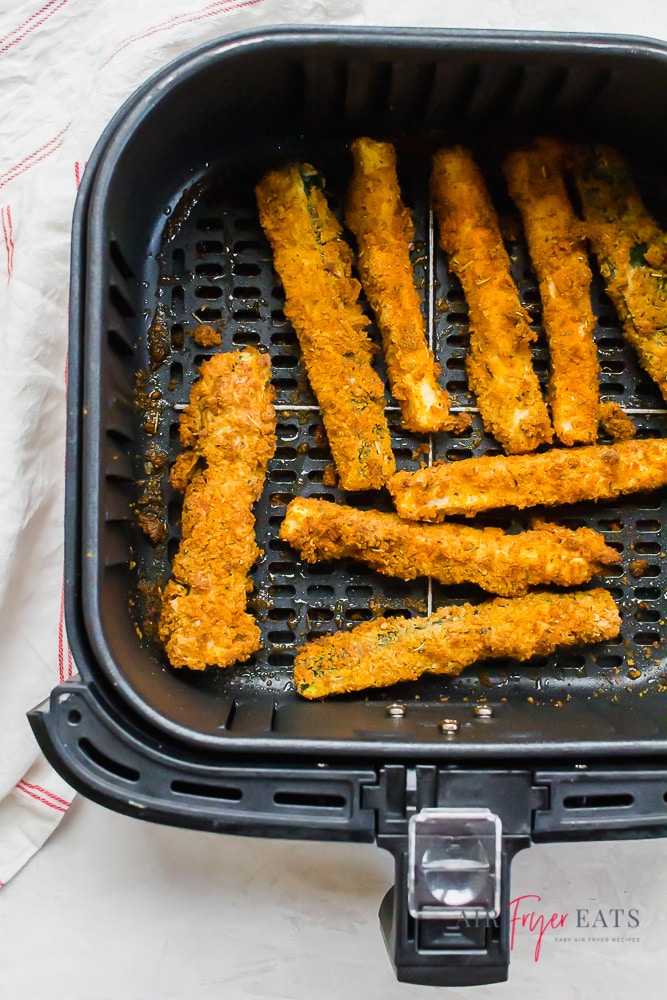 DO I NEED TO REMOVE THE SEEDS FROM ZUCCHINI?
This will depend on the size of your zucchini.
If you are using small to medium zucchini, the seeds are generally small and soft, so there's no need to remove them.
If you're working with large zucchini that you've harvested from your garden, you may have large woody seeds inside. Scoop them out before cutting the zucchini into sticks.
DO YOU PEEL ZUCCHINI TO MAKE ZUCCHINI FRIES?
I do not peel the zucchini when making this air fryer recipe. I like the texture that the skin adds to the fries. Zucchini with all of the skin removed can sometimes be too soft.
That said, if you don't like the skin, you can peel it away! Just note that the fries might be a bit more delicate after they've cooked.
HOW CAN I MAKE ZUCCHINI FRIES VEGAN?
Want to enjoy egg-free zucchini fries? Replace the egg in this recipe with a flax egg mixture. Simply stir a tablespoon of ground flax seed (or ground chia seeds) with three or four tablespoons of water.
CAN I MAKE THESE IN THE OVEN?
Sure! They take much longer to cook in the oven though (which is why I love my air fryer so much!).
Bake zucchini fries in a preheated 425°F oven for 20-25 minutes or until tender and browned.
Other Amazing Side Dish Recipes
If you are looking for more side dish ideas or recipes, we have several!
Try any and all of these easy summer veggie recipes in your air fryer!
Check out our Air Fryer Green Bean Casserole, Pan-Fried Zucchini, Vegan Mashed Potatoes, How to Cook Air Fryer Potatoes, Air Fryer Zucchini, Fried Green Tomatoes in the Air Fryer.
Still have more Zucchini to cook up? Make some Lemon Zucchini Bread!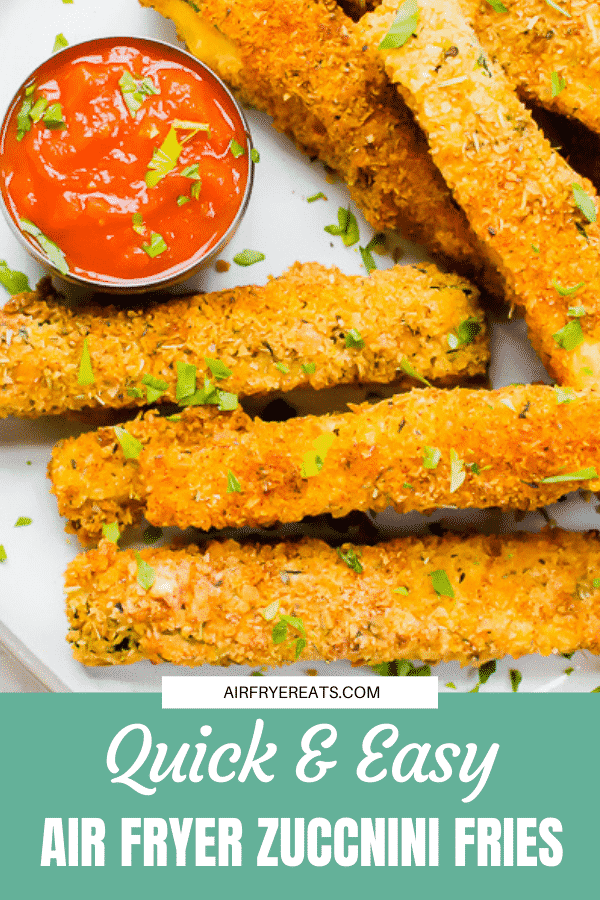 Air Fryer Zucchini Fries
Air Fryer Zucchini Fries are a quick and easy healthy side dish! A few basic pantry ingredients turns your fresh zucchini into delicious, crunchy fries.
Ingredients
½

teaspoon

garlic powder

1

tablespoon

paprika

1

tablespoon

Italian seasoning

Salt and pepper

optional, to taste

½

cup

breadcrumbs

Any type (gf optional)

½

cup

flour

all purpose of any kind including GF

2

eggs

beaten

1 to 2

large

zucchini

cut into ½-inch sticks

Spray oil
Instructions
Wash and dry the zucchini. Cut the zucchini into ½-inch sticks. Set aside.

Crack the eggs into a bowl and whisk them. Set aside.

Pour the flour into a second, ideally shallow, bowl. Set aside.

In a third bowl, combine spices and bread crumbs. Set aside.

Coat the zucchini: Dredge the zucchini sticks through the flour, then the egg, then through the bread crumb mixture. Be gentle with the zucchini and pat the bread crumbs on all sides.

Put the zucchini pieces into the air fryer basket and generously spray with oil. Air fry at 400 degrees F or 200 degrees C for 10 to 12 minutes. Flip halfway through cook time and spray again with oil.

Serve with marinara dipping sauce and enjoy!
Go AD FREE!
Notes
Season the breading with salt and pepper if you like. Some Italian seasoning or seasoned breadcrumbs will already have salt in them, so feel free to adjust the seasonings to your preference.
Pro Tip:

This recipe can be made in the air fryer unit with a basket or the air fryer oven. If you are using the air fryer oven, use the middle rack and select the "Air Fry" function.

Pro Tip: Check your food as it cooks. Each air fryer runs a bit differently. Sometimes airfying is a trial and error process. Check your food as it cooks to learn your air fryer better! When cooking a new recipe or food items be sure to check your food often to help avoid over/under cooking.
Have oven recipes that you'd like to convert to an air fryer recipe? Use our Air Fryer Calculator to help you estimate cooking times and temps! Calculator here:
https://airfryereats.com/air-fryer-conversion-air-fryer-calculator/
Nutrition
Calories:
165
kcal
|
Carbohydrates:
26
g
|
Protein:
8
g
|
Fat:
3
g
|
Saturated Fat:
1
g
|
Cholesterol:
82
mg
|
Sodium:
139
mg
|
Potassium:
340
mg
|
Fiber:
3
g
|
Sugar:
3
g
|
Vitamin A:
1164
IU
|
Vitamin C:
14
mg
|
Calcium:
74
mg
|
Iron:
3
mg
Tired of the ads?
Go AD Free - Become part of our Membership community!
Air Fryers can vary greatly. Please take the time to learn your specific air fryer. You may need to adjust times and temperatures based upon your air fryer.
All though this website attempts to provide accurate nutritional information, the information should only be considered an estimate. Varying factors such as different product types, different brands, etc. can change nutritional information. It is your responsibility as a consumer to read all labels to make sure the ingredients fit your dietary needs as well as calculate your own nutritional information as a double check.