Why go out to a restaurant when you can have tender, flaky salmon right at home? You won't believe how easy it is to make this 10 minute Air Fryer Salmon!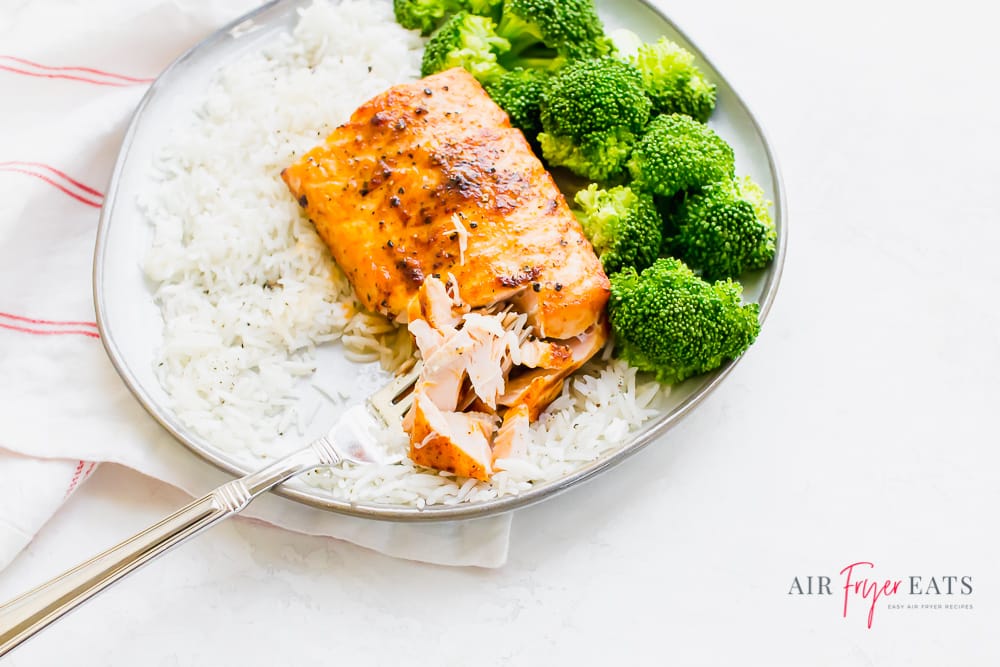 Air Fryer Salmon is a great way to make restaurant-quality salmon fillets in your very own kitchen with hardly any effort! While fish isn't exactly the easiest protein to cook correctly, the right air fryer temperature and cook time combination gives you beautifully cooked, flavorful salmon every time. Served with some rice and air fryer broccoli, this salmon recipe makes for one delicious and healthy lunch or dinner!
You'll start with fresh salmon fillets (if you use frozen, thaw them overnight or under cold running water in the packaging it came in) sprayed with a little oil and coated in a smoky and savory seasoning blend. About 10 minutes in your air fryer, and you'll get the most incredibly flavorful salmon without ever leaving your house!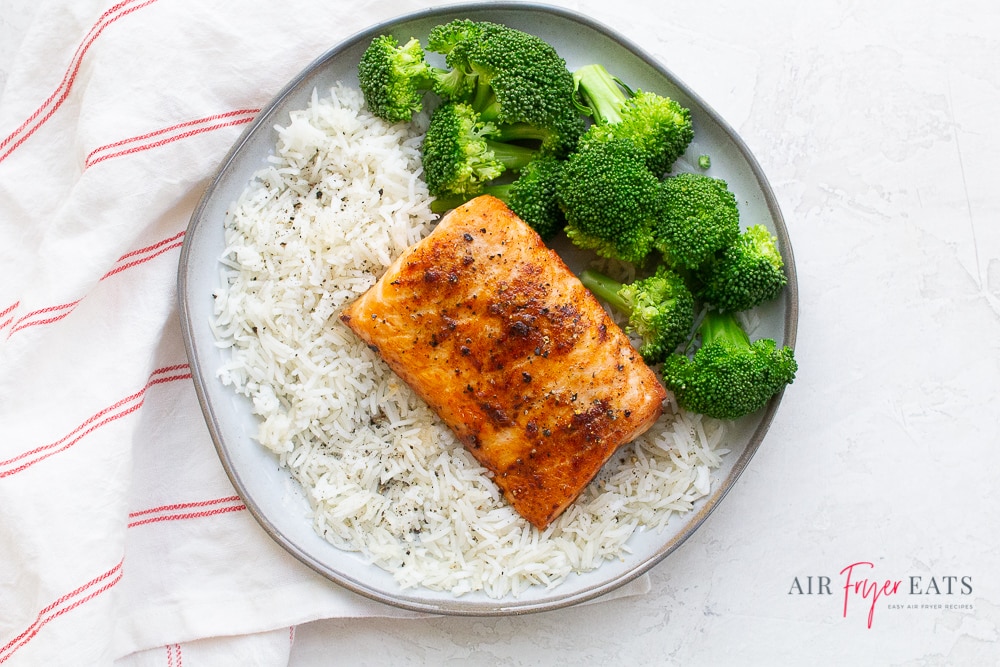 How to Cook Salmon in an Air Fryer
Check your salmon fillets for bones or other unwanted pieces.
Leaving the skin on, spray the skinless fillets with cooking spray, then coat with the spices.
Place the salmon in a prepared air fryer basket, leaving a couple of inches of space between the fillets.
Air fry the salmon fillets for 10 minutes at 400 degrees F.
Serve with your favorite sides. I like to serve with a simple pairing of rice and air fryer broccoli.
Dig in and enjoy!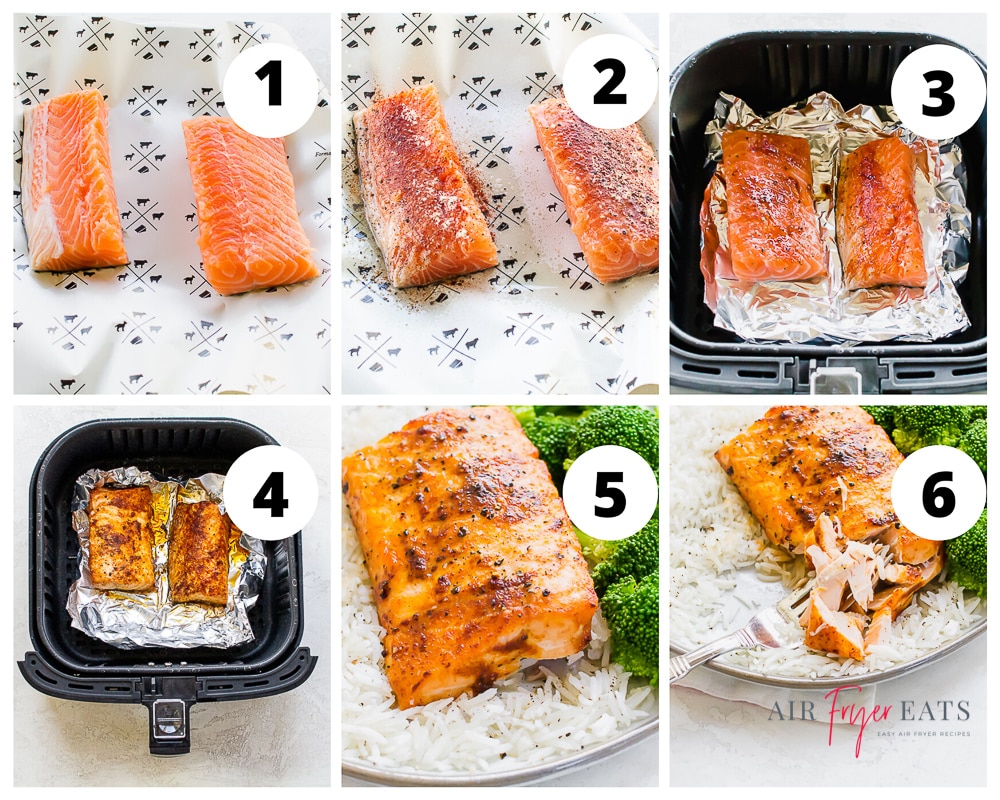 Tips for cooking Salmon
Don't over cook! Salmon is commonly served medium in restaurants, which allows for a moist fillet that is super tender.
Place the salmon in your air fryer skin side down. This will ensure that you're able to get it out of the basket without the fillet falling apart.
How do you know when salmon is done cooking?
It doesn't take much work to figure out when salmon is done cooking, but there are a few things to look for if you're unsure.
Raw salmon is a translucent orange-pink hue, and it turns to an opaque light pink color when cooked. The fillet should be mostly opaque with a small amount of translucent flesh still remaining.
You should also be able to stick a fork or knife into the middle and see the salmon start to flake away.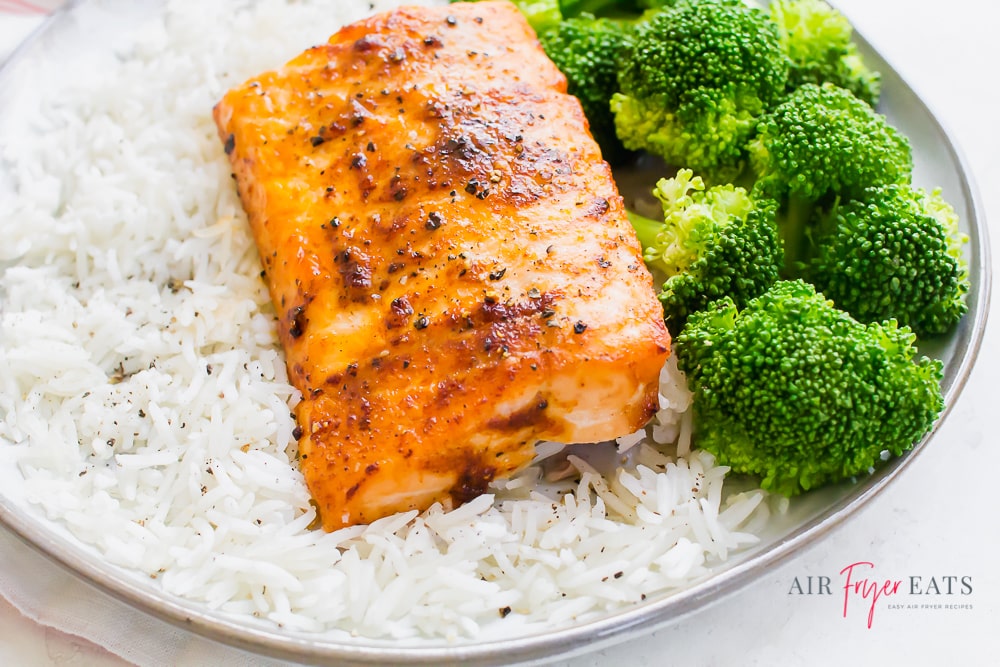 Why should I leave the skin on salmon?
If you're used to eating salmon fillets without the skin, it may seem strange to think about leaving it on. However, there are several reasons to keep the skin on that might surprise you.
First, unless you're a trained chef or butcher, there's really no need to fuss with the messy task of filleting a salmon plank. It requires a special type of knife, and can leave you with salmon fillets that are hacked into pieces and less than presentable. Leaving the skin on also makes it easier to slide a spatula underneath the salmon to get it out of your air fryer basket in one piece.
Plus, the skin creates a nice barrier between the pan or air fryer basket and the salmon flesh allows for a more moist, flaky fillet. Like most seafood, salmon is touchy when it comes to cooking times. It's easy to overcook it and that can really put a damper on things when you've paid top dollar for a good cut of salmon.
Lastly, I'm going to let you in on a secret that you might not know – salmon skin is totally edible! It's often served on the fillet or even by itself as a garnish or appetizer in high-end restaurants. Of course, it's important to make sure that your salmon was sourced responsibly and is of safe quality, so that you're not putting yourself at risk for food borne illness.
If you plan to buy your salmon fresh instead of pre-packaged, feel free to ask your grocer for information regarding sourcing for peace of mind. Then, let your air fryer do the work and dig in – skin and all!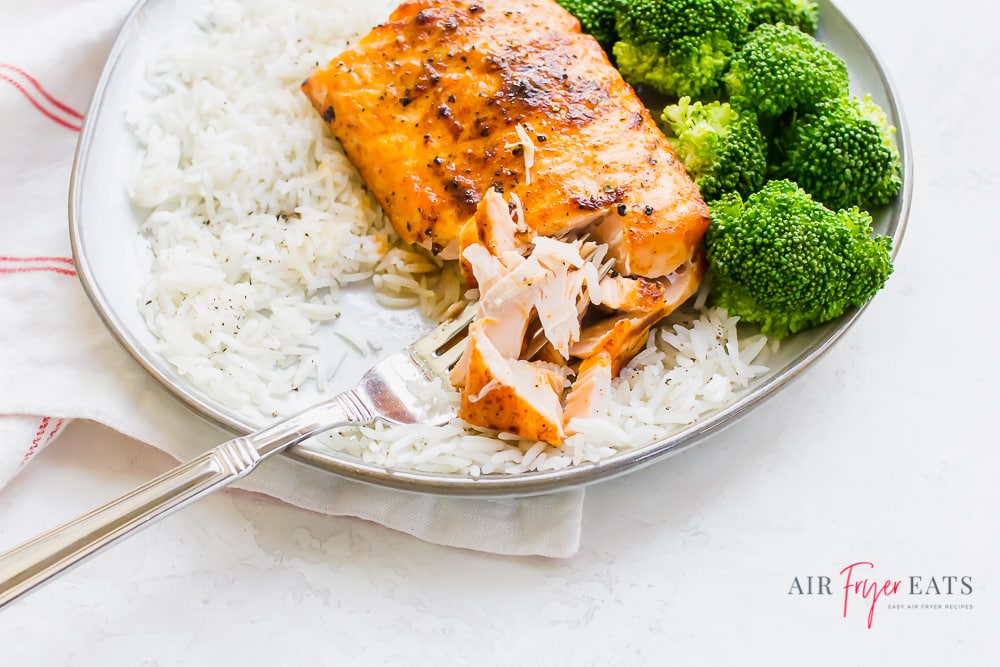 Try These Other Yummy Air Fryer Main Dish Recipes!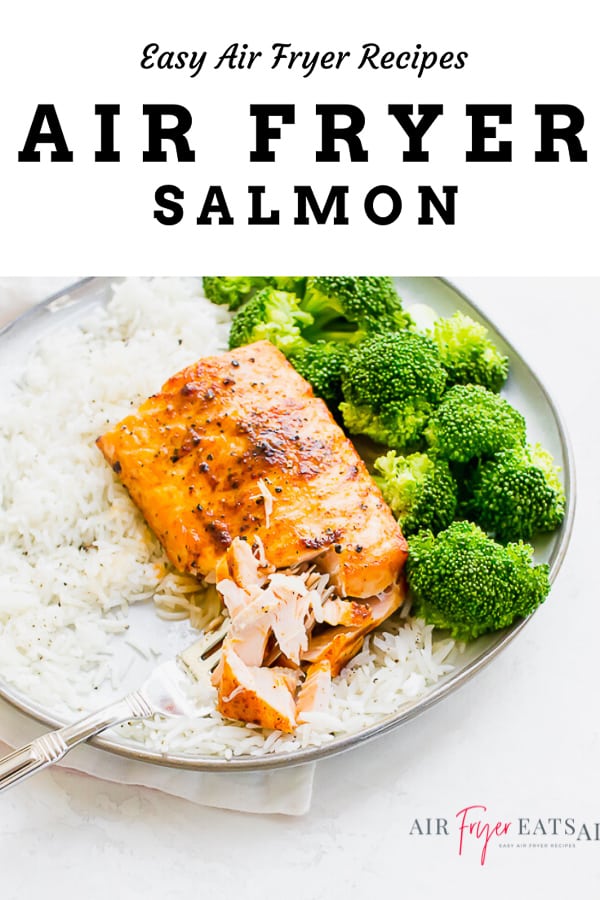 Looking for purchase an air fryer? Wondering which air fryer is right for you? Here are my TOP picks of air fryers on the market today!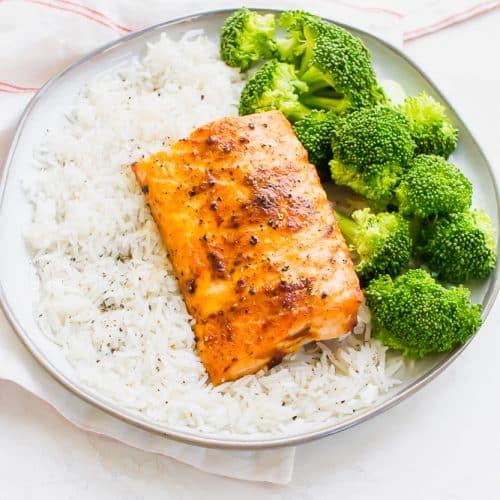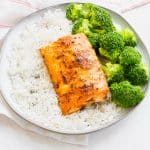 Print Recipe
Air Fryer Salmon
Why go out to a restaurant when you can have tender, flaky salmon right at home? You won't believe how easy it is to make this 10 minute Air Fryer Salmon!
Instructions
Check your salmon fillets for bones, and remove them. Leave the skin on the salmon fillets.

Spray tops of salmon fillets with oil.

In a small bowl mix the spices, then gently pat/rub the spices onto the salmon fillets.

Line your air fryer basket with parchment paper or foil. Place the salmon fillets over the liner.

Air fry the salmon on 400 degrees F for 10 minutes.
Notes
Cooking times will vary based upon the thickness of your salmon. I used 1 ½ inch thicken salmon.

If you leave the skin on you do not need to flip the salmon. If you removed the skin, you can gently slip the salmon half way through the cooking process.

If your salmon is not done to your liking, you can add 1-2 minutes until it is done.

You can quickly over cook the salmon, so be sure to check on it every few minutes.
Nutrition
Serving:
1
fillet
|
Calories:
271
kcal
|
Carbohydrates:
6
g
|
Protein:
35
g
|
Fat:
12
g
|
Saturated Fat:
2
g
|
Cholesterol:
94
mg
|
Sodium:
1244
mg
|
Potassium:
1028
mg
|
Fiber:
3
g
|
Sugar:
1
g
|
Vitamin A:
3516
IU
|
Calcium:
36
mg
|
Iron:
3
mg
Air Fryers can vary greatly. Please take the time to learn your specific air fryer. You may need to adjust times and temperatures based upon your air fryer. 
All though this website attempts to provide accurate nutritional information, the information should only be considered an estimate. Varying factors such as different product types, different brands, etc. can change nutritional information. It is your responsibility as a consumer to read all labels to make sure the ingredients fit your dietary needs as well as calculate your own nutritional information as a double check.