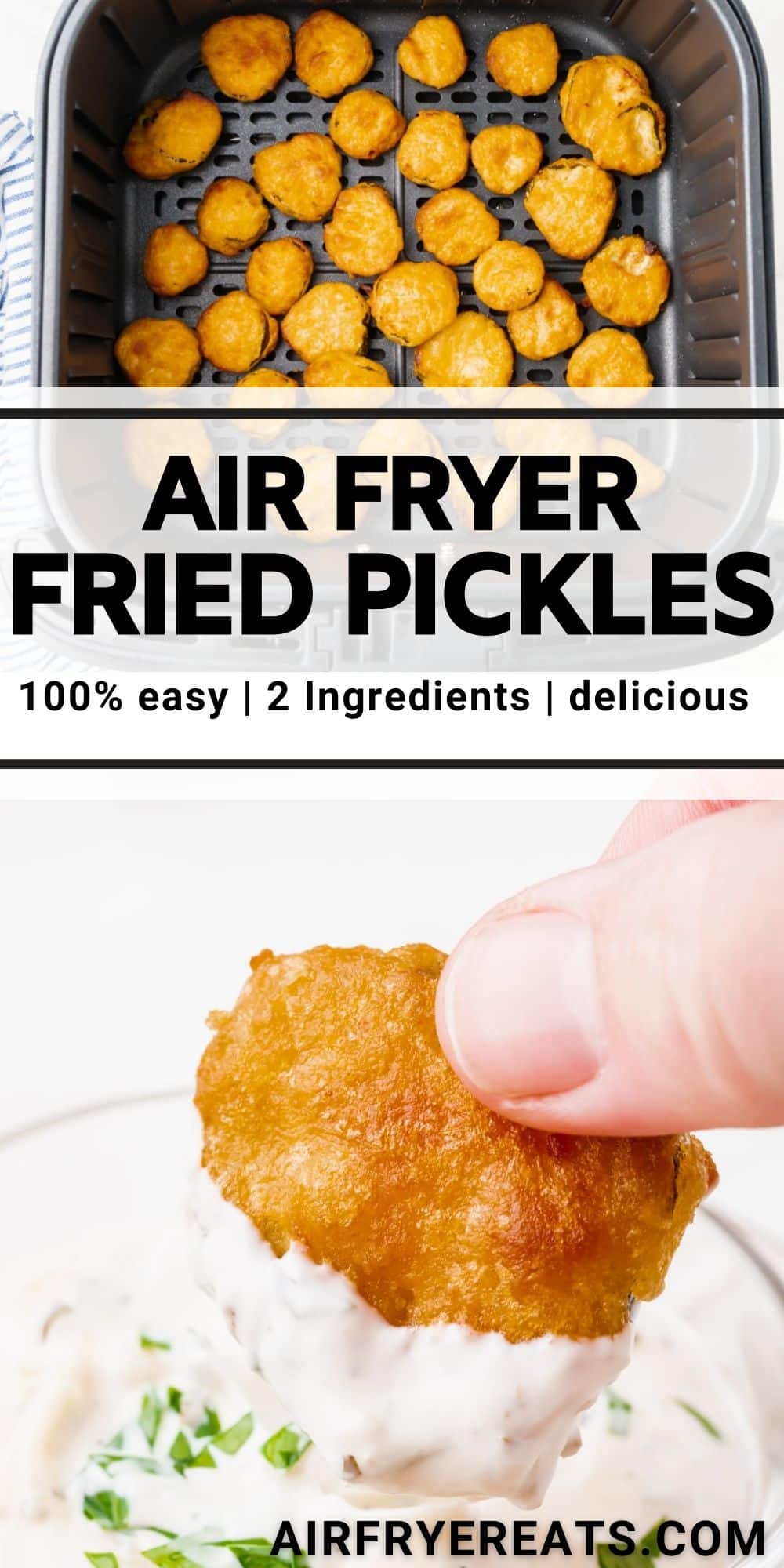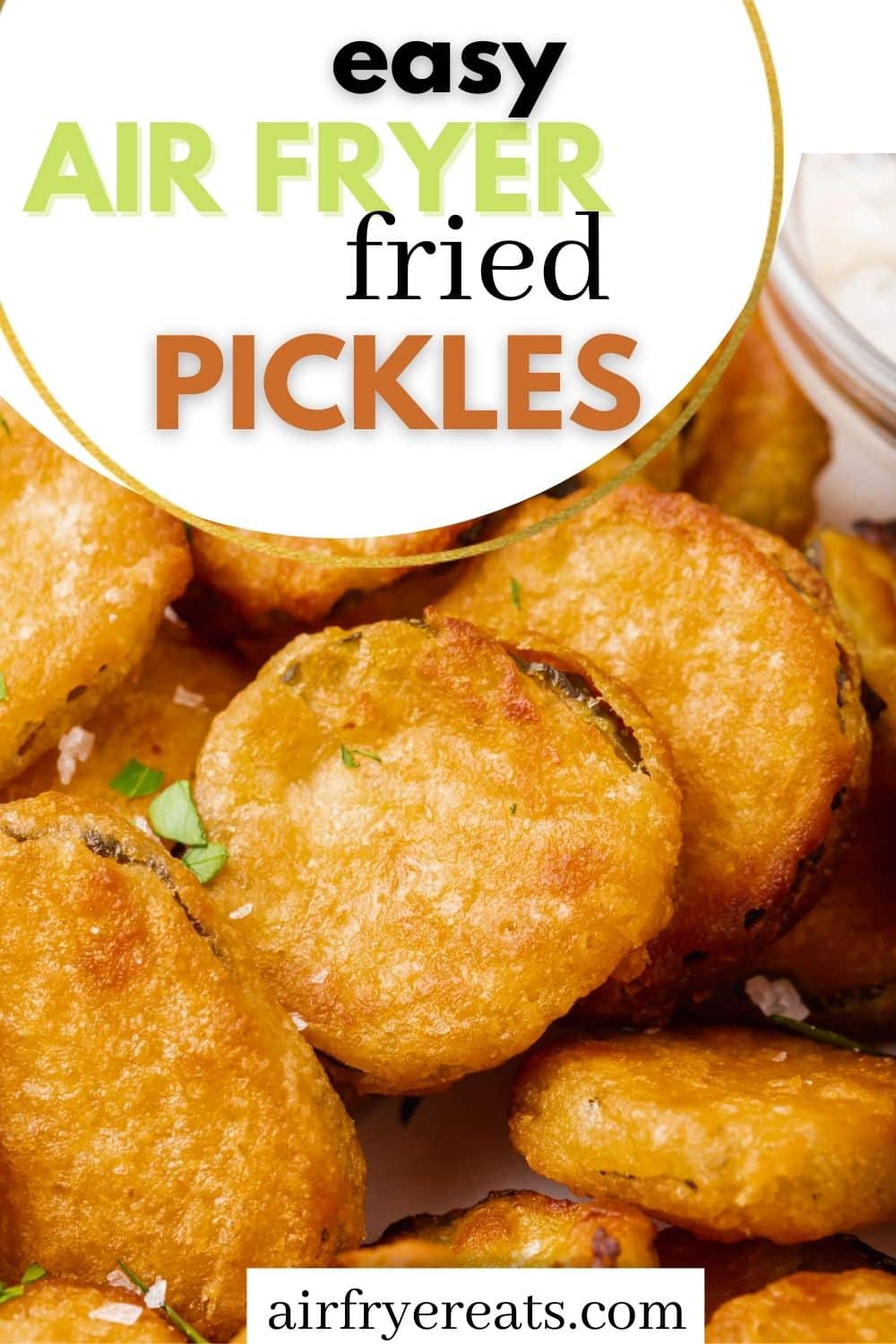 Frozen Fried Pickles are a delicious, convenient and easy-to-make appetizer, and they're ready in minutes using your air fryer.
Air Fryer Frozen Fried Pickles are so easy! You can enjoy your favorite restaurant appetizer any time you like.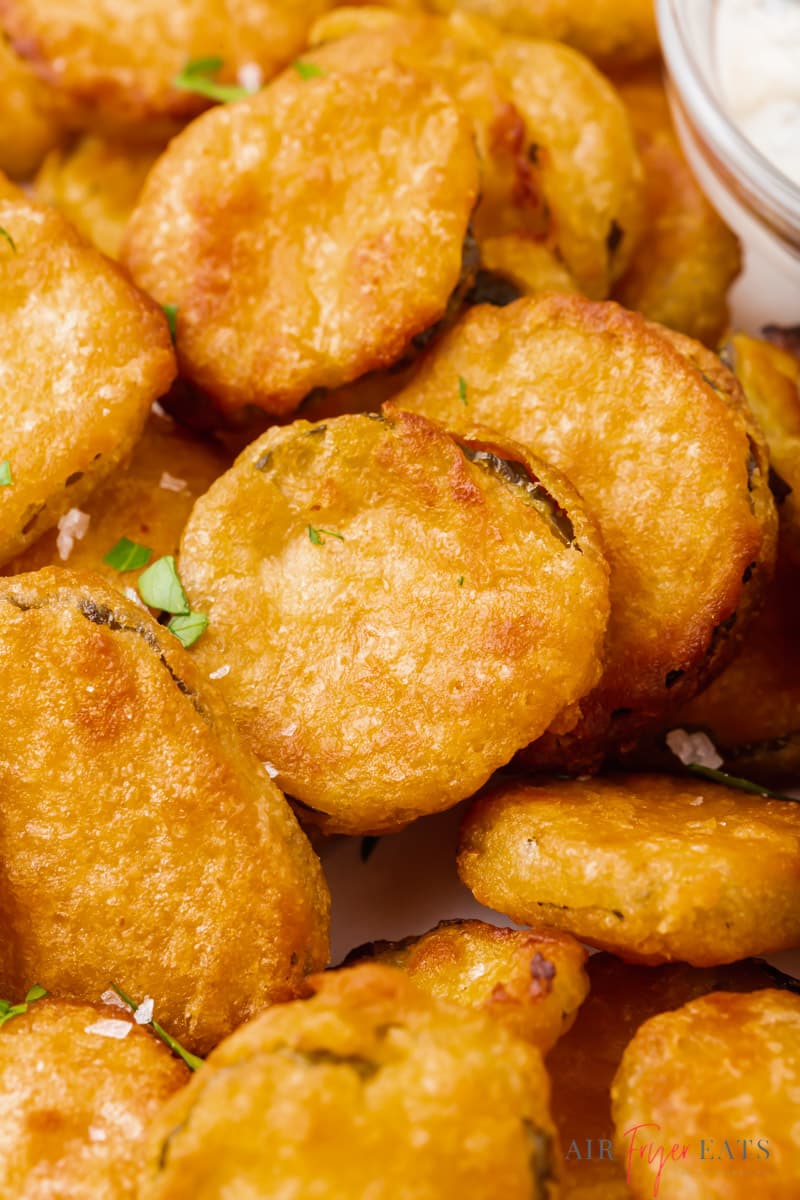 FROZEN FRIED PICKLES RECIPE
If you enjoy an order of crispy fried dill pickle chips as an appetizer at Red Robin, Texas Roadhouse, Chili's, or your favorite local bar and grill, you'll be happy to know that it's now possible to make these at home!
Not only can you make fried pickles at home, but you can buy frozen fried pickles that are ready to cook! So it's super easy, and mess-free.
Of course, the best way to cook frozen fried pickles is in the air fryer, and I'll show you exactly how to do it.
Love quick and tasty snacks? Try making Frozen Popcorn Shrimp in the air fryer, or Air Fryer Frozen Dumplings next!
We are working our way through ALL of the foods in the frozen foods aisle, so be sure to grab instructions for your favorites.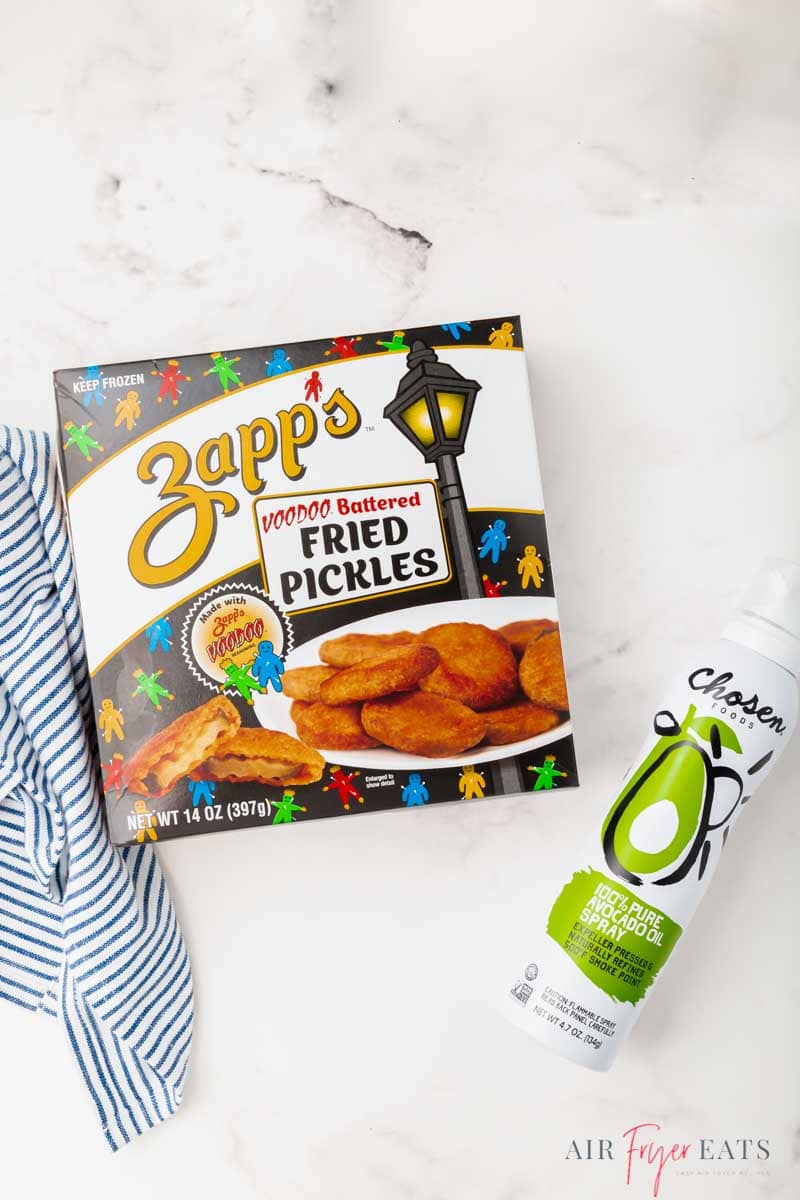 INGREDIENTS IN FROZEN FRIED PICKLES
A Box of Frozen Fried Pickles - Look for these yummy snacks at your grocery store. Zapp's Voodoo Battered Fried Pickles are my favorite because they're battered rather than breaded (I don't really know what the "voodoo" is, but it's delicious!) You can find the breaded version of dill pickle slices made by TGI Fridays or FarmRich.
Spray Oil - I love this avocado spray oil and use it all the time while cooking crispy things in my air fryer. You can use any kind of sprayable oil that you have though.
If you have any questions about air frying frozen fried pickles, please leave a comment below and I will get back to you ASAP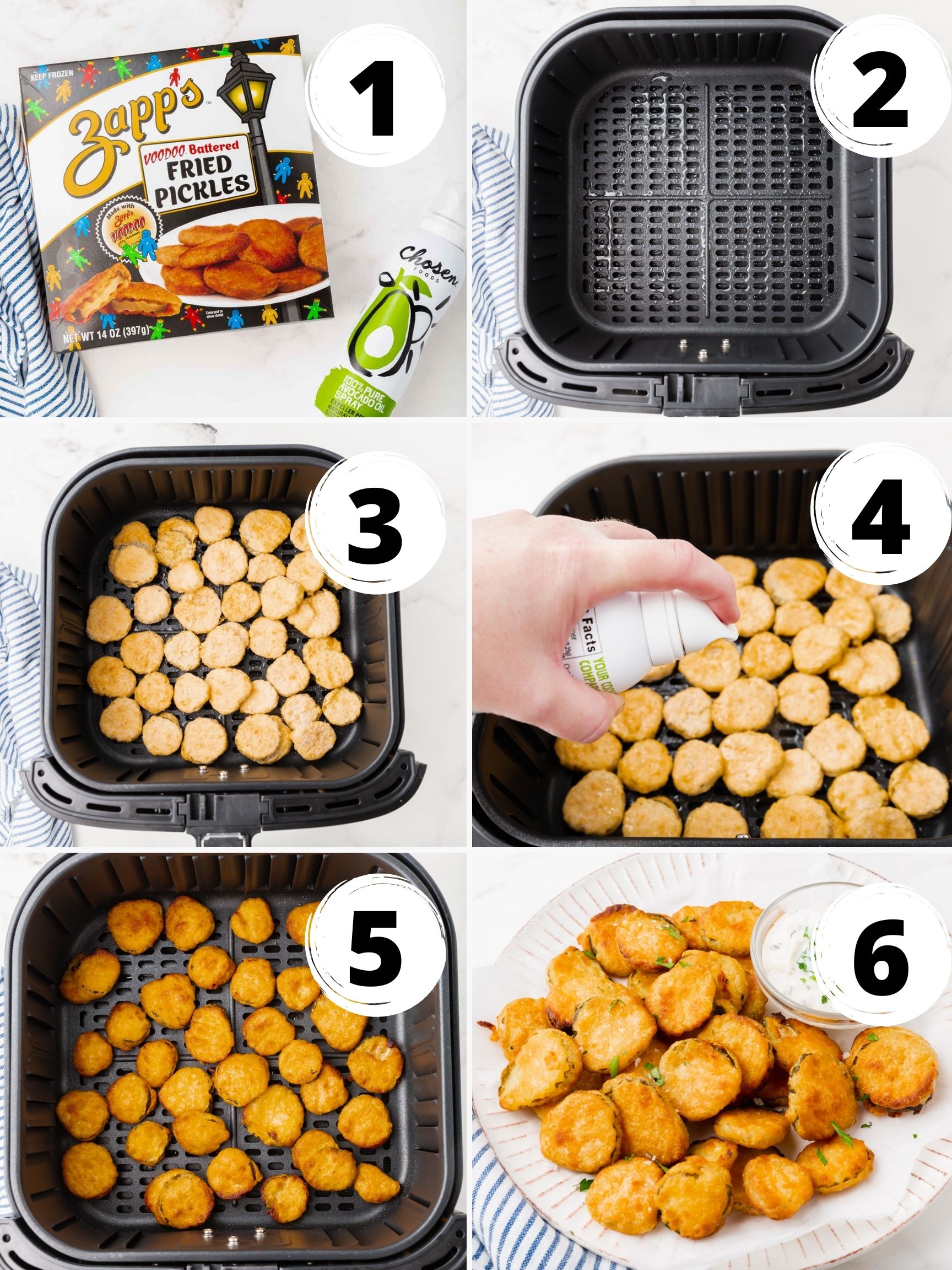 HOW TO MAKE FROZEN FRIED PICKLES IN AIR FRYER
Start by removing the fried pickles from the packaging. You can cook as many or as few as you need.
Use the cooking spray to spray the bottom of the air fryer basket with oil.
Place the fried pickles - still frozen - in the air fryer basket, making sure to keep them in a single layer.
Then spray the tops of the pickles with a bit more oil spray.
Air Fry as directed in the recipe card below, flipping them over halfway through until they are browned and crispy.
Serve immediately with your favorite dipping sauce.
These numbered steps match the numbered photos above and are for illustration purposes. For the complete list of ingredients and instructions, please see the recipe below.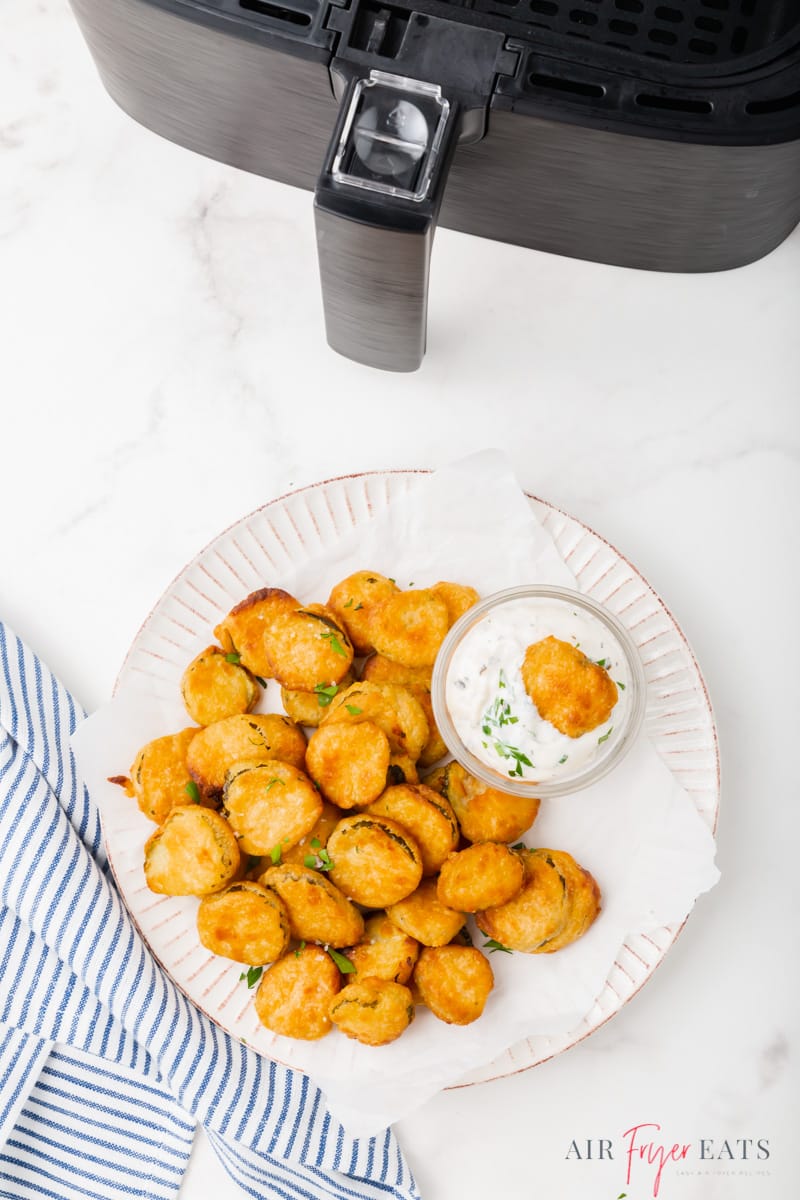 WHAT TO SERVE WITH FROZEN FRIED PICKLES
Fried Pickles are a popular bar food snack, so it makes sense to serve them with other foods you could order at your favorite local hangout.
Try making these cheesy Air Fryer Potato Skins. It's amazing that you can get them so crispy and delicious without a deep fryer!
Air Fryer Boneless Wings tossed with buffalo sauce are a spicy and tasty appetizer. You can make Air Fryer Chicken Wings too!
Want more air fryer appetizer ideas? Check out Air Fryer Calamari, Air Fryer Mozzarella Sticks, and Air Fryer Onion Rings!
HOW MUCH SPRAY OIL SHOULD I USE?
You want to add oil to these pickles so that they crisp up, but you don't need to soak them in it. Spray the air fryer basket lightly, and then spray the tops of the pickles lightly as well.
You can always add another spritz of oil to the fried pickles towards the end of the cooking time if you think they need it.
DOES THIS RECIPE WORK WITH BREADED FROZEN PICKLES?
Yes, you can make frozen fried dill pickles that are either coated with bread crumbs or covered with batter using this method.
HOW LONG DO YOU AIR FRY FROZEN FRIED PICKLES?
It takes 10-12 minutes to get frozen fried pickles nice and crispy in the air fryer.
Keep in mind that different brands may cook faster or more slowly, so keep an eye on your pickles while they cook in the air fryer.
CAN I AIR FRY FROZEN FRIED PICKLE SPEARS?
If you can find these, you can definitely cook them in the air fryer! Add 2-4 additional minutes of cook time, since spears are thicker than pickle chips.
WHERE TO BUY FROZEN FRIED PICKLES
Look for these in the freezer section of your favorite grocery store. Sam's Club, BJ's and Costco often have them in bulk packages too.
CAN I MAKE MY OWN FROZEN PICKLES TO AIR FRY?
I haven't tried this yet, but I'm certain that you could figure this out! Make your favorite breaded fried pickle recipe, and freeze the pickles after you bread them. Then air fry as directed here.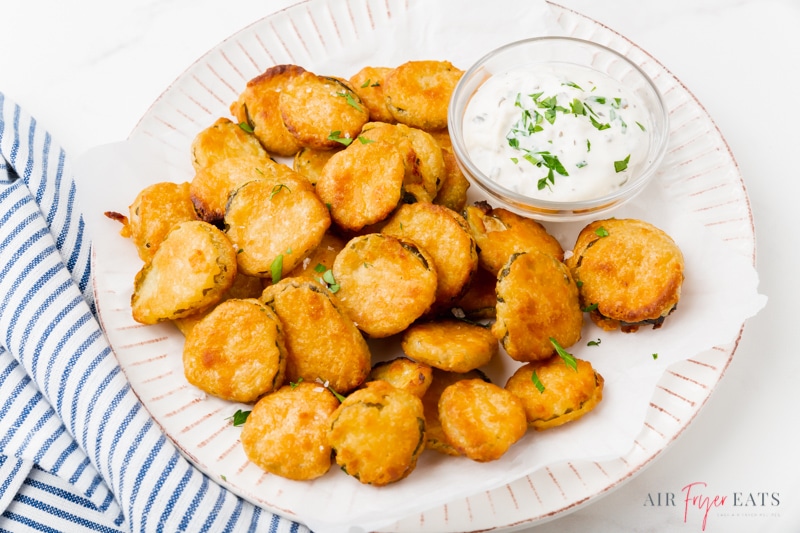 MORE EASY AIR FRYER RECIPES
If you aren't sure what to make in your air fryer next, start with some of our reader favorite recipes:
Air Fryer Unbreaded Chicken Tenders, Air Fryer Frozen Hamburgers, and Air Fryer Porkchops are great dinner options that are ready in a flash.
The best air fryer side dishes include Air Fryer Baked Sweet Potatoes and Crispy Air Fryer Brussel Sprouts.
The air fryer makes desserts super simple. Learn how to make Oatmeal Cookies or Fried Oreos in the Air Fryer!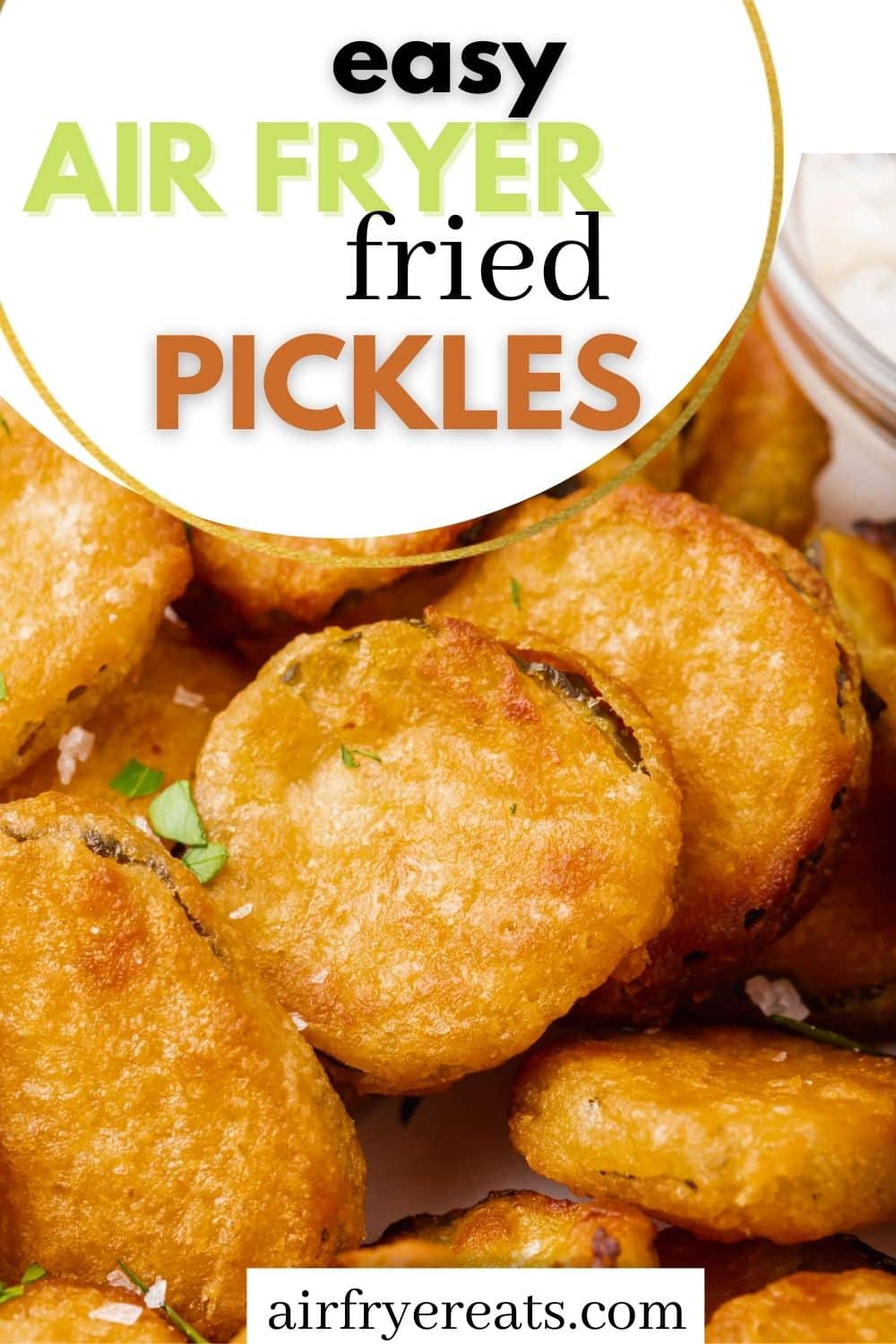 Have you made this recipe? Please leave a comment AND rating below! It helps other readers!
Be sure to tag @AirFryerEats on instagram, if you share a picture on the gram! Let's get social, you can follow me on Youtube, Instagram, Facebook, Pinterest or join one of our Air Fryer Facebook Groups: Air Fryer Recipes, Air Fryer Recipes for Seniors and Gluten Free Air Fryer Recipes.
Don't forget to subscribe to our EMAIL newsletter.
Frozen Fried Pickles
Air Fryer Frozen Fried Pickles are so easy! You can enjoy your favorite restaurant appetizer any time you like.
Ingredients
1

package

Frozen Fried Pickles

cooking oil spray
Instructions
Spray the air fryer basket with cooking spray.

Place the frozen breaded pickles in the basket in a single layer.

Spray the pickles with cooking spray.

Air fry at 400°F/200°C for 10-12 minutes, flipping over halfway through.

Serve immediately with your favorite dipping sauce.
Go AD FREE!
Notes
Please note that the nutrition facts listed here are not going to be accurate for frozen fried pickles due to limitations of the calculator that we use. Please see the packaging for the pickles you have to get the full nutrition details.
Keep the pickles in a single, even layer so they can crisp up. You may need to cook them in batches depending on the size of your air fryer.

These fried pickles are best eaten right away so they are hot and crispy.

The cooking spray helps the fried pickles get really crispy in the air fryer. You don't need a lot of it - you just want to have a light coat on the fried pickles.

Fried pickles are delicious dipped in ranch dressing!
Pro Tip: This recipe can be made in the air fryer unit with a basket or the air fryer oven. If you are using the air fryer oven, use the middle rack and select the "Air Fry" function.
Pro Tip: Check your food as it cooks. Each air fryer runs a bit differently. Sometimes air frying is a trial and error process. Check your food as it cooks to learn your air fryer better! When cooking a new recipe or food items be sure to check your food often to help avoid over/under cooking.
Have oven recipes that you'd like to convert to an air fryer recipe? Use our Air Fryer Calculator to help you estimate cooking times and temps! Calculator here:
https://airfryereats.com/air-fryer-conversion-air-fryer-calculator/
Nutrition
Calories:
0.03
kcal
|
Carbohydrates:
0.01
g
|
Sodium:
2
mg
|
Potassium:
0.3
mg
|
Fiber:
0.003
g
|
Sugar:
0.003
g
|
Vitamin A:
0.5
IU
|
Vitamin C:
0.01
mg
|
Calcium:
0.1
mg
Tired of the ads?
Go AD Free - Become part of our Membership community!
Air Fryers can vary greatly. Please take the time to learn your specific air fryer. You may need to adjust times and temperatures based upon your air fryer.
All though this website attempts to provide accurate nutritional information, the information should only be considered an estimate. Varying factors such as different product types, different brands, etc. can change nutritional information. It is your responsibility as a consumer to read all labels to make sure the ingredients fit your dietary needs as well as calculate your own nutritional information as a double check.