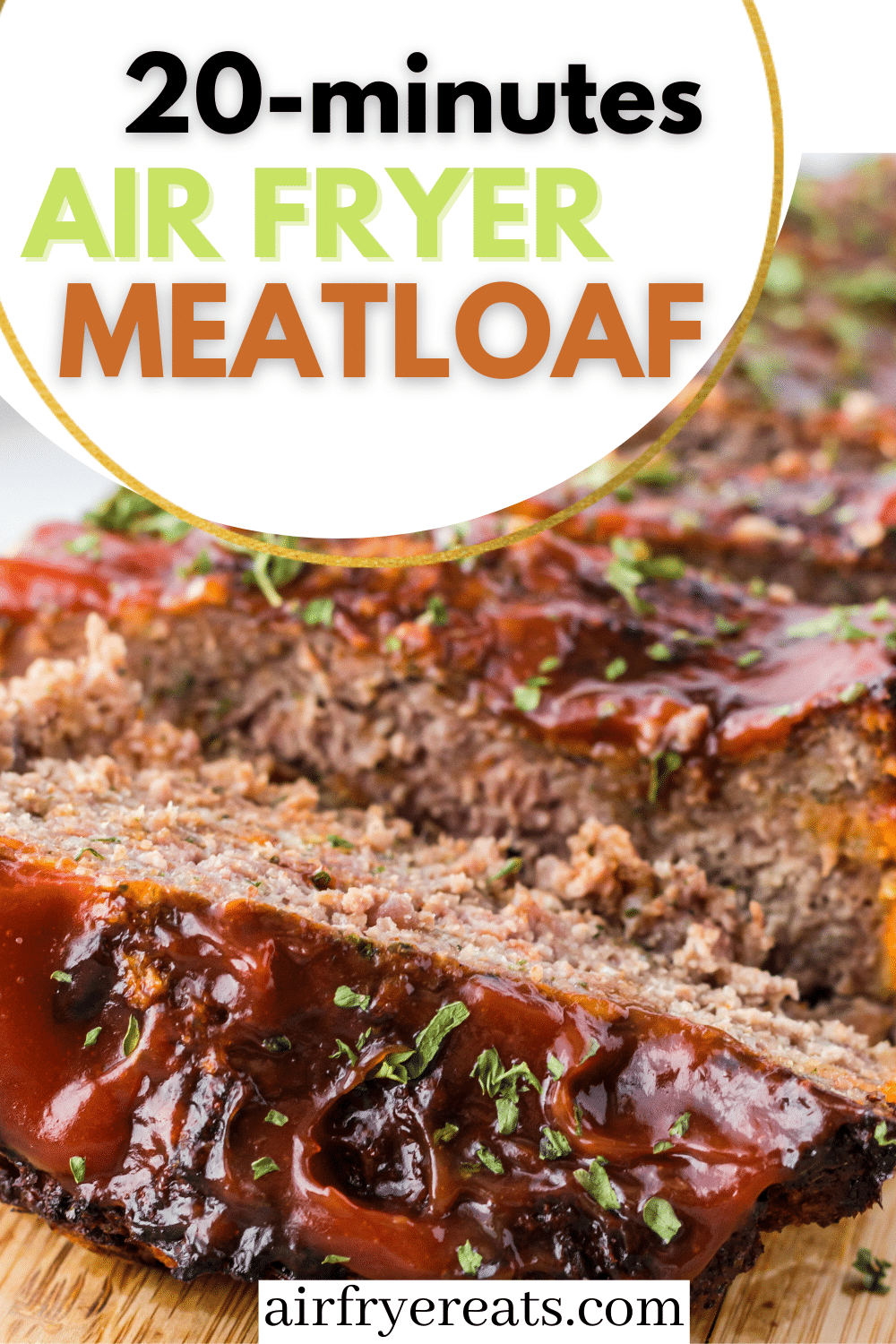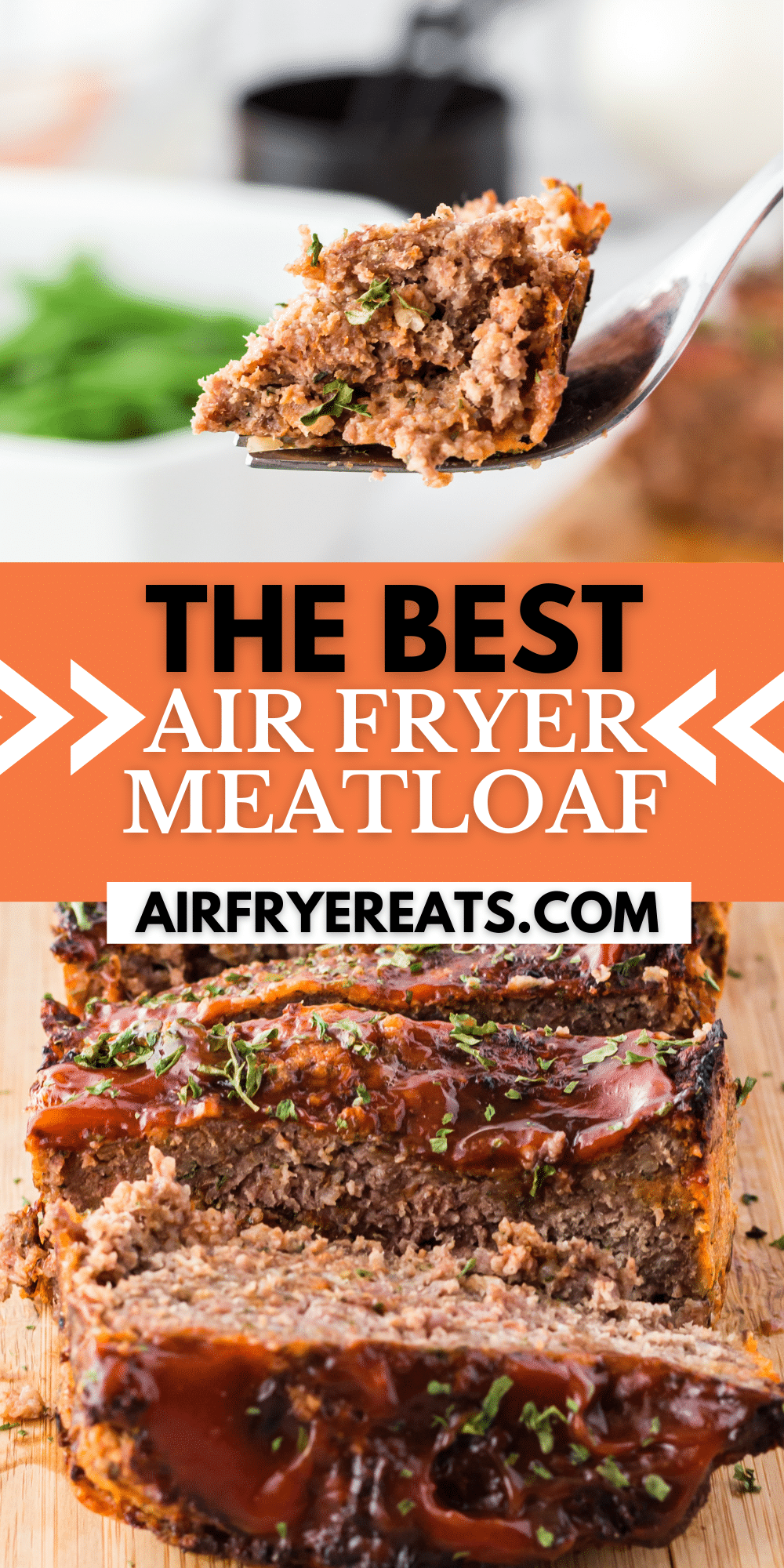 A delicious Ninja Foodi Meatloaf is ready in just 20 minutes! Make a homestyle dinner in less time with the Air Fryer function of your Foodi.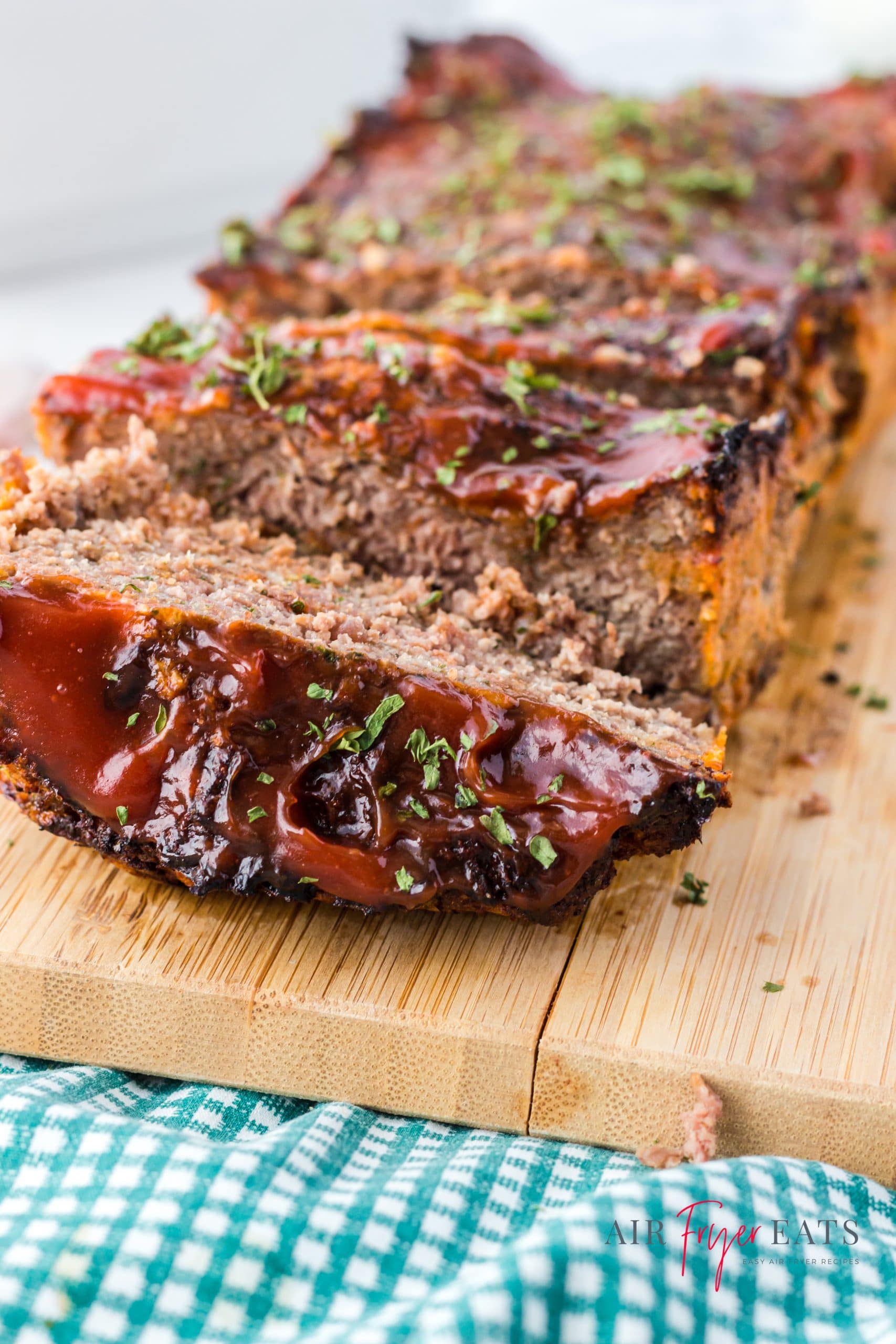 NINJA FOODI MEATLOAF RECIPE
This Ninja Foodi meatloaf recipe is so good! Mix up the ingredients in a bowl, form it into a loaf, and pop it in the Ninja to cook - it's super easy.
For this Ninja Foodi recipe, we're only using the Air Fry function of the machine, so it's simple to make without having to switch functions between pressure cooking and crisping.
Set the pressure cooking lid aside - You don't need it to make meatloaf in the Ninja Foodi at all.
You'll end up with a flavorful, tender meatloaf topped with a sweet, crispy ketchup crust.
Cooking in an air fryer that isn't a Ninja Foodi? Try this Air Fryer Meatloaf recipe instead. I also explain in that post how I make a Vegan Meatloaf if that's of interest to you.
Make sure you grab all of our Ninja Foodi Air Fryer Recipes while you're here. You're also going to want to check out this Ninja Foodi Steak Recipe, and you must learn how to make Bacon in a Ninja Foodi!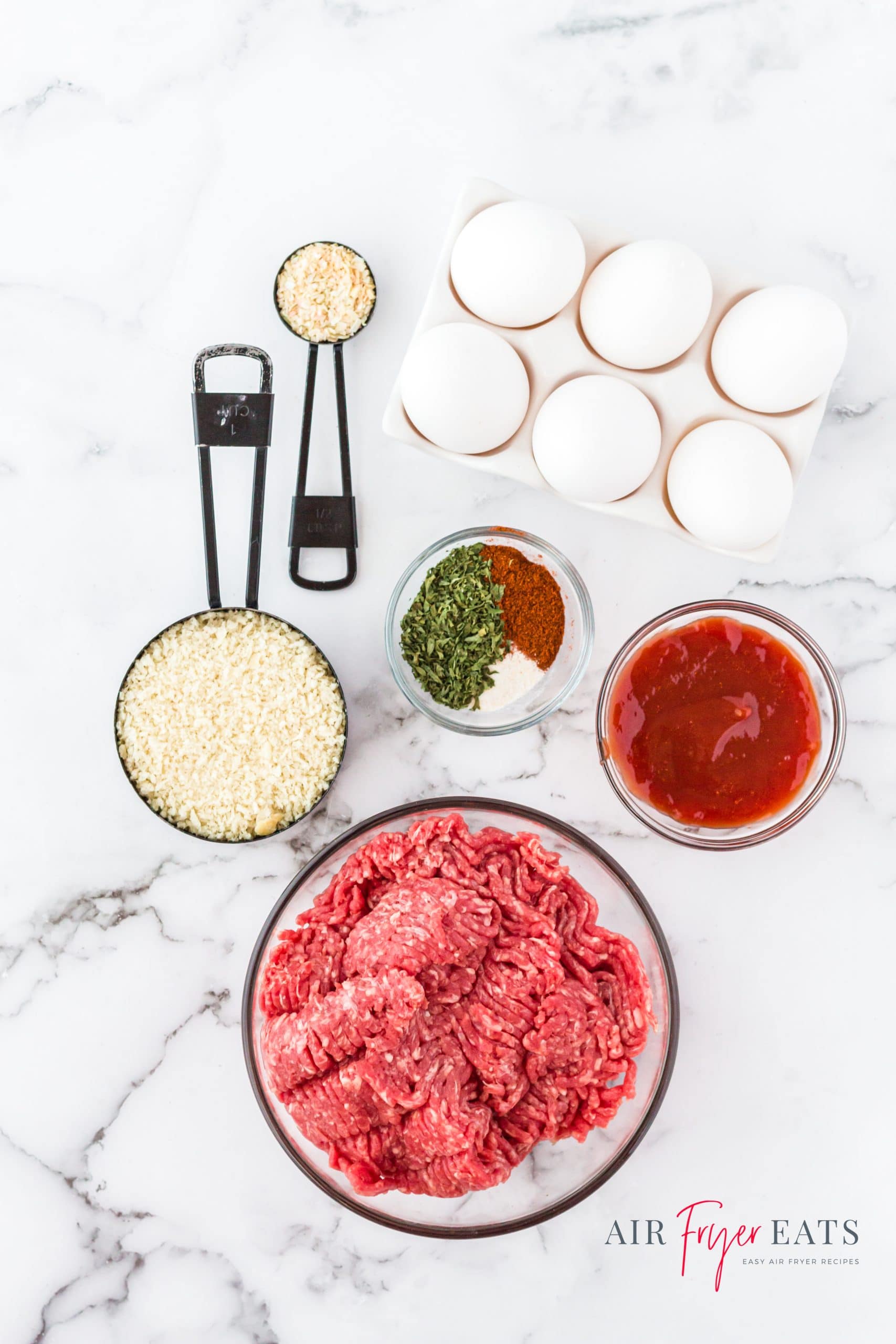 INGREDIENTS FOR MEATLOAF IN NINJA FOODI
Ground Beef - I prefer to use a 93/7 ground beef for this meatloaf recipe as it has enough fat to be flavorful, but not so much that it's greasy. Other ground meat can also be used with this method.
Panko Bread Crumbs - Panko absorbs the juices from the meat and gives your Ninja Foodi meatloaf the perfect texture.
Minced Onion - I use dried minced onion in meatloaf rather than fresh. Fresh onions can sometimes add too much moisture to meatloaf.
Dried Parsley - This gives meatloaf a fresh, homey flavor. I love using it for garnish too.
Garlic Salt - Garlic is always welcome in meat dishes, it adds lots of flavor.
Paprika - Another seasoning common to meat dishes, paprika adds warmth and color.
Egg - Just one egg is needed to bind the meatloaf together and keep it from being crumbly.
Ketchup - the shiny crust on the top of this Ninja Foodi Meatloaf is a simple ketchup glaze.
If you have any questions about Ninja Foodi Meatloaf, please leave a comment below and I will get back to you ASAP!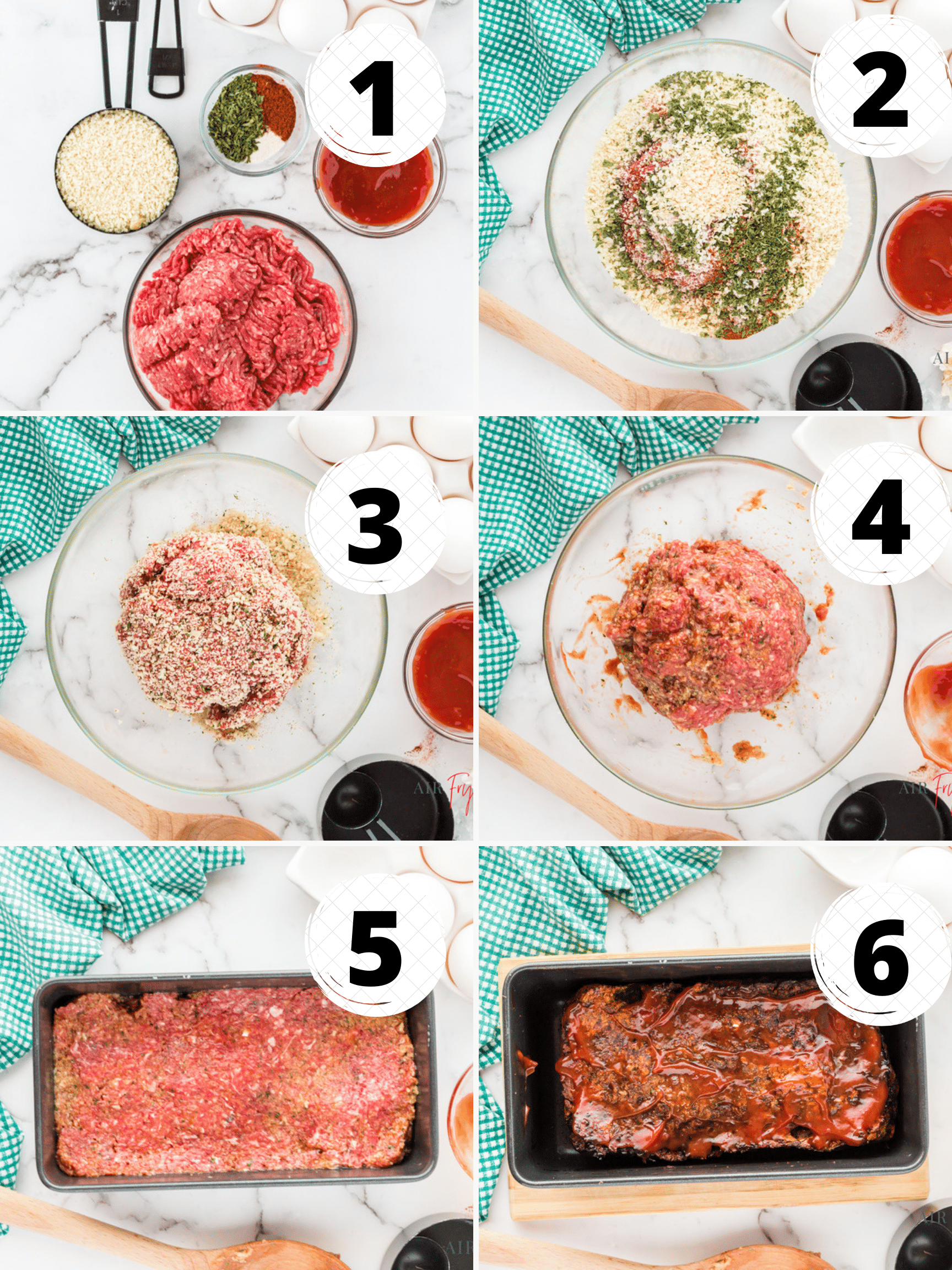 HOW TO MAKE MEATLOAF IN NINJA FOODI
Prepare your ingredients. Lightly beat the egg in a small bowl and measure out the other ingredients.
In a medium sized bowl, combine ground beef, panko bread crumbs, minced onion, parsley, garlic salt, and paprika.
Use your hands to mix everything until very well mixed.
Add the egg and 3 tablespoons of the ketchup and mix until the egg is fully incorporated into the meat mixture.
Place the meat into the Ninja Foodi loaf pan and spread it out so that it reaches each corner of the pan.
Cook the meatloaf for 20-30 minutes using the Bake function of the Ninja Foodi. You want to cook it until the internal temperature of the meatloaf reaches 165°F. Spread the remaining ketchup on top of the meatloaf, and allow it to rest for 5 minutes before serving.
These numbered steps match the numbered photos above and are for illustration purposes. For the complete list of ingredients and instructions for Ninja Foodi Meatloaf, please see the recipe below.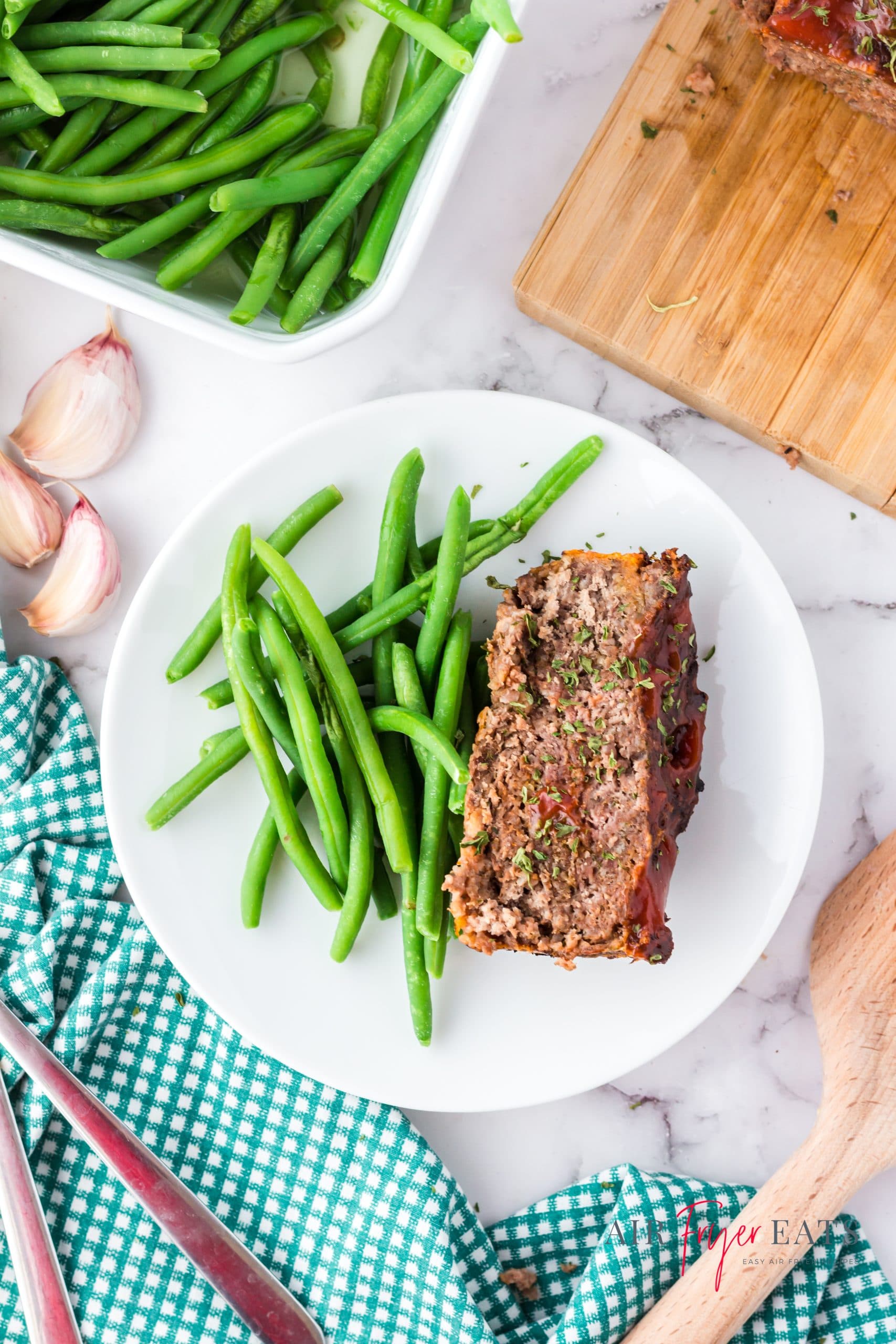 WHAT TO SERVE WITH NINJA FOODI MEATLOAF
Ninja Foodi Meatloaf is the perfect dinner entrée to serve with a variety of side dishes. I particularly love to serve it with both a potato and a vegetable.
Try Mashed Potatoes and Air Fryer Green Beans with Ninja Foodi Meatloaf.
Or Air Fryer Potato Wedges and steamed broccoli.
For dessert you should try Air Fryer Apple Crisp or Air Fryer Pumpkin Pie.
DO I HAVE TO USE THE NINJA FOODI LOAF PAN?
The pan that likely came with your Ninja Foodi is the perfect size for making meatloaf. You can however use any non-stick loaf pan that will fit.
HOW CAN I CRISP THE KETCHUP TOPPING MORE?
After allowing the Ninja Foodi meatloaf to rest, spread the ketchup on top, and return the meatloaf to the ninja foodi. Use the broil function for 2-5 minutes to brown just the top of the meatloaf.
SHOULD I USE THE BAKE FUNCTION OR THE AIR FRY FUNCTION TO MAKE MEATLOAF IN THE NINJA FOODI?
For this recipe, we are using the bake function in order to cook the meatloaf evenly. When baking in the Foodi multicooker, the air crisp lid fan runs more slowly, allowing for an even bake.
SHOULD I USE LEAN BEEF FOR MEATLOAF?
You should use lean beef for meatloaf, and particularly when making meatloaf in the Ninja Foodi.
Higher-fat ground beef will put out a lot of grease while it cooks, and could overflow the pan. You don't want to clean up that mess!
CAN I ADD OTHER FLAVORS?
Of course! Make this meatloaf recipe your own. I often will add ground mustard and dried basil to Ninja Foodi meatloaf. This recipe is simple, yet basic, so any additional flavors you like will be wonderful.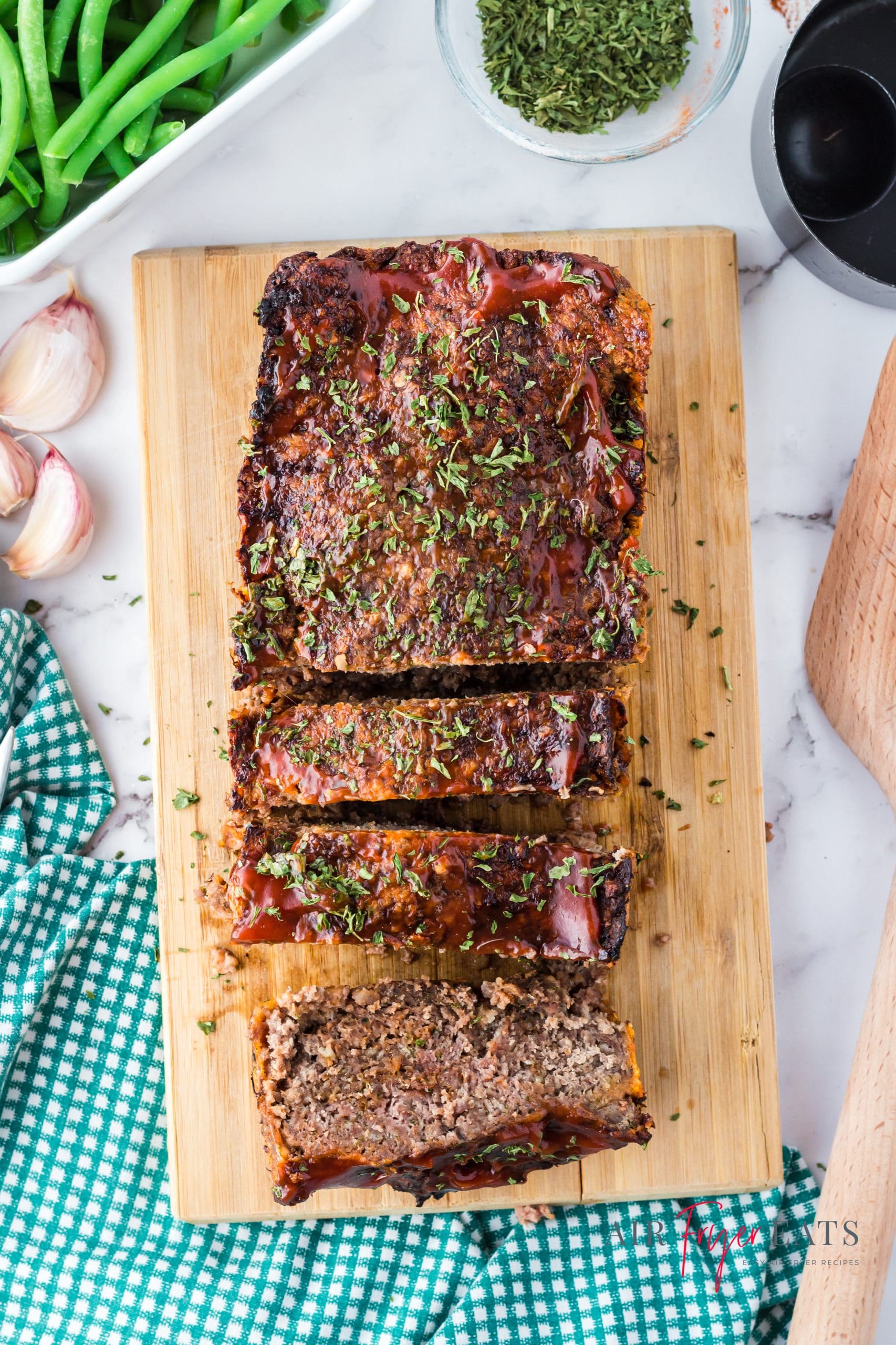 MORE HOMESTYLE AIR FRYER RECIPES
Air Fryer Chicken Fried Steak is a classic dish that everyone loves, made super simple in the air fryer.
Need a fast and inexpensive dinner idea? Air Fryer Chicken Thighs will be perfect.
I love to make Breaded Pork Chops as a weekend meal. They are nice and crispy made this way.
Want to get cheeky with your Ninja Foodi meatloaf? Slice it up and make a Meatloaf Layer Cake!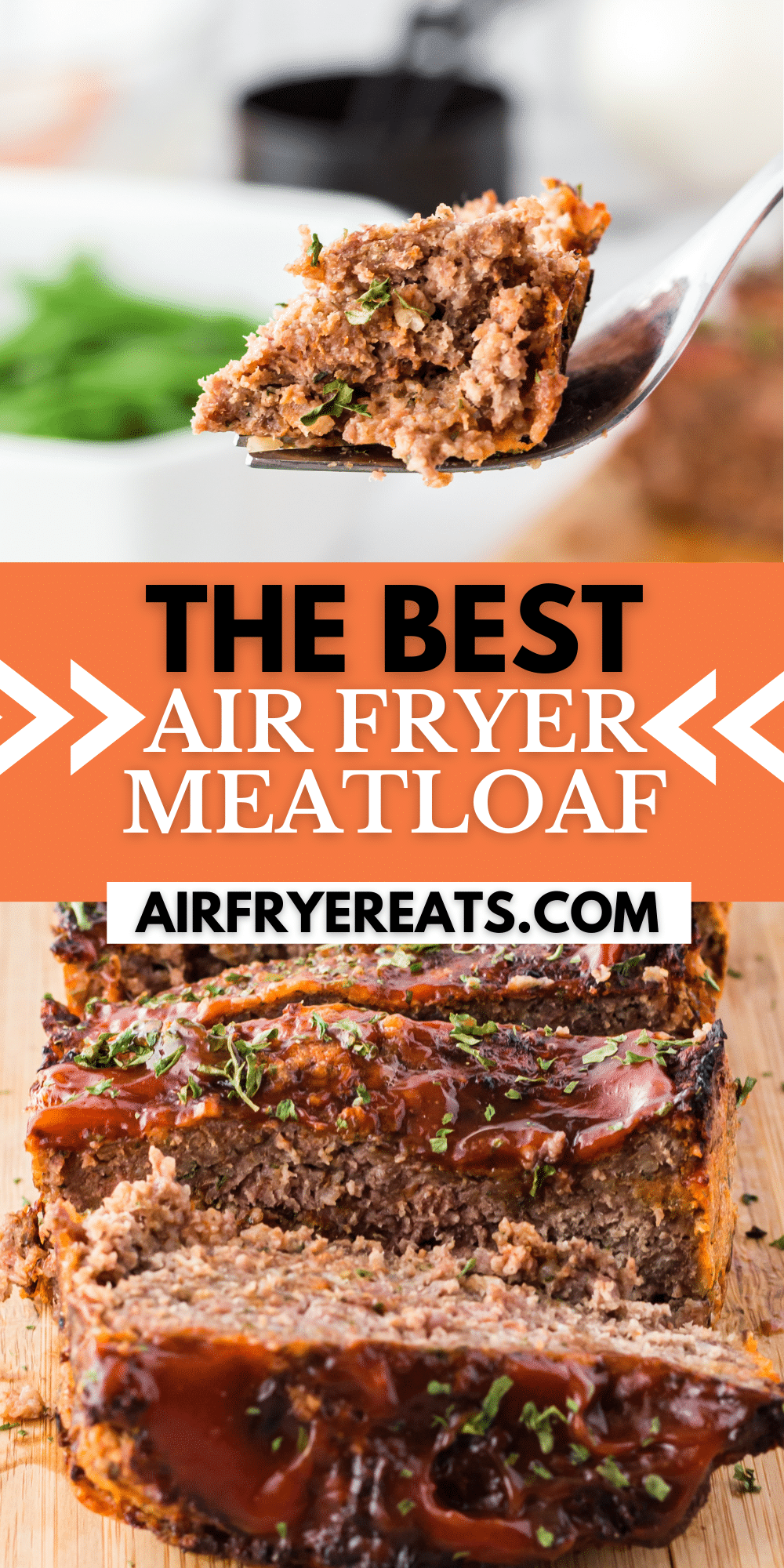 Have you made this recipe? Please leave a comment AND rating below! It helps other readers!
Be sure to tag @AirFryerEats on instagram, if you share a picture on the gram! Let's get social, you can follow me on Youtube, Instagram, Facebook, Pinterest or join one of our Air Fryer Facebook Groups: Air Fryer Recipes, Air Fryer Recipes for Seniors and Gluten Free Air Fryer Recipes.
Don't forget to subscribe to our EMAIL newsletter.
Ninja Foodi Meatloaf
Ninja Foodi Meatloaf is ready in just 20 minutes! Make a homestyle dinner in less time using the Air Fryer function of your Foodi.
Equipment
Ninja Foodi

Foodi Loaf Pan
Ingredients
1

pound

ground beef

lean, 93/7 is preferred

1

cup

panko breadcrumbs

1

tablespoon

dried minced onion

½

tablespoon

dried parsley

½

tablespoon

garlic salt

1

egg

lightly beaten

4

tablespoons

ketchup
Instructions
In a medium sized mixing bowl, combine ground beef, panko bread crumbs, minced onion, parsley, garlic salt, and paprika until very well mixed.

Add your lightly beaten egg and 3 tbsp of the ketchup and mix until the egg is fully incorporated into the meat mixture.

Place the meat into the non-stick Ninja Foodi loaf pan and spread so that the meat touches each corner.

Cook for 20-30 minutes at 350 degrees on the bake function, or until the meat reaches an internal temperature of 165 degrees.

Once the meatloaf is finished cooking, allow it to rest for five minutes and spread the remaining tablespoon of ketchup on top.
Go AD FREE!
Notes
It is important to use 93/7 ground beef so that the loaf pan does not overflow with fats. Trust me, this is not fun to clean up.
I found it easiest to mix this with my hands, but a large fork is also effective.
It is important to allow the meatloaf to cool for at least five minutes after coming out of the Foodi, otherwise it will start to fall apart when you slice into it.
While I opted not to include them in this recipe, you can also add basil and ground mustard to the meatloaf for added flavor, but this recipe tastes fantastic without either of them.
To add crunch to the topping, place the meatloaf pack into the Foodi and broil for 2-4 minutes.
Pro Tip: This recipe can be made in the air fryer unit with a basket or the air fryer oven. If you are using the air fryer oven, use the middle rack and select the "Air Fry" function.
Pro Tip: Check your food as it cooks. Each air fryer runs a bit differently. Sometimes airfrying is a trial and error process. Check your food as it cooks to learn your air fryer better! When cooking a new recipe or food items be sure to check your food often to help avoid over/under cooking.
Have oven recipes that you'd like to convert to an air fryer recipe? Use our Air Fryer Calculator to help you estimate cooking times and temps! Calculator here: https://airfryereats.com/air-fryer-conversion-air-fryer-calculator/
Nutrition
Calories:
387
kcal
|
Carbohydrates:
16
g
|
Protein:
23
g
|
Fat:
25
g
|
Saturated Fat:
9
g
|
Polyunsaturated Fat:
1
g
|
Monounsaturated Fat:
10
g
|
Trans Fat:
1
g
|
Cholesterol:
121
mg
|
Sodium:
1212
mg
|
Potassium:
422
mg
|
Fiber:
1
g
|
Sugar:
4
g
|
Vitamin A:
141
IU
|
Vitamin C:
1
mg
|
Calcium:
67
mg
|
Iron:
3
mg
Tired of the ads?
Go AD Free - Become part of our Membership community!
Air Fryers can vary greatly. Please take the time to learn your specific air fryer. You may need to adjust times and temperatures based upon your air fryer.
All though this website attempts to provide accurate nutritional information, the information should only be considered an estimate. Varying factors such as different product types, different brands, etc. can change nutritional information. It is your responsibility as a consumer to read all labels to make sure the ingredients fit your dietary needs as well as calculate your own nutritional information as a double check.