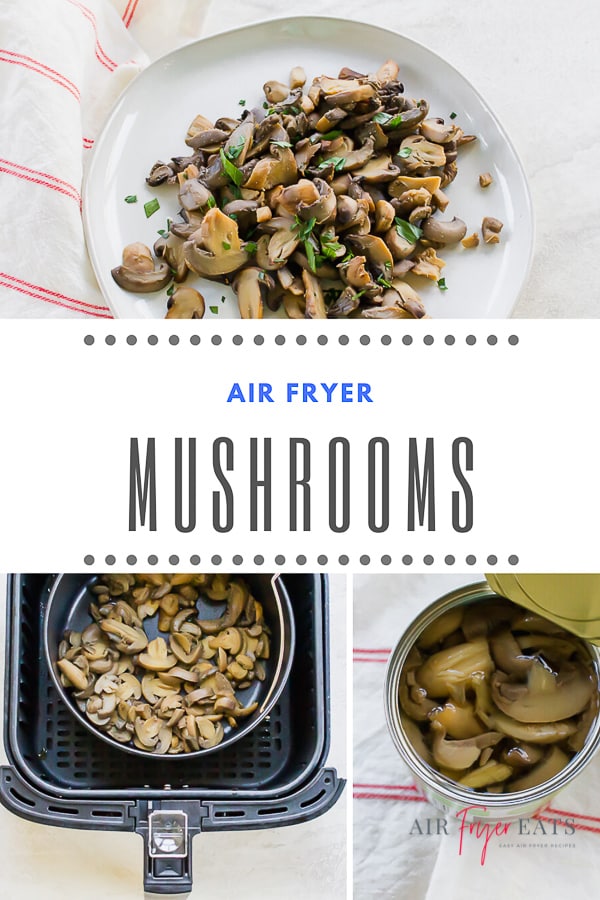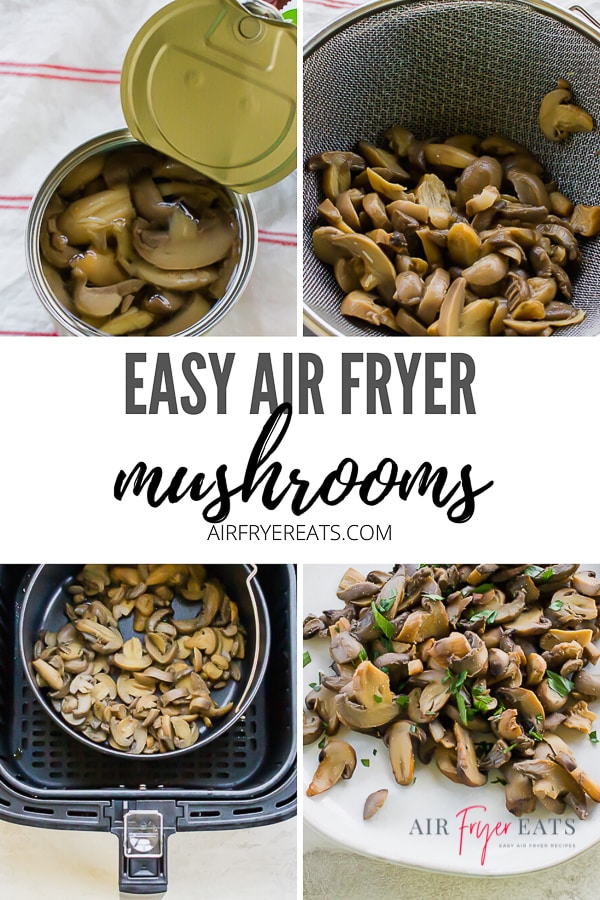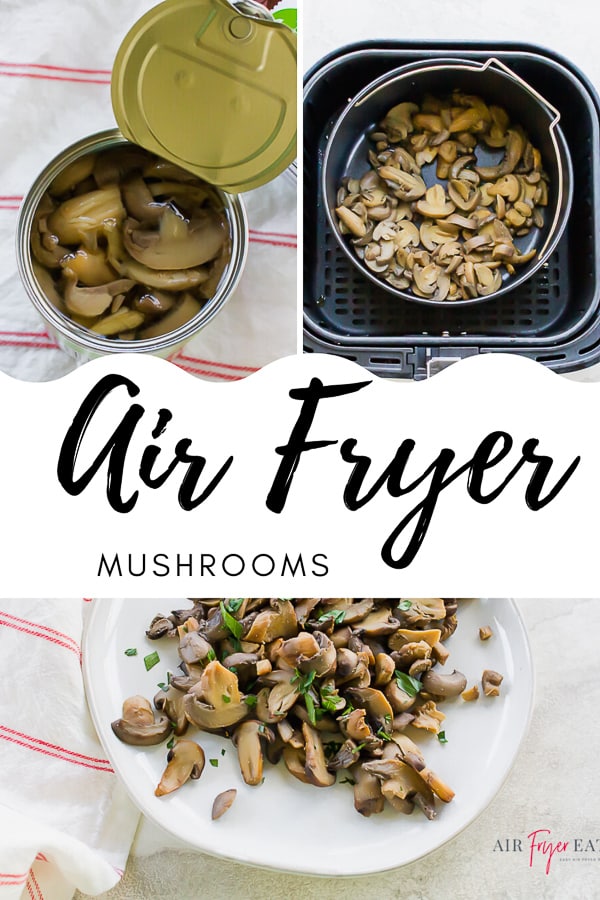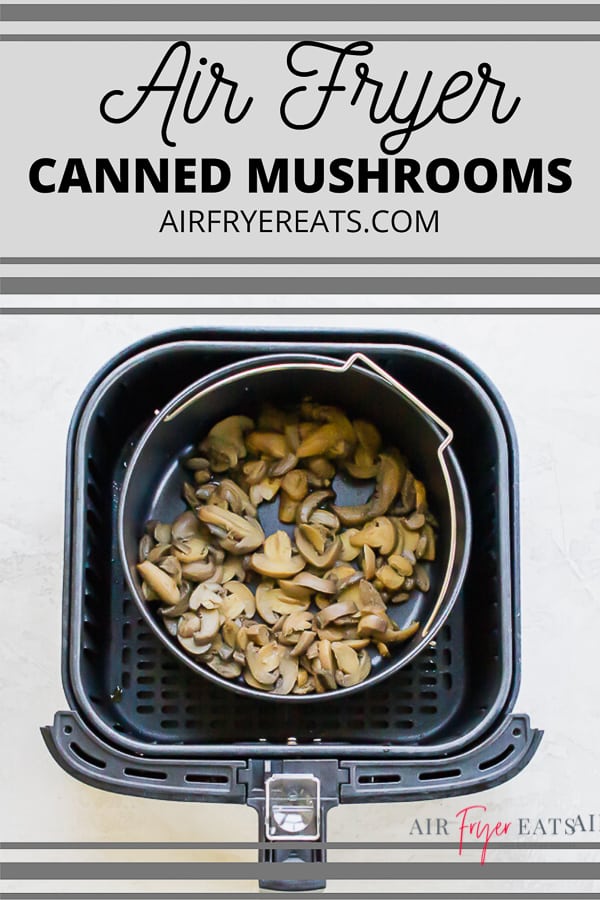 Air Fryer canned mushrooms are super easy and a great dish to make from a pantry staple. Learn how to take a can of mushrooms to side dish perfection.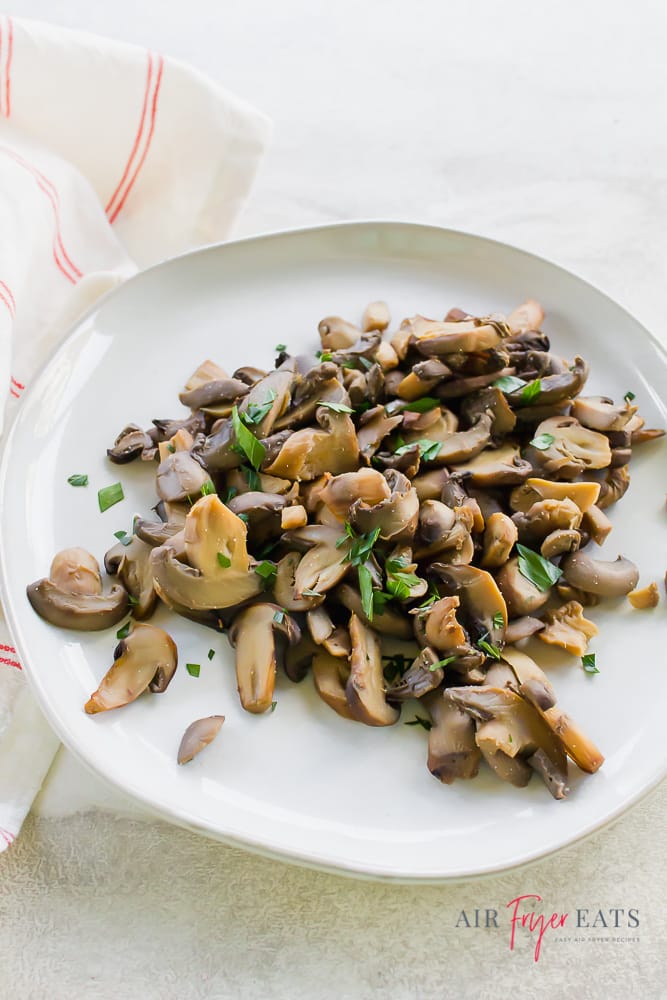 AIR FRYER MUSHROOMS FROM A CAN RECIPE
Air Fryer canned mushrooms help you to take a can of mushrooms to the next level. They come out warm, slightly browned, and seasoned to perfection.
Mushrooms hold their texture really well when canned. And while I love making fresh mushrooms in my air fryer, I actually like canned mushrooms better in certain recipes.
I like canned mushrooms in casseroles because it helps me to skip a cooking step.
I like to put canned mushrooms on top of pizza.
Canned mushrooms also go well with eggs or in omelettes.
The possibilities are really endless here!
If you have a can of mushrooms in your pantry, you are ready to go with this recipe.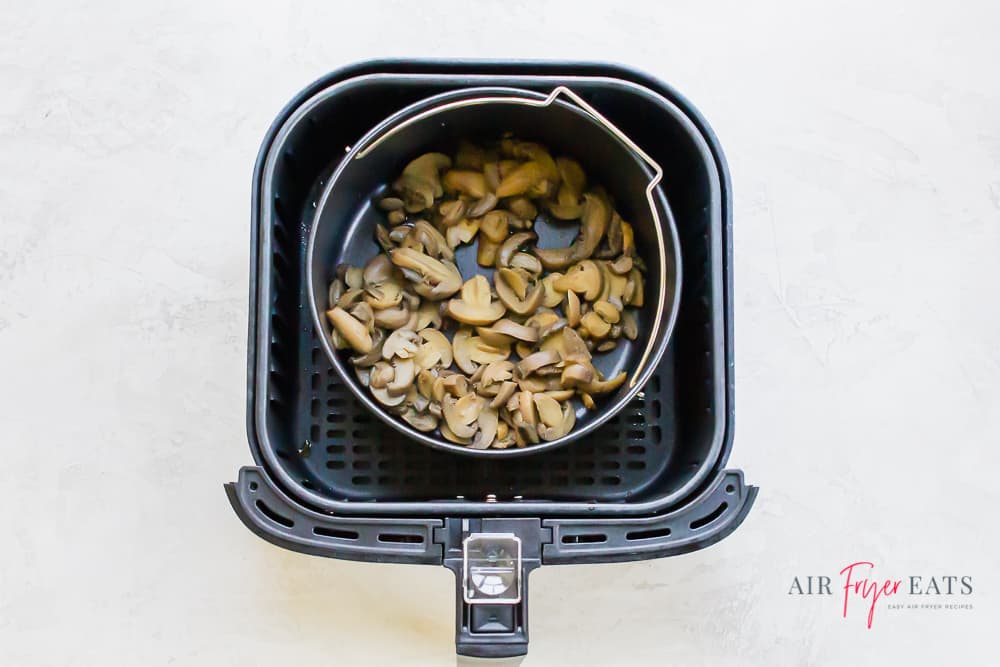 INGREDIENTS IN AIR FRYER CANNED MUSHROOMS
Canned Mushrooms - This recipe uses two small cans. If you have a larger, 12 oz can of mushrooms you can use that too.
Garlic Salt - Mushrooms love garlic, and so do I!
Worcestershire Sauce - This gives the mushrooms a meatier flavor.
If you have any questions, please leave a comment below and I will get back to you.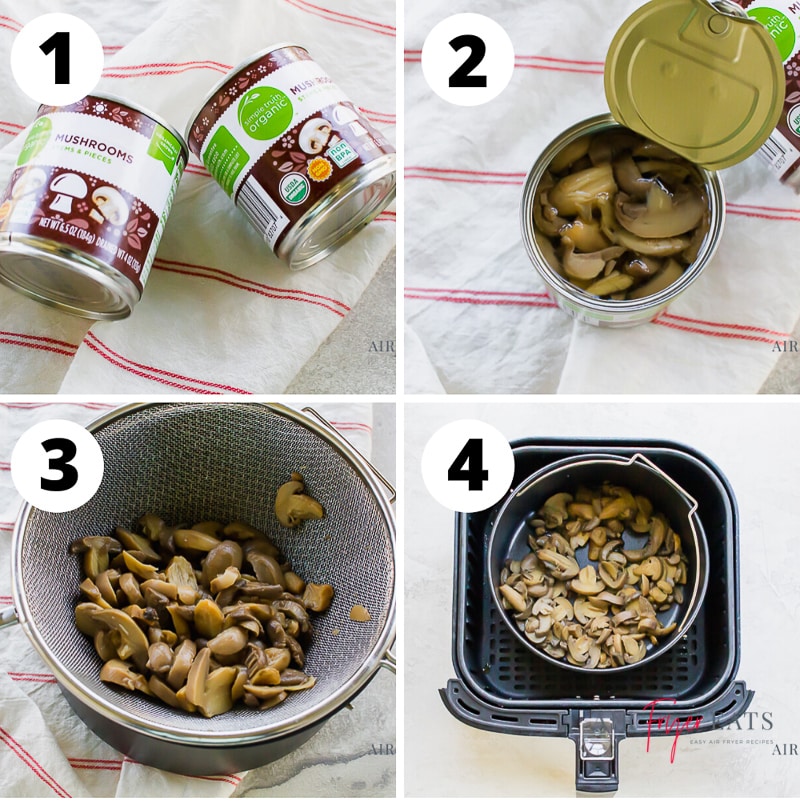 HOW TO MAKE AIR FRYER MUSHROOMS FROM A CAN
Get out your canned mushrooms.
Open the cans.
Drain the liquid from the mushrooms and add them to an air fryer pan or oven safe dish.
Add garlic salt and Worcestershire sauce, stir. Then air fry as directed in the recipe below.
These numbered steps match the numbered photos above and are for illustration purposes. For the complete list of ingredients and instructions, please see the recipe below.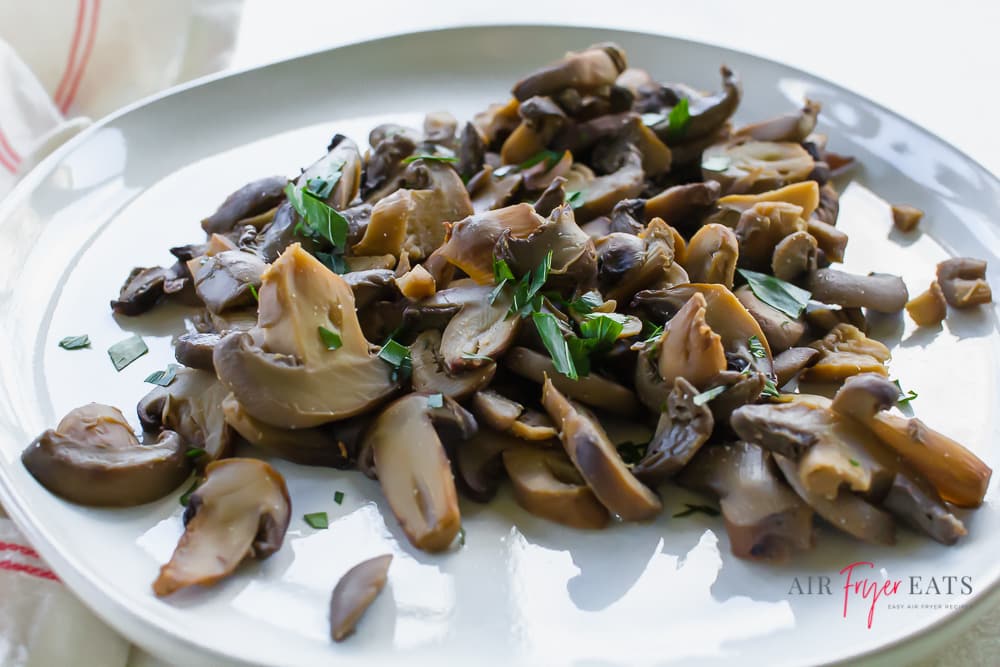 WHAT TO SERVE WITH CANNED MUSHROOMS
Mushrooms are a delicious side dish that goes really well with meat dishes.
Try these on top of an Air Fryer Hamburger with swiss cheese.
Add cooked mushrooms into your next batch of Air Fryer Fried Rice.
Go traditional and enjoy mushrooms with your Air Fryer Steak.
CAN DOGS EAT MUSHROOMS?
Generally dogs can eat cooked mushrooms, but always check with your vet.
Whenever I write about mushrooms I like to talk about this, because I find that my readers are curious, Should dogs eat mushrooms?
According to my research, Mushrooms sold in grocery stores are generally harmless to dogs.
However, we often eat mushrooms cooked with butter, garlic, onions, and oils, which are not great for dogs to eat, and can cause digestive issues.
A dog's diet doesn't actually require the nutrients from mushrooms, so avoid that and give them a treat they'll enjoy a bit more.
I find that my dog turns his nose up at any sort of mushroom!
Of course, the real risk with mushrooms and dogs is when dogs try to eat wild mushrooms they find outside, so always watch out for that.
CAN YOU FREEZE MUSHROOMS?
Mushrooms don't actually freeze well, and that's why I like to keep canned mushrooms in my pantry. Canning keeps the mushrooms at the right texture for adding to recipes or cooking.
WHY SHOULD I COOK CANNED MUSHROOMS?
Canned mushrooms are already cooked, right? So why should we cook them?
This is a great question because there really isn't a need to cook canned mushrooms, but cooking them makes them SO much better.
This is because canned mushrooms are very watery. They soak up the maximum amount of liquid while they are in their little cans.
Cooking dries the mushrooms out a bit, giving them a more realistic texture. Cooking also gives you an opportunity to add seasonings and oil to really amp up the flavor of your mushrooms.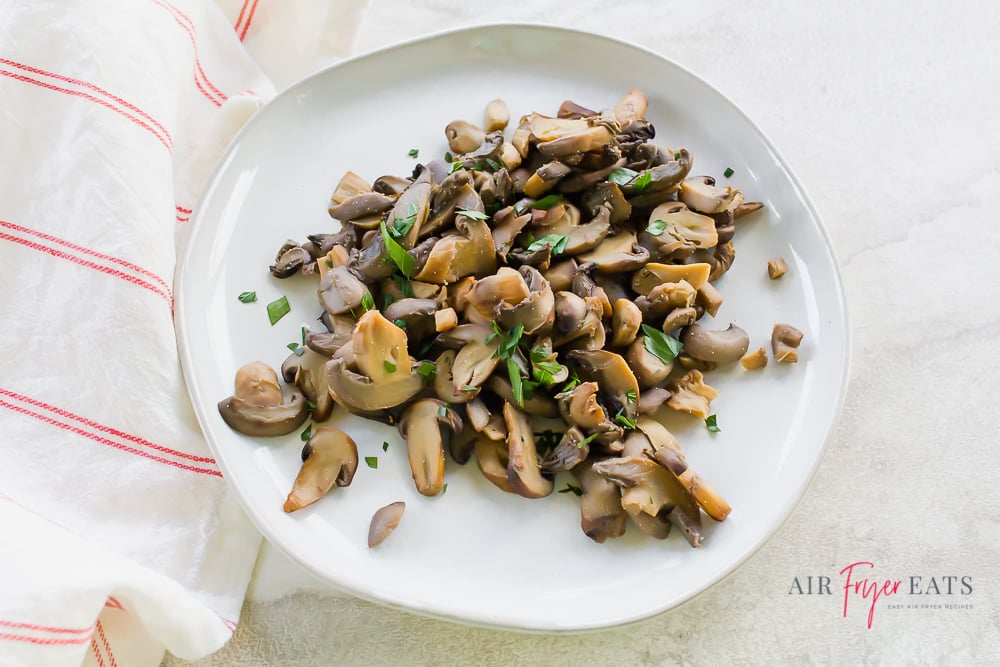 MORE SUPER SIMPLE AIR FRYER RECIPES
These recipes have minimal ingredients for easy air fryer cooking.
Air Fryer Steak Fries are one of my favorite air fryer side dishes. Filling and loved by the whole family.
Air Fryer Potatoes from a Can are another pantry staple that comes out delicious after a run in the air fryer.
Frozen Mozzarella sticks in the air fryer are an amazing snack or treat.
For an easy meal, try Air Fryer Hot Dogs.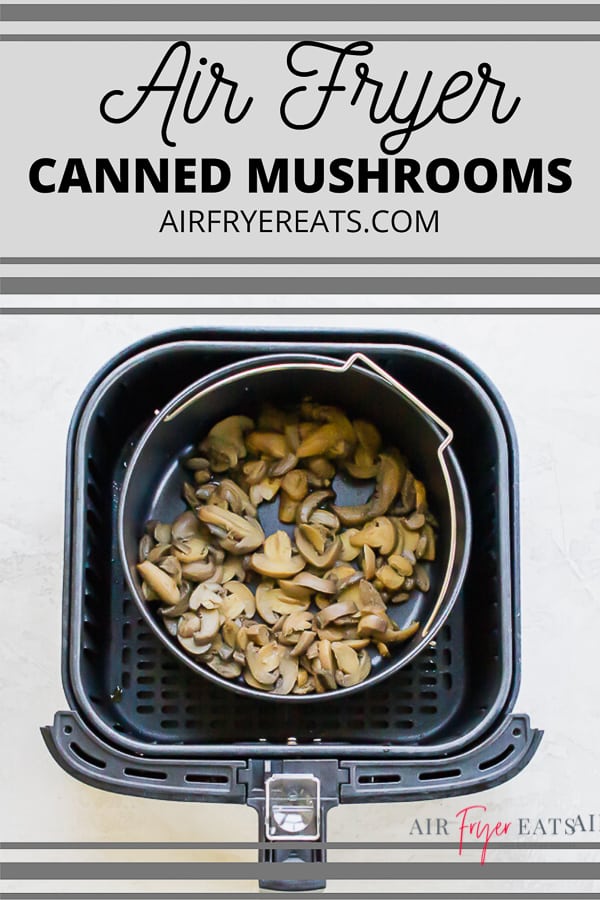 Pro Tips
Use Any Air Fryer: This recipe can be made in an air fryer unit with a basket or an air fryer oven. If you're using an air fryer oven, place your food on the middle rack and select the "air fry" function.
Check your food as it cooks! Since each air fryer runs differently, sometimes air frying is a trial and error-process. When cooking a new recipe, be sure to check on your food often. This will help you avoid over or undercooking, and help you learn your air fryer's specific ways!


Have you made this recipe? Please leave a comment AND rating below! It helps other readers!
Be sure to tag @AirFryerEats on instagram, if you share a picture on the gram! Let's get social, you can follow me on Youtube, Instagram, Facebook, Pinterest or join one of our Air Fryer Facebook Groups: Air Fryer Recipes, Air Fryer Recipes for Seniors and Gluten Free Air Fryer Recipes.
Don't forget to subscribe to our EMAIL newsletter.
Air Fryer Mushrooms (From a Can)
Air Fryer canned mushrooms are super easy and a great dish to make from a pantry staple. Learn how to take a can of mushrooms to side dish perfection.
Ingredients
2

6.5 oz can

Mushrooms

½

t

Garlic Salt

¾

t

Worcestershire Sauce
Instructions
Open mushroom cans and drain liquid from mushrooms.

Put mushrooms into an oven safe bowl that fits into your air fryer basket.

Add garlic salt and Worcestershire sauce. Stir.

Air fryer at 400 F for 8-10 minutes.
Go AD FREE!
Notes
Pro Tip: This recipe can be made in the air fryer unit with a basket or the air fryer oven. If you are using the air fryer oven, use the middle rack and select the "Air Fry" function.
Nutrition
Calories:
1
kcal
|
Carbohydrates:
1
g
|
Protein:
1
g
|
Fat:
1
g
|
Sodium:
302
mg
|
Potassium:
11
mg
|
Fiber:
1
g
|
Sugar:
1
g
|
Vitamin A:
1
IU
|
Vitamin C:
1
mg
|
Calcium:
1
mg
|
Iron:
1
mg
Tired of the ads?
Go AD Free - Become part of our Membership community!
Air Fryers can vary greatly. Please take the time to learn your specific air fryer. You may need to adjust times and temperatures based upon your air fryer.
All though this website attempts to provide accurate nutritional information, the information should only be considered an estimate. Varying factors such as different product types, different brands, etc. can change nutritional information. It is your responsibility as a consumer to read all labels to make sure the ingredients fit your dietary needs as well as calculate your own nutritional information as a double check.