Learning how to clean your air fryer is an important thing. You might be worried how to do it, but it is actually quite simple.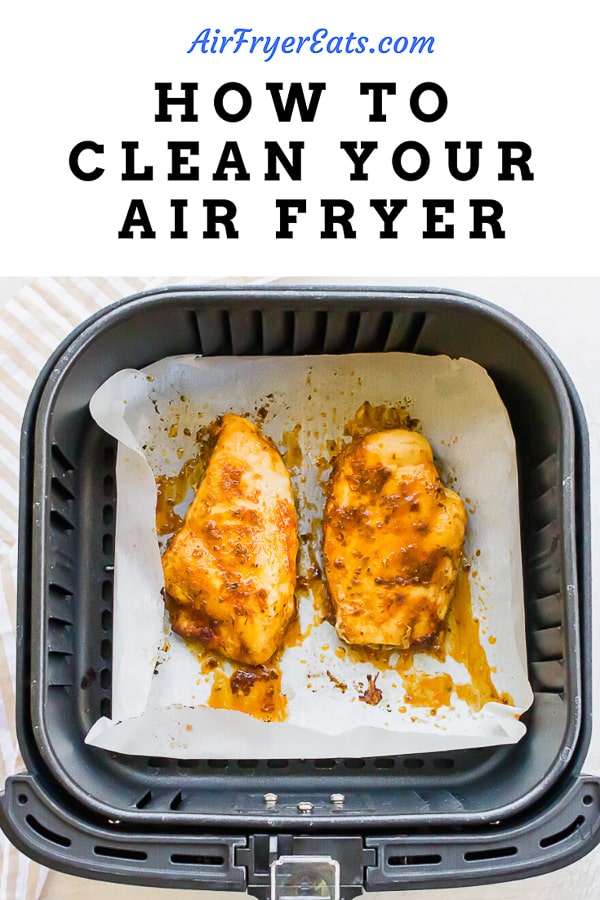 HOW TO CLEAN YOUR AIR FRYER
Welcome to the air fryer club! So you've gotten an air fryer recently? Maybe you scored it for Christmas!
We often get asked, "how exactly do you clean an air fryer?" That is a great question and it can vary slightly from brand to brand.
One thing is for sure, that clean up duty isn't too bad with your air fryer. You are generally using less oil, so your clean up should be a snap!
But we will do our best to break it down in this post! But first, let's all make sure we understand the air fryer!
What is an Air Fryer?
It is a countertop appliance that will soon win your heart over! It is basically a smaller (the inside of it) type of convection oven that moves very hot air around.
The circulating air cooks your food quickly and evenly. I am guessing that you have probably seen an air fryer infomercial or two!
While smaller inside than a convection oven, the outside of an air fryer is often typically the size of a toaster oven or slightly smaller.
Many people buy air fryers to use when camping in their RV or even for cooking "stinky" foods (think air fryer broccoli) outside.
How to clean your Air Fryer – Step by Step
Unplug your air fryer from the outlet. While this might seem like common sense, it is worth mentioning as it is very important.
Let your air fryer completely cool down. There is no need to immediately clean your machine right after use. It is dangerous and you can easily burn yourself!
Wipe the outside of your oil less fryer with a damp cloth. The cloth should be wet enough to gently wipe away food or grease but it should not be dripping with moisture.
Remove the basket container. Your basket should have two parts. Be sure to remove the inner basket from the outer basket, when cool. Gently scrub each basket with soap and water. Many new air fryer models have dishwasher safe baskets!
If the inside of your air fryer is dirty, you can wipe it down with a damp sponge.
Check the heating element of your fryer. You might need to gently turn the machine upside down to easily see and access the air fryer heating element. You can use a damp sponge to clean or a soft brush.
PRO TIP: Make sure the two air fryer baskets and the inside of your air fryer unit are completely dry before putting it back together for storage.
Food STUCK in your air fryer basket?
That's okay, simply let the basket soak for a while. The water will help to loosen the food for easier removal!
Air Fryers have Air Vents
The air vents on your air fryer may become dirty with residue after a few months pass.
Simply turn the unit on its side or upside down to be able to see the vents. Use a soft bristle brush to clean the vents.
Alternatively, you can also use a soft non-abrasive sponge to clean the vents.
Those are just a few of the tips that I have learned along the way about how to clean your air fryer .
Teach me about air fryers
Still wondering about your air fryer? Are you wanting to learn more about air frying?
I highly suggest you check out our "Start Here" page to get more information!
Drop me a comment below telling me what experience you've had cleaning your air fryer!