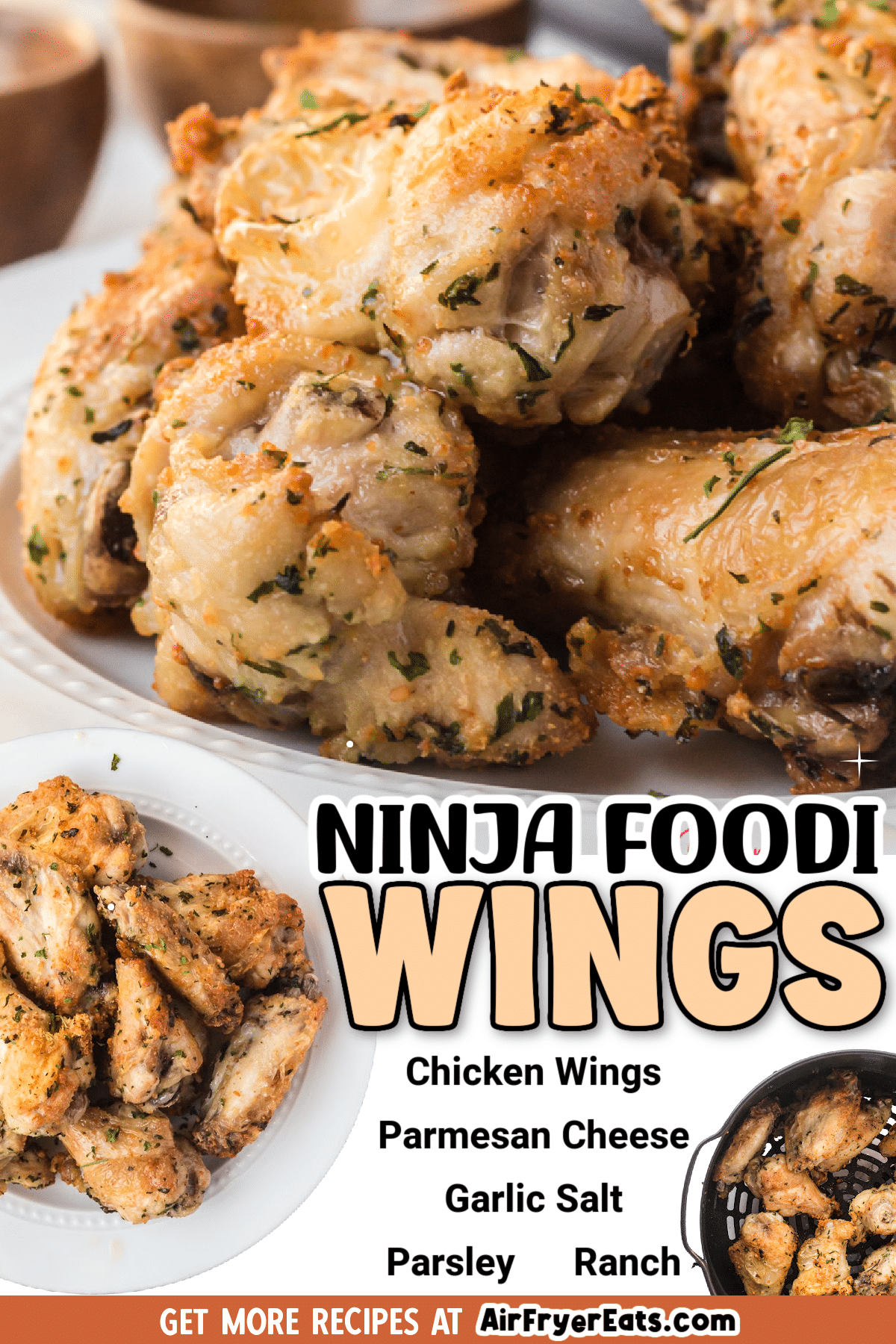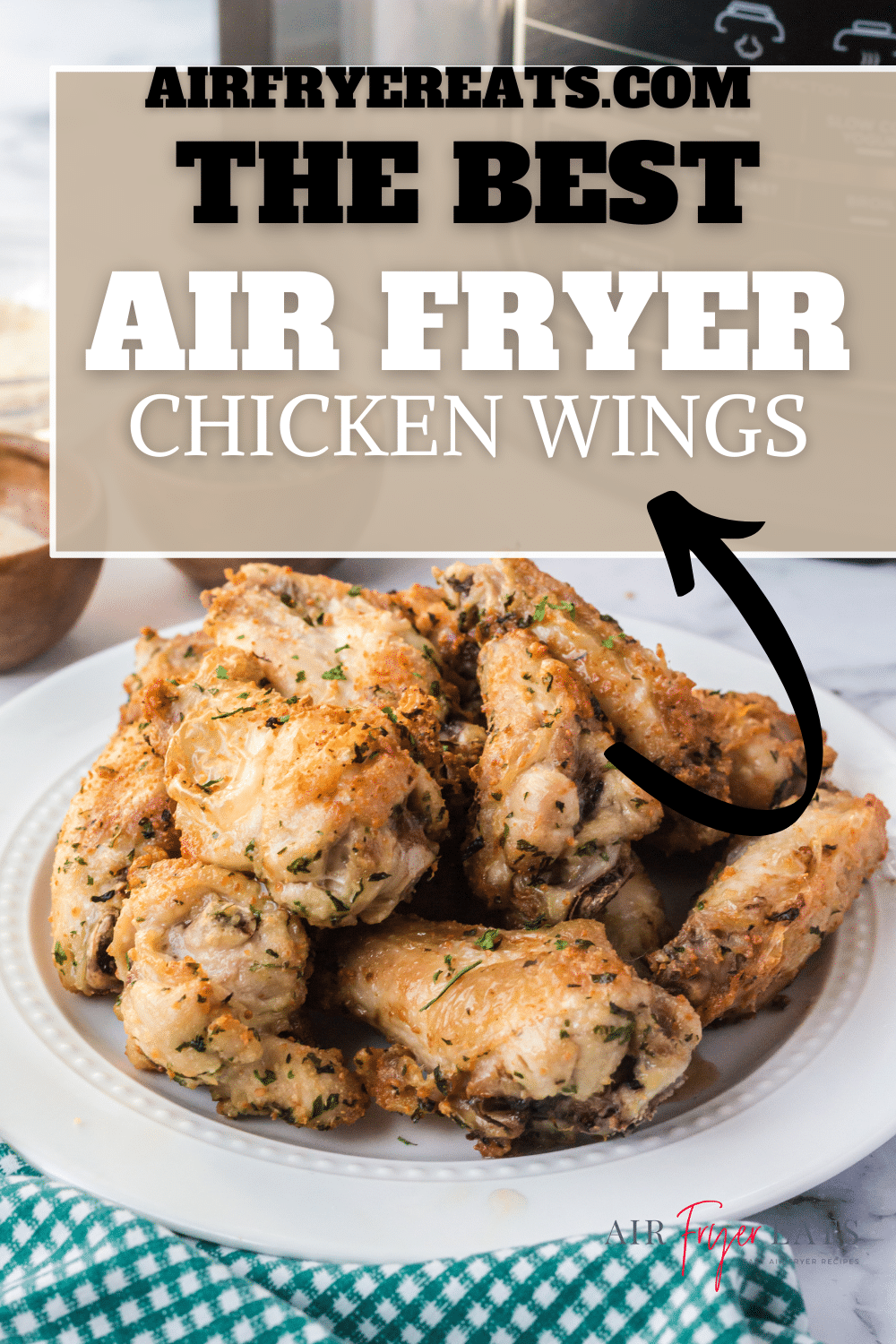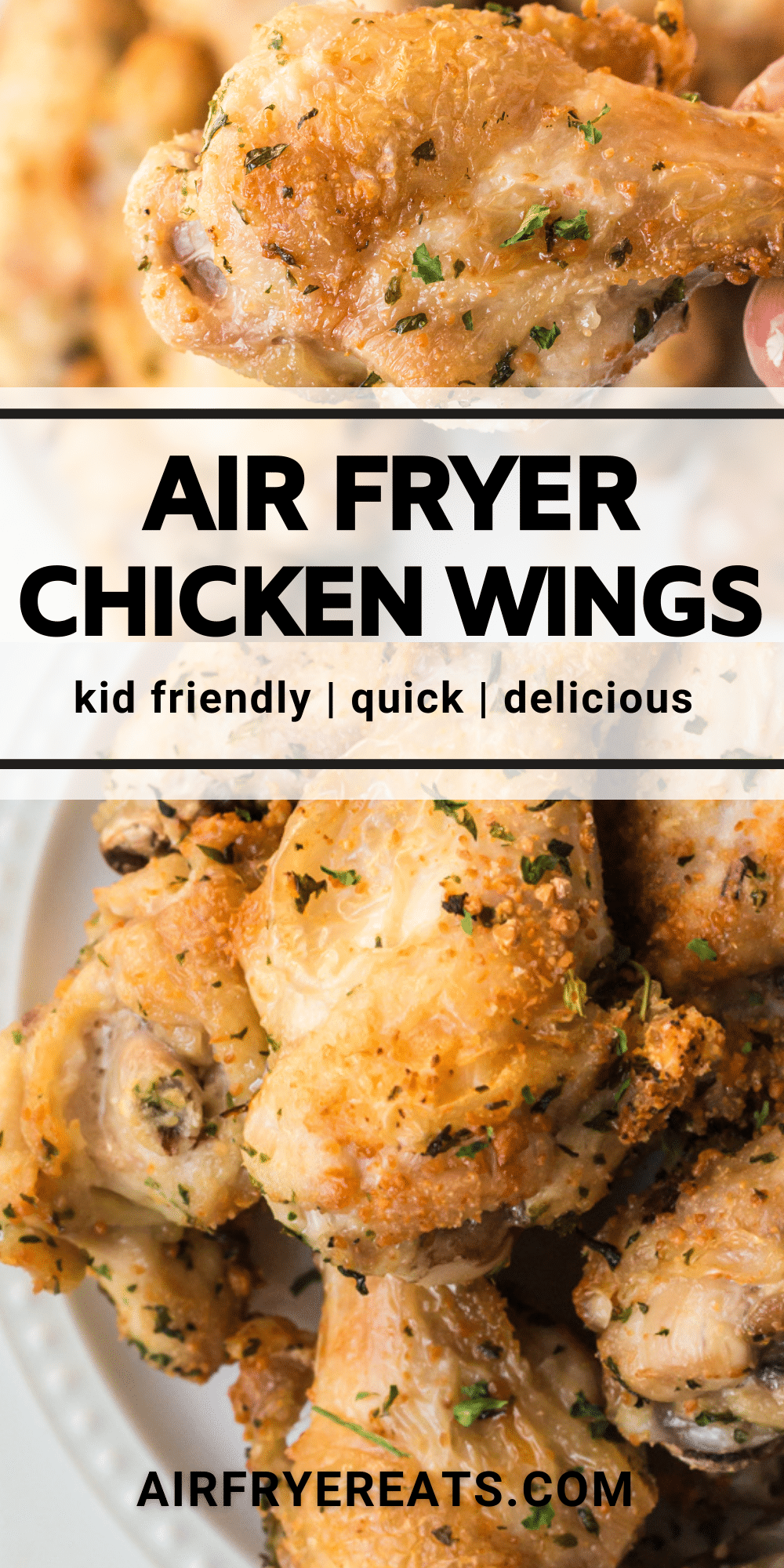 Extra crispy Chicken Wings are made in the Ninja Foodi - extra quick! You'll be amazed at how simple and easy this Ninja Foodi Chicken Wings recipe is, and how delicious they taste.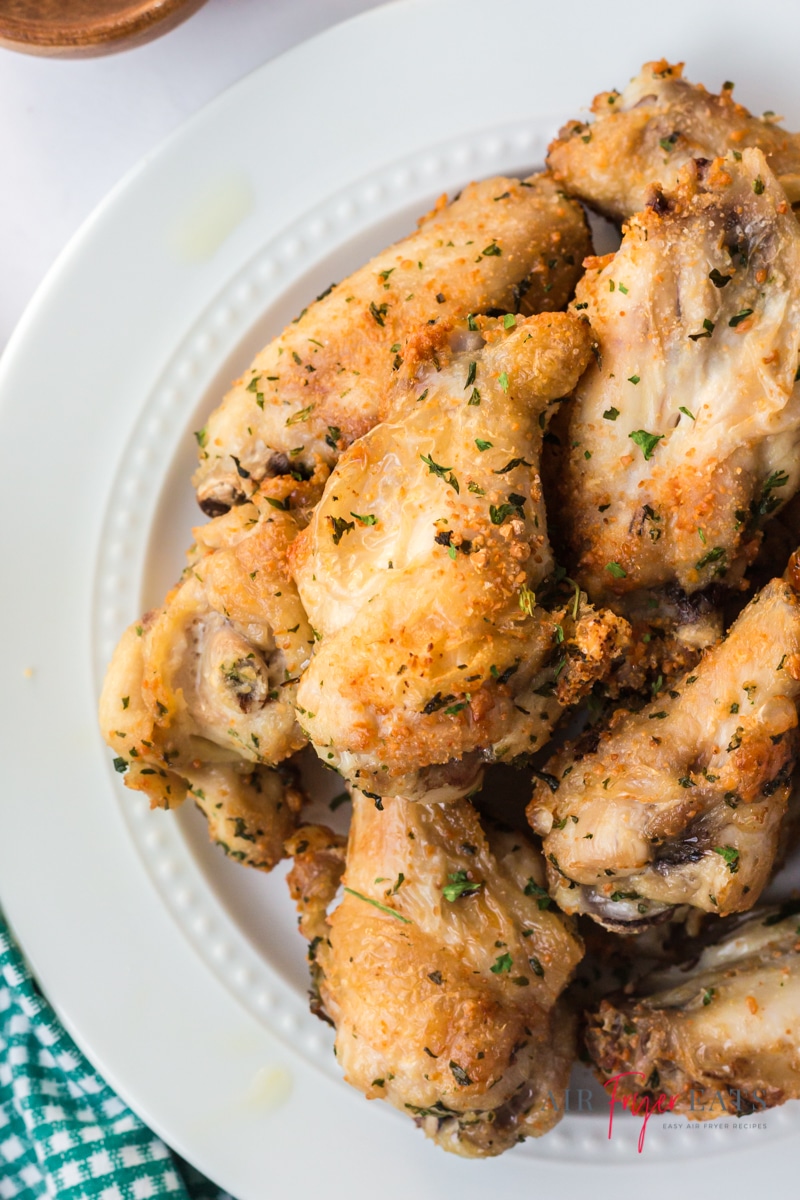 NINJA FOODI CHICKEN WINGS RECIPE
Today we're making Chicken Wings in the Ninja Foodi that are seasoned simply with garlic salt and parmesan cheese, and super crispy. These wings are mild, but flavorful, and perfect for snacking, an appetizer, or enjoying as a main entree.
These Ninja Foodi wings aren't Buffalo wings, but they could be if you like! I'll give you the buffalo sauce recipe below, but even without a spicy sauce, these are the best chicken wings you'll ever make.
The Ninja Foodi does a lot of things really well, but lately I'm loving it for (of course!) the way it air fries. This multicooker can air fry anything that your stand alone air fryer can.
Ninja Foodi chicken wings don't need any flour or breading, and they don't require any oil to get crispy and delicious. That's one of the reasons we love our air fryers - we can fry without oil!
We have a whole section of recipes specific to air frying in the Ninja Foodi! The time and temp for all of these recipes have been specifically tested to work in the Foodi, so that you can get perfect air fryer results.
Considering buying a Ninja Foodi? Check out these real customer reviews.
Want to see our other chicken wing recipes? Check out Air Fryer BBQ Chicken Wings, Air Fryer Lemon Pepper Wings, and these wings with our Air Fryer Chicken Wing Dry Rub.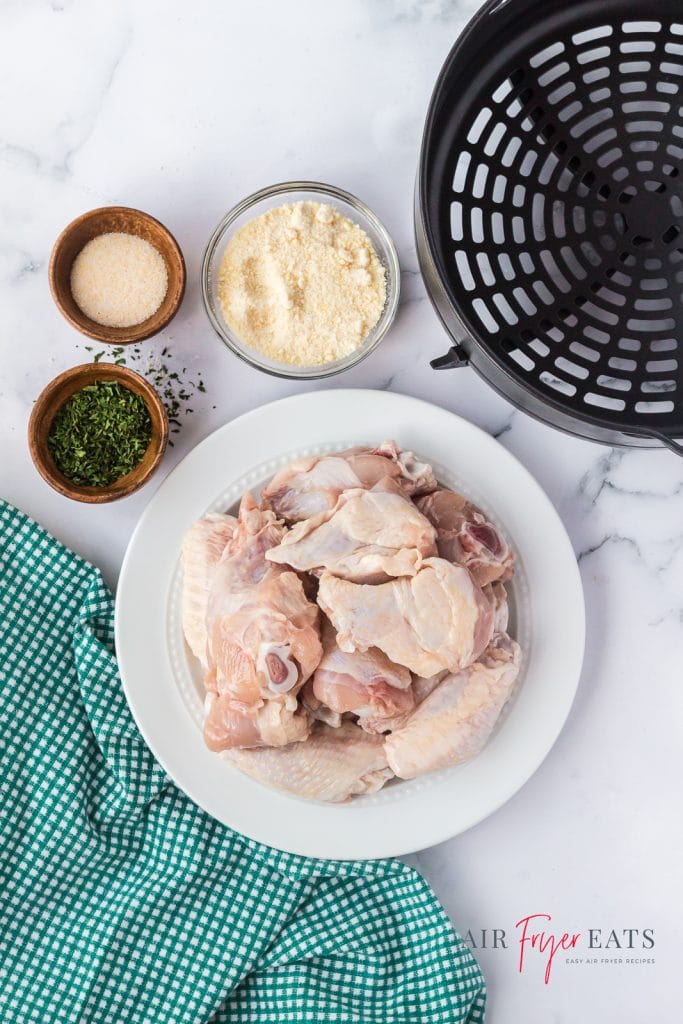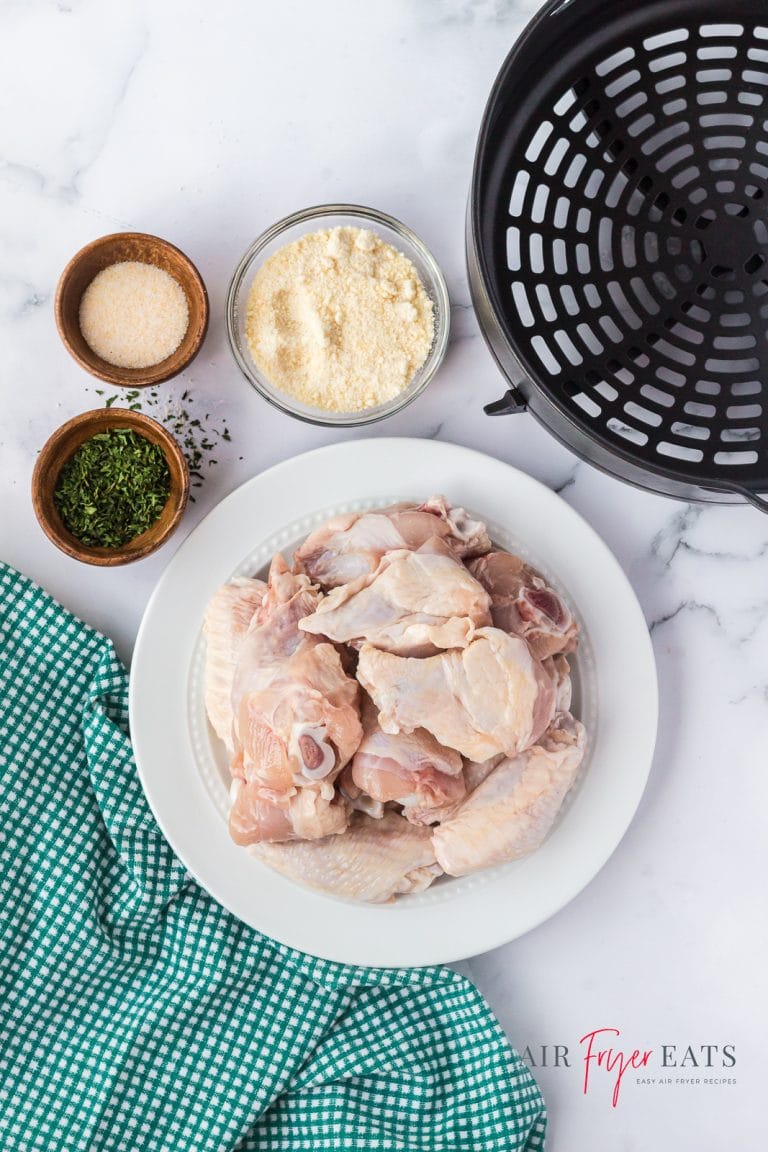 INGREDIENTS FOR CHICKEN WINGS IN NINJA FOODI
Just 4 simple ingredients create the most amazing chicken wings!
Chicken Wings - you'll need about a pound to 1.5 pounds of chicken wings for this recipe. If your wings didn't come already trimmed, you'll want to do that first.
Parmesan Cheese- Grated parmesan added to the chicken prior to air frying adds a savory, nutty flavor. It also crisps up, giving these Ninja Foodi Chicken Wings extra crunch.
Garlic Salt - Garlic and salt go so well with parmesan cheese.
Dried Parsley - Without the parsley things wings will taste ok, but they will look a little bit plain. Parsley adds color and a bit of brightness to the recipe.
Dipping Sauce - Serve your wings with ranch dressing for dipping.
If you have any questions about Ninja Foodi Chicken Wings, please leave a comment below and I will get back to you ASAP!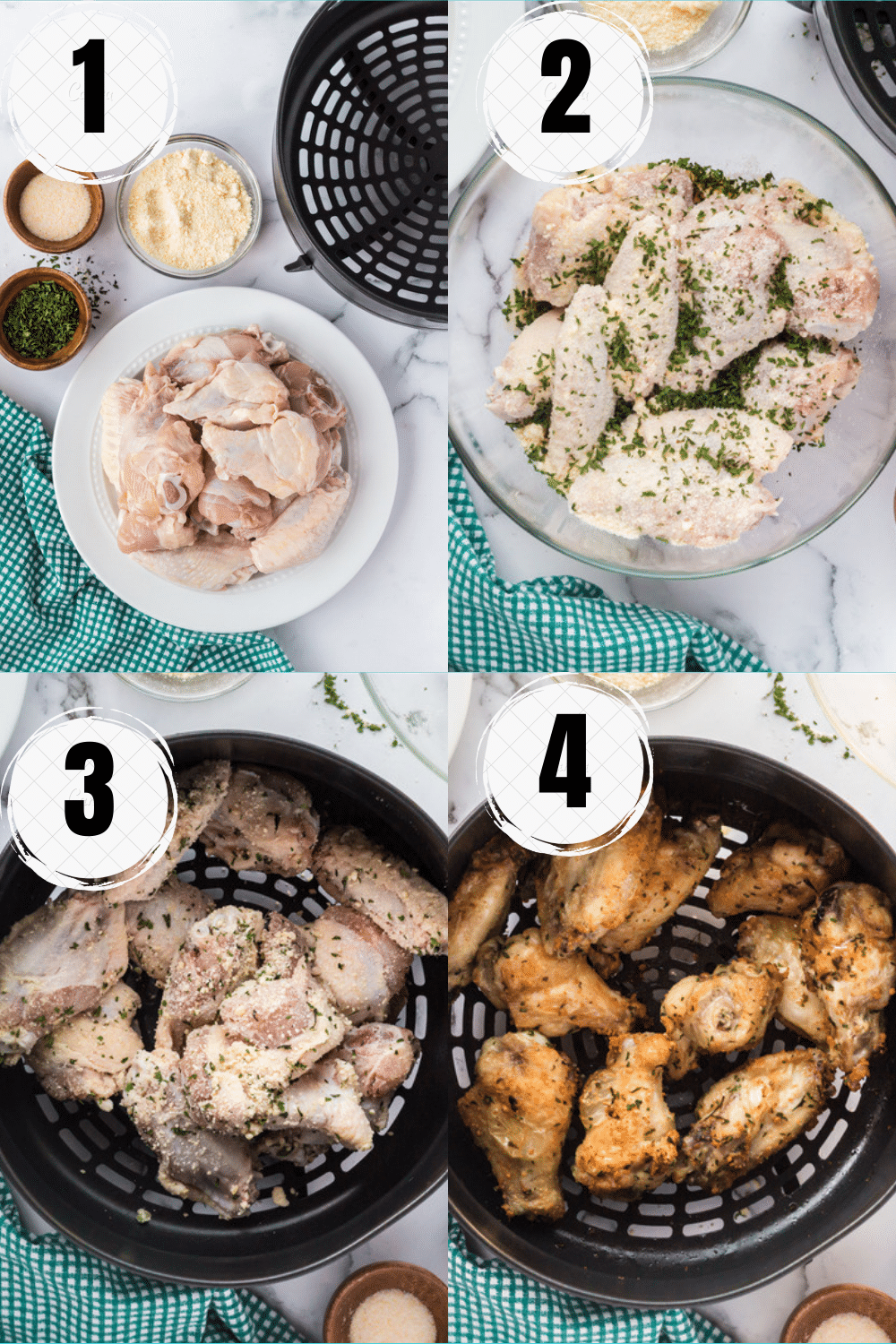 HOW TO MAKE CHICKEN WINGS IN NINJA FOODI
Gather your ingredients, and pre-heat the Ninja Foodi for five minutes at 375°F/190°C on the Air Fry setting.
While the air fryer is preheating, toss the wings with the parmesan cheese, garlic salt, and parsley in a large bowl. Be sure to coat each wing well with the seasonings.
Add the chicken wings to the Ninja Foodi basket. It's okay if they touch each other. Air Fry as directed in the recipe below, shaking at least once during cooking.
Allow the chicken wings to rest for 5 minutes after removing them from the air fryer basket. Serve with ranch and sliced carrots.
These numbered steps match the numbered photos above and are for illustration purposes. For the complete list of ingredients and instructions for Ninja Foodi Chicken Wings, please see the recipe below.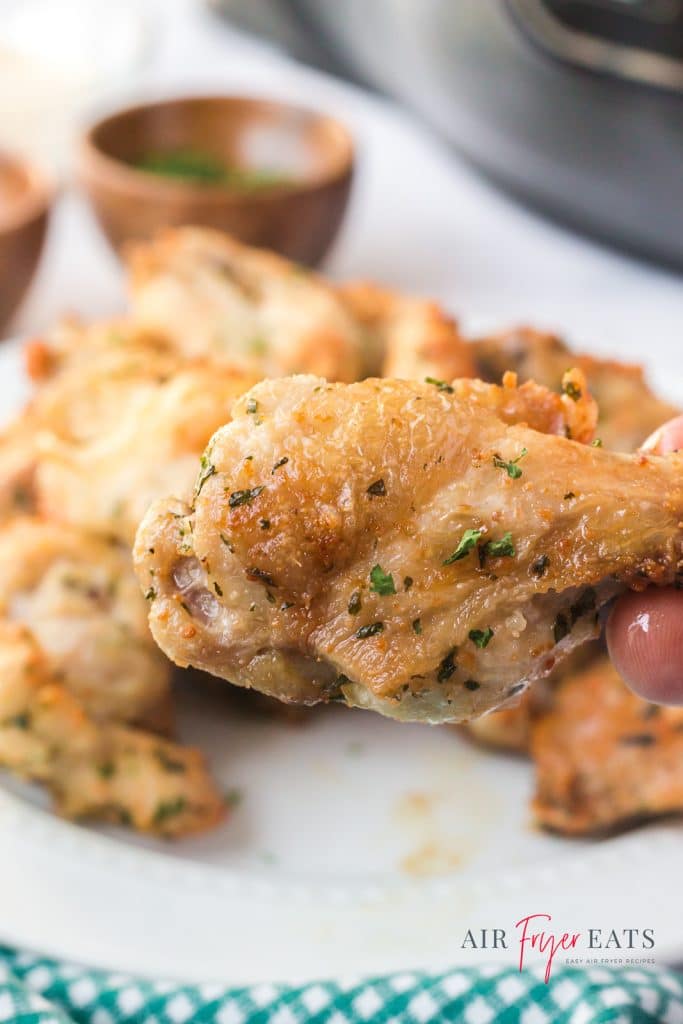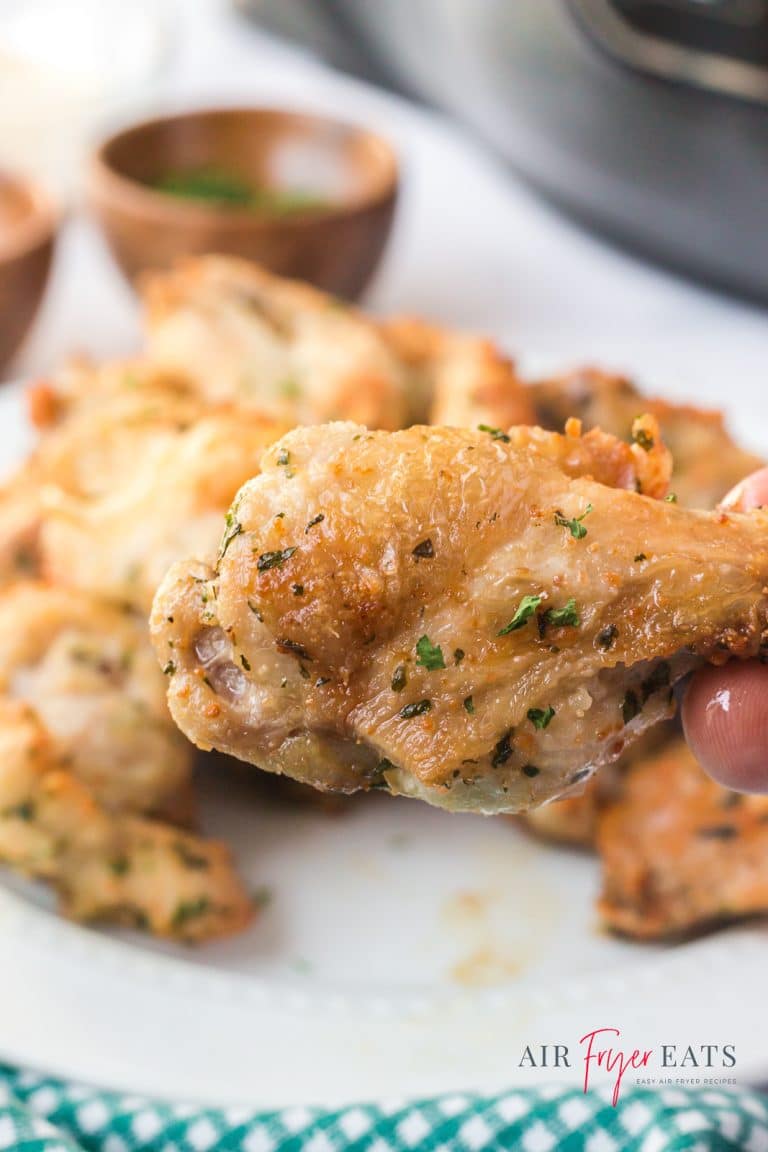 WHAT TO SERVE WITH NINJA FOODI CHICKEN WINGS
Ninja Foodi Chicken Wings are the ultimate game day appetizer and they go perfectly with other air fryer snacks and finger foods.
Make Air Fryer Honey Sriracha Cauliflower to add some veggies to the game day spread.
I love making Air Fryer Potato Skins when I make wings. It's like the perfect bar food combo.
Air Fryer Frozen Meatballs tossed in your favorite BBQ sauce are always delicious when you have people over.
Or you can make simple and easy frozen foods in the air fryer, like Air Fryer Popcorn Shrimp, Frozen Sweet Potato Fries, or learn how to make a Totino's Pizza in the air fryer!
NINJA FOODI CHICKEN WING TIPS
Shaking is optional. Because chicken wings are small, they will cook fully without any shaking or flipping, however moving them around in the air fryer basket will help them to evenly crisp up.
Adjust the seasonings. You can season these wings any way you like. Try a different spice rub, or make the Buffalo sauce below.
Remember Food Safety. Chicken is done when it reaches an internal temperature of 165°F/73°C using an instant read meat thermometer.
Make a similar recipe for baked garlic parmesan wings if you don't want to use the air fryer this time.
HOW TO MAKE BUFFALO WING SAUCE
I learned this from a real Buffalonian! You only need two things: Butter and Frank's Red Hot Sauce.
Mix 1 part melted butter to 2 parts hot sauce. Taste and adjust as needed. For a hotter sauce, add more hot sauce, and to make your buffalo wings milder, add more butter.
Instead of using the dry rub on these wings, cook them without seasonings. When the chicken wings are done, toss them in buffalo sauce before serving with ranch or bleu cheese.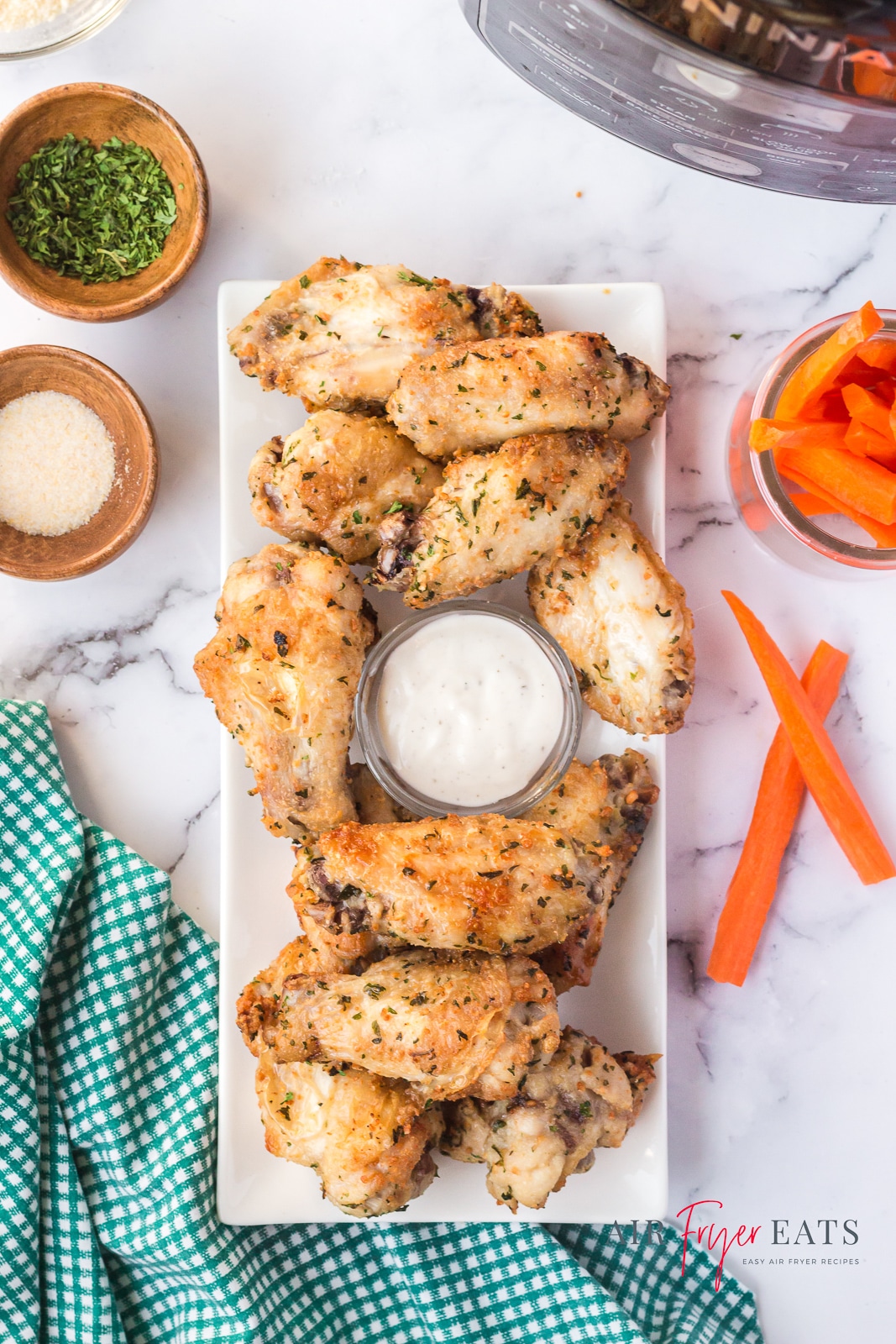 NINJA FOODI CHICKEN WINGS COOK TIME
It takes just 20 minutes to perfectly air fry chicken wings in the Ninja Foodi at 375°F/190°C. Be sure to let the Ninja Foodi air fryer preheat for 5 minutes first and you will have the best, crispiest wings ever.
CAN I MAKE FROZEN CHICKEN WINGS IN A NINJA FOODI?
You'll get the best results if you allow frozen wings to thaw before air frying them, but you can cook them from frozen if you need to! You'll need to increase the cook time to 30 minutes to get the wings cooked all the way.
You can cook frozen chicken breasts in the foodi too!
HOW TO TRIM CHICKEN WINGS
Often, you'll find chicken wings at the store already trimmed for you, but sometimes you might find the wings sold whole. Each whole chicken wing has three parts, and you should separate them before cooking.
The boney, pointy part is called the tip, and you don't want to eat that. You can cut it off and toss it out, or save it to make chicken stock.
Then you need to cut in between the other two parts (the oval shaped side is called the "flat" and the other piece is called a "drumette", or just "drum"). Use a sharp knife to carefully cut in between the joint to separate these.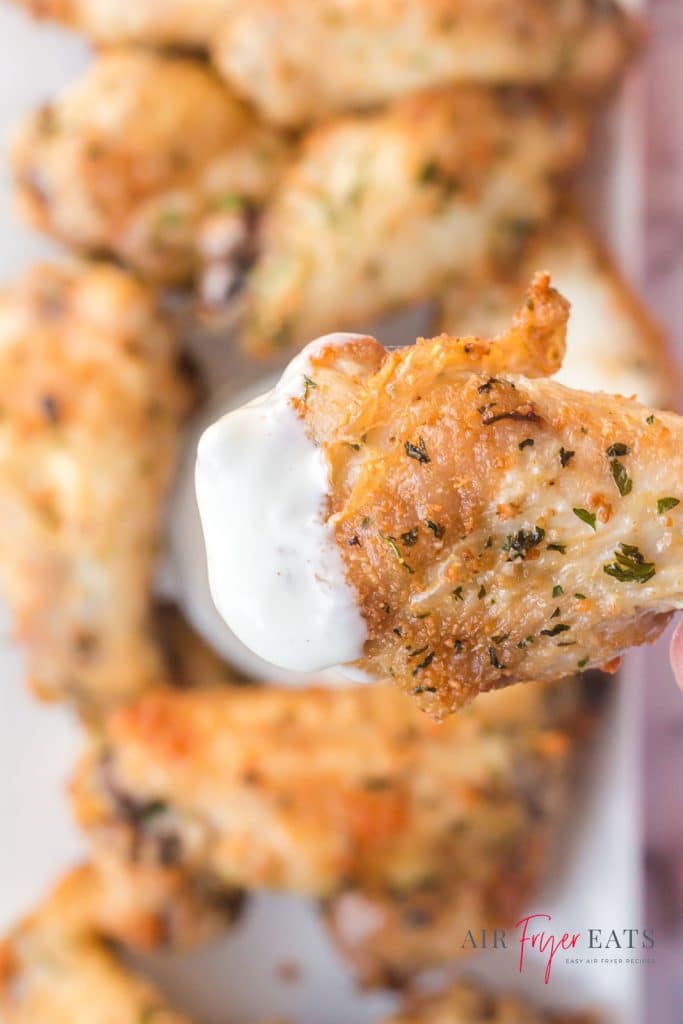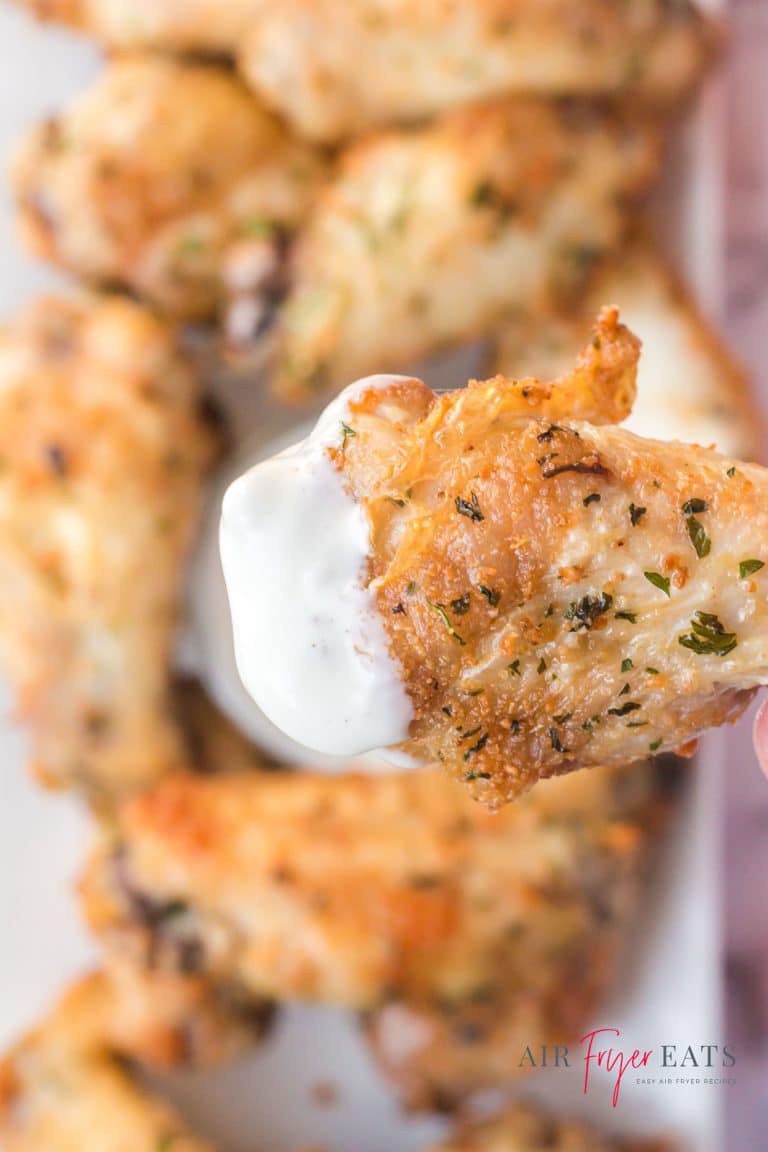 MORE NINJA FOODI AIR FRYER RECIPES
Ninja Foodi Salmon comes out tender and perfect every time, with a simple seasoning blend. Add a baked potato and a steamed veggie for a healthy dinner.
Make a Whole Chicken in the Ninja Foodi and use it in recipes like soups, salads, or tacos.
If you like wings, you'll love how crispy the skin gets in this recipe for Ninja Foodi Chicken Thighs.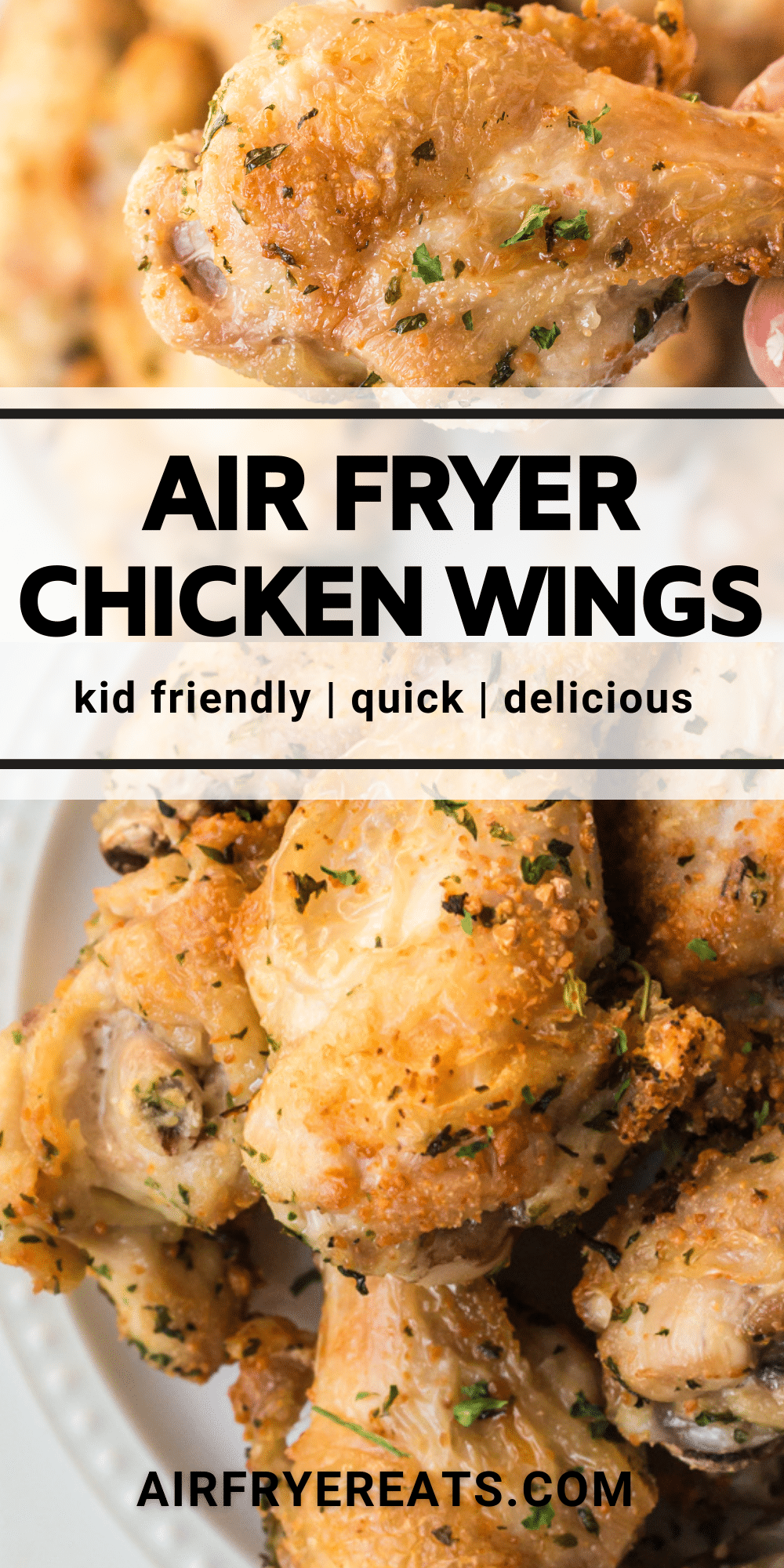 Have you made this recipe? Please leave a comment AND rating below! It helps other readers!
Be sure to tag @AirFryerEats on instagram, if you share a picture on the gram! Let's get social, you can follow me on Youtube, Instagram, Facebook, Pinterest or join one of our Air Fryer Facebook Groups: Air Fryer Recipes, Air Fryer Recipes for Seniors and Gluten Free Air Fryer Recipes.
Don't forget to subscribe to our EMAIL newsletter.
Ninja Foodi Chicken Wings
Extra crispy Chicken Wings are made in the Ninja Foodi - extra quick! You'll be amazed at how simple and easy this Ninja Foodi Chicken Wings recipe is, and how delicious they taste.
Ingredients
1-1.5

pounds

chicken wings

trimmed and separated

⅛

cup

grated parmesan cheese

1

tablespoon

garlic salt

1

tablespoon

dried parsley

ranch dressing

for dipping, optional
Instructions
Preheat the Ninja Foodi for five minutes at 375°F/190°C on the air fry setting.

While the air fryer is preheating, toss the wings in parmesan cheese, garlic salt, and parsley in a large bowl. Ensure that each wing is well coated with the seasonings.

Place all of the wings in the air fryer basket and air fry for 20 minutes, shaking once halfway through cooking.

Allow the wings to rest for five minutes outside of the air fryer basket so they can finish cooking.

Serve with ranch dressing for dipping, and carrots and celery if desired.
Go AD FREE!
Notes
Shaking wings is not totally necessary, but you'll get better browning if you move them around a bit in the basket at least once.
Skip the dry rub and toss your wings with barbecue or buffalo sauce instead.
Safe cooking temperature for chicken is 165°F/74°C.
Pro Tip: This recipe can be made in the air fryer unit with a basket or the air fryer oven. If you are using the air fryer oven, use the middle rack and select the "Air Fry" function.
Pro Tip: Check your food as it cooks. Each air fryer runs a bit differently. Sometimes air frying is a trial and error process. Check your food as it cooks to learn your air fryer better! When cooking a new recipe or food items be sure to check your food often to help avoid over/under cooking.
Have oven recipes that you'd like to convert to an air fryer recipe? Use our Air Fryer Calculator to help you estimate cooking times and temps! Calculator here: https://airfryereats.com/air-fryer-conversion-air-fryer-calculator/
Nutrition
Calories:
201
kcal
|
Carbohydrates:
1
g
|
Protein:
17
g
|
Fat:
14
g
|
Saturated Fat:
4
g
|
Polyunsaturated Fat:
3
g
|
Monounsaturated Fat:
6
g
|
Trans Fat:
1
g
|
Cholesterol:
67
mg
|
Sodium:
2452
mg
|
Potassium:
151
mg
|
Fiber:
1
g
|
Sugar:
1
g
|
Vitamin A:
169
IU
|
Vitamin C:
1
mg
|
Calcium:
65
mg
|
Iron:
1
mg
Tired of the ads?
Go AD Free - Become part of our Membership community!
Air Fryers can vary greatly. Please take the time to learn your specific air fryer. You may need to adjust times and temperatures based upon your air fryer.
All though this website attempts to provide accurate nutritional information, the information should only be considered an estimate. Varying factors such as different product types, different brands, etc. can change nutritional information. It is your responsibility as a consumer to read all labels to make sure the ingredients fit your dietary needs as well as calculate your own nutritional information as a double check.