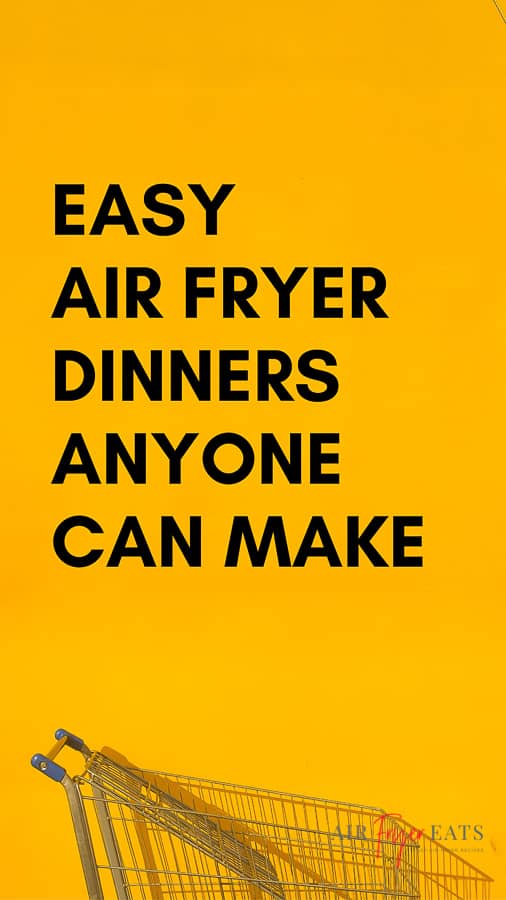 Easy Air Fryer Dinners Anyone Can Make is a meal plan that anybody can use. Seven easy air fryer dinners and seven easy air fryer sides to keep you fed all week long!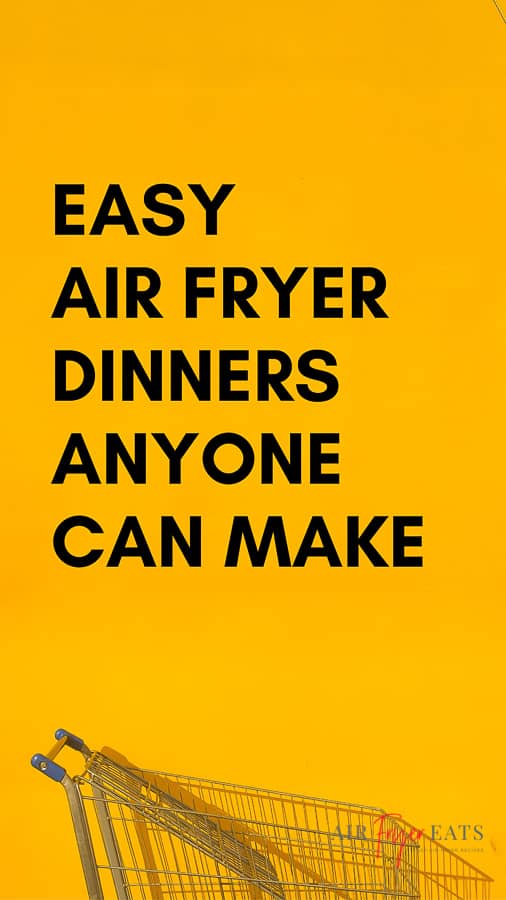 Below you will find a "dinner" meal plan for one week.
Some of these recipes will make extra food.
The recipes typically feed four people.
If you only have two people that you are feeding, this meal plan could provide extra food for lunches the next day or it could last for two weeks.
Dinner 1: Air Fryer Steak with a side of Air Fryer Roasted Potatoes
What's more satisfying than a perfectly cooked steak made right in your own kitchen? You'll go crazy for this easy 10 minute air fryer steak recipe! I used "eye of round" steaks from Aldi and they reheated wonderfully!! Air Fryer Roasted Potatoes will complement any weeknight dinner. These air fryer potatoes will be one of the best air fryer recipes that you'll find!
Dinner 2: Air Fryer Salmon with a side of Air Fryer Broccoli
Why go out to a restaurant when you can have tender, flaky salmon right at home? You won't believe how easy it is to make this 10 minute Air Fryer Salmon! Looking for a great way to add some pizzazz to broccoli? Try air frying it! Air Fryer Broccoli is the perfect combination of crispy and tender, and you won't believe how easy it is to make!
Dinner 3: Air Fryer Meatloaf with a side of mashed potatoes
Air Fryer Meatloaf is the perfect combination of flavors! Savory spices and a sweet glaze make for a meatloaf recipe that's done in less than 40 minutes!
Dinner 4: Air Fryer Chicken Breast with a side of Air Fryer Brussel Sprouts
Air Fryer Chicken Breast is the fastest way to prepare incredible, juicy chicken breasts! Forget the oven – your air fryer will have this mouthwatering chicken on your table in only 20 minutes! Air Fryer Brussel Sprouts are not only nutritious, but incredibly flavorful! In less than 15 minutes your air fryer gives these sprouts the most delectable crispy crunch on the outside with a roasted, caramelized flavor that is out of this world!
Dinner 5: Air Fryer Hamburgers with a side of Air Fryer Frozen French Fries
Next time you're craving a restaurant-style hamburger, let your air fryer do the work! In less than 10 minutes you'll have juicy, flavorful Air Fryer Hamburgers cooked to perfection right in your very own kitchen! Making french fries in your air fryer is a total breeze! Just one bite of these perfectly crispy fries is like a trip to your favorite burger joint!
Dinner 6: Air Fryer Chicken Tenders with a side of Air Fryer Sweet Potatoes
Chicken tenders aren't just a restaurant menu appetizer anymore! Make juicy and tender sweet & savory air fryer chicken tenders in only 30 minutes with this easy recipe! Cooking sweet potatoes doesn't have to be a daunting task when you have an air fryer in your kitchen! This Air Fryer Sweet Potato recipe results in fluffy, scrumptious sweet potatoes every single time!
Dinner 7: Air Fryer Shrimp with a side of Air Fryer Green Beans
Do you love cooking seafood at home? This air fryer shrimp recipe requires only 10 minutes and 4 ingredients for the most flavorful, tender cooked shrimp! Air Fryer Green Beans will be the perfect addition to grow your collection of delicious air fryer recipes! If you love green beans, this is a quick and tasty way to make them!