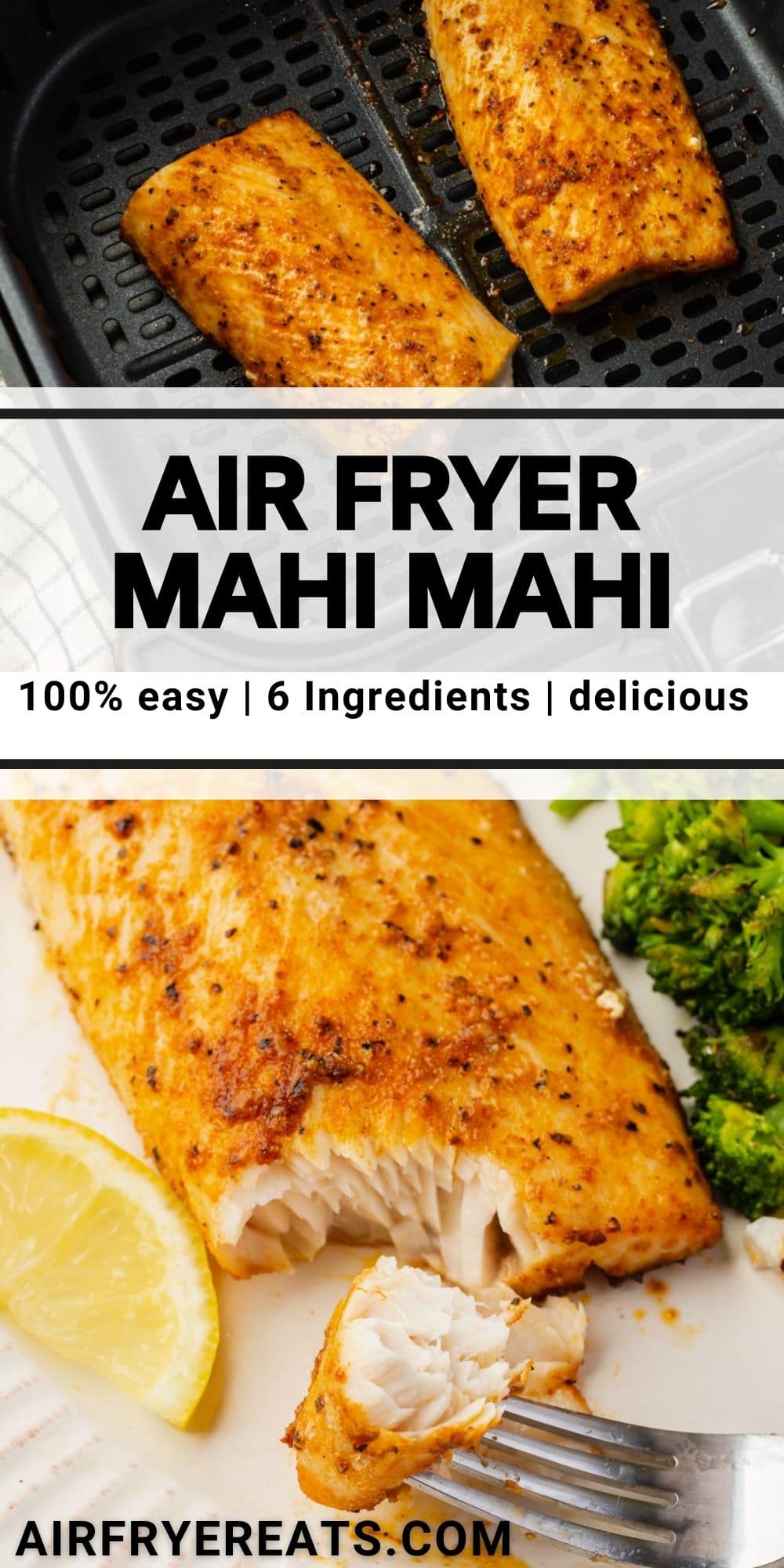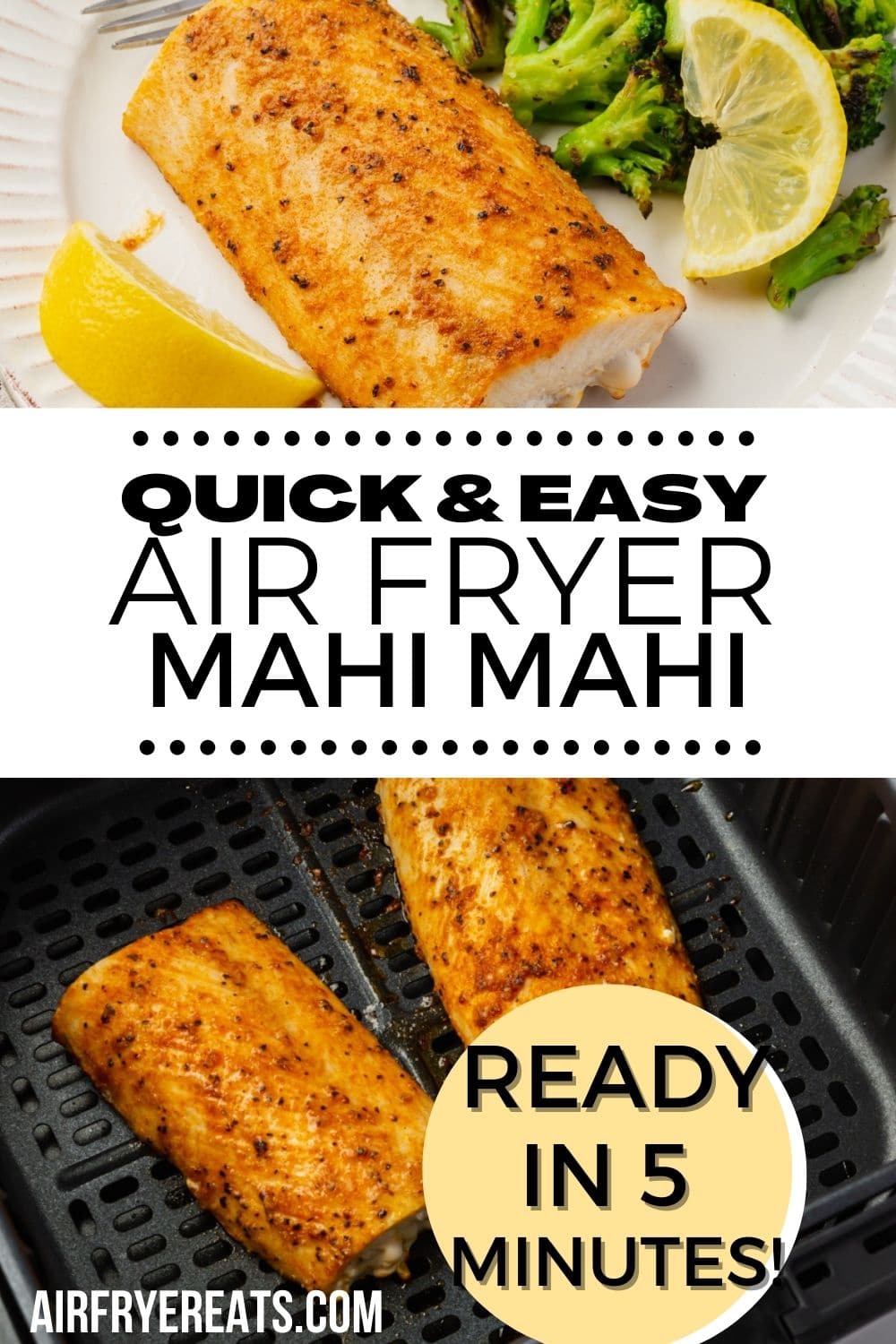 Make perfectly cooked Air Fryer Mahi Mahi in just a few minutes with this easy recipe! It works with fresh fish or frozen Mahi Mahi fillets, so you can create a tasty and healthy fish dinner for yourself and your family.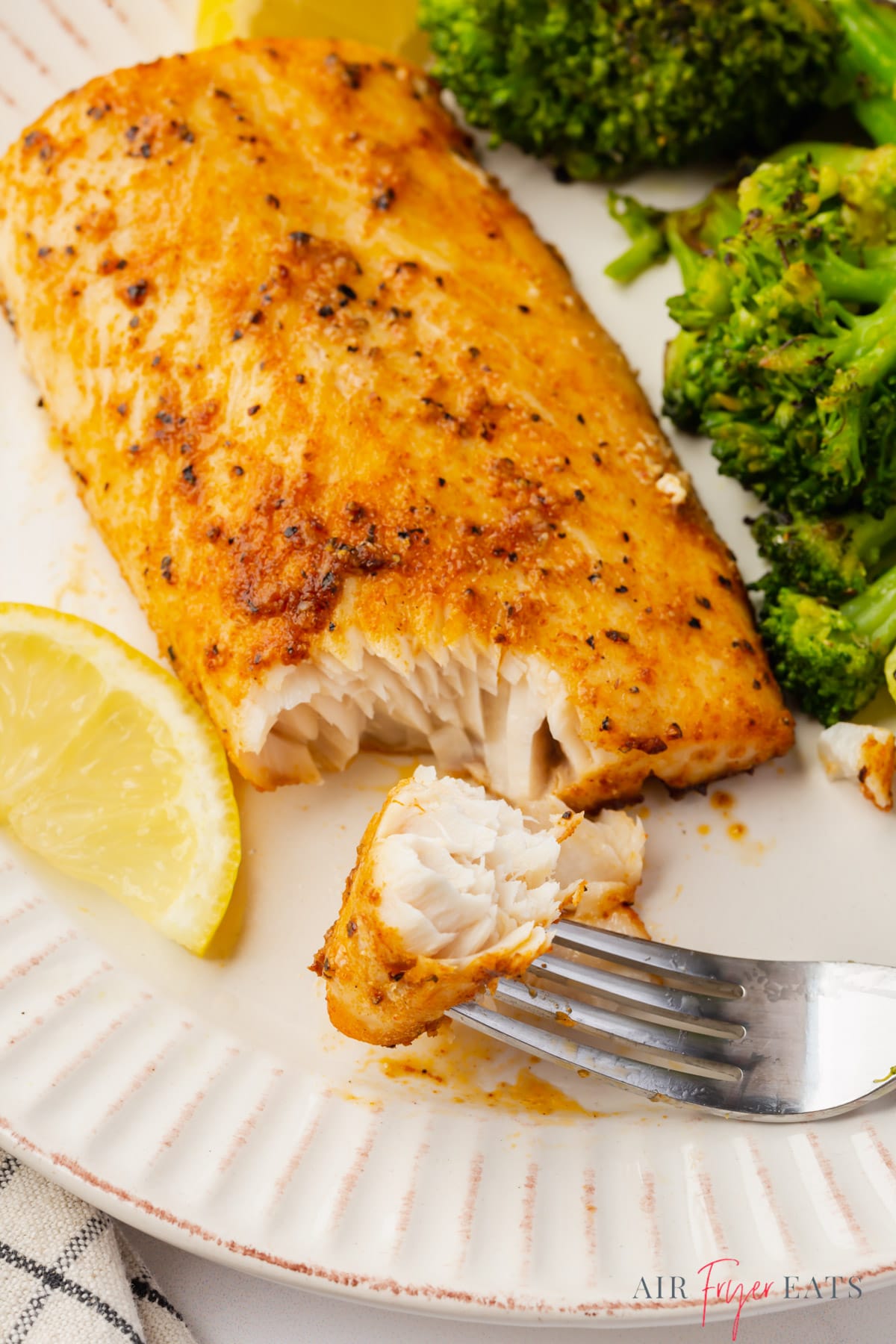 AIR FRYER MAHI MAHI RECIPE
You are going to love this air fryer fish recipe so much! Air Fryer Mahi Mahi is a healthy dinner option that is full of flavor, easy to make, and quick to get on the table.
A busy weeknight is the perfect setting for this easy fish dinner, but it's equally fitting for a formal meal or for guests too!
A small amount of oil and some common seasonings are all you need to make this mahi mahi taste amazing in the air fryer.
This mahi recipe is unbreaded, making it gluten-free, low carb and keto-friendly too.
WHAT IS MAHI MAHI?
Mahi Mahi is a very versatile fish with mild-tasting white flesh that is firm and easy to cook.
This tropical fish is also a sustainable food option as they grow and reproduce quickly and are generally fished in a sustainable way.
Wondering if it's worth it to air fry fish? It truly is! Fish like Mahi Mahi in the air fryer cooks so quickly and perfectly every time. Forget baking, frying, or wrapping fish in foil.
Using the air fryer makes fish similar to grilled mahi mahi, but the air fryer is a much easier method.
We love making all types of Air Fryer Fish! Check out how we make Air Fryer Salmon, Air Fryer Tuna Steaks, and Air Fryer Tilapia too. Looking for a non air fryer recipe that still has seafood? Check out this delicious Shrimp Cobb Salad.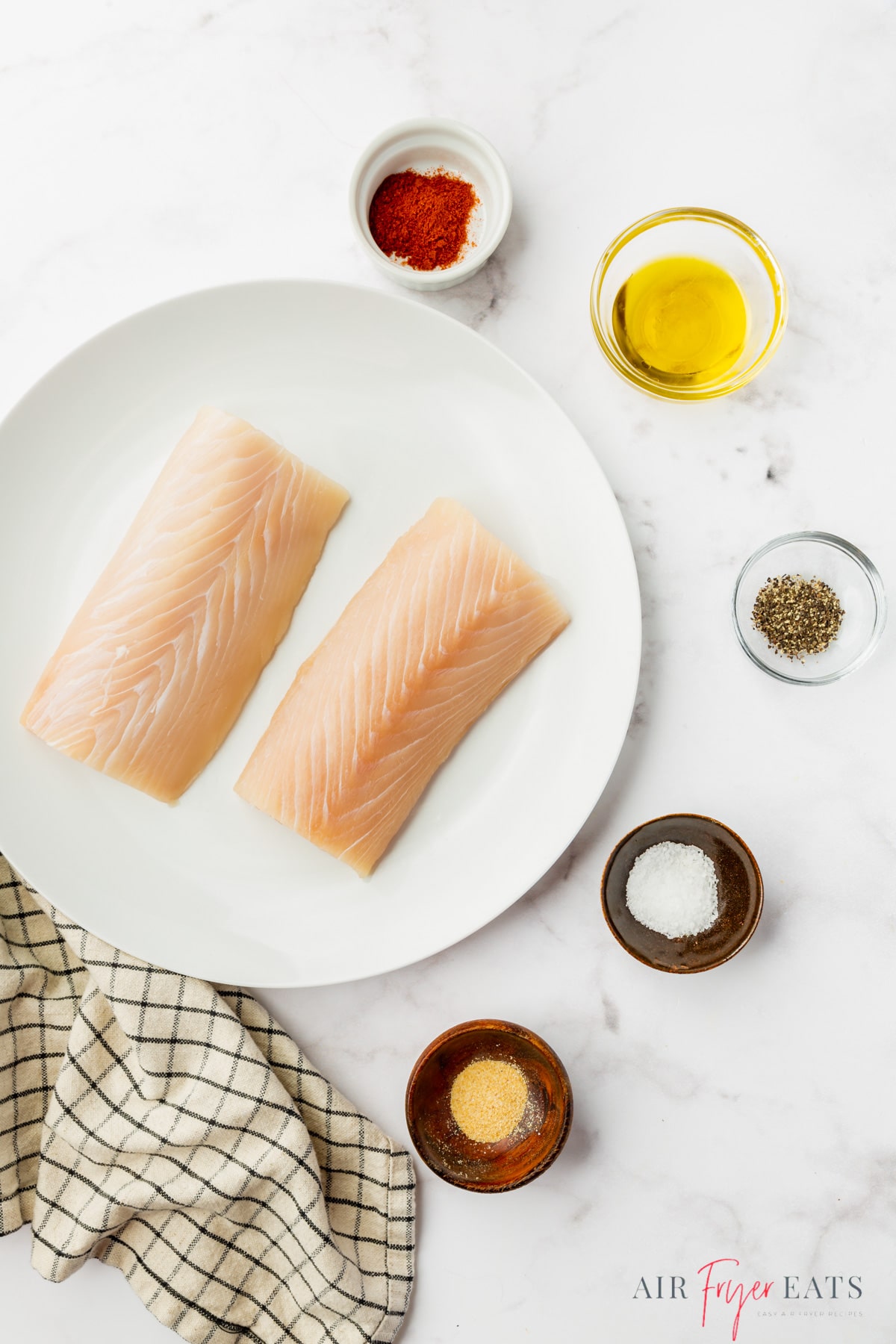 INGREDIENTS FOR AIR FRYER MAHI MAHI
Mahi Mahi Fillets - This flaky white fish is one of my favorites. Two 6-ouch fillets should fit comfortably in most basket-style air fryers. You can also adjust this recipe to make just one mahi mahi fillet.
Olive Oil - We aren't frying this fish, but a small amount of oil will help adhere the spices to the fillets, add moisture, and allow beautiful browning.
Salt - I like using kosher salt to make this spice rub.
Pepper - for really great flavor, use freshly ground black pepper.
Garlic Powder - This adds tons of flavor. Garlic is good on almost everything!
Paprika - I love paprika for its ability to add warmth and beautiful color to mahi mahi fillets.
If you have any questions about making air fryer mahi mahi, please leave a comment below and I will get back to you ASAP!
HOW TO MAKE MAHI MAHI AIR FRYER
Use paper towels to pat the fish fillets dry on both sides. Then cover the mahi mahi with olive oil.
In a small bowl, mix the paprika, salt, garlic powder, and black pepper together.
Then gently rub the spices onto the oiled mahi mahi fillets. This is easiest if you use your hands.
Place the mahi mahi fillets into the air fryer basket - no need to preheat!
Air Fry the mahi mahi fillets as directed in the recipe below at 400°F/200°C for about 10 minutes, or until the fish is fully cooked.
Serve air fried mahi mahi immediately with your favorite healthy side dishes.
These numbered steps match the numbered photos above and are for illustration purposes. for the complete list of ingredients and instructions for Air Fryer Mahi Mahi, please see the recipe below.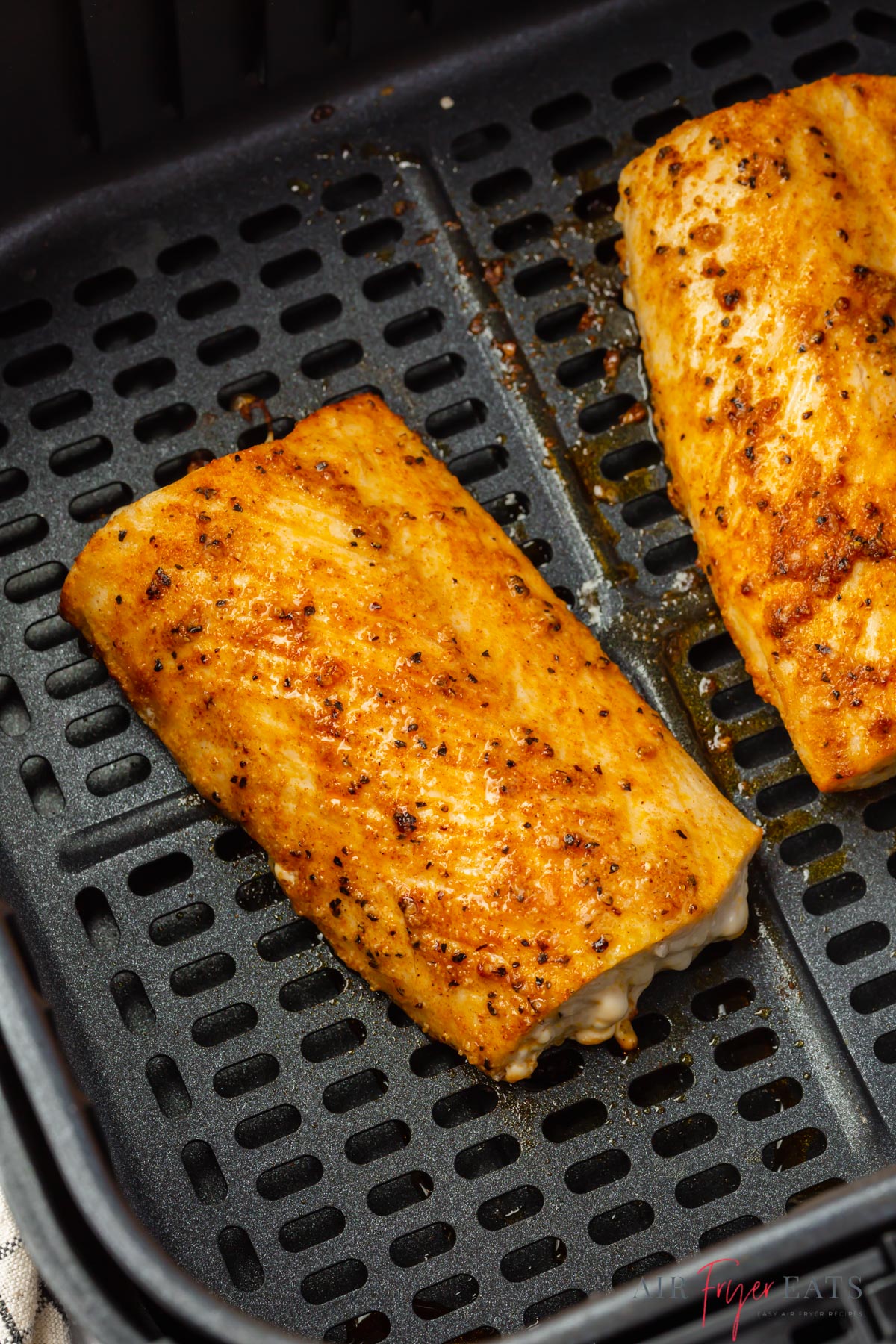 WHAT TO SERVE WITH AIR FRYER MAHI MAHI
Turn your air fryer mahi-mahi into a healthy meal by serving it with your favorite air fryer side dishes.
Air Fryer Vegetables like Air Fryer Broccoli, Air Fryer Eggplant, or Air Fryer Green Beans will all be delicious.
If you like potatoes with dinner, you should definitely try my recipes for Air Fryer Potato Wedges or easy Air Fryer Baked Potatoes.
On the side, don't forget to make up a delicious homemade Tartar Sauce!
MAHI MAHI AIR FRYER TIPS
I don't recommend air frying still frozen fish. The fish will cook faster and more evenly if it is fully thawed before air frying.
If your mahi mahi still has the skin attached, be sure to remove it before cooking. Typically fillets are sold already skinned.
Use paper towels to pat the fish fillets so that they are dry before you season them. This will help the oil and seasonings stick to the fish and stay that way.
Watch your food. The time needed to cook Mahi Mahi in the air fryer can vary depending on the thickness of your fillets. Keep on eye on things, especially during the last few minutes so that you can pull them out early or add extra time if needed.
Adjust the seasonings: The spice blend I'm using here is my favorite to season Mahi Mahi with, but you can certainly use your own favorites! Try taco seasoning, cajun seasoning, or lemon pepper to make things extra simple.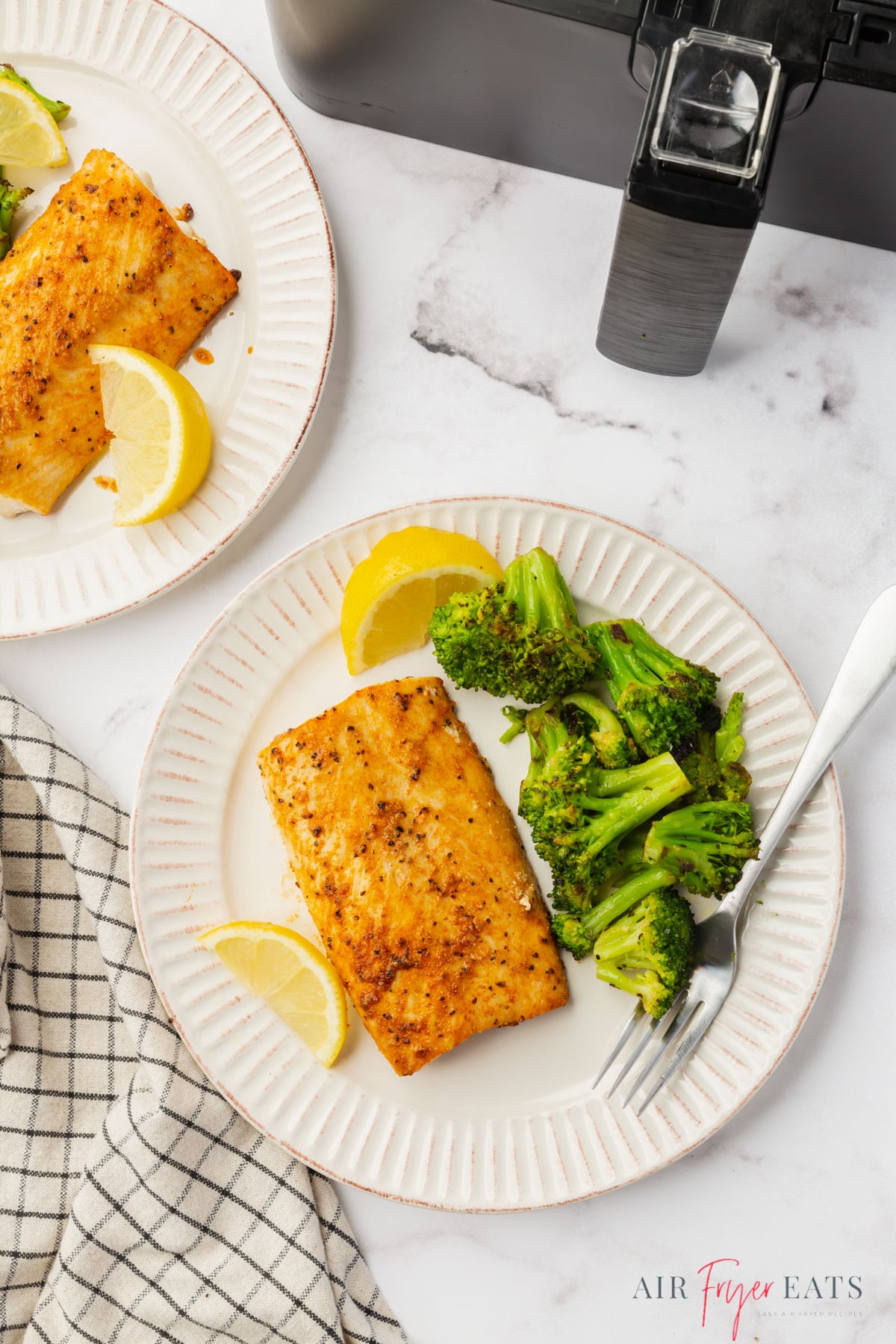 WHAT TEMPERATURE SHOULD MAHI MAHI BE COOKED TO?
Mahi Mahi is considered fully cooked when it reaches an internal temperature of 137°F. Use an instant-read food thermometer to easily test your fish to ensure that it's done. The fish will continue to cook and rise in temperature after you remove it from the air fryer.
From a food safety standpoint, you should note that the FDA recommends that all fish be cooked to an internal temperature of 145°F. Cooking it any more than this can cause your fish to be dry.
HOW DO YOU KNOW WHEN MAHI MAHI IS DONE?
If you don't have a thermometer handy, you can use a fork to gently pull the fish apart. If it flakes easily and appears opaque throughout, it's done!
CAN I COOK FROZEN MAHI MAHI IN THE AIR FRYER?
While I've seen some decent results from placing frozen fish directly in the air fryer, I much prefer to air fry fully thawed fillets. I also recommend that you take the time to thaw your fish before you air fry it.
Air Frying frozen fish will often give you overcooked, dry fish due to the extra time it takes to get it to cook all the way through.
Luckily, fish fillets thaw much more quickly than other meats, keep reading if you need to know how to do it.
HOW TO THAW MAHI MAHI
To quickly defrost frozen fish fillets, remove them from the packaging and place them in a plastic bag. Add the bag to a bowl of cold water, and let sit for 20-30 minutes. If needed, change out the water and repeat until the mahi mahi fillets are thawed.
TO MAKE BREADED MAHI MAHI IN THE AIR FRYER
Looking for a bit of crunch with your fish? Mix the seasonings in this recipe with panko bread crumbs. Spray the fish with oil and then cover with the seasoned breadcrumbs before cooking.
You might also like our recipes for Air Fryer breaded Catfish and Air Fryer Breaded Tilapia.
HOW TO STORE MAHI MAHI
Once you've cooked your mahi mahi in the air fryer, you should either eat it right away or store it in the fridge until you are ready to eat it.
Leftovers or meal prep portions can be kept in an airtight container in the fridge for 3-4 days.
Speaking of meal prep, air fryer fish is delicious enjoyed for lunch the next day! I usually eat it cold along with a fresh salad.
HOW TO REHEAT MAHI MAHI IN THE AIR FRYER
Add leftover mahi mahi fillets to the air fryer that you've preheated to 400°F/200°C. Heat for 2-4 minutes or until just warmed through.
Avoid using the microwave to reheat fish. The Air Fryer does a much better job of reheating the fillets gently so that they don't overcook.
IS MAHI MAHI A TUNA OR A DOLPHIN?
It's neither! The Mahi Mahi fish is sometimes called dolphin fish, which I will agree is very confusing! This tropical fish is not at all related to dolphins, don't worry.
Sometimes it's easy to get mahi mahi confused with Ahi Tuna, since the words sound similar, but note that Mahi Mahi is not a tuna fish either. It's simply a delicious, firm-fleshed white fish found in the Atlantic Ocean, Gulf of Mexico, and the Caribbean.
MORE EASY AIR FRYER FISH RECIPES
Once you start cooking fish in your air fryer, you'll never go back to baking or frying it! The air fryer truly is the easiest way to cook mahi-mahi fillets, as well as these other fish recipes:
Air Fryer Tuna Steaks are delicious, with an Asian-inspired marinade that is just perfect.
Take some time to make Salmon Patties in the Air Fryer. They can be made with freshly cooked salmon, or canned salmon, and make a tasty appetizer or a light meal.
Tired of making the same meals over and over? Air Fryer Fish Tacos will help you to shake up the weekly dinner menu! You might also like to make these Mahi Mahi fish tacos too.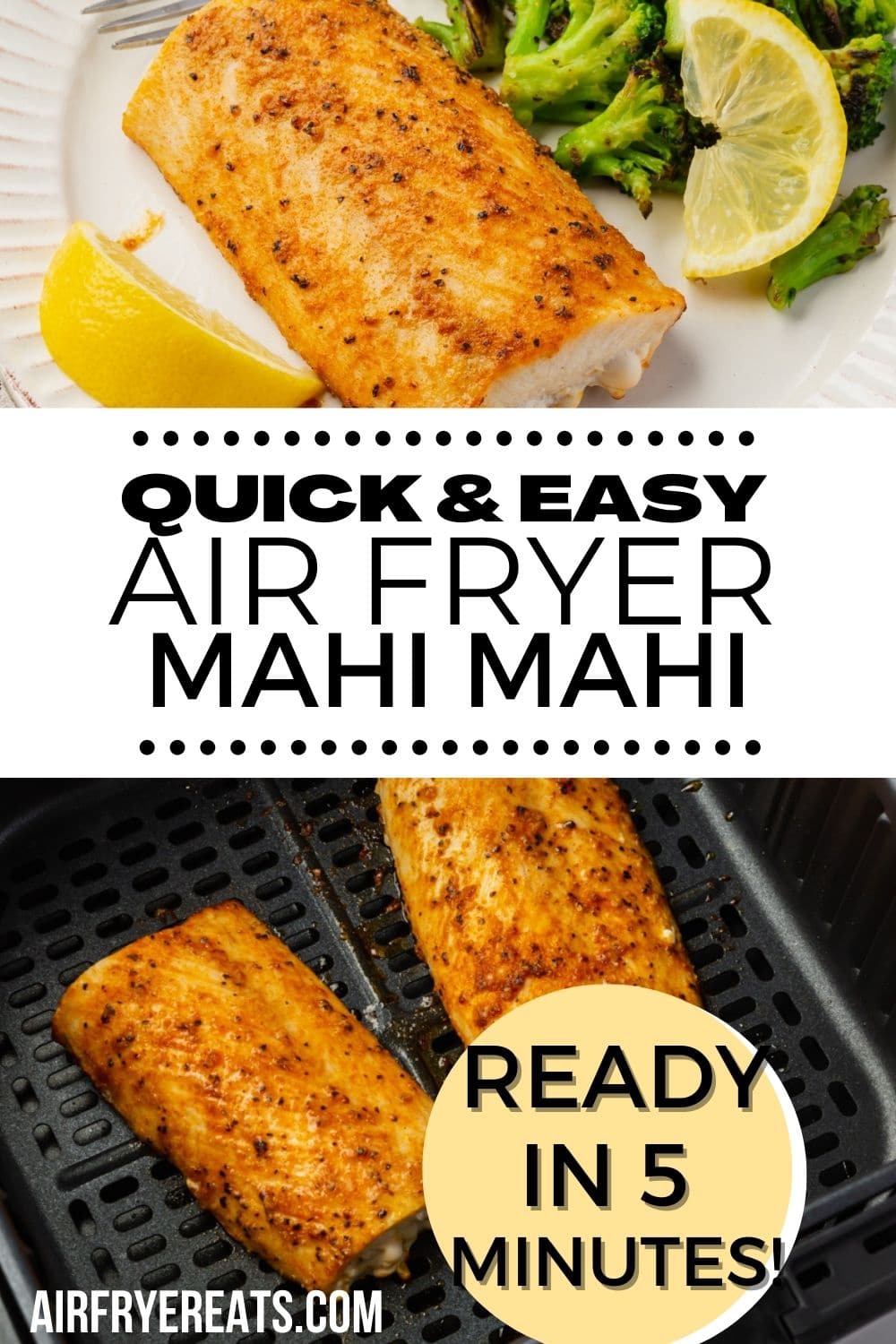 Have you made this recipe? Please leave a comment AND rating below! It helps other readers!
Be sure to tag @AirFryerEats on instagram, if you share a picture on the gram! Let's get social, you can follow me on Youtube, Instagram, Facebook, Pinterest or join one of our Air Fryer Facebook Groups: Air Fryer Recipes, Air Fryer Recipes for Seniors and Gluten Free Air Fryer Recipes.
Don't forget to subscribe to our EMAIL newsletter.
Air Fryer Mahi Mahi
Make perfectly cooked, tasty, and healthy Air Fryer Mahi Mahi in just a few minutes with this easy air fryer recipe!
Ingredients
2

6 ounce

mahi mahi fish fillets

skin removed

1

tablespoon

olive oil

½

teaspoon

paprika

½

teaspoon

kosher salt

½

teaspoon

garlic powder

¼

teaspoon

ground black pepper
Instructions
Pat the mahi mahi dry on both sides. Cover the mahi mahi with the olive oil.

In a small bowl, mix the paprika, salt, garlic powder and ground black pepper together.

Then, gently rub the spices onto the mahi mahi filets.

Place the mahi mahi filets in your air fryer basket. Air fry the mahi mahi on 400 degrees F for 10 minutes, or until the mahi mahi reaches an internal temperature of 137F.
Go AD FREE!
Notes
If your mahi mahi comes frozen from the grocery store, be sure to defrost it in the refrigerator before cooking. If it comes in a package, leave it in the package while it defrosts so it doesn't leak.
This spice blend is a great option if you pan on eating the mahi mahi as your main meal with a side of roasted vegetables. You can also use taco seasoning in its place to make mahi mahi tacos.
The fish is done when the flesh turns opaque and easily flakes with a fork.
Pro Tip:

This recipe can be made in the air fryer unit with a basket or the air fryer oven. If you are using the air fryer oven, use the middle rack and select the "Air Fry" function.

Pro Tip: Check your food as it cooks. Each air fryer runs a bit differently. Sometimes air frying is a trial and error process. Check your food as it cooks to learn your air fryer better! When cooking a new recipe or food items be sure to check your food often to help avoid over/under cooking.
Have oven recipes that you'd like to convert to an air fryer recipe? Use our Air Fryer Calculator to help you estimate cooking times and temps! Calculator here:
https://airfryereats.com/air-fryer-conversion-air-fryer-calculator/
Nutrition
Calories:
67
kcal
|
Carbohydrates:
1
g
|
Protein:
1
g
|
Fat:
7
g
|
Saturated Fat:
1
g
|
Polyunsaturated Fat:
1
g
|
Monounsaturated Fat:
5
g
|
Cholesterol:
1
mg
|
Sodium:
583
mg
|
Potassium:
28
mg
|
Fiber:
1
g
|
Sugar:
1
g
|
Vitamin A:
249
IU
|
Vitamin C:
1
mg
|
Calcium:
3
mg
|
Iron:
1
mg
Tired of the ads?
Go AD Free - Become part of our Membership community!
Air Fryers can vary greatly. Please take the time to learn your specific air fryer. You may need to adjust times and temperatures based upon your air fryer.
All though this website attempts to provide accurate nutritional information, the information should only be considered an estimate. Varying factors such as different product types, different brands, etc. can change nutritional information. It is your responsibility as a consumer to read all labels to make sure the ingredients fit your dietary needs as well as calculate your own nutritional information as a double check.