These air fryer pork chop recipes will add so much flavor to your dinners with minimal work! Read on to learn how to make the best pork chops in the air fryer with these 12+ recipes.
AIR FRYER PORK CHOP RECIPES
Pork is such a great weeknight dinner dish. It is budget-friendly, it is healthy, and it tastes so good! I love all of these air fryer pork chop recipes because they are so easy but taste so amazing.
Whether you are looking for breaded pork chops, bone-in pork chops, or simple boneless chops with a great spice rub, I have all the recipes you need! The air fryer is a great tool to cook the outside perfectly while still leaving the inside juicy and moist.
Keep reading for all the air fryer pork chop recipes, some great tips to nail them every time, and some of our most frequently asked questions about how to make pork chops in the air fryer.
INGREDIENTS FOR AIR FRYER PORK CHOPS RECIPES
Pork chops: You can make delicious and juicy thin, thick, boneless, or bone-in pork chops in the air fryer! If you are making a breaded recipe with frozen pork chops, be sure to thaw them beforehand so the crust sticks.
Oil: For the crispiest air fryer pork chops, you will want to use a little oil. This helps the spices stick to the chops as well as adds that delicious char on the outside.
Spices and sauces: There is no end to the seasonings you can use with pork chop recipes! Some of my favorite pork chop seasonings include:
Cumin
Fresh garlic
Paprika
Chili powder
Apples
Ginger
Mustard
Sage
Maple syrup
Allspice
Ranch
Rosemary
Garlic powder
Cayenne pepper
Thyme
Oregano
Coriander
Basil
Italian seasoning
Brown Sugar
Cloves
Parsley
Roasted garlic
If you have any questions about how to make air fryer pork chops, please leave a comment below and I will get back to you ASAP!
FAVORITE AIR FRYER PORK CHOP RECIPES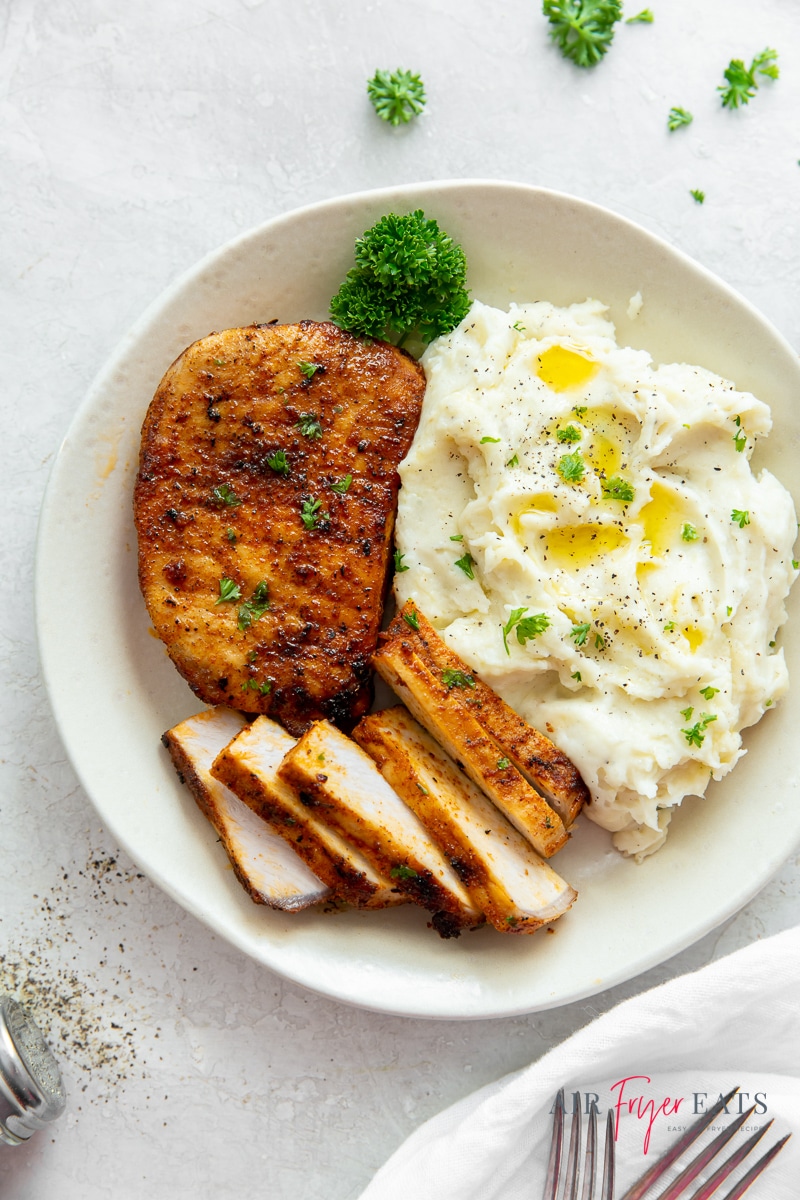 I love a simple boneless pork chop in the air fryer with a delicious spice rub. You only need basic pantry seasonings to make this easy air fryer dinner. These air fryer pork chops have great flavor without the breading, and they are ready in less than 10 minutes.
Most boneless pork chops are thin, but I love a thick air fryer pork chop because, to me, it is better than a fancy steak! Whenever you are making pork, use a meat thermometer to check the internal temperature. With pork, you always want it to cook to at least 145 degrees F.
Italian seasoning is truly a lifesaver in the kitchen. It can add so much flavor to so many dishes! I love these Italian air fryer pork chops without breading. Let the pork speak for itself with this easy homemade Italian blend with some added smoked paprika for extra color and spice!
Keep dinner simple and a little sweet tonight with these brown sugar air fryer pork chops! The sweetness of the pork and the molasses in the sugar are the perfect combo. I love making this in the fall with some air fryer Brussels sprouts.
Most recipes are all about the spices. This air fryer pork chop recipe is all about the sauce! These pork chops are drizzled with a lemon, maple syrup, and Dijon mustard sauce for a bright, zesty flavor. I love this sauce on air fryer fried chicken, too!
Everything is better with cheese, right? What about a cheese crust? These Parmesan crusted air fryer pork chops are extra moist and juicy! These low-carb pork chops feel breaded but are simply covered in Parmesan cheese.
THE BEST AIR FRYER PORK CHOP RECIPES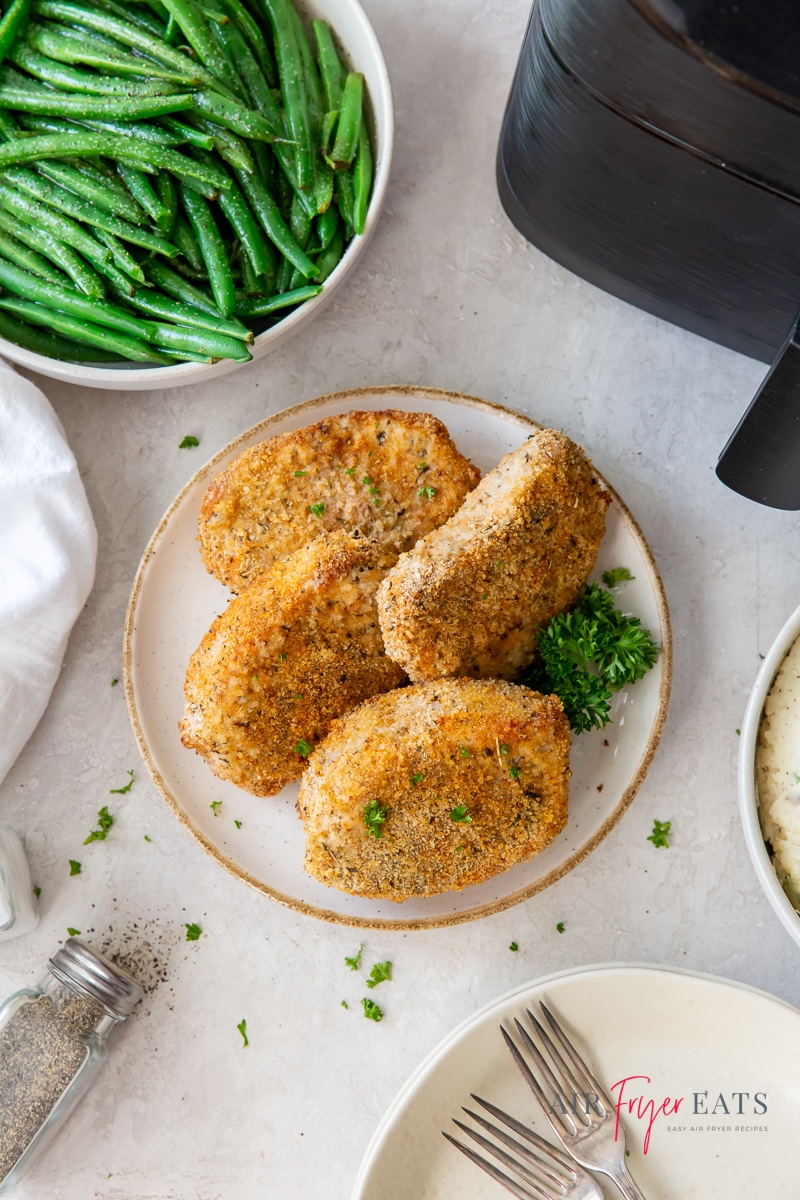 Serve something different for dinner with this simple recipe for breaded air fryer pork chops. If you are like me and eat a lot of chicken and ground beef, a breaded pork chop meal will be a nice change to the dinner rotation. I know that your family will really enjoy the juicy, flavorful meat coated with crispy flavored breadcrumbs.
Ranch is the best salad dressing ever. It only makes sense that these ranch air fryer pork chops would be amazing, too! You only need 6 ingredients for this air fryer pork chop recipe, including a packet of dry ranch seasoning.
Pork is a great dish for keto, low carb, and gluten-free diets. This easy boneless pork chop in the air fryer is Whole30, paleo, and keto compliant! This is definitely the easiest recipe I make in the air fryer with just 3 ingredients.
I love the ease of a boneless chop. But there is something about a big, bone-in pork chop that feels more decadent. This air fryer pork chop recipe has a simple rub to highlight the juicy pork. If you struggle to cook bone-in chops evenly, this recipe was made for you.
If you miss your grill this winter, try these BBQ pork chops in the air fryer! This homemade spiced mustard barbecue sauce gives that perfect glaze with just the air fryer. Pair them with a simple air fryer corn on the cob for the best summer dinner inside.
HOW TO MAKE THE BEST AIR FRYER PORK CHOP RECIPES
Whether you are brand new to the air fryer or looking for tips and tricks to make your favorite air fryer pork recipes even better, you have come to the right place!
Do not overcook. Nothing is worse than turning a gorgeous pork chop into a chewy mess. They will begin to be chewy when they are well done.
Check the internal temp. To make the most moist air fryer pork chops, the internal temperature is key. Pork chops in the air fryer need to be cooked to at least 145 degrees F for safety.
Flip halfway through. For the best char on all sides, I like to flip my pork chops halfway through cooking. The air fryer will cook on all sides, but it will char better if you flip it.
Play with the spices. You can make pork chops to match any cuisine. You can stay simple with a salt, pepper, and Italian seasoning rub or make your own with a handful of spices.
Always season the breadcrumbs. If you are making a breaded pork chop, be sure to season the crumbs with salt, pepper, and your favorite spices. If you do not season the crust, it will be bland.
If you have any questions about how to make the best air fryer pork chop recipes every time, please leave a comment below and I will get back to you ASAP!
WHAT TO SERVE WITH AIR FRYER PORK CHOPS
These pork chop recipes are so easy, you can make them into a hearty lunch! Serve alongside this creamy potato salad with hard boiled eggs, onions, and celery wrapped in a sweet and tangy yellow mustard dressing.
Pork and potatoes are a match made in heaven. Whether you are making mashed potatoes, baked potatoes, or crispy roasted potatoes, they will all pair well with any of these air fryer pork chop recipes.
If you love sautéed mushrooms, you will absolutely love these air fryer balsamic mushrooms! A simple marinade turns these mushrooms into a delicious side dish in just minutes. Truly my favorite air fryer side dish.
Keep the stove off tonight! This air fryer creamed corn casserole is a simple, no-fail recipes that tastes just like Grandma used to make. This corn casserole is perfect for the holidays or alongside air fryer pork chops. Yes, you can really make a casserole in an air fryer.
Finish the night with a little dessert. Chickpea Cookie Dough is a sweet treat that is ready in minutes with no need to bake! You only need a handful of ingredients to make this deliciously smooth and creamy gluten-free edible cookie dough.
CAN PORK CHOPS BE A LITTLE PINK IN THE CENTER?
Pork and chicken share a lot of similarities. They need to be cooked to specific temperatures to be safe, and you need to handle raw chicken and pork carefully to avoid bacteria.
However, unlike chicken, pork can be slightly pink in the center! When you slice into a pork chop, it should be opaque, glistening, and white. If there is a sliver of pink in the center, that is usually ok!
If there is a large chunk of pink in the middle, it is not done yet and can be dangerous to eat. You can always avoid underdone pork chops with a trusty meat thermometer!
WHAT TEMPERATURE DO YOU COOK PORK IN THE AIR FRYER?
When it comes to air fryer pork chop recipes, the temperature can always vary to get that perfectly moist chop.
For most of my pork chops, I preheat my air fryer to 380 to 400 degrees F. Every air fryer is different, so the temperatures may need to be adjusted for your machine.
Breading makes no difference on the air fryer temperature. However, bone-in pork chops are sometimes cooked at higher temperatures and for longer.
WHY ARE MY AIR FRYER PORK CHOPS TOUGH?
A perfectly cooked pork chop will be luscious, juicy, and easy to cut. There should be no chewy pork chops on my watch!
Pork chops can easily be undercooked and overcooked. If you use a meat thermometer to check your chops, it takes all the guesswork out of cooking.
Overcooked pork chops are incredibly chewy. I try to pull my pork chops out of the air fryer at about 140 degrees F. They will continue to cook as they rest.
HOW LONG DO YOU COOK PORK CHOPS FOR?
Air fryer pork chop cook time will always depend on the size and thickness of your pork chops. Also, bone-in pork chops often take longer to cook than boneless chops.
I always cook my pork chops in the air fryer for at least 8 minutes. Sometimes they are done, but sometimes they will take up to 18 or 20 minutes.
Whenever you are working with pork, internal temp is more important than cook time! Be sure all your pork chops, pork loin, and pork sausage always reach 145 degrees F internally before serving.
CAN YOU STACK MEAT IN AN AIR FRYER?
While it may be tempting to stack pork chops in the air fryer to cut down the cooking time, it is highly recommended that you do not stack or overlap pork chops.
Since air fryers work by cooking food from all sides, you will want to arrange your ingredients in a single layer in your air fryer basket. This will ensure that your food cooks evenly.
That is extra important when cooking meats to safe temperatures in the air fryer! Plus, they will steam instead of getting that beautiful char on the outside. No one wants that!
Air Fryer Pork Chop Recipes : Featuring Air Fryer Breaded Pork Chops
Make the perfect Air Fryer Breaded Pork Chops for dinner! These Air Fryer Pork Chops are perfectly seasoned, lightly breaded, and come out crispy and delicious in under 15 minutes.
Ingredients
4

Pork Chops

boneless

½

tsp.

Garlic powder

½

tsp.

Smoked Paprika

½

tsp.

Salt

¼

tsp.

Black Pepper

½

cup

Breadcrumbs

2

tsp.

Italian Seasoning

1

Large egg

1

tbsp.

Water
Instructions
Preheat an air fryer to 380F/193C for 5 minutes.

Season the pork chops with garlic powder, smoked paprika, salt, and pepper.

Combine the breadcrumbs and Italian seasoning in a large shallow bowl.

In another bowl, add the egg and water and whisk well.

Dip each pork chop in the egg.

Then dredge the pork chop through the breadcrumbs, coating completely.

Lightly spray both sides of the pork chops well with cooking spray. Place the pork chops in a single layer in the air fryer basket and cook for 8-12 minutes

Flip the pork chops halfway through the cook time, until golden brown and the internal temperature reaches 145-160°F.
Go AD FREE!
Notes
Don't crowd the air fryer basket. If all four pork chops don't fit easily, cook them in two batches.
If using pork chops with bones, you may need to add to the cook time.
For thin sliced pork chops, cook for less time.

Pro Tip: This recipe can be made in the air fryer unit with a basket or the air fryer oven. If you are using the air fryer oven, use the middle rack and select the "Air Fry" function.

Pro Tip: Check your food as it cooks. Each air fryer runs a bit differently. Sometimes airfrying is a trial and error process. Check your food as it cooks to learn your air fryer better! When cooking a new recipe or food items be sure to check your food often to help avoid over/under cooking.
Have oven recipes that you'd like to convert to an air fryer recipe? Use our Air Fryer Calculator to help you estimate cooking times and temps! Calculator here:
https://airfryereats.com/air-fryer-conversion-air-fryer-calculator/
Nutrition
Calories:
288
kcal
|
Carbohydrates:
12
g
|
Protein:
33
g
|
Fat:
11
g
|
Saturated Fat:
4
g
|
Polyunsaturated Fat:
2
g
|
Monounsaturated Fat:
5
g
|
Trans Fat:
1
g
|
Cholesterol:
131
mg
|
Sodium:
419
mg
|
Potassium:
598
mg
|
Fiber:
2
g
|
Sugar:
1
g
|
Vitamin A:
412
IU
|
Vitamin C:
1
mg
|
Calcium:
83
mg
|
Iron:
3
mg
Tired of the ads?
Go AD Free - Become part of our Membership community!
Air Fryers can vary greatly. Please take the time to learn your specific air fryer. You may need to adjust times and temperatures based upon your air fryer.
All though this website attempts to provide accurate nutritional information, the information should only be considered an estimate. Varying factors such as different product types, different brands, etc. can change nutritional information. It is your responsibility as a consumer to read all labels to make sure the ingredients fit your dietary needs as well as calculate your own nutritional information as a double check.