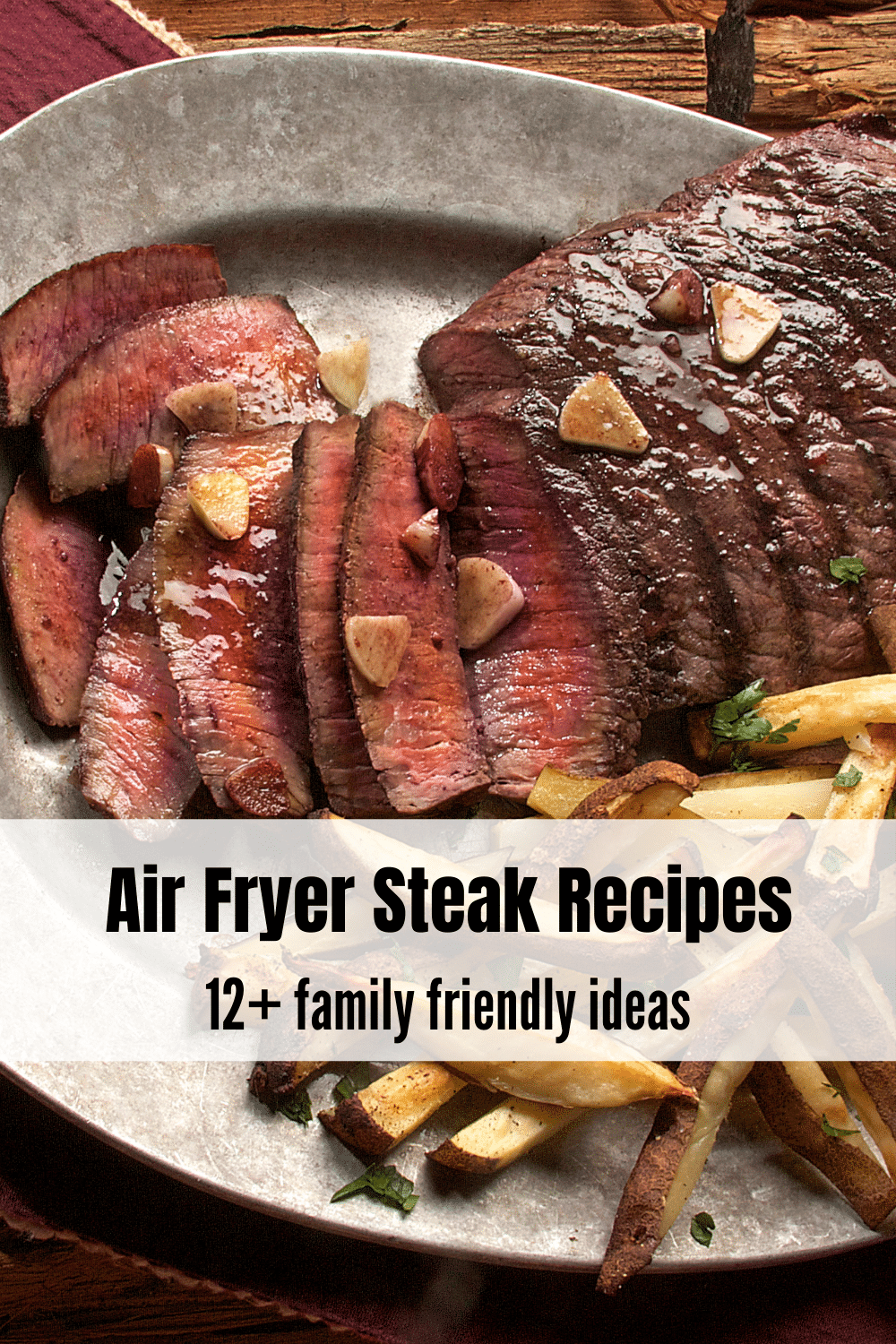 These juicy air fryer steak recipes are so easy, you will never make steak another way! Read on to learn how to cook every steak in the air fryer.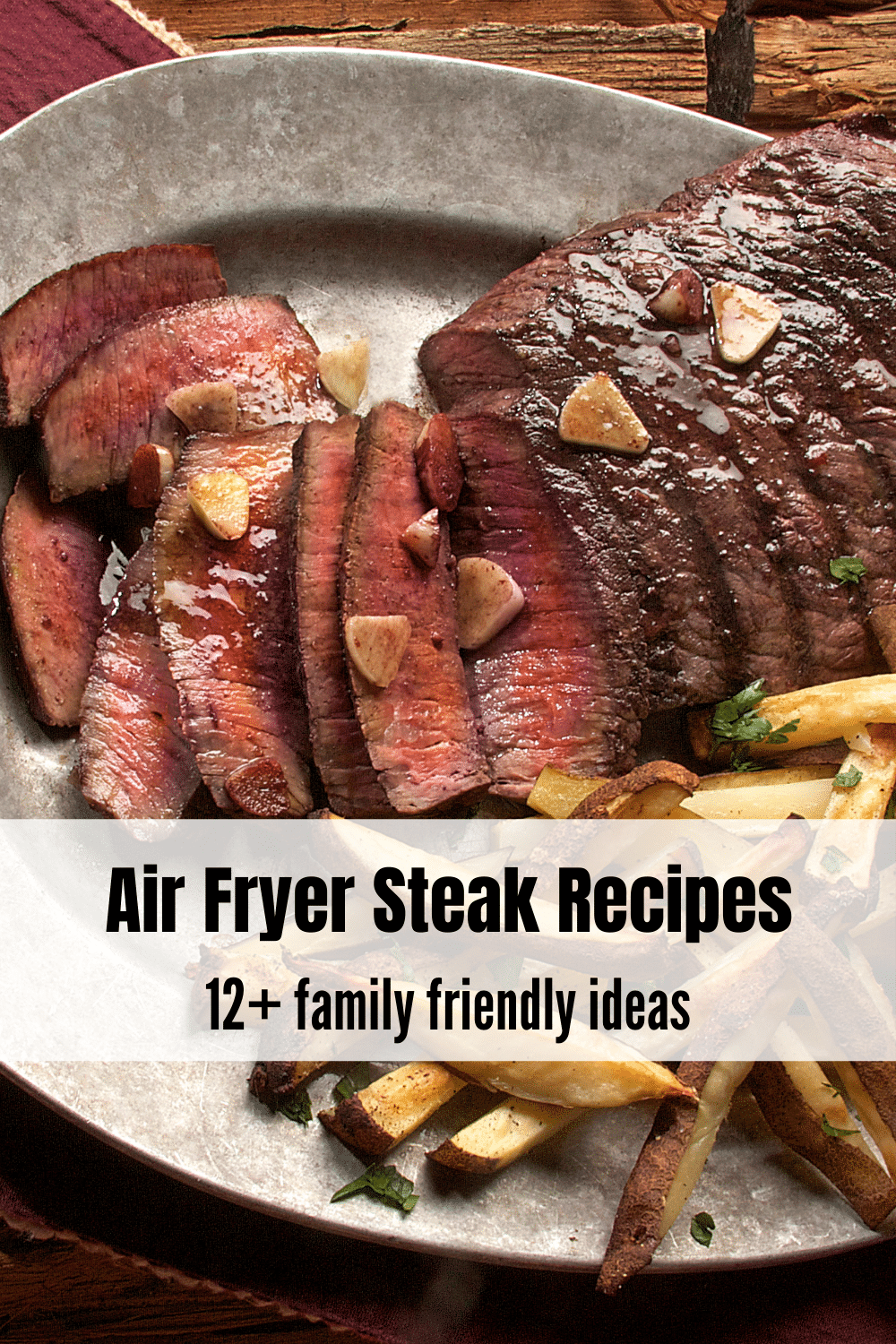 WELCOME TO AIR FRYER STEAK RECIPES!
Are you new to air frying? We are so happy you are here! We love to help people become experts with their air fryer. If you are new, we suggest that you start with our Start Here page. We have a whole community just waiting to welcome you!
Air fryer steak recipes are so delicious. but does a steak cook evenly in the air fryer? Absolutely! It's one of the best ways to cook a steak quickly while keeping all the moisture in the meat. From raw to well done, every steak in the air fryer will be flavorful and juicy with minimal effort. What's more to love?!
Whether you are a seasoned air fryer expert or a beginner, we have got some easy and delicious air fryer steak recipes to share with you today! Cooking steak in your air fryer is the perfect option for winter dinners when grilling is out of the question.
BEST TIPS FOR MAKING AIR FRYER STEAK
No matter if it is your first time using the air fryer or you're an air frying veteran, these tips and tricks to make the best air fryer steak recipes will save you every time. From the humble cube steak to the filet for date night, you can make any steak in the air fryer.
Always preheat the air fryer. For that beautiful char, preheating the air fryer basket is crucial. If the air fryer is cold, the steaks could steam and be gray on the outside. These are perfectly fine to eat, but they are less desirable to look at.
Keep it simple. Sometimes, the best steaks are simply seasoned with salt and pepper. Also, a little oil adds that crunchy char on the outside and keeps the steaks from sticking to the basket.
Let the steaks have space. The biggest beginner air fryer mistake people make is crowding the basket. Since the air fryer works by circulating hot air, it is best to leave space on all sides of your steaks, chicken, pork, or veggies to give the best cook.
Add a compound butter. There's no easier way to dress up an air fryer steak recipe than a simple compound butter. Mix your favorite herbs and spices, like oregano, rosemary, and garlic, with softened butter. Let it harden again in the fridge and slice into perfect rounds.
Make a marinade. You can make any cut of steak in the air fryer! If you're using a cheaper cut of beef, like a round steak or cube steak, a simple homemade marinade is a great way to add flavor and soften the meat. Marinades need at least 30 minutes to work, but overnight in the fridge is often best.
Flip halfway through. The air fryer is great at cooking food evenly on all sides. However, you want to flip steaks and other meats while cooking to get the outside cooked evenly, just like the inside! I use silicone tongs to get my steaks flips perfectly without scratching my air fryer basket coating.
Check the temperature. Unlike chicken or pork, steak temperatures can vary based on personal preference. Always use a meat thermometer for the most accurate steak temperature. Pro-tip: Steaks continue to cook about 5 degrees as they rest. Pull your steaks when they measure a few degrees shy of your target meat temp.
Here's a list of steak temperatures for the best air fryer steak:
Rare steak: 120 to 130 degrees F (49 to 54 degrees C)
Medium rare steak: 130 to 135 degrees F (54 to 57 degrees C)
Medium steak: 135 to 145 degrees F (57 to 63 degrees C)
Medium well steak: 145 to 155 degrees F (63 to 68 degrees C)
Well done steak: 155+ degrees F (68+ degrees C)
Don't forget the sauce. Whether it's a simple butter and garlic sauce on top or a decadent bleu cheese, a sauce is a great way to add flavor to your air fryer steak recipes. You can change up the sauce every time depending on your side dishes, or even slice your steaks thin for a delicious steak taco.
Save your leftovers. Leftover steak lasts about 4 days in the fridge. Slice up any leftovers for easy reheating. They can be added to a salad, used for steak and eggs, or just enjoyed another night! The best way to reheat leftover steak is in the air fryer. Simply cook leftovers at 300 degrees F until they are warmed through. Overcooking leftovers can lead to increases in steak temp, such as from rare to medium rare.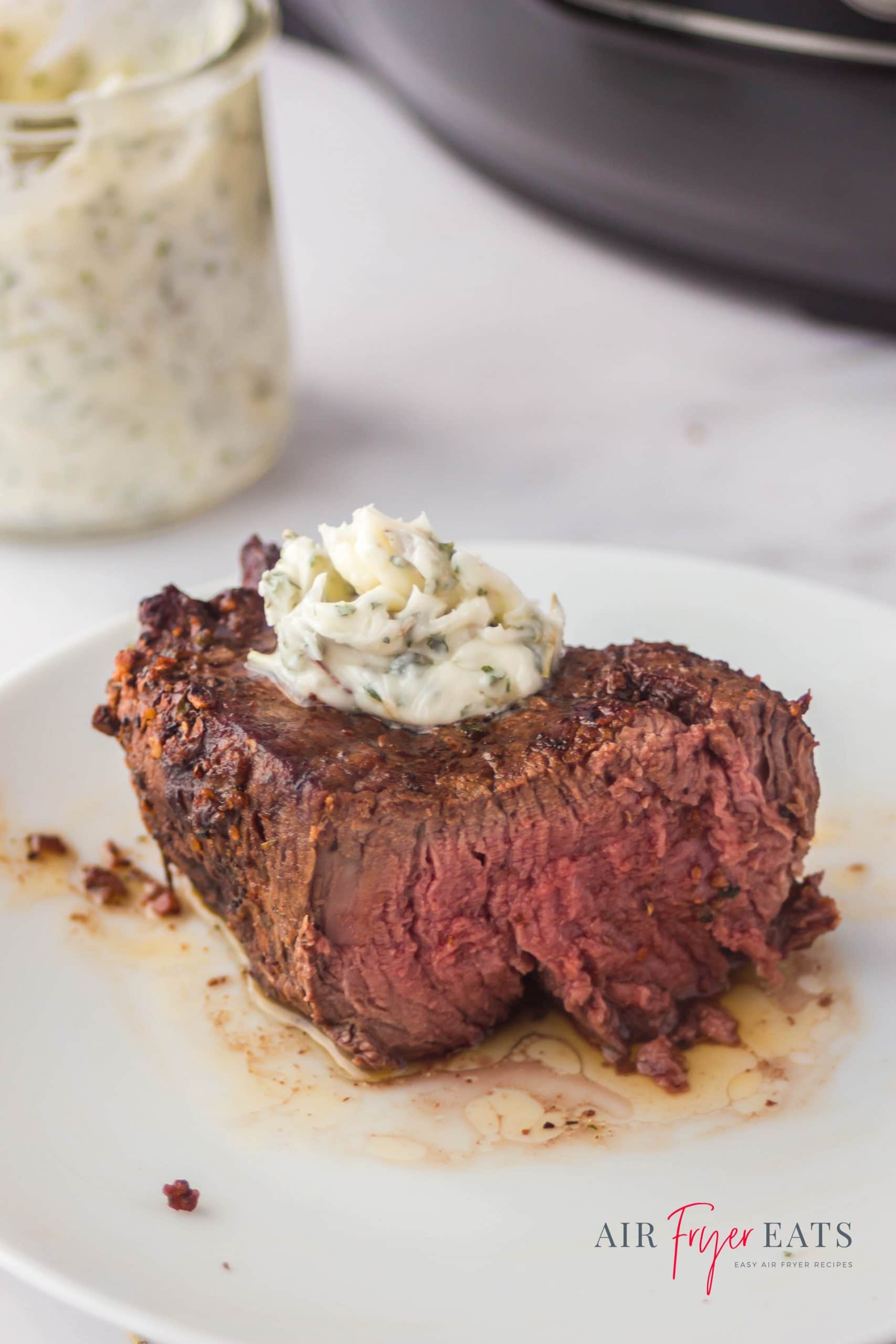 FAVORITE AIR FRYER STEAK RECIPES
There is no shortage of air fryer steak recipes here! No matter what cut you have to work with, steak in the air fryer is one of the easiest meals with tons of protein. Keep it simple or dress up your dinner!
Air Fryer Round Steak: Air fryer steak is so tender, juicy, and easy to make! This round steak in the air fryer recipe only needs 4 ingredients. You can get that same char without a grill or cast iron pan.'
Air Fryer Cube Steak: You can turn this inexpensive beef cut into a work of art with just a marinade and an air fryer! I bet you already have all the marinade ingredients you need to make this delicious dinner recipe.
Air Fryer New York Strip: Add a compound butter to any steak air fryer recipe for even more delicious flavor and moisture. This keto-friendly steak recipe is great for date night or sliced on a hearty salad.
Air Fryer Flank Steak: I love a good dry rub to bring out the savory flavors of a charred flank steak. The air fryer is truly the easiest way to make a juicy steak that's evenly cooked on all sides.
Air Fryer Filet Mignon: You can make the fanciest of all beef cuts in the humble air fryer. Really! This tender, juicy filet recipe is served with a blue cheese butter. Make the most of your steaks with a simple yet delicious air fryer steak recipe.
Air Fryer Ribeye Steak: In the United States, the ribeye is the most popular cut of beef in restaurants and at the meat counter. Turn this extra flavorful beef cut with a fat cap into a delicious dinner in just minutes with salt, pepper, and love.
Ninja Foodi Steak: Got a Ninja Foodie air fryer? You too can make the best air fryer steak recipes! Make sure your steaks fit in the basket with plenty of room on all sides so they cook evenly.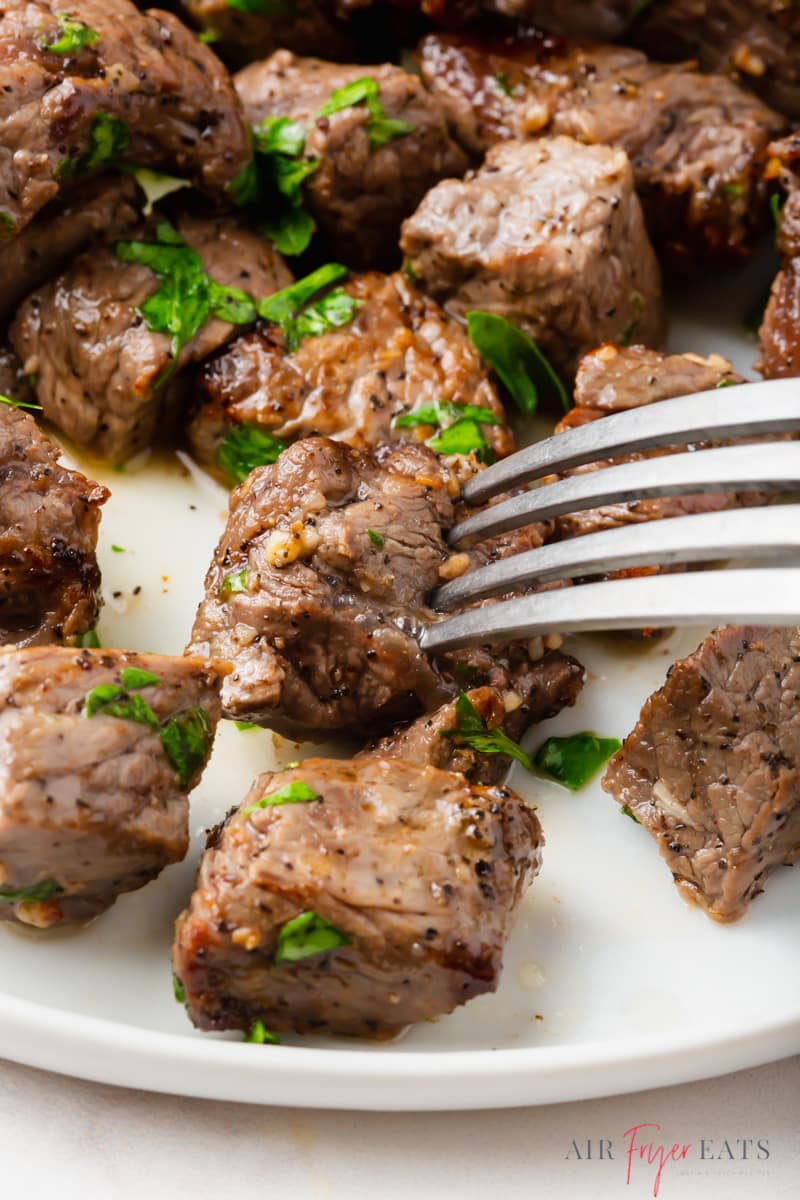 EASY AIR FRYER STEAK RECIPES
Air Fryer Steak Bites: This is truly the easiest air fryer steak recipe ever! Slice up a juicy sirloin steak and toss the pieces in a delicious garlic and parsley butter. My kids love this — it's pre-cut, easy to eat, and super tasty! Don't forget the roasted potatoes.
Air Fryer Chicken Fried Steak: Is it chicken, or is it steak? This Southern dinner classic is crunchy on the outside and tender on the inside with a creamy gravy on top. Ditch the fry oil and make this amazing comfort meal with less mess in the air fryer.
Air Fryer Steak and Cheese Melts: Turn that ribeye steak into a delicious steak sandwich with this air fryer steak recipe! Add your favorite sandwich veggies, like onions, bell peppers, and sautéed mushrooms. Don't forget the creamy, melty provolone cheese and side of air fried steak fries!
Air Fryer Roast Beef: Love roast beef sandwiches? It's so easy to make your own roast beef in the air fryer! Save your oven space this holiday season and make this homemade roast beef in half the time.
Air Fryer Steak Tips: If you love air fryer steak bites, you need to try this recipe! Mix your main dish and side dish together with these decadent steak tips with savory mushrooms all covered in onion soup and Worcestershire sauce. You only need 10 minutes for this simple air fryer steak recipe!
Air Fryer Mushroom Steaks: Serving steaks for your dinner party but also have a vegetarian to feed? These air fryer portobello mushrooms are just as delicious as an air fryer steak recipe with no meat in sight! You can even add the same flavor profile to your mushrooms in the air fryer.
MORE EASY AIR FRYER RECIPES
There is truly nothing you can't make in the air fryer, from breakfast to desserts.
Steak and potatoes are made for each other. Try these air fryer potato recipes for so many easy side dishes from homemade fries to beautiful roasted potatoes!
Add some surf to your turf with these air fryer shrimp recipes! Take your air fried steak dinner from great to restaurant quality with some lemon garlic shrimp on top.
Chicken is the best budget protein on the market. If you haven't made chicken in the air fryer, from chicken breasts and thighs to game day wings and drumsticks, try it this week! It's so easy and great for weekly meal prep ideas.
Need more meal ideas? Try these air fryer main dishes and side dishes. Put your air fryer to good use every day of the week.
DIFFERENT TYPES OF STEAK
The meat counter can be overwhelming. There are so many cuts of beef, and all of them are ideal for specific recipes. But which one should you pick? Any cut of steak that fits in your air fryer can be used.
Flank steak: These long cuts are great for slicing and serving. I always use them for my black and bleu salads or steak and eggs! Similar to a skirt steak, a flank steak is more tender and usually more expensive.
Round steak: These cheap cuts of steak are great in the air fryer! These are typically thin and round, like the name, but can have tons of great flavor from the marbling. Don't count out the round steaks!
Sirloin steak: If you're looking for a lean steak with tons of flavor, this is your best option. It's cheaper than a filet, which is one of the leanest cuts of beef. It's similar in size to the ribeye but also has less fat.
Ribeye steak: The most popular cut in America! These large steaks are perfect for a steak dinner with mashed potatoes and a salad. This is also the most naturally flavorful cut of steak you can get.
Filet steak: For date night, there's nothing more impressive than an air fryer filet mignon with a compound butter on top. For a lean steak that's thick, juicy, and oh so tender, a filet is the perfect choice.
Air Fryer Steak Recipes : Featuring Air Fryer Steak Bites
Air Fryer Steak Bites are an easy and convenient way to cook steak that is perfectly cooked and in bite sized pieces.
Ingredients
1

lb.

Sirloin Steak

cut into ½ inch cubes and patted dry

1

tbsp

Olive Oil

2

cloves

Garlic

minced

½

tsp

Salt

½

tsp

Black Pepper

2

tbsp

Butter

melted

1

tbsp

Fresh Parsley

roughly chopped
Instructions
In a medium sized bowl, add the steak, olive oil, garlic, salt, and ground black pepper. Toss until well combined.

Preheat the Air Fryer at 400°F for 5 minutes. Add the steak and cook at 400F for 8-10 minutes, flipping halfway through.

While the steak is cooking, add the butter and fresh parsley in a small bowl.

Once the steak is cooked, toss with the herb butter. Serve immediately.
Go AD FREE!
Notes
You can make this dairy-free by using dairy-free butter in place of regular butter.

If you don't have fresh parsley, you can use other fresh herbs, such as thyme or rosemary.

Other cuts of steak can be used in this recipe in the same way.
Pro Tip: This recipe can be made in the air fryer unit with a basket or the air fryer oven. If you are using the air fryer oven, use the middle rack and select the "Air Fry" function.
ProTip: Check your food as it cooks. Each air fryer runs a bit differently. Sometimes airfying is a trial and error process. Check your food as it cooks to learn your air fryer better! When cooking a new recipe or food items be sure to check your food often to help avoid over/under cooking.
Have oven recipes that you'd like to convert to an air fryer recipe? Use our Air Fryer Calculator to help you estimate cooking times and temps! Calculator here: https://airfryereats.com/air-fryer-conversion-air-fryer-calculator/
Nutrition
Calories:
237
kcal
|
Carbohydrates:
1
g
|
Protein:
25
g
|
Fat:
14
g
|
Saturated Fat:
6
g
|
Polyunsaturated Fat:
1
g
|
Monounsaturated Fat:
6
g
|
Trans Fat:
1
g
|
Cholesterol:
84
mg
|
Sodium:
406
mg
|
Potassium:
404
mg
|
Fiber:
1
g
|
Sugar:
1
g
|
Vitamin A:
261
IU
|
Vitamin C:
2
mg
|
Calcium:
39
mg
|
Iron:
2
mg
Tired of the ads?
Go AD Free - Become part of our Membership community!
Air Fryers can vary greatly. Please take the time to learn your specific air fryer. You may need to adjust times and temperatures based upon your air fryer.
All though this website attempts to provide accurate nutritional information, the information should only be considered an estimate. Varying factors such as different product types, different brands, etc. can change nutritional information. It is your responsibility as a consumer to read all labels to make sure the ingredients fit your dietary needs as well as calculate your own nutritional information as a double check.
AIR FRYER STEAK POST
If you've made any of these air fryer steak recipes, please be sure to leave a comment on the recipe page letting us know what you thought!