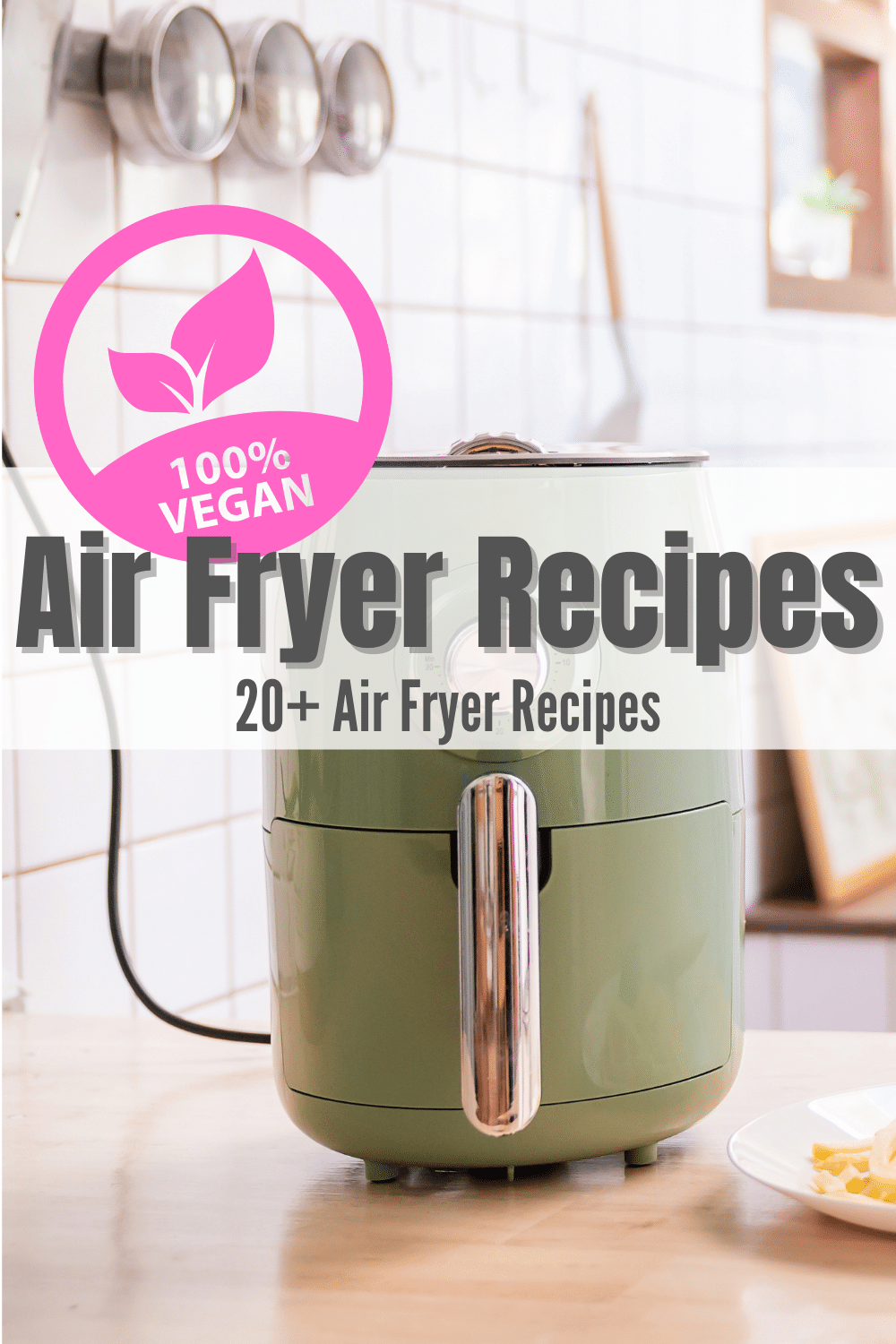 These vegan air fryer recipes are full of flavor and so easy to make! Whether you need Meatless Monday ideas or want to eat less meat, these air fryer recipes are great for beginners and experts. Read on to learn how to make 20+ delicious vegan recipes.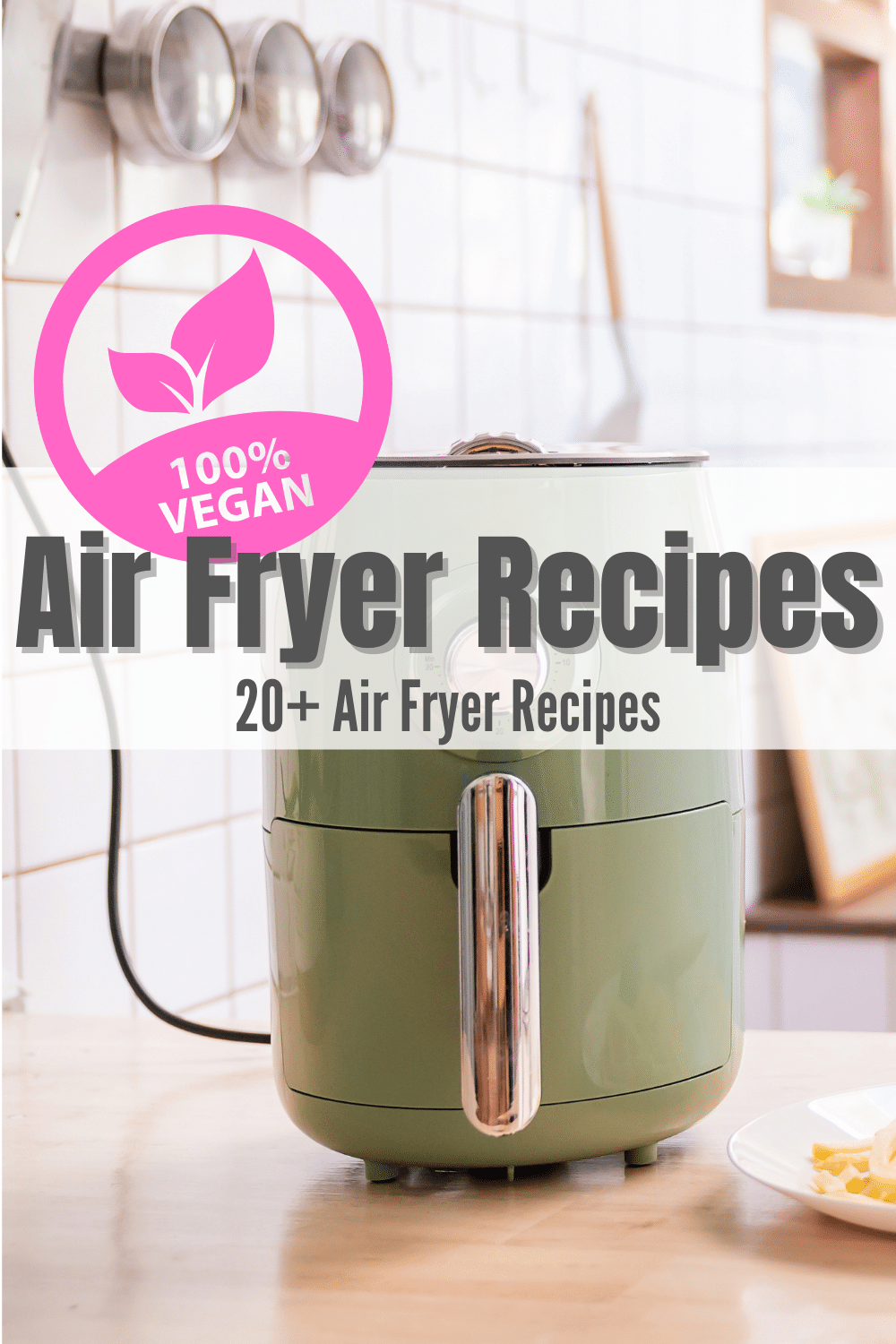 VEGAN AIR FRYER RECIPES
I share recipes for all kinds of diets on this blog. We have seen more and more requests for vegan air fryer recipes, and I am here to deliver!
A vegan diet includes no meat or animal products, including milk, eggs, dairy, and even honey. About 8% of the world's population — or a whopping 79 million people — practice a vegan or plant-based diet.
From clean side dishes to meatless main dishes, I have all the vegan recipes you need for your air fryer! Keep scrolling to learn all the best air fryer tips and our frequently asked questions.
FAVORITE VEGAN AIR FRYER RECIPES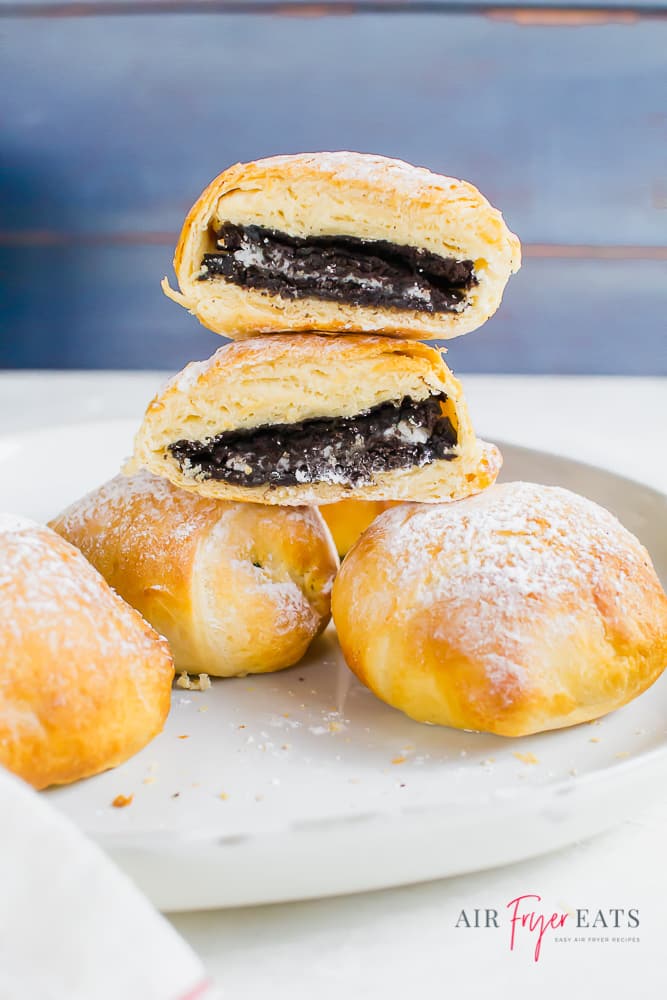 Did you know Oreos are completely vegan? So is refrigerated crescent roll dough! Combine the two for the best air fried Oreos with just 3 ingredients. You will feel like you are at the state fair in your own kitchen with none of the messy fry oil.
I could eat mushrooms for every meal, but these stuffed mushrooms are my absolute favs. Air Fryer Morel Mushrooms are an earthy, mouthwatering fried morel mushroom recipe! They are stuffed with vegan cream cheese and breaded to perfection.
Air Fryer Fried Green Tomatoes are a delicious way to use up your tomatoes. These air fried green tomatoes are not only tasty, but they are crispy and perfect for dipping into your favorite sauce!
Honestly, I am such a snacker. It is almost my downfall! Air Fryer Chex Mix is a quick and easy way to prepare your Chex Mix. Simply mix ingredients together, cook in air fryer and in 16 minutes you'll have delicious air fryer Chex Mix.
My kitchen is filled with zucchini most of the year, and I'm always looking for new ways to eat it! These Air Fryer Zucchini Fries are crunchy on the outside and tender on the inside in just 10 minutes! I like these because it's a combination of the soft inside of a french fry with the crunchy breading of a mozzarella sticks.
BEST VEGAN AIR FRYER RECIPES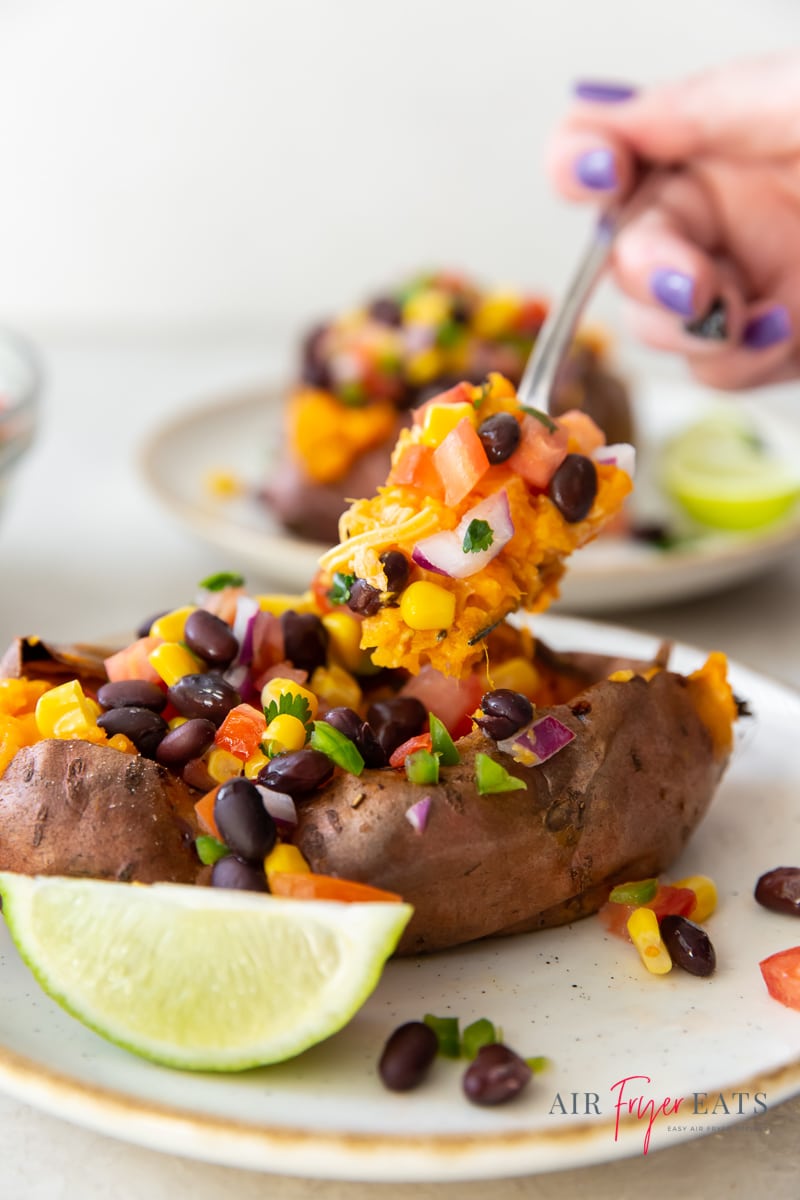 Tender, perfectly cooked Air Fryer Mexican Sweet Potatoes topped with fresh salsa are a vegan meal or side dish packed with fresh veggies and amazing flavors. This recipe is super simple, delightfully fresh, and great for meal prep too.
If you miss the salty sweetness of a classic BLT, you are going to love this! Vegan Air Fryer Bacon is one of my new favorite air fryer recipes. This air fryer vegan bacon is easy and quick to make with minimal clean up.
Desserts in the air fryer are the best! These vegan Air Fryer Oatmeal Cookies have never been easier or more delicious. These cookies are sweet, chewy, and packed with raisins. Make the oatmeal cookies you remember from your childhood.
I love that combo of salty and sweet. These Air Fryer Banana Chips are a healthy, crunchy snack you will love to eat and feel good giving your kids, too. These are naturally sweet, dusted with kosher salt, and air fried with a small amount of oil so they come out crispy, crunchy, and irresistible.
I love making fried rice in the air fryer! All you need is a handy air fryer pot. Air Fryer Fried Rice is a quick and easy vegan air fryer recipe. Just ditch the eggs! No need to order take out, this recipe will make your tummy happy without the hassle of extra oil and salt.
EASY VEGAN AIR FRYER RECIPES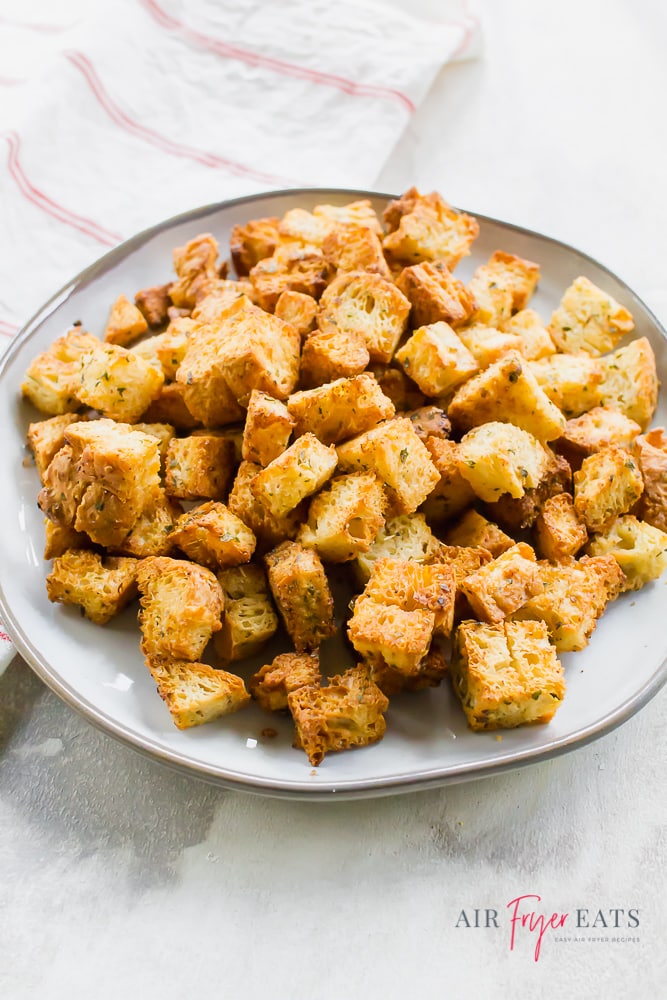 Stop searching the grocery store shelves for vegan croutons, and make them at home. Plus, Air Fryer Croutons are the absolute crispiest! With just a few simple spices and a little butter, these homemade croutons are done in less than 10 minutes and are perfect for salads, soups, and more.
There is no better addition to a home cooked breakfast than crispy air fryer breakfast potatoes. Learn how to make this simple and healthy breakfast side in under 25 minutes. Simple seasonings and a small amount of oil are all you need to turn the humble potato into a breakfast food staple.
Mix it up next Taco Tuesday with this vegan air fryer recipe! Air fryer tofu tacos are a flavorful, lightly spicy and delicious vegan taco meal. This vegetarian taco meal uses tofu taco meat as the air fryer taco base. Or, switch it up and make cauliflower tacos, too!
Pasta is a quick and easy dinner that can be made with almost ANYTHING in your kitchen, but the heavy noodles are often too much for my family. This Air Fryer Spaghetti Squash is just ONE ingredient and can be the base for so many low-carb main dishes or side dishes! Make this your own a million different ways with seasonings, proteins, and sauces.
Tacos are always on my menu, and these Air Fryer Tostadas are a fun twist on the classic hard taco! Most tortillas are naturally vegan, so this is an easy recipe to modify for almost any diet! I like to keep mine simple with black beans, vegan cheese, olives, tomatoes, and lettuce, but let your creativity go wild.
VEGAN AIR FRYER RECIPES FOR THE HOLIDAYS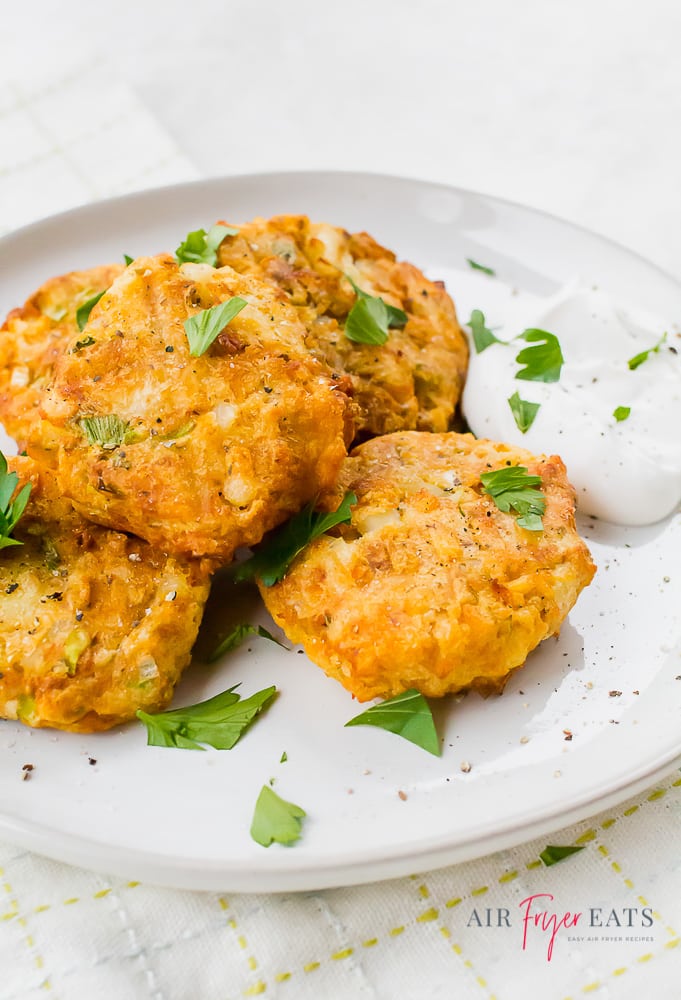 Turn your leftover vegan mashed potatoes into a delicious new dish with the air fryer. These crispy Air Fryer Potato Pancakes are the perfect next-day dish for leftover mashed potatoes. Try them as a side dish for dinner or brunch.
Green bean casserole has always been one of my favorite holiday treats, but the heaviness of it is too much. This Vegan Green Bean Casserole takes the heaviness out but still brings you comfort just like grandma's original recipe. I use fresh green beans to give it a little extra crunch and flavor. Plus, I swap the typical creamy soup and milk base for coconut milk and vegetable broth and add more veggies for the same concept with fresher ingredients!
I don't eat a lot of sweets throughout the year, but I love all things sugar from October through New Year's Day. These Air Fryer Gingerbread Bites are like holiday monkey bread stuffed with sweet vegan cream cheese for one great bite.
If you want to impress the crowd at your next holiday gathering, bring a dish of Air Fryer Sweet Potato Casserole. I ditch all the cream and butter for this vegan air fryer recipe. The fluffy sweet potato filling and crunchy pecan topping will be the star of the show!
This Vegan Air Fryer Stuffing is the perfect holiday side dish! Packed with carrots, leeks, and celery, it will impress all your meat-eating dinner guests. I use a mixture of dried bread and soft bread in my stuffing to help give it both a crunchy and chewy texture throughout.
MORE AIR FRYER RECIPES
Once you have made all these vegan air fryer recipes, try these vegetarian air fryer recipes! Whether you are celebrating a Meatless Monday or are completely vegetarian, these air fryer recipes are drool worthy.
Have you tried air fryer cookies yet? You do not need any special dough or equipment! Air Fryer Cookies are crunchy on the outside, chewy on the inside, and ready so fast! This list of air fryer cookie recipes covers every cookie craving from chocolate chip to monster cookies.
I love all things potatoes. Mashed, baked, roasted, in a salad — they're all comforting and delicious with minimal work. But the best way to make potatoes, I think, is in the air fryer. If you have never made potatoes in the air fryer, you are in for a treat!
You know, they say that breakfast is the most important meal of the day, right? Whether you agree or not, we have some air fryer breakfast recipes to make it the most delicious meal of the day! We have gathered several air fryer breakfast recipes to give you variety for every morning of the week.
HOW TO MAKE THE BEST VEGAN AIR FRYER RECIPES
Having an air fryer is great but may also mean that you have a ton of questions as well. Here are some great tips for using your air fryer:
Always use oil. It's true that you can air "fry" food using less oil than deep frying, but you can't fry food with zero oil. Spray or lightly coat your food with a neutral oil before putting it in your air fryer. Your fries and veggies will come out crispy and delicious!
Leave room for the food. The air fryer works by circulating hot air around your food. If you put too much food in the basket, there will be food that will not cook evenly. Make sure there is room for the food to move around.
Check your food periodically. Vegan air fryer recipes are a great starting point, but every air fryer is different. For the best results, check your food every few minutes, especially for new recipes, to be sure not to overcook anything.
Give the air fryer space. Just like a slow cooker or Instant Pot, the outside of an air fryer can get hot, too! Never let your air fryer touch anything that can melt or burn. I always use silicone tongs and potholders to handle my air fryer basket and accessories.
Wash the air fryer — yes, every time. You cannot put an air fryer in the dishwasher, but you need to wash it after every use. The air fryer will hold onto smells from food you've cooked before, and it's more likely to burn if excess crumbs are left behind. Wash the air fryer basket by hand in warm, soapy water after each use. I also wipe down the exterior of mine and the visible interior parts once it cools down.
ARE AIR FRYERS GOOD FOR VEGANS?
An air fryer is just like an oven — you can make literally anything in it! While a lot of air fryer recipes are geared toward meat dishes, it is also a great kitchen appliance for vegans!
I love my air fryer because it makes food crispier and faster than my conventional oven. Once I learned all the air fryer tips and tricks, I began using it almost every day!
If you are new to vegan air fryer recipes, start with simple roasted vegetables or a crispy tofu.
IS AIR FRIED FOOD HEALTHY?
While the air fryer is a brilliant invention, I do not know if the name does it any favors. Simply put: Yes! Air fried food can be totally healthy with all-natural ingredients.
Unlike deep oil frying, there is no "frying" happening here. Many vegan air fryer recipes use a bit of oil, but they can be healthy fats like avocado oil (that is what I use!).
An air fryer cooks food by circulating hot air in all directions, so it is down to the recipe to be healthy or unhealthy. Since the air fryer adds no calories, fats, or anything to a dish but heat, it can create some low calorie, low carb, and very delicious meals!
Vegan Air Fryer Recipes : Featuring Air Fried Oreos
Enjoy this fair favorite at home with this quick and easy recipe! Just 3 ingredients and ready in 10 minutes.
Ingredients
8

Oreos

1

can

crescent rolls

Powdered sugar

for dusting, optional
Instructions
Separate crescent rolls and spread out on a baking sheet or plate.

Place one Oreo in each crescent roll. Gently wrap the dough around the cookie and place into air fryer basket.

Air fry wrapped Oreos at 350 degrees F (177 degrees C) for 5 minutes.

Remove fried Oreos from basket and dust with powdered sugar while warm. Serve immediately. Enjoy!
Go AD FREE!
Notes
Pro Tip:
This recipe can be made in the air fryer unit with a basket or the air fryer oven. If you are using the air fryer oven, use the middle rack and select the "Air Fry" function.
Nutrition
Calories:
155
kcal
|
Carbohydrates:
20
g
|
Protein:
2
g
|
Fat:
8
g
|
Saturated Fat:
3
g
|
Sodium:
277
mg
|
Potassium:
26
mg
|
Fiber:
1
g
|
Sugar:
8
g
|
Calcium:
3
mg
|
Iron:
1
mg
Tired of the ads?
Go AD Free - Become part of our Membership community!
Air Fryers can vary greatly. Please take the time to learn your specific air fryer. You may need to adjust times and temperatures based upon your air fryer.
All though this website attempts to provide accurate nutritional information, the information should only be considered an estimate. Varying factors such as different product types, different brands, etc. can change nutritional information. It is your responsibility as a consumer to read all labels to make sure the ingredients fit your dietary needs as well as calculate your own nutritional information as a double check.