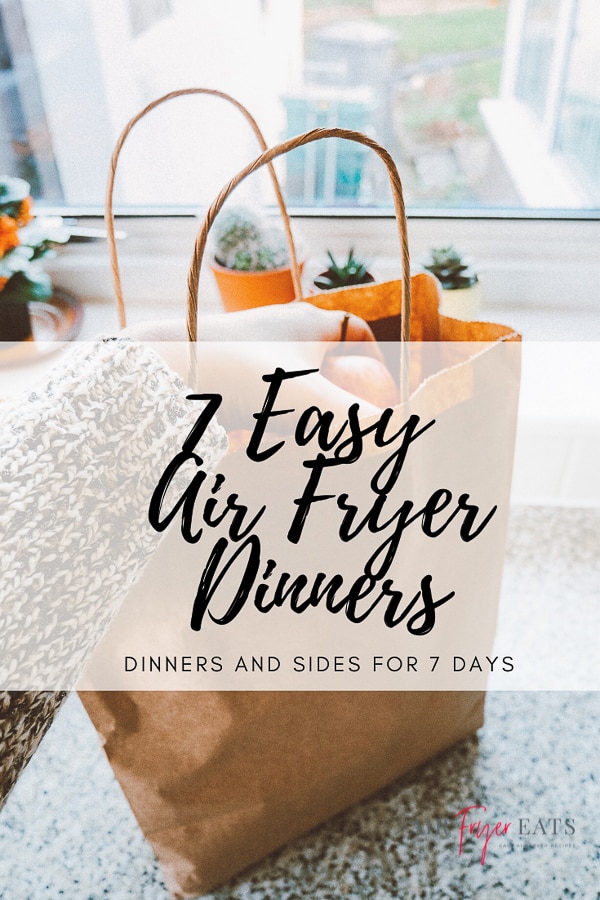 Easy and Simple Air Fryer Dinners is what is going to get you through menu planning for this week. With simple to find ingredients and delicious recipes, we are able to make your life easier!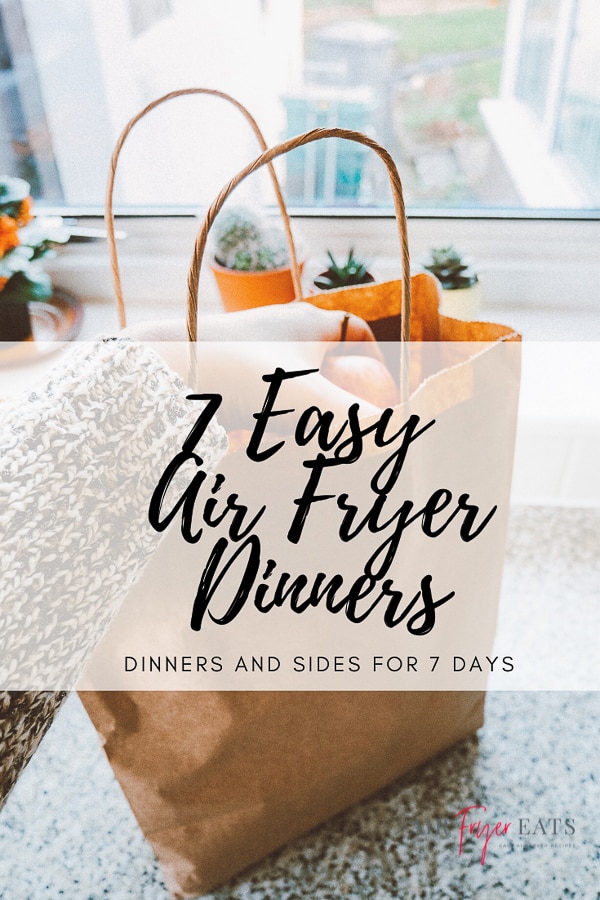 We get a lot of questions about how to cook things together or how to keep things warm while you are cooking the other item.
All great questions and everybody does it a little different. Sometimes if you have a food that cooks at a similar temperature, you can put them together in the air fryer basket.
Then just adjust the cooking time slightly either up or down depending on what the recommended cooking times are.
It takes some guessing, but you CAN make it work.
If you are looking to keep an item warm while cooking the next air fryer recipe, you can do that a few ways.
Readers have told me that they use foil and cover or tent the foil over the cooked air fryer food.
Other readers (including me) use the "keep warm" function on my toaster oven or big oven to keep it warm while cooking.
I generally like to use the toaster oven since it doesn't take long to heat and doesn't use as much energy.
I hope that helps. If you have tips and tricks, please share them in the comments below.
Now let's get on to those easy air fryer dinner ideas!
Dinner 1: BLTs with some Air Fryer Bacon
BLT's are something that can be easily made. This is a great one to make 1-2 packages of bacon and save the bacon for sandwiches throughout the week. Just thinking about it that way makes you work smarter and not harder! BLTS are so basic, you just need: bread, lettuce, tomato and bacon. Optionally, depending on what you have in your house, you could add/sub in cheese slices and avocado. Wondering more about Air Fryer Bacon? Check this out: Air Fryer Bacon is a quick and easy recipe for the best crispy bacon! Once you cook bacon in your air fryer, you'll never go back to the old way again!
Dinner 2: Air Fryer Pork Chops with Air Fryer Baked Potatoes
This meal, would be one that you could attempt to cook at the same time. If you want to try that (I haven't tried it yet, so this is my recommendation) I would put the potatoes (2 of them) into your air fryer basket and cook them at 390F for 22 minutes. Then at the 22 minute mark, I'd add the porkchops and drop the temp to 380F Then I'd follow the Air Fryer Porkchop directions and cook all ingredients for 18 more minutes. Be sure to check your porkchops with a meat thermometer. You can check if the potatoes are done by sticking a knife into the center. If it pierces the potato easily, it is done. Cooking at the same time, also depends on the size of your air fryer basket and if you want to experiment and watch the food closely as it cooks.
Dinner 3: Air Fryer Spaghetti and Meatballs
Spoiler alert, you did need a stove for this recipe (to cook the pasta). When you want to make a classic spaghetti and meatballs dish without all the fuss and wait, turn to your air fryer! You'll have Air Fryer Spaghetti and Meatballs on the table in half the time!
Dinner 4: Air Fryer Fried Chicken with a side of Air Fryer Corn or Air Fryer Broccoli
This meal combination is one that you can make a LOT of food and eat it for lunch and possibly dinner the next day. The air fryer chicken can be "made your own" by adding in extra hot sauce or other spices to the batter mix. If you are able to find corn in the store or local market, I would suggest making air fryer corn. What I like to do is make the corn in my air fryer a head of time. I usually enjoy an ear of corn then but I cut the rest of the corn off the ears. Then I simply reheat the corn when its time to eat a meal. If you cannot find corn, then Air Fryer Broccoli is a great side for you! This is also one that you can make extra of and eat on the next day. Because of how messy Air Fryer Fried Chicken can be, I would probably cook these individually.
Dinner 5: Air Fryer Pizza
Air Fryer Pizza is an easy and simple air fryer dinner idea that makes the entire family happy. We like to use pita or naan for our air fryer pizza crusts. Then we let each person in the family top their pizzas they way they want. If you want to conserve groceries, then keep it simple: pita/naan, sauce, cheese.
Dinner 6: Air Fryer Hotdogs with Air Fryer Tater Tots
This is an easy air fryer dinner win that is super family friendly. Hotdogs come in so many varieties: all beef, meat, turkey, veggie and more. Pick the hotdog that works for your needs and throw in the air fryer. I don't have a recipe up for Air Fryer Tater Tots, but I cook them at 400F for 20 minutes and they come our crisp! This would be a meal that you could combine in your air fryer. Cook the tots first, then put the hotdogs in during the last 4 minutes. When the timer beeps, check your hotdogs, if they need more time add 1-2 minutes.
Dinner 7: Air Fryer BBQ Chicken Wings
We are rounding out this set of 7 easy and simple air fryer dinners with some Air Fryer BBQ Wings. While wings are often an appetizer, so many friends I know love to have them as their meal. So let's break some foodie rules and have them for dinner! This recipe can be double and the wings can be reheated the next day.
Let's talk! Do you have any tips and tricks that YOU use to keep food warm when cooking two things in the air fryer? Or do you cook them at the same time? Share your tips and tricks in the comments below!