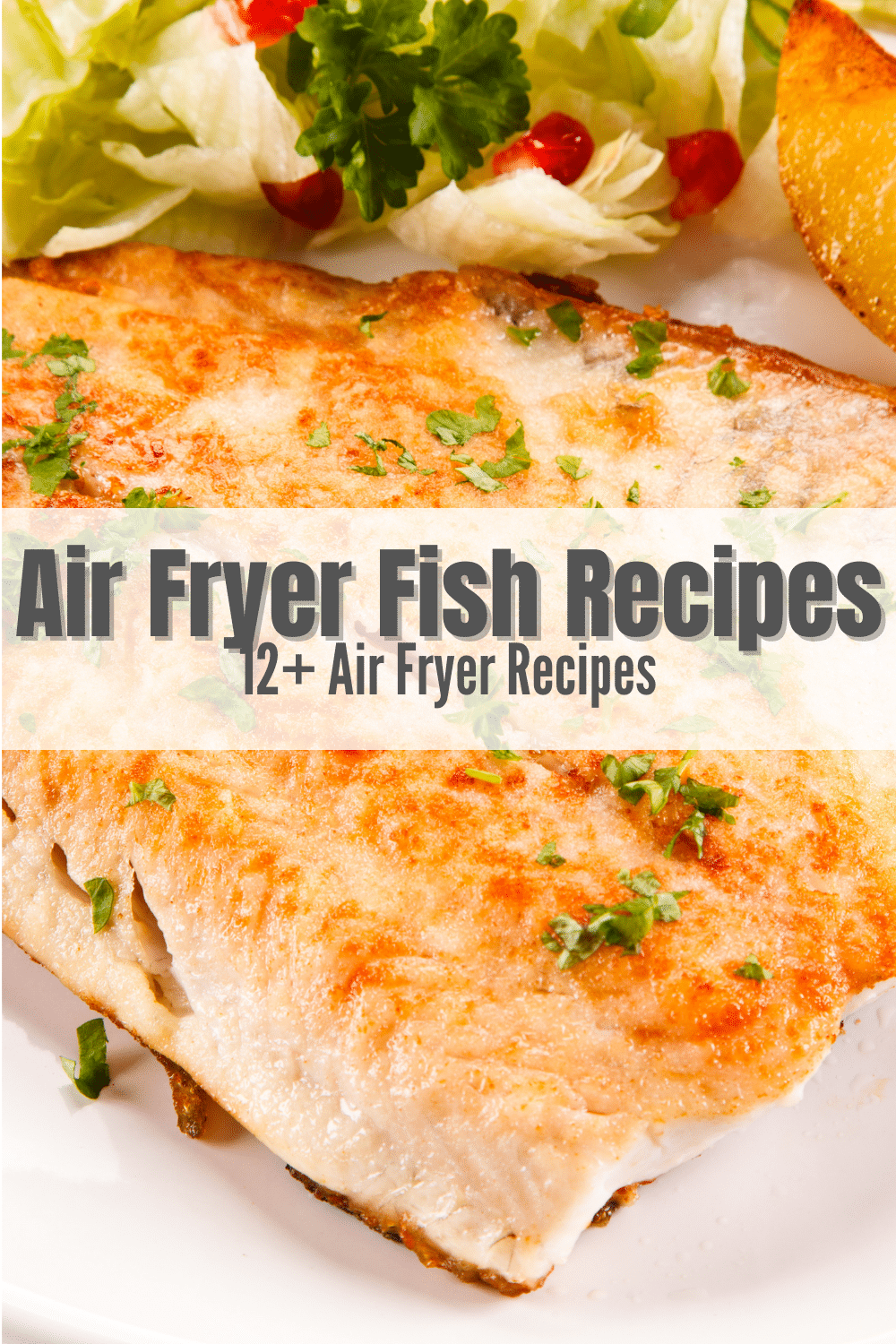 These air fryer fish recipes are healthy, easy, and packed with flavor! You can make fresh or frozen fish in the air fryer in just minutes. Read more to learn how to make the best fish in the air fryer with these 12+ recipes.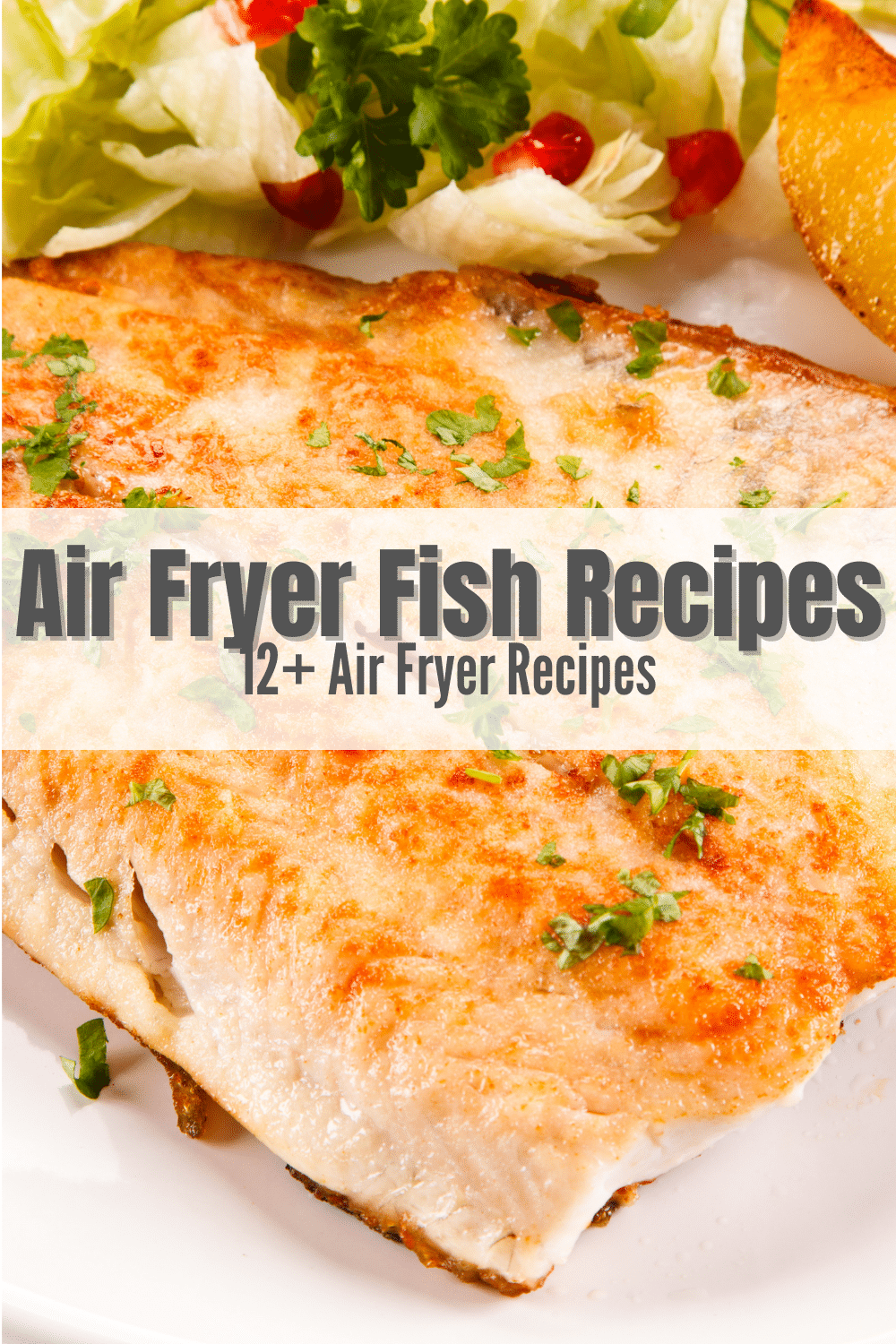 WELCOME TO AIR FRYER FISH RECIPES
Are you new to air frying? We are so happy you are here to learn! We love to help people become experts with their air fryer. If you are new, we suggest that you start with our Start Here page. We have a whole community just waiting to welcome you!
Fish can be finicky in the oven or on the stovetop. With the air fryer, you can perfectly cook both sides of the filets with ease! Keep reading for all the tips to make the best air fryer fish recipes every time.
Whether you are a seasoned air fryer expert or a beginner, we have got some easy and delicious air fryer fish recipes to share with you today! Cooking fish in your air fryer creates the perfect weeknight dinner fast. Try all these air fryer fish recipes, and let me know which one is your favorite in the comments!
BEST TIPS FOR MAKING AIR FRYER FISH
Breading or no breading. Air fryer fish can be breaded for extra crunch. It can also be cooked without breading for a clean, classic flavor. When using breading, be sure to season the breadcrumbs for the best fish breading. If not, use a spritz of oil to help the seasonings stick to the raw fish filets.
Thaw before marinating. You can definitely make frozen fish in the air fryer without thawing. However, if you are going to marinate the fish, be sure to thaw the filets before marinating. Smaller filets can be marinated in just a few hours. Thick filets, like salmon, can be marinated up to overnight for the best flavor.
Switch up the spices. Air fryer fish recipes are so versatile, you can keep it simple or dress them up for any meal! Most fish filets, especially white fish, have a mild flavor, so they easily take on any flavor profile you throw at them. There are so many options to add toms of flavor to air fryer fish, like:
Garlic powder
Salt and pepper
Italian seasoning
Red pepper flakes
Cayenne pepper
Smoked paprika
Dill
Cumin
Parsley
Chives
Lemon pepper
Taco seasoning
Lemon juice
Butter
Garlic
Onion powder
The options are truly endless for amazing air fried fish dishes. Let me know your favorite spice combo in the comments!
Do not overcrowd the basket. The main mistake air fryer beginners make is overstuffing the air fryer basket. The air fryer circulates hot air to cook fish quickly and evenly. If you are feeding a crowd, make the filets in batches. You can keep them warm in an oven on low until it is time to serve!
Use parchment paper. I love the air fryer, but I hate cleanup. For easy after-dinner dishes, use parchment paper under your fish. Plus, this means your fish always comes out cleanly. No stuck fish filets for you!
Always flip the fish. The air fryer can cook the fish on all sides without touching it. However, I love the browning you get from the air fryer basket. I always flip my fish halfway through cooking to ensure it is perfectly browned and cooked on all sides. For safety, you want all fish to be cooked to 140 to 145 degrees F. To tell if your fish is done, test the flakiness with a fork. Perfectly cooked fish will flake easily.
Add a little oil. Whether you are making frozen fish in the air fryer or raw fish, a little oil with keep the filets from sticking to each other. It also helps the seasonings stay on the air fryer fish, too. Win win!
If you have any questions about how to make the best air fryer fish recipes, please leave a comment below and I will get back to you ASAP!
FAVORITE AIR FRYER FISH RECIPES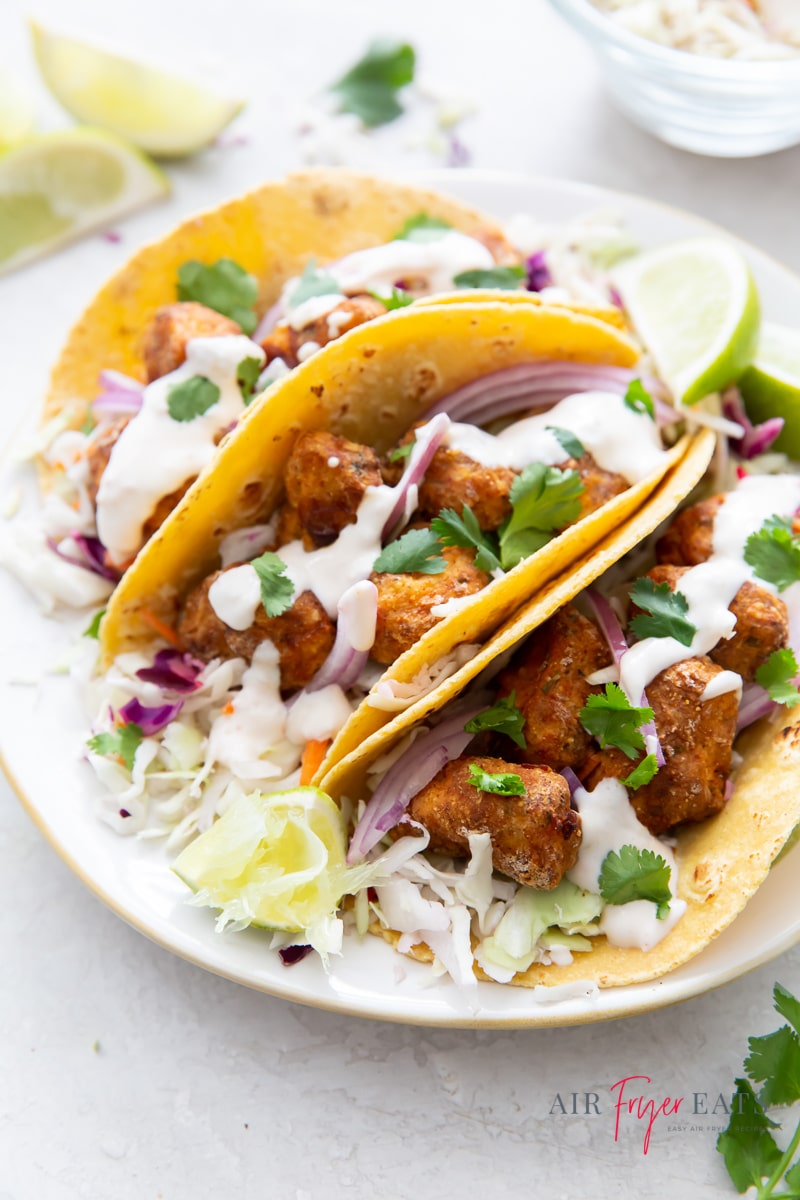 Air Fryer Fish Tacos: Air Fryer Fish Tacos are tender and juicy white fish with a crispy cornmeal breading. Wrapped in tortillas and topped with authentic Mexican taco toppings, including a delicious garlic lime crema, these fish tacos in the air fryer will be the best you have ever had. Serve these for dinner if you really want to hear some wows!
Air Fryer Salmon: Why go out to a restaurant when you can have tender, flaky salmon right at home? You will not believe how easy it is to make this 10 minute Air Fryer Salmon! While fish is not exactly the easiest protein to cook correctly, the right air fryer temperature and cook time combination gives you beautifully cooked, flavorful salmon every time.
Air Fryer Fish and Chips: Make your favorite British meal in the air fryer tonight! For that luscious crunch of beer-battered fish, this is the recipe for you. Plus, you can make the fish filets and the steak fries in the air fryer. No oven required tonight!
Air Fryer Calamari: Making your own air fryer calamari at home not only saves you money, but fat and calories too. We do not need a deep fryer when we have an air fryer and know how to use it to make crispy, crunchy snacks! Calamari rings are coated with egg, flour, breadcrumbs and the perfect blend of seasonings to make them crunchy and irresistibly delicious.
Air Fryer Tuna Patties: These light, crispy tuna patties are totally keto and easy to make with the air fryer! Turn a can of tuna into a satisfying, budget-friendly dinner with this tasty air fryer fish recipe. Serve these fried tuna patties plain or drizzle with your favorite dipping sauce.
Air Fryer Tilapia: I always have a handful of frozen tilapia filets because they are cheap and easy to make in a flash! This Air Fryer Tilapia recipe is so delicious and flaky, too. Coat this yummy white fish in seasoned breadcrumbs for a quick fish dinner with pantry staples.
Air Fryer Salmon Patties: If you love crab cakes, you have to try these air fryer salmon patties. These delicious fried fish patties are ready in just a few minutes! Crispy on the outside and packed with salmon and the perfect seasonings, you will love this recipe for simple dinners or lunches. Or, try them on a bun like a fish burger!
EASY AIR FRYER FISH RECIPES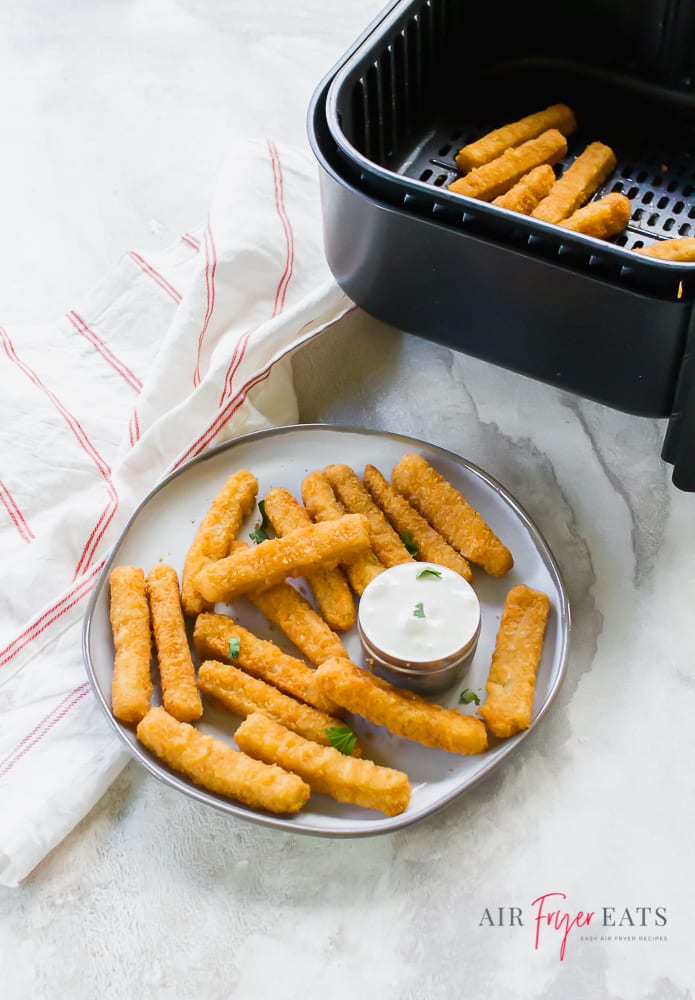 Air Fryer Fish Sticks: Frozen fish sticks can be tricky. If they are not cooked in the right way, they can come out soggy. But when you cook fish sticks in the air fryer, they come out crispy! You are going to melt when you taste the crunchy outside and tender inside. Serve them with a creamy homemade tartar sauce or cocktail sauce.
Air Fryer Cod: This air fryer fish recipe will change the way you eat cod! It is crispy golden brown on the outside with a crunchy breadcrumb crust. Be sure to add a spritz of lemon juice for the brightest cod flavor.
Air Fryer Shrimp: Since shrimp cooks so quickly, it can be a challenge to time it just right so that it does not turn out over cooked and rubbery. But not in the air fryer! Just a handful of ingredients and about 10 minutes is all you need to make the yummiest air fried shrimp.
Air Fryer Fish: This simple fried fish in the air fryer recipe works with almost any white fish filets! This recipe takes less than half an hour and will wow your friends and family. You can use frozen or fresh fish for this versatile recipe, too!
Air Fryer Sweet Chili Salmon: This Thai-inspired air fryer fish recipe is one of my favs! It is super flavorful with a homemade fish marinade and a few simple garnishes. It is a little spicy, a little sweet, and a perfect Asian-inspired fish recipe. Add this to a yummy green salad for an easy lunch.
Air Fryer Catfish: This Air Fryer Catfish is the best air fried fish! You get perfectly crunchy fish fry filets every time with no lingering smell of burnt oil all week. You will be dreaming of Louisiana with this Cajun fried catfish — but not the lower calorie count! A quick buttermilk and hot sauce marinade before dredging it in crunchy yellow cornmeal gives you the perfect flaky catfish. Yum!
Air Fryer Scallops: Scallops are not just for eating in a fancy restaurant anymore! Learn to make delicious and perfectly cooked Air Fryer Scallops with a garlic and herb butter sauce that will rival any seafood chef's best dish. This air fryer fish recipe features fresh scallops, cooked up quickly and easily in the air fryer and then topped with a decadent garlic-herb butter.
Air Fryer Battered Fish: Not a fan of the traditional breadcrumb crust? Try this beer-battered air fryer fish recipe! Skip the deep frying and make the crunchiest battered fish in the air fryer instead. You can even use a non-alcoholic beer if you want!
MORE EASY AIR FRYER RECIPES
You can pair air fryer fish recipes with almost any side dish! These are some of my favs if you want to make the entire dinner in the air fryer.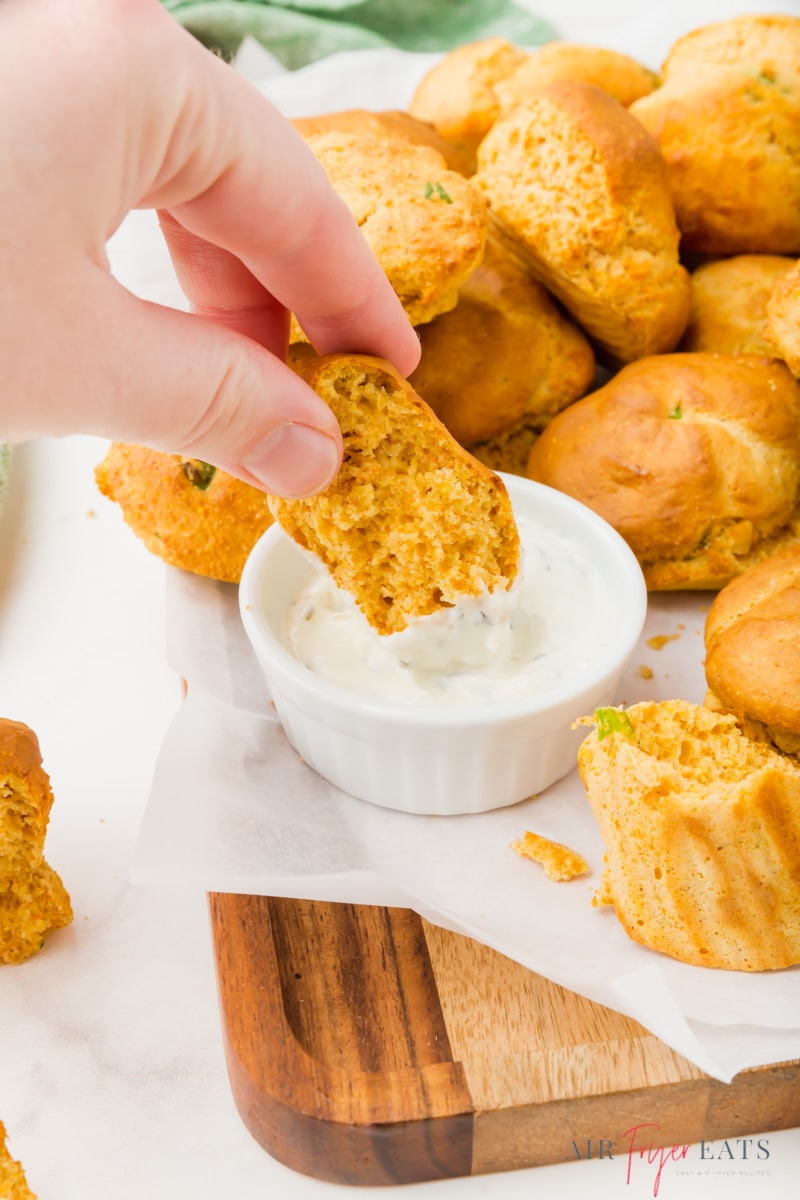 Air Fryer Hush Puppies: A Southern specialty that often accompanies my air fryer fish recipes, Air Fryer Hush Puppies are so delicious! These fluffy corn fritters are perfectly crunchy on the outside and steamy and pillowy on the inside. Typically deep fried, these little corn bread bites are made a bit healthier by using the air fryer rather than frying in oil.
Air Fryer Texas Toast: Your favorite garlic bread has never been easier to prepare! Crispy Texas toast in the air fryer is a delicious way to prepare your garlic toast. Use a few frozen slices or make your own!
Air Fryer Asparagus: Pair this crispy air fryer asparagus with your favorite air fryer fish recipes! This recipe has minimal ingredients and you will be enjoying air fryer asparagus in no time!
Air Fryer Corn on the Cob: This is the quickest and most delicious air fryer recipe to date. The air fryer quickly roasts the sweet corn, fresh or frozen, into an irresistible side dish!
Once you make all these fish recipes, try my list of air fryer shrimp recipes! Shrimp are one of the easiest and fastest proteins to cook. These air fryer shrimp recipes are always on my weekly meal rotation — they are healthy, easy, and full of flavor, too!
Air Fryer Fish Recipes : Featuring Air Fryer Fish Tacos
These air fryer fish recipes are healthy, easy, and packed with flavor! You can make fresh or frozen fish in the air fryer in just minutes. Read more to learn how to make the best fish in the air fryer with these 12+ recipes.
Ingredients
For Fish Tacos
½

cup

All-purpose flour

2

tbsp

Yellow cornmeal

1

tsp

Paprika

1

tsp

Kosher salt

½

tsp

Cumin

½

tsp

Dried parsley

½

tsp

Black pepper

1

Egg

large

1

tbsp

Water

½

lb

Cod or Mahi-Mahi

cut into 1-inch x ½ inch chunks

4

Corn tortillas

or flour tortillas

1 ½

cups

Shredded green cabbage

or coleslaw mix

¼

cup

Red onion

thinly sliced

Lime wedges

for serving

Fresh cilantro

for serving
For Garlic Lime Crema
¼

cup

Sour cream

1

clove

Garlic

minced

2

tsp

Lime juice

¼

tsp

Kosher salt

1

dash

Hot sauce
Instructions
Air Fryer Fish Tacos
Whisk flour, cornmeal, paprika, salt, cumin, parsley, and pepper together in a shallow bowl.

In another shallow bowl, beat egg and water.

Dredge fish pieces in flour mixture.

Then through flour mixture a second time.

Place fish in an even layer in the air fryer basket. Cook at 400 F/204C for 8-10 minutes, carefully shaking once during cooking.

Warm up tortillas in a hot skillet or microwave.

Fill each tortilla with fish and top with slaw, onion, and crema. Garnish with cilantro and serve with lime wedges.
To Make Garlic Lime Crema
In a small bowl, mix sour cream, garlic, lime juice and salt.

Cover, and refrigerate until ready to serve.
Go AD FREE!
Notes
3 tbsp taco seasoning can be used in place of the seasonings in the breading.
Spray fish pieces lightly with oil for extra crisp.
Any type of firm white fish can be used in this recipe.
Pro Tip: This recipe can be made in the air fryer unit with a basket or the air fryer oven. If you are using the air fryer oven, use the middle rack and select the "Air Fry" function.

Pro Tip: Check your food as it cooks. Each air fryer runs a bit differently. Sometimes airfrying is a trial and error process. Check your food as it cooks to learn your air fryer better! When cooking a new recipe or food items be sure to check your food often to help avoid over/under cooking.
Have oven recipes that you'd like to convert to an air fryer recipe? Use our Air Fryer Calculator to help you estimate cooking times and temps! Calculator here:
https://airfryereats.com/air-fryer-conversion-air-fryer-calculator/
Nutrition
Calories:
476
kcal
|
Carbohydrates:
62
g
|
Protein:
32
g
|
Fat:
11
g
|
Saturated Fat:
5
g
|
Polyunsaturated Fat:
2
g
|
Monounsaturated Fat:
3
g
|
Trans Fat:
1
g
|
Cholesterol:
146
mg
|
Sodium:
1607
mg
|
Potassium:
871
mg
|
Fiber:
7
g
|
Sugar:
4
g
|
Vitamin A:
901
IU
|
Vitamin C:
24
mg
|
Calcium:
149
mg
|
Iron:
4
mg
Tired of the ads?
Go AD Free - Become part of our Membership community!
Air Fryers can vary greatly. Please take the time to learn your specific air fryer. You may need to adjust times and temperatures based upon your air fryer.
All though this website attempts to provide accurate nutritional information, the information should only be considered an estimate. Varying factors such as different product types, different brands, etc. can change nutritional information. It is your responsibility as a consumer to read all labels to make sure the ingredients fit your dietary needs as well as calculate your own nutritional information as a double check.
AIR FRYER FISH RECIPES POST
If you have made any of these air fryer fish recipes, please be sure to leave a comment on the recipe page letting us know what you thought.