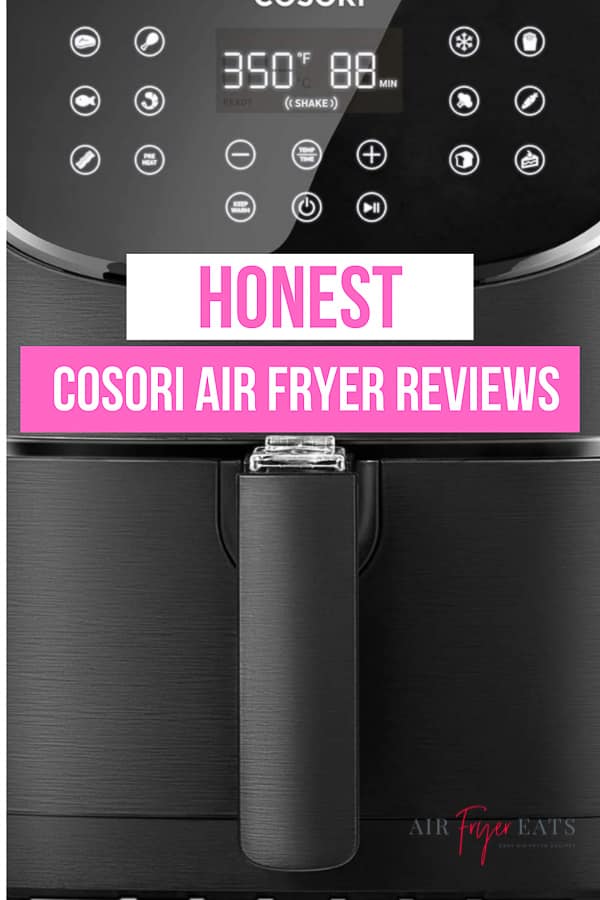 Cosori Air Fryers are becoming extremely popular. Wondering if you should purchase one?
Read Cosori Air Fryer Reviews to make the best decision when purchasing an air fryer.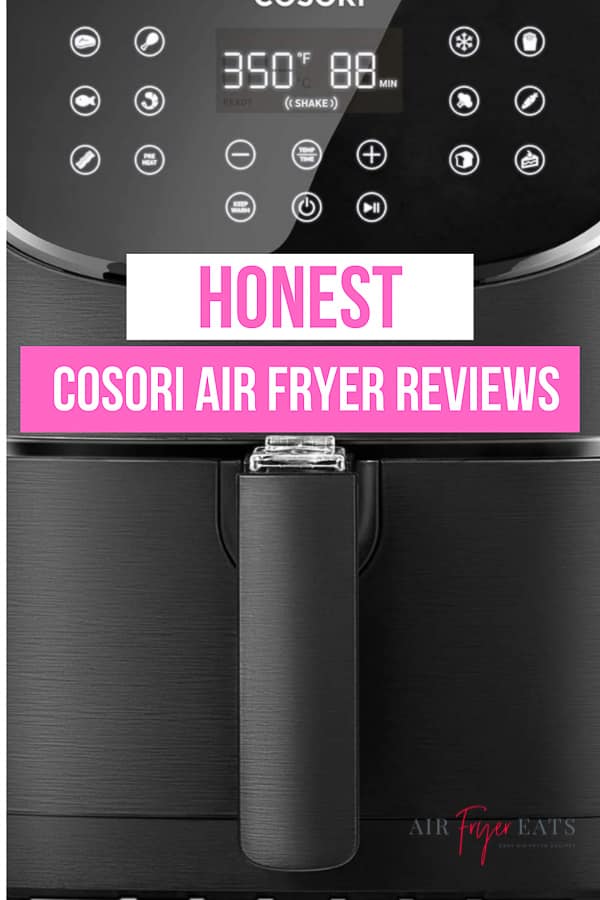 It is no secret that I am a huge fan of Cosori Air Fryers! I own 4 of them.
I own the Cosori 12 in 1 Air Fryer Toaster Oven, Cosori 5.8 qrt XL Air Fryer, Cosori 5.8 qt with WiFi and the Cosori 3.7 qt.
I've collected these air fryers over the last several years and I put them to the test weekly!
IS AN AIR FRYER A CONVECTION OVEN?
Okay, so first off in learning How Does an Air Fryer Work, let's talk about: Convection.
Convection, if you remember your high school chemistry lessons, is the transfer of heat by movement.
When it comes to cooking, that heat is typically transferred by the movement of air.
If you have a convection oven, there is a fan at the back of it that will move heat around in a circular fashion.
This makes food cook more quickly and often more evenly.
An air fryer works by convection too. The fan inside the unit blows air around that's been heated by an electric heating element.
This is why you can effectively fry food with a very small amount of oil, since the fan blows the hot oil around to touch every surface of it, creating a crispy crunch.
IS COSORI A GOOD AIR FRYER?
Yes, Cosori is an excellent brand of air fryers. This air fryer brand has so much to offer!
It cooks many foods with ease and clean is a snap!
Cosori units with a basket off up 11 Original Presets let you easily and quickly cook a variety of foods without looking up the correct time and temperature. The presets are: Steak, Chicken, Seafood, Shrimp, Bacon, Frozen Foods, French Fries, Vegetables, Root Vegetables, Bread, Desserts. The french fry setting is my favorite – Yum!
One-Touch LED panel is easy to use and program.
Preheat, Keep Warm, and "Shake" functions allow you to better control the cooking of your food.
Dishwasher Safe – Both the inner and outer baskets are dishwasher safe and removable.
Square basket fits more food than its round basket competitors. And its dishwasher safe.
Nonstick – All surfaces are non-stick for easy cleanup. Basket materials are PFOA-free.
Temp Range: 170-400°F (77-205°C); Time Range: 1–60 minutes. The unit switches easily between Fahrenheit and Celsius
The 5.8 qt measures 11.8 x 12.6 x 11.7″ with a basket of 9 x 9″.
1700 Watts
Recipe Book with 100 air fryer recipes is included.
My cosori Air Fryer Review
I love Cosori. I have to say that out of all the units I have from that brand, I like the units with the square baskets.
The square basket seems to fit food nicer than units with a circle basket. The unit cleans up with ease, no matter what the mess is made of!
While I do like the size of the air fryer oven, I perfer the cooking of the stand up unit with a basket.
It seems to cook faster and more evenly.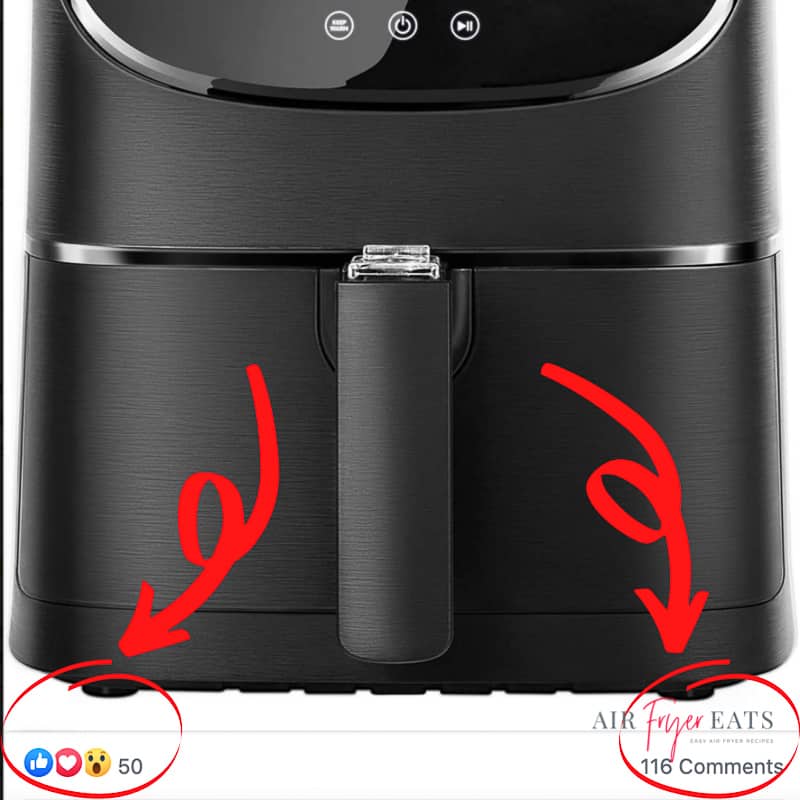 Other cosori Air fryer reviews
Do not take my word alone for these air fryers.
Take a look at some of the things that my Air Fryer Recipes Facebook Group had to say! I often poll my QUICKLY growing group of over 210,000 members to see what air fryers they like. Cosori is at the TOP of their list!
Bonnie: I love mine. Easy clean up, shaker alarm., big basket. Use it daily
Cece: I have only started using mine... And love it. Super easy to clean and use
Becky: Love ours! It's used 4-5 times a week!
Victor: we really like ours. We're just starting to get into the complex cooking. I'm not a fan of the handle making sure the bolts on the inside don't come loose. I'm always nervous the handle will separate from the bottom, but thats just me being paranoid. I love how easy it is to clean. Overall we really do enjoy how easy it is to use.
Andre: Love mine
Tamra: Love mine, never had anything different, easy to clean!
Sheetal: Great manual with recipes, easy to clean , alarm, easy to use ..I use it everyday
Denise: Love mine. I am continuously learning new things to make in it. I love it doesn't heat up the house with the ac on.
Tran: Absolutely love mine. I have the 5.8 qt. Easy to use and to clean.
Robyn: ABSOLUTELY LOVE MINE. NO dislikes at all. So easy to clean. Just bought one for a gift.
Judy: Ihave this one. I love everything about it!
Tammy: I have this one and a Phillips. I like how easy it is to clean this one.
Colleen: Really like mine, can't say anything I don't like about it
Jeanine: I bought this model 2 weeks ago. Still learning how to use it but love it so far.
Nicci: I have this one but just a dial (in the Uk) I love that it's more square (good size basket)and sits well on work top. But most of all I love the things I can cook with v little oil and don't have to stand over it a lot less cleaning.
More positive Cosori Reviews
Gloria: Just got one. Made zucchini fritters. Very good. Works with Alexa
Tanya: Love mine just need to get liners for under the detachable basket that leaves crumbs, oil/grease. 😚
Edward: The WiFi model is so easy to use with my iPhone or the iPad. I liked it so much I got the Cosori air fryer oven with rotisserie and love it also. Winner winner chicken dinner.
Becky: Mine is new and I've used it several times. So far I like mine. The buttons are hard to push but it's easy to work with wifi. It cleans easy and I love the way it cooks. I don't know what to do with the basket when I pull it out hot and need to get the food out.
Sheila: I do... super happy with it. I have never had a fail and my cooking skills are way sub-par! I'm shocked actually. Food tends to cook quicker than recipes call, for some reason, which is fine, just need to be cautious. I don't like how loud the buttons and timers are, kind of unnecessary, especially since my phone buzzes as well, since I use the app. I agree that the buttons can be a pain to push. Wish there was a way to control some of that with the app. Also agree that it's really easy to clean, no issues there at all. I have no comparison, but I'm super happy I bought it.
Elizabeth: It's one of the best air fryers I purchased ❣️👍🏽
Sylvia: I own one. This is my first AF and I love the ease and convenience it offers.
E P: Love my Cosori, I can't think of one thing I don't like about it! I use it everyday ♥️The prices go up and down quite often. I got this one for $98 from Amazon and a week later it was $128. 🥰super easy to clean, it's quiet, roomy and from what I've read their customer service is top notch!
Margaret: Large. 5.8 capacity. Cooks whole chicken and delicious!
Cynthia: Top rated on Amazon; I love mine, baskets fit easily in dishwasher; controls/temps easy to work, we love the Cosori
Maril: Just purchased mine (5.8 qt). Only used it a couple of times but I really like it. Very easy to use. It's a little noisy but it's rarely on that long.
Meryl: I love my Cosori 5.8 quart as well. It has a great warranty: 2 years; customer service is great: they are replacing mine with no hassle because there is a problem with the latching mechanism. The presets and recipe book are fantastic! The only downside is I wish it was bigger: I have a family of 4 and have to cook food in batches. Even so, they gave me the option of a full refund and I opted to have them replace the one I have.
Sherwin: I have a Cosori air fryer. It's square, so I can fit more food in the basket as compare to a round basket. The control buttons are well-placed and easy to use.
Mallary: I own 2 of them and absolutely love them. No problems at all.
Hannah: The best thing i ever invented in. Just love it, has nothing i should complain about so far.
Tracy: I have a 5.8qt and my only complaint is that I don't have two. I love it!
Florine: I ABSOLUTELY love mine. Select temp/time and start. Easy cleaning! Dish washer safe! I'm hooked! Thinking about getting another one! I'm done with the stove!
Becky: We love ours! No complaints here
Delma: I have one. Love almost everything about it. My only issue is my own problem. When I set the temp I then turn it off instead of turning it on!
Wendy: I have one and really enjoy it. Only issue is the sensors seem to be off a bit so when I push the button to select it may take a few times and cuss words
Karin: Used it last night and today. My favorite kitchen appliance.
Colleen: Really like mine, basket is large, everything I've made has turned out great
Kitty: I just received mine about a week ago and I'm really on the fence if it's going to live here or go back to Amazon. I've tried several things and really the only thing that has turned out good is sweet potato fries. Everything else has just been ok. I feel like my (non airfryer) Breville countertop oven cooks and crisps better so I'm asking myself, do I really need this thing? At the moment the answer is no.
Kayla: I have one and just returned it for a new one because the drawer flew out when I was warming it up and piece broke off of it.
Tempe: I LOVE my Cosori. Very easy to use and easy clean-up and great customer service.
Terry: Very easy to use and clean. Love it, use it more than my oven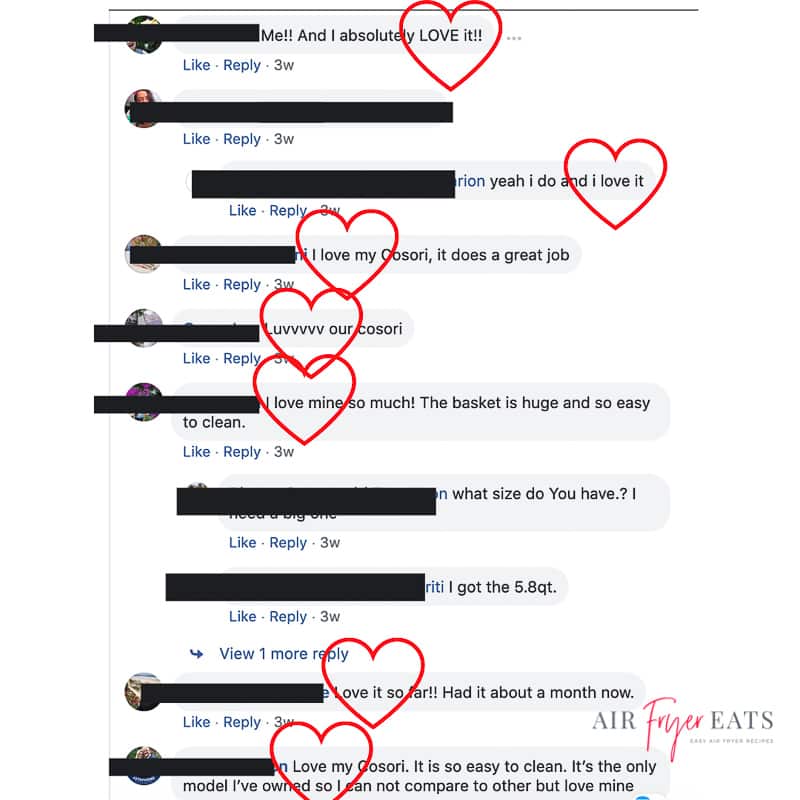 Neutral Cosori REviews
Kayla: My first one the drawer popped out by itself when it was preheating and broke a piece and would pop out frequently after that. I returned it and got a new one. The new one is fine but louder than the first one. Ive only owned this brand and new to it.
Tina: Love ours! The only irritating thing is that the start button and off button are side by side so half the time when I program the temp and time, I turn it off instead and have to start all over. I wish the temp could go up by 5 degrees instead of 10 as well.
Barbara: We have a Cosori and we absolutely love it!! Cooks evenly and quickly. Only part I am not impressed with is the preset buttons. The fries button burned my fries and the wings button also overcooked them, but not to the point of being totally blackened.
Kelly: I have this one. I like it. Definitely not made for a big family. But so got for veggies and wings. I really don't have a complaint. Unless you need multiple things air fried at the same time. That's not going to work
Negative Cosori Reviews
There are some people who do not care for the Cosori Air Fryer. Check out the Negative Cosori Reviews.
It is good to get the perspective from both sides. As you can see there aren't too many negative Cosori Reviews.
Other issues I've heard our air fryer community talk about are difficulties with the touch screen.
People seem to love the touchscreen or hate it. Others have complained that the the Cosori is noisy. I personally do not think its very noisy when comparing to the other fryers I have tested.
Mindy: I returned mine, I was hoping to love it. I didn't like the digital buttons. Had to press them over and over again .
Melinda:The first few times I used it, it caused a weird smell. But after sometime, it stopped.
I hope that gives you a pulse of what people are feeling when it comes to Cosori Air Fryers.
We have included as many Cosori Air Fryer Reviews as we could in this post. If you are ready to start cooking, we suggest the recipes below!
LOOKING FOR EASY AIR FRYER RECIPES TO START WITH?
Cosori Air Fryer Review : Featuring Air Fryer Chicken Breast
Air Fryer Chicken Breast is the fastest way to prepare incredible, juicy chicken breasts! Forget the oven - your air fryer will have this mouthwatering chicken cooked to perfection in only 20 minutes!
Ingredients
1.5

tbsp

cornstarch

1.5

tsp

garlic powder

1

tsp

smoked paprika

1.5

tsp

dried oregano

4

chicken breasts

boneless

oil
Instructions
Prepare the chicken breasts by trimming off any excess fat and unwanted pieces.

Mix the spices and cornstarch together in a bowl.

Coat the chicken breasts with oil or cooking spray.

Sprinkle the spice & cornstarch mixture on the chicken.

Place a piece of parchment or foil in the bottom of your air fryer basket. Place the chicken on top of that.

Air fry the chicken for 16-18 minutes at 350 degrees F, flipping the chicken breasts halfway through. Cook until the internal temperature in the thickest part of the chicken reaches a minimum of 165 degrees F.

Let the chicken rest for 5 minutes before slicing & plating.
Go AD FREE!
Notes
Each air fryer will run a bit different. Temps and time may vary.

Make sure that your chicken is cooked through. It must be 165 degrees F at the thickest part.

The chicken breasts I used in this recipe were 1 inch thick.
Pro Tip: This recipe can be made in the air fryer unit with a basket or the air fryer oven. If you are using the air fryer oven, use the middle rack and select the "Air Fry" function.
I can't press this enough, ALWAYS use a meat thermometer. That is more accurate than any time/temp. The time/temp is a guidance to start with. Things will vary depending on the size/thickness of your chicken breast AND your air fryer 🙂
Nutrition
Calories:
276
kcal
|
Carbohydrates:
4
g
|
Protein:
48
g
|
Fat:
6
g
|
Saturated Fat:
1
g
|
Cholesterol:
145
mg
|
Sodium:
264
mg
|
Potassium:
871
mg
|
Fiber:
1
g
|
Sugar:
1
g
|
Vitamin A:
327
IU
|
Vitamin C:
3
mg
|
Calcium:
23
mg
|
Iron:
1
mg
Tired of the ads?
Go AD Free - Become part of our Membership community!
Air Fryers can vary greatly. Please take the time to learn your specific air fryer. You may need to adjust times and temperatures based upon your air fryer.
All though this website attempts to provide accurate nutritional information, the information should only be considered an estimate. Varying factors such as different product types, different brands, etc. can change nutritional information. It is your responsibility as a consumer to read all labels to make sure the ingredients fit your dietary needs as well as calculate your own nutritional information as a double check.