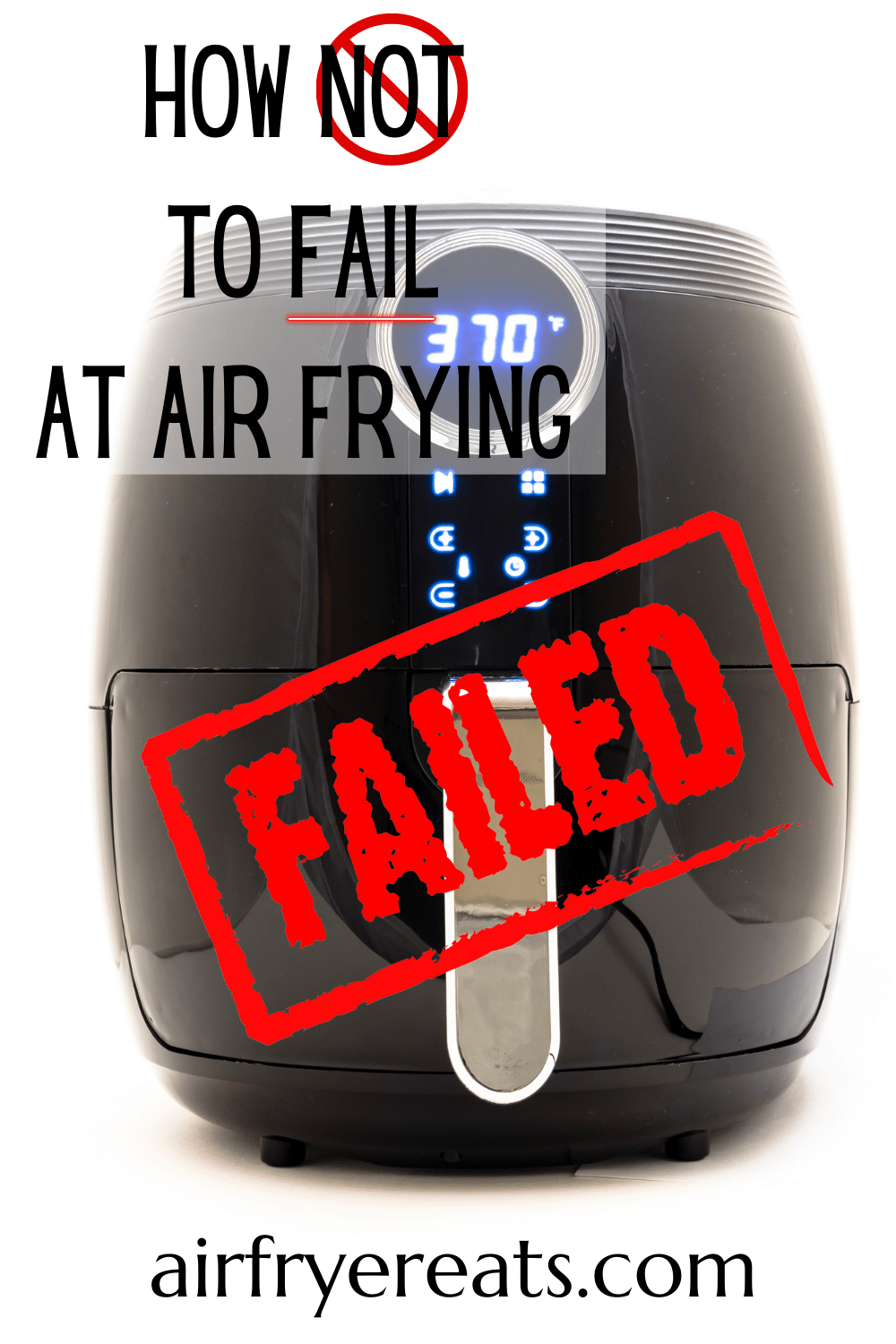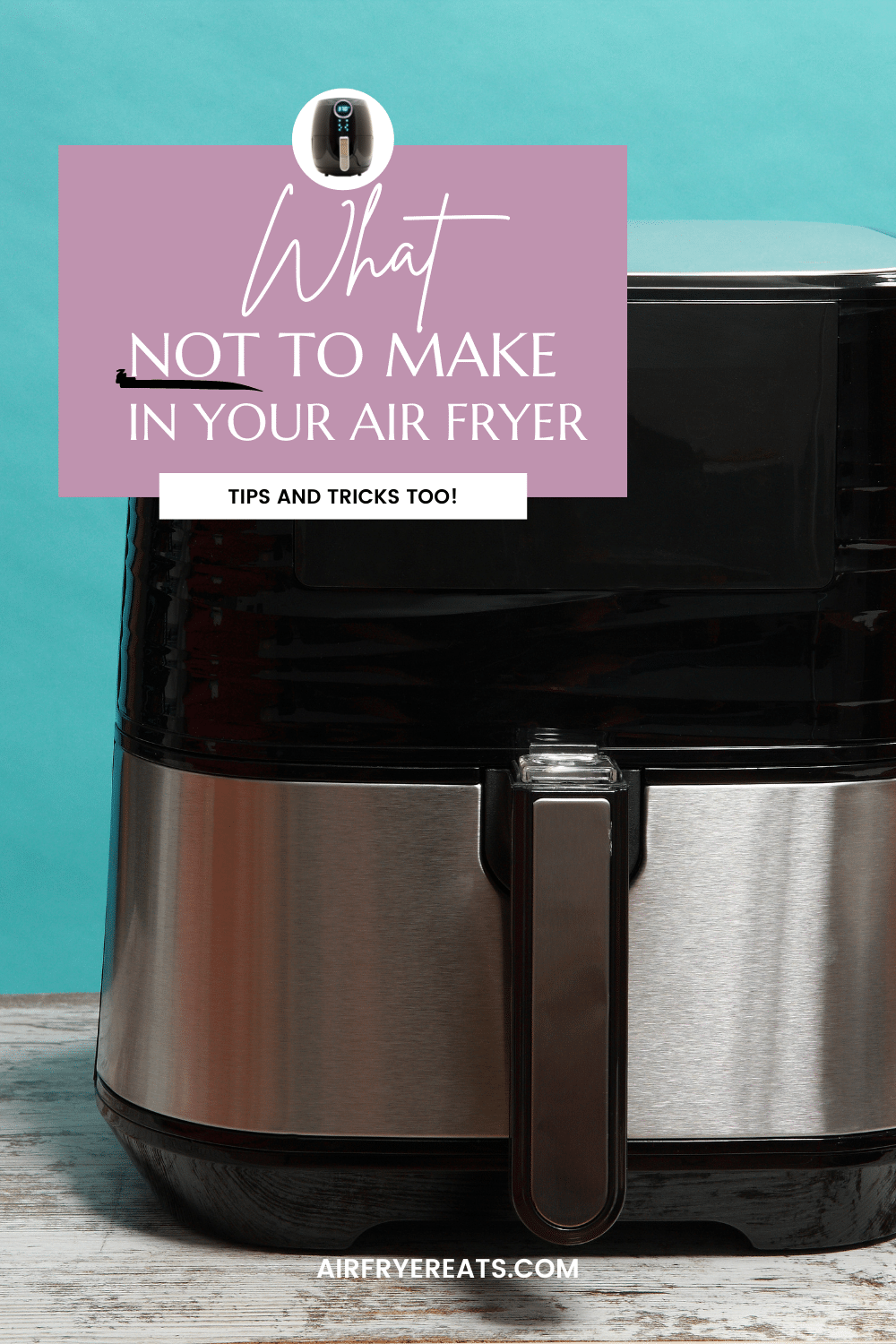 What can't you make in your air fryer? There isn't much, but there are a few important things you should know. Certain foods just aren't meant to go in the air fryer, while others can, but they are tricky. We have tips to help!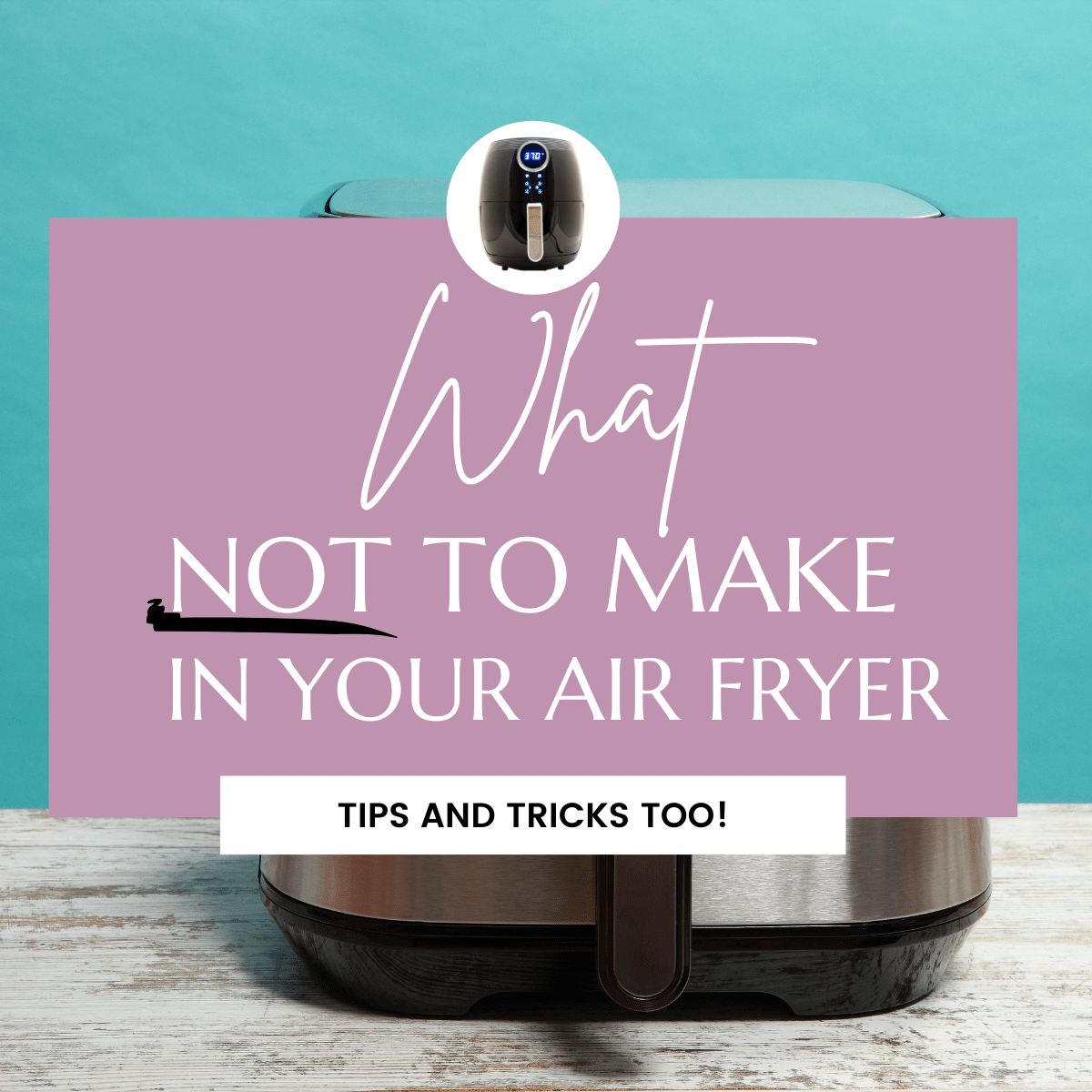 FOODS YOU CAN'T MAKE IN AN AIR FRYER
The air fryer is my favorite appliance, and it's been totally life-changing, but there are some things that you just shouldn't make in an air fryer. Keep reading for the best tips, tricks and suggestions for using your air fryer to cook all the right foods, and none of the wrong ones.
You know that I LOVE my air fryer. I created this entire website because I was, and still am, amazed at how this simple kitchen appliance has changed the way that I cook.
The air fryer can cook hundreds of different types of foods, and in many cases, it does it better than traditional methods. Take a look through the recipes here on Air Fryer Eats and you'll see recipes for air fryer appetizers, air fryer breakfasts, and even air fryer desserts!
I think that I was most pleasantly surprised when I learned that I can make Scallops in the air fryer!
WHAT CAN'T YOU MAKE IN AN AIR FRYER
I could go on and on about all of the amazing things that you can make in an air fryer, but there are definitely some things that you cannot cook in the air fryer too.
There are also some recipes and foods that you can cook in the air fryer, but you'll need to take some special precautions first to be sure that you do so successfully.
While I do consider myself an air fryer expert (and I want you to consider yourself the same way!), you don't have to just take my word for it. We host multiple Facebook groups full of air fryer users, and we've gotten their input on the things that they've really had a difficult time cooking in the air fryer.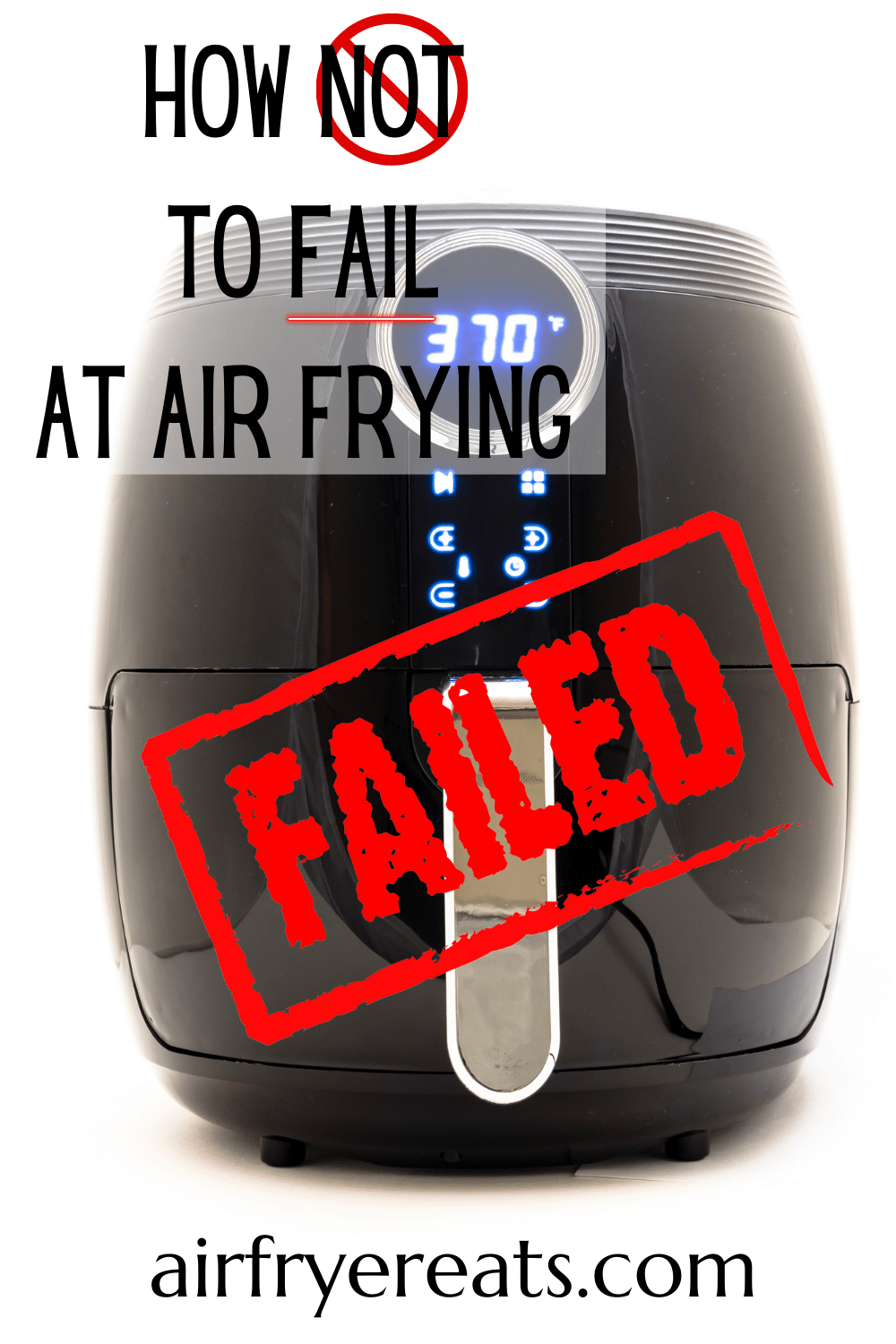 THE BEST AIR FRYER FACEBOOK GROUPS
Are you in any of our groups? Everyone is welcome, so be sure to come by!
Visit our Easy Air Fryer Recipes page and give it a follow!
We literally have a group for everybody - Seniors, Vegetarian, Gluten Free and an everything air fryer group (this is our big one!) Think: Recipes, Tips and Tricks!
Want extra air fryer help, or the experience of a private air fryer community with exclusive recipes, tips, and events? The affordable Air Fryer Eats membership might be more your speed.
You can benefit from the experience of others! This post is going to save you time and frustration because you'll know exactly what you shouldn't try to cook in the air fryer!
AIR FRYER FAILS FROM READERS
I polled the readers in our Facebook groups to see what they had trouble cooking in their air fryers.
It was a very interesting thing, because some of the air fryer foods that people had trouble with, others stepped in to tell them how to do it differently so it worked! I love the teamwork!
Other items, we decided to take on ourselves and have created instructions to get the best results when cooking tricky air fryer foods.
Keep reading to learn more about what you should skip in the air fryer.
CAN YOU COOK FRESH VEGETABLES IN THE AIR FRYER?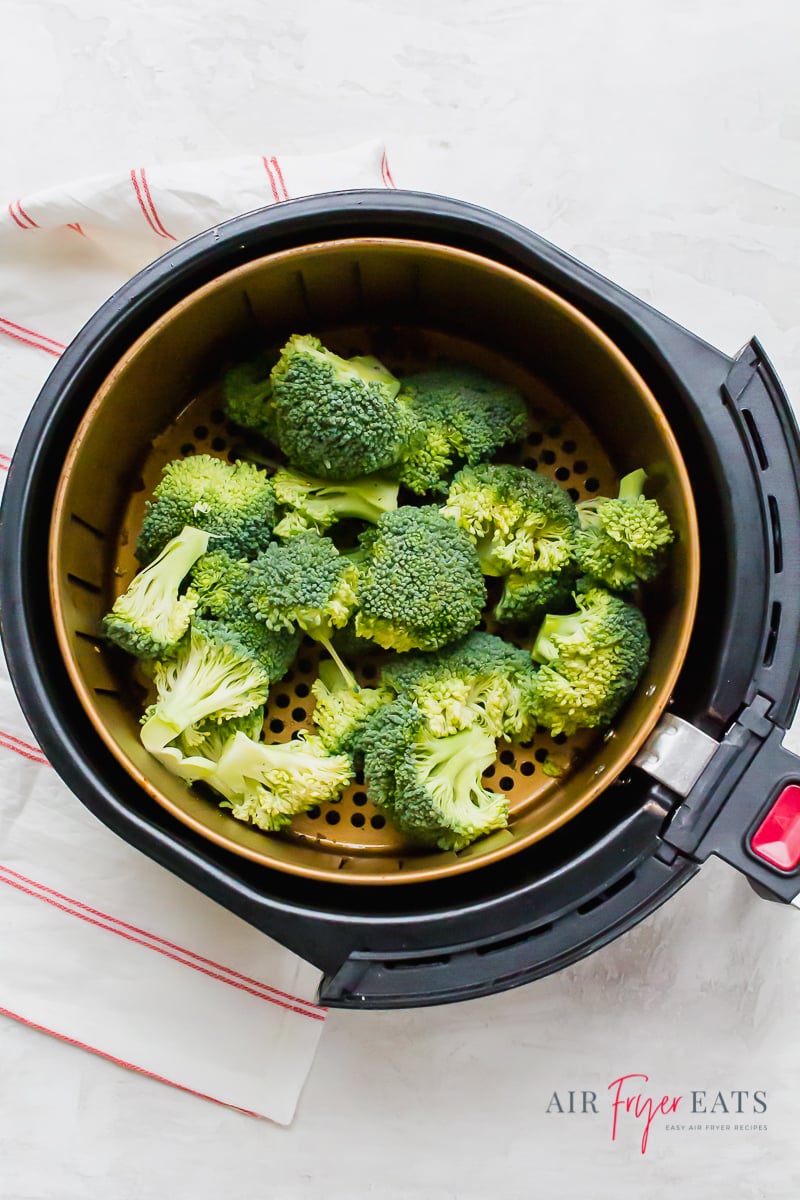 Broccoli and Brussels Sprouts:
We had a few folks tell us that they couldn't get brassicas like broccoli and brussels sprouts to work in the air fryer. It's almost funny to me because Air Fryer Brussels Sprouts was one of the first things I ever made in my air fryer, and still one of my favorites! We've recently put up updated instructions for cooking both frozen broccoli and fresh broccoli in the air fryer too.
The trick for making broccoli or brussels sprouts is to find the sweet spot for time and temperature in the air fryer. Broccoli tends to do best at a low temperature, while brussels need to cook in a very hot air fryer. Follow my recipes for perfect air fryer results every time!
Fried Okra:
Another specific vegetable that people have trouble with is Okra. This makes tons of sense because okra is a "wet" food, and wet foods are more difficult to cook in the air fryer.
We have a recipe for making Frozen Fried Okra in the air fryer! It works, but it might not be as good as frying it in oil. That's just life. Sometimes you need to do things the traditional way. My biggest tip for making fried okra in the air fryer is that you need to spray it with oil, and cook it at a high temperature to keep it crispy.
Other Veggies in the Air Fryer:
Some readers had trouble cooking other types of vegetables in the air fryer. The same suggestion applies: Follow a recipe here on Air Fryer Eats! We've tested them for you so we know they work. Make adjustments if needed for your specific machine.
CAN YOU COOK STEAK IN THE AIR FRYER?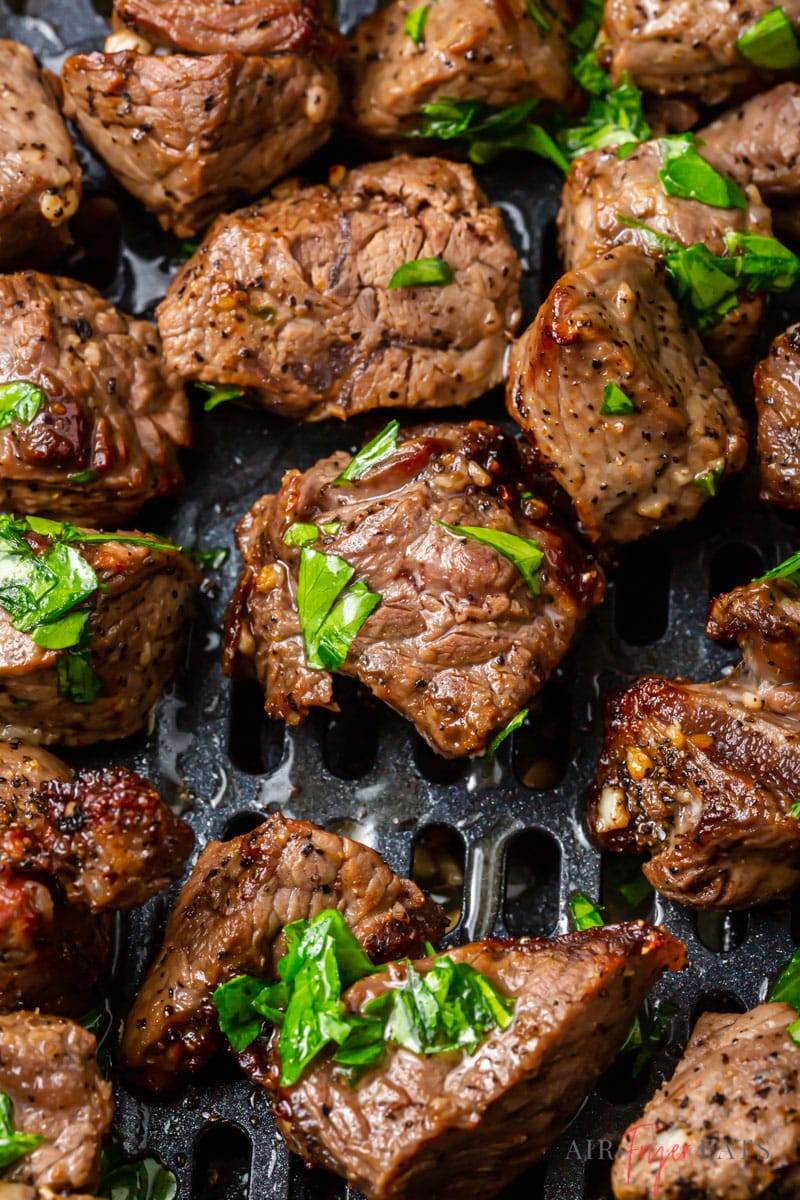 You CAN cook steak in the air fryer! I have seen a lot of members with issues cooking steaks, so I'll give you my best tips right here so that you can avoid any trouble.
Consider the thickness of your steak. Very thick steaks can be cooked in the air fryer, but I find that thinner cuts or small pieces (like Steak Bites) cook more evenly in the air fryer.
Pre-heat. I don't often recommend preheating the air fryer, but when it comes to making a delicious air fryer steak, preheating is key to avoiding overcooking.
Watch Your Food: Always, always, always keep a close eye on your food in the air fryer, especially if it's something you haven't made in the air fryer before. Catching the steak before it goes from perfectly mid-rare to well done might be the only thing you need to do.
These same tips are true for Pork Chops and Lamb Chops. Delicious cuts of meat are totally possible to cook beautifully in the air fryer.
CAN YOU BAKE IN THE AIR FRYER?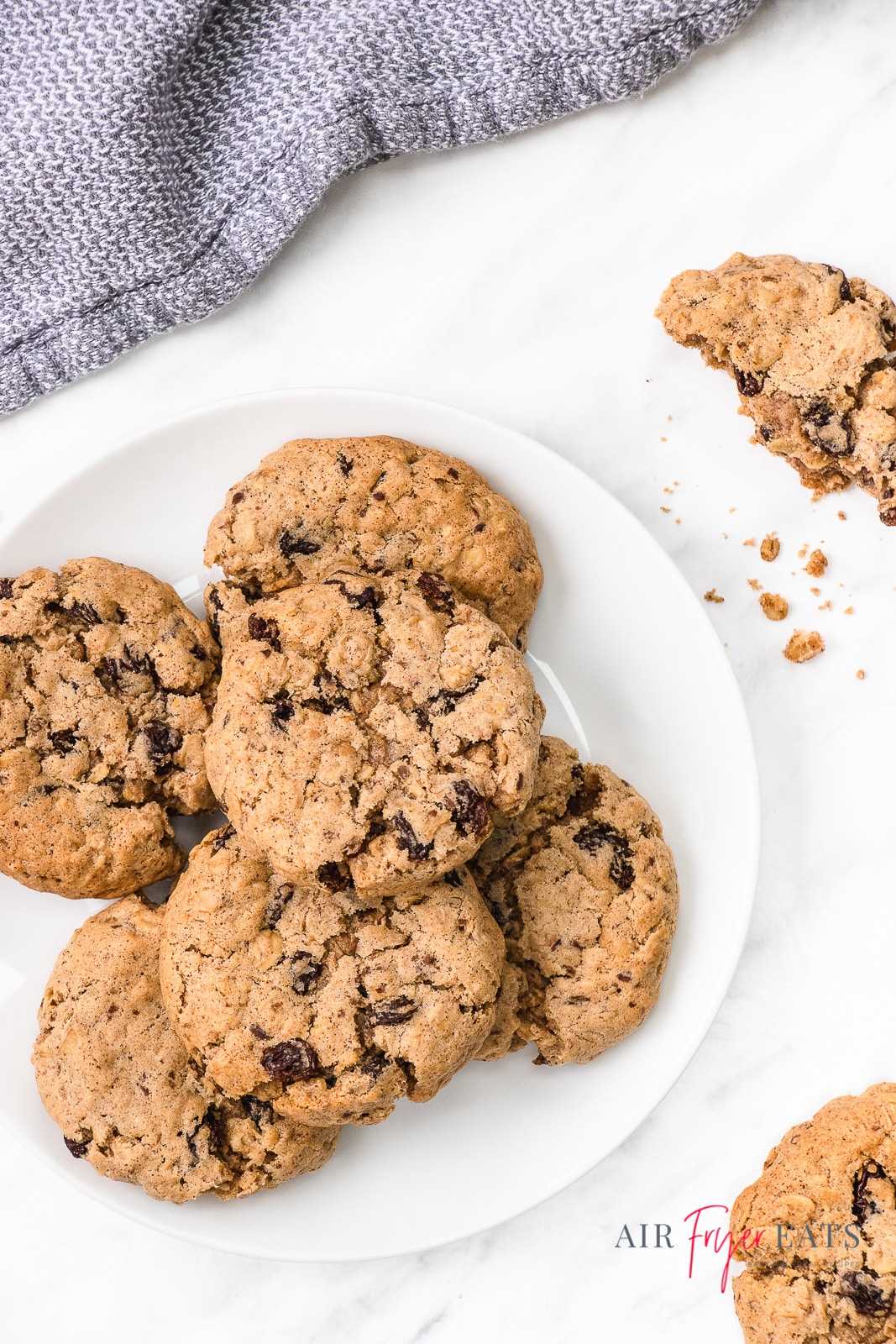 I was really surprised when a number of readers told me that they had bad luck baking cakes and other baked goods in the air fryer!
I actually love baking in the air fryer, because baking in the oven takes so much time, space, and clean-up. The air fryer bakes cakes and cookies in less time, and I have fewer dishes to do.
There have also been so many success stories of members making cakes, cookies, banana bread, and donuts in the air fryer. So it is definitely possible to successfully bake in the air fryer.
Here are my best tips for baking desserts in the air fryer:
Use the right pan. There are pans made specifically for baking in the air fryer, including metal pans that typically come with the machines, and pans you can buy made of metal or silicone that fit inside of an air fryer basket.
Use the right size pan. If your baking pan is too big for your air fryer basket, you won't get good air circulation and your baked goods will not cook evenly. It's important that your cake pans are not too tall too, or your cake will rise and hit the heating element!
Adjust your recipes: You may need to make your recipes smaller and use a smaller pan for baking. Air fryer baking recipes generally make a smaller amount of cookies or a smaller-sized cake, so consider using a baking recipe that was specifically designed to be cooked in the air fryer.
Use lower heat: Larger baked goods, such as cakes that might cook in a regular oven at 350°F/ 180°C may need to be cooked at a lower temperature in the air fryer. This is because the heat comes from the top and sides of the air fryer rather than the bottom. Most smaller items like cupcakes or cookies can be cooked at the same temperature.
ISSUES WITH FRIED FOODS IN THE AIR FRYER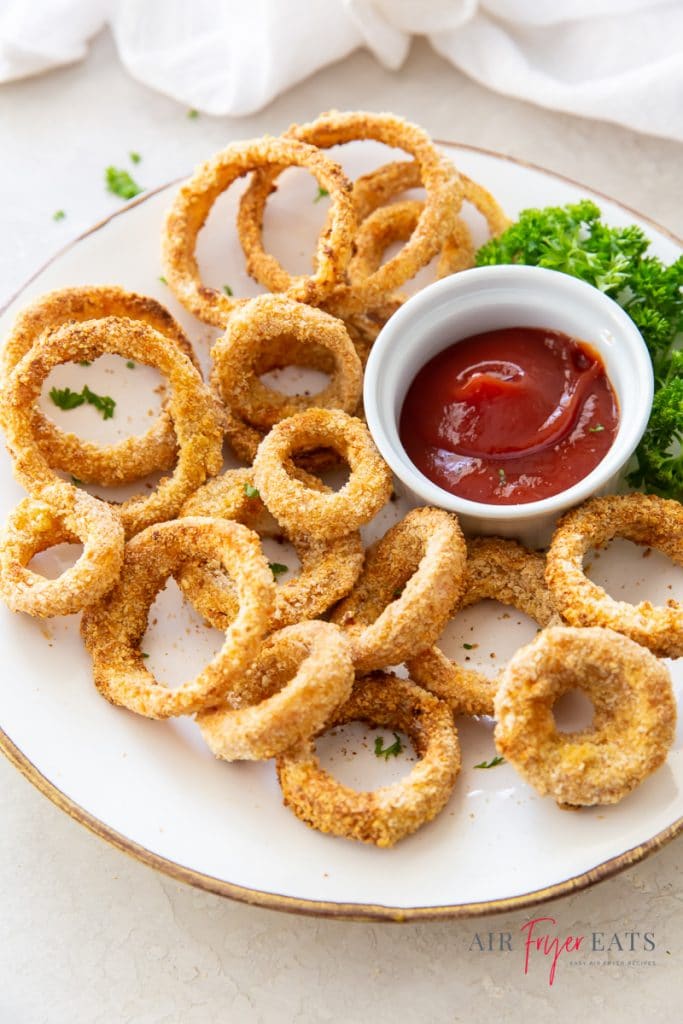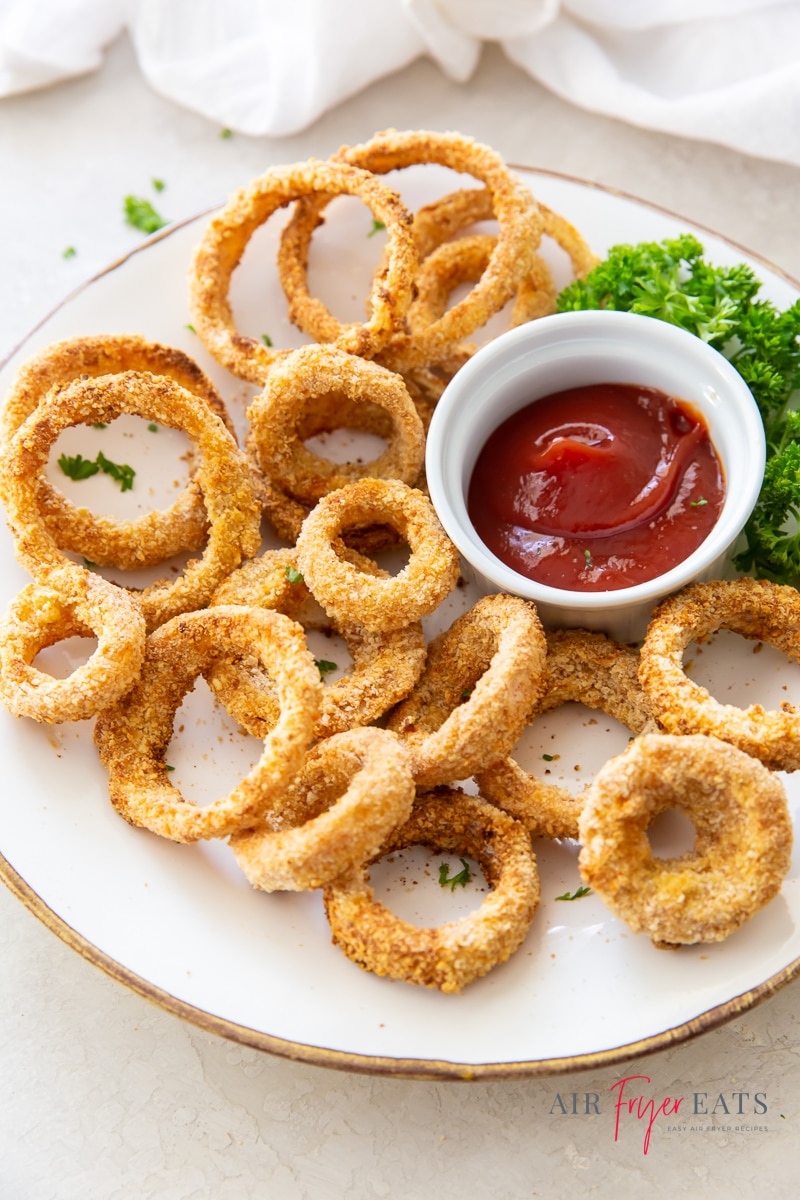 Another common "fail" reported by real air fryer users is fried foods, specifically onion rings, blooming onions, and fried chicken recipes.
This issue comes down to one important air fryer tip:
It's not recommended that you put wet battered food in the air fryer.
Battered onion rings, battered chicken, or battered fish is going to be an air fryer fail, every time. This is because recipes using a wet batter are meant to be cooked in hot oil. When you add a battered piece of food to hot frying oil, the oil surrounds it and quickly cooks the batter, keeping it attached to the onion or chicken or whatever it is.
In an air fryer, it takes a bit more time for the circulating air to air fry your food, which means that the batter will have time to drip off. You'll end up with cooked batter at the bottom of the air fryer and food with no breading on it.
Instead of using wet batter to make your fried favorites in the air fryer, consider using a dry breading instead. My Air Fryer Fried Chicken is a tried and true recipe that comes out really well!
You also want to be sure that you are spraying or brushing the outside of the dry batter with oil. Without a small amount of oil, you won't get the crispy fried outcome that you're looking for.
THE BIGGEST REASON WHY YOUR AIR FRYER RECIPES FAILED
I learn so much from you, my readers! What struck me as very interesting when I was looking at the foods that people had trouble cooking in their air fryer is that it can really come down to preference.
For example, a few people said that cooking pierogies in the air fryer was a huge fail.
This is likely because pierogi are a traditional food that we are very used to eating after frying them in butter in a skillet. Can you cook pierogi in the air fryer? Sure, but they might never taste exactly how you remember them tasting.
Another example is homemade or frozen eggrolls.
Normally you get eggrolls from a Chinese restaurant that are deep-fried. The air fryer will cook them, but part of the appeal of a Chinese egg roll is that it's deep-fried. Air frying eggrolls works, but they will be a bit different.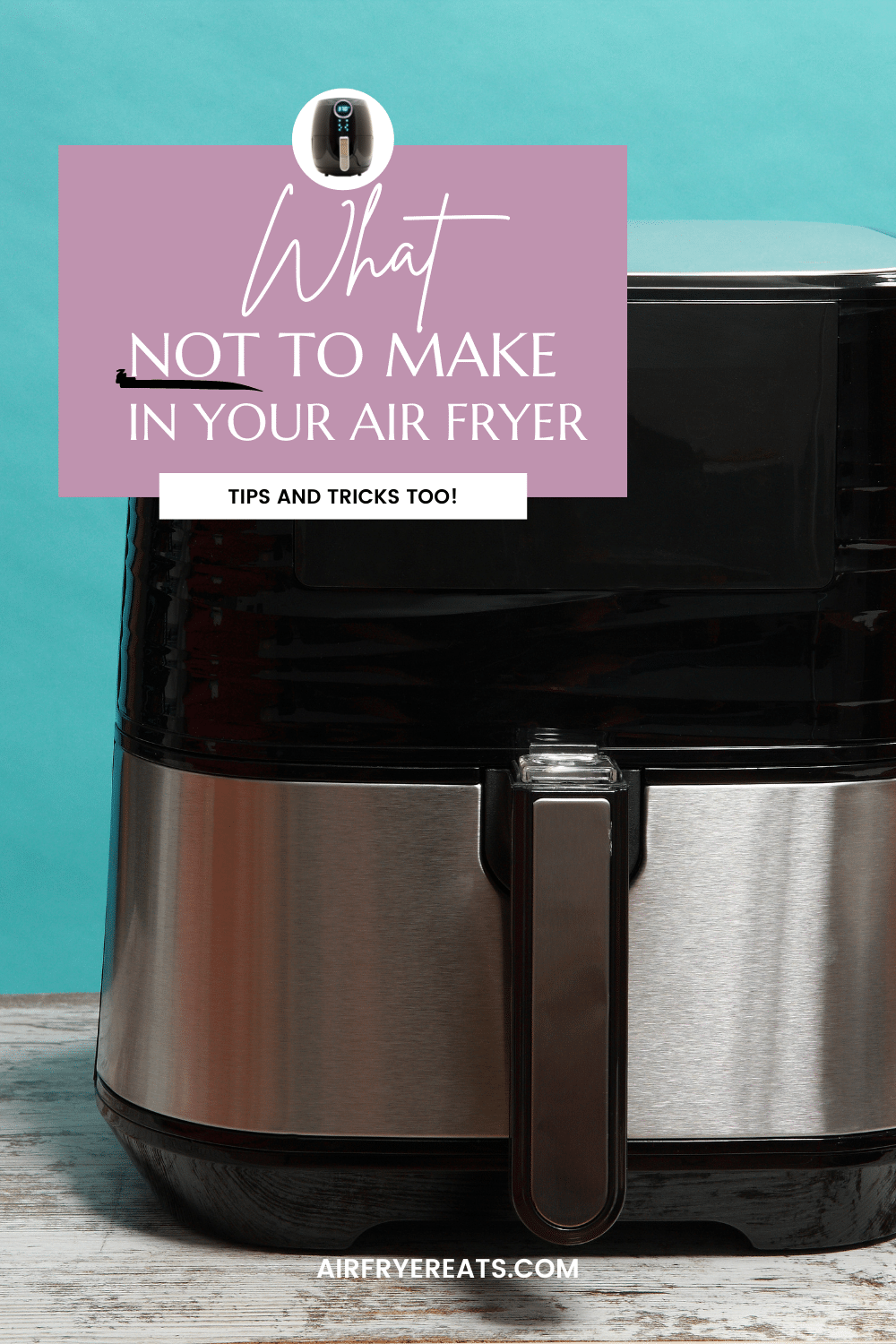 WHAT FOODS SHOULD NOT BE MADE IN THE AIR FRYER?
Here's a quick list of foods that we do not suggest making in the air fryer at all. If you disagree, I'd love for you to leave a comment! Maybe you have a trick that I don't have yet.
Leafy Greens - Spinach, kale, and similar greens are tricky to cook in an air fryer (unless you're making kale chips). The leaves will fly around in the basket and won't cook evenly. Luckily greens are easy to sautee on the stove.
Rice - It would be nice if you could cook rice and other grains easily in the air fryer, but I find that it's too hard to get them to cook evenly. Instead, I suggest that you cook rice, grains, or pasta in a traditional way, and then use the air fryer to make casseroles or fried rice.
Battered Foods - I mentioned this above, but freshly battered foods should not be cooked in the air fryer. Frozen battered foods like frozen onion rings or frozen chicken nuggets can be, but anything that you dip into batter and then deep fry is not a recipe that will work in the air fryer.
Extra Cheese - You can use your air fryer to melt cheese or cook pizzas or sandwiches with cheese, but excessive amounts of cheese have the potential to either ooze out before the rest of the dish is done, or fly around from the circulating air.
Large Meat Roasts or Chickens - This one is going to depend on the size of your air fryer. Small air fryers will have trouble cooking large beef roasts or chickens, but in larger models, you may have better luck. I like to cut roasts down into smaller pieces, and I use smaller chickens too.
Rare Meat - It's possible to cook rare hamburgers or steaks in the air fryer, but much more difficult than cooking medium-rare or well-done meat.
I hope that you've learned a lot about what you can and cannot cook in the air fryer. With a few exceptions, you can cook almost anything in an air fryer that you would cook In your oven, so don't be afraid to experiment.
Is there something you have trouble cooking in the air fryer? Please leave a comment AND rating below! It helps other readers!
Be sure to tag @AirFryerEats on instagram, if you share a picture on the gram! Let's get social, you can follow me on Youtube, Instagram, Facebook, Pinterest or join one of our Air Fryer Facebook Groups: Air Fryer Recipes, Air Fryer Recipes for Seniors and Gluten Free Air Fryer Recipes.
Don't forget to subscribe to our EMAIL newsletter.